Giveaway Day 6: Bloom Collage
Operating a small business is work well loved but often hard and lonely with little support.  So during my "big" birthday month, I'm going to be sharing with you some wonderful businesses and each of them will be giving away one thing to one lucky person.
I'm sharing these small businesses because my heart is with the business owner struggling to make it, but really passionate about serving people.  Any given day, I may fit that description. 😉
This month I'm offering a Newborn Special coupled with a chance to win free sessions.  If you're expecting a little one, read this post for details.
And now let me tell you a little bit about today's small business owner.
Mandy Mianecki
Mandy Mianecki is also a member of Holly Gerth's God Sized Dreams Team.  Mandy writes bravely about healing and restoration especially in the context of sexual abuse.  But more than just a voice speaking about the unspeakable, Mandy is an amazing friend.  I was able to meet her in real life back in October and she is so kind and transparent.
Mandy home schools her four children and when she finds a spare moment, she can't keep herself from creating.  Painting and collages are her specialties in her Hearts Undaunted Etsy store.  Follow her writing and art on her Facebook Page.

Heart's Undaunted: Bloom
Mandy Mianecki of Hearts Undaunted is offering up this beautiful mixed media collage entitled Bloom.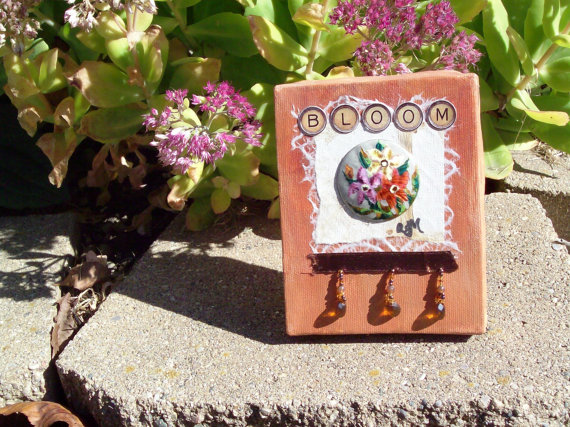 Contest Entry Instructions
Leave a comment below telling me about what the word Bloom means to you.
Make sure to include a way to reach you if you win.
Giveaway Closes on January 31st.
Winner will be chosen through a random number generator and notified on February 3rd.
Shipping is for US only.  International winners will pay their own shipping if they win.