Melissa Aldrich
Did your baby have an unexpected stay in the NiCU? Are you looking for a Post NICU Newborn Photographer who will photograph your newborn regardless of age? One of my favorite things is the joy of holding and photographing your tiny miracle. I'm less concerned with chronological age and more concerned with capturing your sweet baby's beauty. I love all the details of your baby: his fingers, his eyelashes, and his tiny hands. I don't mind a little extra soothing and a little more baby led posing rather than photographer led. Your little one has a story to tell and I'd be honored to illustrate it.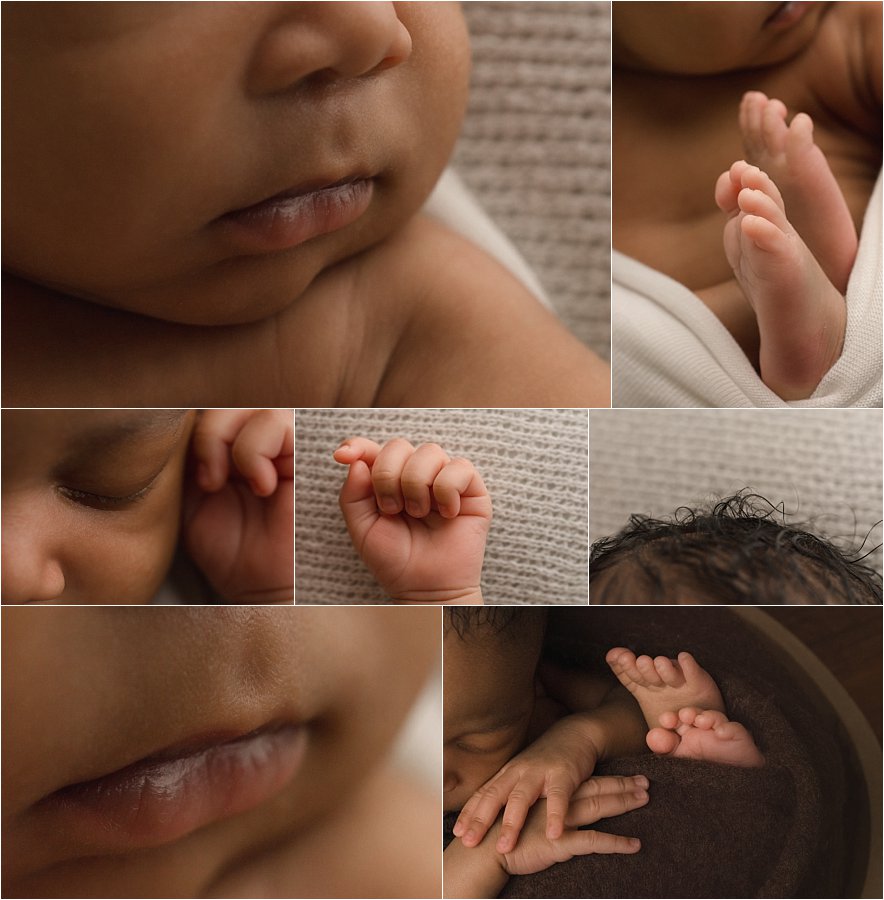 This beautiful NICU baby's name is Marley. His NICU journey amid the very first few weeks of the Covid-19 pandemic was completely unexpected. He was early, but not so early that mama Ericka expected him to be whisked away to the NICU. But Marley is a fighter and he fought his way out of a scary diagnosis and came home.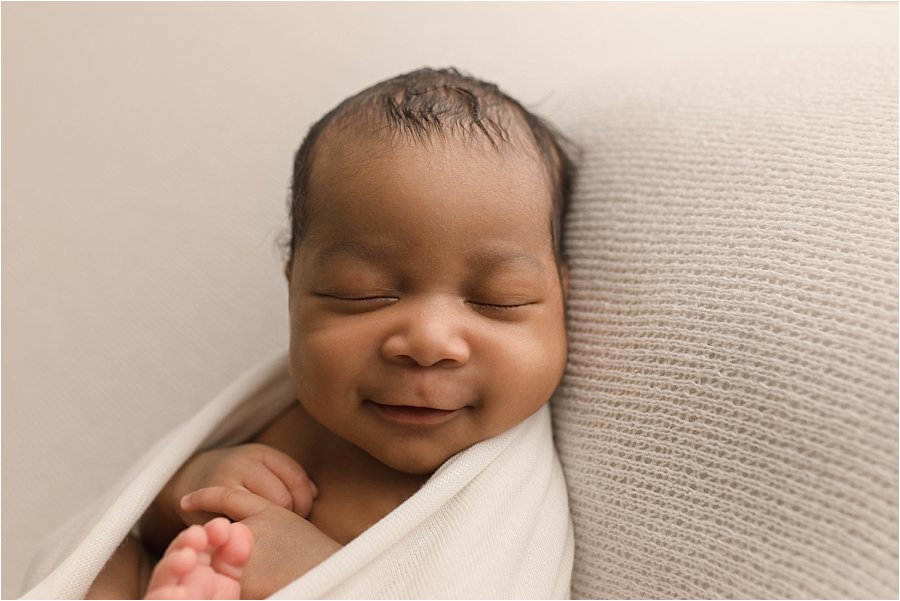 Marley was still a tiny little guy, weighing well under 6 pounds when I met him. He was laid back and very sleepy which was unexpected but welcome. He loved the comfort of the wrap, perhaps because he'd spent so much time cuddled up in Ericka's arms.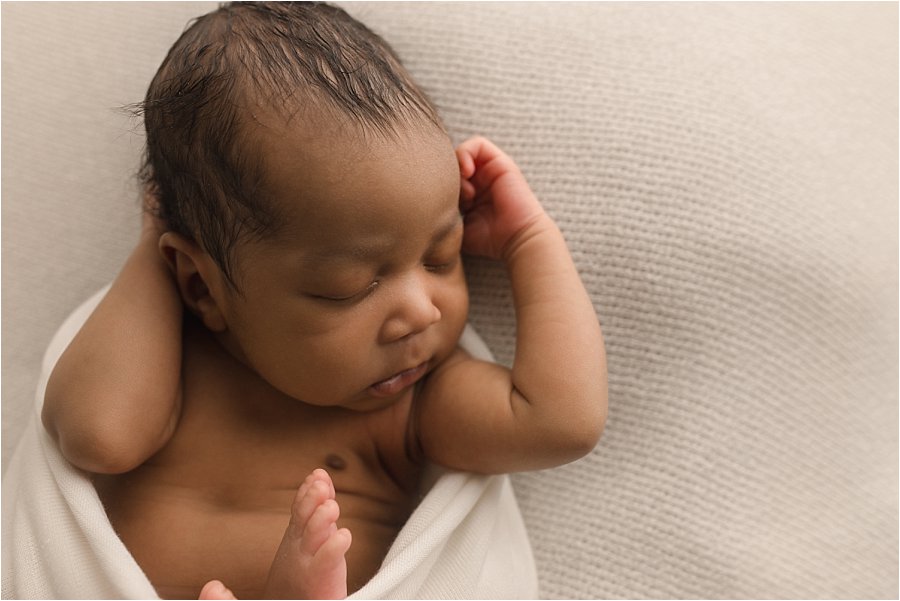 I had fun curling Marley up into the tiniest little props and showcasing his beautiful hands and feet. We even snuck a little bear bonnet on him!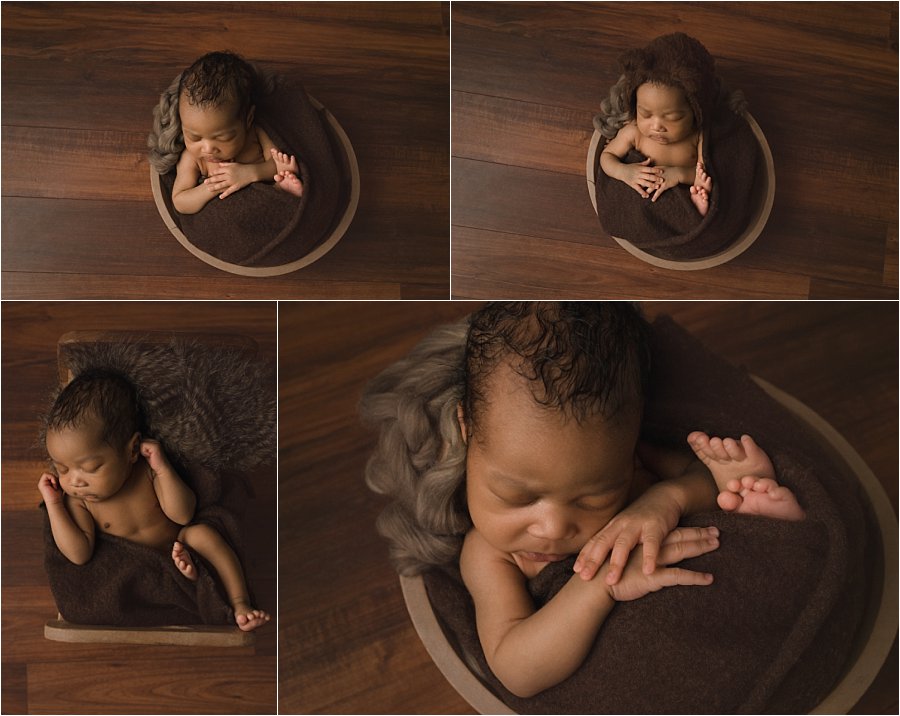 At the very end of the session, I dressed Marley in this little knitted footed PJ set from the studio wardrobe. He woke up just enough to get a sweet awake picture and these remaining images.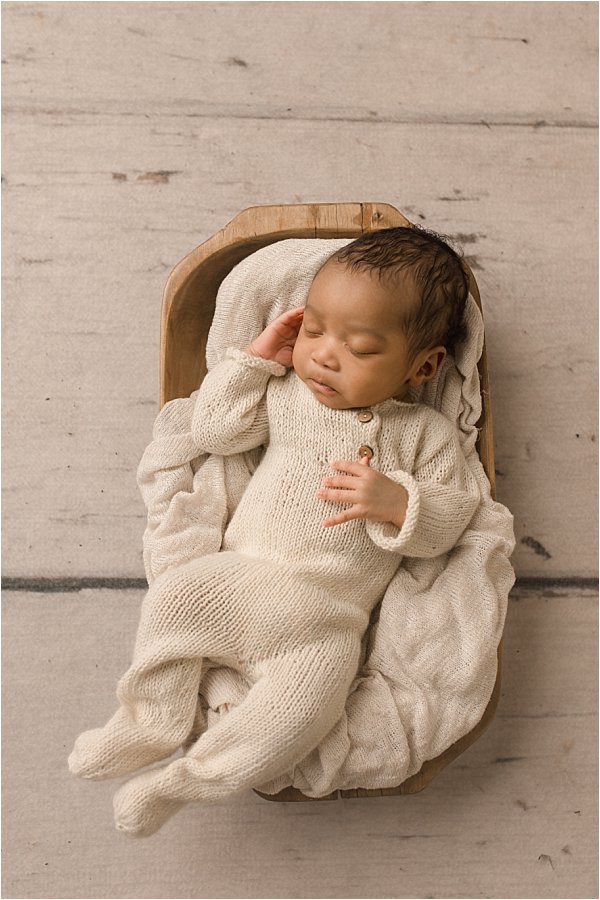 Are you looking to book your Post NICU Newborn Photographer? I'd be honored to be considered. Click here to contact me about setting something up.
Girly Emotional Newborn Photos in Greenville SC don't have to be all frills and bows and costumes. When your heart wants to tell the story of how beautiful your baby is from her tiny toes to the millia on her nose, choose a photographer who matches that vision. At Quiet Graces Photography, I believe that simple imagery celebrates your little one best.

Soothing and Calming
Isla is the sweet newborn girl featured in these session images.  Isla is an "older newborn" in the 3-6 week range.  Many newborn photographers will tell you this age is simply impossible to capture in curly poses, but that's obviously not true!  Yes, newborns at this age are a little more awake, but that just means we get good eye contact like in the image above.

Isla required a little more soothing and calming than your typical newborn and she wanted to be posed upright while she fell asleep.  I always take your baby's preferences into account during posing. It's more important to have a safe and happy baby than to make sure we get "the pose" we wanted most.

Feminine Simplicity on White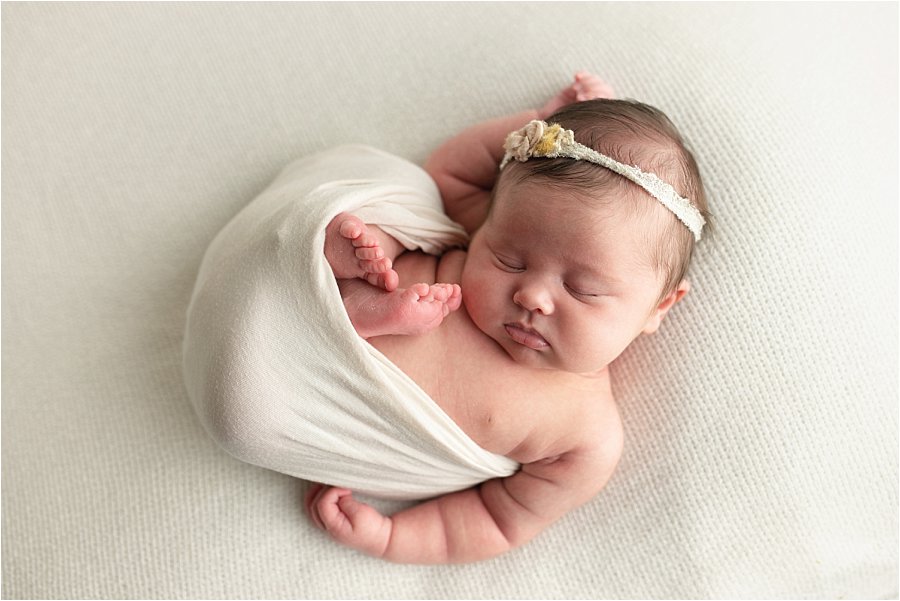 Once Isla fell asleep in her wrap, I was able to transition her into this set of poses on white.  I love posing girl emotional newborn photos on white.

There's a timelessness to white images that just showcase your baby's natural beauty.
Baby Pictures on Mauve
After the white blanket, I moved Isla to a mauve blanket for a bit of color.  This bonnet, wrap, and headbands set by Avonli Baby are studio favorites.  I love compiling a set of props for my clients to choose from so that all they need to do is show up to the session rather than worrying about purchasing and bringing extra items.
Tiny Details
All clients are given the opportunity to customize their pose request.  One of the things that was most important to Isla's mama was detail shots.  Especially including their wedding bands. Aren't these the sweetest? And those little squishy lips are to die for!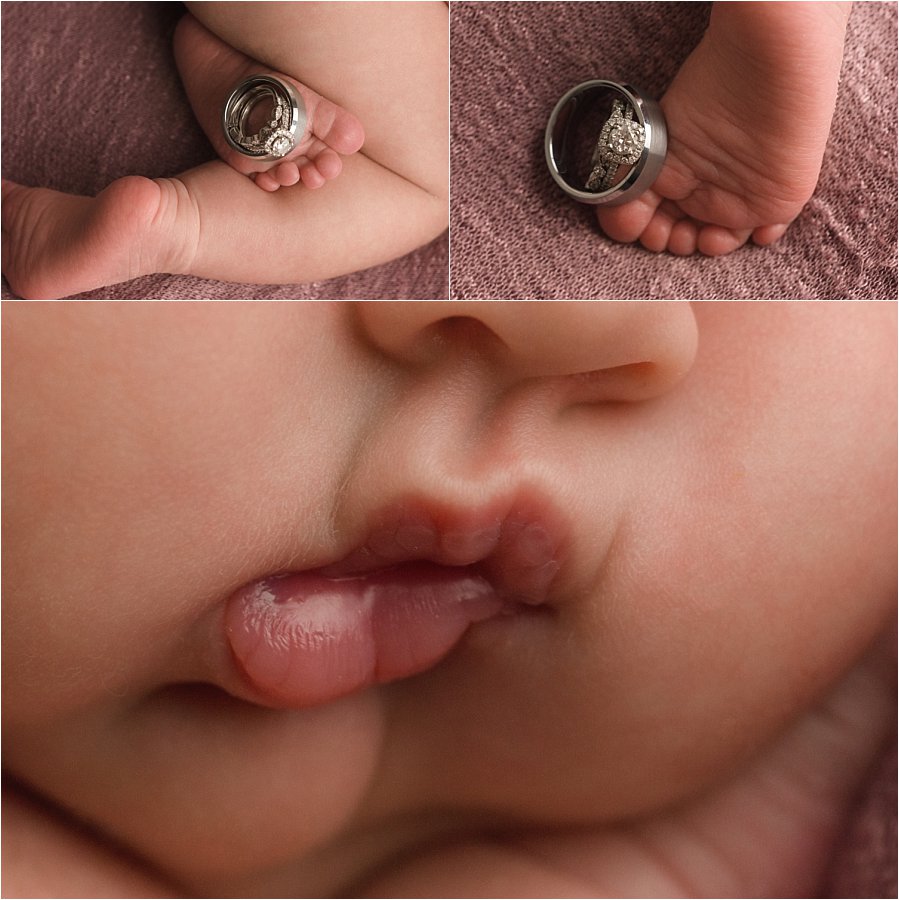 Booking Your Own Session
Looking to book your own Girly Emotional Newborn Photos in Greenville, Simpsonville, or Hendersonville?  I'd love to be considered for capturing your baby.  Contact me today to tell me how you'd like to remember your baby.

I've really loved getting to know Josh, Whitney, Sloan, and Abel through their Studio Baby Plan Photography Greenville SC. If you'd like to look at their other sessions, here is Whitney's Maternity Session, Abel's Newborn, and Abel's 3 month session. I can't believe were already up to 6 months!
Six Month Pictures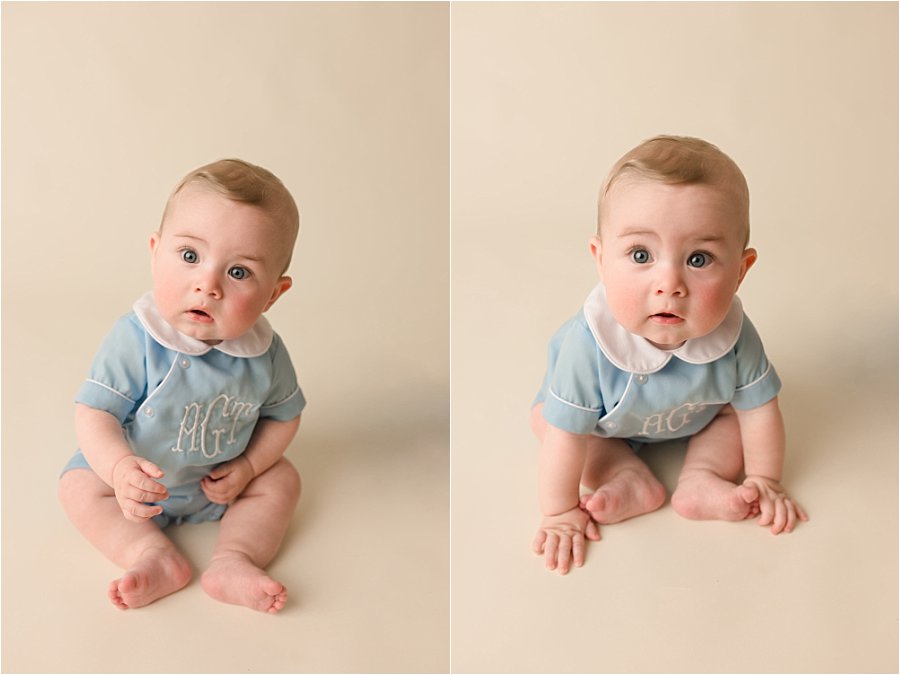 Six months is one of my favorite ages to photograph.  Babies at six months have a budding personality.  They're curious, they laugh easily, and they don't yet have stranger anxiety.  Abel was no exception!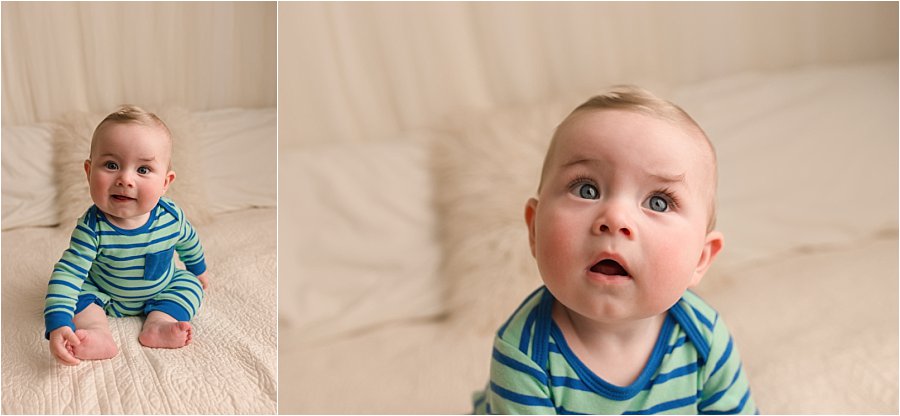 I love Abel's rosy cheeks, but by far his sweetest feature is still all those glorious baby rolls! Just feast your eyes on the cuteness!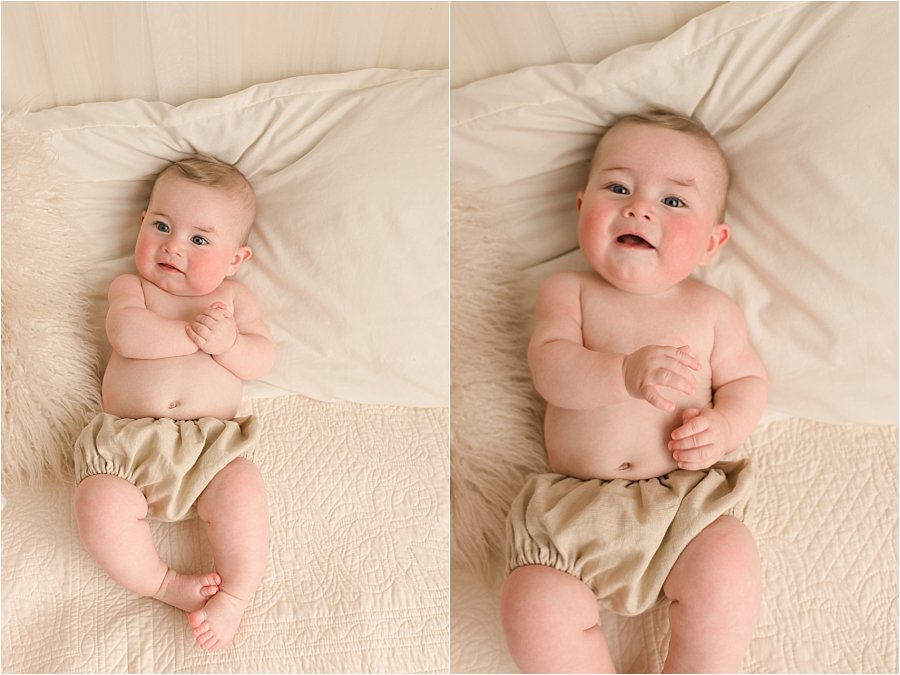 Sibling Pictures During a Session
One of the things that I love is including big siblings and family images during baby plan sessions.  Sloan is two and she's a sheer delight of fast motion and sassy personality.

Sloan also makes the best cheese face.  And Whitney and Josh love it so much that they choose cheese face images every session.  Sloan and Abel are truly delighted in for everything they are.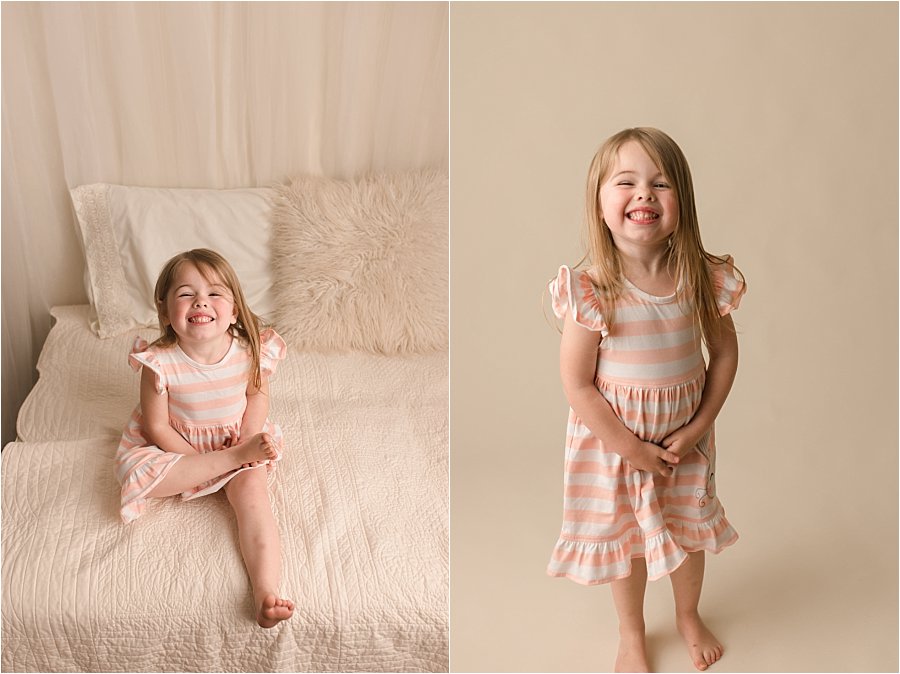 Sloan adores Abel.  This series of sibling images makes my heart so happy!  However, I do really wonder how Abel must taste 🙂
Detail Images
One of my favorite parts of being a Greenville SC Baby Photographer is taking little detail images.  Babies grow up so fast.  I want you to be able to remember all their little rolls and the way they fit into your arms.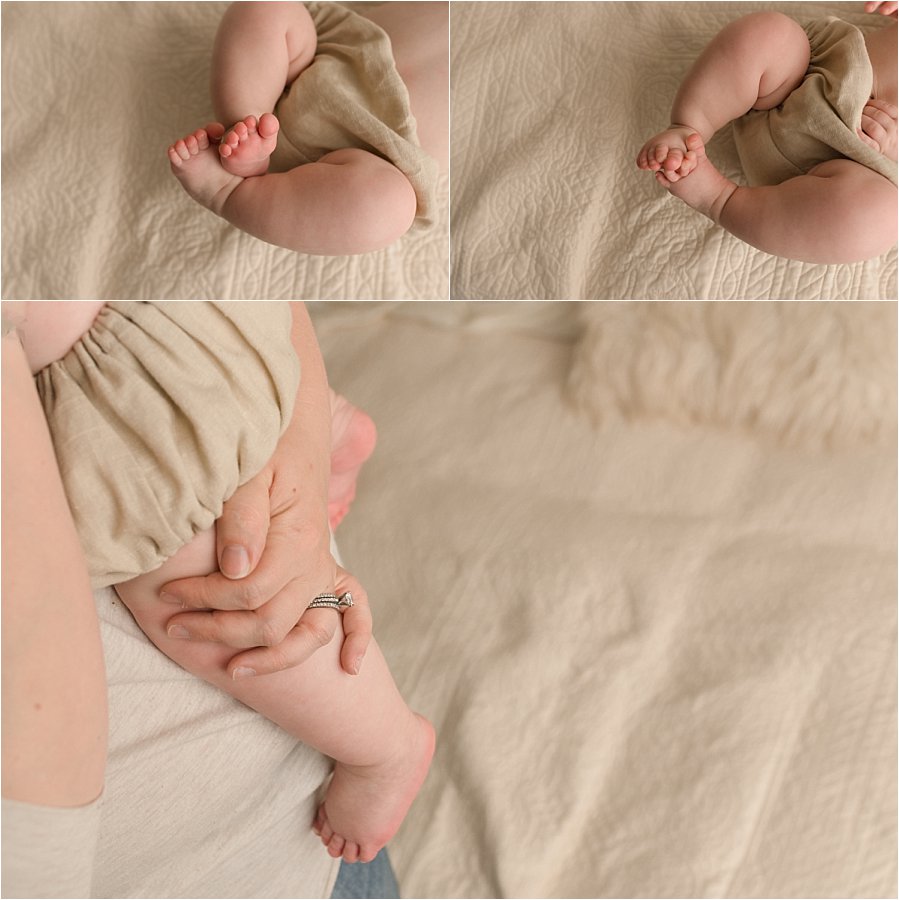 Booking your Own Series of First Year Sessions
Are you looking to book your own Studio Baby Plan Photography Greenville SC?  Or maybe you just want to book a six month session or a cake smash?  I'd love to hear what you have in mind. It's a joy to give you timeless, emotional images of your little ones. Drop me a note about your dream session by clicking here.

I was so excited for Claire's Girly Tutu and Pearls Cake Smash Photography Session Simpsonville SC! I've photographed Claire as a newborn, at 3 months, at 6 months, and now it was time for her one year session. Claire's mom Lindsey has always been super involved in planning Claire's sessions. Lindsey has chosen adorable outfits, Lindsey's own baby dresses, and including a simple white onesie to focus on Claire's inherent beauty. So it's no surprise that Lindsey creatively designed Claire's set. She handmade this banner and tutu!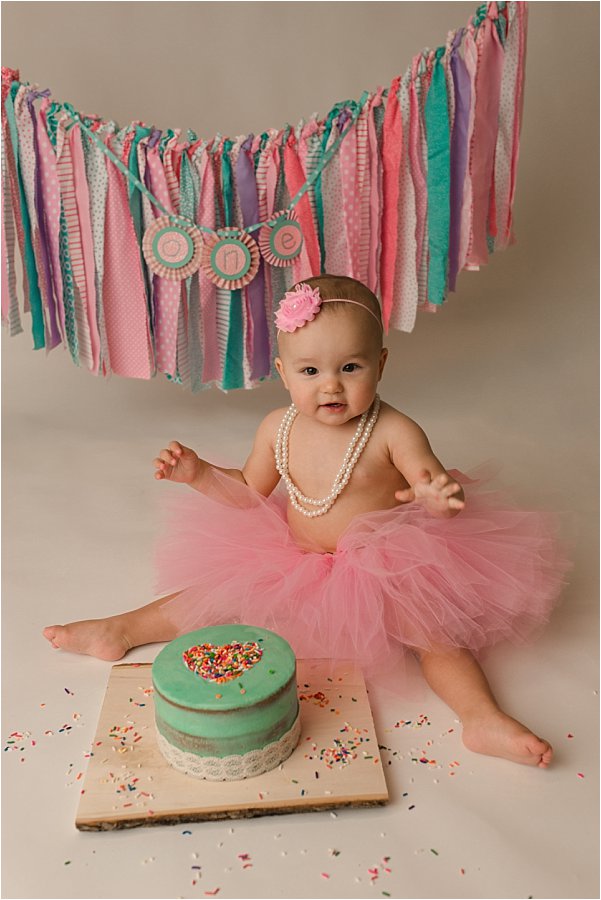 I loved seeing Lindsey's vision come true!  Lindsey and I also collaborated with Christine at Baking Sweet Scents for this adorable (and dairy free) smash cake. Each session includes a semi-naked cake like this one from Baking Sweet Scents. Lindsey added sprinkles and color to her order and I love the effect!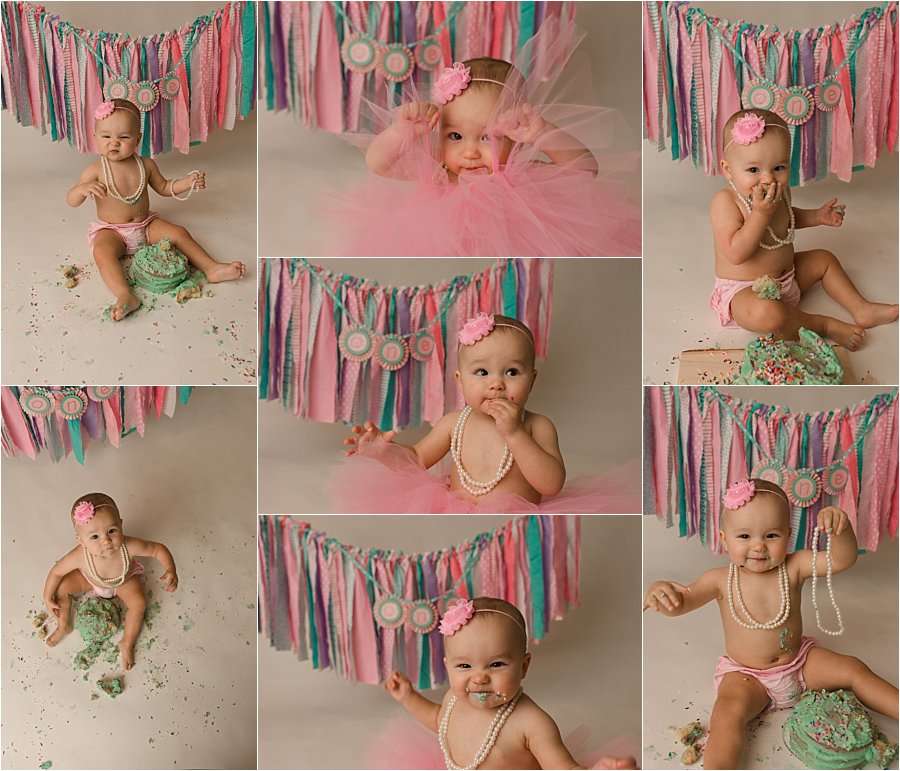 Claire LOVED Baking Sweet Scents cake. She even hugged and face planted into it. It was glorious. Claire even had to enjoy the frosting with her toes! We laughed so hard we could barely breathe.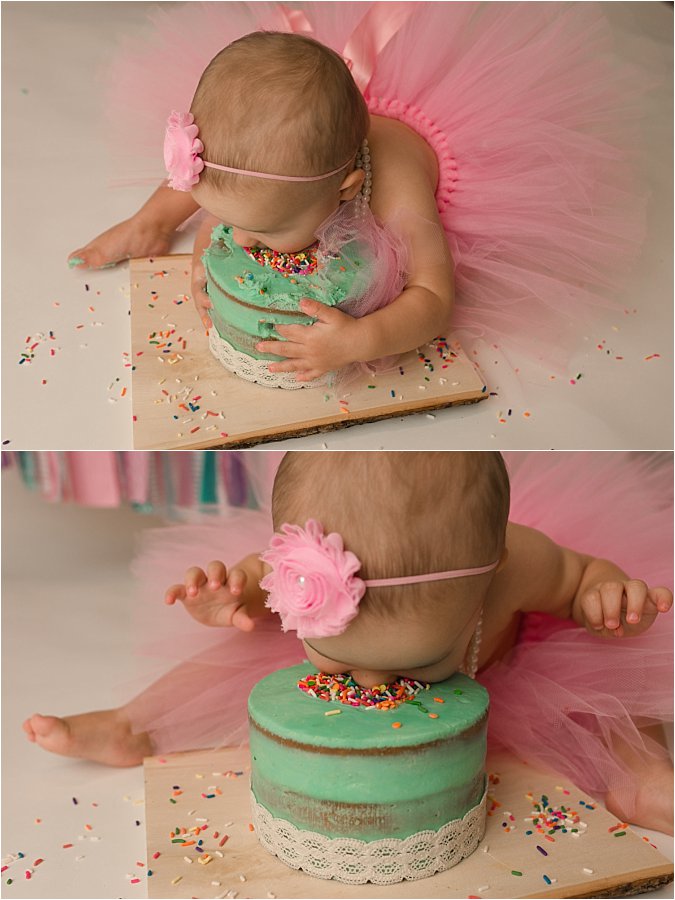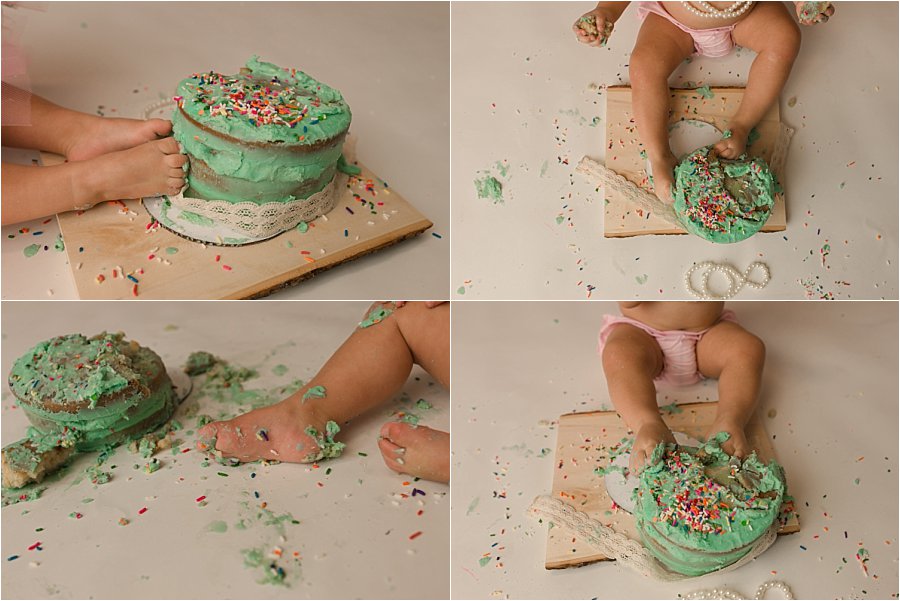 Not all babies love their cake as much as Claire did, but every baby is equally emotional about cake. From tears to screaming horror at the sticky substance on their hands to feeding cake to mom and siblings, all one year olds react uniquely.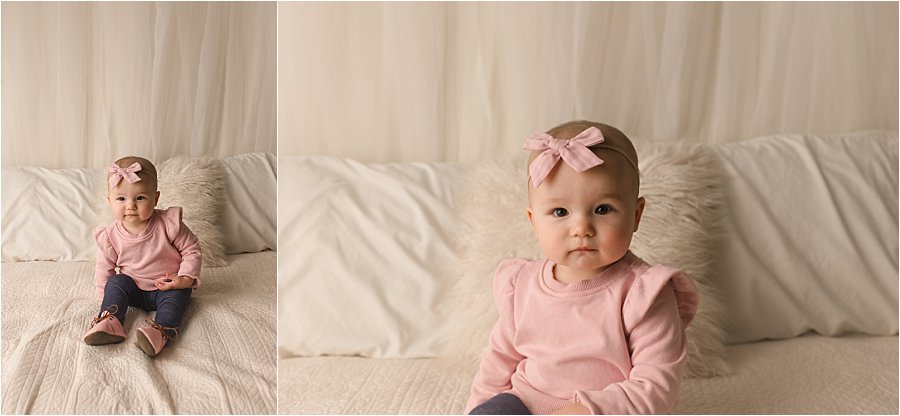 Before these cake smash images we also took some simple portraits. You can see Lindsey's unique style in her beautiful wardrobe choices for Claire. And I love that Lindsey also opted for family photos.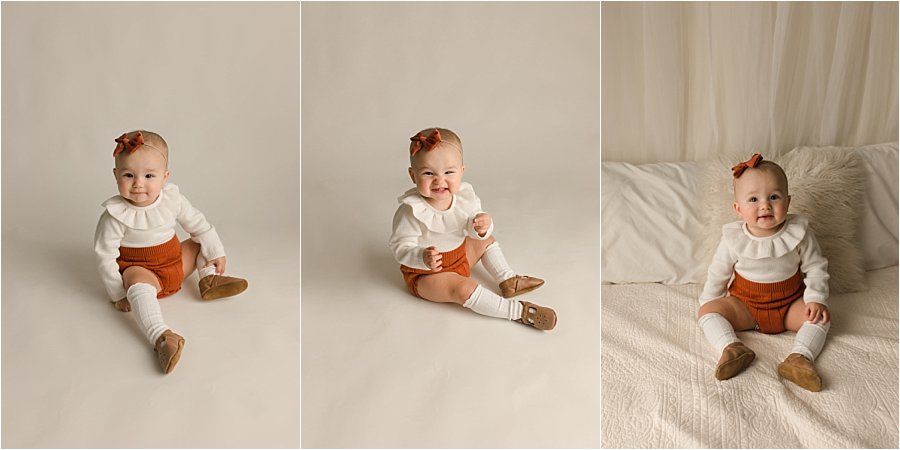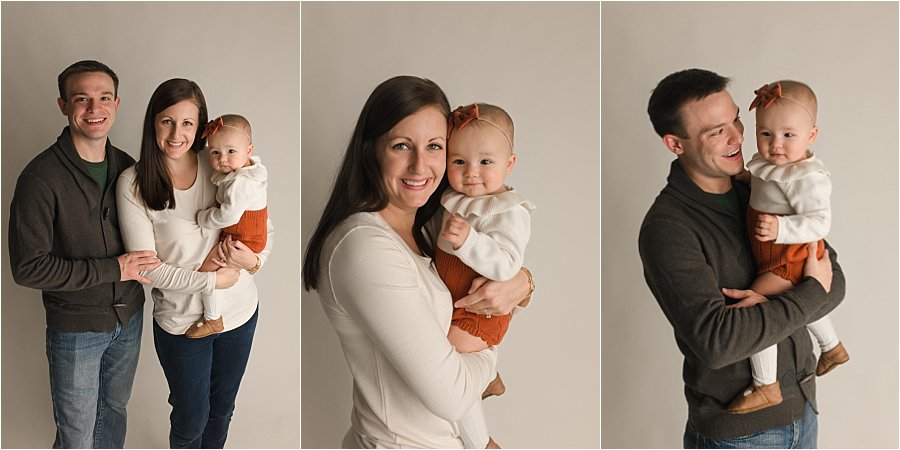 Are you looking to create and design your own daughters girly cake smash? I would love to hear your creative ideas and collaborate with you to create the images that you are dreaming up. Click here to tell me about your baby, your wishes, and get information about working with me.
I was so excited to see Reagan and her family for Classic Timeless One Year Old Photography Greer SC. This is my third session with Reagan this year. I got to see her as a newborn (click here to see the whole session) and at six months old (click here to see the six month session). It's such a joy to watch Quiet Graces Babies Grow up! Here are a couple of pictures from her first two sessions!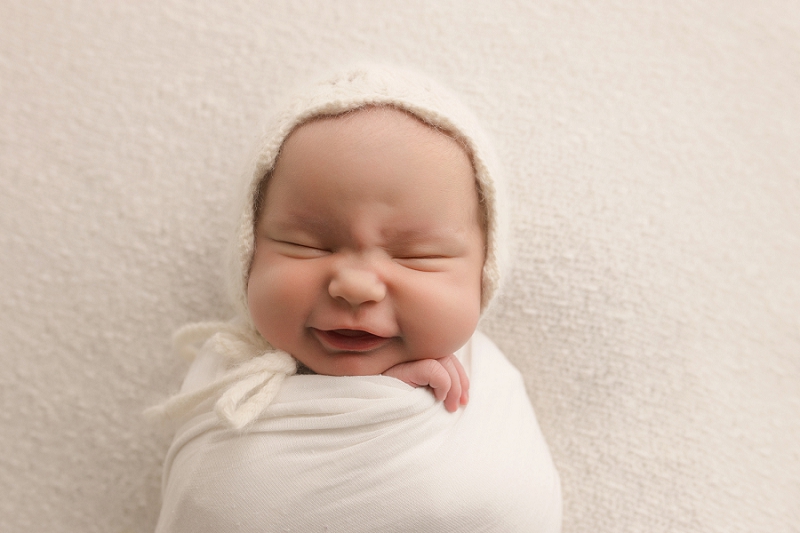 Simple Timeless One Year Old Portraits
We started Reagan's session with some portraits.  I love how you can see her personality in the two images below.  She just HAD to pull that bow right off her head!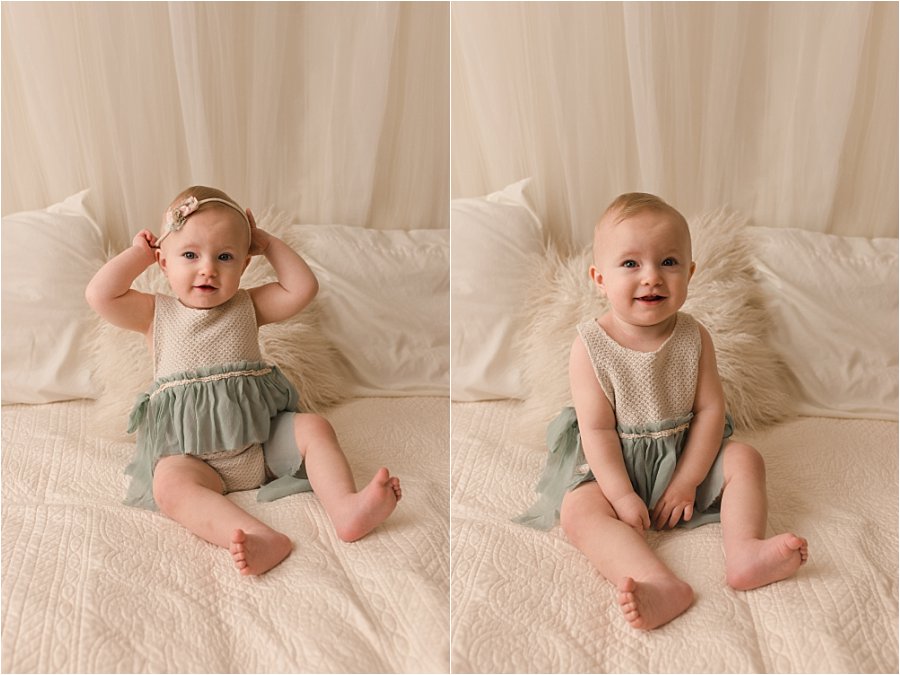 Like most one year olds, Reagan had a little bit of stranger anxiety. She wasn't quite sure of of me. But she did warm up during these portraits and even let mama Heather dart out of the room to borrow some clothing from the studio wardrobe for  herself and big sister Emery.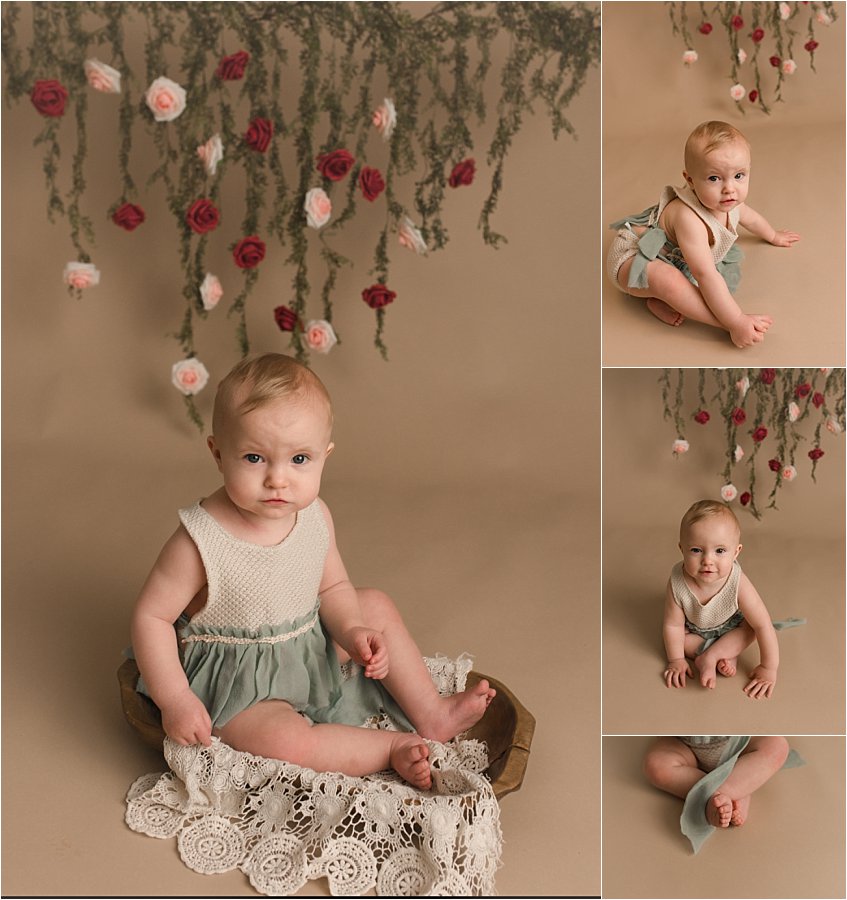 The outfit that Reagan is wearing in this portrait set is also part of the studio wardrobe. The green silk skirted set is a studio favorite from Cora and Violet's Shop.
Studio Sibling and Family Pictures
Once Emory and Heather were dressed we took some images of everyone together. Often mama's shy away from being in pictures, but one of my favorite things about Heather is that she always jumps in the images. Her bravery is a beautiful example for these sweet girls and they'll always remember how much she adored them!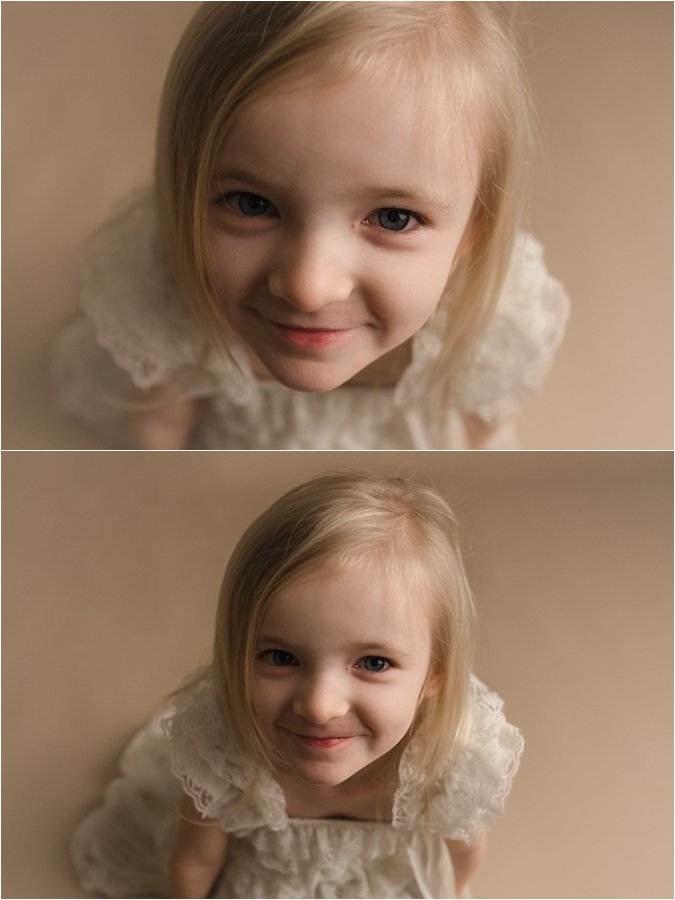 Emery hammed it up for me this session! It was a joy to capture these smiles because Emery takes more time to warm up than most 8 year olds. I drew her an elephant to sit on and let her take home some of the posing paper after the session. I think that helped.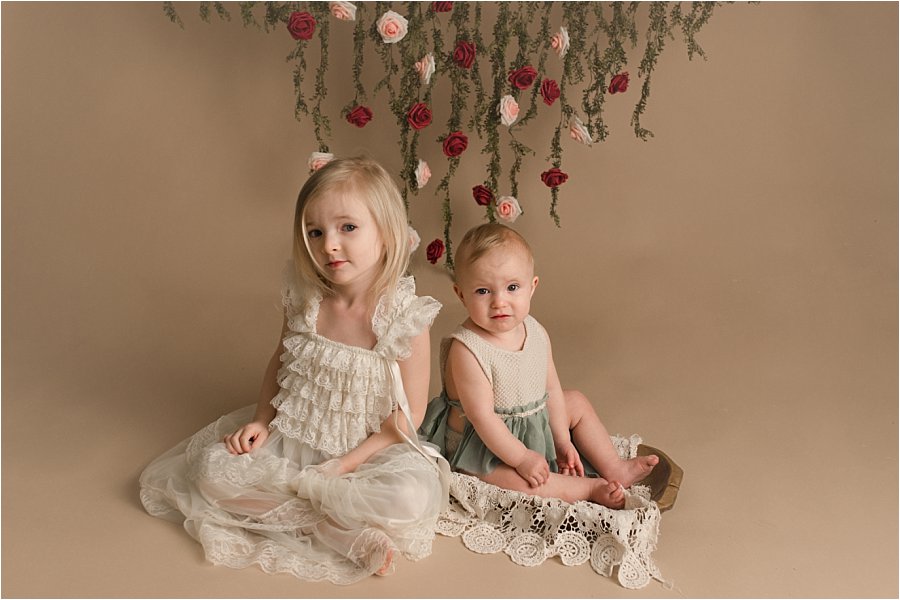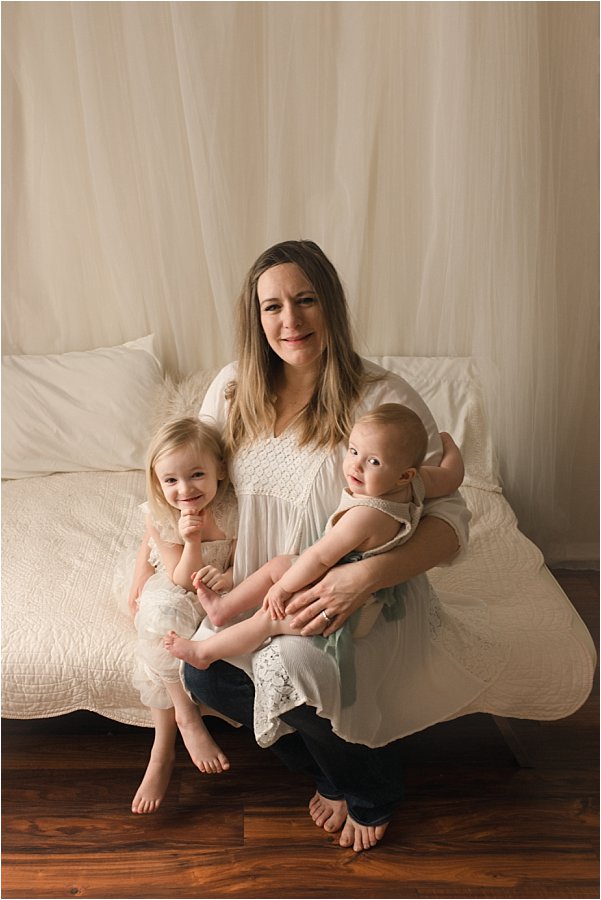 These mama and daughter cuddles are my absolute favorites from this session!

Emotional Simple Studio Cake Smash
Finally, we finished the session with a cake smash! Christine of Baking Sweet Scents makes a semi-naked cake for all of my cake smash session that's included in your session fee. Most clients opt for plain cream frosting, but Heather went super pink and girly for Reagan and I love it!

Interested in Booking your One Year Old Session?
Great! I'd love to serve you! Click here to tell me what your dream Classic Timeless One Year Old Photography Greer SC looks like!