Melissa Aldrich
Looking for a short and sweet holiday mini session Greenville SC perfect for holiday and Christmas Cards? Look no further! These sessions are under 30 minutes long!
Holiday minis are offered on select Saturdays in the fall. You'll have 30 minutes in my Taylors, SC home studio to capture a bit of magic. Each session includes 8 digital files that you'll choose from a proof gallery after the session. You'll also have the option of purchasing a custom designed Christmas Card! I'll also help you plan your wardrobe, if desired. Best of all, holiday minis are only $199. Click here to contact me about booking your session.
This family chose to dress in festive buffalo plaid. Isn't it fun? If you'd like, I can help you plan your wardrobe to match your personal style as a family. This service is included in your session fee.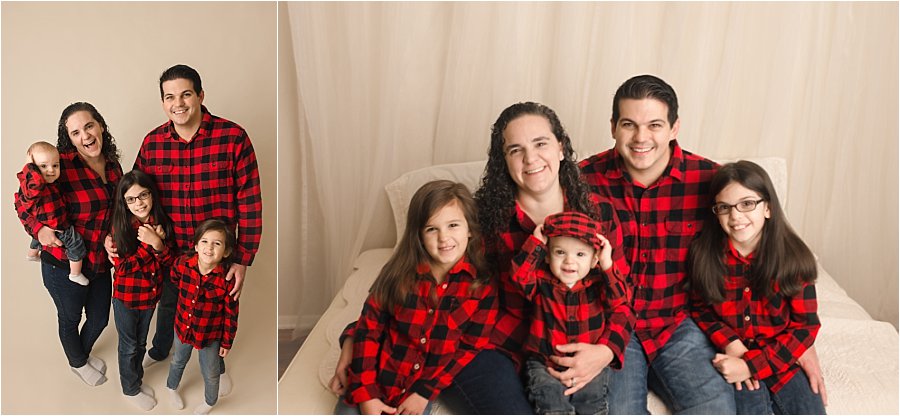 We'll take images of the whole family standing and sitting. There's nothing I won't do to make your session easy on you and the kids. In fact, I send you information on how to best prepare your children for a successful session. During the session, you're guaranteed to share a hysterical laugh at me making elephant and rooster noises to get your youngest kiddos to look at me.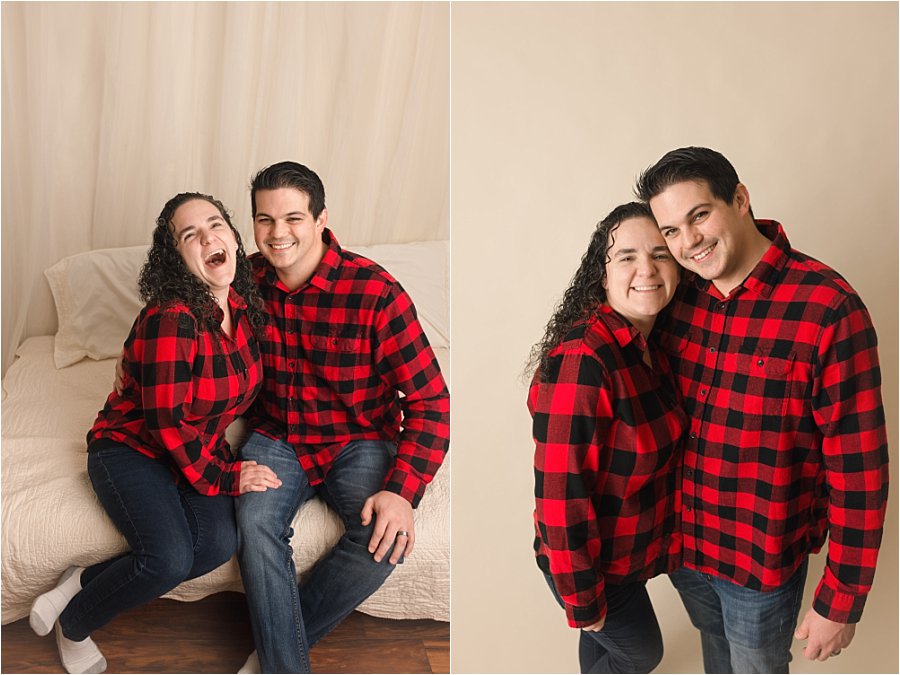 And as I tell my families, it's also important to get mom and dad in some images alone. After all, how many times after our wedding pictures do you two get to be featuring in images as a couple?! That's sad, since surely your love has grown richer!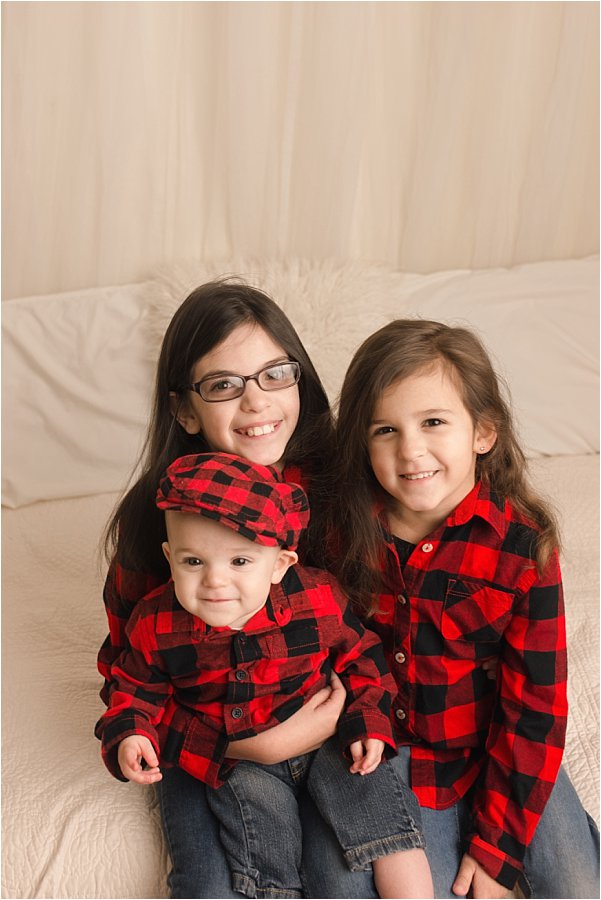 Next, we'll aim for capturing that perfect and elusive sibling image in your holiday mini session.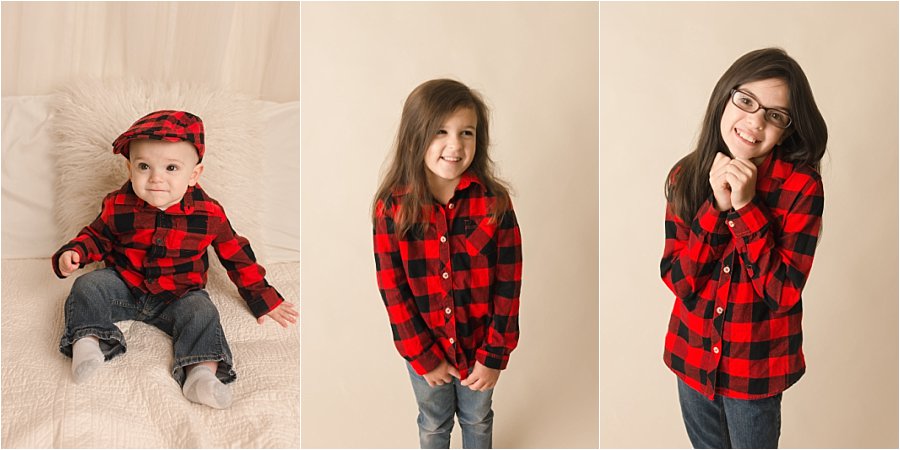 Last, but not least, I'll do individual images of your children so that you'll be able to see their growth each year.
I hope you'll consider booking a session for your family. I can't wait to work with you!
Are you looking for Simple Timeless Baby Newborn Pictures Greer SC? Maybe overwhelmed a bit by the props and colors of other photographers? Would you rather have memories of your baby in their pure and simple beauty? I'd love to be considered to serve your family. Click here to inquire about booking your session. Or stick around and read about the story of Rowan and see the images his parents selected from their session.
Rowan is Chelsea's second baby that I've had the joy of photographing! Here's his brother Finn as a newborn. Aren't the just two peas in a pod?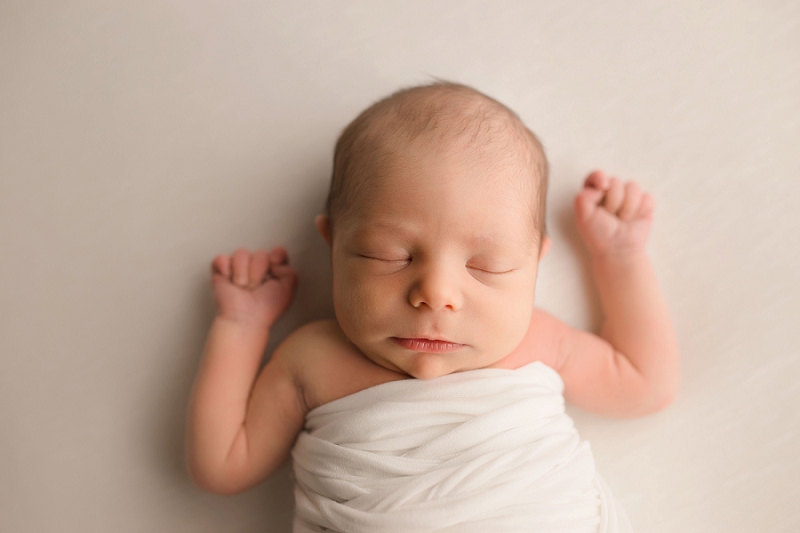 And these sweet boys are the cutest brothers ever! Look!  Finn was adorable with Rowan. Sibling pictures with kiddos under 3 are not usually easy, but Finn made it easy.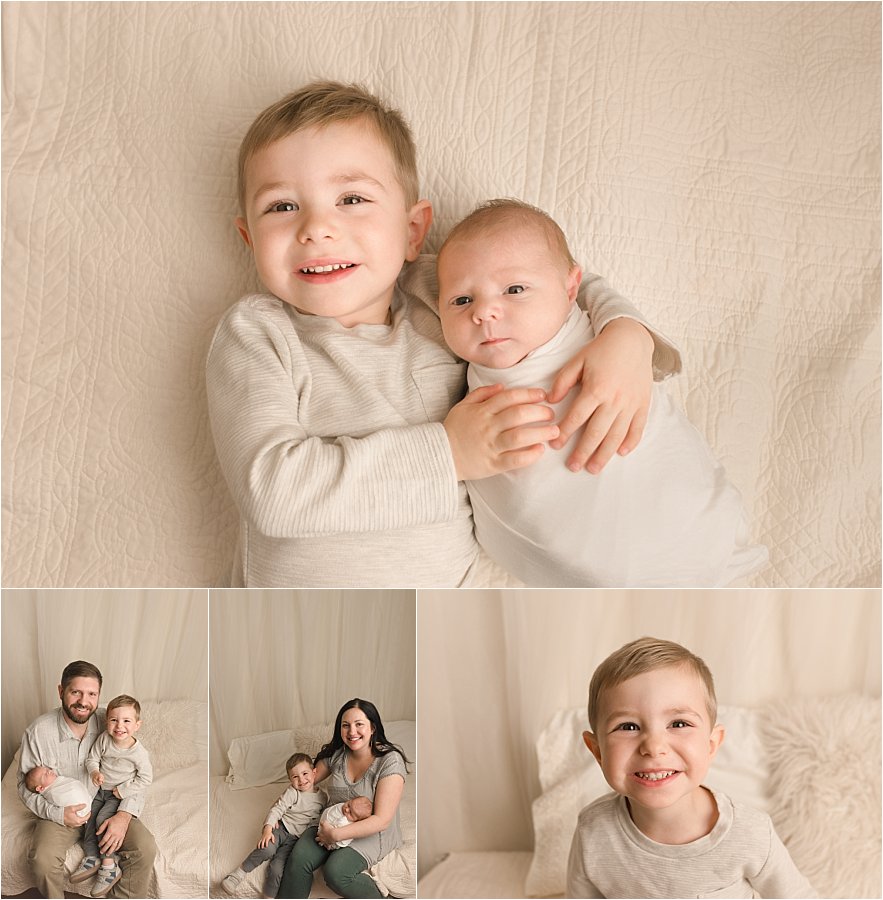 I especially love his silly face in the family photo below. I'm not sure if I had a lion dancing on my head or if I was making elephant noises, but Finn was a JOY to play with!

Some of my favorite images are new parents with their babies. Lots of moms feel out of sorts after birth, but I always work a little magic in Photoshop to help you look more like yourself. Chelsea and Micheal are so in love with their kids which shows in photos. This is why it's so important to be in picture with your kids: they can see how much you love them. Plus, look at Finn's smile! So precious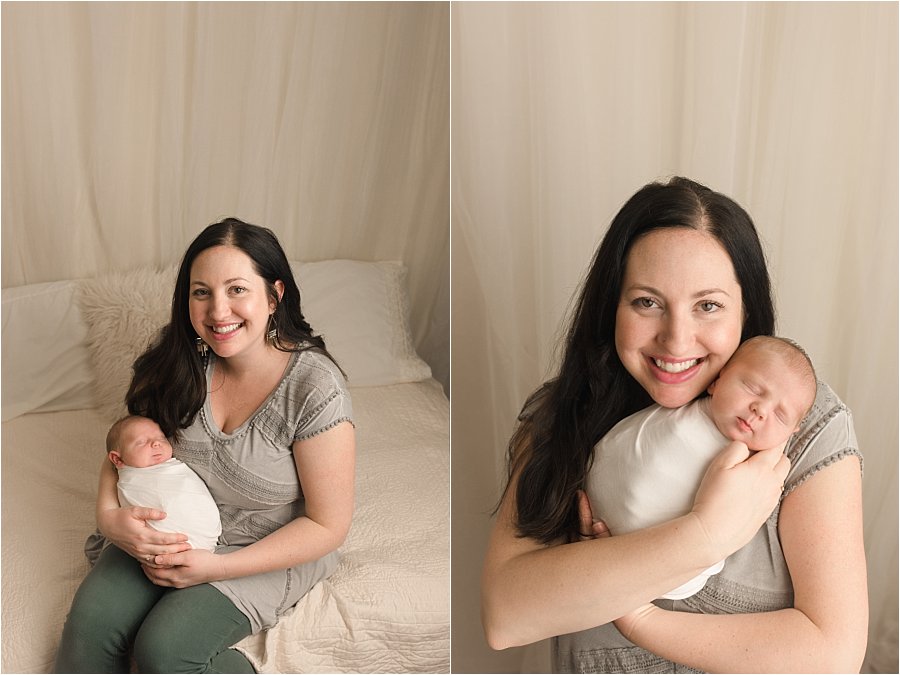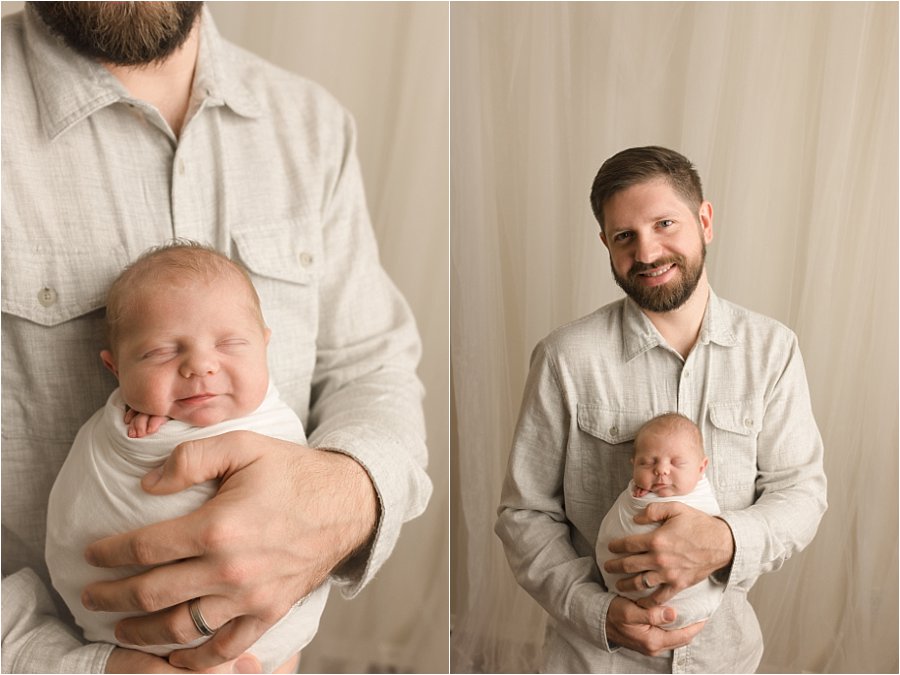 As for sweet baby Finn, we were able to capture his features in a simple bowl, a layered nest set up, and just as he is on olive and cream.

The black and white below is my favorite image from Finn's session. There's something so pure and simple in capturing his features against the light.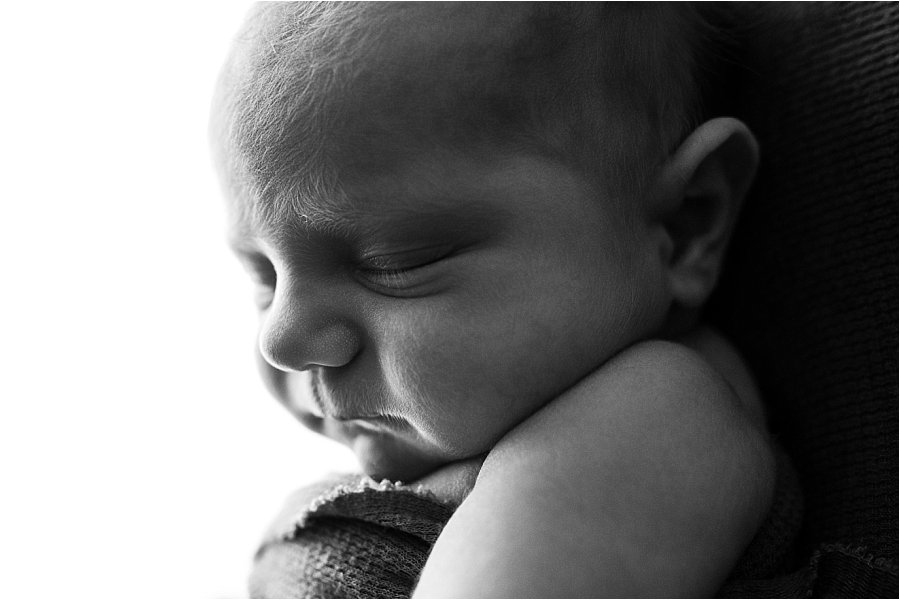 Looking for Simple Earthy Baby Boy Newborn Pictures Greer SC? Hi, welcome! Let me introduce you to Collin and his family, but especially his mama Courtney and how she had some specific dreams for this session.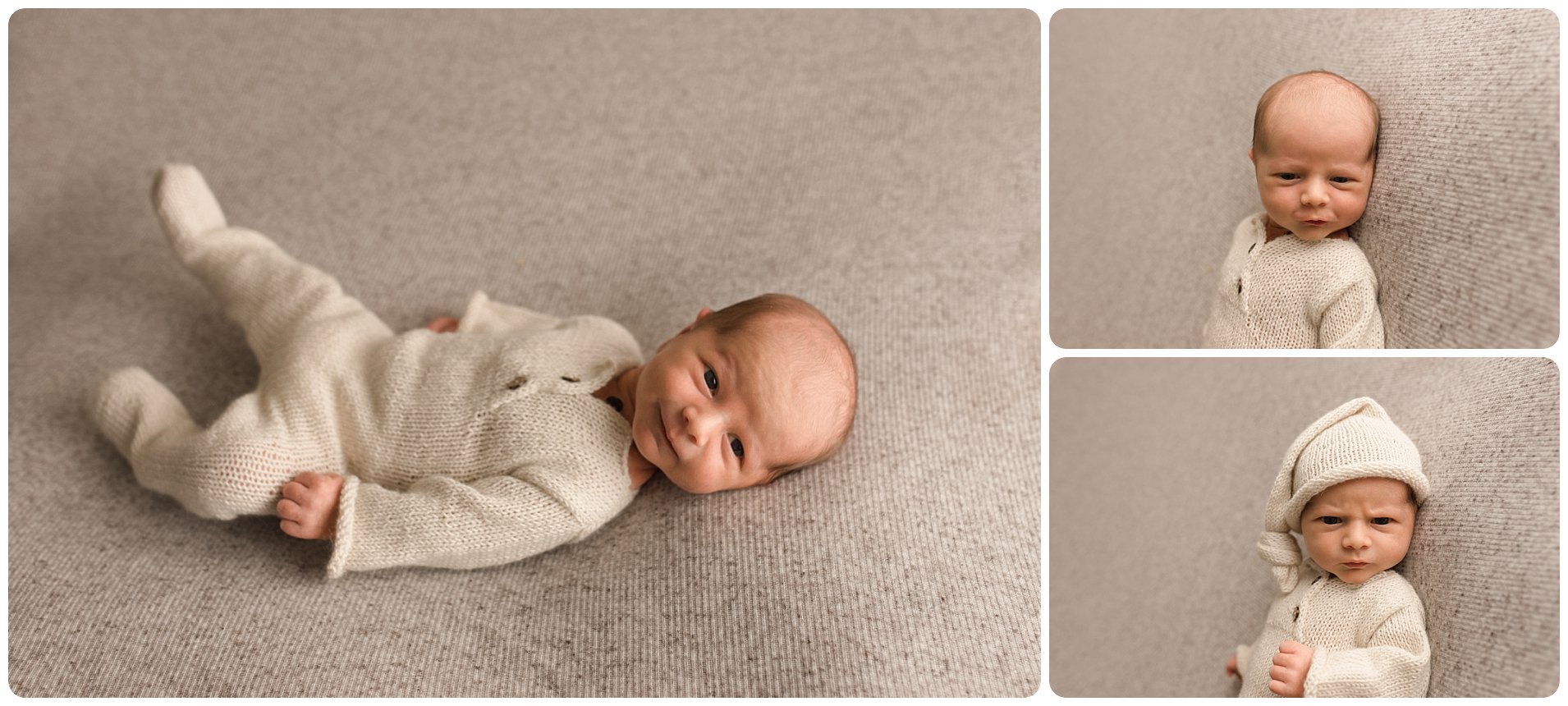 Courtney had worked with me before, both for middle sister Reagan's Newborn session and for her Reagan's cake smash, which you can see here. However, this is Courtney's first boy! One of my favorite requests that Courtney had was of this image with her grand-daddy's hat and sweet Collin. You can see it below featured plainly on the little log bed, but it's also resting subtly under Collin inside the wooden root bowl. It's such a beautiful tribute to such an influential man and it was pleasure to honor this request.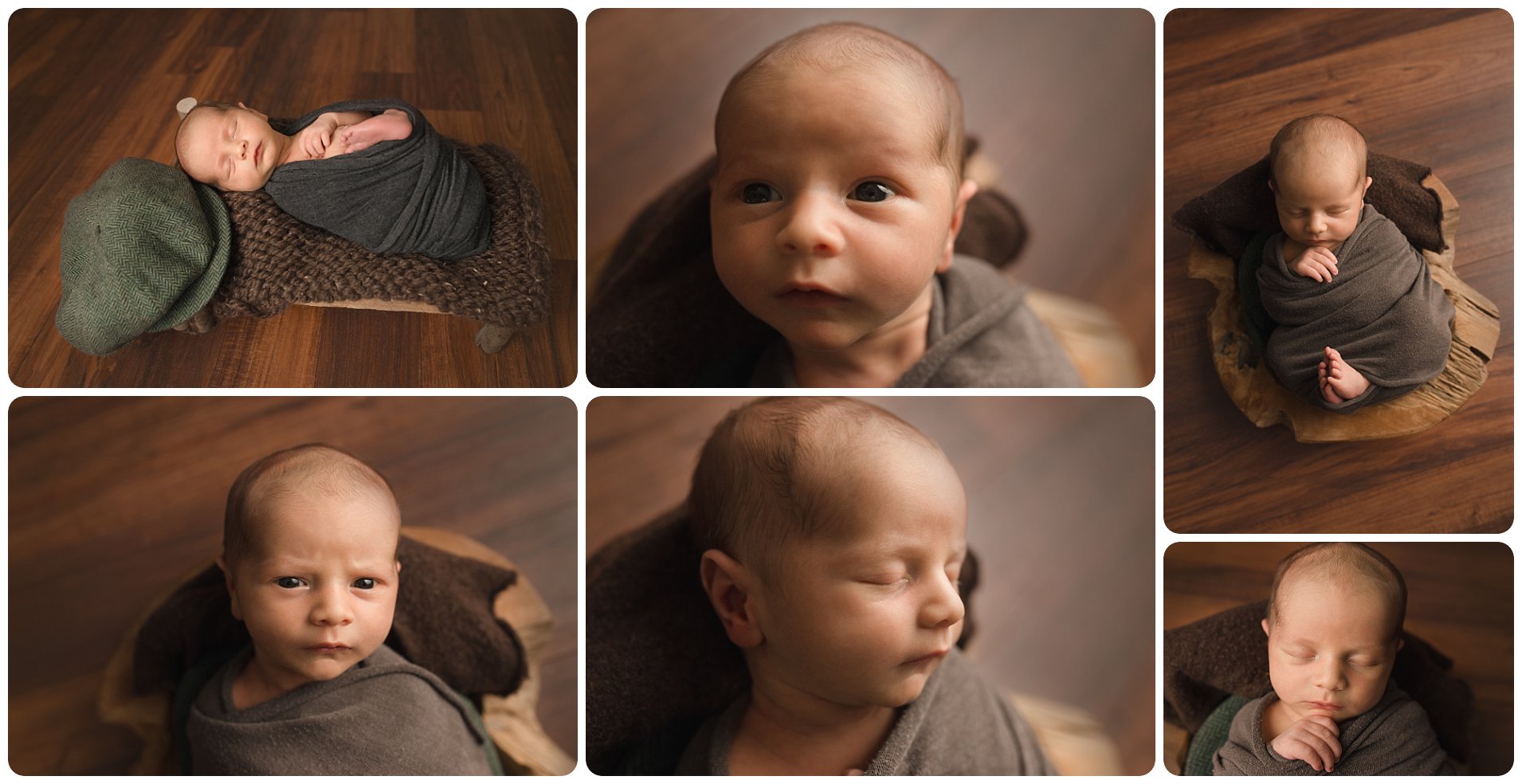 As you can see, Collin really liked being awake for his session. This happens more often than you'd expect. Sometimes, despite a full tummy, warm room, and soothing noisemaker, babies just want to take in the scenery. Collin was definitely one of those babies! I don't force newborns to sleep. I actually prefer that they direct the session. So if I have an awake little one, I'll move them through a series of props and outfits to make sure mama gets some variety in their gallery. Eventually your baby will sleep, but it's more important to me to honor them as a person than to force a pose or sleep.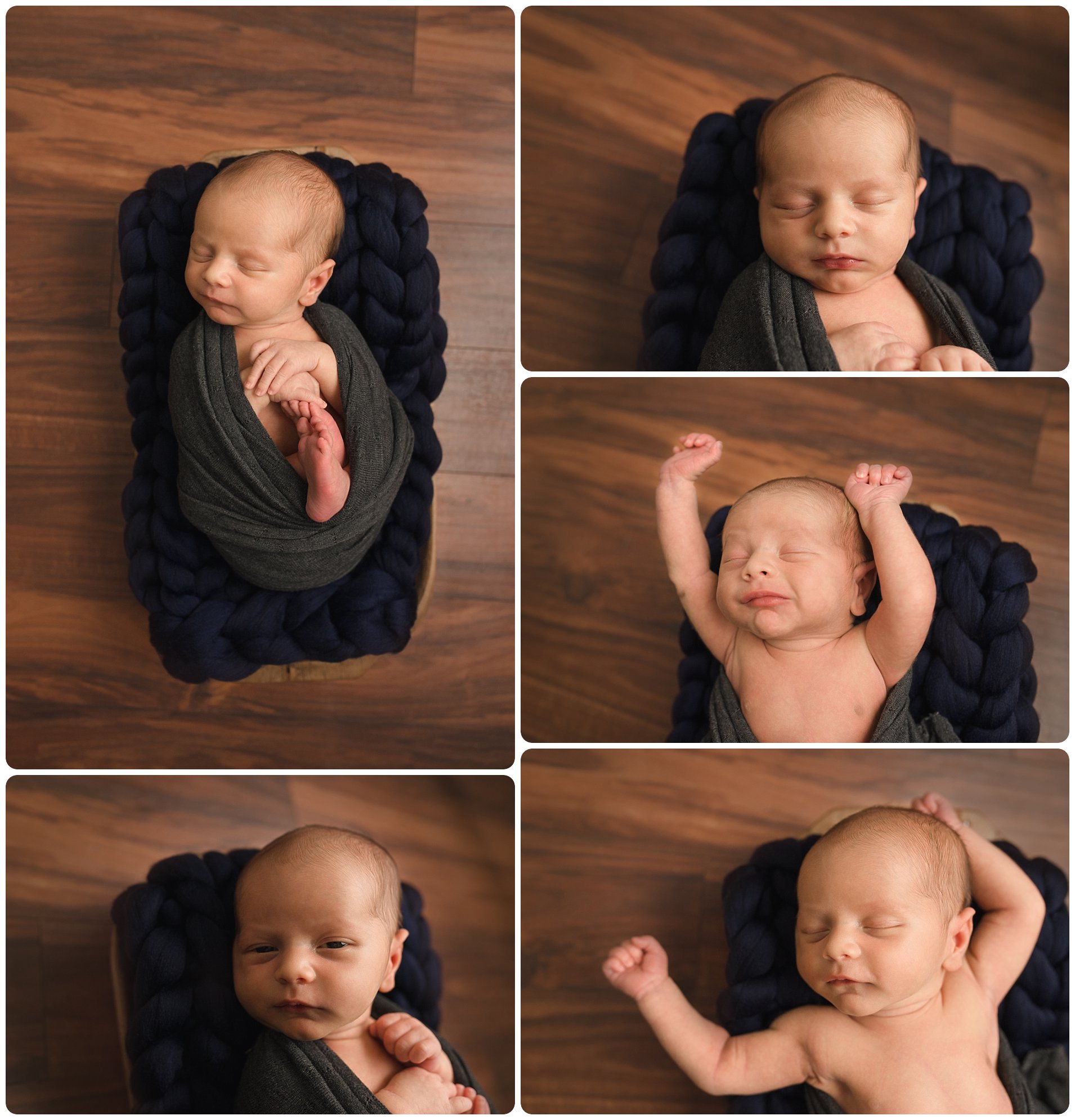 As you can see, big sisters Reese and Reagan delighted in their new baby brother!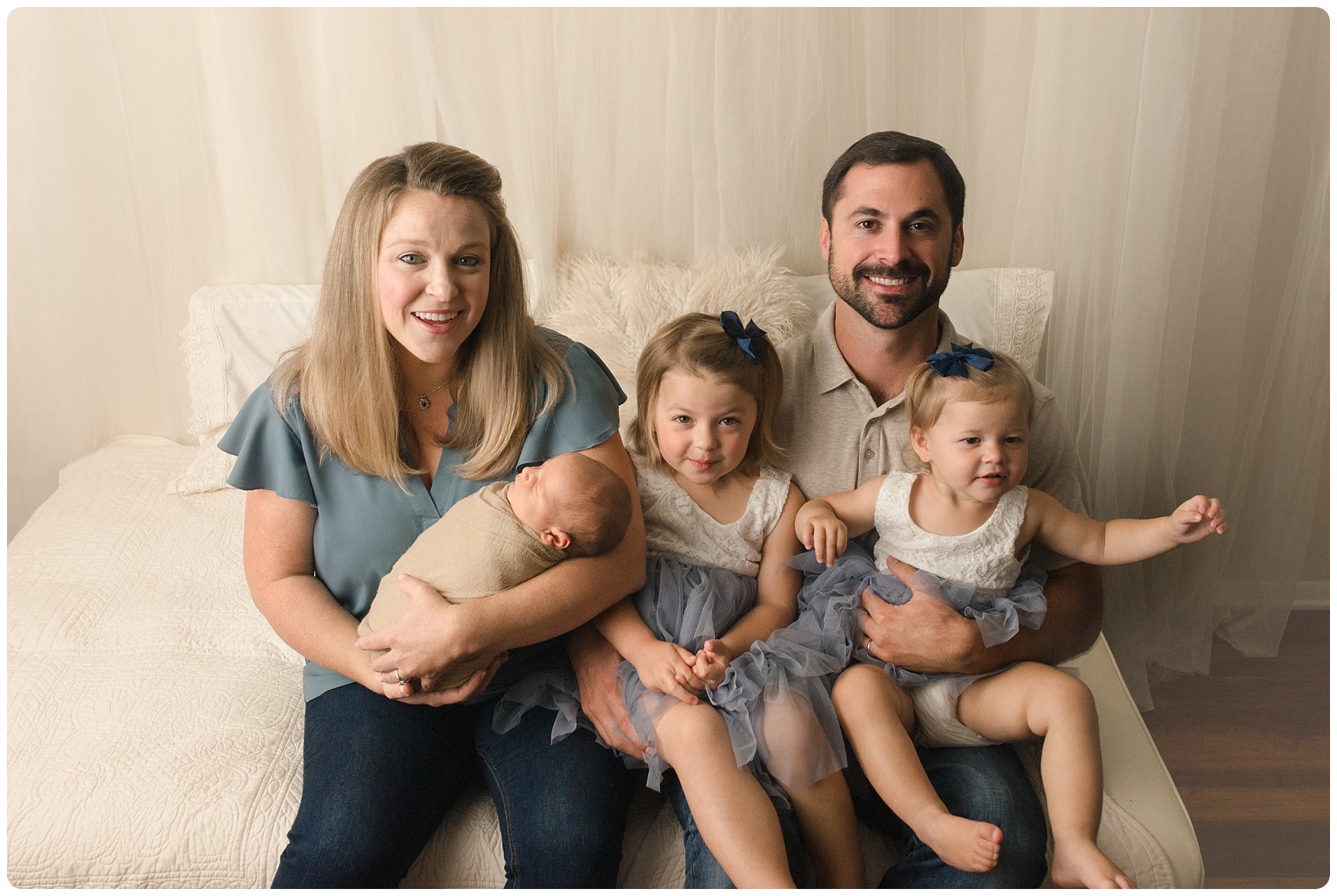 Sibling pictures, especially with siblings under 4, can be a challenge. Here too I prefer to let the kids lead as often as I'm able. Having a new baby is a big change so I try hard to make big siblings feel like they're the center of attention while they're in the studio. Usually I request that big siblings get a special trip out with dad or grandparents or a treasured adult. Newborn sessions can be long with feedings and soothings and it's good for them to have a "date".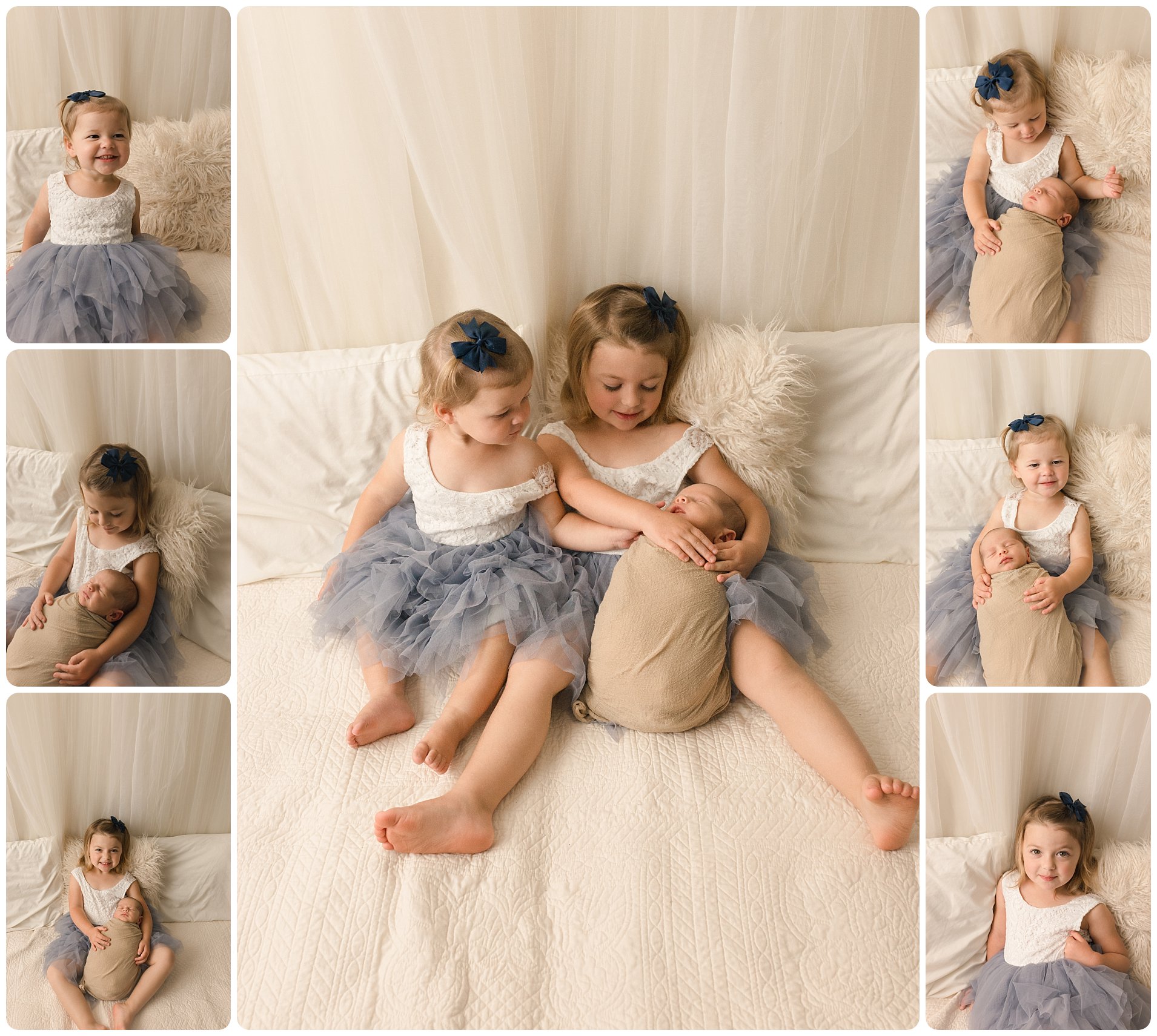 Do you want to book your own earthy baby boy newborn pictures Greer SC? I'd love to be considered for capturing your little one! Click here to inquire about booking your own session.
There's something so timeless about natural posed Black and White Newborn Pictures in Simpsonville SC. When a parent requests to have their baby photographed on black, I get so excited. These images have such a ethereal womb like quality. The shadows here caress Tate's tiny features and highlight them. The image with Lyndsey's hands emphasize just how small Tate is. But most of all there's so much emotion in black and white. Which image is your favorite?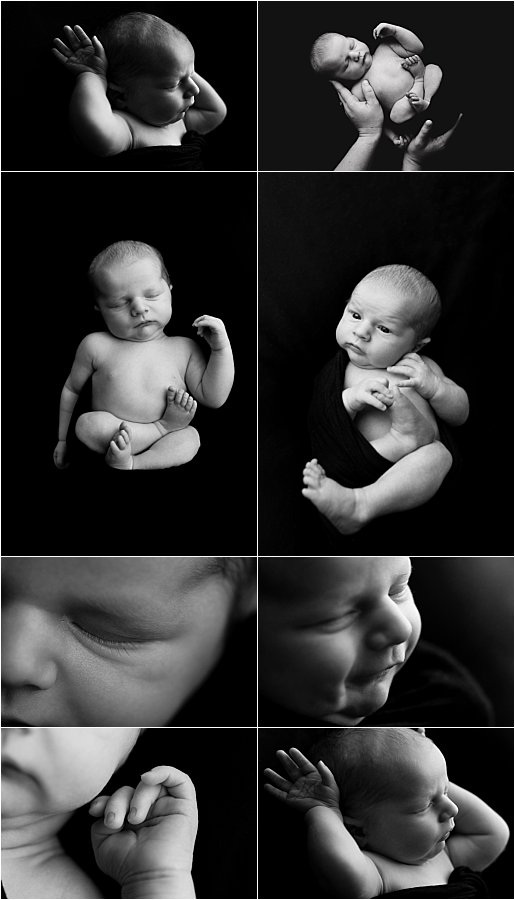 As mentioned above, one of the perks of working with me is I let you select the kinds of images and colors you'd like featured in your session. Before your session, I send you a slideshow with all the poses and props and colors in the studio. I let you select your very favorite images. Now, of course, your baby will definitely lead the posing with their sleepiness and comfort, but I work hard to honor your preferences as well. It's your session, too!
I had already worked with Lyndsey and Ryan before in when their first son, Teddy, was born. You can see that session by clicking here. I really loved seeing how much Teddy had grown! I have a blast with two year olds, playing and tickling and making them feel like the session is just about them before sending them off on a fun playdate with mom or grandma. Sometimes I don't even get to to interact with mom and dad much during family images because I'm working so hard on building a relationship with big sibling!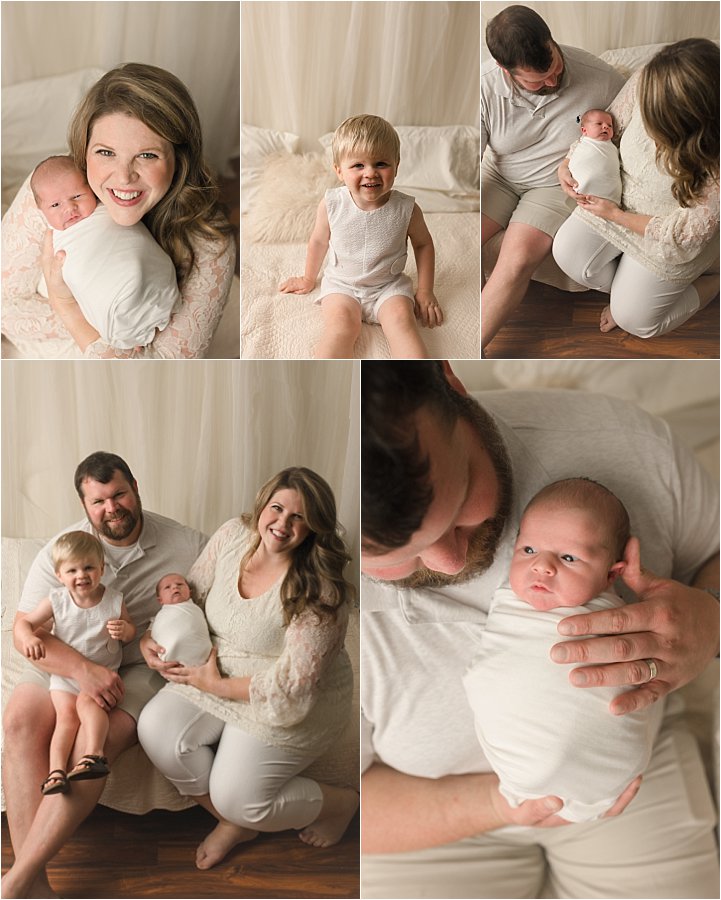 Are you searching for newborn pictures in both color and black and white with a timeless quality? My clients receive both color and black & white of every image they choose for their file collection. Why don't you click here to get to know more about working with me or click here to inquire about booking a session? I'd love to hear your photography vision.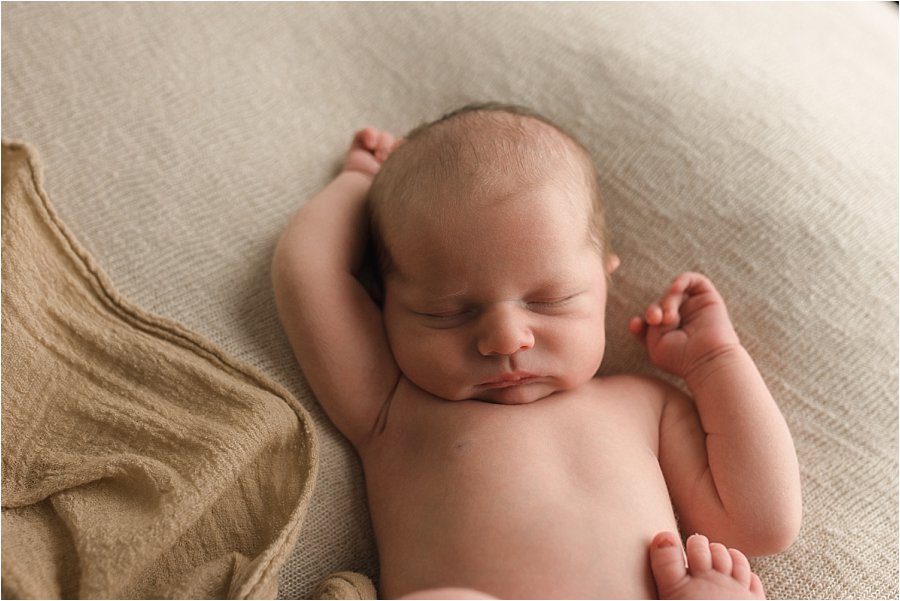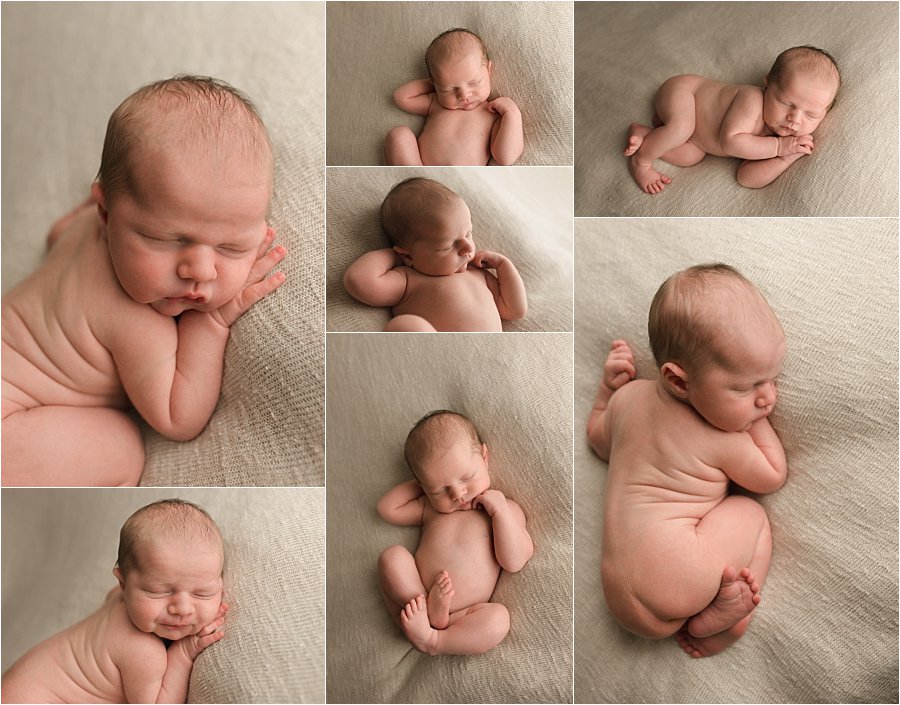 Searching for timeless newborn photography after a NICU stay in Greenville SC? When Leigh and Jake brought their little guy Nico home from the hospital they were a little alarmed that most photographers in the area required that your newborn needed to be under 14 days old. Nico wasn't under 14 days old. He'd spent nearly a month in the NICU and although it was just past her due date, Leigh wasn't sure if she'd find a photographer who would take him.
Until she stumbled on my website with it's section full of older and NICU babies. I will not turn a baby away due to age. My oldest NICU babies have been three month old micro-preemies. And I'm willing to try full term babies up to 6 weeks old. Usually even at a baby milestone session for a 2 month old I can get one good prop shot, even if your baby is awake. Your baby deserves to have memories in print and I'll do my best to create them.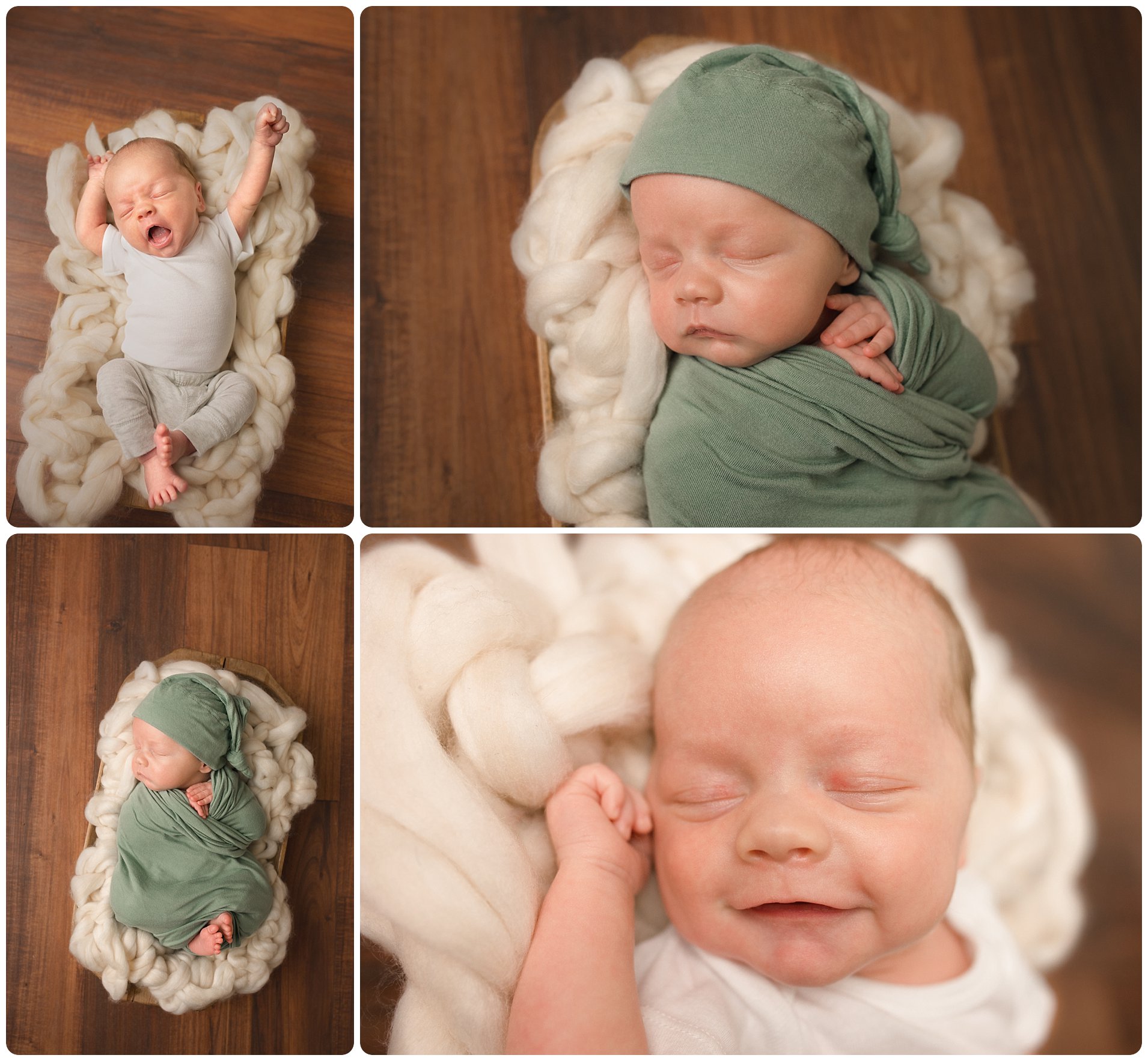 I'm a sucker for details. I love telling your story right down to the precious little gestures like their tiny toes in your hands. Leigh and Jake just adored Nico. Many of these images are more spontaneous joy rather than posing.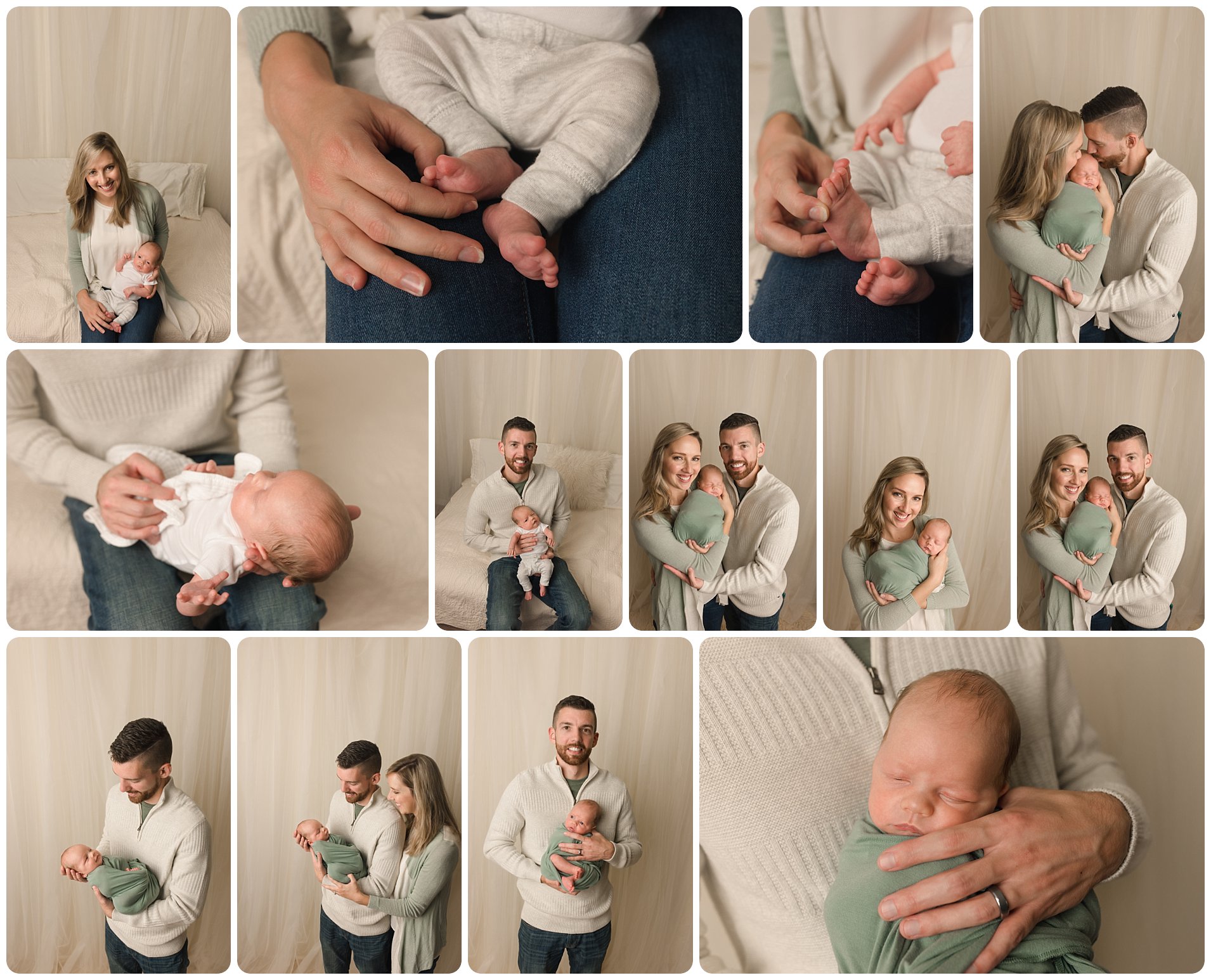 One of the ways I try to honor your little one as a person, especially if they spent time in the NICU, is to let them lead the posing. I feel for their preferences in movement and I watch how your little one lays his/her hands that is uniquely your baby. I try to move them slowly in little movements. I take many different angles to create a full gallery. I think this is one of the reasons I've always been successful with NICU babies. I respect them as little people with opinions. I love this series of Nico on my olive backdrop.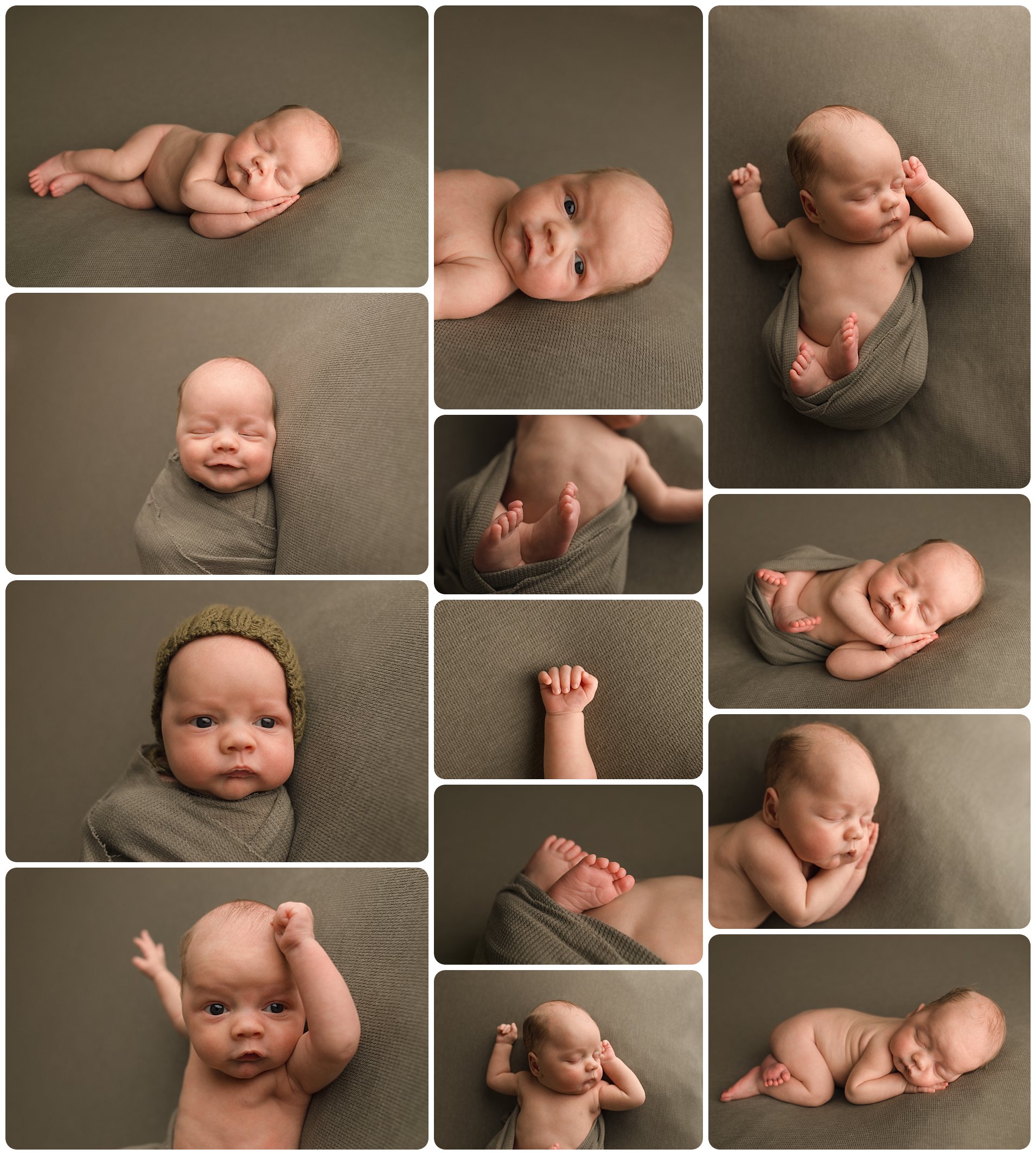 Are you looking to book Timeless Newborn Photography after a NICU Stay in Greenville SC? I'd love to be considered to capture the beauty in your baby. Drop me a line telling me your NICU story and picture dreams by clicking here.