Melissa Aldrich
My favorite of being a Greenville SC Newborn Baby Photographer is being one of the first people to encourage mom after the hospital stay.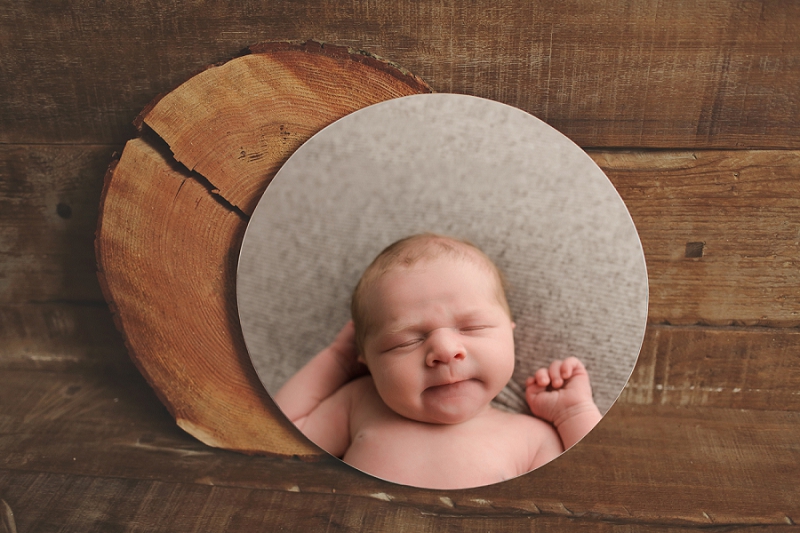 She's maybe seen her pediatrician and peppered him with questions, but many times no one has whispered to her that she's doing a great job or told her whether or not something is normal.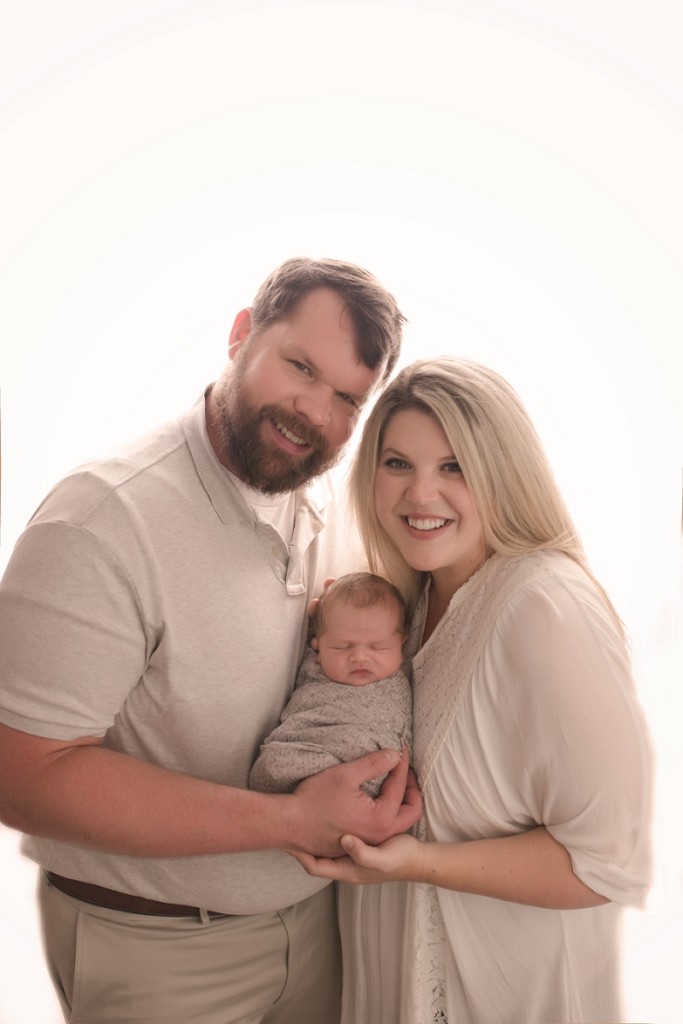 Lyndsey is an outgoing and adventurous grade school teacher.  She likes to tackle life with a loose and fun plan and likes to laugh out loud.  But her delivery (like most first time deliveries), wasn't exactly as she expected.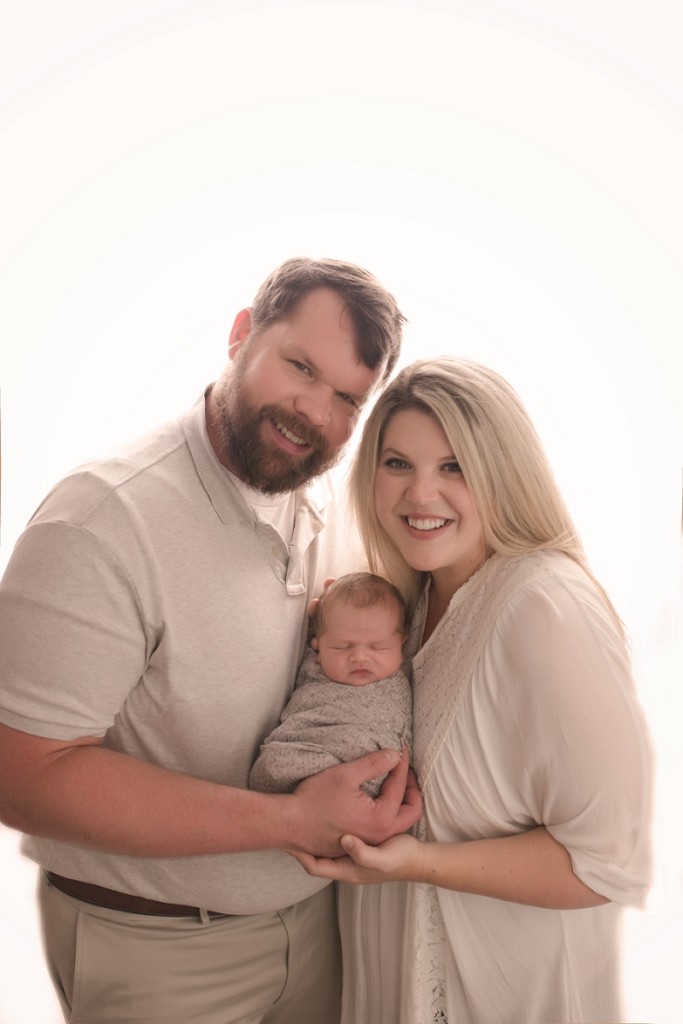 It was so nice to share with her about my own deliveries and listen to her say "Oh, me too!" "Oh that's normal, too."  "Yes, it was exactly like that." I hope I was able to encourage you, Lyndsey!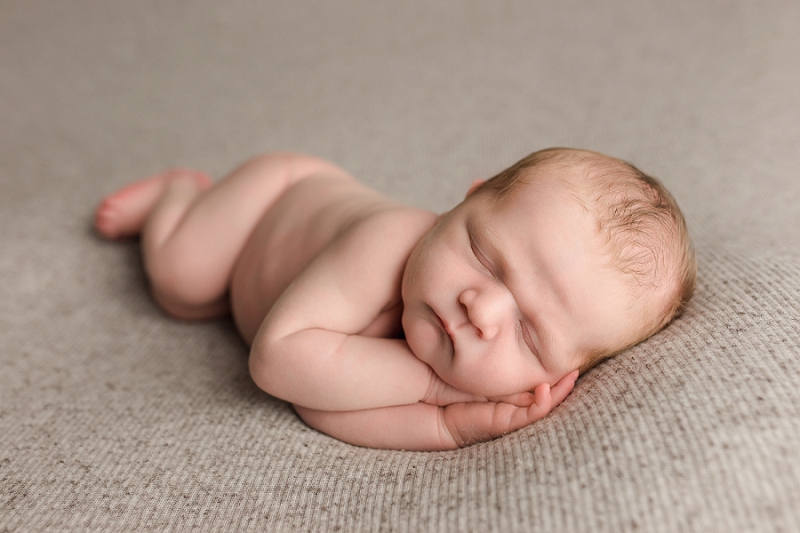 But what I most loved about Lyndsey's session was listening to her "Oooooh!" and "Ahhh!" with such joy over watching her little guy Teddy.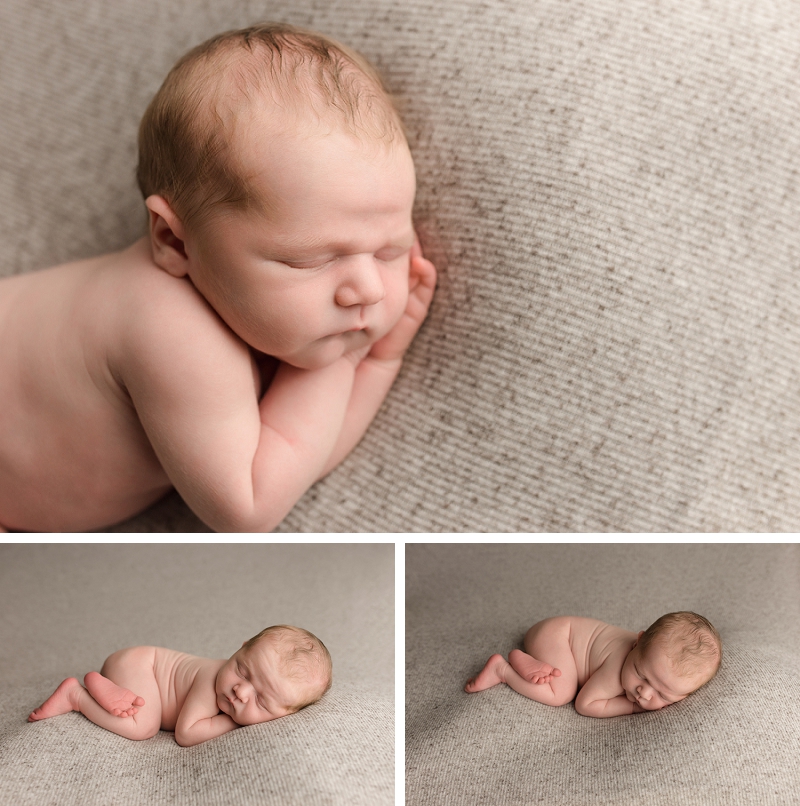 She had feared that Teddy might fuss the whole session, but soon was asking for swaddling tips.  My studio is warm with ambient white noise, just like the womb.  When you add a swaddle, babies feel exactly like they are back in their home for the last nine months.  Creating the right environment for the session is magical for the baby.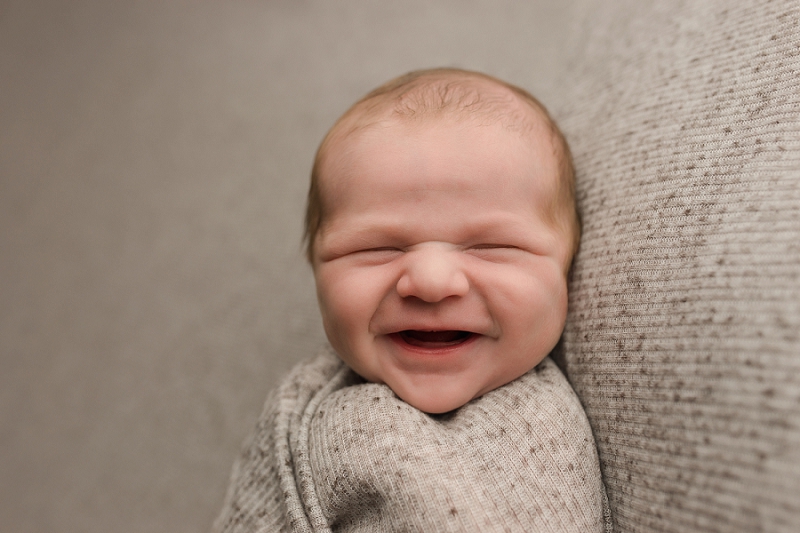 Lyndsey, you're an amazing mama.  The way you look at your sweet boy Teddy, melts my heart.  The way you patiently nurse and cuddle him…. it was a gift to watch you with Teddy.  Thank you for trusting me with your memories.
Would you like to book a session with your own Greenville SC Newborn Baby Photographer?
I'd love to be considered to create priceless memories of your new baby.  Contact me here to ask all your questions about your newborn session.
I was so honored that Angela chose me to be her Timeless Greenville SC Newborn Baby Photographer. Joshua came a little early and Angela wasn't sure she wanted pictures. But then she laid eyes on this sweet boy and she knew that she never wanted to forget a single detail of his little face.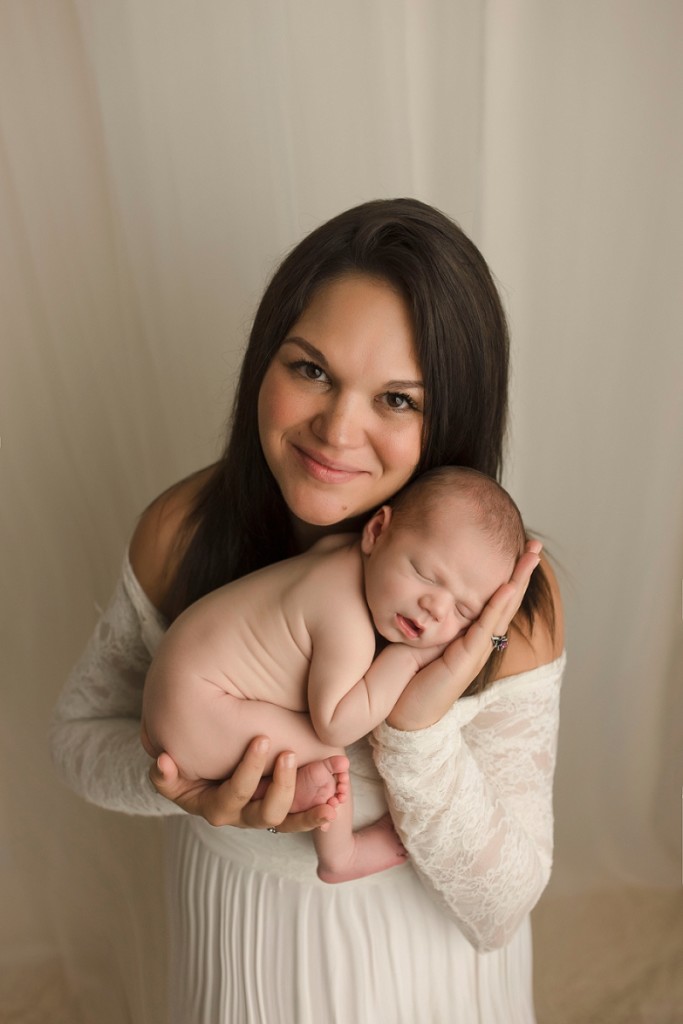 I always try to squeeze in last minute requests if I can and if not I find a photographer available for your session. For Joshua, I had space and I'm so glad I did! Look at his sweet face and the way his mama loves him!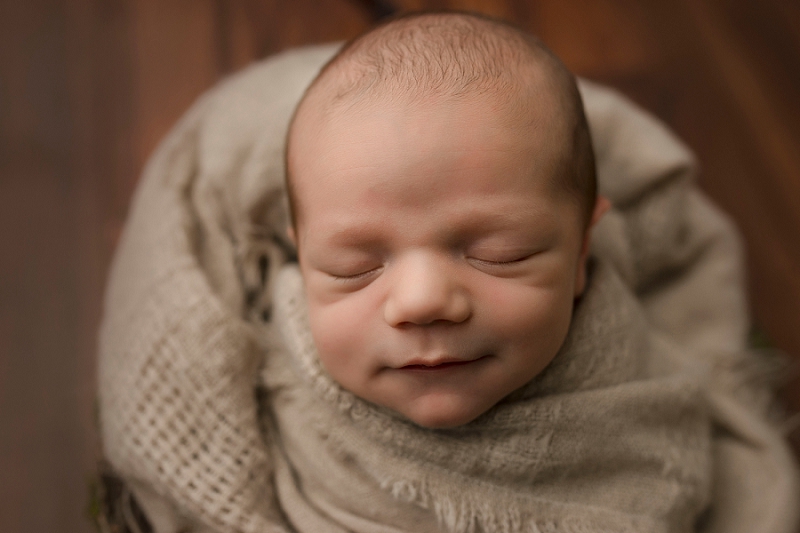 One of my favorite parts of each session is looking over my client's preferences before they come. Clients are able to pick colors and props they like. They're also able to pick specific poses that they like the best.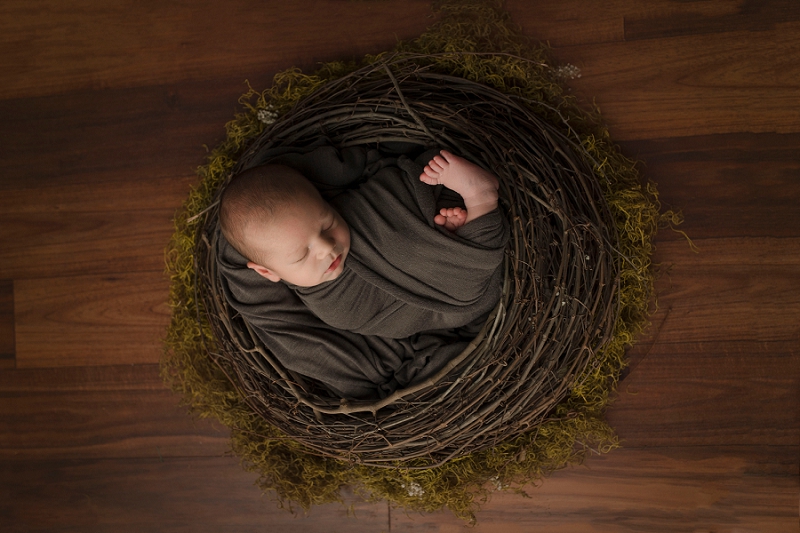 Angela chose all of my favorite poses in a more timeless and natural style.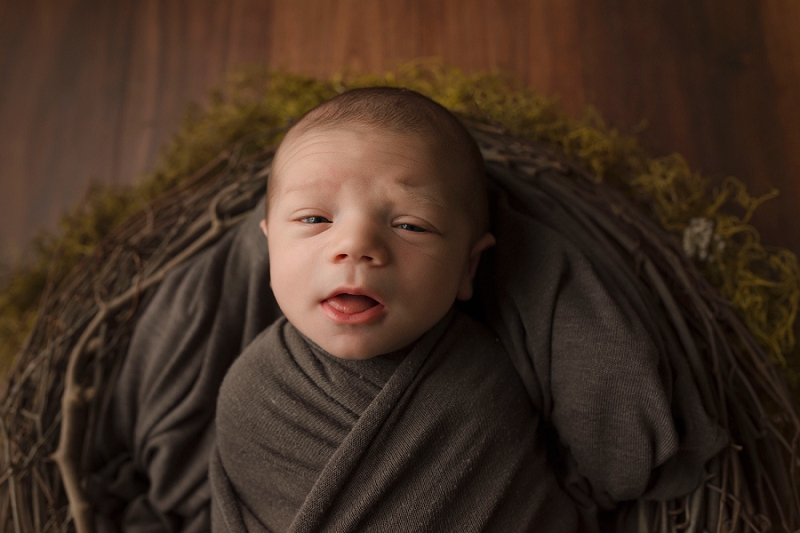 The side lying pose always feels so angelic.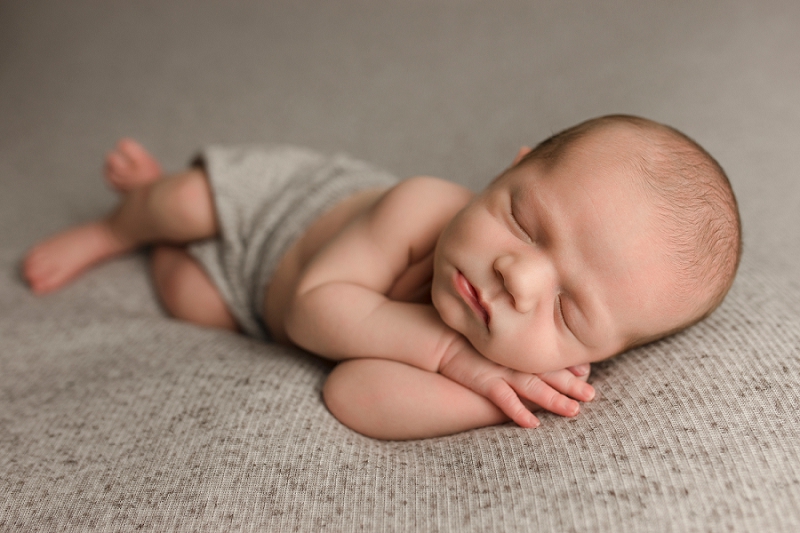 The swaddled images remind you of those first days at home with your little guy in the crib looking so small.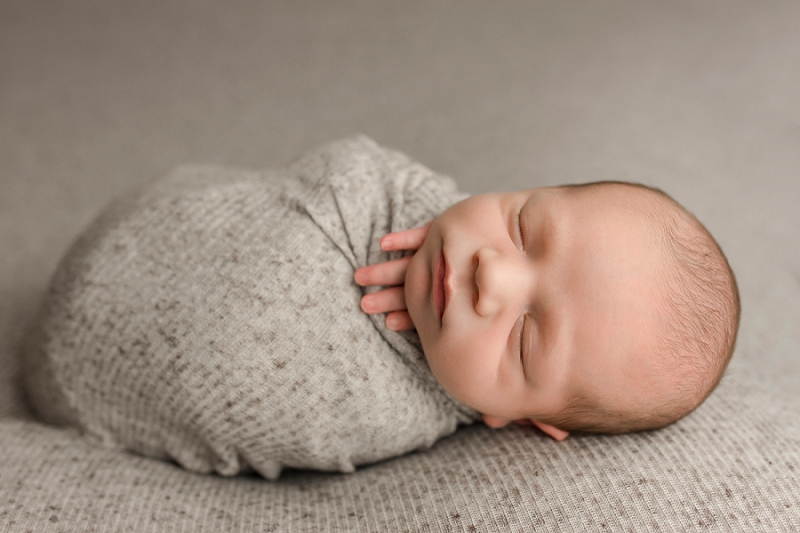 And the arms above his head pose is how all our little ones sleep at one time or another. It's so simple and pure. Timeless.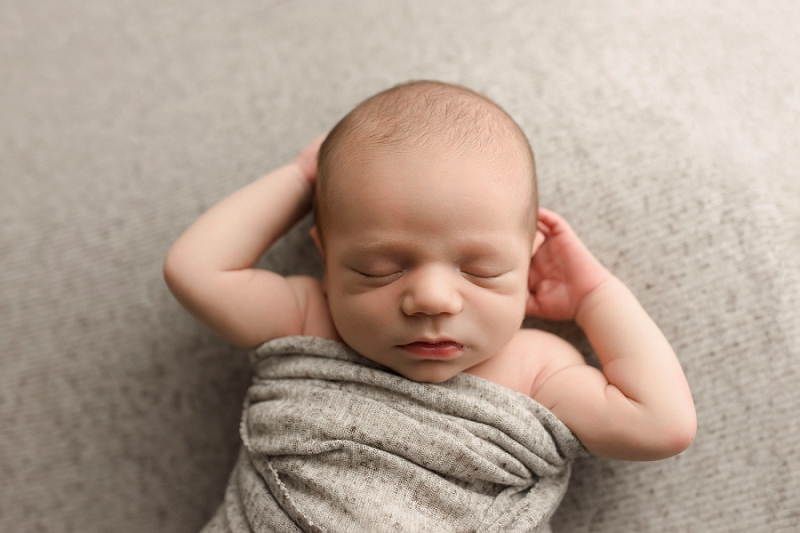 Angela also wanted some detail images and I love how these turned out in black and white.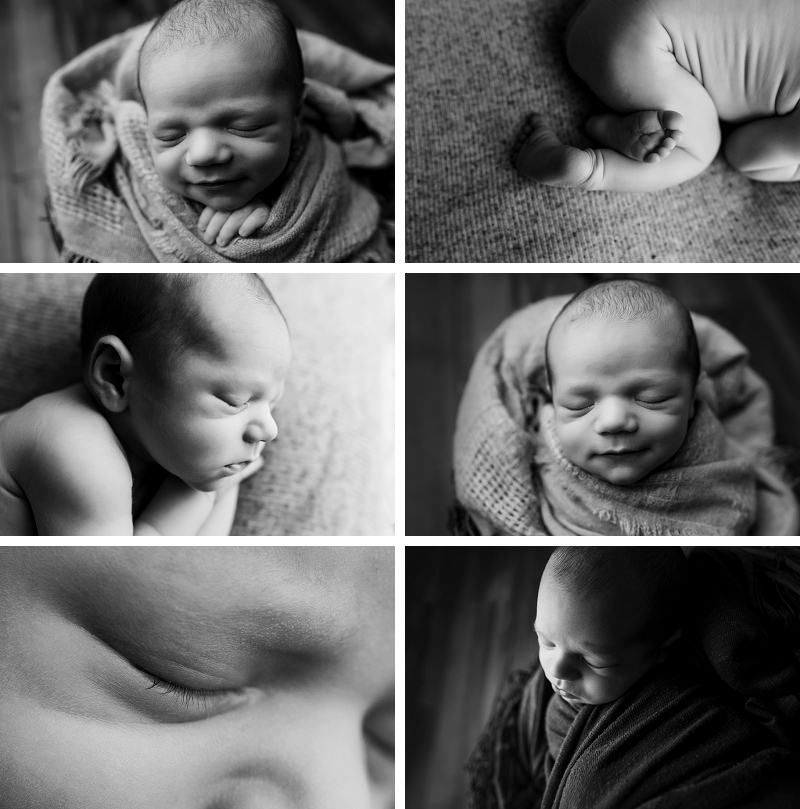 Those sweet toes, that profile, the little smile, those eyelashes…. these things are so ephemeral.  Everyday he will change and grow, but for a fleeting moment time is frozen.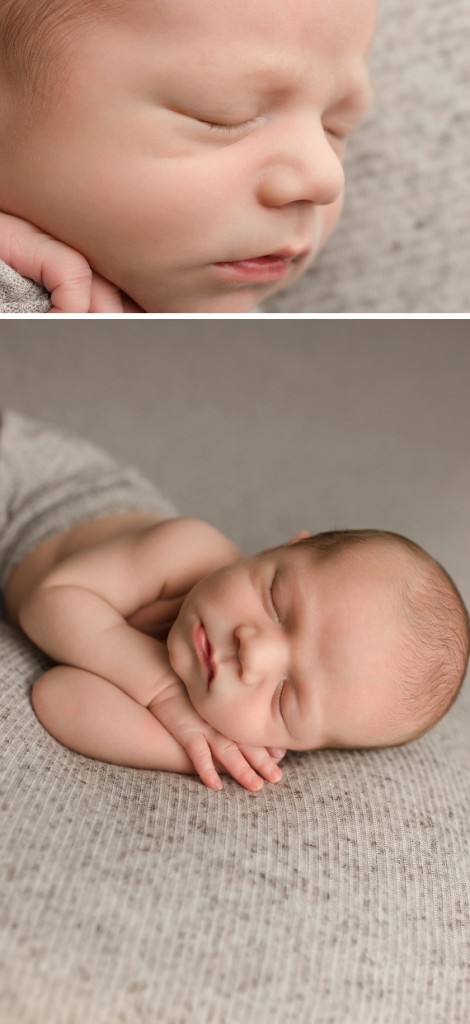 Can't believe how in love you are with your little one? Would you like to freeze time for your own sweet baby? I'd so love to serve you.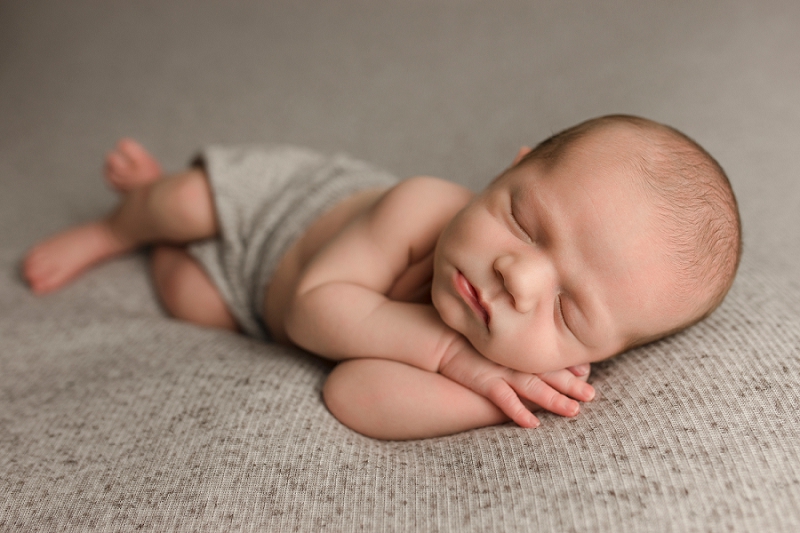 Take a moment to get to know me by clicking here.  And if you'd love to chat about your own session, click here to let me know what you love most about your new little one.
I first stumbled on the YouTube Channel of Kalyn and Robert through a post from PREG Greenville, a fertility clinic that I've served many clients from and who has featured my work in their office. This was right before Kalyn and Robert got their BFP (Big Fat Positive) for Magnolia.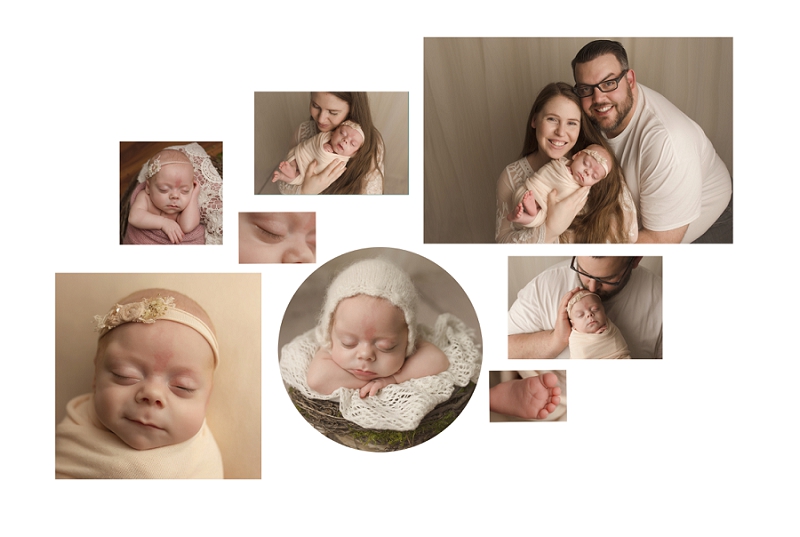 What struck me most about this couple was their vulnerability with their story. Kalyn and Robert clearly knew that sharing their infertility and foster care story, even in the raw grief days (or maybe especially because of the raw grief), would inspire and encourage others. So they opened their door for us to watch them fumble, grow, and keep the faith.
So their sweet Magnolia is long wanted dream come true. This little angel is the culmination of years of grief and hope intertwined and their love for her is contagious.  As they waited for Magnolia, their following on YouTube grew.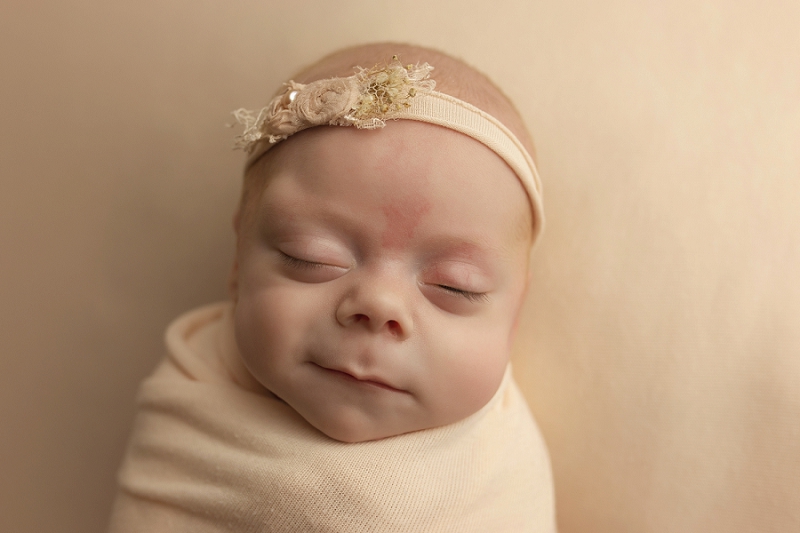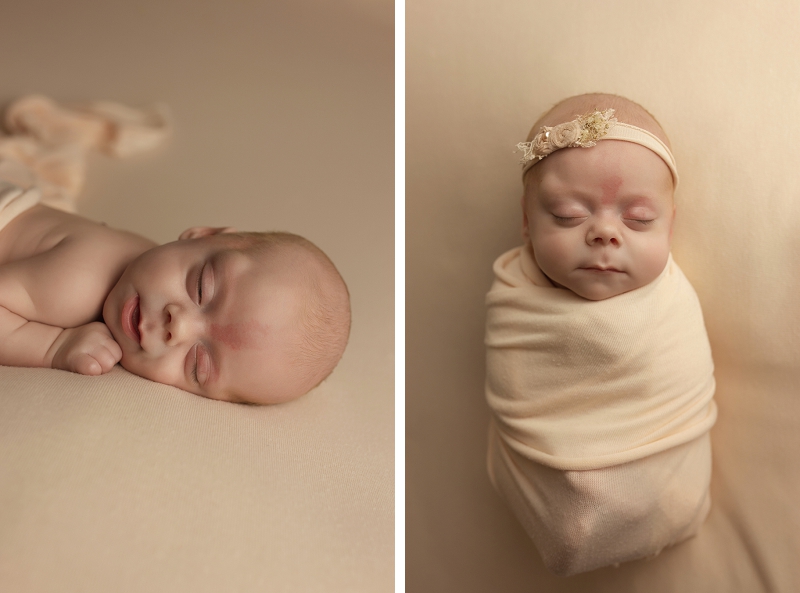 But then the unimaginable happened, Kalyn developed pre-eclampsia and Magnolia, who was due in May, was born in March at just 29 weeks. Magnolia fought hard through the "one step forward, two steps back" of NICU life.  Kalyn and Robert's love and faith carried them through yet another trial.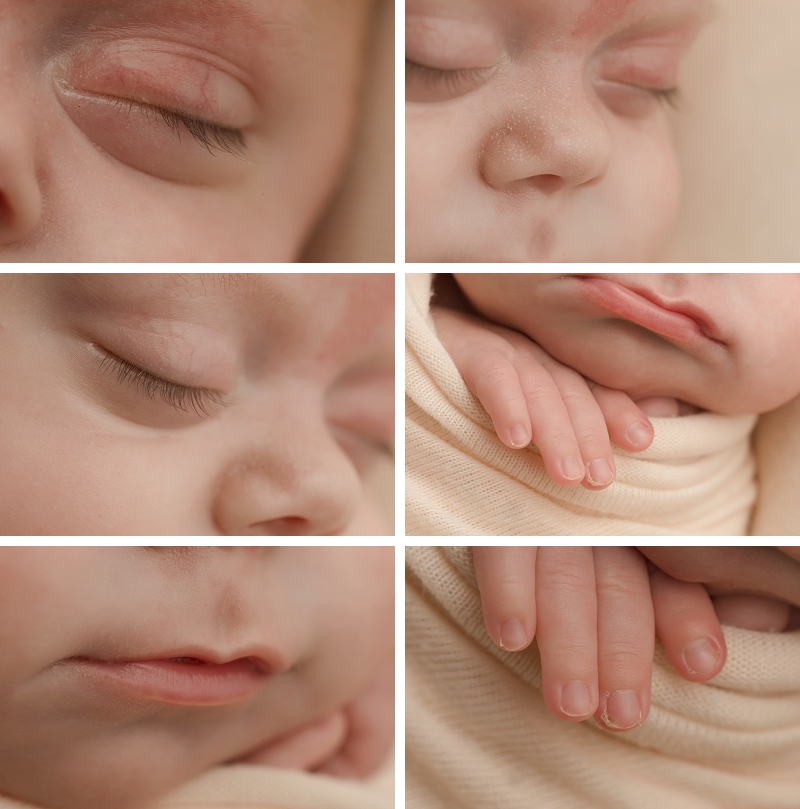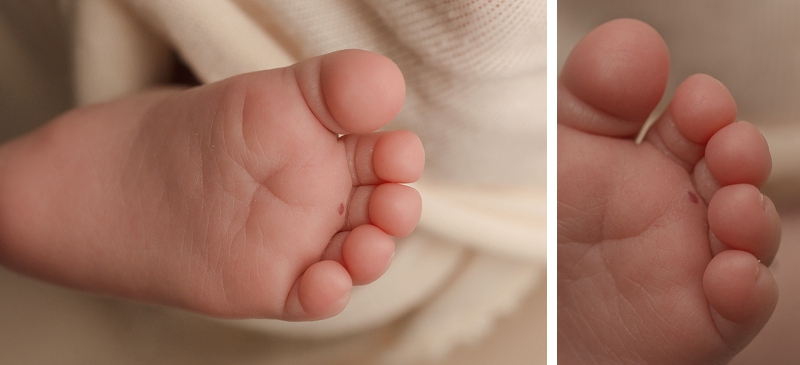 When Magnolia came to the studio she was 3 months old and the size of a full term newborn.  She relies on oxygen support, but was able to take a planned break during the session.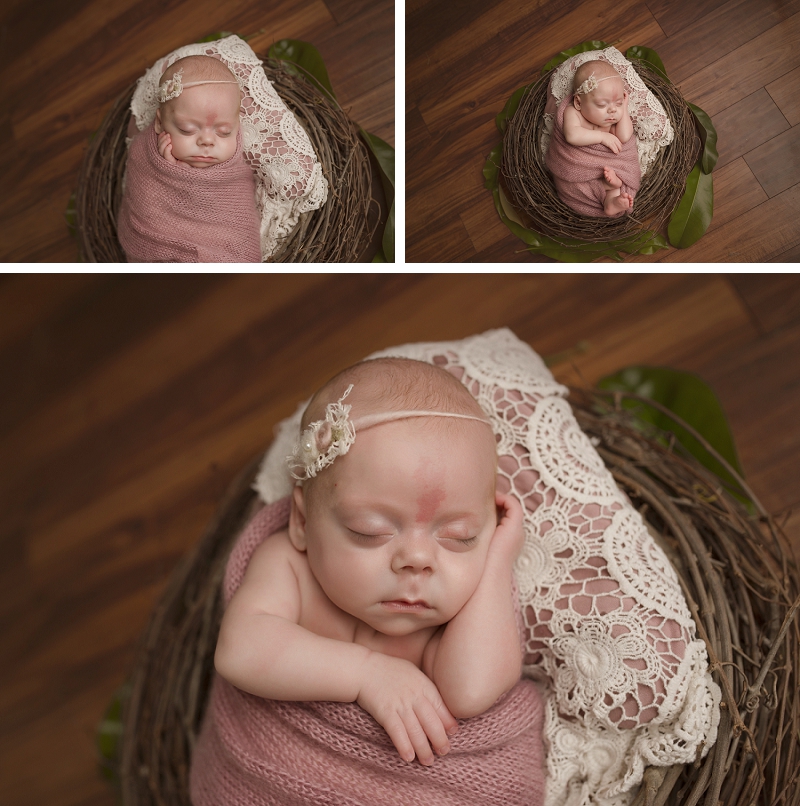 Ya'll, she was beautiful.  I always know that holding a baby is to hold a miracle, but with Magnolia… I was overwhelmed by that feeling.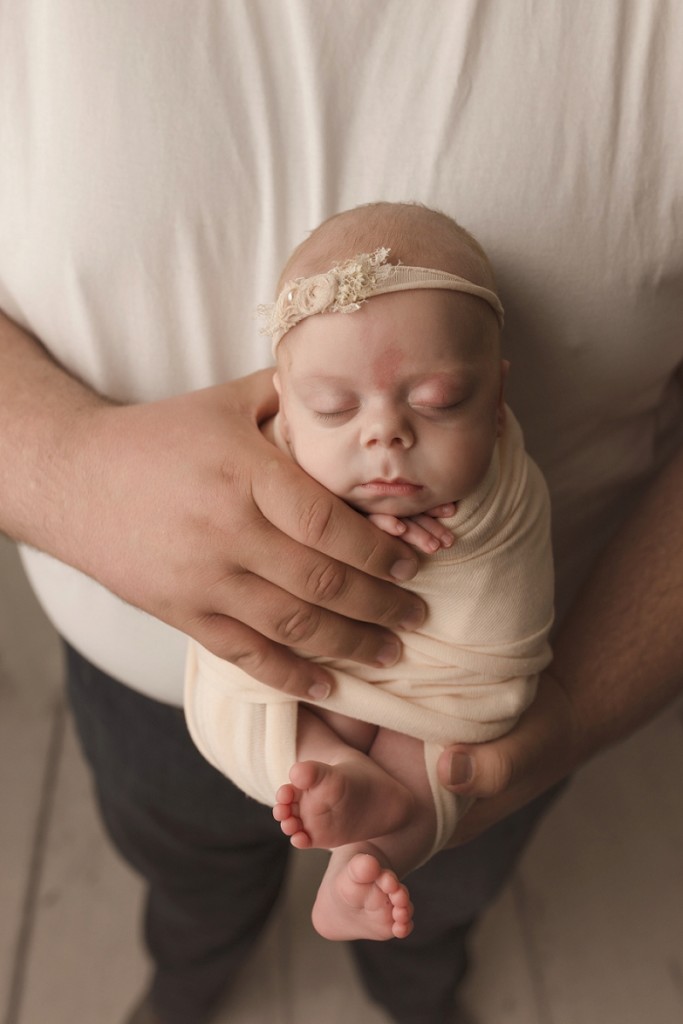 My camera viewfinder got a little foggy during family shots and I see in the Vlog that Robert made, that I wasn't the only one a bit misty eyed.
Kalyn and Robert vlogged their newborn session. I don't remember them even using the camera except when they put it on a tripod to do the family images and the few times when we spoke in the camera.  When I take photos, I focus on baby alone and talking with new parents. I want to see the moments and details.
What is a newborn session like Greenville SC?  I had never seen it from a client perspective and I can't tell you the gratitude that I felt for their vlog.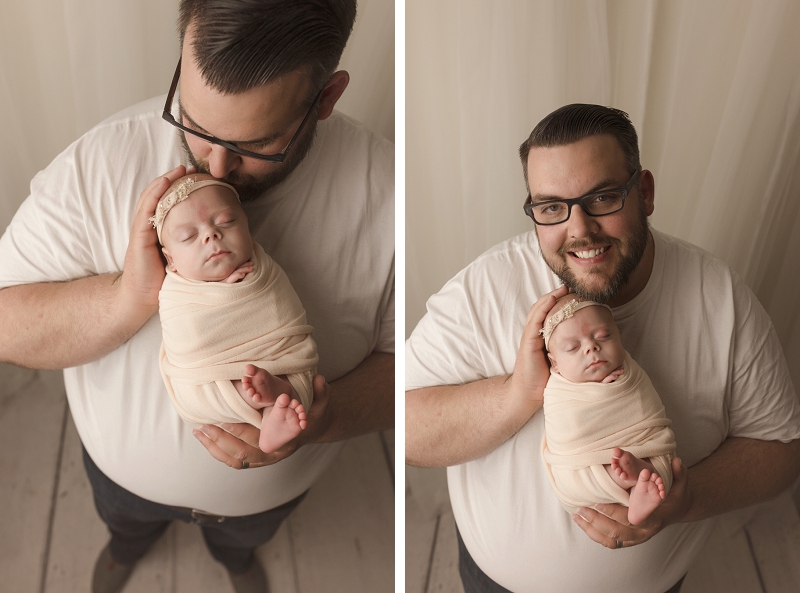 Kalyn and Robert, thank you for trusting me with your miracle.  I am so grateful to have been a small part of your story that inspires me and so many others.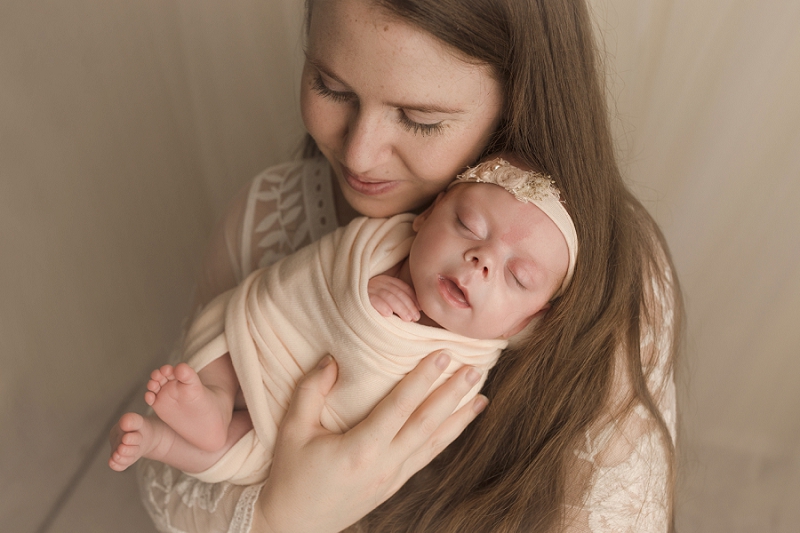 Meet Amelia Rebecca who came for her Classic Preemie Girl Newborn Pictures Simpsonville SC.  This tiny girl arrived about four weeks early.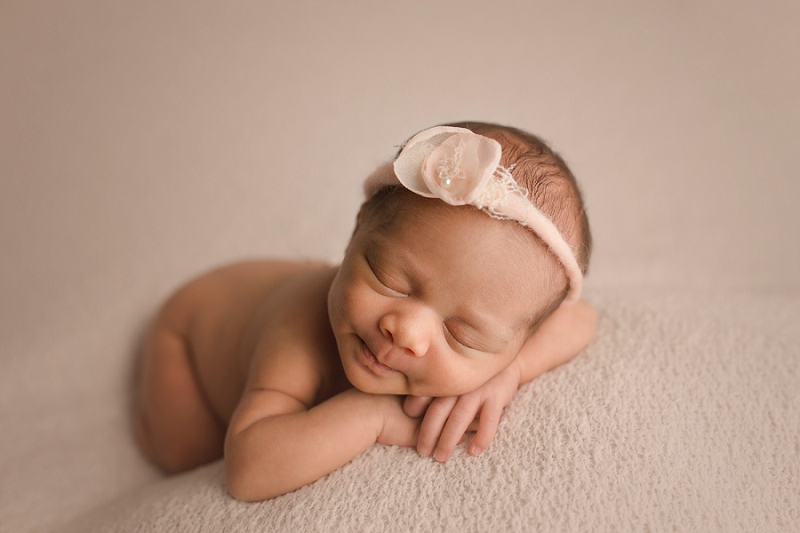 Amelia is the smallest baby to ever enter my studio at just under five pounds. Many times it's hard to tell the scale of these sweet little babies in my photos so I snapped one with my hand to show you just how tiny Amelia is.  I wear a size 6 wedding band and she fit nearly entirely in my hands. This photo is unretouched, too; it shows also how much red I take out of my littlest subjects.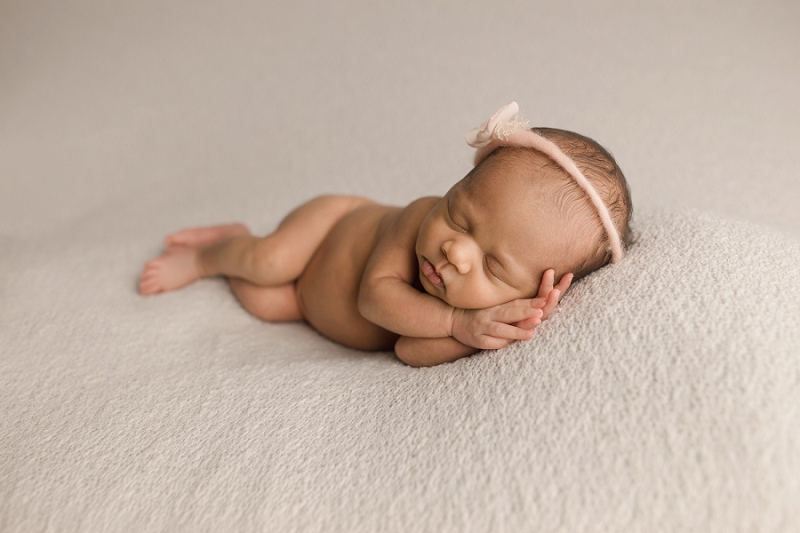 Amelia brought with her an amazing big sister Audrey and her amazing mama Corey. The both borrowed from my studio wardrobe to look and feel their best. Watching Amelia pick her dress was so adorable and I love what she picked!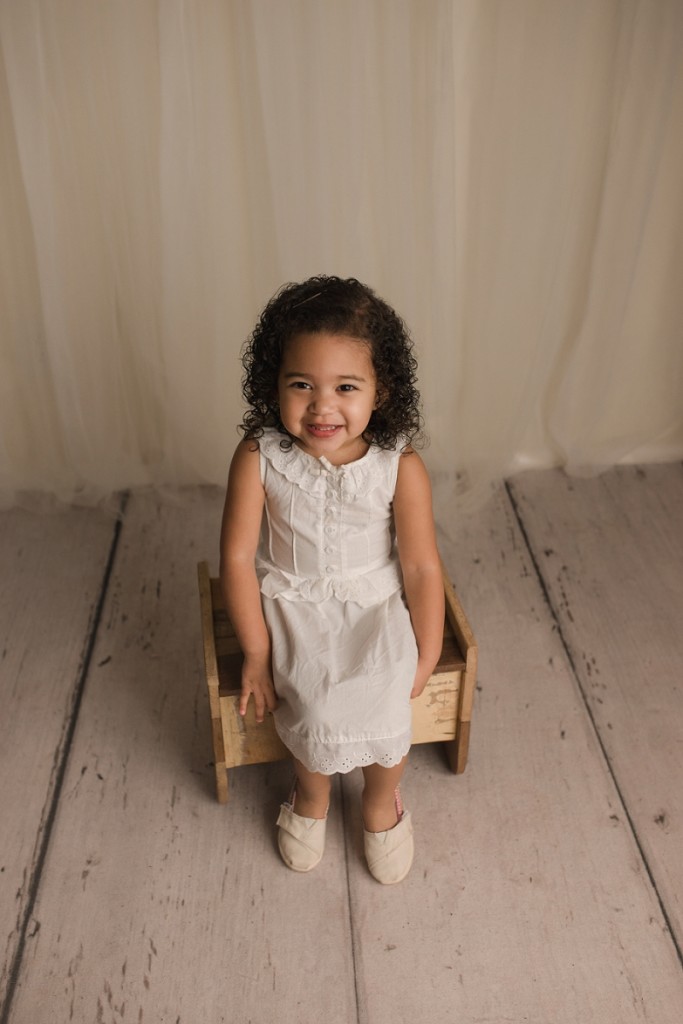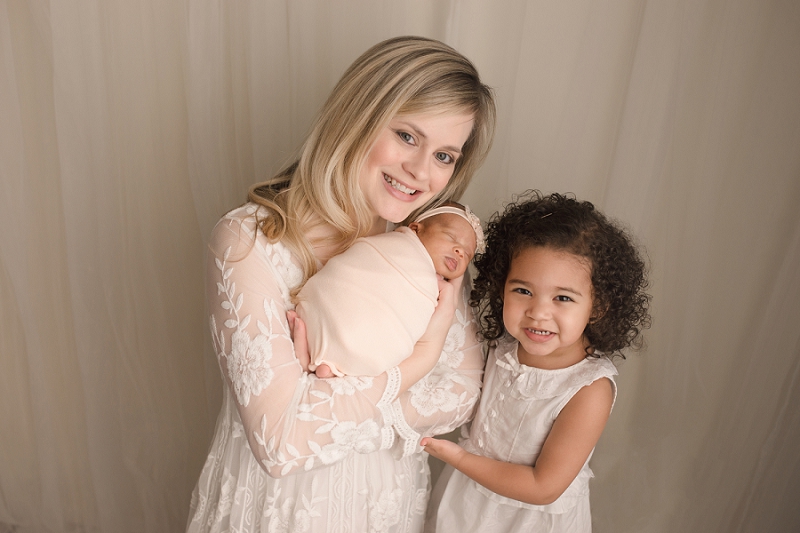 Audrey at two loved being in the studio!  She followed directions carefully and ate up the attention.  We did my typical posing with a toddler: a tightly wrapped little one with both children laying down.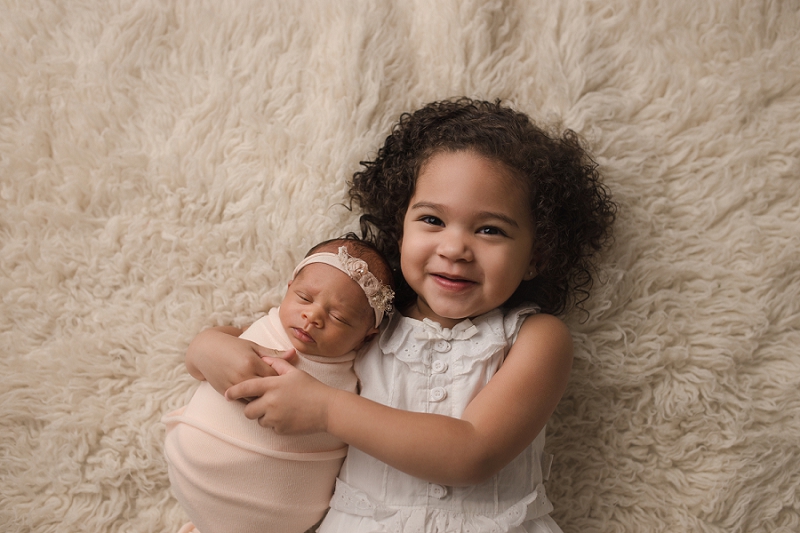 Audrey did this so well that I attempted a second pose in criss cross applesauce. This was pure sweetness too.
And that smile in Mama Corey's arms.  Oh, I can't even!!!  Amelia clearly brings so much joy to her little family.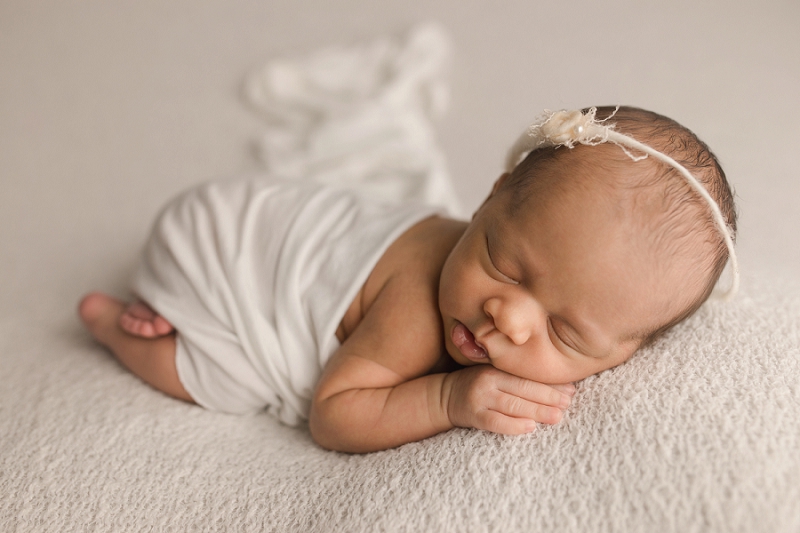 I can't convey how sweet this family's love and care for one another except to tell you that it's sweeter than a cherry peach parfait.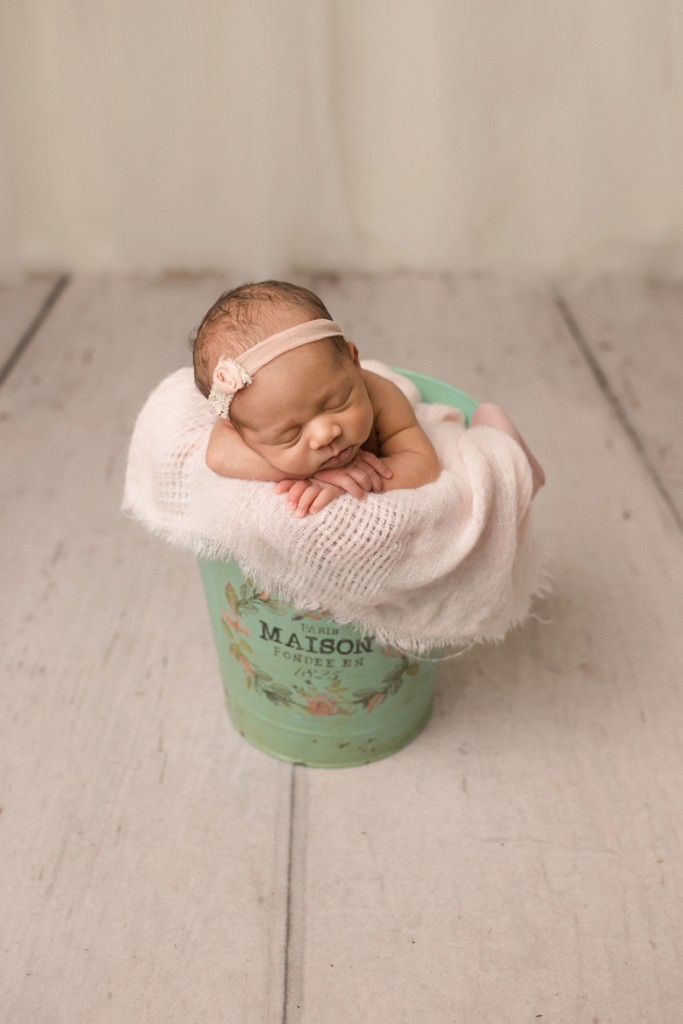 Corey's gentle care for her girls was so evident during the session. She talked so gently to Audrey.  She told me the story of Amelia's early birth with a peace at even the extra days in the hospital. These girls have the best mother for them.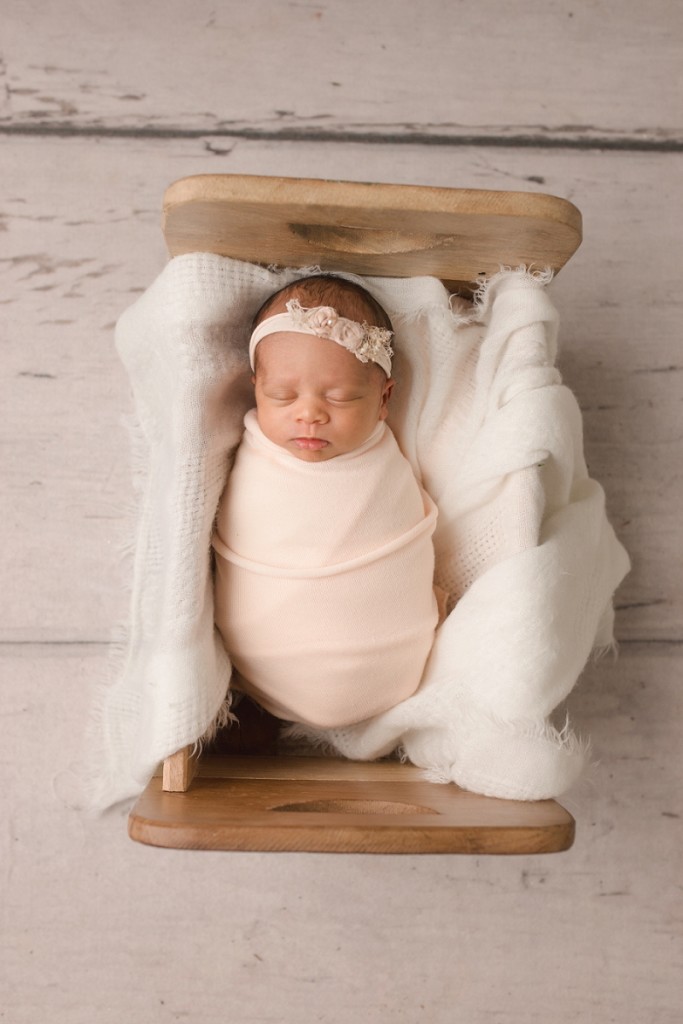 Are you looking to capture some precious moments of your own preemie?  I would love to serve you. Get to know me here or contact me to set up your session here.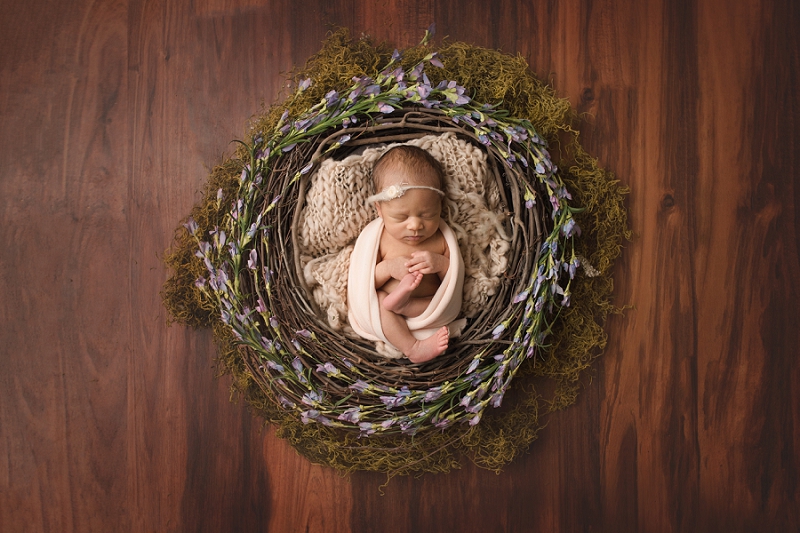 Cali and Lucia were so excited to for their newborn baby photography brother with sisters session. They treated sweet Pierce with so love and sensitivity and were just tickled pink to hold him.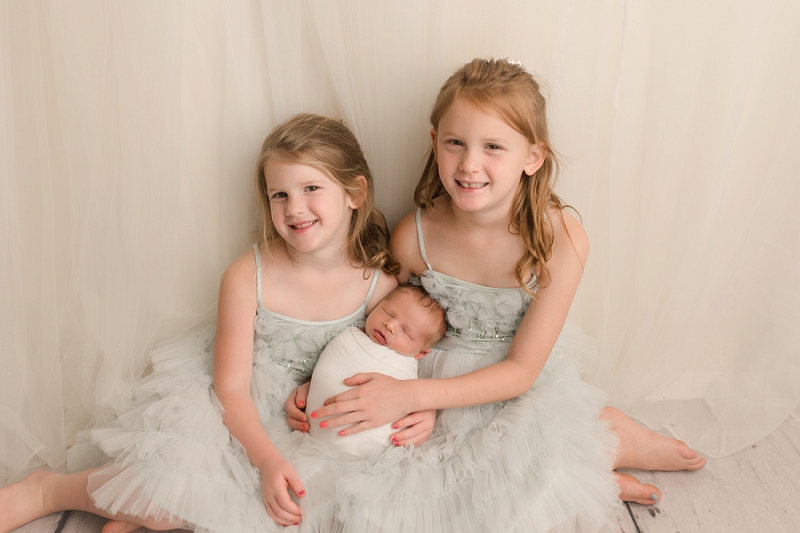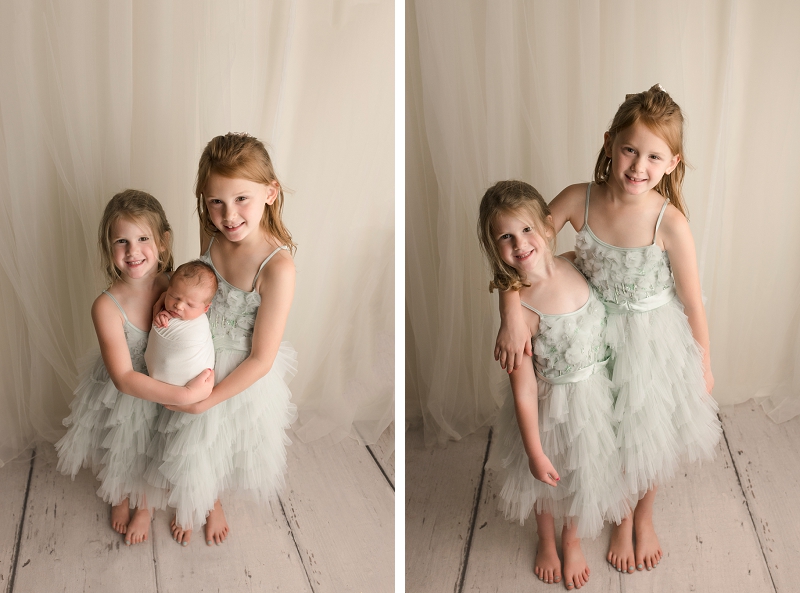 All kisses and snuggles were lavished on him as were giggles and the most perfect smiles.  There's a beautiful quality when a newborn has older siblings who understand how much joy a new family brings.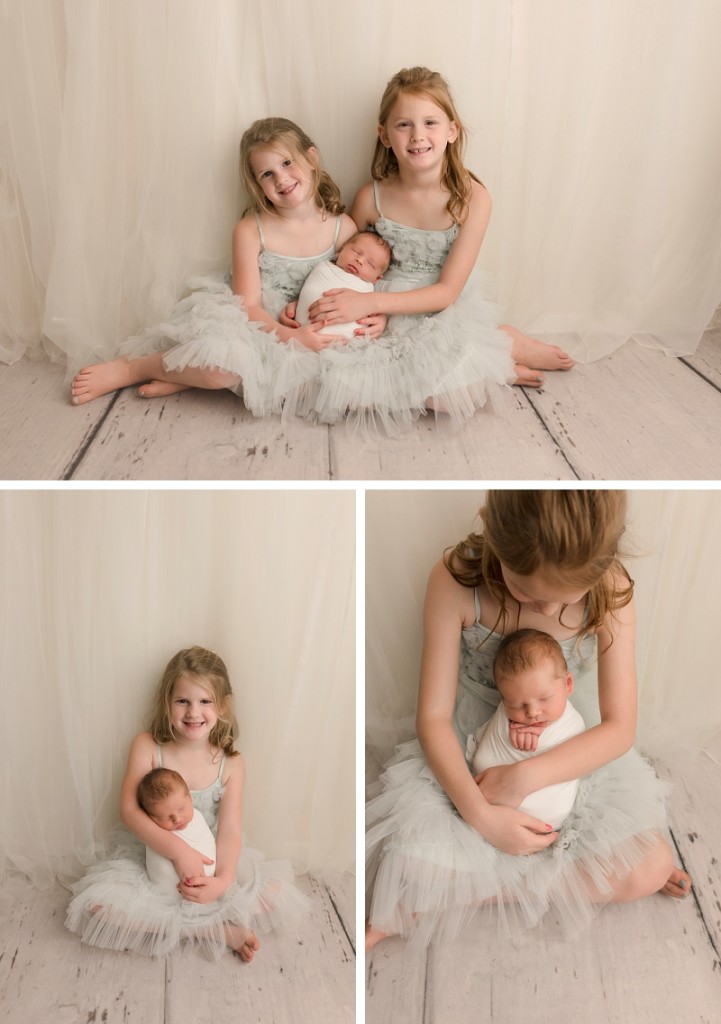 But I like to let the big girls feel special on their own too so we took a few portraits of these beauties alone.  My favorites are when Lucia and Cali were twirling.  You can see so much of each girl's personality.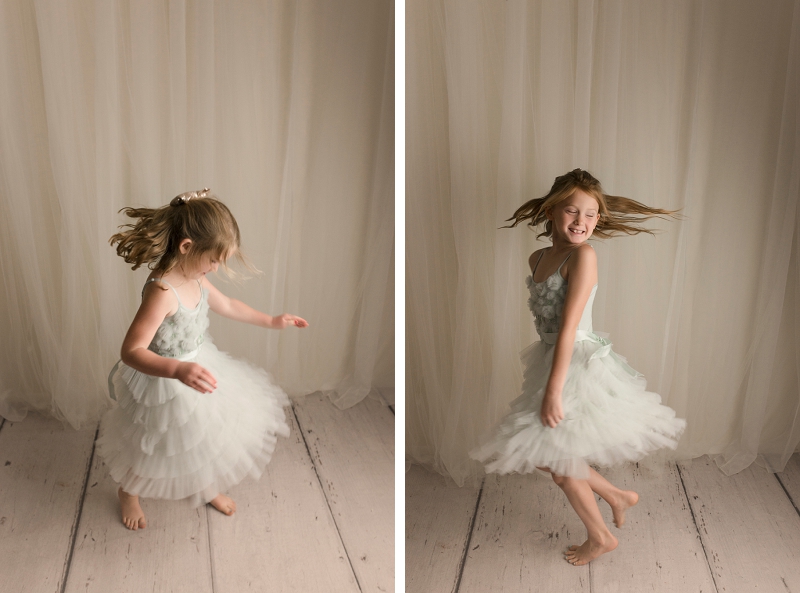 Cali lives life with a wild and fierce abandon. Lucia is graceful and bubbling with joy.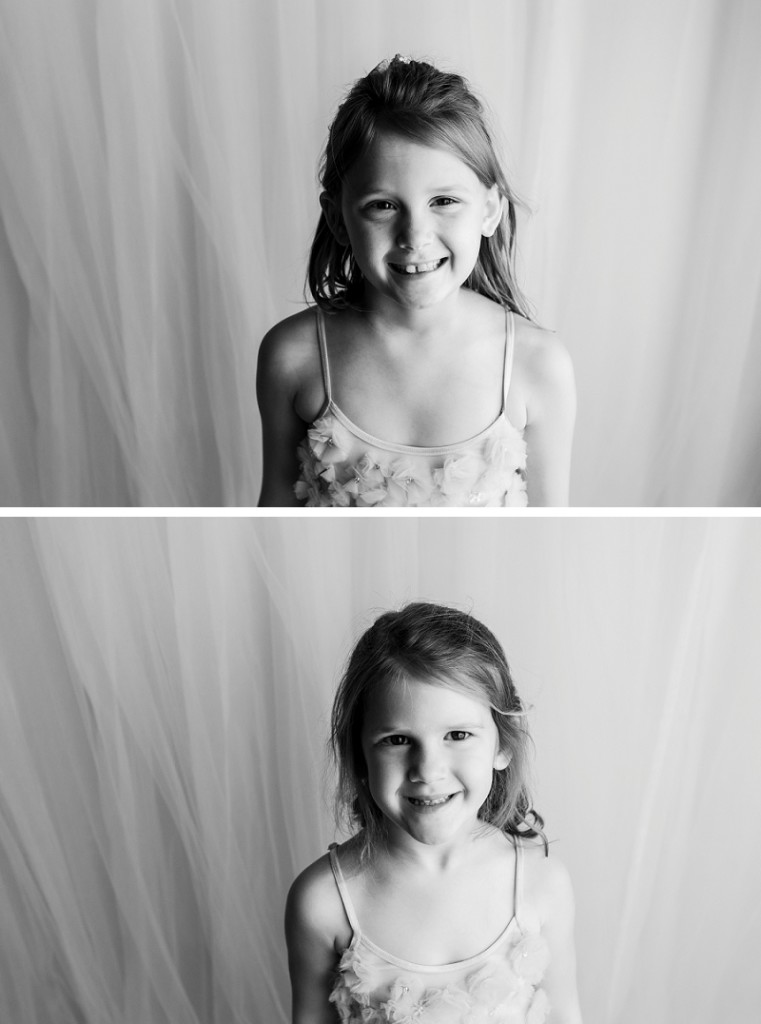 And Pierce Lionel, well, this smiling boy completes their family in all of the best ways.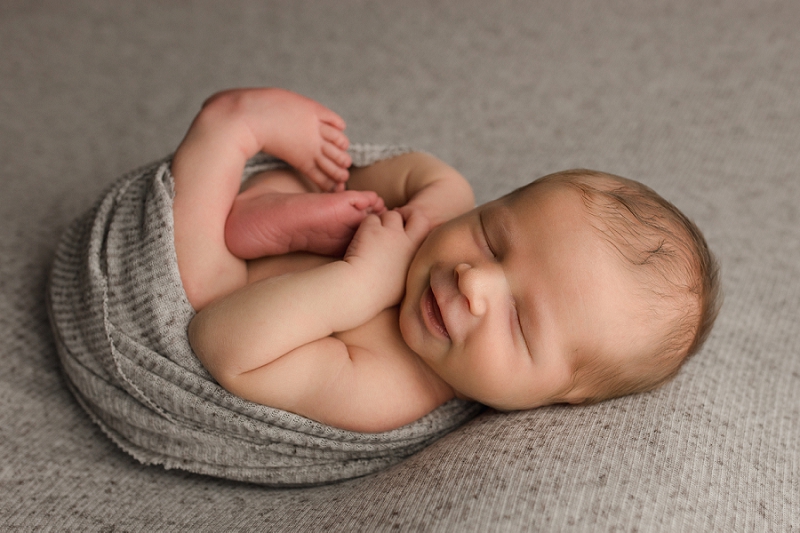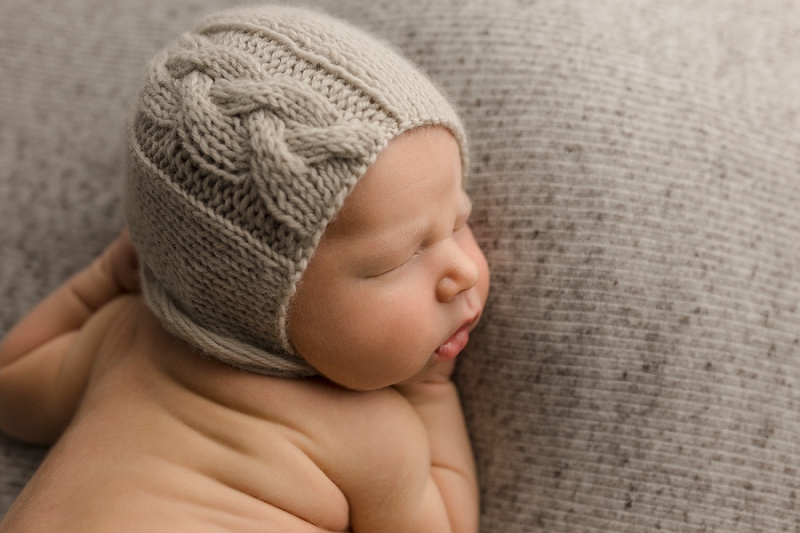 Like me, Mama Erin had her doubts at first about being a boy mom, but you can see that the moment Erin laid eyes on her boy it was love at first sight.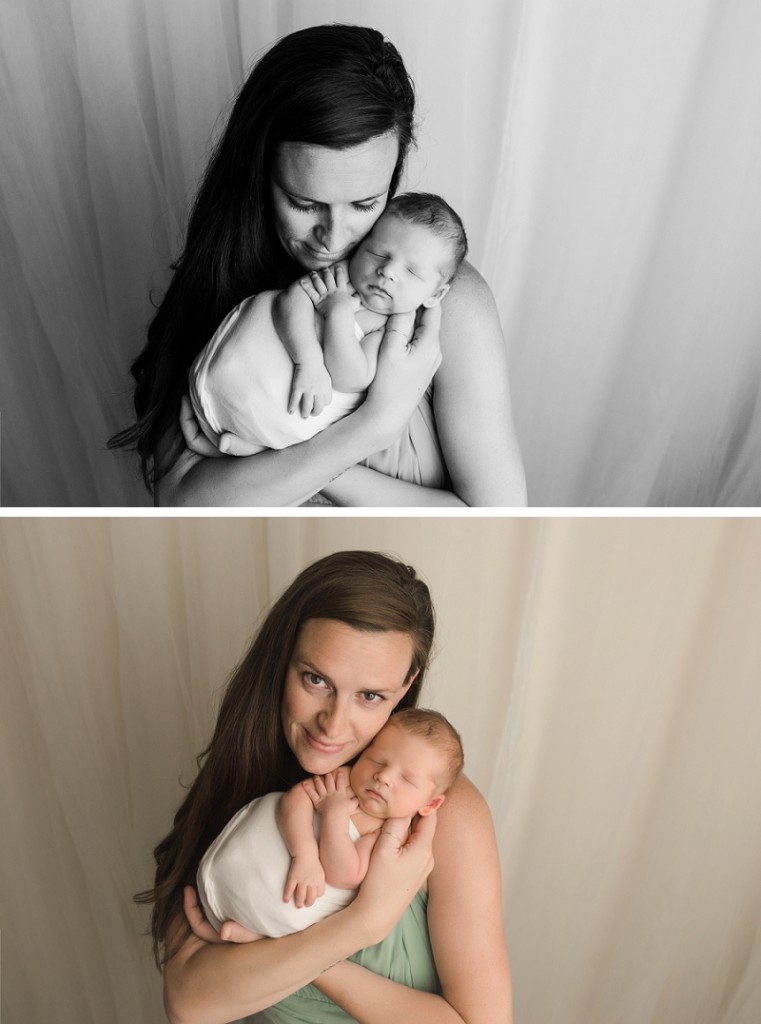 I think daddy is pretty much smitten too.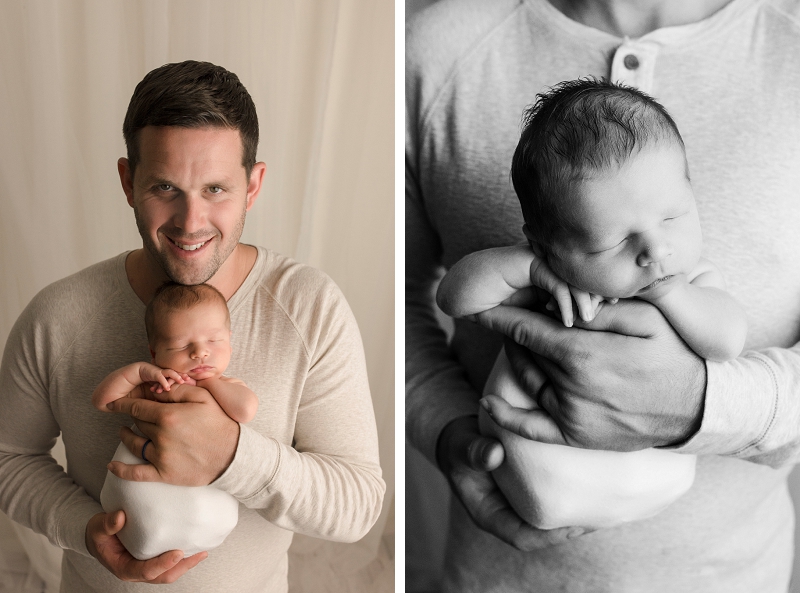 This beautiful family has a love that's practically tangible.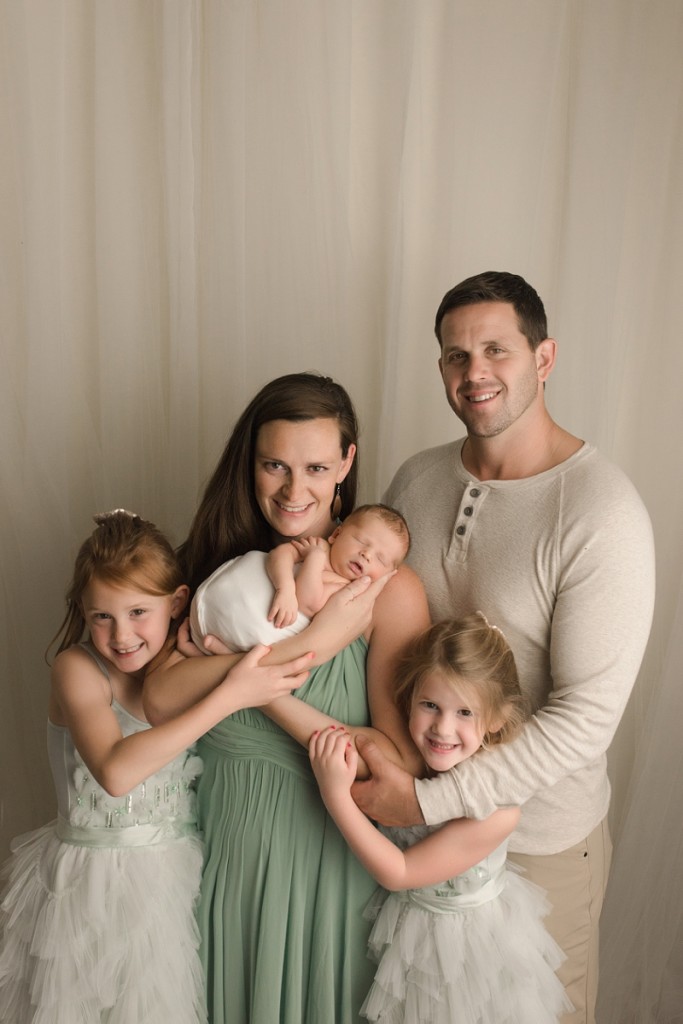 And this boy: he's simply delicious from his profile to his back wrinkles to his tiny toes to his beautiful face.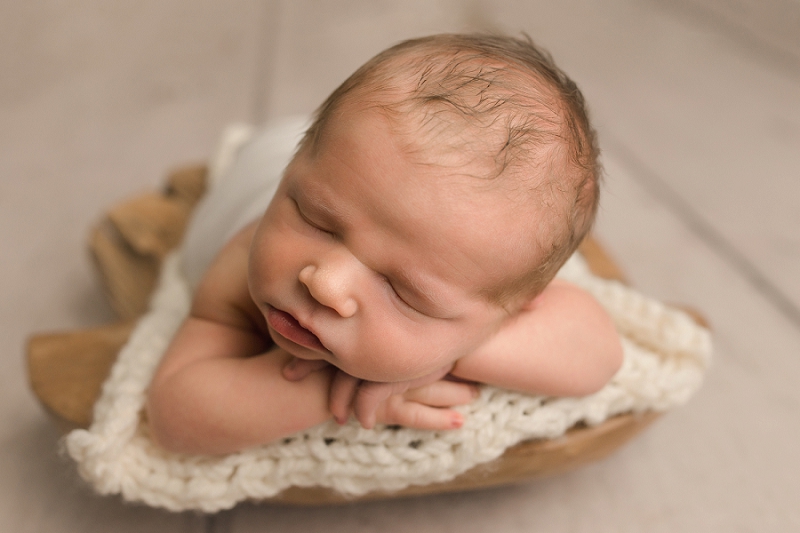 My favorite images from this session are the following two. Cali and Lucia helped me pick out a prop and a wrap and I had them help me pose Pierce in this first image.  But then Pierce decided to pose himself.  This little hand on his face seems so prophetic: "Enough already, sisters, I just need a moment."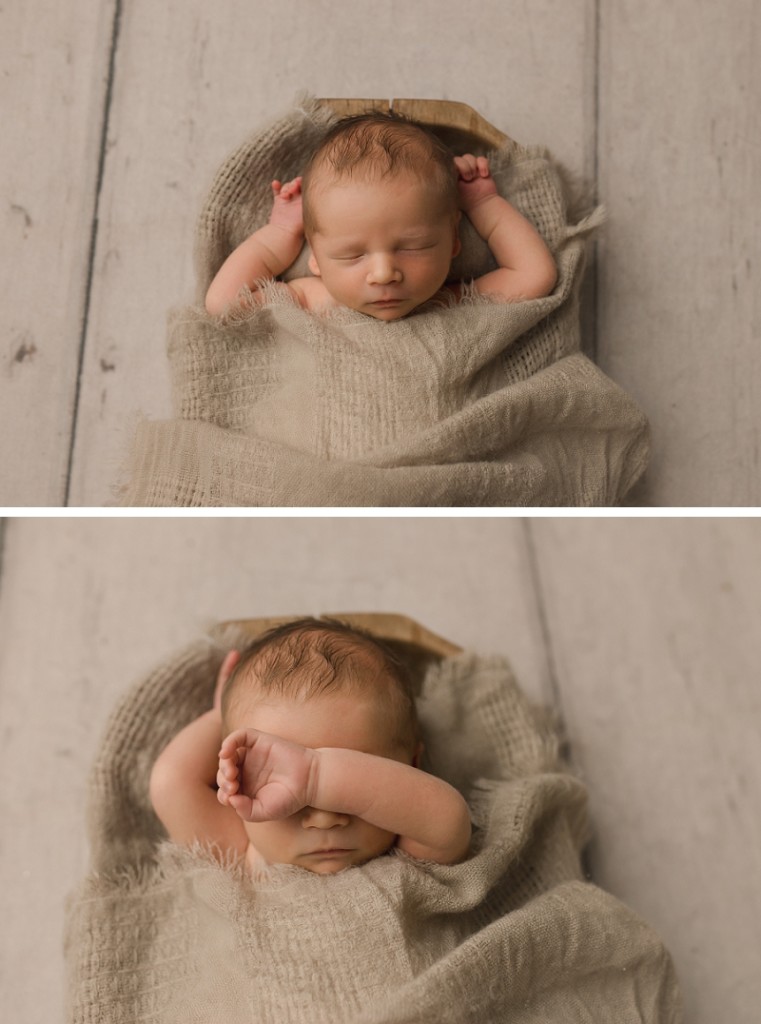 Looking to record the moment you add another little one to your family?  I'd be honored to be considered to tell your story.