Giveaway Day 7: Mandolyn Makes
Operating a small business is work well loved but often hard and lonely with little support.  So during my "big" birthday month, I'm going to be sharing with you some wonderful businesses and each of them will be giving away one thing to one lucky person.
I'm sharing these small businesses because my heart is with the business owner struggling to make it, but really passionate about serving people.  Any given day, I may fit that description. 😉
This month I'm offering a Newborn Special coupled with a chance to win free sessions.  If you're expecting a little one, read this post for details.
And now let me tell you a little bit about today's small business owner.
Mandolyn O.
Mandolyn is my friend from college.  We sang silly songs together in Anatomy Lab.  Well, actually, she did a lot of singing and I did a lot of holding bones and memorizing the protuberances by touch (different learning styles… ha!).  She's also one of my two trusted child care providers while I photograph newborns.
Mandolyn is fighting a unique autoimmune disease that is slowly taking away her ability to use her body.  She's unable to work in a traditional job at this time so she crochets to earn her living and sells through her shop Mandolyn Makes.
At the same time she's an active advocate for the end of modern-day slavery through Not for Sale. She speaks by appointment about what we can do to end modern-day slavery as well as her experience in and redemption from modern-day slavery.  She's really an extraordinary woman.
Mandolyn Makes: Set of 3 Crocheted Snowflakes
Need something to cheer up your winter blues?  These beautiful snowflakes would be beautiful hung from your ceiling right over your dining room table.  Each one is unique just like real snowflakes!
Here's a picture of one pinned out and starched so it'll be stiff enough to be lovely 😉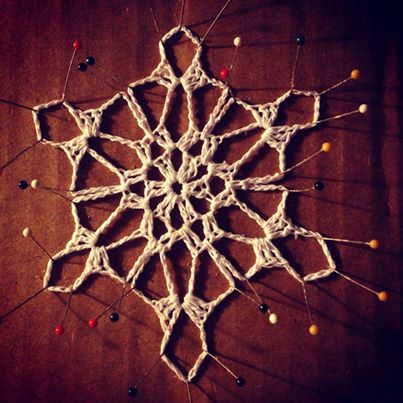 Contest Entry Instructions
Leave a comment below telling me which product you see on the Mandolyn Makes Facebook Page that you love the most!
Make sure to include a way to reach you if you win.
Giveaway Closes on January 31st.
Winner will be chosen through a random number generator and notified on February 3rd.
Shipping is for US only.  International winners will pay their own shipping if they win.