Home-Life Project 52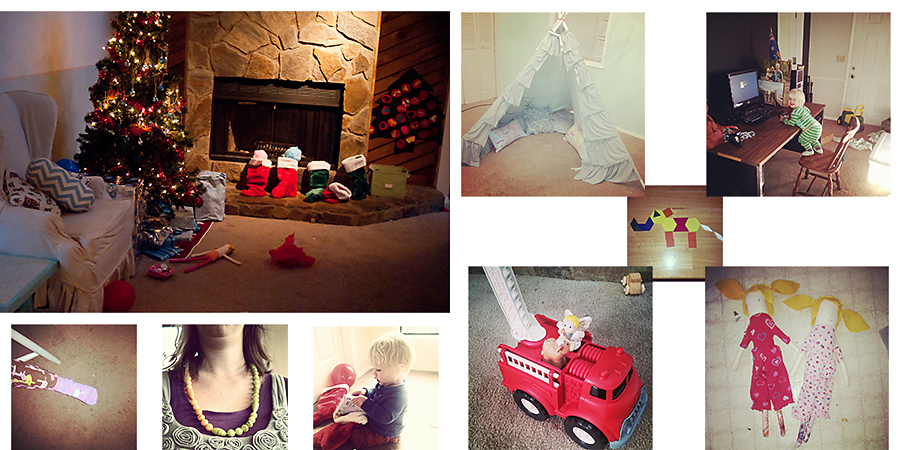 I did it!  I recorded all the ordinary joy filled and messy moments in our home life for the 52 weeks of 2013.  There were so many pages that we couldn't fit this all into one photo book!  We've printed the first 29 weeks and let me tell you: this mission to have our life in a print form that we can enjoy was totally worth every second!  The girls will happily sit and flip through that photo book and hear stories as long as I'm content to tell them. I didn't always use my big camera (in fact, the post above is mostly Instagram images), but I captured our weekly life in such a raw form.
What I've learned most is how much those ordinary everyday moments really mean.  That picture of the angel and cow riding the fire truck above will always crack me up.  The image in Week 2 of Sedryn sick at the doctors office for the first time. The times where I or Derek are in the photos looking goofy perhaps but really loving life.   All of those moments matter to the children.  They matter to me.  They're tiny pieces of HIStory, of the grace He gives daily even in the mess.
I've also learned how much I just enjoy capturing kids and families just as they are, right in the middle of living out their beautiful messes: tears, joy, dancing, laughter, randomness, and all.  Capturing the everyday details we so quickly forget is now a passion.  I had the opportunity to do this for a family reunion in late November 2013.   Just stalking around mostly unseen (except for the formals) and capturing what was happening.  I haven't recieved permission to blog their session yet!  That's a lot of model releases to track down.  I'll get on that soon because I really want you to see this session! This type of photo-journalistic lifestyle photography just makes passion boil forth in me.  Especially when I see clients (or my kiddos) looking at the resulting albums!
Will I be continuing this project into 2013?  Lord Willing!  Not to this same depth and breadth (I'd like to only print one book a year!).  Just a 2-6 pages per month as the events call for.  More like a Home-Life Project 12.  😉