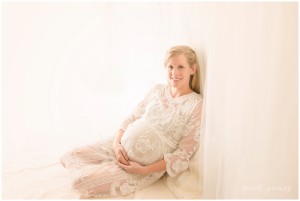 "Last night was a rough night [with my baby] and the morning has continued that pattern. But then I saw the your picture and it just made everything better. I told you that your talent is a blessing. Thank you!"
~ Chelsea
 Studio Tour
(STUDIO TOUR VIDEO COMING SOON!)

When you step into the studio, you'll be surrounded by a palette of pale lace dresses, tiny newborn and baby clothing, and simple natural props: these textures develop the emotion that creates your artwork.
Using this soft palette highlights your family's relationships, giving you fine art that records all the quiet graces of your love.
You need photographs with your little ones.  You need to remember the joy of them inside you, the tiny newborn held to your chest, the laughing bundle of joy bouncing in your lap, and the child who is becoming more grown up each day.
Your children need to hold images showing the way you loved them in their hands.  They need to experience through your eyes the way you have always loved them.
The Experience
I don't believe in one size fits all photography.  Each baby is unique and should enjoy a custom telling of their story that ends with beautiful products for them to admire as they grow.  We work together to create your experience and your images from planning your session to finished products.
The Welcome Packet
After your initial contact, you'll receive a welcome packet delivered right to your door.  This exclusive packet contains information about preparing for your session, what to wear and bring, and beautiful imagery to help you envision how you want your story told. You'll learn how we guide you through your portrait experience from our planning consult to your finished heirloom pieces of art.  There's also our full pricing menu and a few little goodies just for you to enjoy.
Studio Wardrobe
We know that one of the most stressful parts of having your portrait made is choosing the wardrobe.  Therefore, we have collected a studio wardrobe for our clients to use.  Filled with neutral creams with touches of blush, peach, gray, and tan, our studio wardrobe fits mamas (expecting or not), daddies, newborns, babies, and children sizes 2t-16.  Our studio wardrobe keeps your clothing investment to a minimum if at all.
Hair & Makeup
I work closely with Cotton Rouge to help you book hair and makeup services for your session if desired. Cotton Rogue takes wonderful care of my clients at the nearby Taylors Mill or in the studio upon request. While not all clients book hair and makeup, the experience will leave you feeling pampered and confident for your session.
Luxury Heirloom Fine Art
I specialize in delivering only the best heirloom quality fine art.  While every collection contains all of your edited digital files, each collection also contains a piece of fine art for you to treasure and pass down for generations. From unique leather albums to stunning Photoblock gallery walls hand made in the Netherlands, to more traditional fabric albums, your family's legacy will be preserved for you to treasure and be encouraged by in all those rough moments of parenthood and childhood.  You'll be able to hold your family's love in your hands.
Together we create a luxury portrait experience ending
with quality heirloom art and digital files for you to enjoy for generations.
Want to learn more about working with us? Check our Investment Page.
Ready to learn about booking your session with us? Contact us today.