Day 2: When You're Drowning in Laundry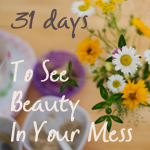 I'm spending each day here in the month of October writing about finding beauty in the everyday mess.  Before you think I'm an expert on this topic, let me confess: I've likely already lost my temper, prayed that I could have a solo vacation, and held back frustrated tears this morning.  I'm far from having this mastered.  I'm writing here transparently so that you and I might grow in seeking His daily extravagant beauty.  So pull up a chair and get ready to dive into the mess with me, knowing that somewhere in this mess is a beauty that only God can craft.
_________________________________________________________________________________________________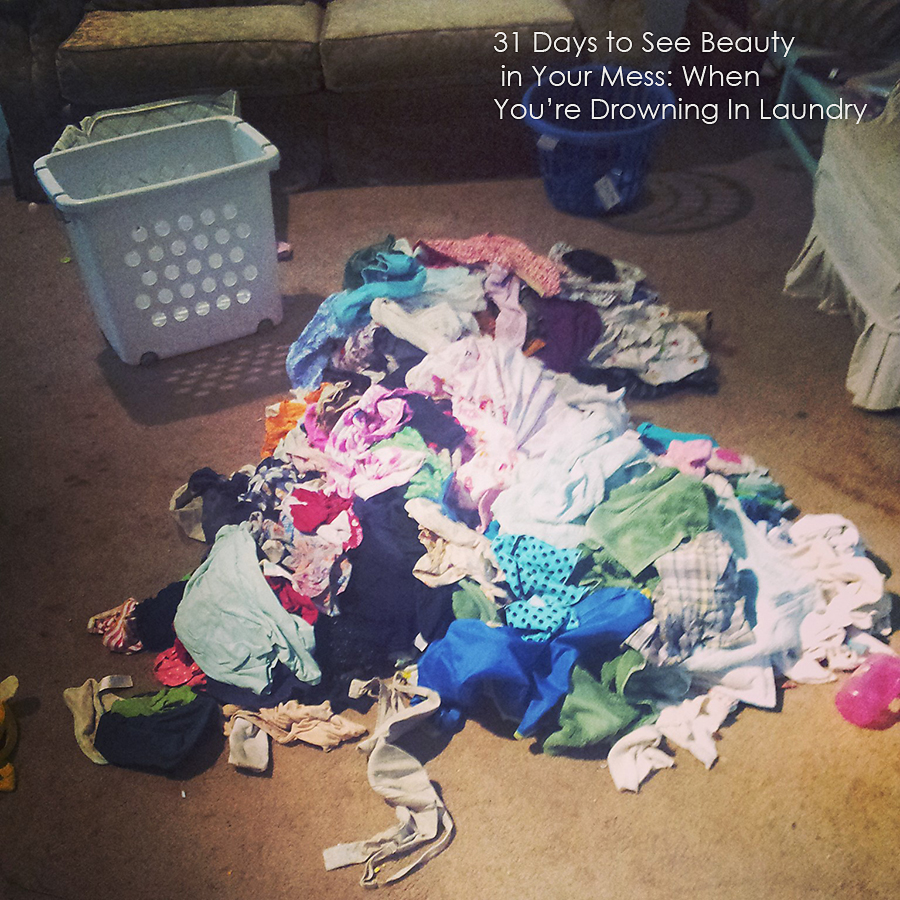 My clean laundry monster roars loudly from its 3 foot by 5 foot space on the living room floor. I wash a single load every day at least, but folding doesn't always happen. Okay… if I'm lucky it happens once a week.
A quick walk around the corner reveals a kitchen with many things placed haphazardly all over the counter, safely out of reach from the toddler boy, and still so far from their permanent homes.
At least one of my bathrooms resembles a war zone and likely two (I avoid my daughters bathroom). My son is still wearing his pajama shirt. There's a pair of sawhorses in my kitchen still waiting on me to return to a friend I've seen 4 times this week. A pile of cheerios smiles smugly from under a coffee table.
On days like this the mess threatens to overwhelm me like riptides in the ocean. The whole mess just sweeping me out of my right mind and into a deep ocean of lies.
"You're never going to get it together."
"You're such a slob."
"You really ought to stop pursuing dreams and just do the things all mothers are supposed to. I mean if you're not faithful in the small things…."
Sometime the mess drowns out the still small Voice whispering that we have a beautiful purpose. (<— Click to Tweet)
That pile of laundry attempting to drown me should whisper a different story. The story of how I chose to sit outside and laugh as my children rolled in mud after a string of rainy days. The story of faithful disciplining being necessary each time I set out to tackle the laundry monster, or the kitchen, or that foul bathroom downstairs. The story of two little girls sitting near me and begging for one more chapter of The Tale of Despereaux. The story of a little boy with his head nestled into my neck whispering to me about the "Wowls" on his wall. The story of hundreds of other sticky spots that were wiped up or boo-boos kissed or dishes washed or meals cooked and consumed or blog posts written that encouraged just that one person that I may never meet.
The true story of our days should not be hidden by the roar of the laundry monster.  The true story of our days is that we're investing our lives in people (large and small) who God has intentionally placed next to us.  Sometimes our true callings and our God-given beautiful purposes crowd out the laundry.  That's the more important work and while it's not measurable, it's certainly more beautiful.