Day 13: The Little Things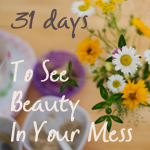 I'm spending each day here in the month of October writing about finding beauty in the everyday mess.  Before you think I'm an expert on this topic, let me confess: I've likely already lost my temper, prayed that I could have a solo vacation, and held back frustrated tears this morning.  I'm far from having this mastered.  I'm writing here transparently so that you and I might grow in seeking His daily extravagant beauty.  So pull up a chair and get ready to dive into the mess with me, knowing that somewhere in this mess is a beauty that only God can craft.
_________________________________________________________________________________________________
I open my dishwasher after breakfast.
I'm still worn right out from the illness that ravaged us for the last 10 days.  I really just want to head back to bed and take a mom sick day (is there such a thing?).  But the dishes from breakfast and half the dinner dishes from last night that didn't fit in the dishwasher are spread out over the counter.  So I open the dishwasher to unload it.
And it looks like this.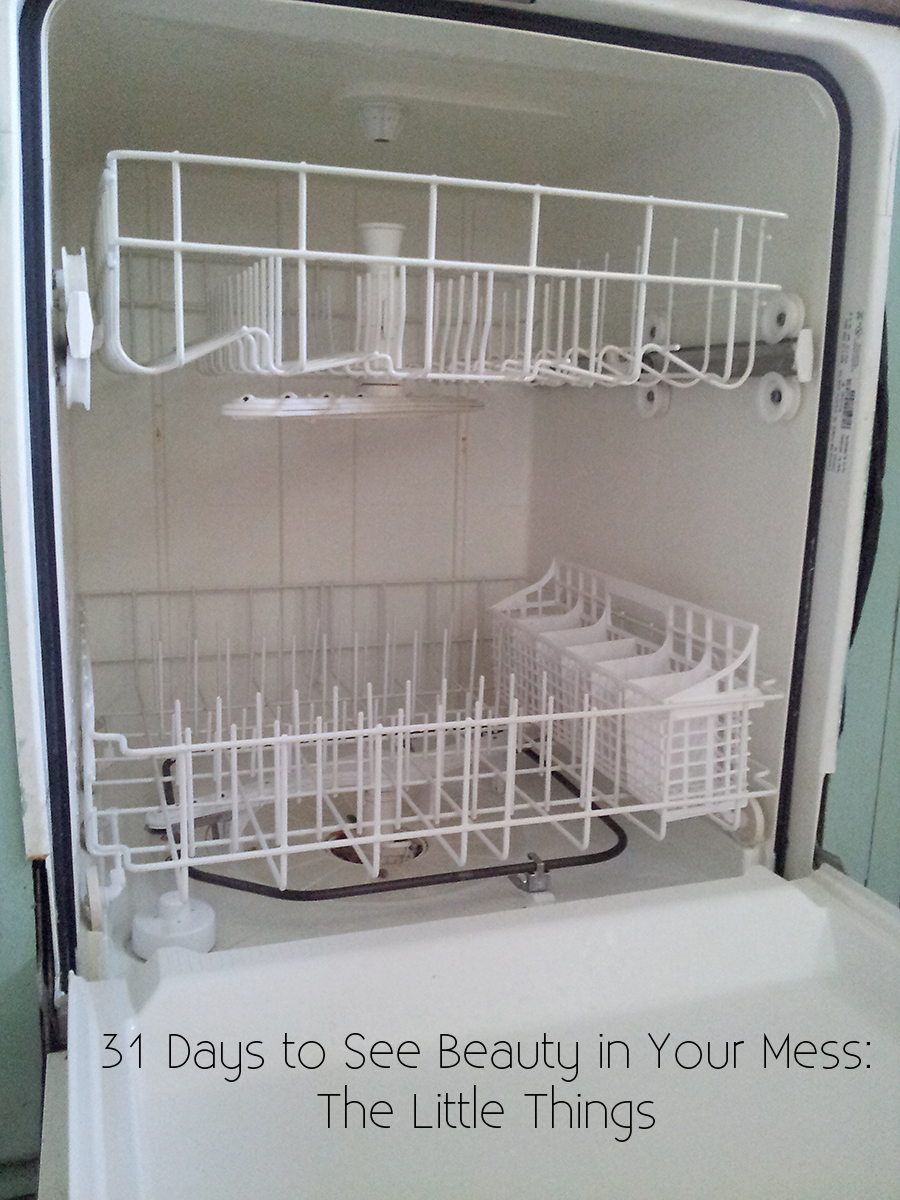 My sweet husband had emptied it before he left for work.
For me, this is the ultimate gesture of marital love.  The morning clean up is often hard with three kiddos running around, dishes everywhere, and the days agenda to complete.  Maybe I'm just odd, but slowing down the momentum of breakfast clean up to unload the dishwasher makes me feel like I'm starting the day in a position of instant defeat.  Derek knows this and more mornings than not I open the dishwasher to see this glorious sight.
Suddenly, I'm joyfully chucking dishes right down into my empty dishwasher.  My morning tiredness is evaporating and my mood has improved just because of one little thing.
_________________________________________________________________________________________________
It's the little things that change our perspective.
I'm in the middle of a weary morning and then I notice the empty dishwasher.
We're arriving at a destination just trying to wear the kids down for bed in the middle of sickness induced exhaustion and another week with Derek gone in the evenings and then Bronwyn asks about how God made her and what is shame.
I'm picking up the hundreds of toys (how did we get so many toys?!) strewn all over and then Sedryn comes over and randomly plants a kiss right on me.
I'm tackling the laundry monster while Derek wrestles with the kids and then Aeralind comes over and begs to fold all the rags and hand towels.
The whole morning is falling to pieces and then a friend texts that she's at the park.
I'm feeling the full weight of shame and sin and then I look up to the most glorious sunset I've ever seen.
The little things can be what changes a mess into beauty. When we open our hands to receive what the Lord is giving us, we notice astounding grace.  We begin to see that the true beauty is not the overwhelming quality of the mess, but of the tiny things that add a bit of sparkle to the otherwise mundane.
What are the little things that changed your perspective on the mess today?