Day 16: Beauty from Ashes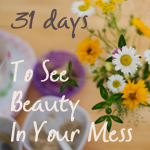 I'm spending each day here in the month of October writing about finding beauty in the everyday mess. Before you think I'm an expert on this topic, let me confess: I've likely already lost my temper, prayed that I could have a solo vacation, and held back frustrated tears this morning. I'm far from having this mastered. I'm writing here transparently so that you and I might grow in seeking His daily extravagant beauty. So pull up a chair and get ready to dive into the mess with me, knowing that somewhere in this mess is a beauty that only God can craft.
_________________________________________________________________________________________________
***Trigger Warning: sexual abuse and assault are discussed discretely in this post.  If you anticipate being triggered by this content, please skip this post.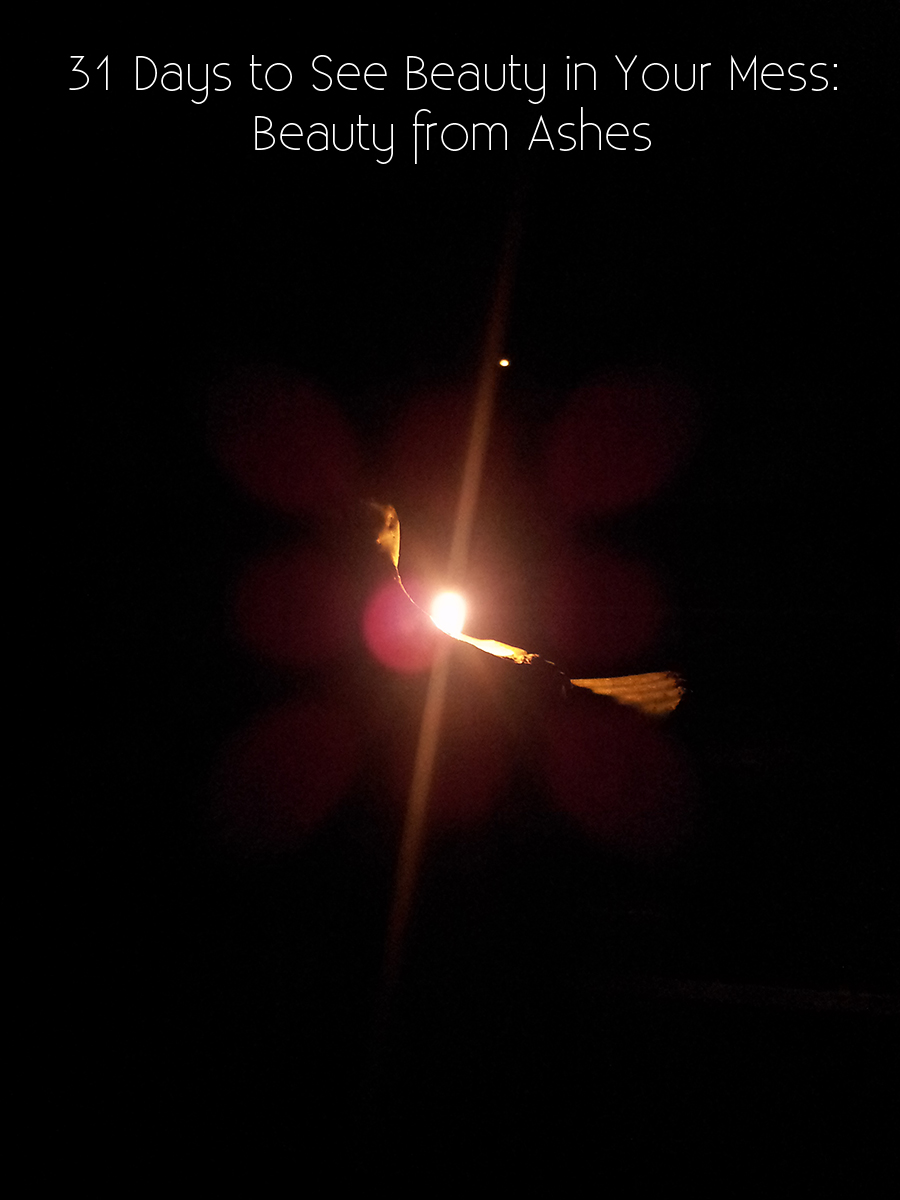 My first kiss was taken from me.
My second kiss was given away carelessly while I was trying to fill that void. Trying to let someone else tell me I was good enough. That kiss begged for someone to tell me I was not damaged.
It's only the second time I've said those words out loud that night on the porch and only the fourth time I've relayed any part of this story at all.
The candle had been blown out an hour before and I'm feeling brave in the dark safety of her porch.
"I was sexually abused as a child."  She replies slowly, deliberately, and tells the full story in the same way. The fragmented sentences almost poetic in the starlight.
We have more than 3 daughters between us and statistics state that at least one of them and likely two will walk a similar road. My son is not immune either with his 1 in 6 odds.
While writing this series on finding beauty in your mess, I've focused the majority on the everyday.  Those almost mundane moments that sap us and feel un-glamorous or messy or even just plain hard. I've wanted to keep the majority of this series focused on how God is present and weaving beauty even among our everyday sin and circumstances.
But what about these bigger messes? What about when darkness and sin steal the innocence of a child or the dignity of a woman or a man?
As a survivor of sexual assualt, I believe that God can bring beauty from the ashes of that mess.
Sitting there in the light of the stars telling our stories, talking about how to protect our daughters, and sharing ideas on how to serve our husbands in the bedroom: that is beauty and that is grace.
Being able to take another's hand and say "I know what that feels like, but you are worthy. You are lovable. The Savior loved you enough to die for you in spite of your mess. He thought you were worth suffering the humiliation of the cross. He does not define you by either you sin or sins committed against you. And He think's you're beautiful."
That, my friends, is how beauty rises from the biggest mess of ashes: in how we grow and how we're able to minister to those who have felt that pain too.
***Writing a post like this is slightly more vulnerable than the rest of this series. Please give me grace.
***If you're walking this road with me, please read this excellent post by my friend Mandy with some wonderful resources at the end.  Actually, the whole series is pretty great and my favorite is this encouragement from Mandy's heart.