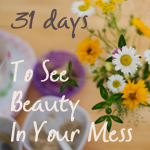 I'm spending each day here in the month of October writing about finding beauty in the everyday mess.  Before you think I'm an expert on this topic, let me confess: I've likely already lost my temper, prayed that I could have a solo vacation, and held back frustrated tears this morning.  I'm far from having this mastered.  I'm writing here transparently so that you and I might grow in seeking His daily extravagant beauty.  So pull up a chair and get ready to dive into the mess with me, knowing that somewhere in this mess is a beauty that only God can craft.
_________________________________________________________________________________________________
When I was a little girl around the age of my girls now, my daddy used to cut my corn off the cob for me.  He would butter and salt it.  Then he would stand it on end and cut down the side of the cob.  The corn would fall into these beautiful golden quilted blankets. I would gobble them up almost as fast as dad could cut them.
I don't have a lot of memories of childhood and the ones I do are simple like this one: Sheets of corn on the cob, my mother's penny loafers, the sound of knitting needles hard at work, the rat thing drama in our fort, learning to ride my bike, and getting scolded for constantly singing at the dinner table.
I think I'm not the only one who carries this load of motherhood guilt.  The one that says we should play with them more, or take them to Disney more, or go on great vacations, or take them to more lessons.  We feel like what we do is never enough.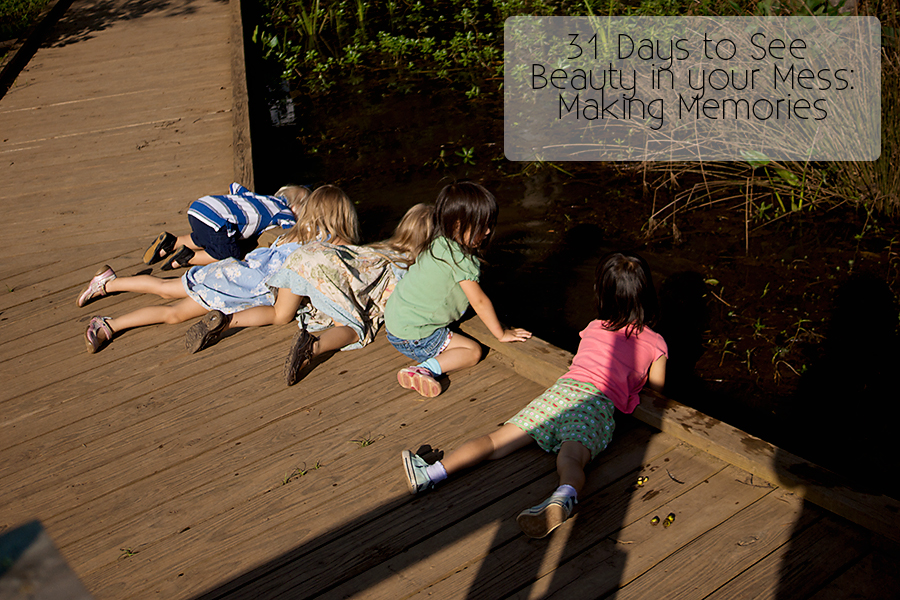 I think that's a lie. What we do is enough, because childhood memories are built of simple things like how my dad cut my corn off the cob.  Simple everyday things like the smell of my grandmothers perfume.  Simple everyday things like helping my mom grate cheese on taco night.  Simple everyday things like the way my sister and I composed synchronized swimming routines.
I took lessons and had recitals.  I'm sure we went on many vacations (though they all blur together into one). I have nothing but a host of vague memories about those things  But the detailed memories I enjoy the most are simple things.
There's grace for our everyday mistakes built right into how our children form memories. Children either remember small joys or intense trauma.  Most of children will never experience intense trauma so know that your children are storing a wealth of joyful memories.
Apologize when you fail them, and then keep inviting them into your space to be loved on.  Bake a cake together, throw up the autumn leaves, and cut these last summer kernels from the cob for their enjoyment.  These are the things memories are formed from. These are the things you're likely already doing.