Day 21: It's all a mess, but God…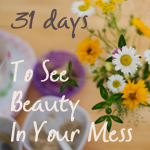 I'm spending each day here in the month of October writing about finding beauty in the everyday mess.  Before you think I'm an expert on this topic, let me confess: I've likely already lost my temper, prayed that I could have a solo vacation, and held back frustrated tears this morning.  I'm far from having this mastered.  I'm writing here transparently so that you and I might grow in seeking His daily extravagant beauty.  So pull up a chair and get ready to dive into the mess with me, knowing that somewhere in this mess is a beauty that only God can craft.
_________________________________________________________________________________________________
I used to be a bigger mess.
I used to be even more self-righteous.  Even more angry.  Even more sinful.
I used to lash out for days on end.  I used to throw never ending pity parties about my distinctly first world problems.
I used to be a dark mass of hardened sin crushed by the weight of no hope.
But God, being rich in mercy, because of the great love with which he loved me, even when I was dead in my trespasses, made me alive together with Christ—by grace I have been saved— and raised me up with him and seated me with him in the heavenly places in Christ Jesus, so that in the coming ages he might show the immeasurable riches of his grace in kindness toward me in Christ Jesus. Ephesians 2:4-7, changes from plural pronouns to singular ones are mine.
I don't want you to miss those first two words: But God.
You see there's is nothing that I can do to change my mess.  I still struggle with self-pity. I still struggle with unbridled rage.  But God, being rich in mercy, because he loved me sent Jesus to live the perfect life, die, and then rise again to defeat the eternal death I deserve.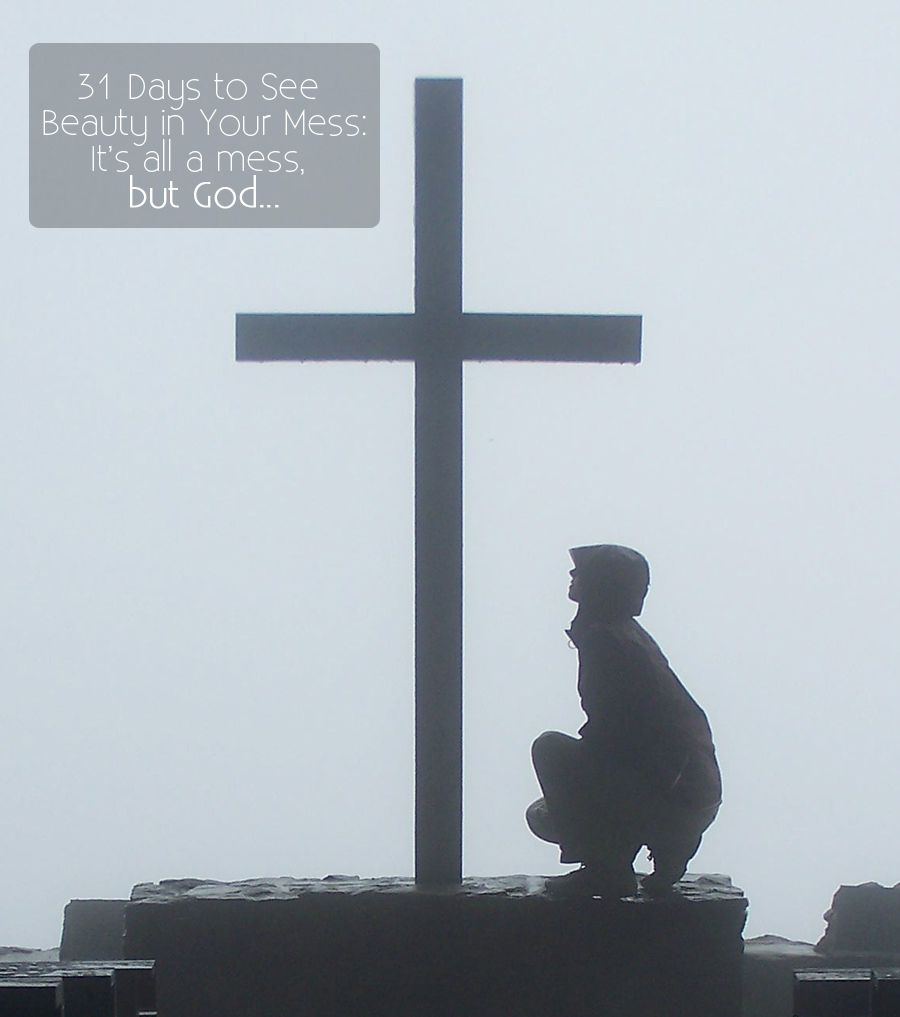 That is the good news: there is nothing good in me and I cannot change, but God loved me enough to produce the change in me by grace that I do not deserve.
Christianity isn't a religion of works.  It's not saying, "I can conquer this mess."  It's a humble bowing to the Lord.  "I can't do anything right apart from your work within me.  I will inevitably make this mess bigger and esteem it's weight higher than anything else. Lord, help me to focus on the work you have done at the cross.  Help me to be a conduit of the love you give extravagantly. And call me back to you in repentance when I sin yet again."
It's a miracle of grace that He promises me good things even with my own ability to do nothing right. 
For the next couple of days, I'm going to talk about how the gospel informs living in the daily mess.  The gospel in our daily life shouldn't be "Jesus died…. blah blah blah… old news. Now do everything right."
 So what is the gospel, friends, and how does it transform the daily messy into the hope of glory?