Day 23: How His Love Empowers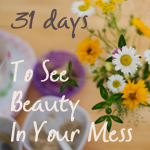 I'm spending each day here in the month of October writing about finding beauty in the everyday mess.  Before you think I'm an expert on this topic, let me confess: I've likely already lost my temper, prayed that I could have a solo vacation, and held back frustrated tears this morning.  I'm far from having this mastered.  I'm writing here transparently so that you and I might grow in seeking His daily extravagant beauty.  So pull up a chair and get ready to dive into the mess with me, knowing that somewhere in this mess is a beauty that only God can craft.
_________________________________________________________________________________________________
Yesterday, I talked about how I can't do anything right.
Let me be honest: the sin that so entangles my heart doesn't want me to admit that I have weaknesses. But through this series and through a stack of books that God has dropped in my lap I've come to rejoice that His "power is made perfect in weakness" (2 Corinthians 12:9).  My weakness.
So let me be frank: I don't always do the best job of applying the gospel to every moment.  In fact, most of last week had me pulling at my hair and yelling at the heavens to send money so that I could drop all three kiddos off at daycare and do nothing all day long.  The sin level in my house is currently best described as epic.  Add in my own sin in response to their sin and you could very easily label the sin level as colossal.
So as I start to talk about letting the gospel transform beauty from the sinful mess in our homes, let me confess that I'm mostly talking to myself. I'm mostly rehearsing again what the Lord is hammering into me through the sin in my house and my own heart.
So how does the gospel change me and my response to sin?
When I recognize that I am a loved and adopted child of God no matter what daily sins I struggle with, then I am free to respond to His love.  It is the love of God that we do not deserve that changes us.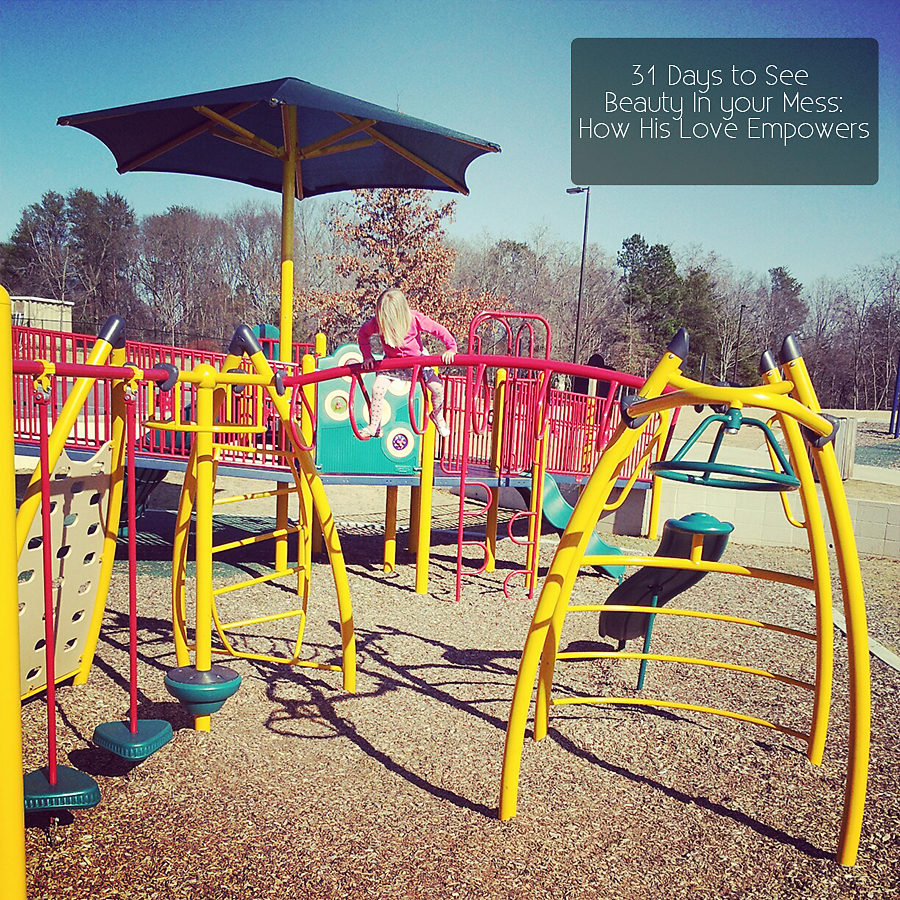 My little Bronwyn is in a why stage.  I ask her to do something and, without fail, her hands fall into place on her hips and she cocks her head to the side and says "Why?" Fortunately, most of the time she's just being inquisitive and so I give her a long scientific answer and she nods before completing the task.  But when the task is distasteful or regular, I hear her "Why?" tone become sassy. If I respond quietly and firmly, "Because I love you and I believe learning to do this well is the best thing for you." She'll look at me quizzically, maybe huff or squeeze a big hug around my neck, and then, more often than not, she'll go complete the task without incident.
The love and the grace given to us in the gospel that Christ died for us empowers us to face the mess. If I truly rest in my identity as a beloved daughter of the Great High King, then I know that every single thing I encounter is the best thing for me.  Every problem or challenge or sinful heart in my home comes straight from His hand as a good gift to grow me to be more like Him.
The promises found in His word regarding how He loves us are what spur us on to serve him: both with good works and with public repentance of our failures.
How does this look practically in the day to day?
I struggle with that hourly (sometimes minute-ly….).
It means looking that preschooler in the eye and recognizing in the midst of her tantrum that she is a gift and that this moment with her is a gift.  And if I swallow my "we should be leaving on time" pride and instead say "She's only here for a season and she needs to know who Love is… by His grace I can be the vehicle for that lesson."
It means saying "I'm sorry.  Will you forgive me?" All. The. Time.  And adding no qualifiers ("….But if you hadn't…. then I wouldn't have….").
It means that when I want to run, that I instead fall on my knees and pray "You made me for a reason, God.  And you placed me here for this season. Enable me to be used by me."
But most of all it means resting in our identity as a loved and adopted child of the King.  Because when we know whose we are, we can face things through His enabling grace.