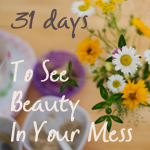 I'm spending each day here in the month of October writing about finding beauty in the everyday mess.  Before you think I'm an expert on this topic, let me confess: I've likely already lost my temper, prayed that I could have a solo vacation, and held back frustrated tears this morning.  I'm far from having this mastered.  I'm writing here transparently so that you and I might grow in seeking His daily extravagant beauty.  So pull up a chair and get ready to dive into the mess with me, knowing that somewhere in this mess is a beauty that only God can craft.
_________________________________________________________________________________________________
She oscillates nervously on the edge of the pool.
She'd handed her husband the baby and announced she was going to jump. Her kids and mine are all shouting encouragement. There's a sort of hopeful anticipation by the 6 and under crowd all floating in the deep end in their life jackets.
She laughs, throws her whole body in the air, and come splashing into the pool. We all laugh and cheer as she surfaces.
The swim to the ladder is victorious. I see "I did it!" well up in a my friend's joyful laugh.
Together we catapult into the deep end again spraying all the kids with cannon ball fallout.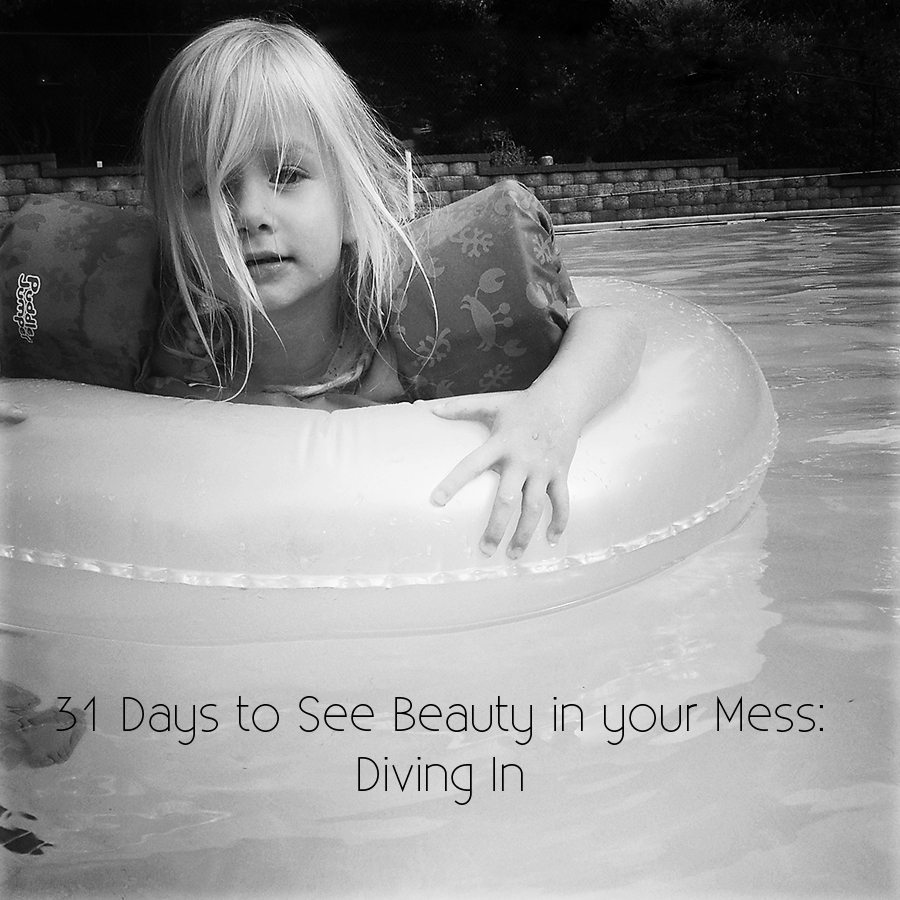 _________________________________________________________________________________________________
Today this friend and I, we're jumping into a different pool. We've secured an afternoon babysitter for 7 under six years old and are riding together to Allume– a Christian blogging conference right in our hometown. We'll be two introverts  walking into a whirlwind weekend filled with people and information overload. It's going to be wild.
Neither of us are quite sure why we've been called to Allume. But here's the thing I know –> that victorious joy I saw in her face when she jumped is the same joy we'll have knowing we obeyed His call for us.
Obedient faith is what Jesus calls us to do. James MacDonald says that
Faith is hearing the Word of God and acting on, regardless of how we feel, knowing that He promises a good result.
When we live in this faith, there's a guarantee of lots of messes: things will fall, we will break, sin will creep in.  But when we live in obedient faith, there is no regret, no condemnation, and erased shame as we watch Jesus make something beautiful from our messes.
So we're diving in obedience and trusting Him with the results.