Day 5: When You Want to Give Up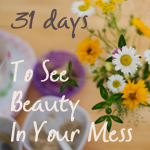 I'm spending each day here in the month of October writing about finding beauty in the everyday mess.  Before you think I'm an expert on this topic, let me confess: I've likely already lost my temper, prayed that I could have a solo vacation, and held back frustrated tears this morning.  I'm far from having this mastered.  I'm writing here transparently so that you and I might grow in seeking His daily extravagant beauty.  So pull up a chair and get ready to dive into the mess with me, knowing that somewhere in this mess is a beauty that only God can craft.
_________________________________________________________________________________________________
I"m not going to lie.
There are days where I  want to give up this whole mothering gig.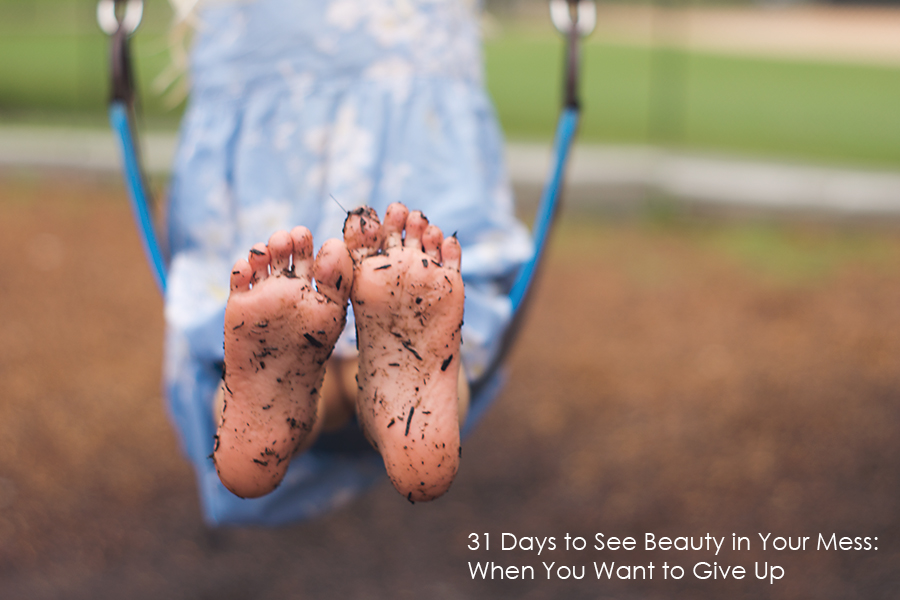 Days when my husband comes home and tells me how bored he and his coworkers were that day.  How they all picked up ping-pong paddles and had an impromptu tournament.
I held a flailing toddler today for 20 long minutes while he screamed because I didn't realize we were out of milk before I offered him some.  His sisters piled on me too and he pushed them and we all waited for our daddy/husband hero to bring home some milk.
I'm terrible at ping pong; I've actually been given a black eye playing ping pong.  Yet, I'm pretty jealous about that spontaneous tournament while I dealt with little hearts and big messes.  My work is hard and relentless here at home; I'm not sure I've ever had a boring day.
There's yogurt on my table and my counters need clearing.  There's laundry strewn from kitchen to hamper and toys all over, too. And if I stop scratching this pen on paper to clean it all up, it'll all just explode in the morning.
So I step away from it all for just a moment to wait with pen in hand for the Lord Jesus to speak to me and maybe, through me, to you as well.
And Jesus whispers just these words over my soul:
"Go therefore and make disciples of all nations, baptizing them in the name of the Father and of the Son and of the Holy Spirit, teaching them to observe all that I have commanded you. And behold, I am with you always, to the end of the age." Matthew 28:19-20 Emphasis is mine.
He says this to me as I write softly standing in the kitchen:
"I AM with you.  I see you. I hear your sorrow over creation undone and hearts wound up in sin: yours and theirs alike. I am with you when you fail. I am with you when you cry and repent. I am that glimmer of hope, that perfect record. I AM. I see. And I remember what it was like to want to give up."