Day 10: When it's Time to take a Break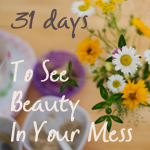 I'm spending each day here in the month of October writing about finding beauty in the everyday mess. Before you think I'm an expert on this topic, let me confess: I've likely already lost my temper, prayed that I could have a solo vacation, and held back frustrated tears this morning. I'm far from having this mastered. I'm writing here transparently so that you and I might grow in seeking His daily extravagant beauty. So pull up a chair and get ready to dive into the mess with me, knowing that somewhere in this mess is a beauty that only God can craft.
_________________________________________________________________________________________________
It was just past 10 AM and I had ice cream in my coffee mug.
I don't drink coffee.  I wasn't using ice cream as a substitute for creamer. I had a mug full of ice cream so my kiddos wouldn't beg me to share.
It had been that kind of a morning. 
I'd been feeling constant rejection on the business side, stayed up too late the night before, and the toddler boy had both used a crayon on the iPad and wrapped two entire balls of yarn into a knotted mess.  These things had taken quite a toll on my attitude.
So when Tamara texted that they were at the park and would I like to join them?  My immediate response was "Yes!"
Sometimes the only way to get perspective on the mess is to pack up and leave it all for just a little while.
When it's all pressing in on you and threatening to overwhelm, sometimes it's best to go to a mountain top and pray.  Well, more like lock yourself in the bathroom and pray. Or do what I did: sit at the park with a dear sister who speaks Christ's words of encouragement to you.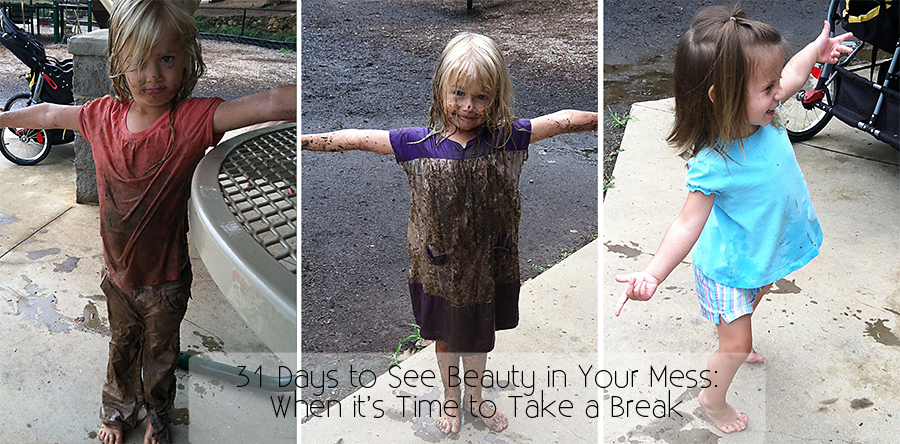 And who cares if our combined five kids are rolling in the mud.  We sit there and laugh grace as little Lydia claims she's "So dirty!" And we're refreshed and then I go home ready to enjoy those kiddos and use a microfiber cloth to get that crayon off my iPad.
How do you take a break?