Day 9: Simply Confessing the Mess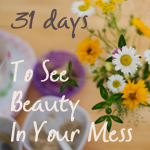 I'm spending each day here in the month of October writing about finding beauty in the everyday mess. Before you think I'm an expert on this topic, let me confess: I've likely already lost my temper, prayed that I could have a solo vacation, and held back frustrated tears this morning. I'm far from having this mastered. I'm writing here transparently so that you and I might grow in seeking His daily extravagant beauty. So pull up a chair and get ready to dive into the mess with me, knowing that somewhere in this mess is a beauty that only God can craft.
_________________________________________________________________________________________________
It wasn't even lunchtime yet.
The baby was on my lap screaming because his nursing had been interrupted again.  I had just locked the twin two year olds in their bedroom.  I can't remember what mischief they had been into that had interuppted my lightning fast nurser three times already.
But I do remember the condition of my heart.
I was a foul fuming mess.  I sat there crying angry tears, latching on an angry baby, and holding a phone.  The phone I held for a long time– waiting for the courage to make the call.
Finally, I dialed the number of the only friend I had at that time with two kids who were different ages. I managed to choke out a tearful, "How do you do this?!" before erupting into fresh tears.
Sometimes simple confession of the mess creates the real beauty.
The beauty of being told there's grace to cover your sin.  The beauty of no longer carrying the weight of your sin alone. The beauty of standing just as you are before a friend who loves you anyhow.  And the reflection in that friendship of the unconditional love of Christ.
How do you feel after you confess your mess?