Giveaway Day 1: Book a Session to Win
Hey, there.
Are you expecting a baby in 2014?  This giveaway is for you.
Know someone expecting a baby in 2014?  This giveaway is for you to share!  Hop on the Quiet Graces Facebook Page and share today's status with them to let them know all about it.  I promise you'll be their favorite friend 😉  And don't worry… there will be other giveaways for you to enter!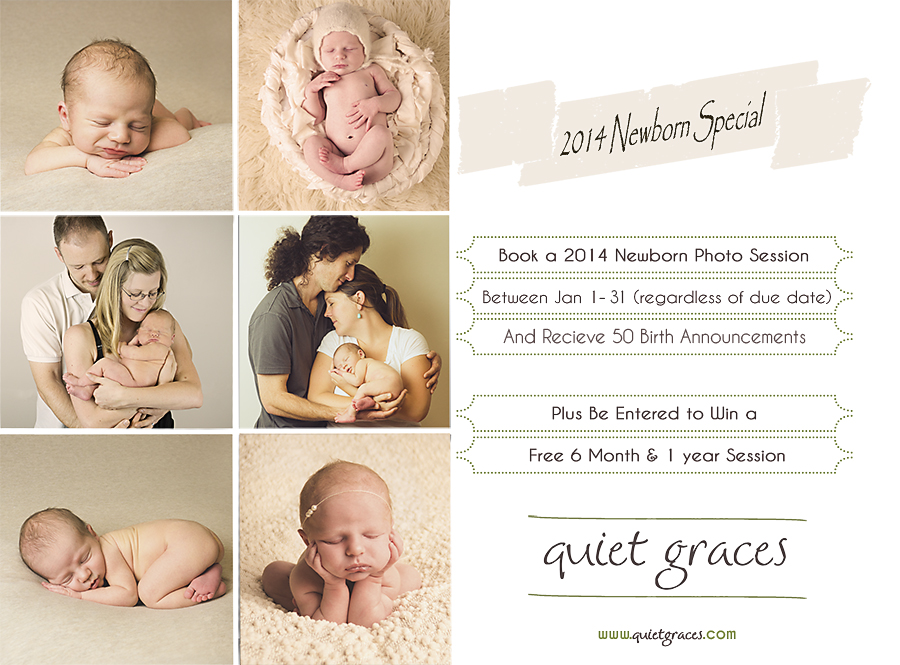 Wondering if I'm the newborn photographer for you?  Read this post here to find out.
Fine Print
Any due date in 2014 is eligible.  So if you just saw the word "pregnant" on your test, please book!  If your due date is today, please book!  If you had your baby less than two weeks ago, please book. I limit myself to just 3 sessions each month to ensure quality and protect my primary role as mama to my sweet babies.  Booking early guarantees my availability.
Only clients who book a session between January 1, 2014 and January 31, 2014 are eligible for this giveaway and special.
Session fee must be paid in full for eligibility to win.
All clients must meet the $200 print minimum for their newborn session before receiving their free announcements.
No prints and products are included with the winner's 6 month & One Year Session.
Giveaway closes January 31st.  Winner will be notified Feburary 3, 2014.
Not eligible to be combined with any other discounts or offers.