Newborn
This Seashore Theme Classic Newborn Baby Girl Photography Greer SC image was the request of June Marin's mother Cortney. The name Marin means "of the sea' and Cortney wanted that reflected in the session. She brought this crown from her baby shower as well as the starfish and I augmented this sweet set with some shells in my own collection. I love this image on my round wood print as you see it here. It's such a surprising shape that works so well as a statement art piece.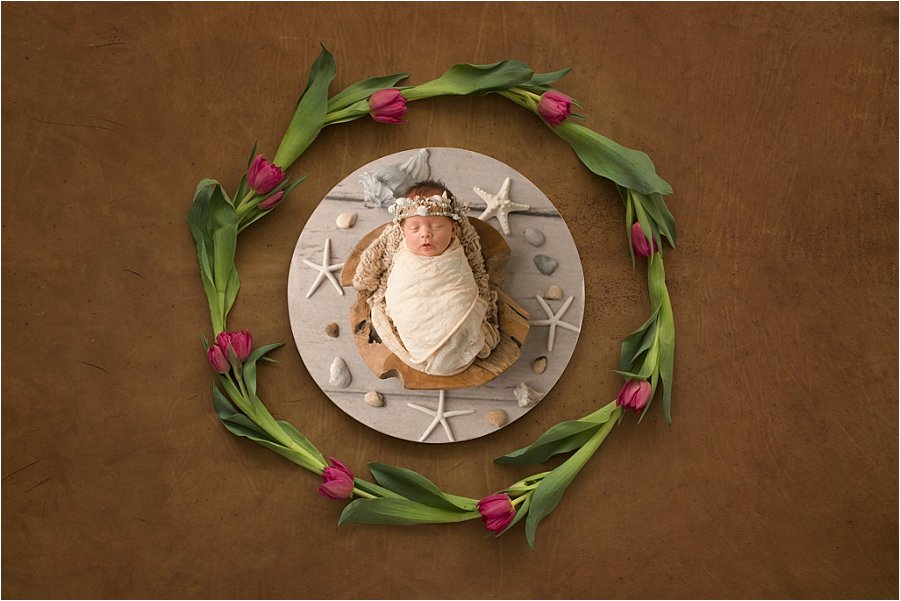 Cortney and Jason came in for a Mini Maternity session prior to this session. It was such a great way to get to know them. Maternity mini session fees are waived for my full session newborn clients. You can see their session here.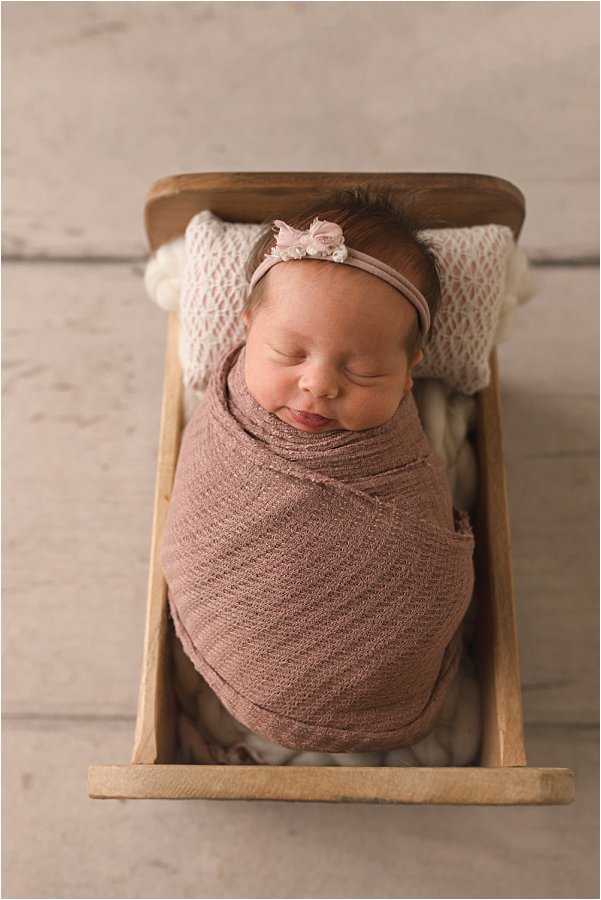 June, like all sweet babies who visit the studio, had her own settling and soothing needs. She was a little fussy at session start. She finally settled into comfort inside this multi-wrap swaddle. Newborn babies are comfortable in warm rooms and tight wraps because that's what mama's womb was like. I try to make the studio and experience as womblike as possible. There's lots of rocking and soothing and feeding time built into each session too.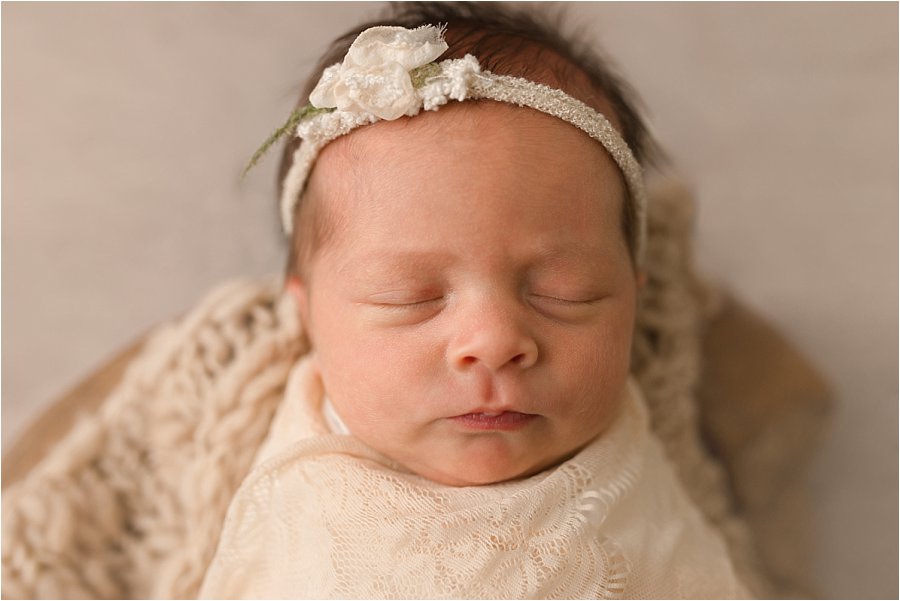 June was calmest in Jason and Cortney's hands. Often parents hesitate to get into the images. I promise that your child will treasure these images forever. Be in the picture with them. Show them how much you loved them from teh very start. Print this picture in an album or for the wall. It's that important.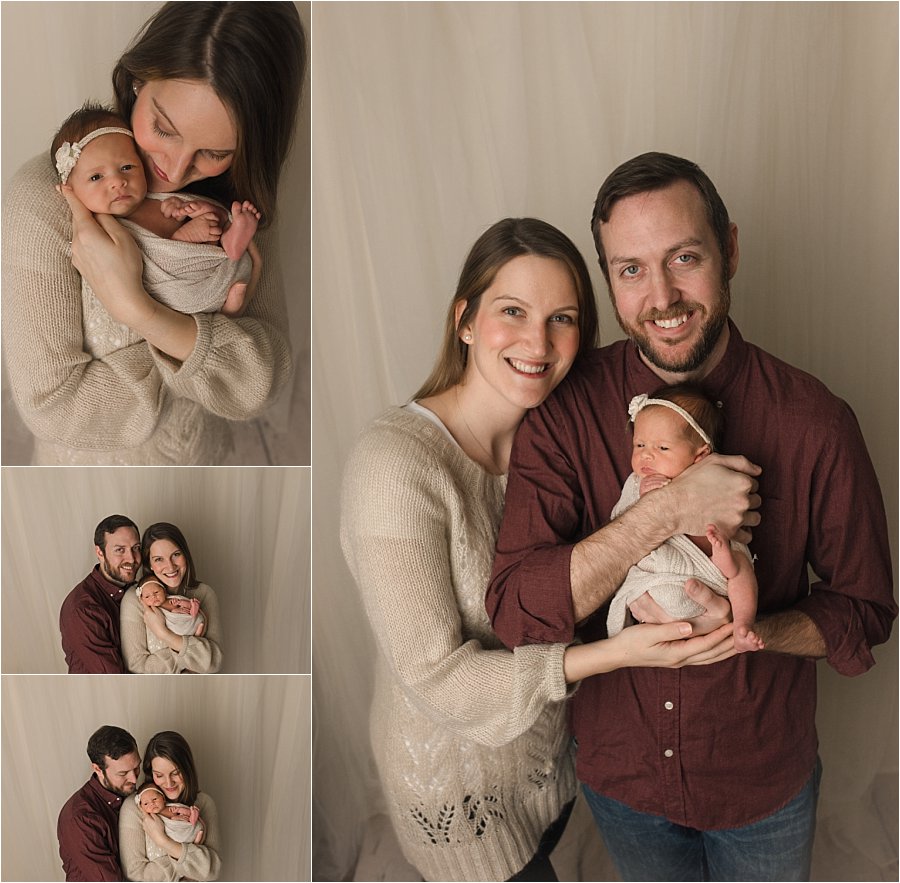 Looking to book your own newborn session? I'd love to be considered. Please click here to tell me about the dream images you'd love to have on your walls. I'd love to create a classic set just for you.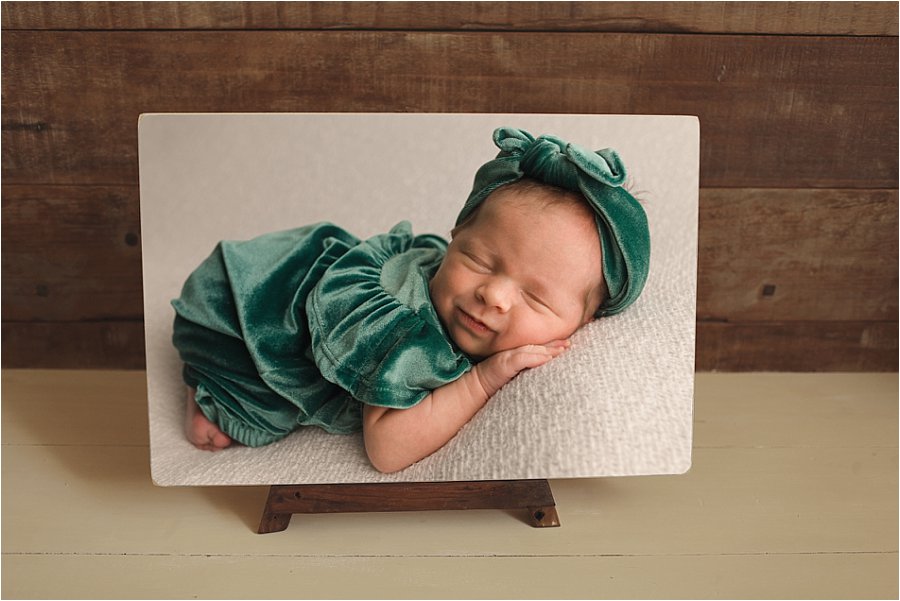 I loved being Hana's clean girly newborn photographer Simpsonville SC.  This precious girl was so relaxed and so very loved.  You can watch the video below to see the images from her session or scroll down and to hear a little bit of the story of Hana's session.  If you're looking to book your own clean girly newborn photographer Simpsonville SC then click here to contact me today!
Hana Birth Announcement Video from Melissa Aldrich on Vimeo.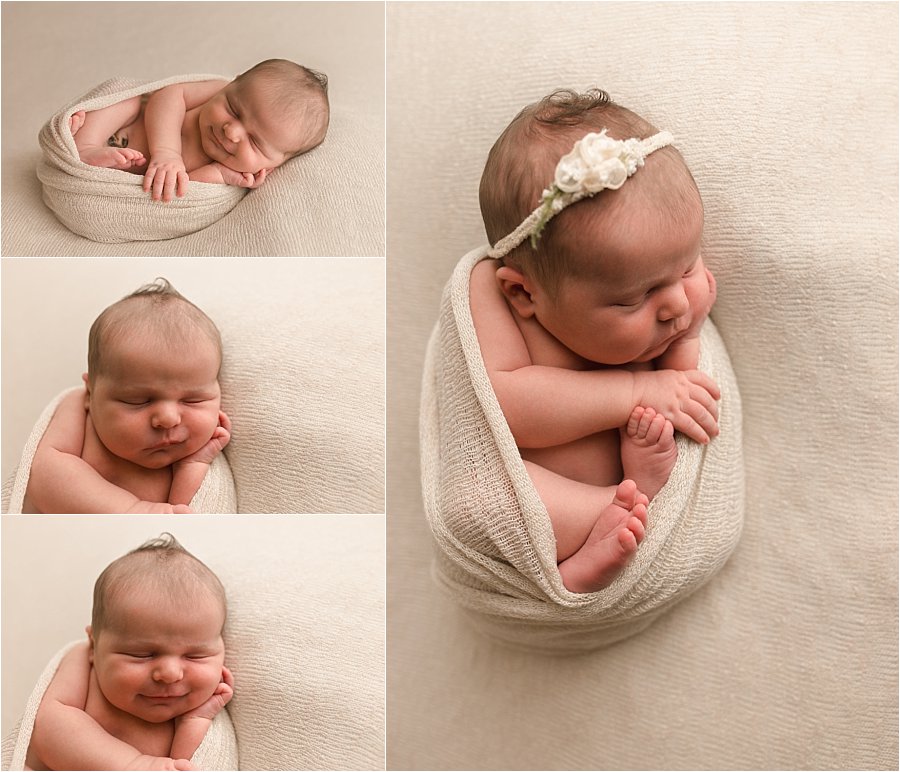 Hana was the sweetest chunkiest little girl. She loved being curled up into a tiny baby ball inside a wrap.  I usually catch at least one grin on camera, but Hana gave me three with the longest smile ever just as I laid her down!  You know a session is going to be amazing when these are some of your very first images.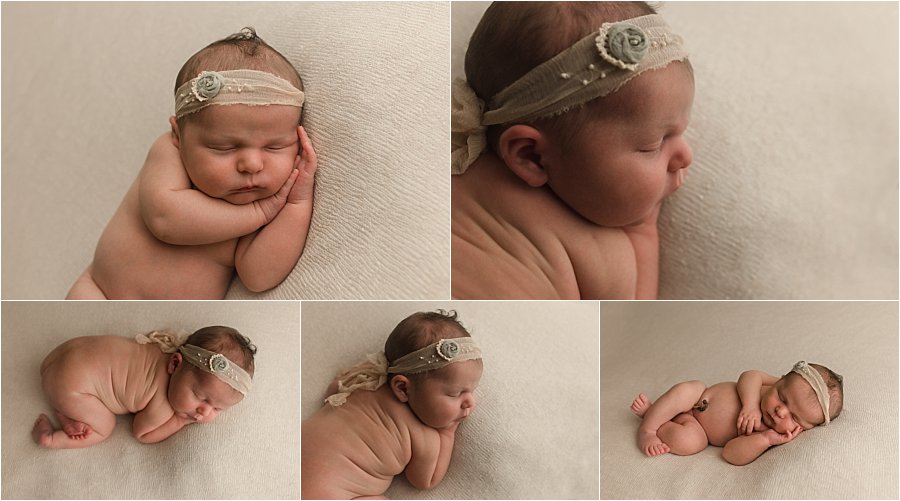 One of the things I love most about being a newborn photographer is capturing all of the little details that new mamas often forget in their sleep deprivation. Hana's back wrinkles are some of my favorite details from this set of images,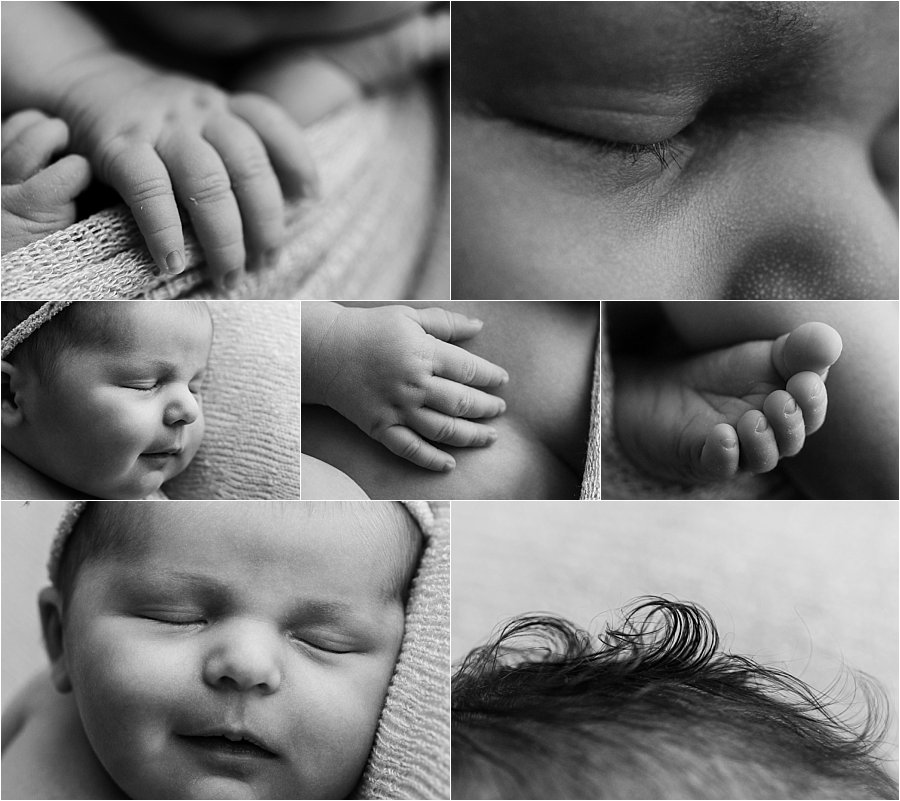 But Jamie and Loren also asked me to take close up images, called macros in photography speak, of Hana.  These are always my personal favorite images.  I've featured them here in black and white.  My clients never have to choose between color or black and white files.  I provide them with both in their finished gallery.
Newborn Safety is so important to me! This image shows how close dad was to Hana during this images. He would gently lift his hand just above her before I took the shot and I would edit it out for the final shot. I never want these little ones to be in danger.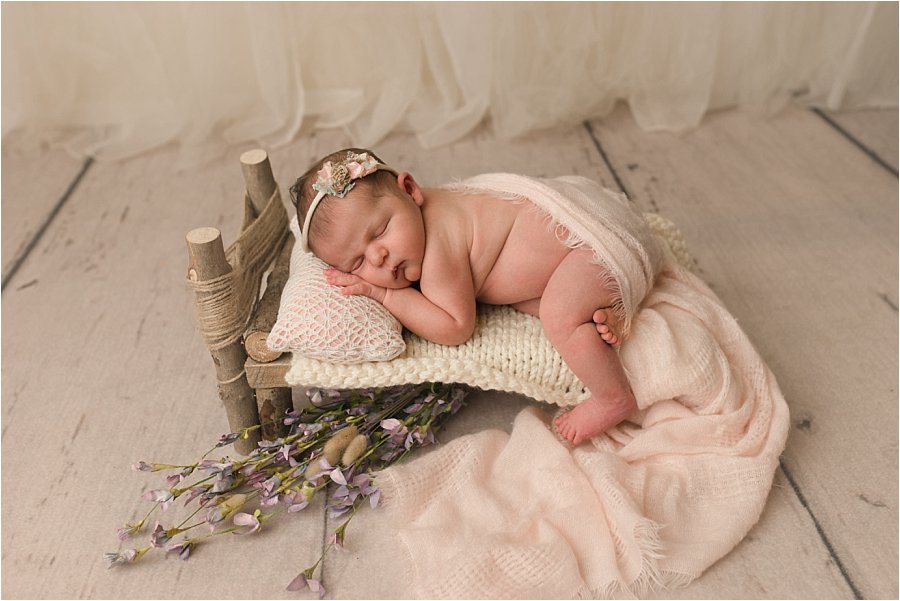 We also spent a lot of time on family images. Isn't it amazing that Hana will be able to see how much her parents adored her from the very start? And the contrast of a tiny baby in her parents hands always makes me so nostalgic.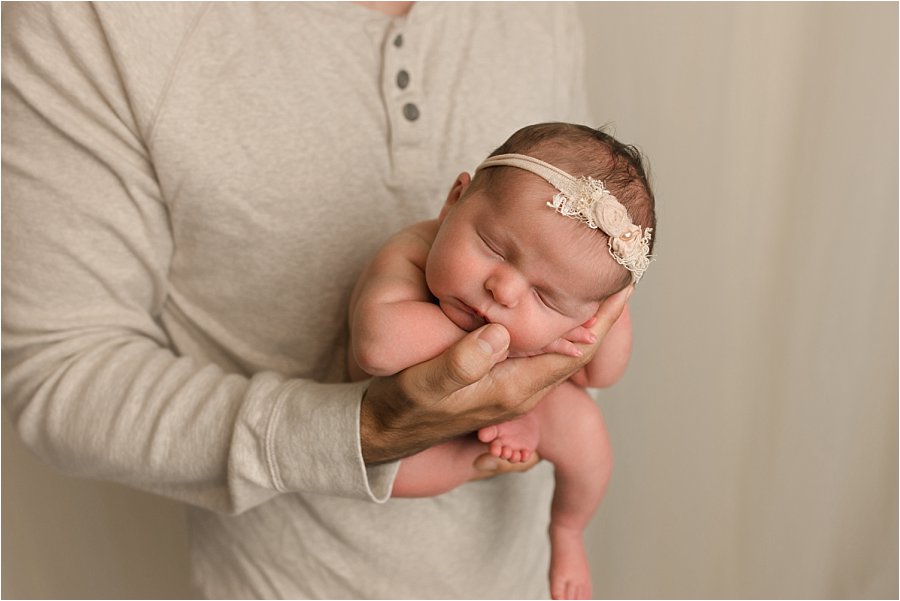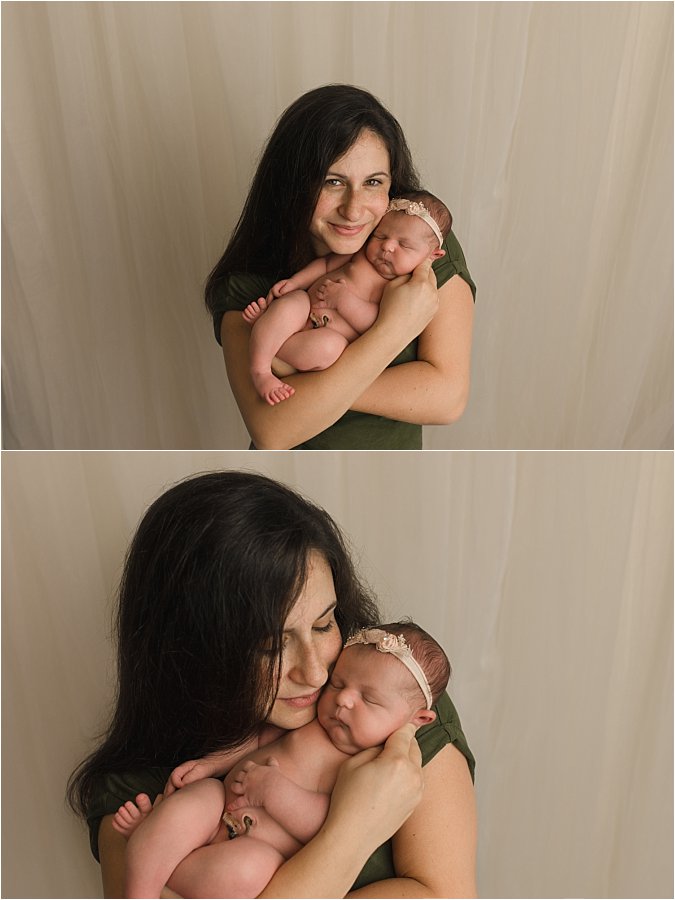 I also really loved this set that Jamie and Loren picked in this nest. It's one of my most requested props and Hana adored being curled into the nest.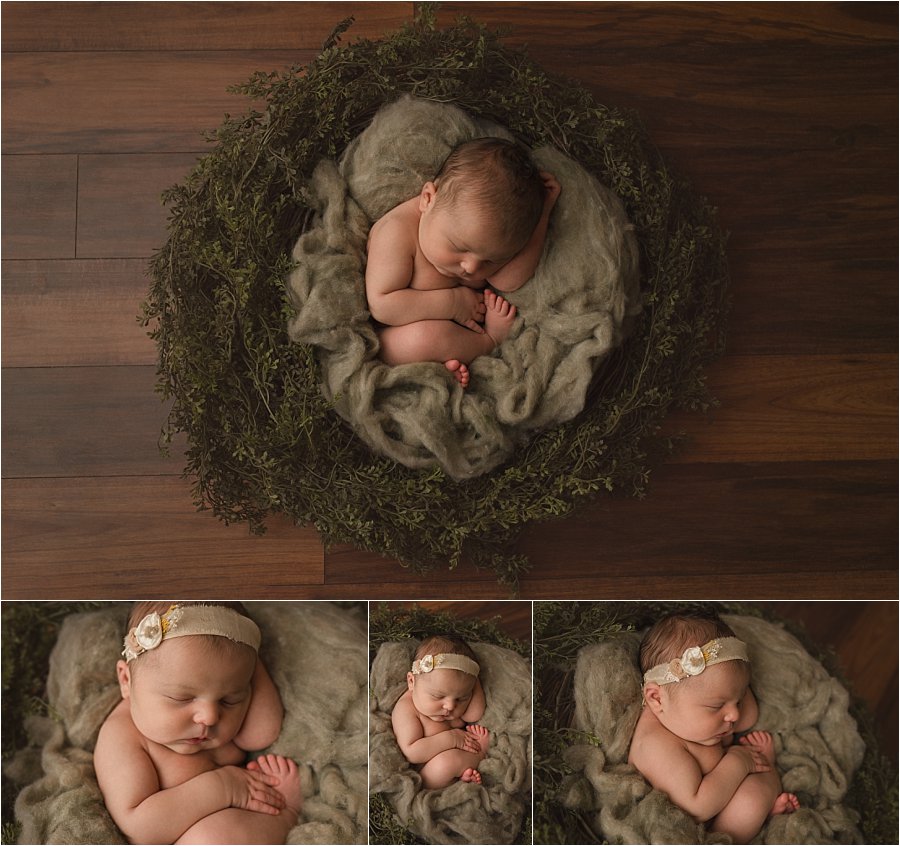 Looking to book your own clean girly newborn photographer Simpsonville SC? I'd be honored to be considered. Drop me a note here and let me know what you most want to remember about your sweet baby.
Are you looking to book Simple Beautiful Timeless Newborn Photography Hendersonville NC? I'd love to be considered in your search. Click here to tell me about your dream session. Or you can scroll down to see the images from Vida's session.

Precious Vida had the most delicate features. Her spiky hair, her sweet smile, and her gorgeous profile took my breath away.  And this little yawn was so perfect.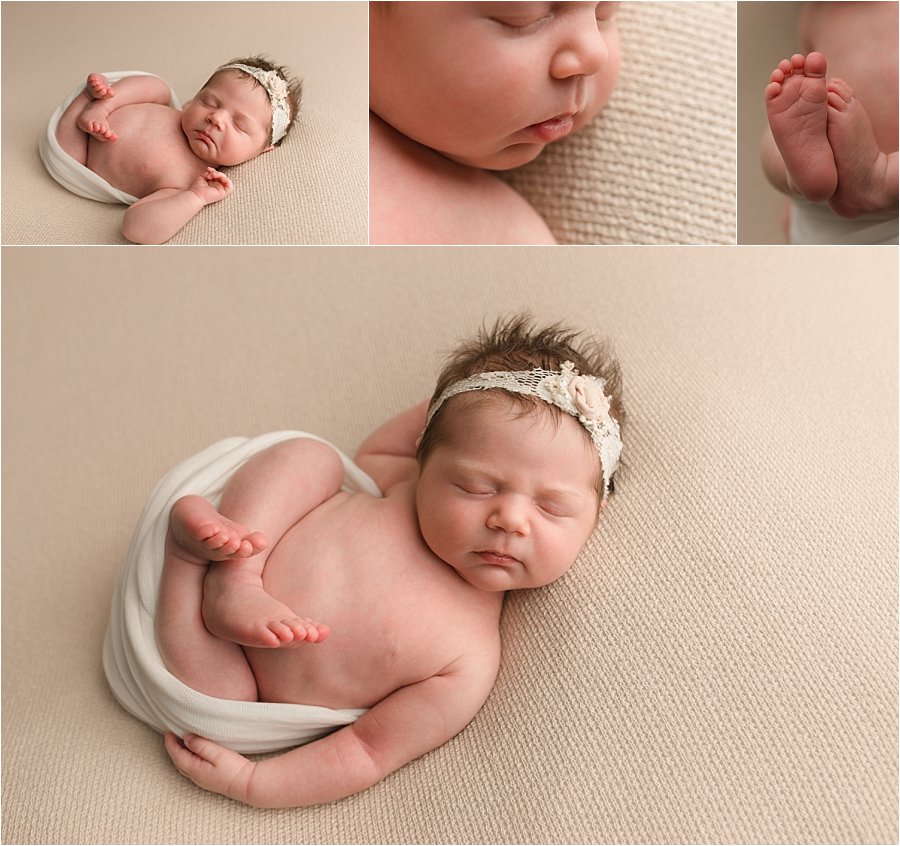 I love capturing these little details for Vida's mama Shannen to remember. From tiny toes to sweet little pouts each baby is so unique and perfect.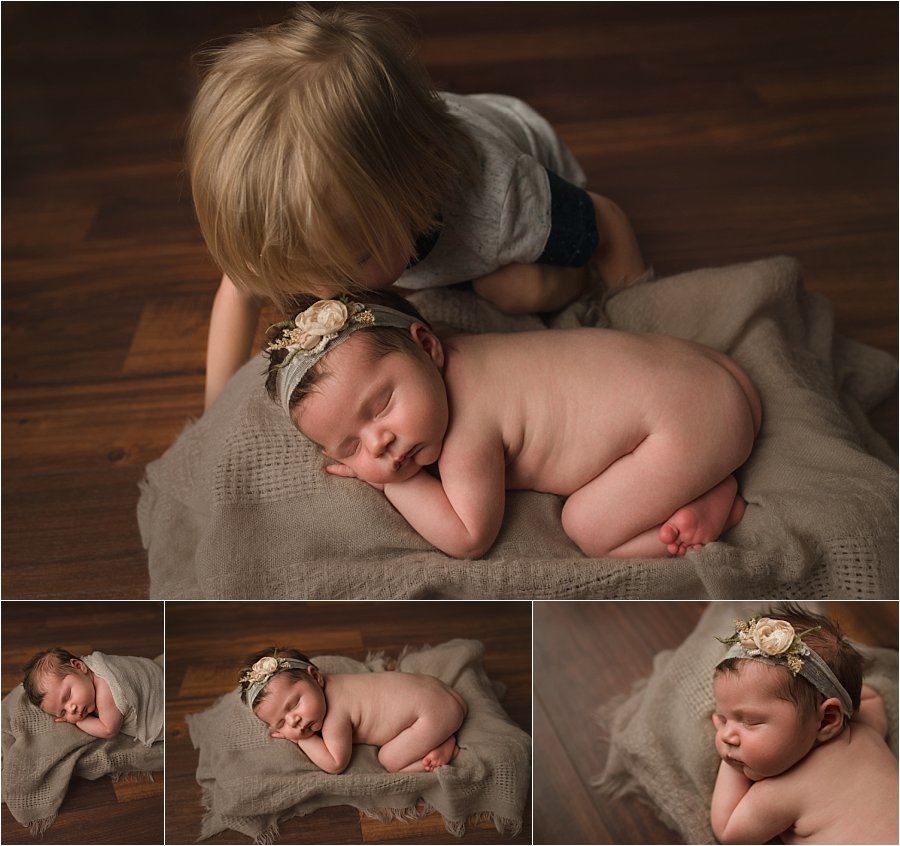 Vida's big brother Fox was also the absolute sweetest. He stole some kisses right at the end of the session in this sweet little bed and it was sheer perfection. But Fox was also amazing at the beginning of the photos when we took his portraits with Vida. Shannen and Dan had done such a wonderful job helping Fox prepare for the session. He knew my name and what was expected and was just so excited to hold Vida all on his own. It was the most precious thing.
Newborn session can run really long between feeding and soothing and posing, so Fox actually spent most of the session on an adventure and out to lunch with Dan. I know he enjoyed that one on one time so much!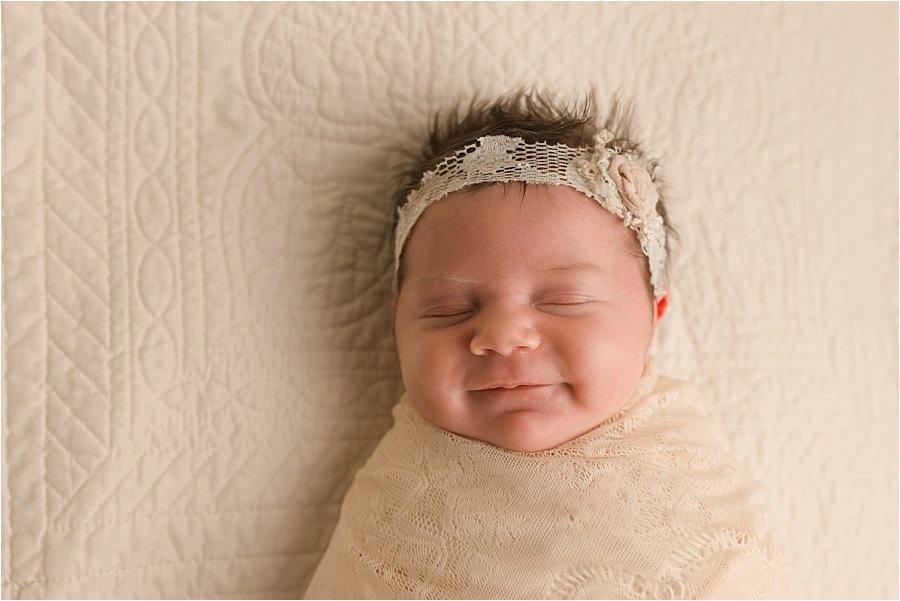 I know I say this every time I write a blog post, but family images are some of my very favorite. The beauty of the family relationships shines so brightly in images. I always imagine the joy these images will bring the baby when they are going through a rough spot as teenagers. I imagine Vida thinking "Look how much my family loved me right from the start." I imagine her turning to talk to her parents about her rough day. I think this is the biggest reason it's so important to display your favorite images in your home. These images bring hope and love and light to you in those hard moments. They can bring courage and joy. This is why I love what I do so much.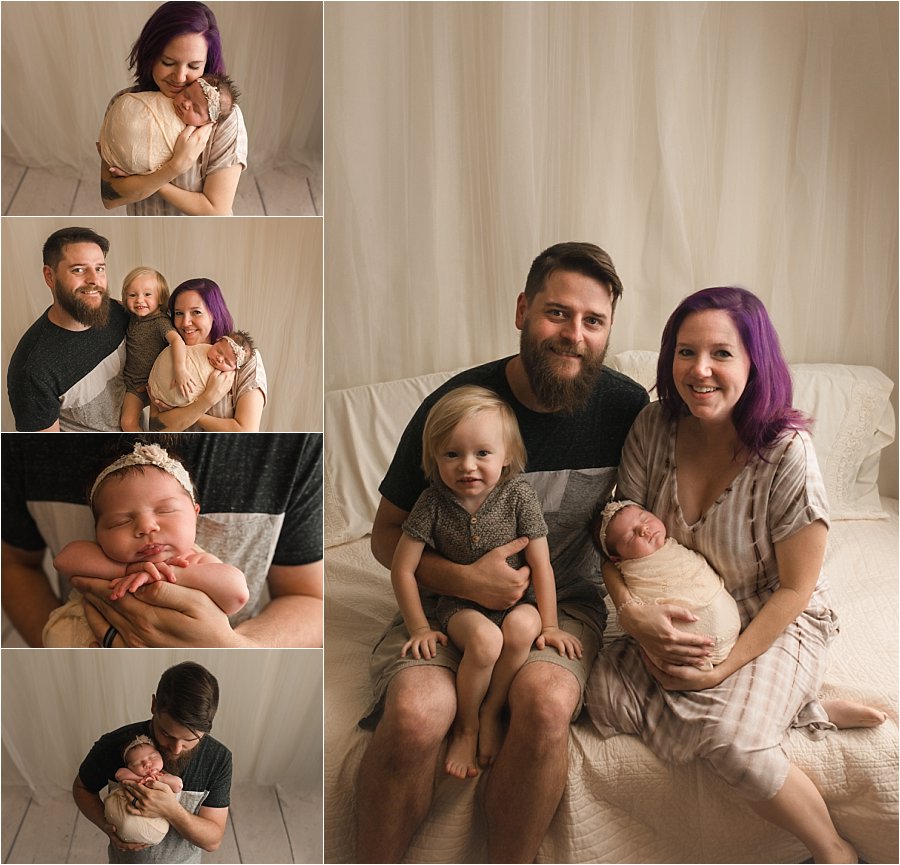 These Clean Classic Newborn Photos Greer SC of baby Abel and his family Whitney, Josh, and sister Sloan are some of my favorite from last year. This family simply adores one another. Their photos capture that bond perfectly. Watch the video below to see all of their photos.  Then, scroll down to read more about this session.  My favorite images are also included below.
Abel Thomas from Melissa Aldrich on Vimeo.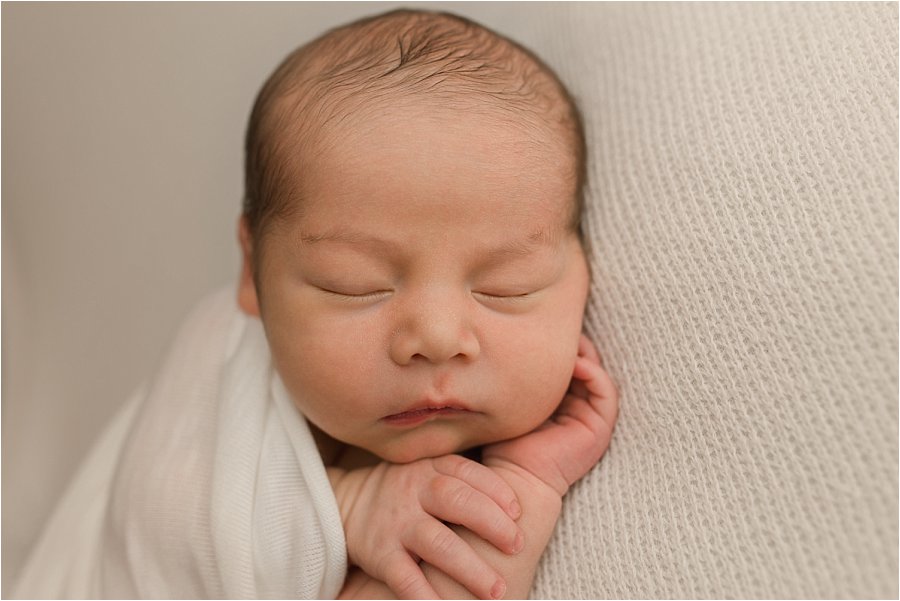 Abel is was pretty much the perfect baby. These cheeks, those relaxed hands, the eyelashes, and the sweet millia on his nose make Abel so squeezable.  He's simply delicious.

I love this series in both color and black and white.  There's something about black and white on dark backgrounds this is perfectly timeless, a clean and classic look.  I never make my clients choose between color or monochrome images, both are included of every image they selection.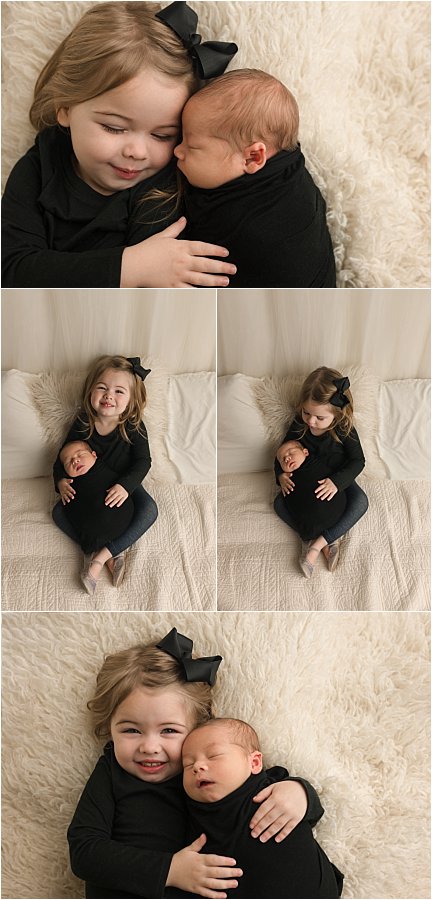 Big sister Sloan adored being in images!  She took so much delight in cuddling Abel. Sloan also took direction so well.  It helped a little that Sloan had already met me during their maternity session, but I know a great deal of Sloan's amazing behavior was due to Whitney following my prep directions.  Sloan knew exactly what was expected of her and that made it easy for her to comply.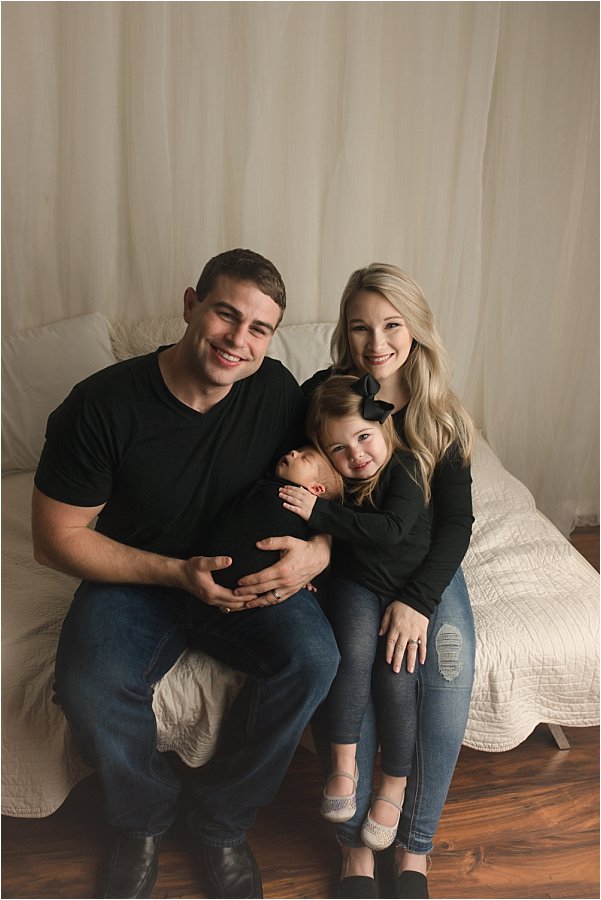 Look at these sweet cuddles and family moments!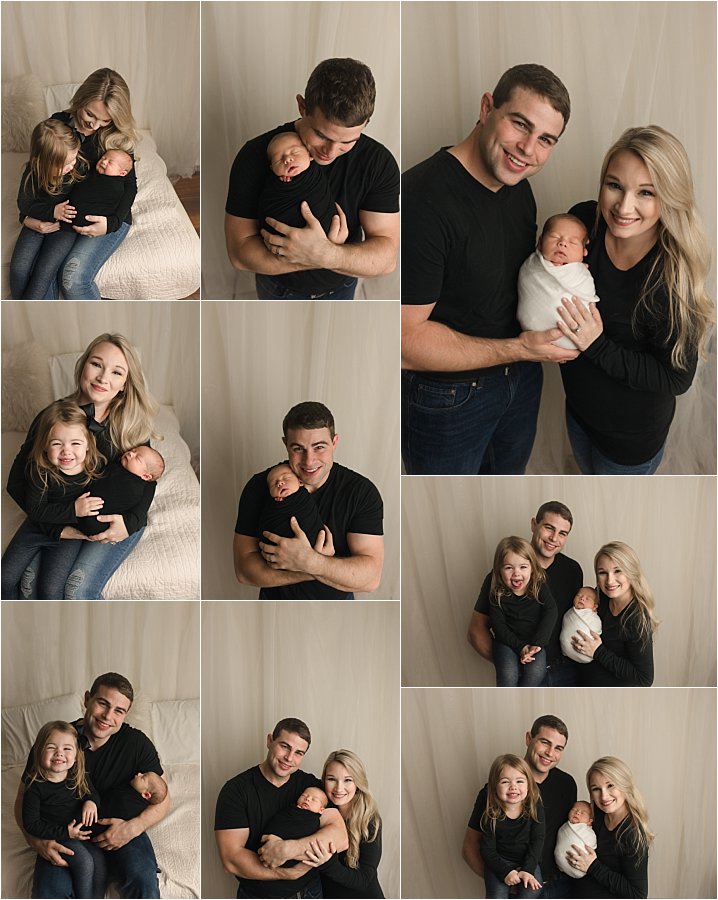 My favorite images from this session (and almost all of my session if I'm honest) are these of Whitney and Abel.  Nearly every newborn session I have to convince mamas to be in pictures, but they never regret it after the session.  This time with a little one who fits so well into your arms is so fleeting.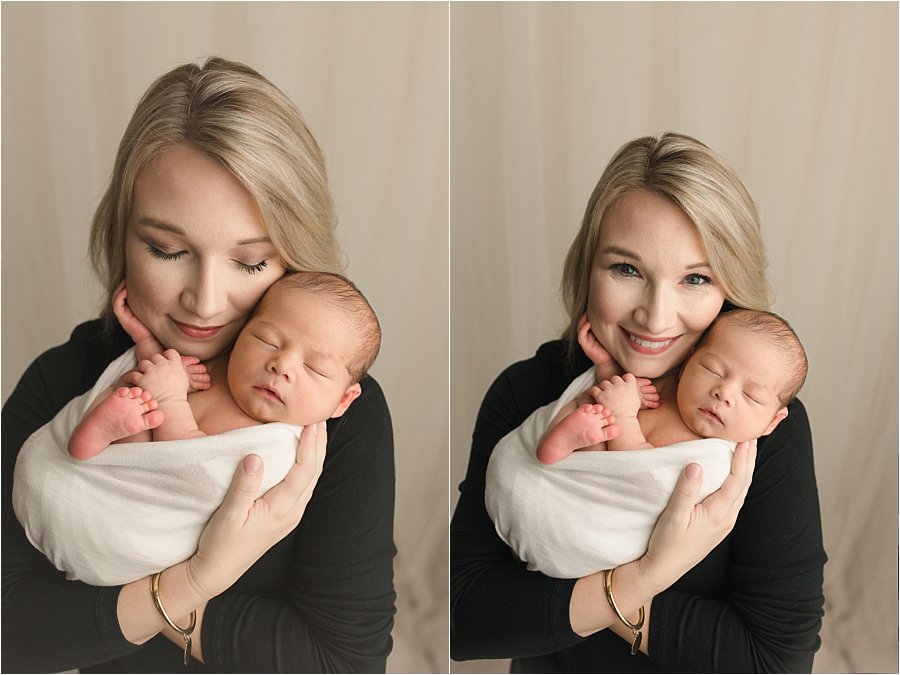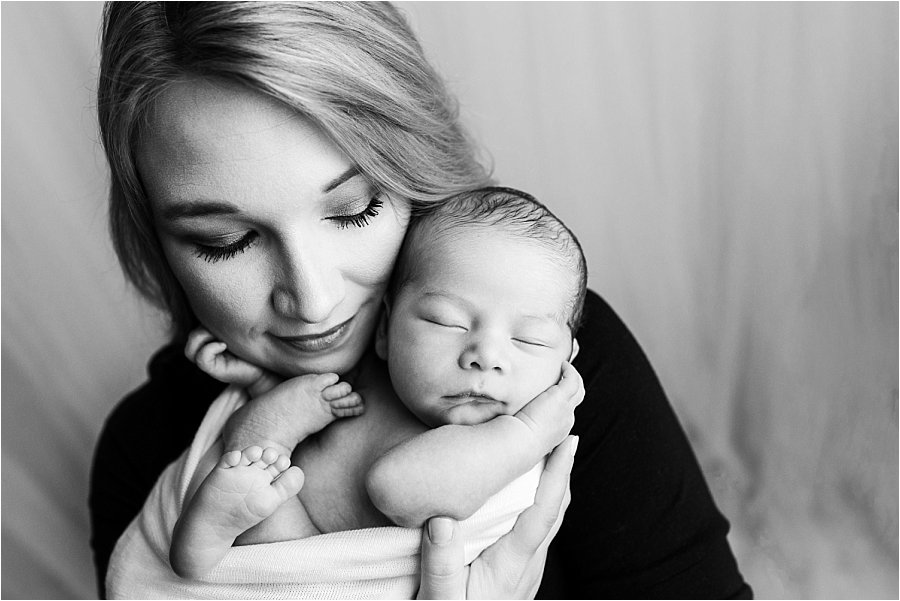 Are you looking to book your own Clean Classic Newborn Photos Greer SC?  I'd love to serve you.  Click here to tell me about the session you're dreaming up for your little one.
I was so excited to see Larisa, Angelo, and Luca for their Greer SC Newborn Photography with Big Brother.  You see, just two years prior I had photographed Luca as a newborn.  Wasn't he just the sweetest little baby?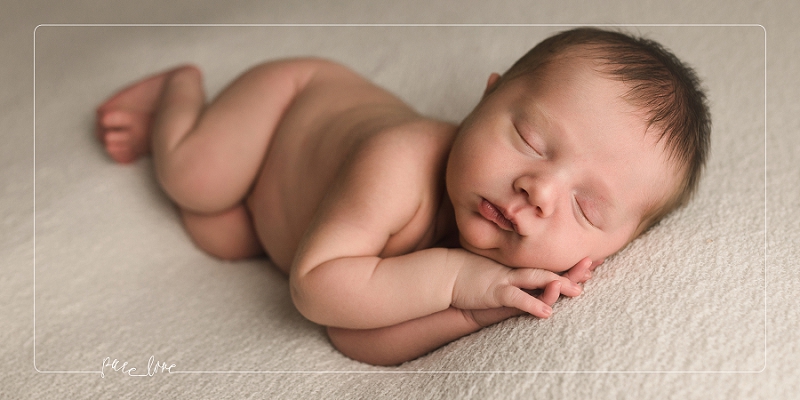 But now Luca is a newly minted two year old.  In fact, he turned two three days AFTER his brand new brother Leo was born.  Look how much he's grown!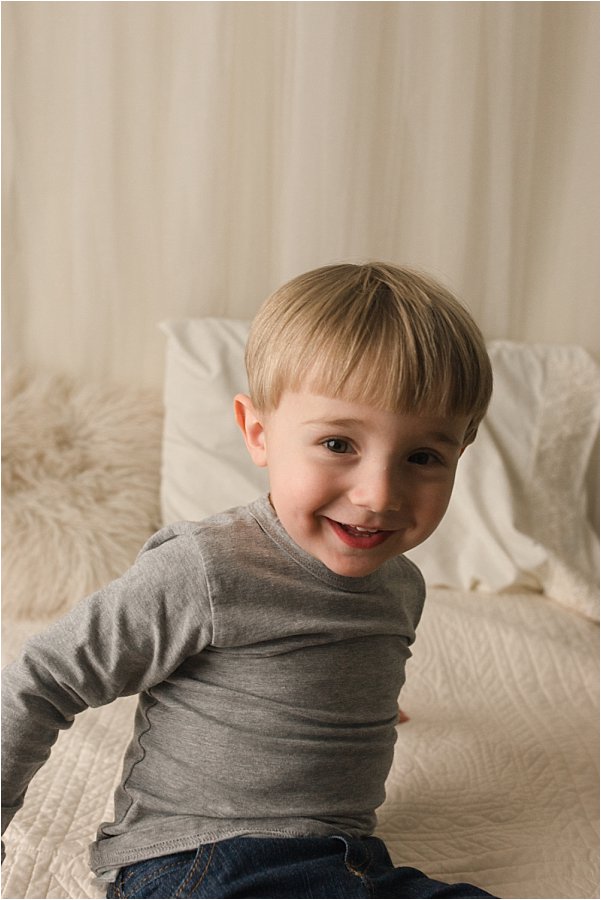 But. like all two year olds, Luca was a little unsure of how to act in my studio.  So to warm him up, I threw posing pillow back and forth while baby brother Leo had a feed.  By the time the feed was over, Luca was ready to smile for the crazy click noise my camera was going to make.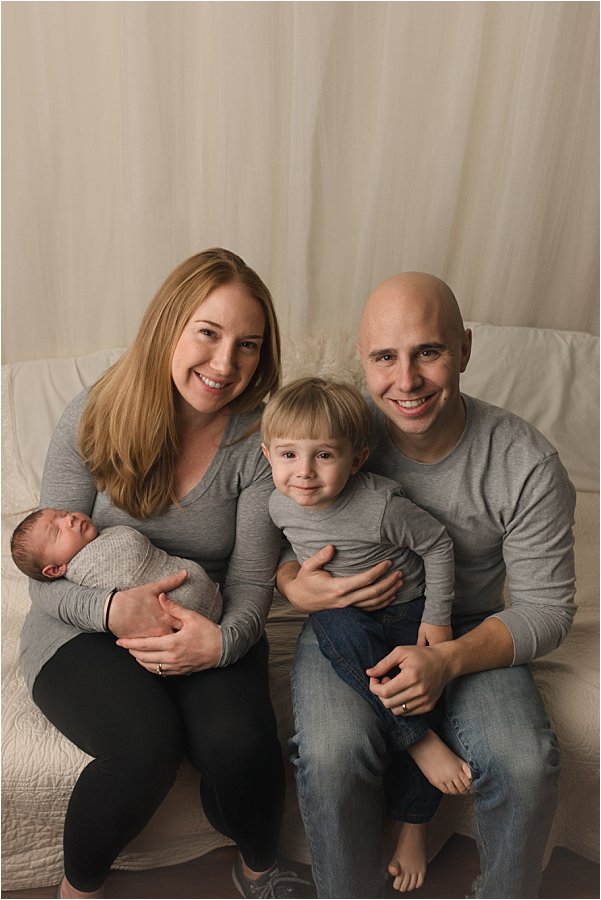 Ya'll this is literally the second image I took this session!  So far so good!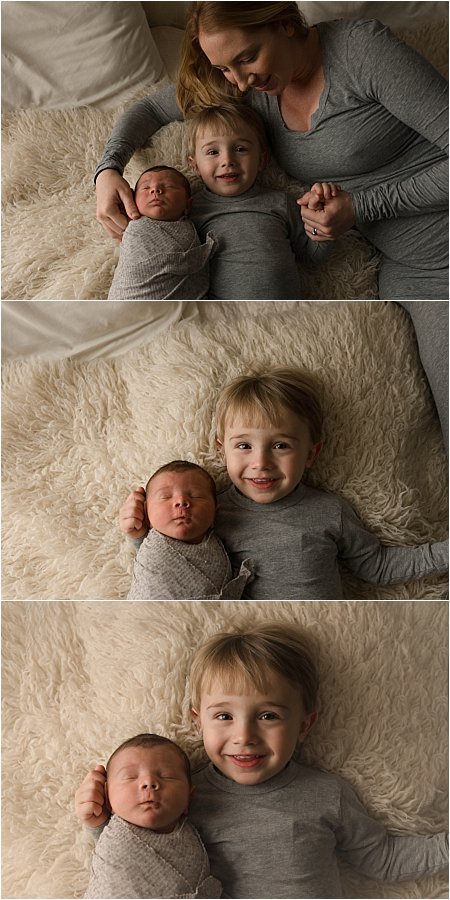 Then we posed Luca with Leo.  This pose is safest for your newborn (daddy is right out of the frame ready to rescue Leo if Luca moves), but not many two year olds like to be laid down. But Luca asked mama to lay down with him. As you can see in the straight out of the camera shot side by side with the edit, having mama lay down did the trick!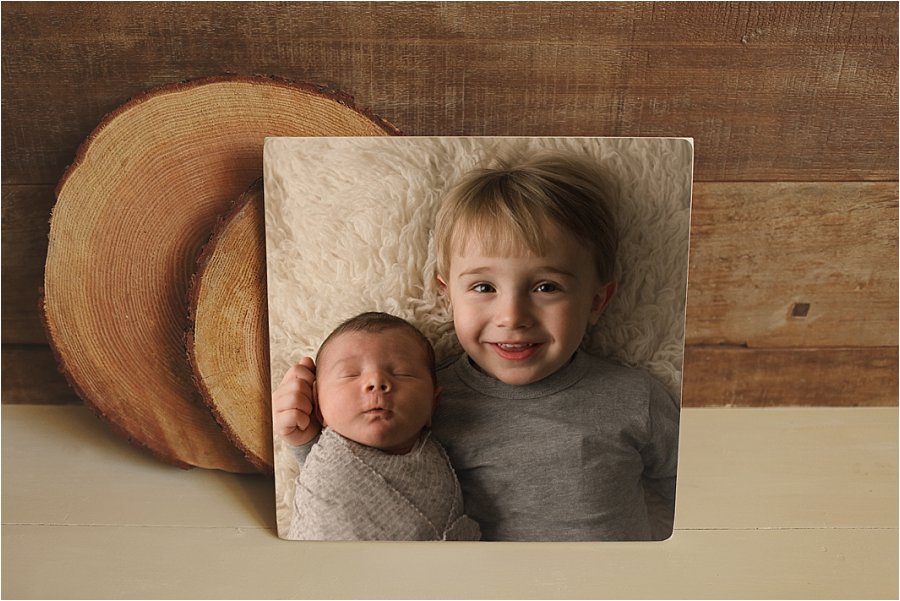 I love this sibling image in my square wood print.  Isn't it perfect?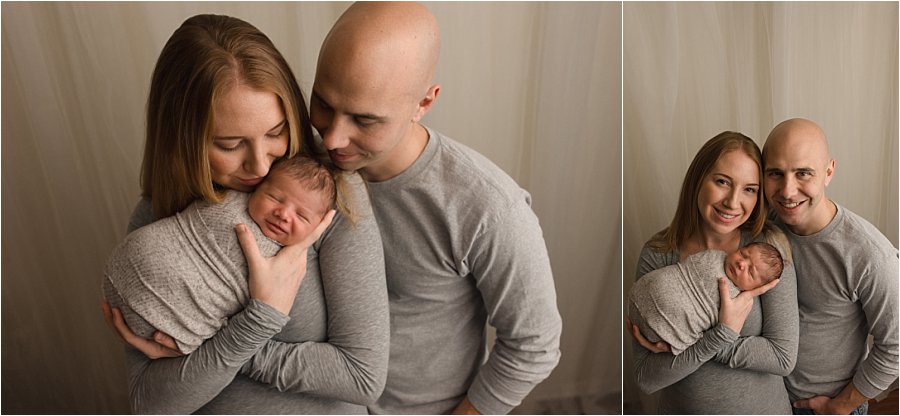 Luca wasn't interested in being held during the standing posing, but that was okay, because he stood on my ladder legs and "helped."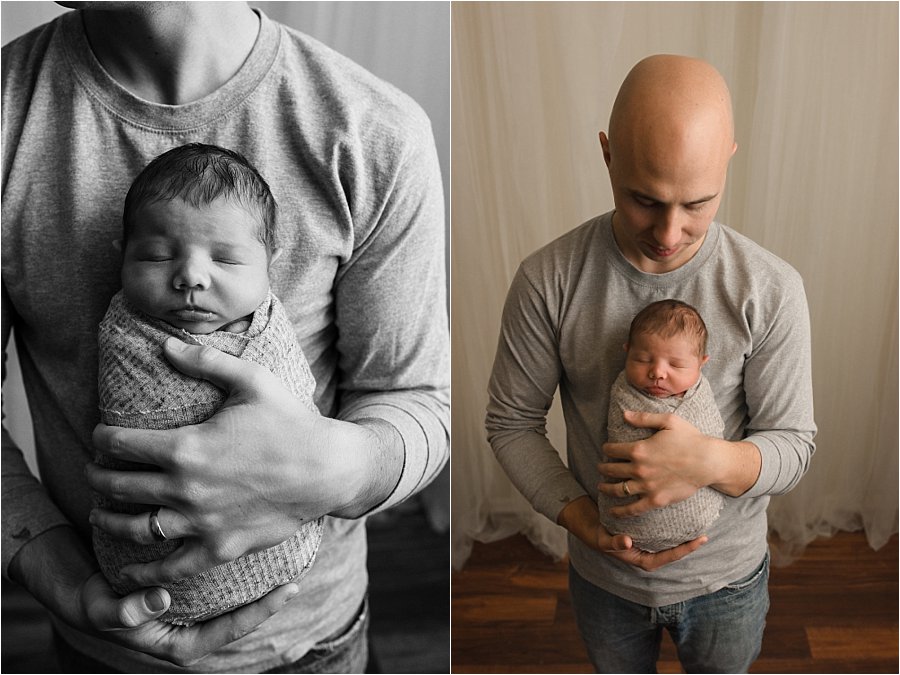 And finally Angelo took Luca out of the studio so we could finish posing Leo.   Leo, for his part, was happy to be wrapped tightly all warm and snugly.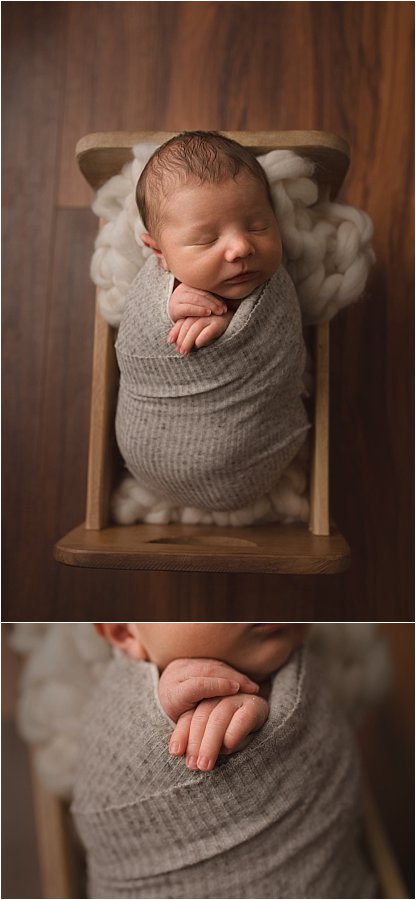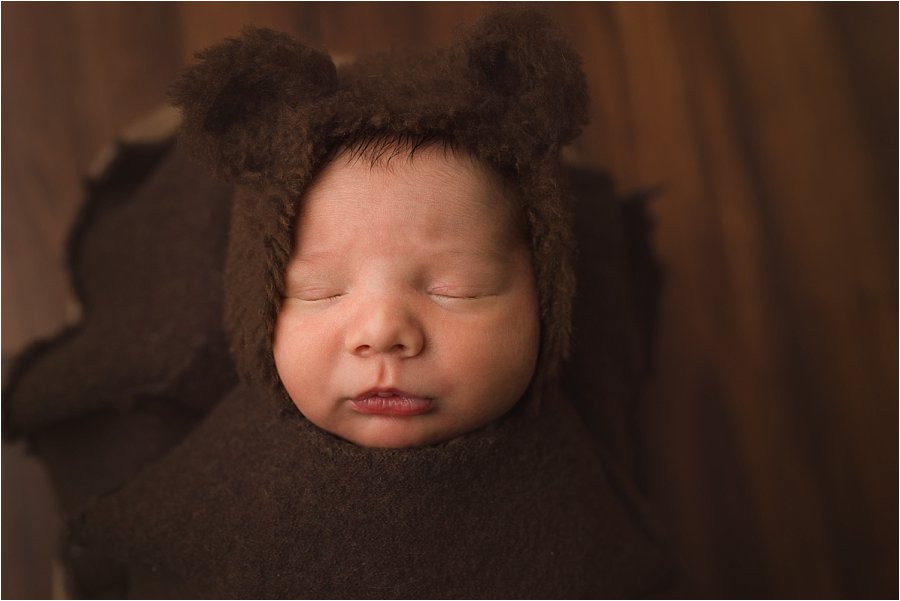 But the moment we unwrapped him, he just wanted to be curious and hang out with us.  Leo is cute either way.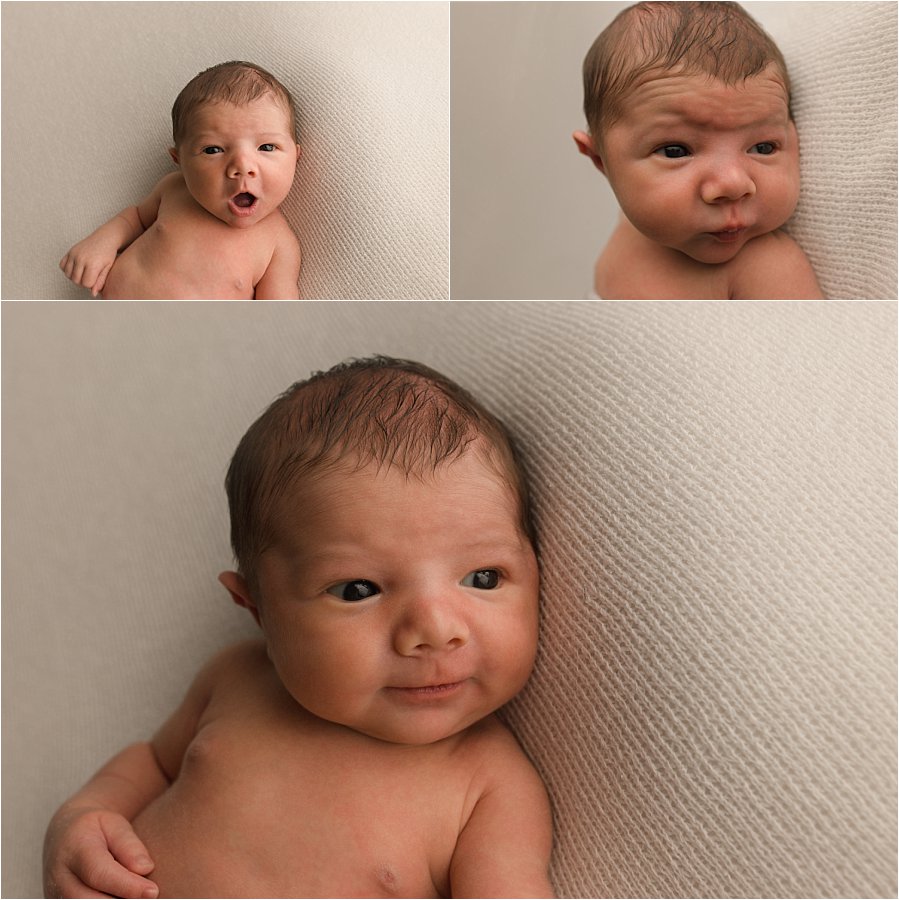 Are you looking to book a session for Greer SC Newborn Photography with Big Brother or Sister?  Worried about how your two year old might behave?  I try my best to make this a fun experience for everyone, but especially your two year old.  The key is to make them think the session is all about them and to whisk them away as soon as they're finished.  Contact me to today to plan your session.