Newborn
I was so excited to see Larisa, Angelo, and Luca for their Greer SC Newborn Photography with Big Brother.  You see, just two years prior I had photographed Luca as a newborn.  Wasn't he just the sweetest little baby?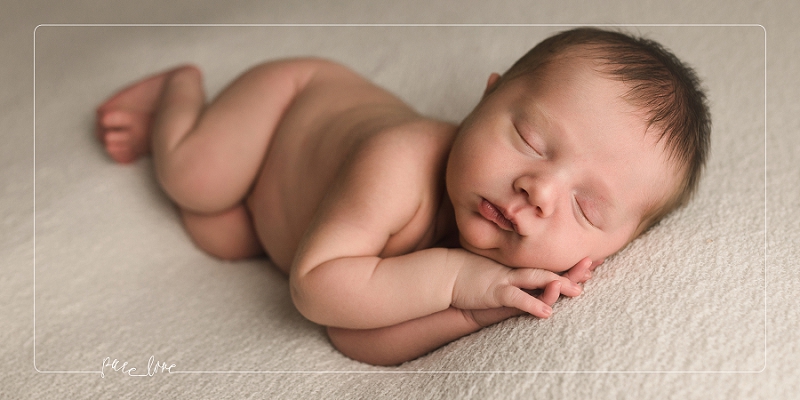 But now Luca is a newly minted two year old.  In fact, he turned two three days AFTER his brand new brother Leo was born.  Look how much he's grown!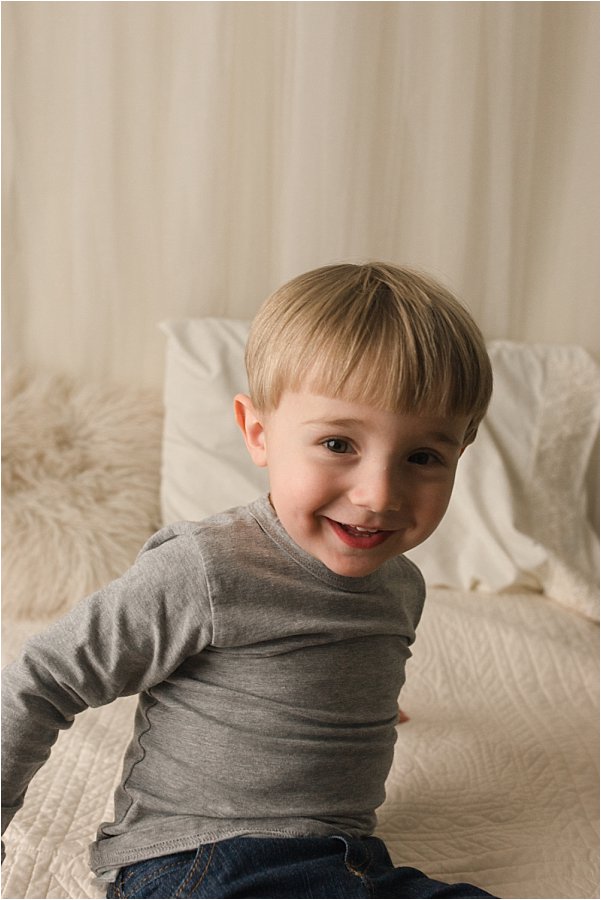 But. like all two year olds, Luca was a little unsure of how to act in my studio.  So to warm him up, I threw posing pillow back and forth while baby brother Leo had a feed.  By the time the feed was over, Luca was ready to smile for the crazy click noise my camera was going to make.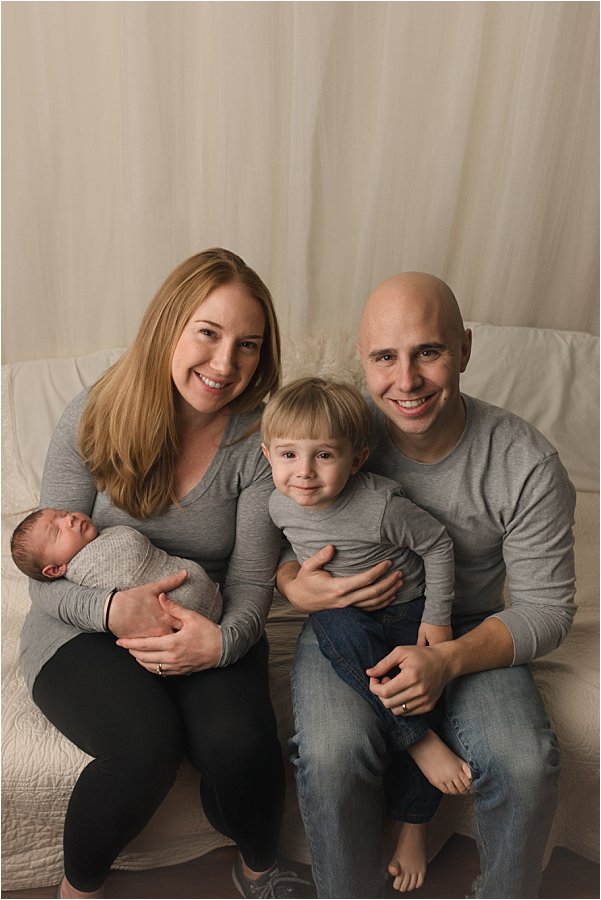 Ya'll this is literally the second image I took this session!  So far so good!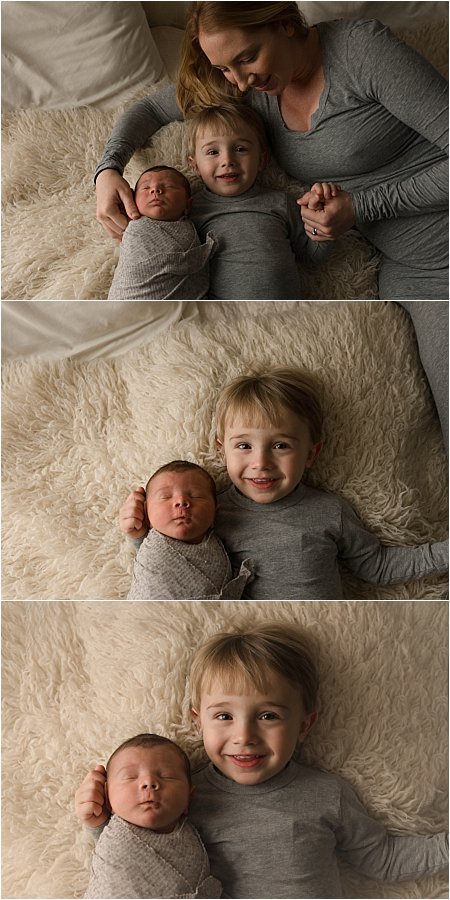 Then we posed Luca with Leo.  This pose is safest for your newborn (daddy is right out of the frame ready to rescue Leo if Luca moves), but not many two year olds like to be laid down. But Luca asked mama to lay down with him. As you can see in the straight out of the camera shot side by side with the edit, having mama lay down did the trick!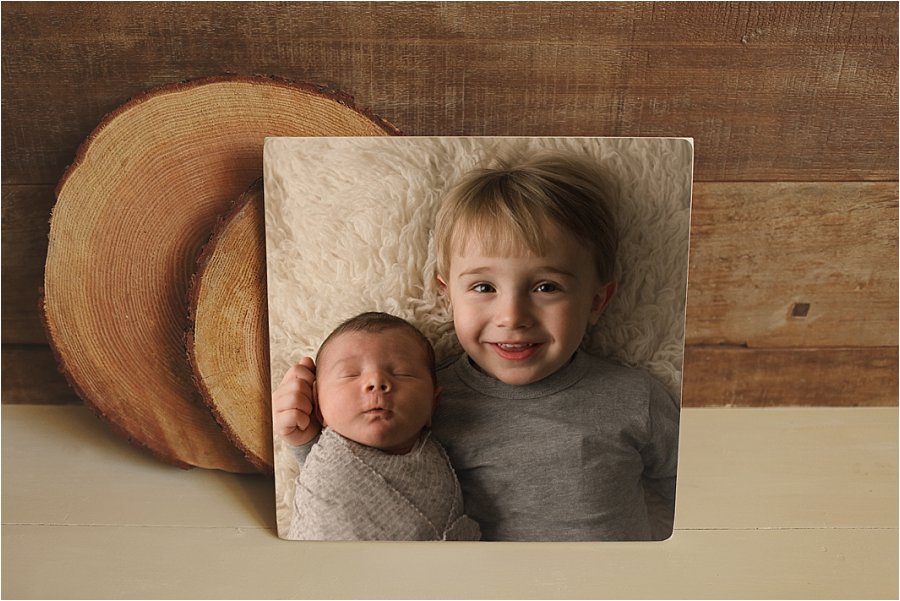 I love this sibling image in my square wood print.  Isn't it perfect?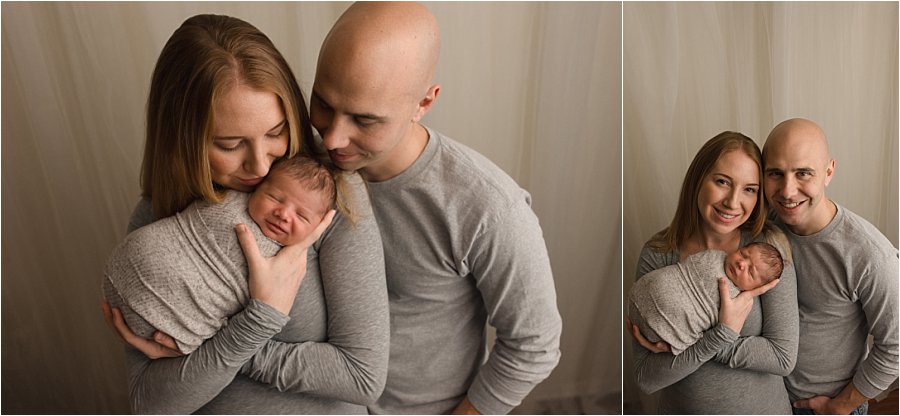 Luca wasn't interested in being held during the standing posing, but that was okay, because he stood on my ladder legs and "helped."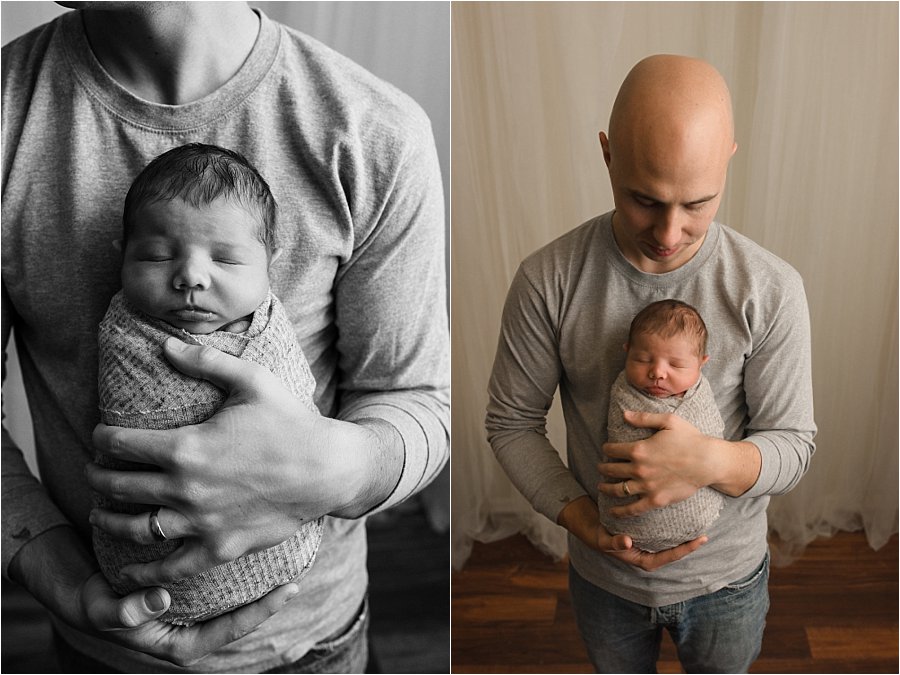 And finally Angelo took Luca out of the studio so we could finish posing Leo.   Leo, for his part, was happy to be wrapped tightly all warm and snugly.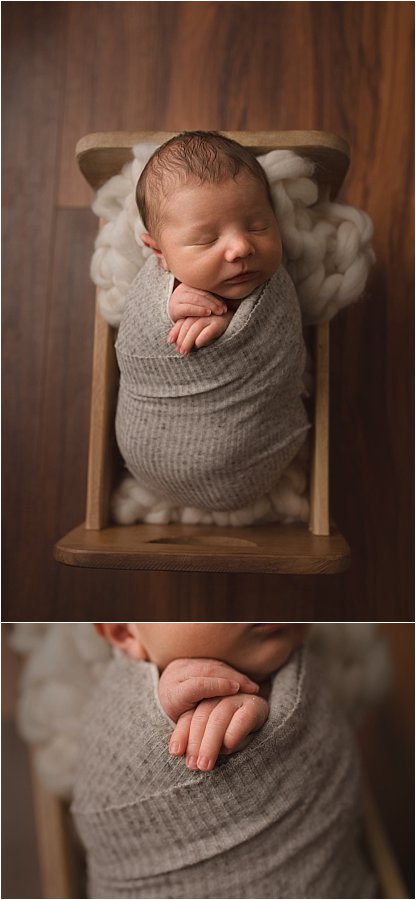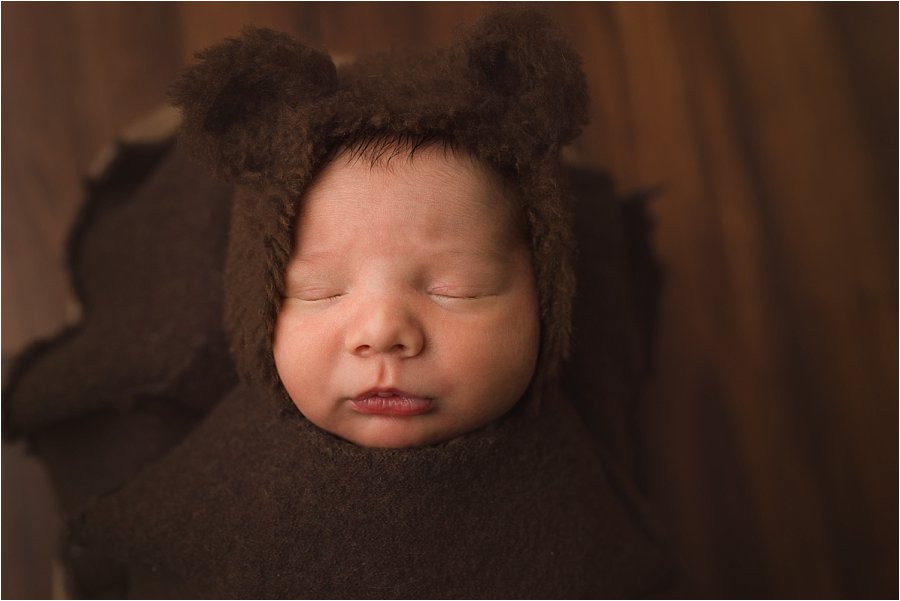 But the moment we unwrapped him, he just wanted to be curious and hang out with us.  Leo is cute either way.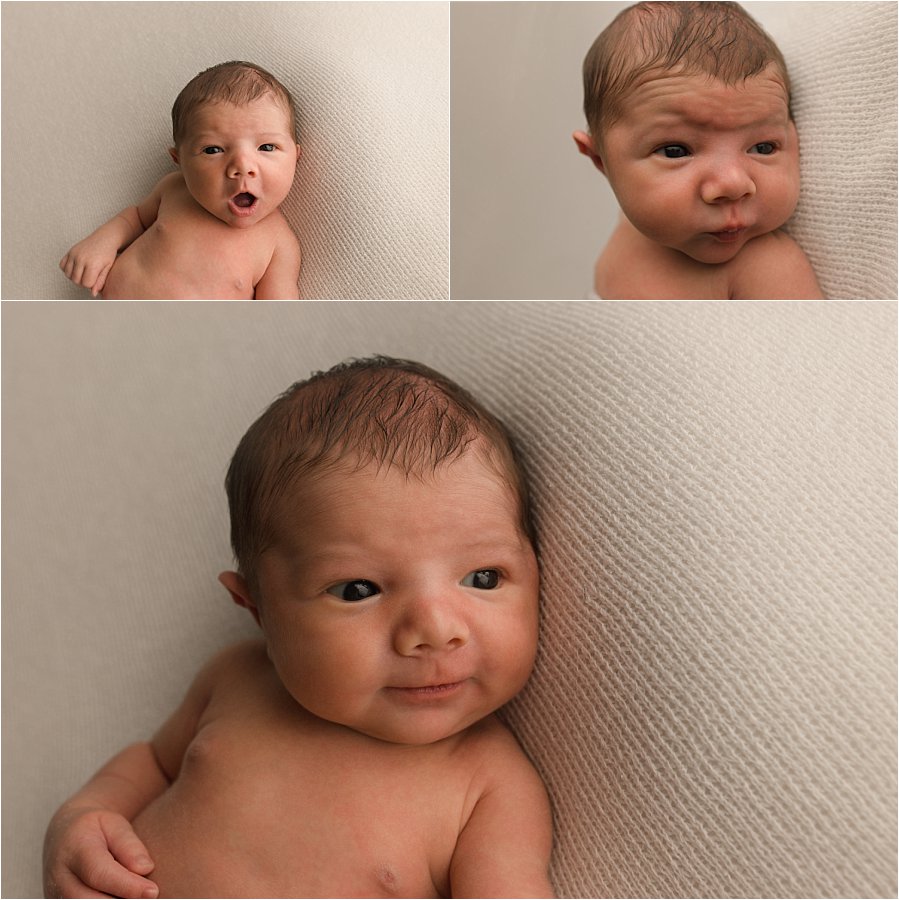 Are you looking to book a session for Greer SC Newborn Photography with Big Brother or Sister?  Worried about how your two year old might behave?  I try my best to make this a fun experience for everyone, but especially your two year old.  The key is to make them think the session is all about them and to whisk them away as soon as they're finished.  Contact me to today to plan your session.
Nothing brings me greater joy than being a Natural Emotive Greenville SC Newborn Photographer. But I'm often asked: "What if my baby cries the whole session or won't fall asleep?"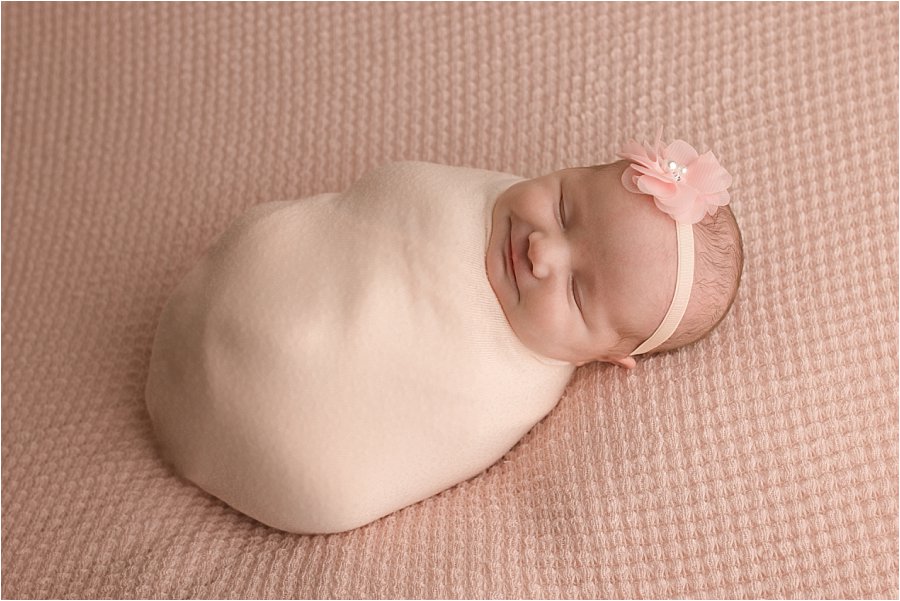 This sweet girl, Mariana, had a really difficult session.  You probably wouldn't believe it with this gorgeous smile, but Mariana was diagnosed with severe reflux and put on an elemental formula just a few days after our session.  Her digestion hurt and she wasn't very happy for most of the session.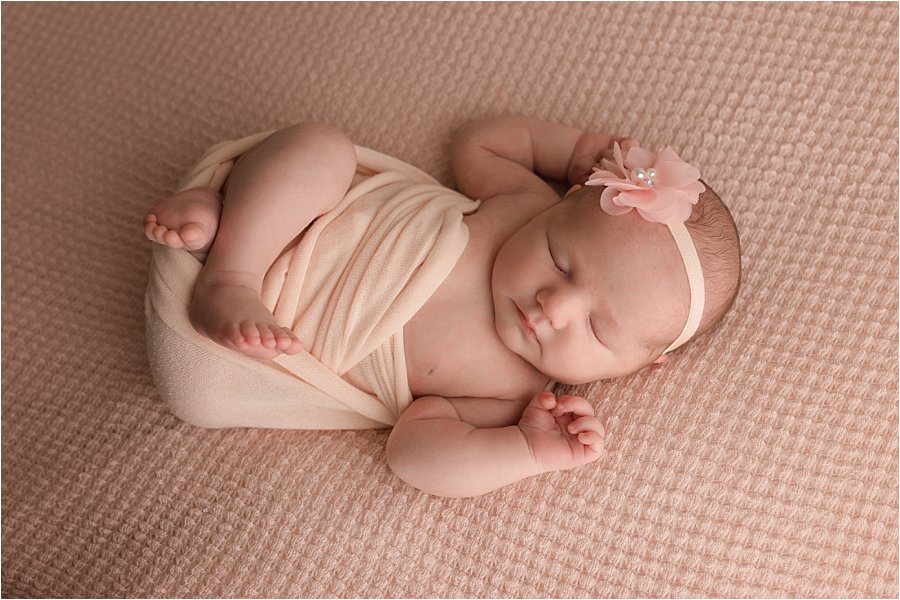 But I rocked and I soothed. I wrapped her up tight.  I found the incline that felt most comfortable for Mariana. And in this intricate dance of making another human feel most comfortable, we made art.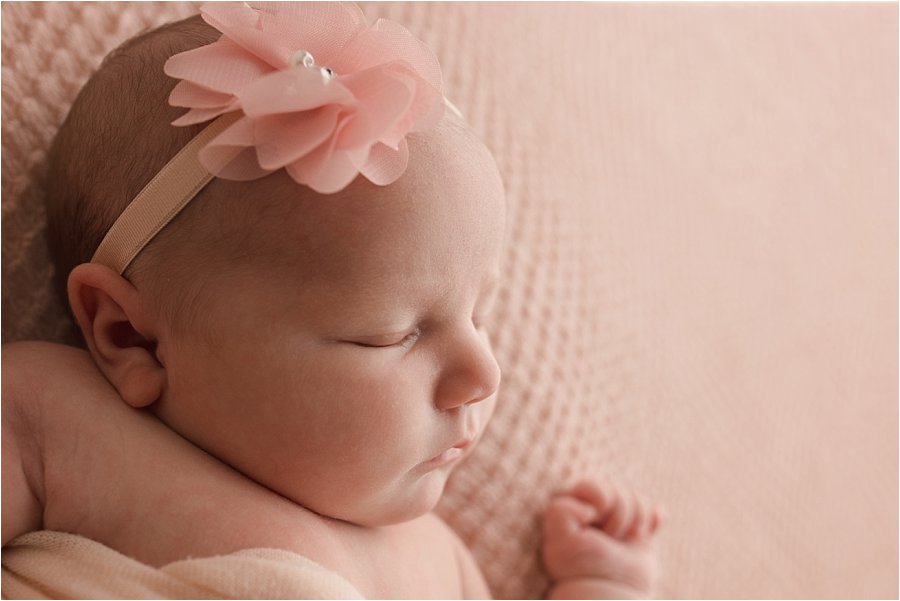 We captured her beautiful features and soothed her aching body. Sometimes I reschedule if your baby is having a rough day, but often I'll comfort and dance and capture moments in between the discomfort. It's always worth it to conform to your little one's needs of the moment.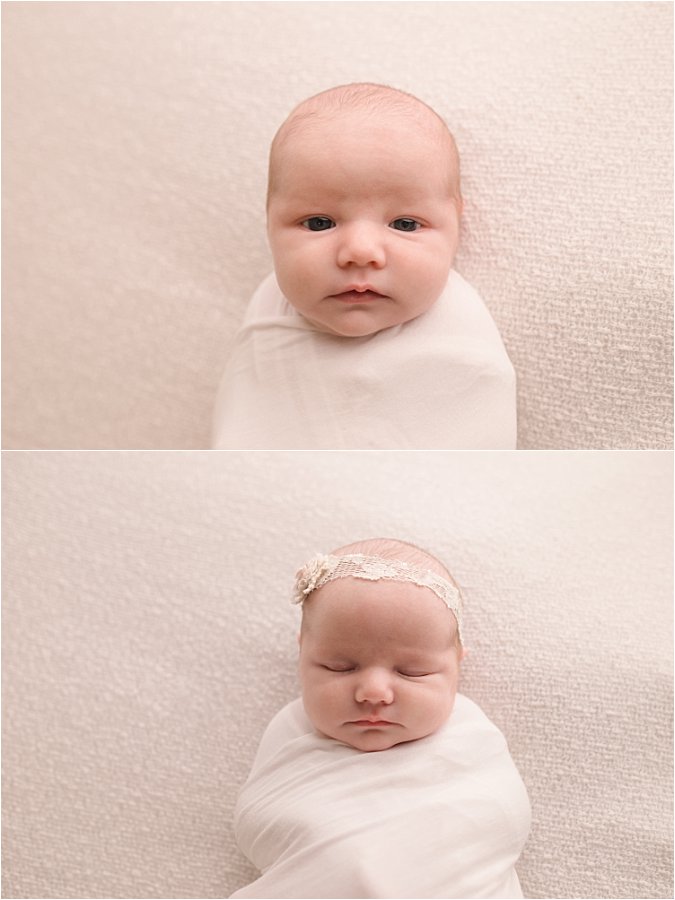 I'm sharing this to soothe your fears. I want you to have the most amazing art that celebrates who your baby is and their inherent beauty. But I also want to respect the tiny person that is your most important treasure above all else. Their comfort matters to me.  Their safety matters to me.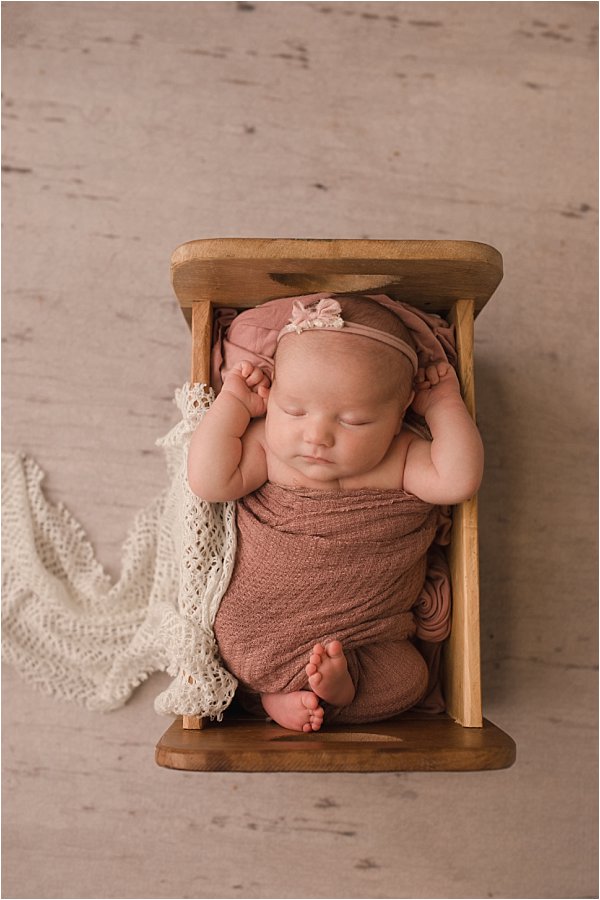 I rarely use this pose below. It's called "the potato sack," but for Mariana it was one of the most comfortable positions for her aching belly. Being vertical kept the reflux down. And even in these images, my hand is just out of the frame to comfort her if needed.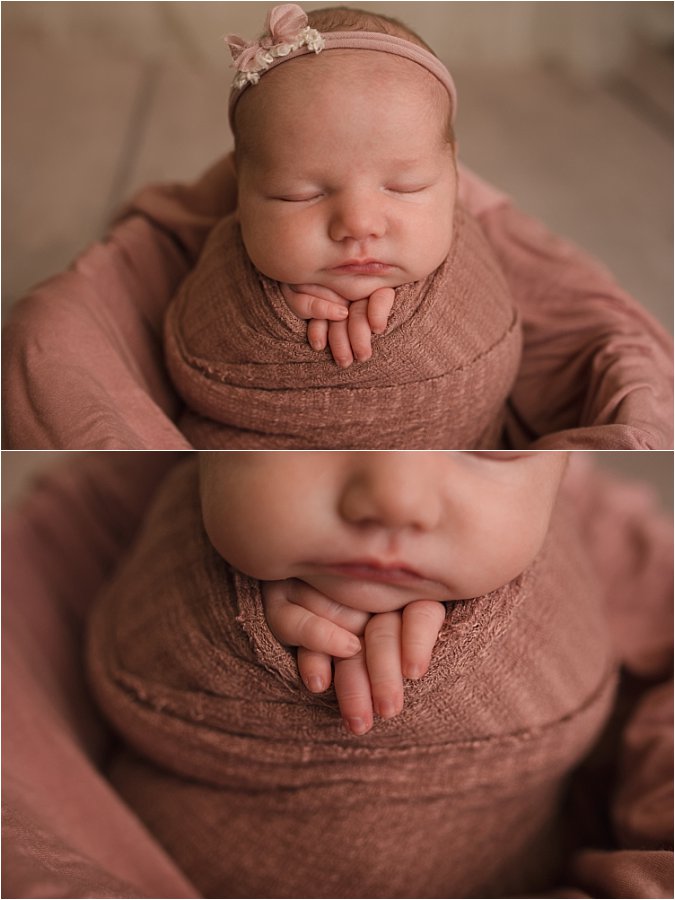 These brief smiles made every rocking and soothing motion worth it.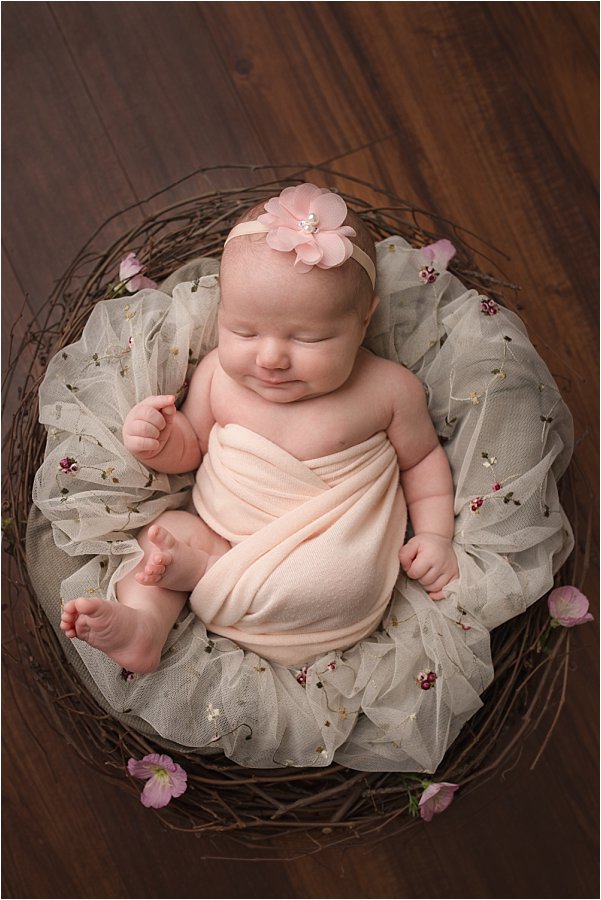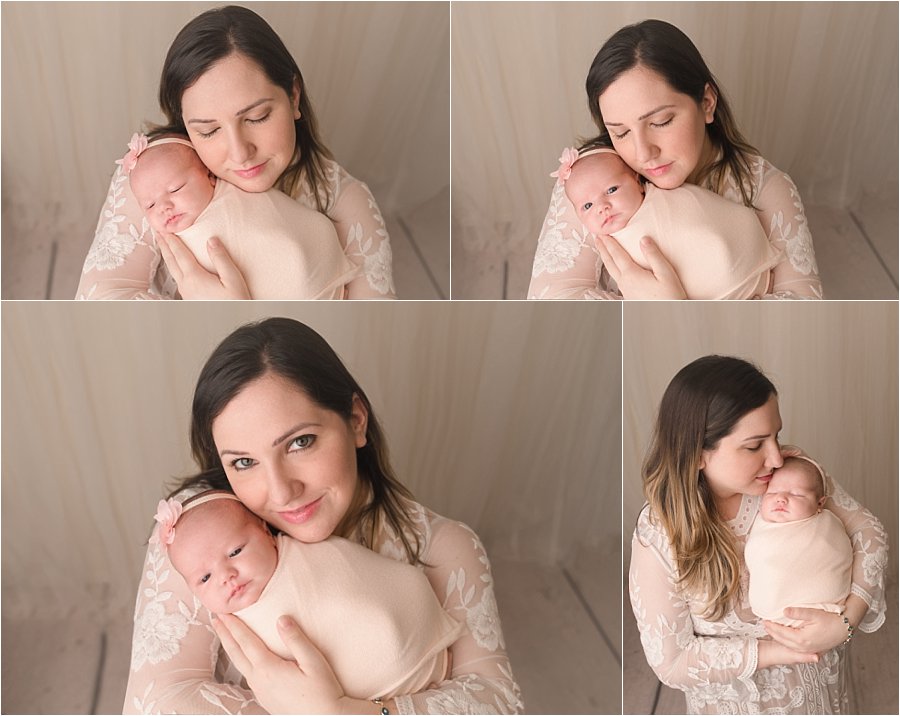 Are you looking for a Natural Emotive Greenville SC Newborn Photographer who respects your little one as a person while creating exquisite memories for you? I would love to be considered.  Drop me a line by clicking here.
When Holly asked for Simply Minimally Posed Newborn Photography Simpsonville SC in our first phone conversation, I knew we were a match made in heaven.  I can do fancy poses for your session, but my heart isn't in it for all the props and styling.  I want to capture the beauty your baby was born with and not distract from it with extras.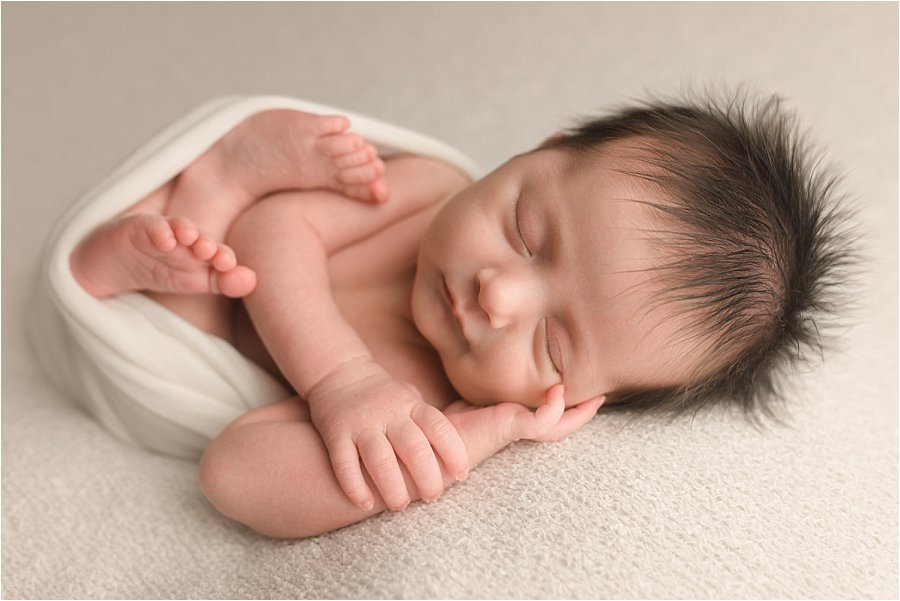 And so with this sweet girl, I was able to do just that.  Simple Minimal portraits that have such a huge impact on our emotions. They help us remember just how tiny and fragile our little ones were. I mean, look at these sweet faces!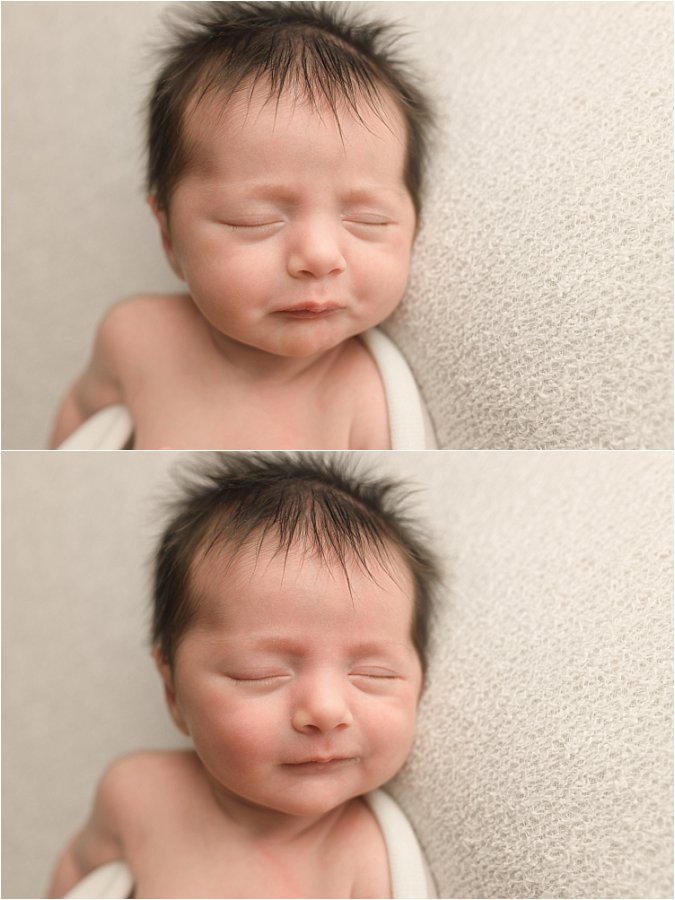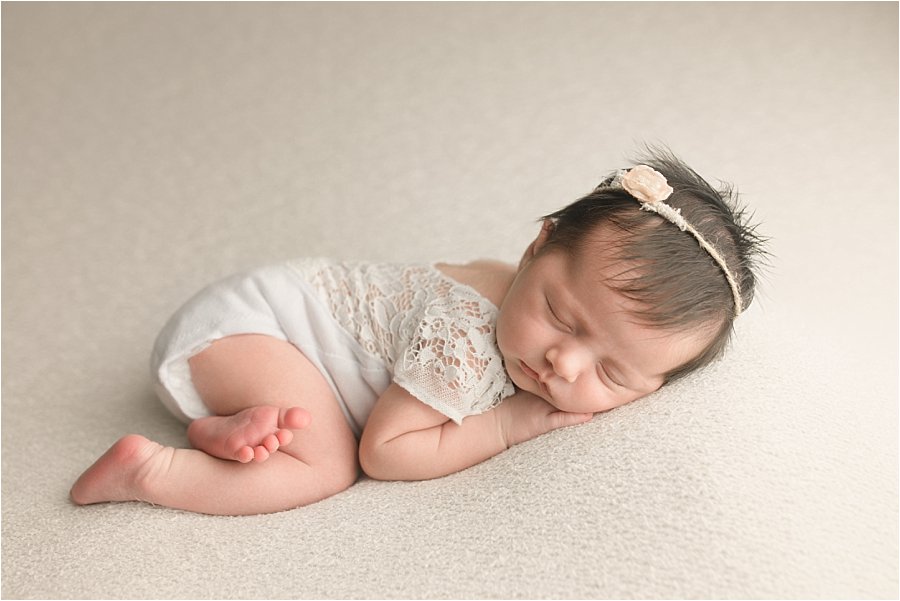 And I love how we were also able to incorporate some sweet family heirlooms like this blanket and tiny pink sweater.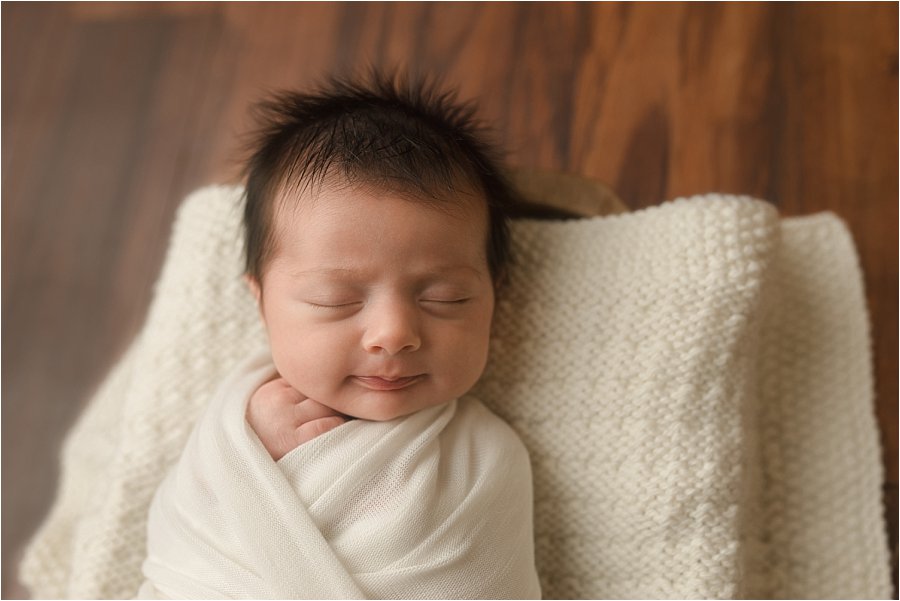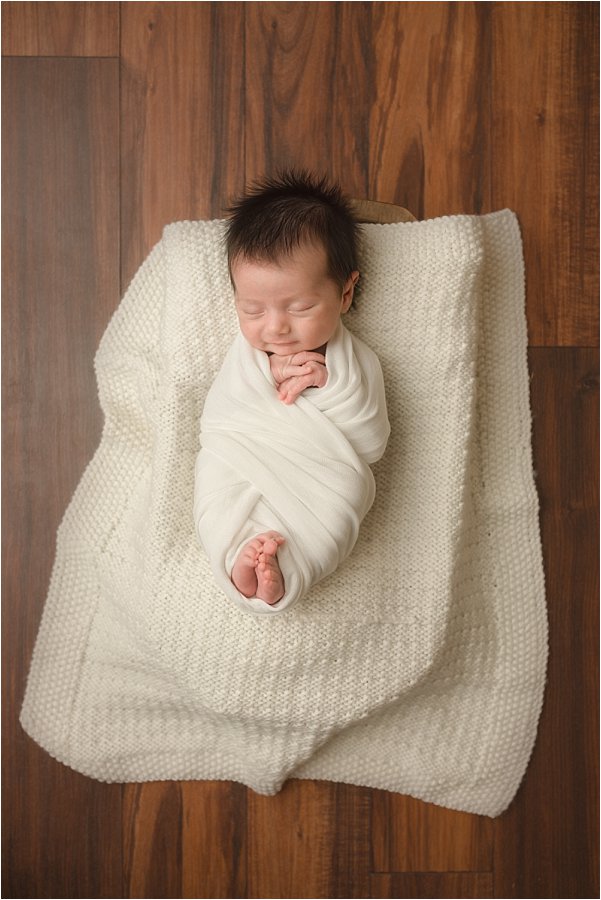 And  focus on sweet details like these tiny toes.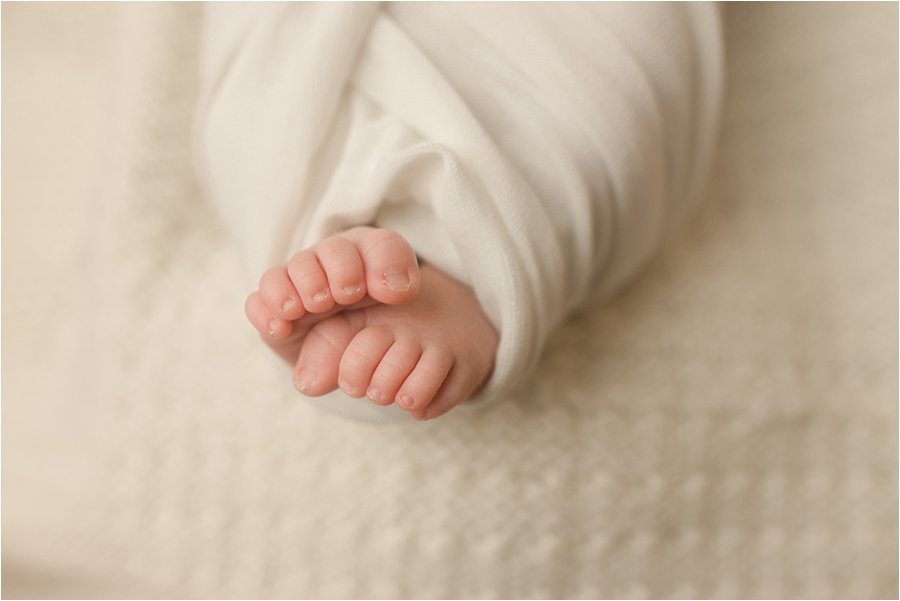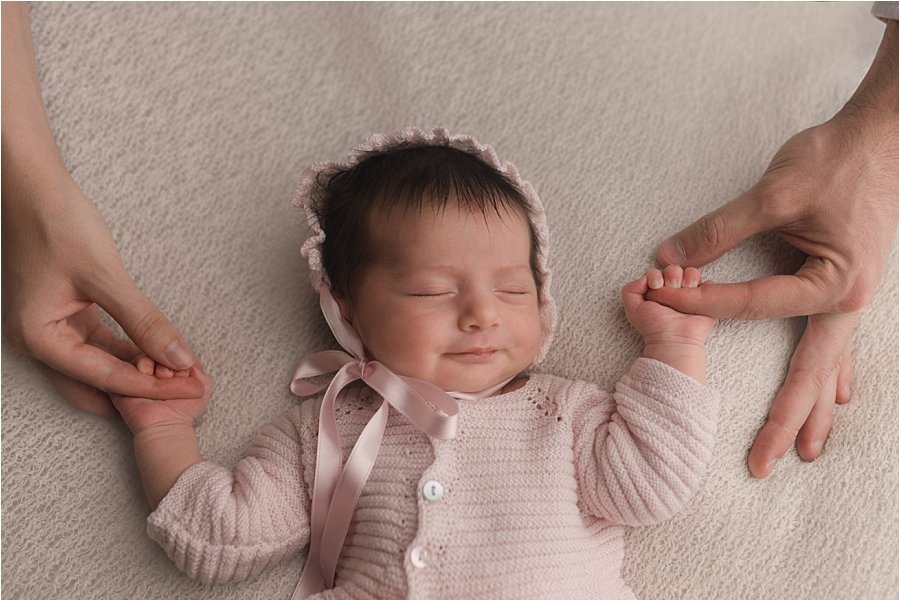 But what I loved most about this session is how much Holly and Jorge wanted to be IN the images.  It make their love for their baby girl shine.  Their hands and bodies juxtapose a tiny baby with loving and protecting parents.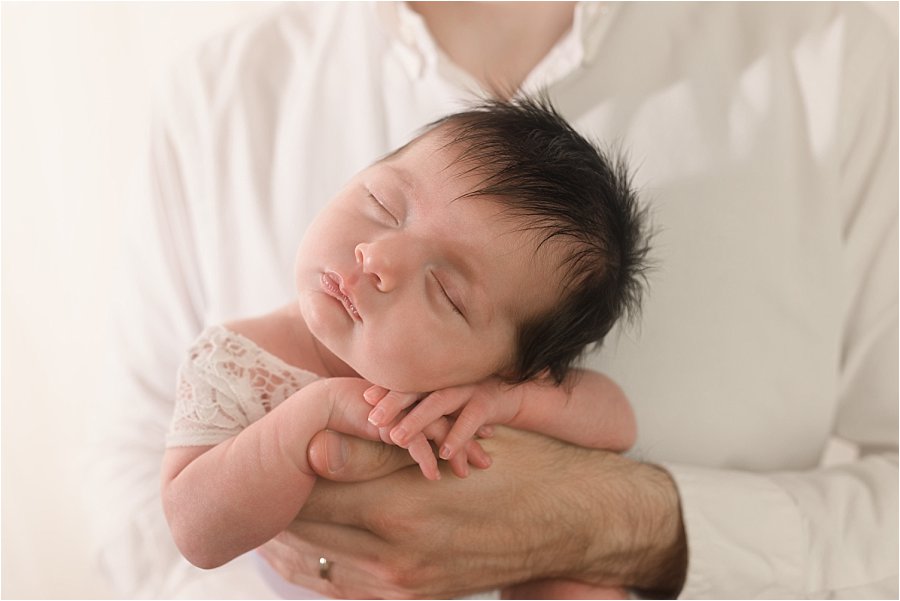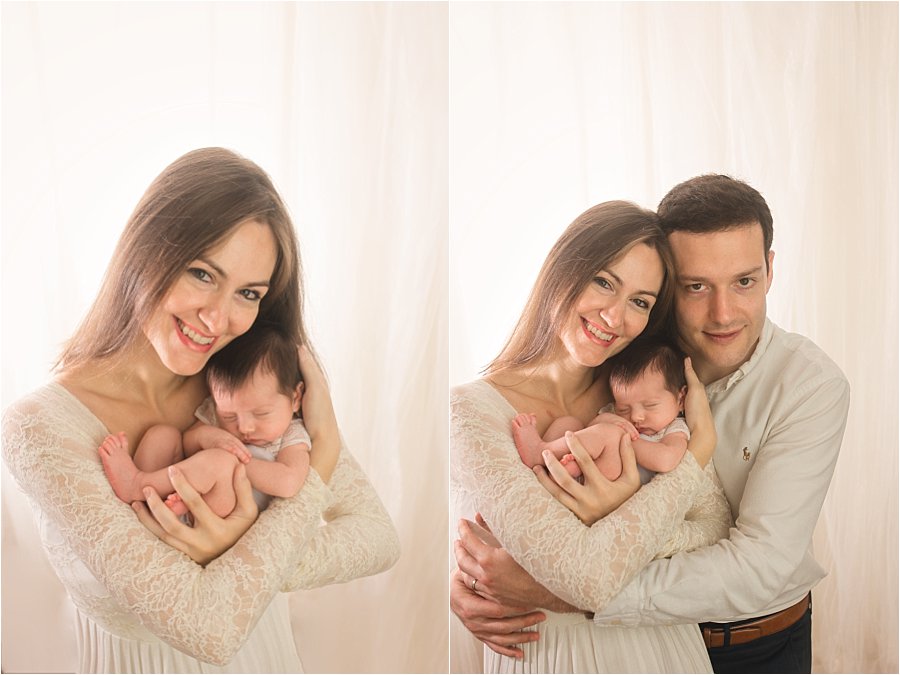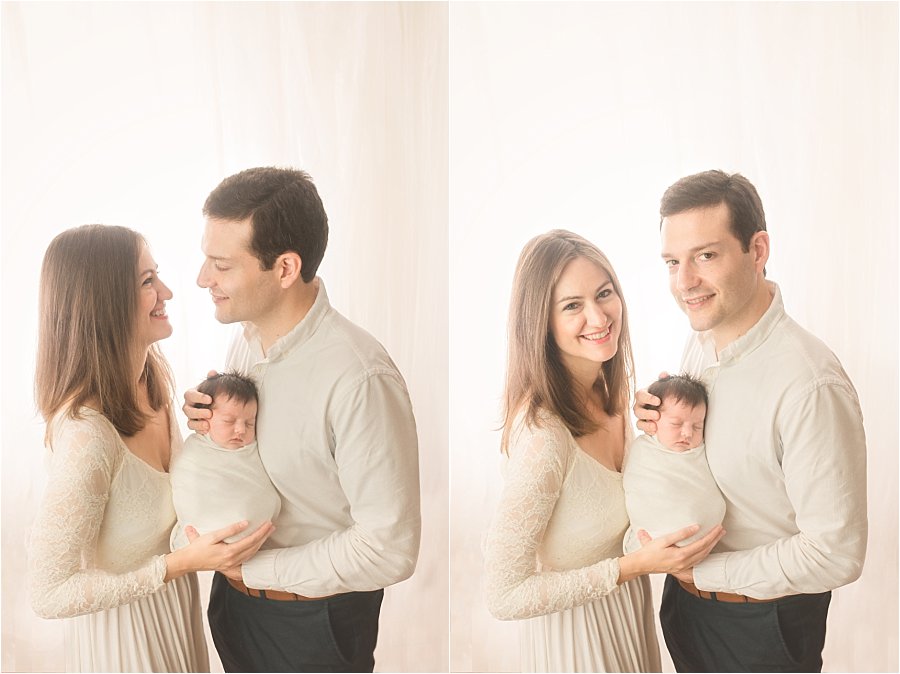 And more importantly, Holly and Jorge being in the pictures will let their daughter know just how much she was completely loved from the very beginning.
Often new mama's avoid being in pictures. But I work hard to make sure each mama loves her first family pictures. I offer a wardrobe that fits during maternity and postpartum. I shoot while standing on a ladder and often avoid shooting below your arms. Finally, I perform some minor Photoshop magic to minimize the worst of the postpartum tummy. Your baby deserves to see how much you loved them; be brave and get in the picture.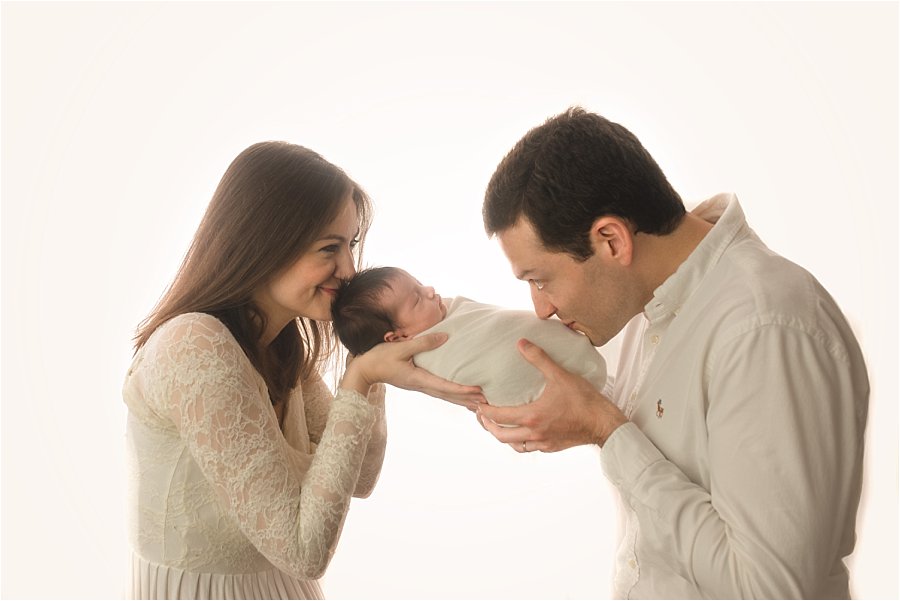 Looking to book your Simple Minimally Posed Newborn Photography Simpsonville SC? I would love to be considered.  Drop me a note by clicking here to tell me your baby story and wishes for your session.
I was so excited to welcome this family back for their Family Focused Natural Newborn Photography Five Forks SC.  You can see their newborn session here and really get to know their sweet kids Emily and John a bit more.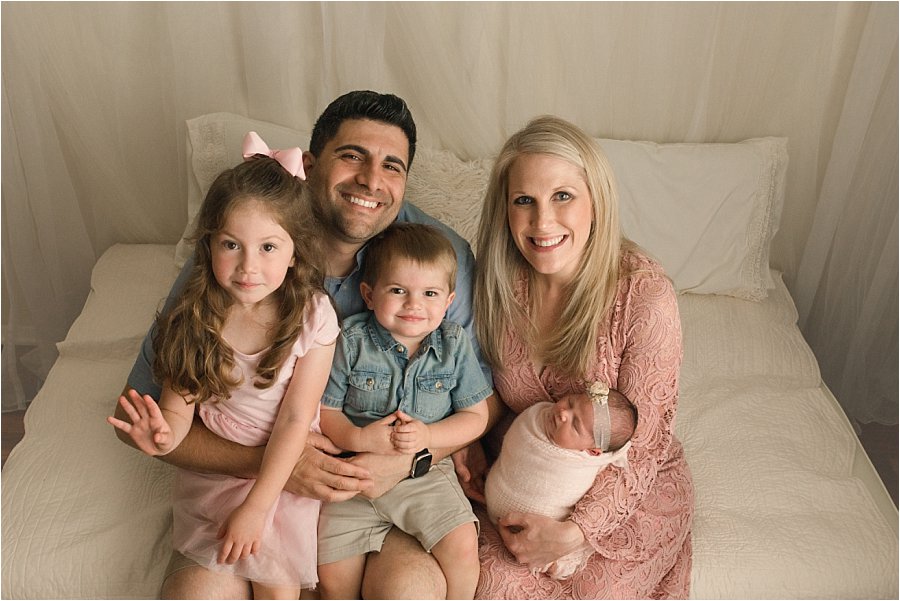 I love how you can see everyone's personality in this photo.  Emily is so smart and has just a little bit of sass (that hand!).  Dad Jacob just smiles through it all, laid back and enjoying the ride. John, who isn't yet two, is calm and focused on whatever thing was riding on my head during this image. Mama Beth just radiated and content and devoted joy. I cannot wait to see what sweet baby Julie contributes to this family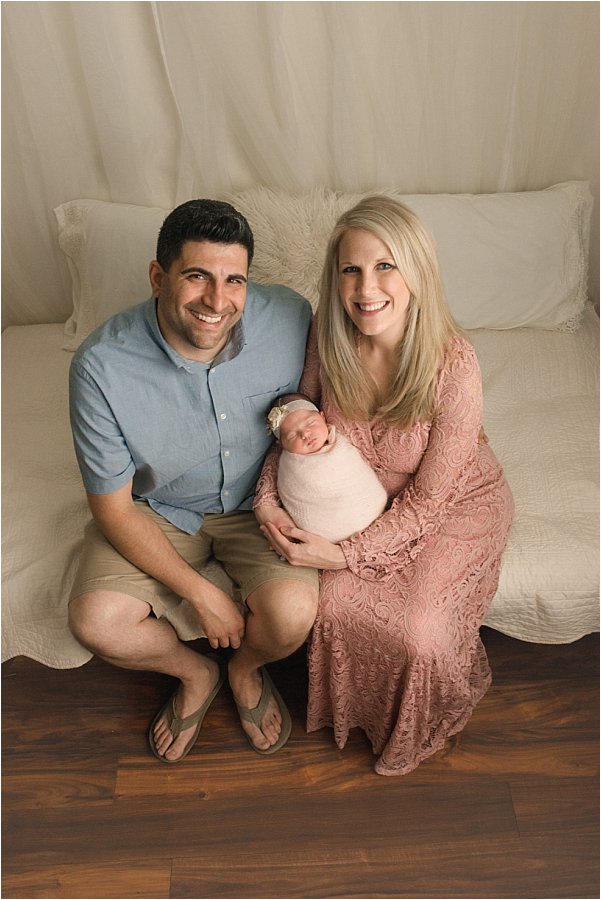 In the middle of the session, I told Beth what a well behaved two year old John was.  He'd had his fair share of "no"s and avoiding doing what asked, but he never once pitched a fit or completely refused to try something. Beth told me that John wasn't yet two and my jaw dropped.  Jacob and Beth are raising amazing children.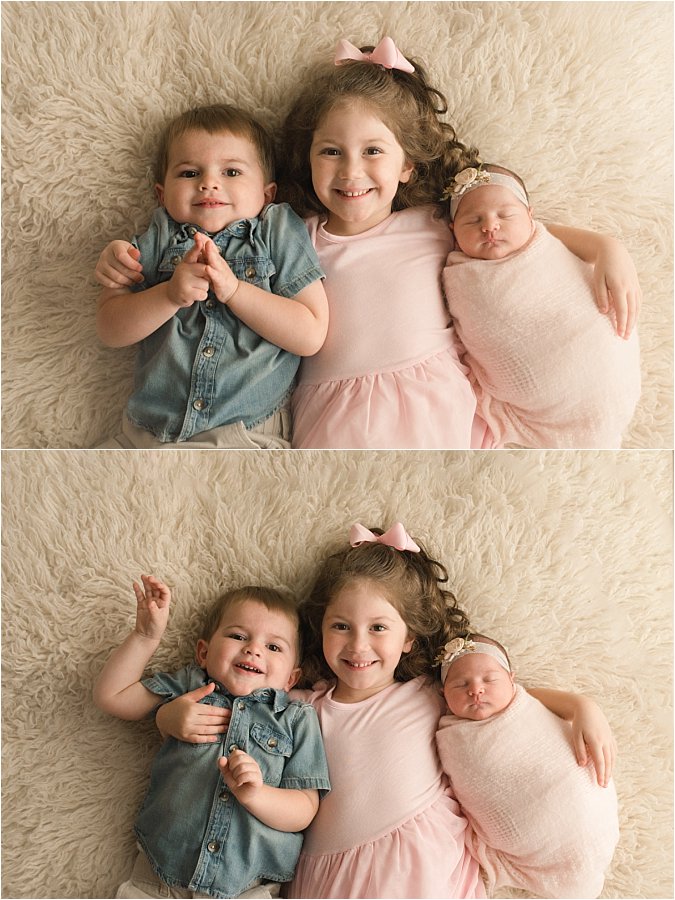 Emily is also a joy.  I loved talking with her and hearing her perspective on the world. She's incredibly smart and perceptive. Adding a baby has been hard on her, but I am so glad Emily has Julie.  These two will surely be the best of friends.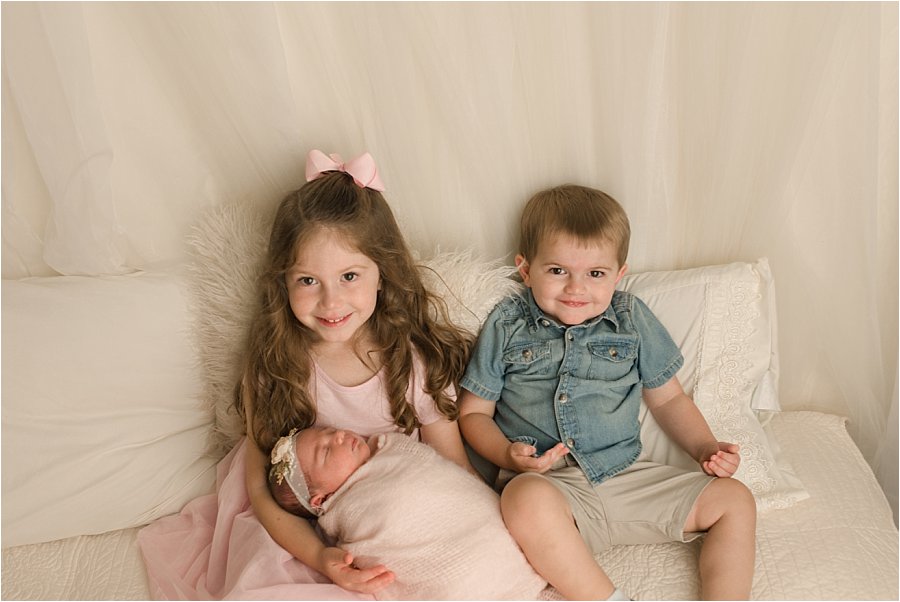 And Julie is just the sweetest baby.  Check out her precious smile below!
There's something about this photo below that makes it my personal favorite.  Maybe it's the diagonal lines or the sweet light flitting across her face, but I'm pretty sure it's just the way she curled and relaxed her body in this bowl.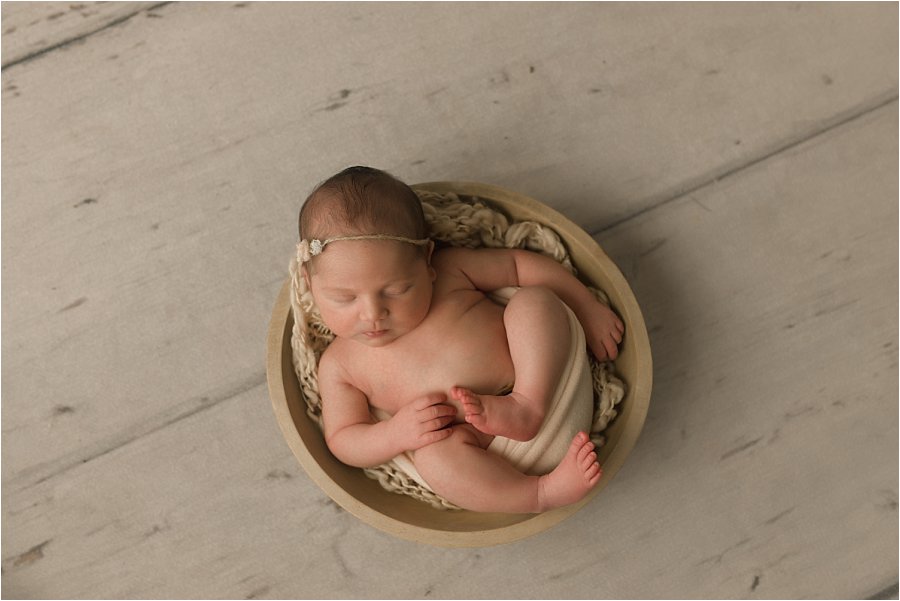 Are you looking to book a newborn session that celebrates both baby and big siblings? I'd be honored to get to know your family.  My goal is to see even the tiniest in your family as a person worthy of being known. It's this getting to know you and your children that helps me record your story.  Contact me today and tell me a little about your family and your desired newborn family experience.
I loved being baby Victoria's Simple Natural Emotive Simpsonville SC Newborn Photographer. My favorite image from her session is this simple floral bowl image.  It's displayed on my wood print in a circle shape which is my absolute favorite product. It has the visual weight of a canvas as your image is affixed to a block of wood, but none of the drawbacks of falling apart over time or the rough canvas texture.  It comes in a circle, oval, square, or traditional rectangle which is perfect for filling in gaps in your gallery wall.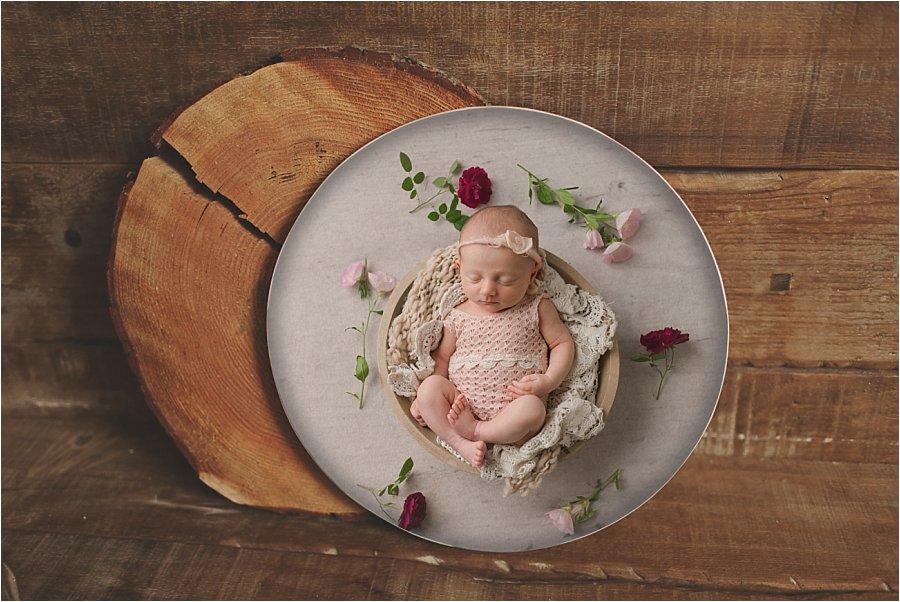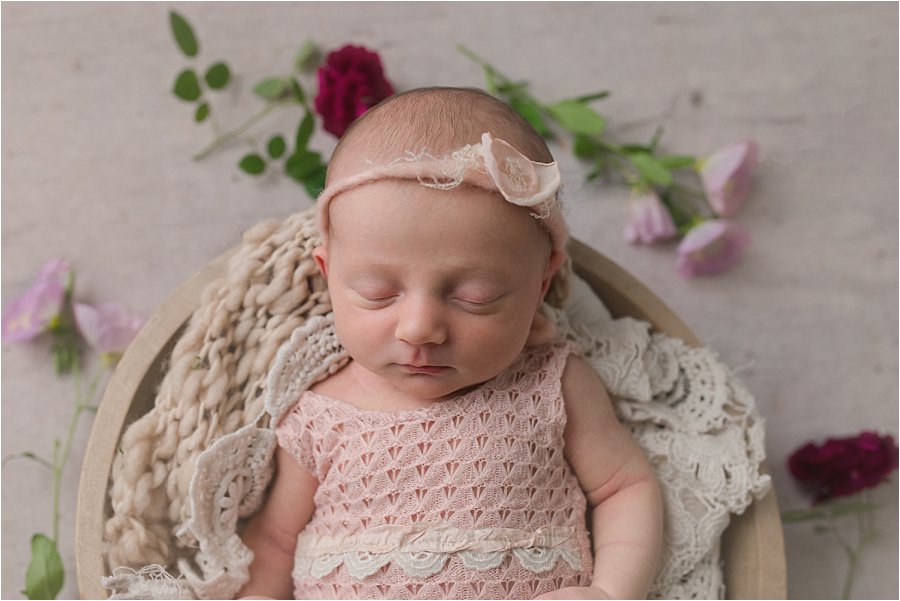 Victoria was a sweet and sleepy baby for her session.  We were able to do so many of her mother Jenna's requested poses.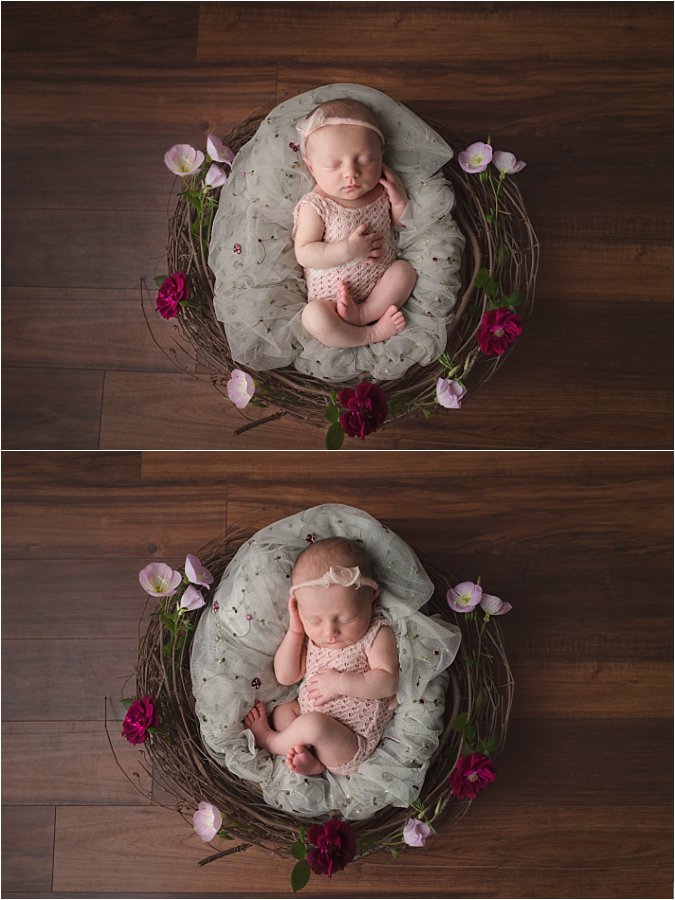 Yet, my favorite poses are always these simple ones that showcase Victoria's delicate features and hands.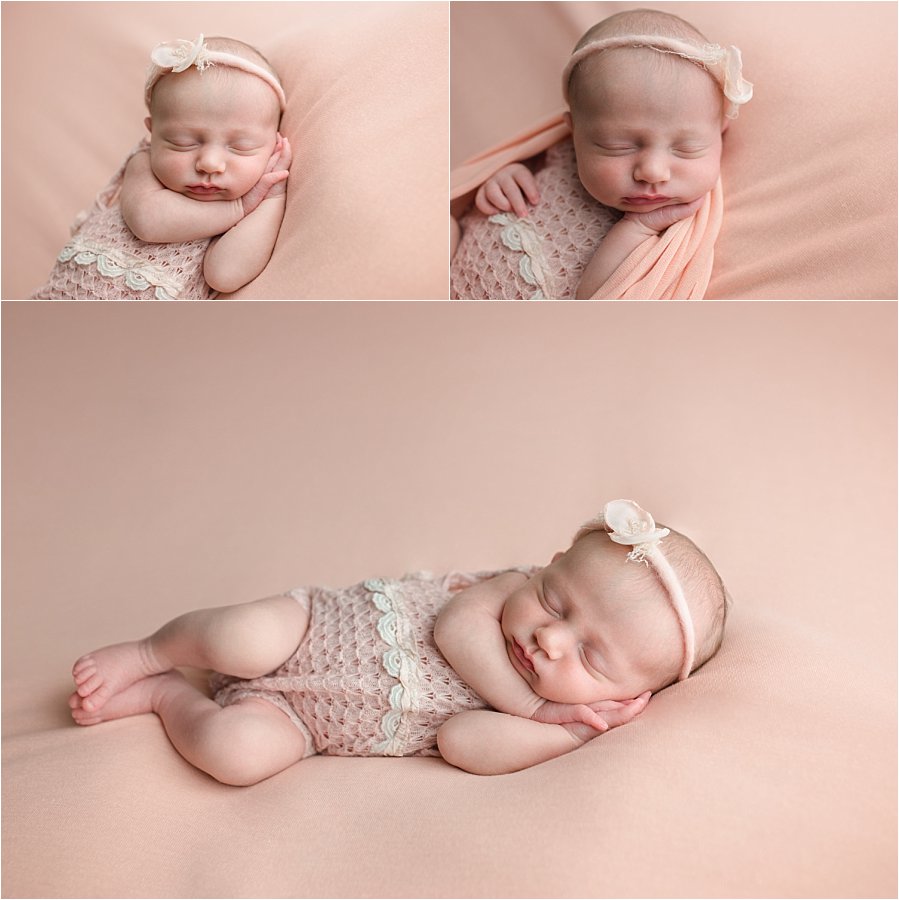 And Victoria's tiny profile is just the sweetest.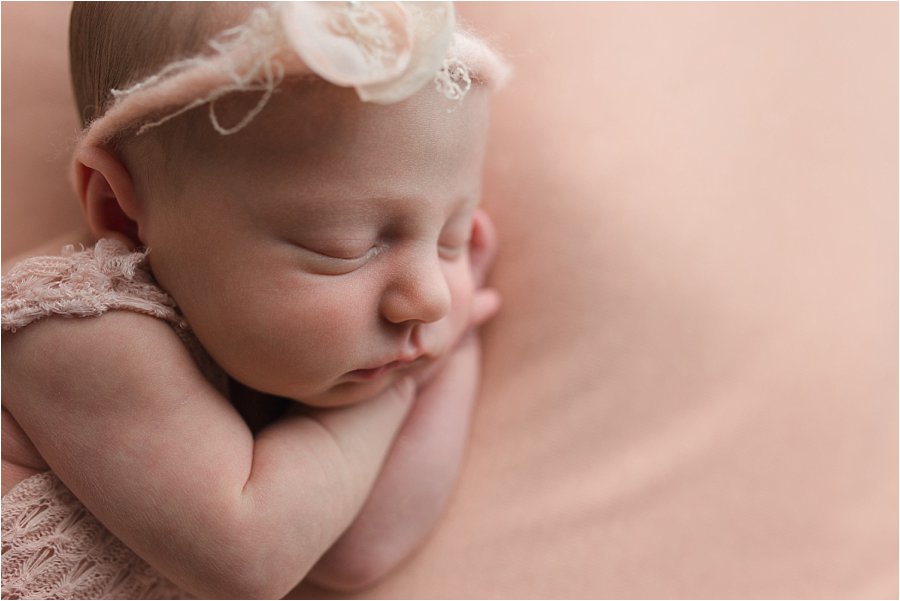 However, these smiles just take the cake!  Aren't they the cutest?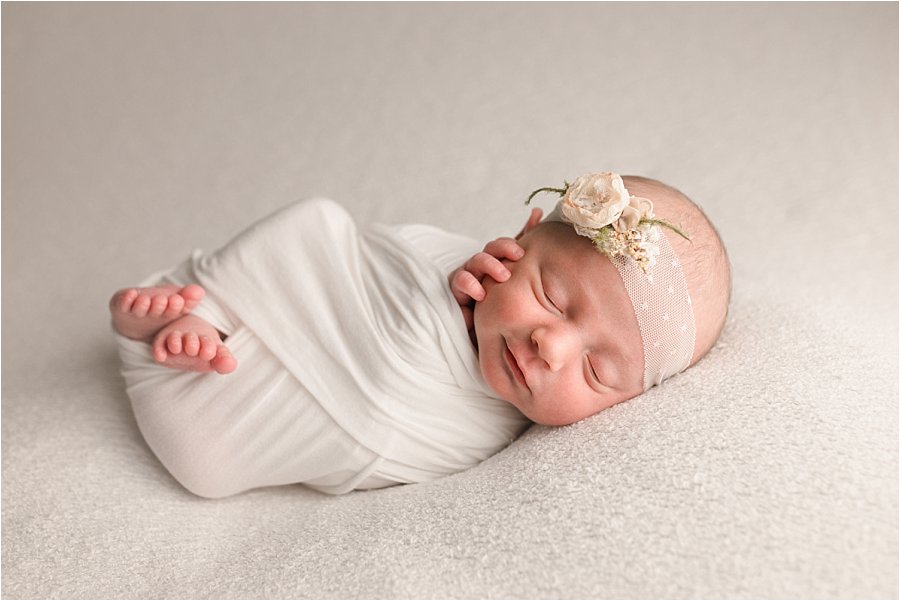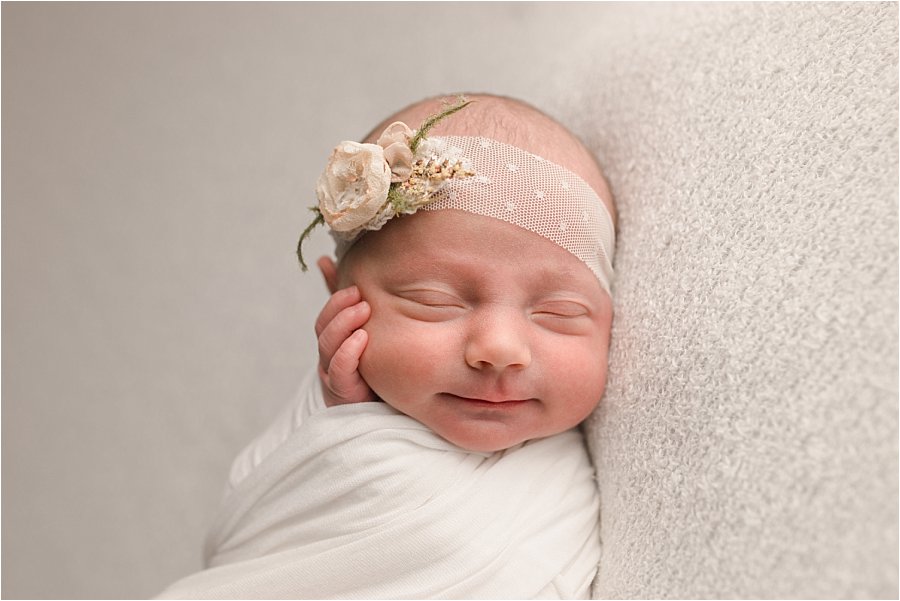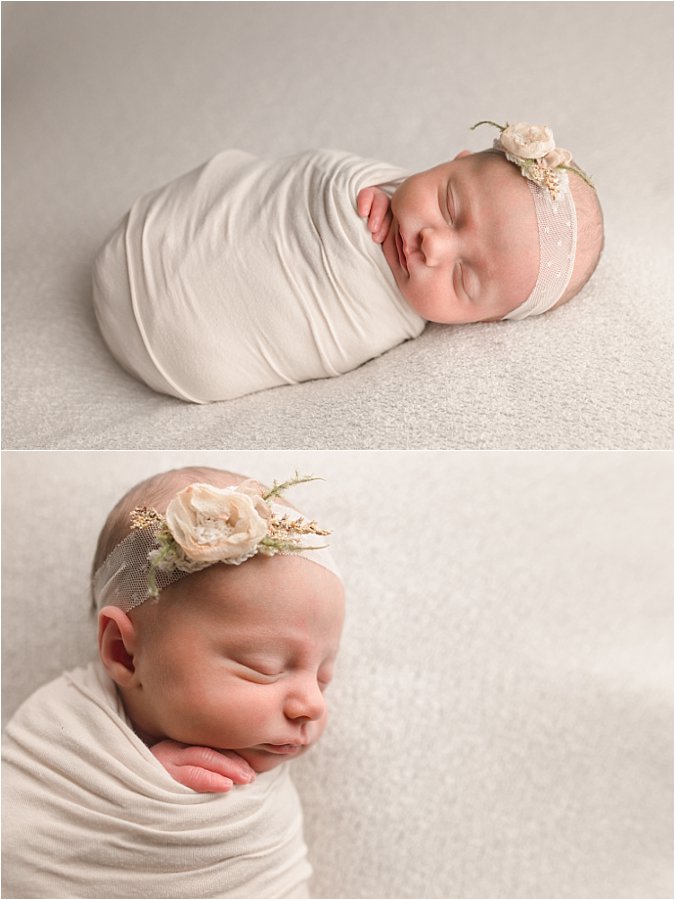 Victoria's big brother John wasn't quite sure about her yet. But with some clever pre-session prep and a bit of work,we were able to capture this sweet sibling image.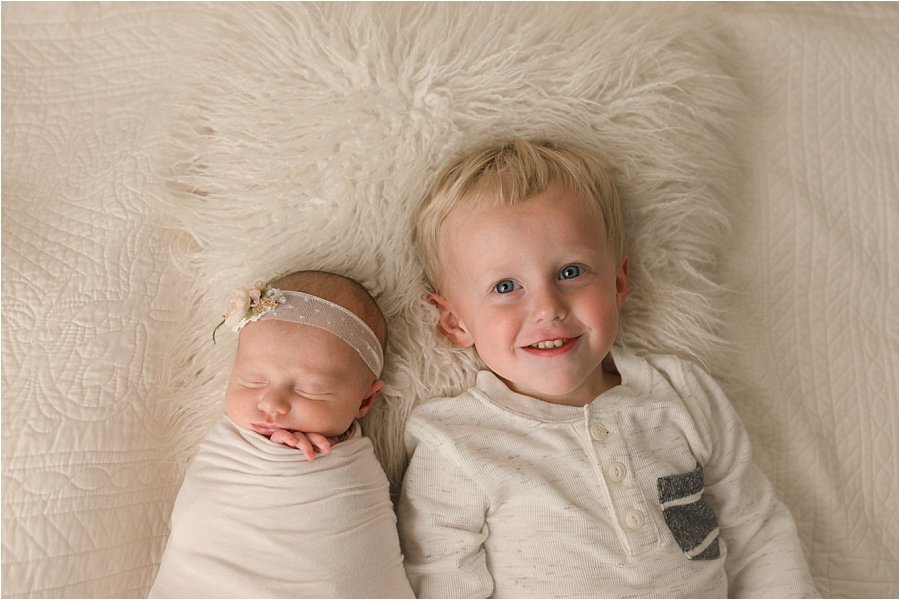 And this family image is one of my favorites this year.  Can you believe this is all in one frame?  I think I had the tiger featured in the images below on my head 🙂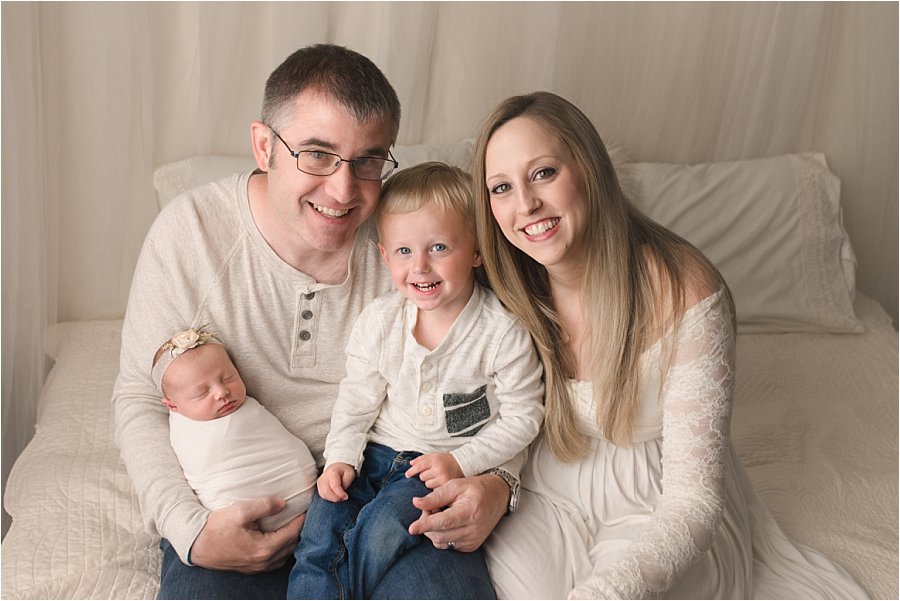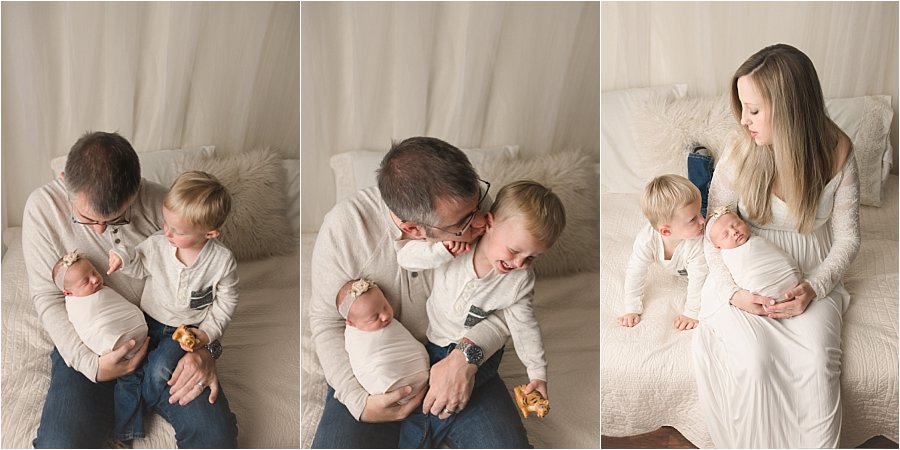 Are you looking to book a newborn session with your growing family?  I'd love to be considered.  For the best results with big siblings, I highly recommend taking advantage of a maternity session. Big siblings get comfortable with the studio and me before your newborn session, and I'm able to get some great solo images. The best part is that maternity session fees are waived if you book your newborn session at the same time!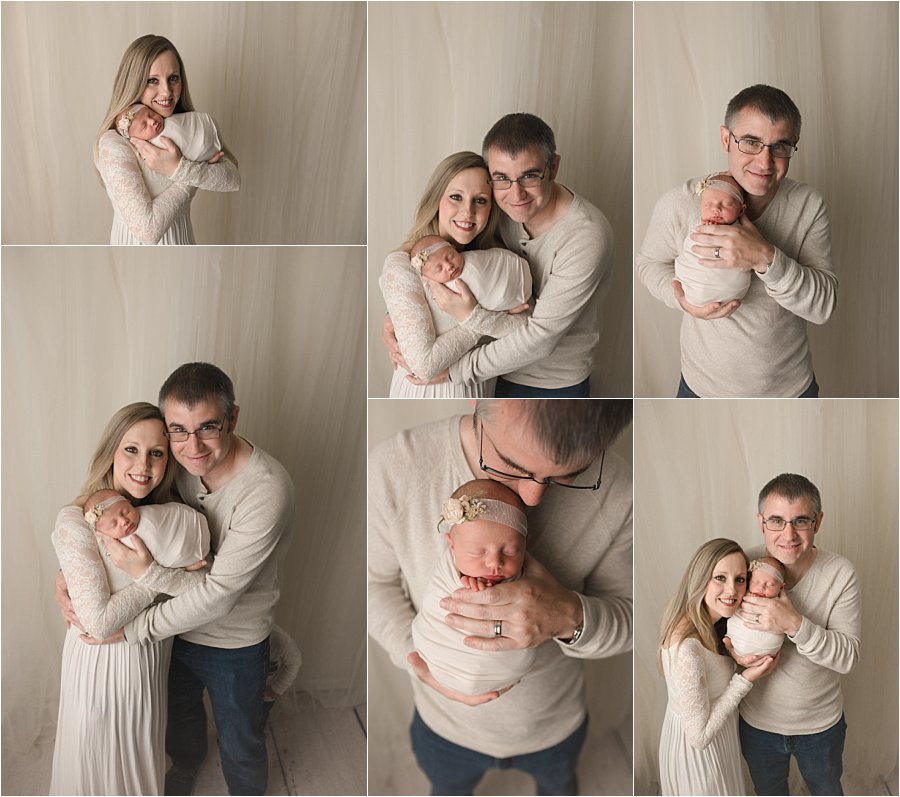 Click here to inquire about working with me as your Natural Emotive Simpsonville SC Newborn Photographer.