Newborn
Did your baby have an unexpected stay in the NiCU? Are you looking for a Post NICU Newborn Photographer who will photograph your newborn regardless of age? One of my favorite things is the joy of holding and photographing your tiny miracle. I'm less concerned with chronological age and more concerned with capturing your sweet baby's beauty. I love all the details of your baby: his fingers, his eyelashes, and his tiny hands. I don't mind a little extra soothing and a little more baby led posing rather than photographer led. Your little one has a story to tell and I'd be honored to illustrate it.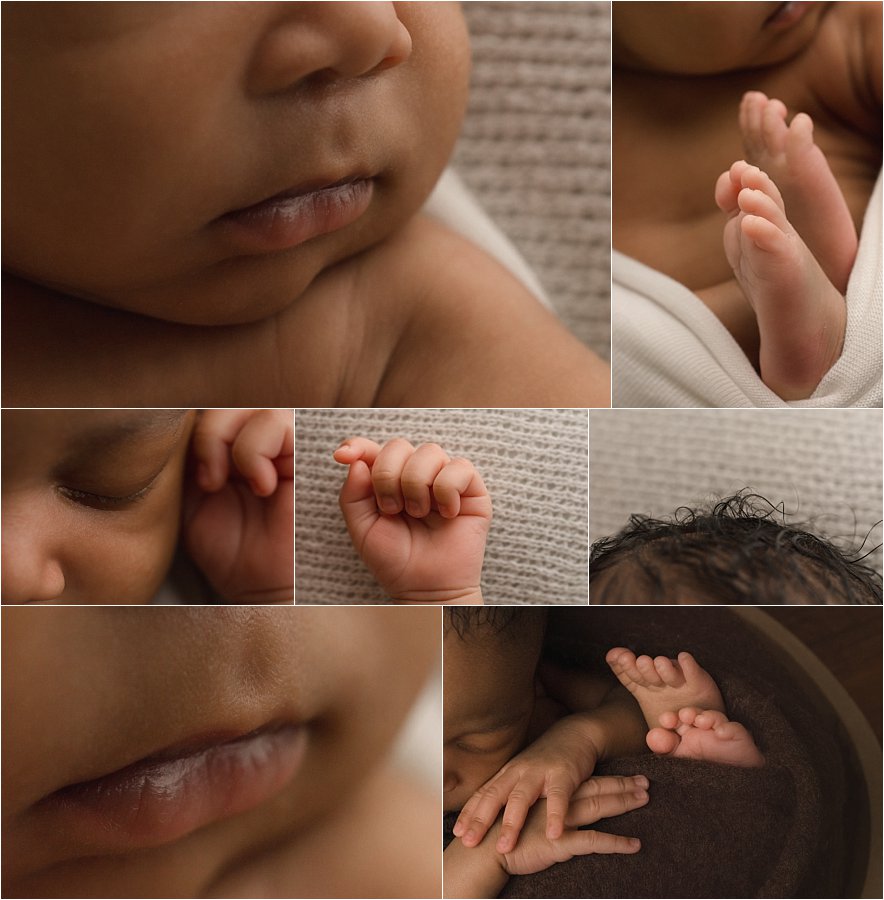 This beautiful NICU baby's name is Marley. His NICU journey amid the very first few weeks of the Covid-19 pandemic was completely unexpected. He was early, but not so early that mama Ericka expected him to be whisked away to the NICU. But Marley is a fighter and he fought his way out of a scary diagnosis and came home.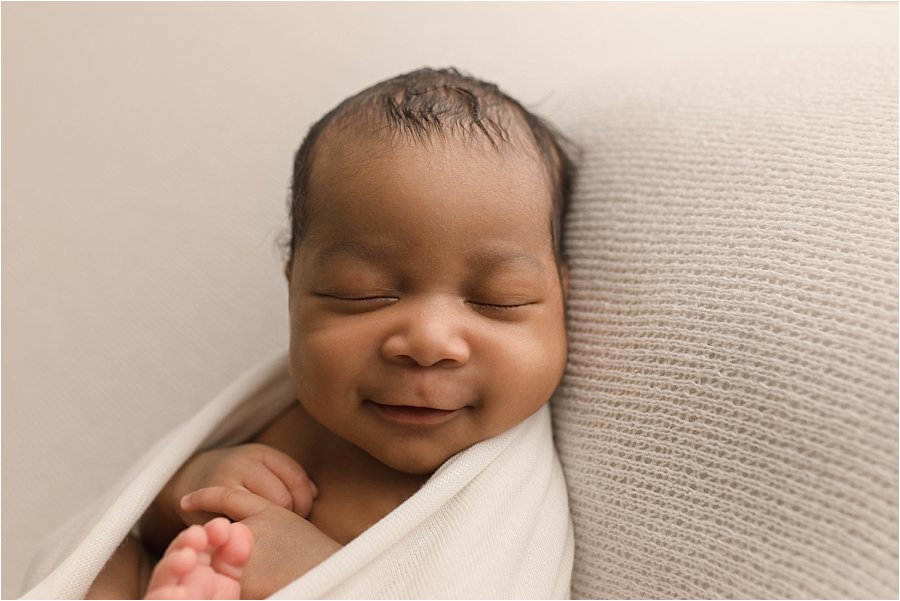 Marley was still a tiny little guy, weighing well under 6 pounds when I met him. He was laid back and very sleepy which was unexpected but welcome. He loved the comfort of the wrap, perhaps because he'd spent so much time cuddled up in Ericka's arms.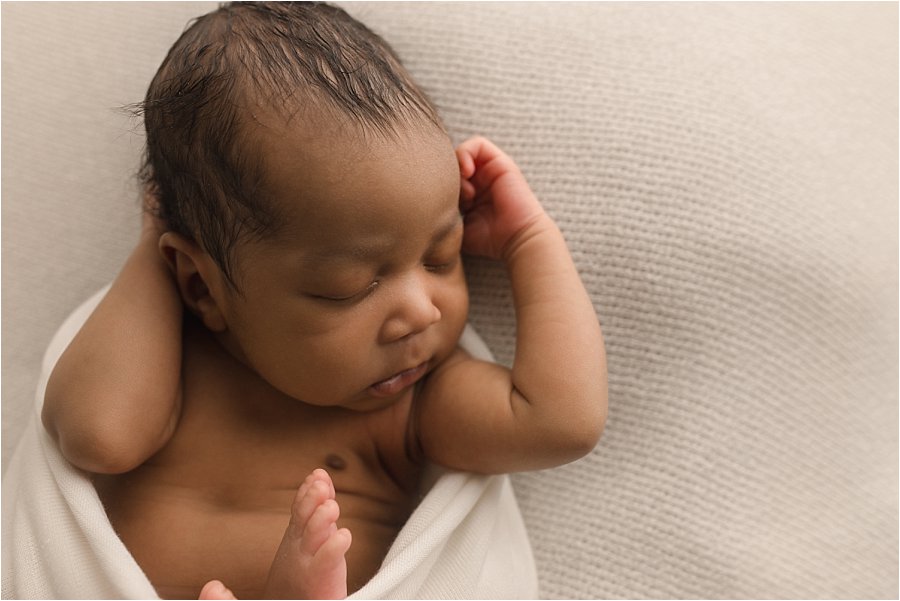 I had fun curling Marley up into the tiniest little props and showcasing his beautiful hands and feet. We even snuck a little bear bonnet on him!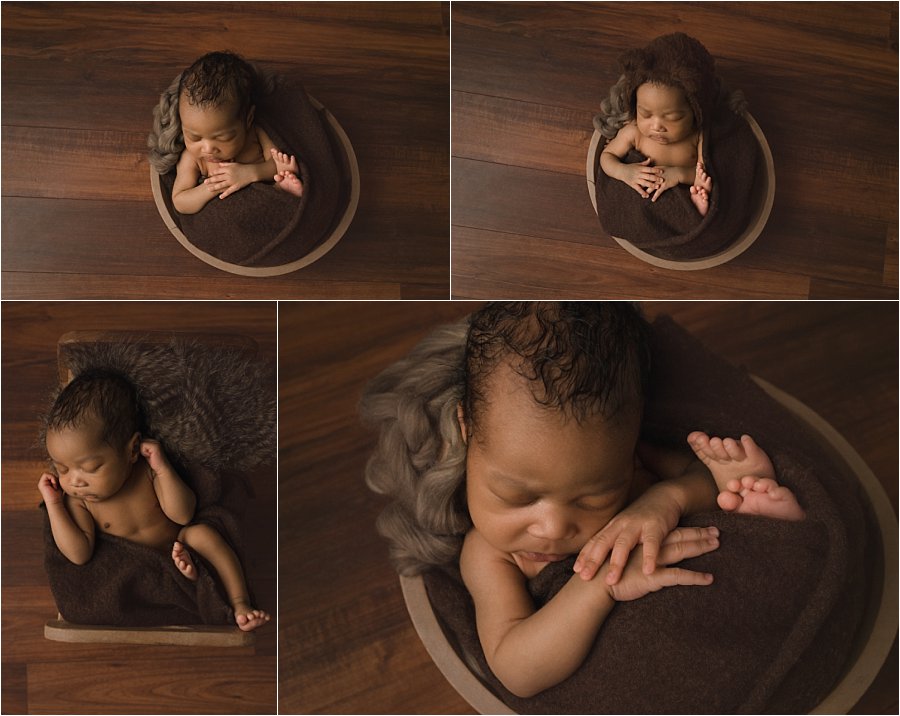 At the very end of the session, I dressed Marley in this little knitted footed PJ set from the studio wardrobe. He woke up just enough to get a sweet awake picture and these remaining images.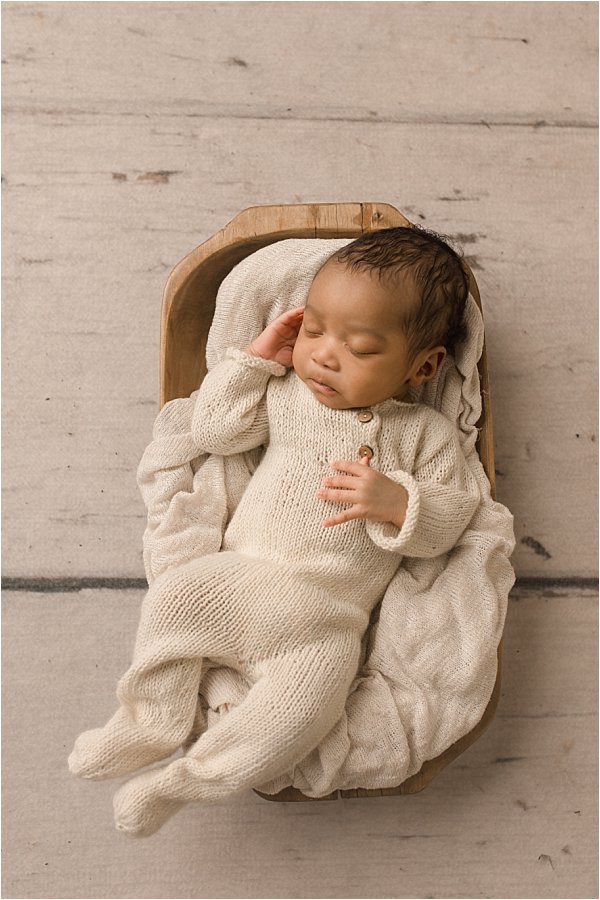 Are you looking to book your Post NICU Newborn Photographer? I'd be honored to be considered. Click here to contact me about setting something up.
Girly Emotional Newborn Photos in Greenville SC don't have to be all frills and bows and costumes. When your heart wants to tell the story of how beautiful your baby is from her tiny toes to the millia on her nose, choose a photographer who matches that vision. At Quiet Graces Photography, I believe that simple imagery celebrates your little one best.

Soothing and Calming
Isla is the sweet newborn girl featured in these session images.  Isla is an "older newborn" in the 3-6 week range.  Many newborn photographers will tell you this age is simply impossible to capture in curly poses, but that's obviously not true!  Yes, newborns at this age are a little more awake, but that just means we get good eye contact like in the image above.

Isla required a little more soothing and calming than your typical newborn and she wanted to be posed upright while she fell asleep.  I always take your baby's preferences into account during posing. It's more important to have a safe and happy baby than to make sure we get "the pose" we wanted most.

Feminine Simplicity on White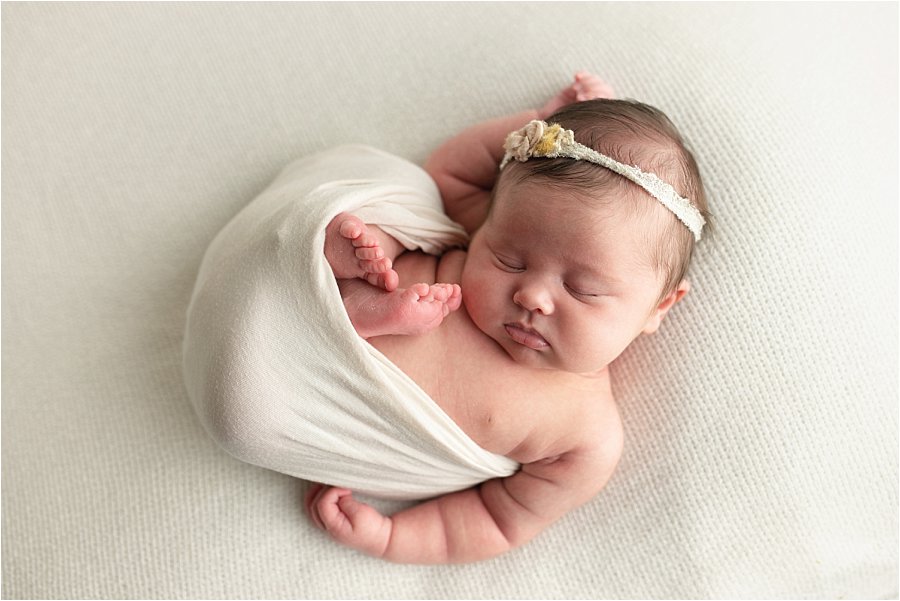 Once Isla fell asleep in her wrap, I was able to transition her into this set of poses on white.  I love posing girl emotional newborn photos on white.

There's a timelessness to white images that just showcase your baby's natural beauty.
Baby Pictures on Mauve
After the white blanket, I moved Isla to a mauve blanket for a bit of color.  This bonnet, wrap, and headbands set by Avonli Baby are studio favorites.  I love compiling a set of props for my clients to choose from so that all they need to do is show up to the session rather than worrying about purchasing and bringing extra items.
Tiny Details
All clients are given the opportunity to customize their pose request.  One of the things that was most important to Isla's mama was detail shots.  Especially including their wedding bands. Aren't these the sweetest? And those little squishy lips are to die for!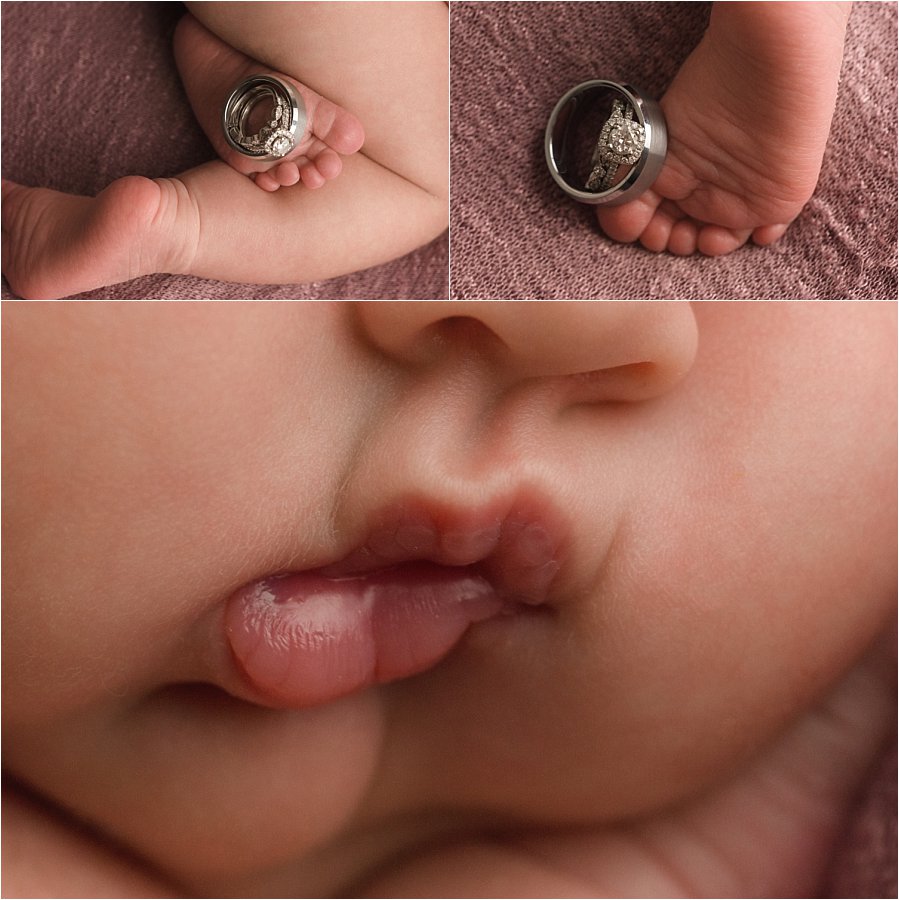 Booking Your Own Session
Looking to book your own Girly Emotional Newborn Photos in Greenville, Simpsonville, or Hendersonville?  I'd love to be considered for capturing your baby.  Contact me today to tell me how you'd like to remember your baby.

This Seashore Theme Classic Newborn Baby Girl Photography Greer SC image was the request of June Marin's mother Cortney. The name Marin means "of the sea' and Cortney wanted that reflected in the session. She brought this crown from her baby shower as well as the starfish and I augmented this sweet set with some shells in my own collection. I love this image on my round wood print as you see it here. It's such a surprising shape that works so well as a statement art piece.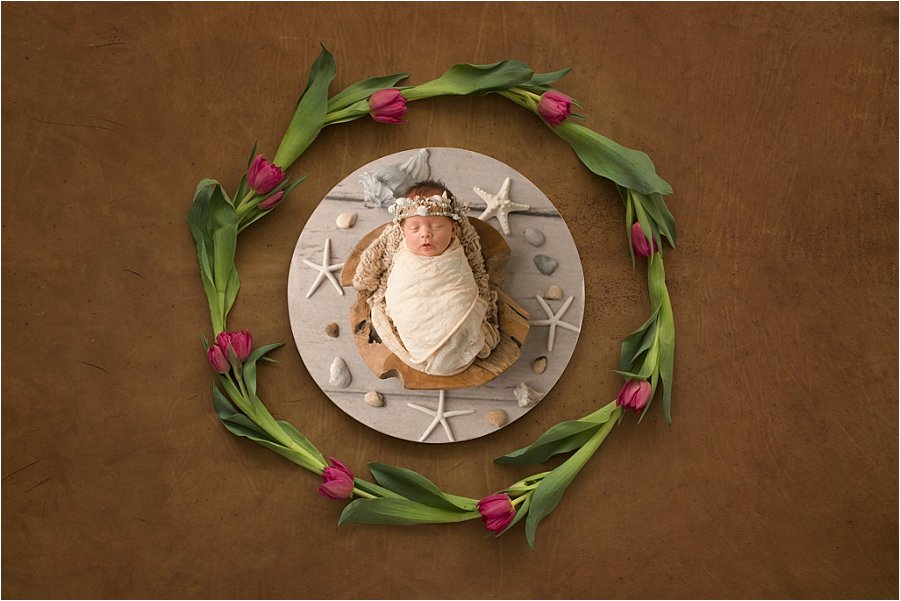 Cortney and Jason came in for a Mini Maternity session prior to this session. It was such a great way to get to know them. Maternity mini session fees are waived for my full session newborn clients. You can see their session here.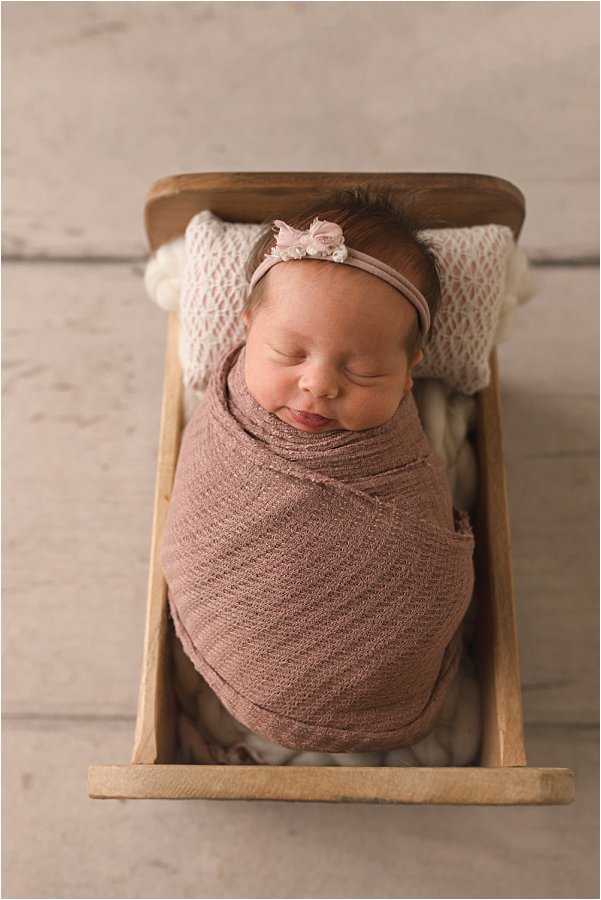 June, like all sweet babies who visit the studio, had her own settling and soothing needs. She was a little fussy at session start. She finally settled into comfort inside this multi-wrap swaddle. Newborn babies are comfortable in warm rooms and tight wraps because that's what mama's womb was like. I try to make the studio and experience as womblike as possible. There's lots of rocking and soothing and feeding time built into each session too.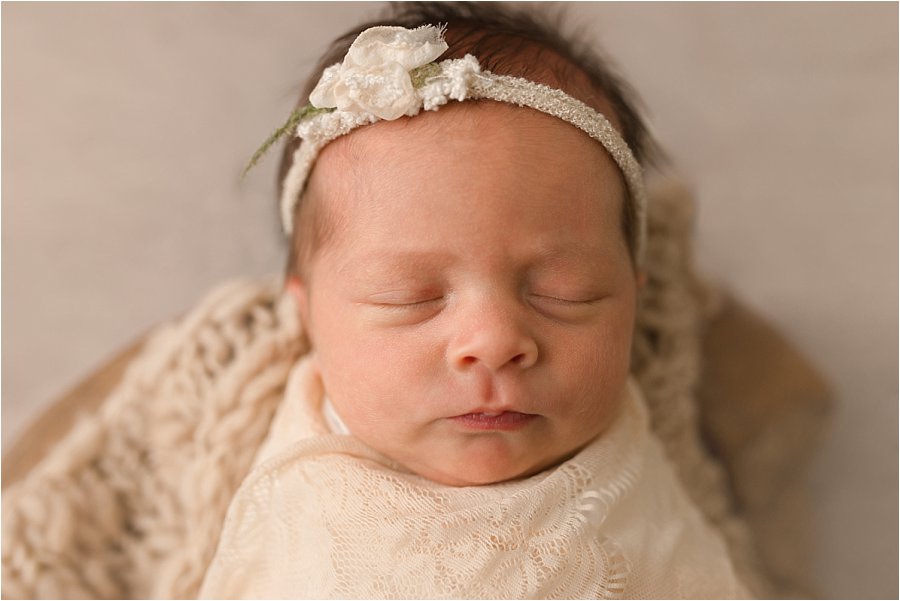 June was calmest in Jason and Cortney's hands. Often parents hesitate to get into the images. I promise that your child will treasure these images forever. Be in the picture with them. Show them how much you loved them from teh very start. Print this picture in an album or for the wall. It's that important.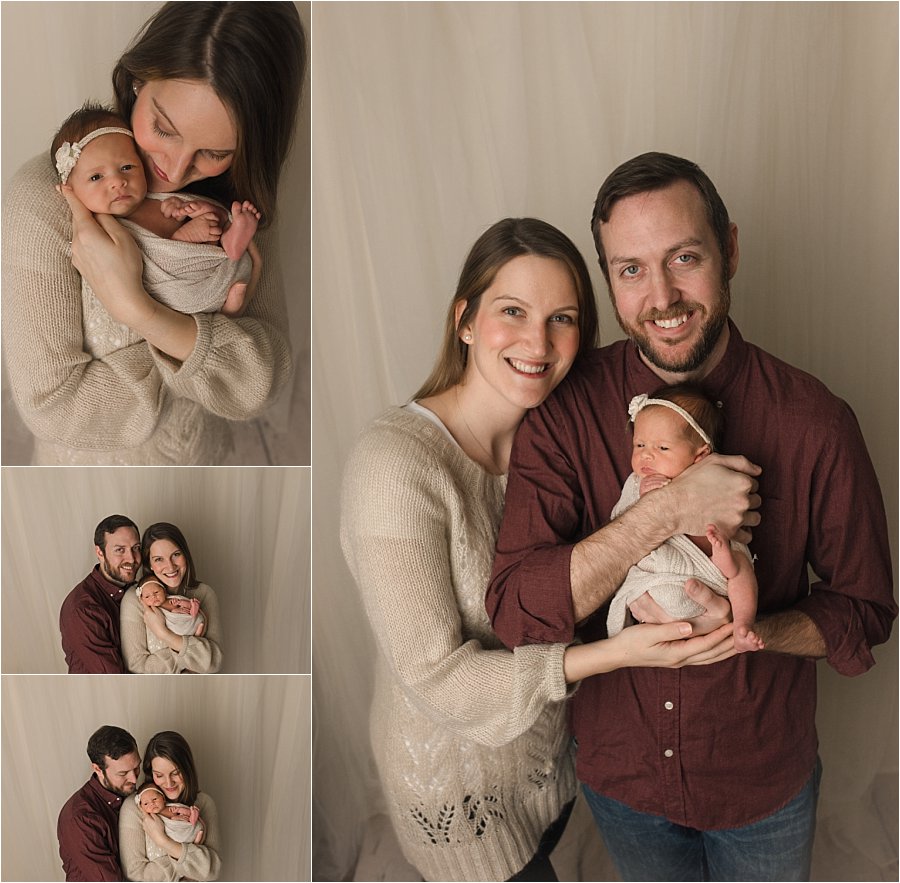 Looking to book your own newborn session? I'd love to be considered. Please click here to tell me about the dream images you'd love to have on your walls. I'd love to create a classic set just for you.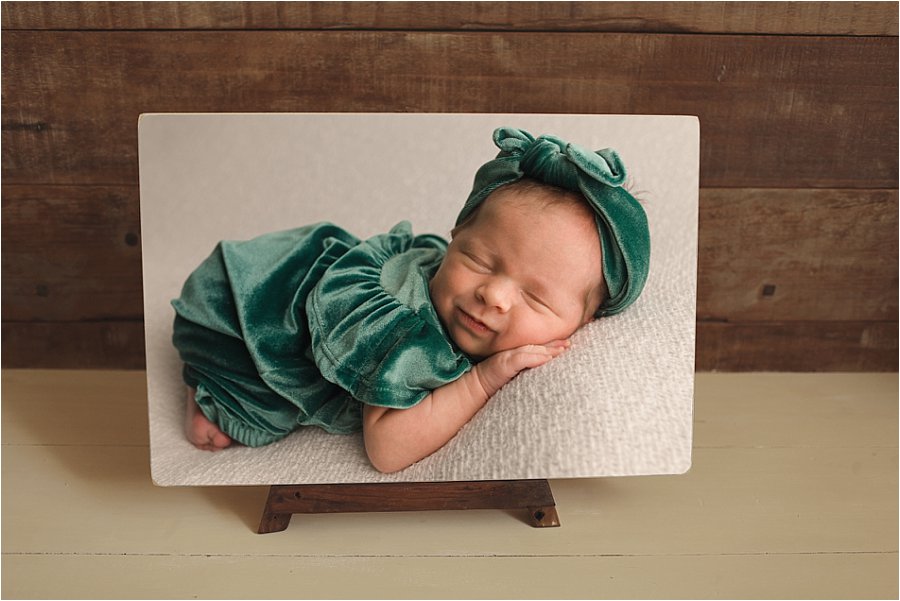 I loved being Hana's clean girly newborn photographer Simpsonville SC.  This precious girl was so relaxed and so very loved.  You can watch the video below to see the images from her session or scroll down and to hear a little bit of the story of Hana's session.  If you're looking to book your own clean girly newborn photographer Simpsonville SC then click here to contact me today!
Hana Birth Announcement Video from Melissa Aldrich on Vimeo.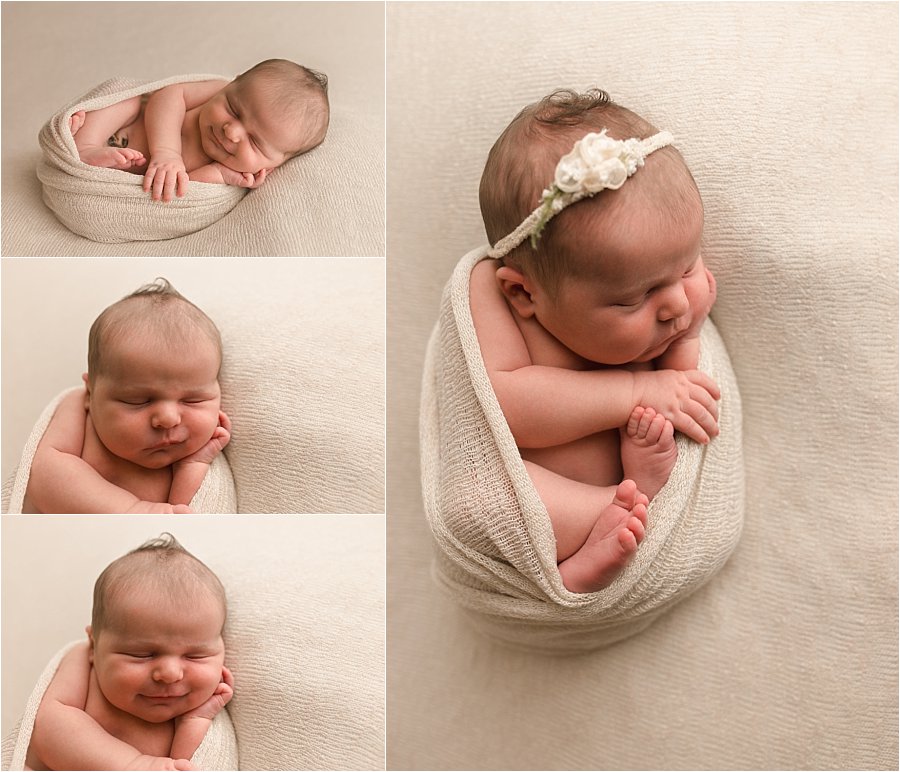 Hana was the sweetest chunkiest little girl. She loved being curled up into a tiny baby ball inside a wrap.  I usually catch at least one grin on camera, but Hana gave me three with the longest smile ever just as I laid her down!  You know a session is going to be amazing when these are some of your very first images.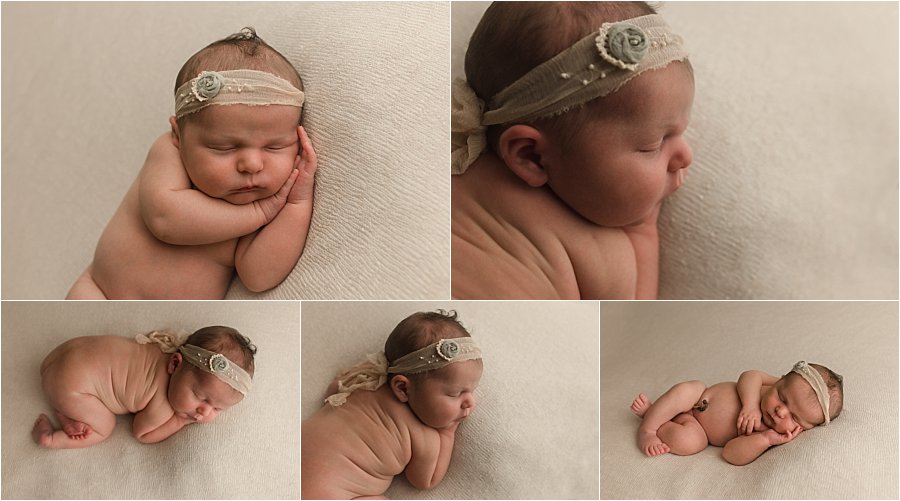 One of the things I love most about being a newborn photographer is capturing all of the little details that new mamas often forget in their sleep deprivation. Hana's back wrinkles are some of my favorite details from this set of images,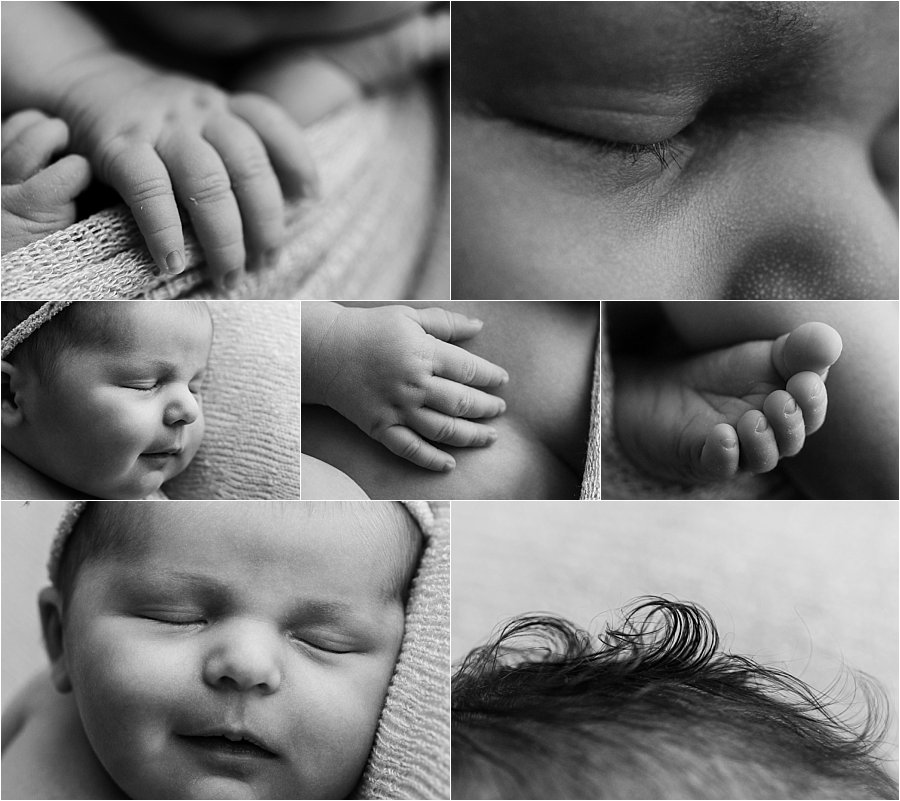 But Jamie and Loren also asked me to take close up images, called macros in photography speak, of Hana.  These are always my personal favorite images.  I've featured them here in black and white.  My clients never have to choose between color or black and white files.  I provide them with both in their finished gallery.
Newborn Safety is so important to me! This image shows how close dad was to Hana during this images. He would gently lift his hand just above her before I took the shot and I would edit it out for the final shot. I never want these little ones to be in danger.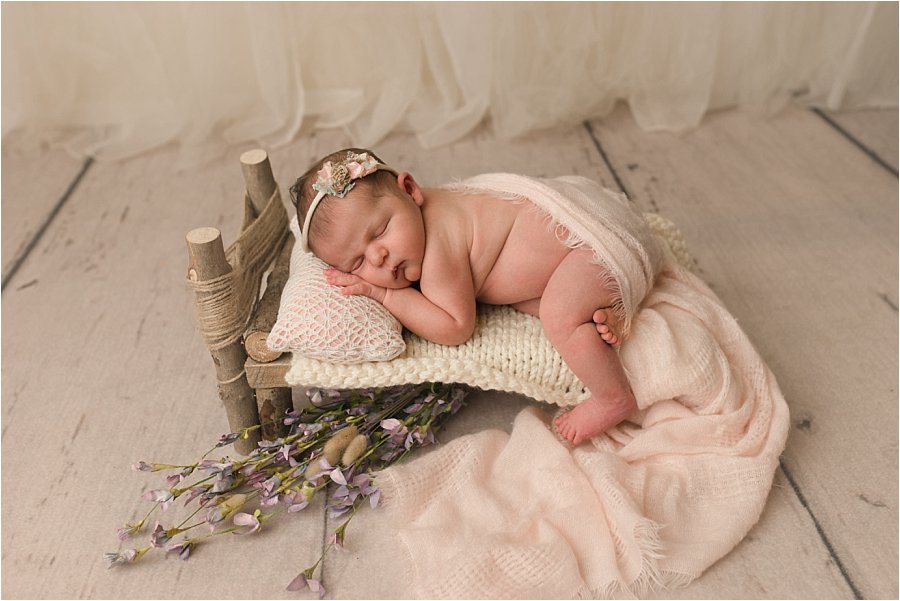 We also spent a lot of time on family images. Isn't it amazing that Hana will be able to see how much her parents adored her from the very start? And the contrast of a tiny baby in her parents hands always makes me so nostalgic.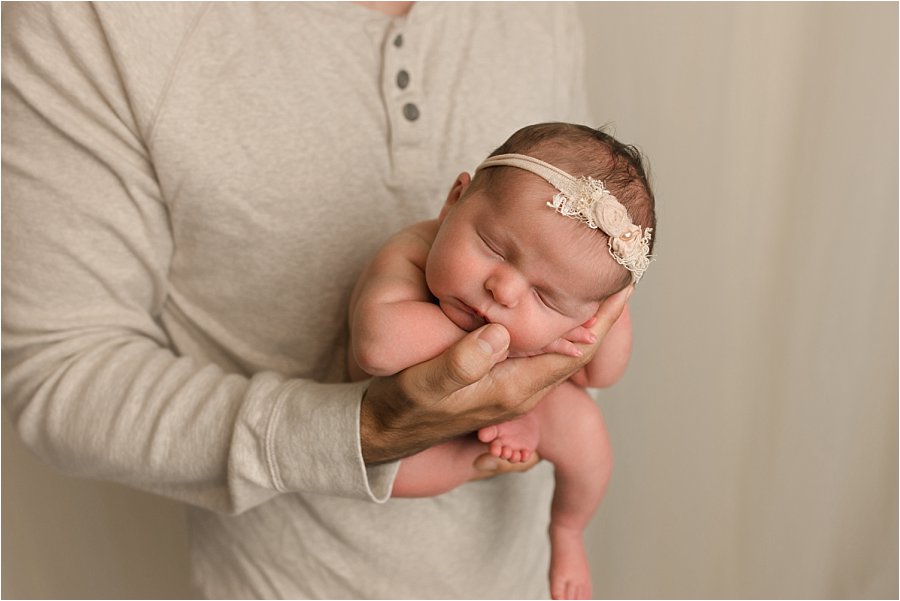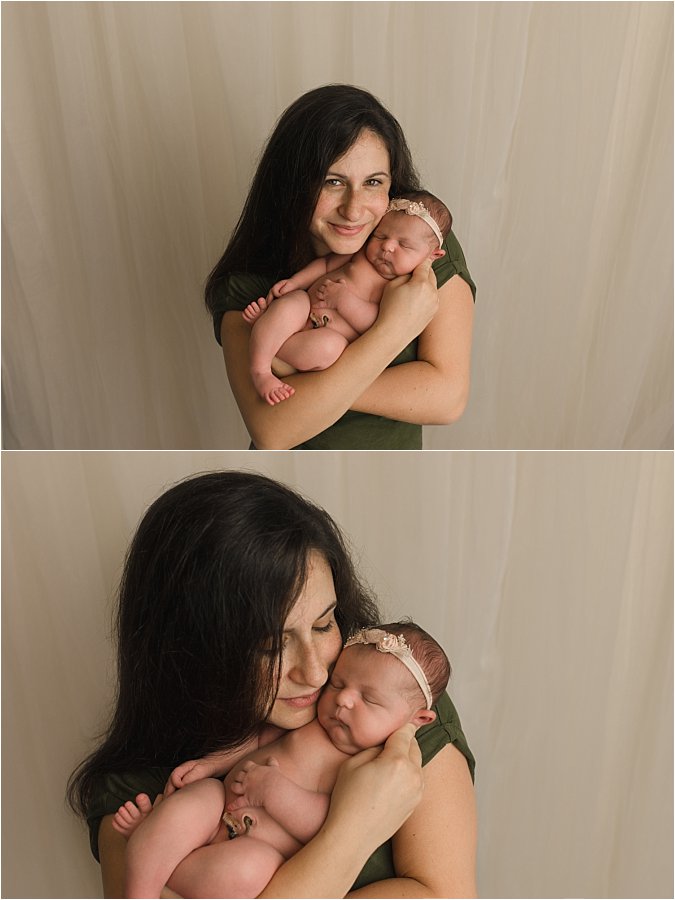 I also really loved this set that Jamie and Loren picked in this nest. It's one of my most requested props and Hana adored being curled into the nest.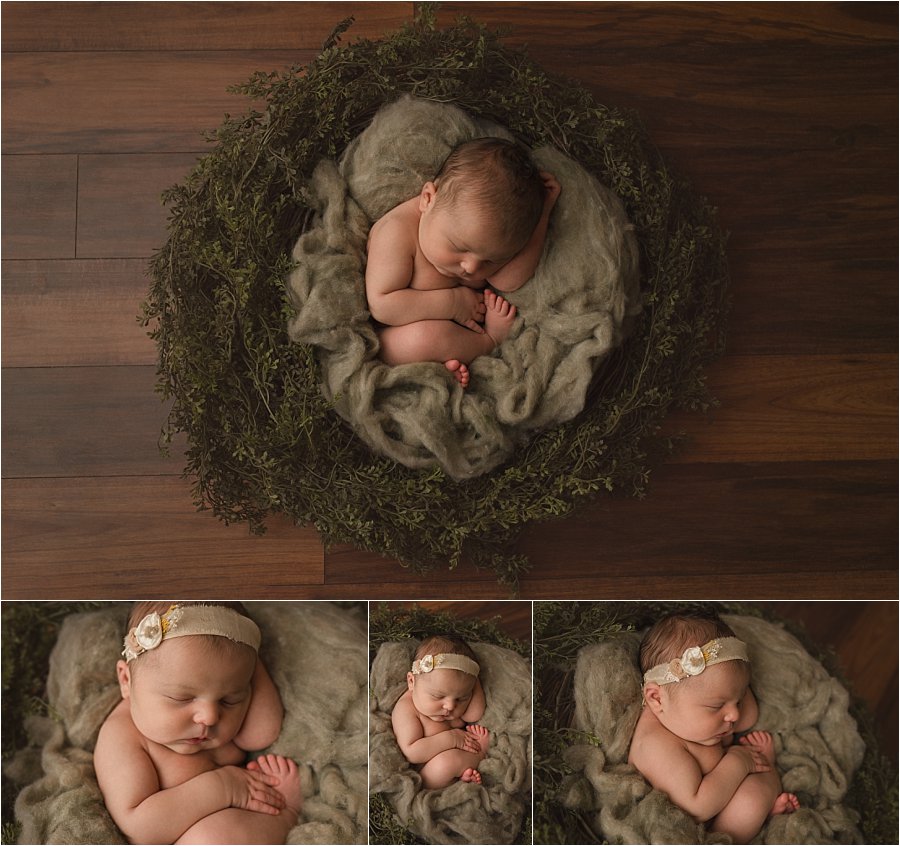 Looking to book your own clean girly newborn photographer Simpsonville SC? I'd be honored to be considered. Drop me a note here and let me know what you most want to remember about your sweet baby.
Are you looking to book Simple Beautiful Timeless Newborn Photography Hendersonville NC? I'd love to be considered in your search. Click here to tell me about your dream session. Or you can scroll down to see the images from Vida's session.

Precious Vida had the most delicate features. Her spiky hair, her sweet smile, and her gorgeous profile took my breath away.  And this little yawn was so perfect.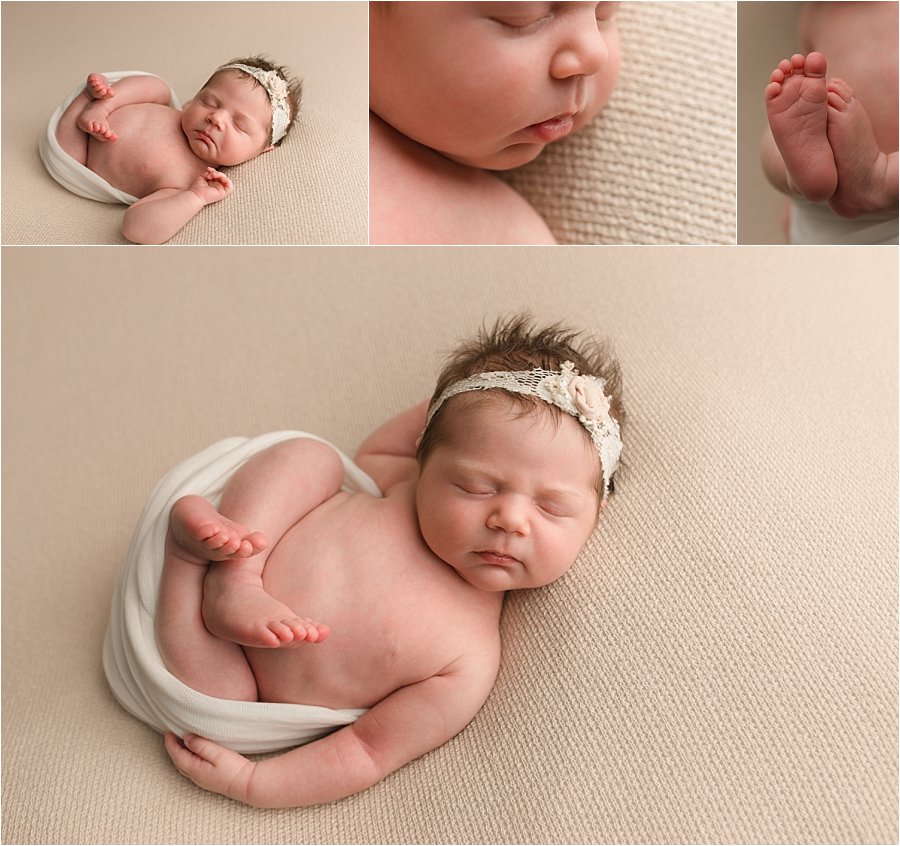 I love capturing these little details for Vida's mama Shannen to remember. From tiny toes to sweet little pouts each baby is so unique and perfect.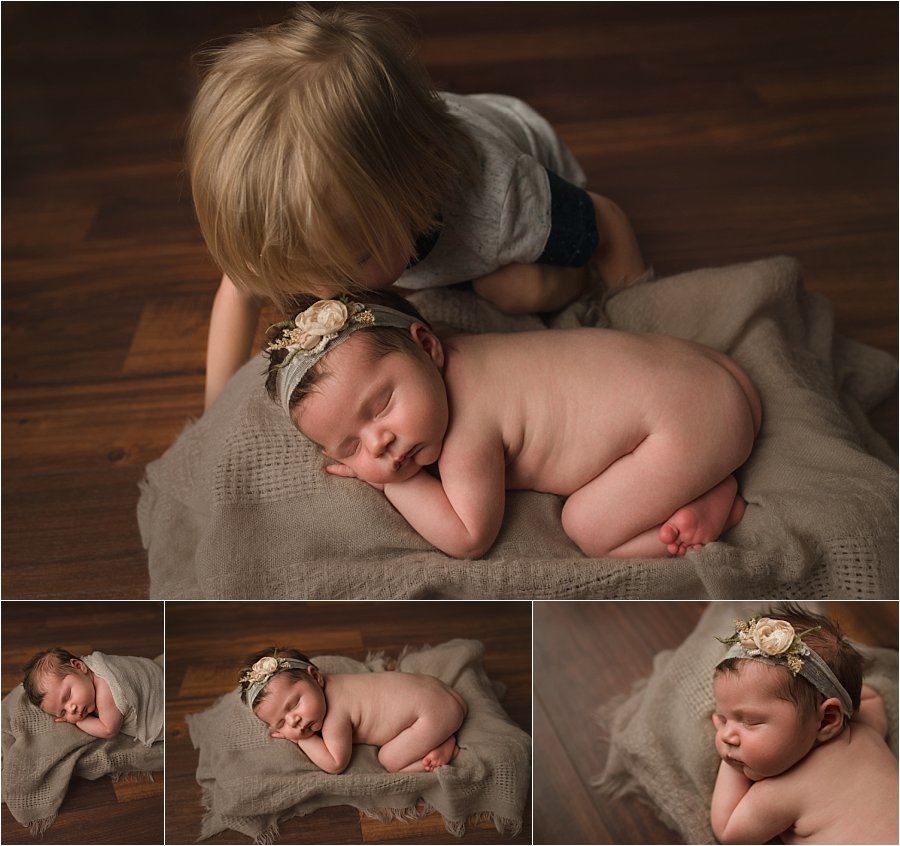 Vida's big brother Fox was also the absolute sweetest. He stole some kisses right at the end of the session in this sweet little bed and it was sheer perfection. But Fox was also amazing at the beginning of the photos when we took his portraits with Vida. Shannen and Dan had done such a wonderful job helping Fox prepare for the session. He knew my name and what was expected and was just so excited to hold Vida all on his own. It was the most precious thing.
Newborn session can run really long between feeding and soothing and posing, so Fox actually spent most of the session on an adventure and out to lunch with Dan. I know he enjoyed that one on one time so much!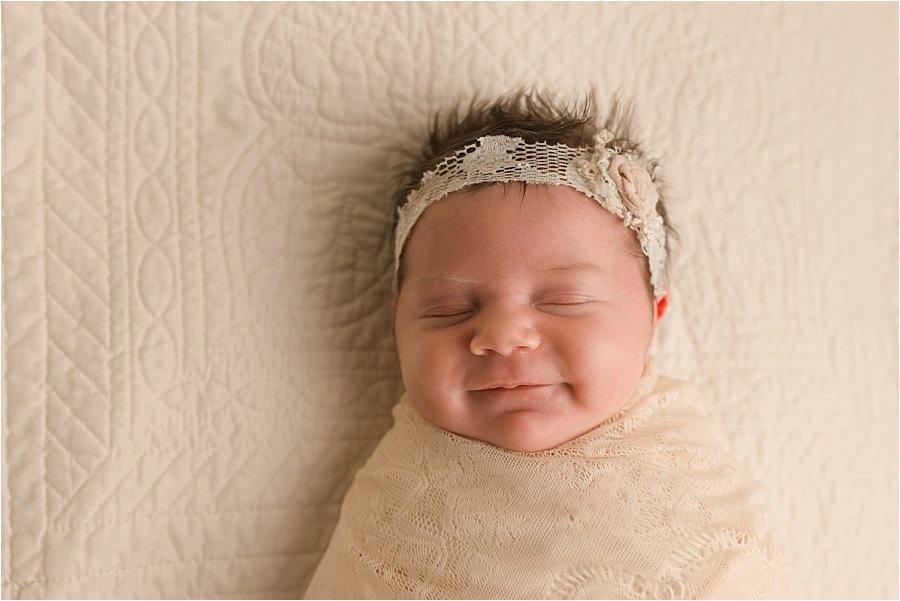 I know I say this every time I write a blog post, but family images are some of my very favorite. The beauty of the family relationships shines so brightly in images. I always imagine the joy these images will bring the baby when they are going through a rough spot as teenagers. I imagine Vida thinking "Look how much my family loved me right from the start." I imagine her turning to talk to her parents about her rough day. I think this is the biggest reason it's so important to display your favorite images in your home. These images bring hope and love and light to you in those hard moments. They can bring courage and joy. This is why I love what I do so much.