Newborn
Are you looking for Fresh Simple Newborn Pictures Greer, South Carolina? Are you frustrated by loads of fussy sets that take the focus off of a newborn's natural beauty? I want your session to tell your baby's story and to highlight on all the little details you adore. Whether your baby isn't here yet or is 4-6 weeks old, simple timeless images help you remember every delicate feature. Click here to learn more about a photography session with me or read on to hear about baby Trace.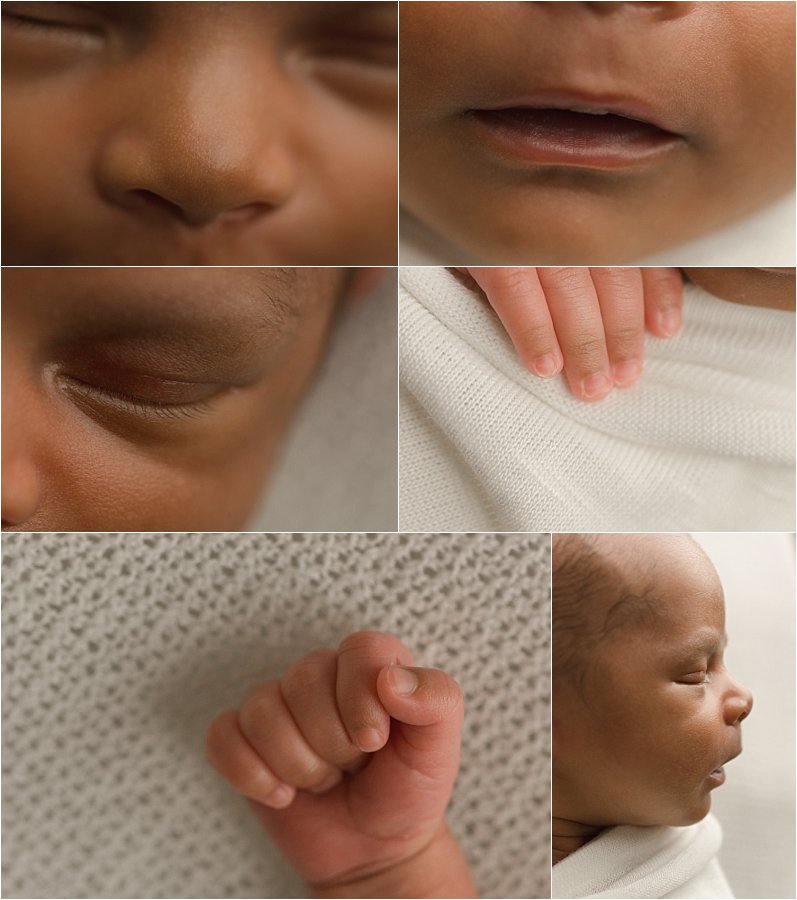 Meet Trace. He's clearly already a heartbreaker. This smile stole mine immediately!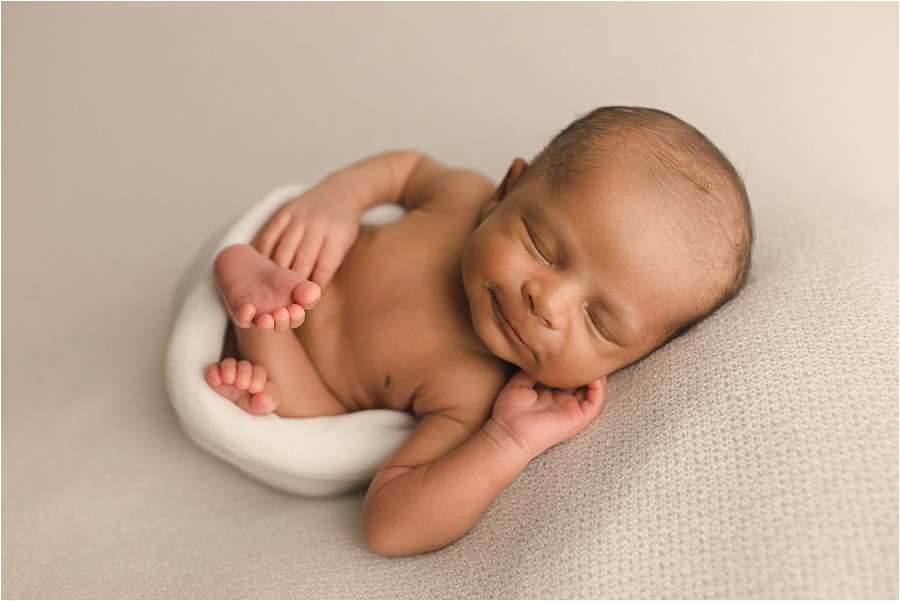 This little guy is a miracle that Celeste didn't see coming. Celeste brought her sister to the session and I was so glad she did! Her sister convinced Celeste to jump in a picture or two. Postpartum is a pretty vulnerable time for body confidence, so I always shoot angles with that in mind. I think this is hands down my favorite image from this session because it shows Celeste's quite joy and unexpected delight in baby Trace.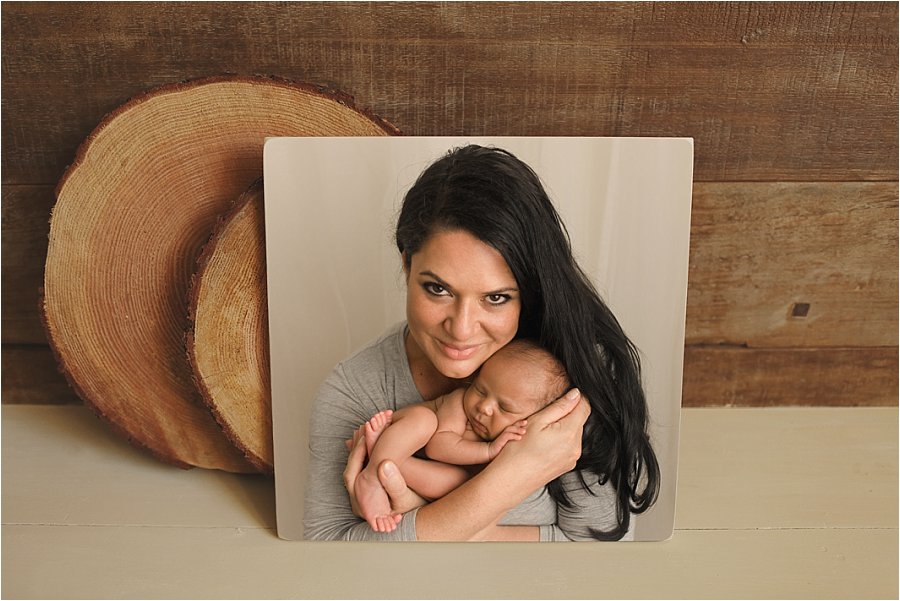 In all of my sessions, I try to pose through a flow of images. It's my way of responding to each baby's preferences while also accommodating the requested poses. This set shows you the flow of posing that Trace liked most. We started wrapped and as Trace feel more deeply into sleep, I unwrapped him in the warm studio. In between these images, I captured the little details above. I always want your baby cozy and comfortable.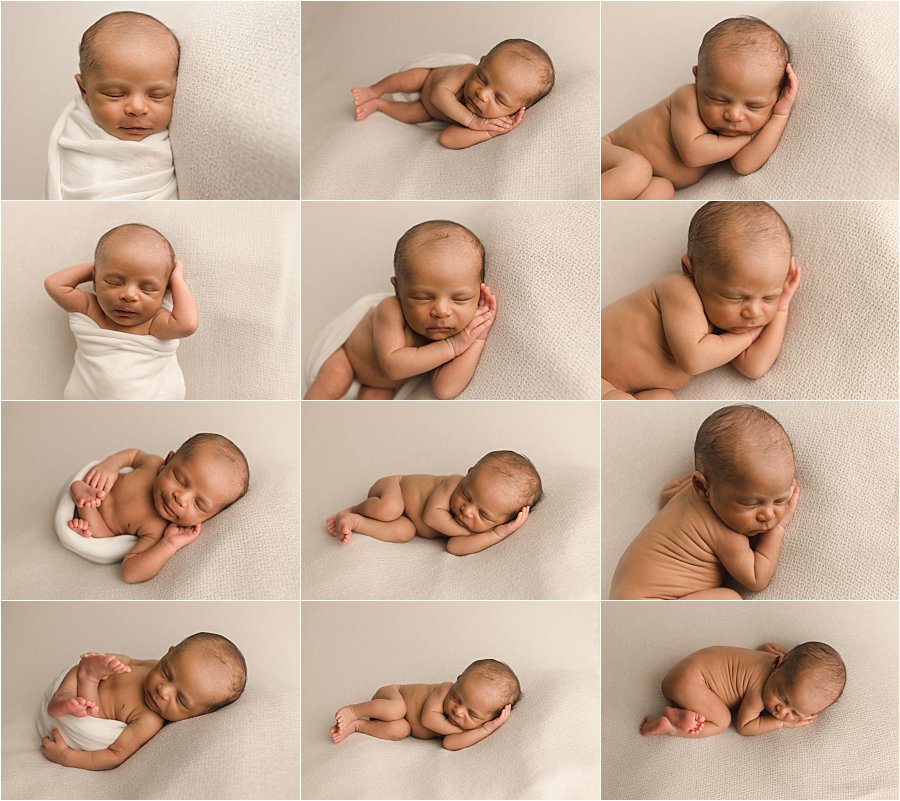 Although he was closer to a month old he was still super tiny and curly.  This little salad/dough bowl is only about 8 inches across!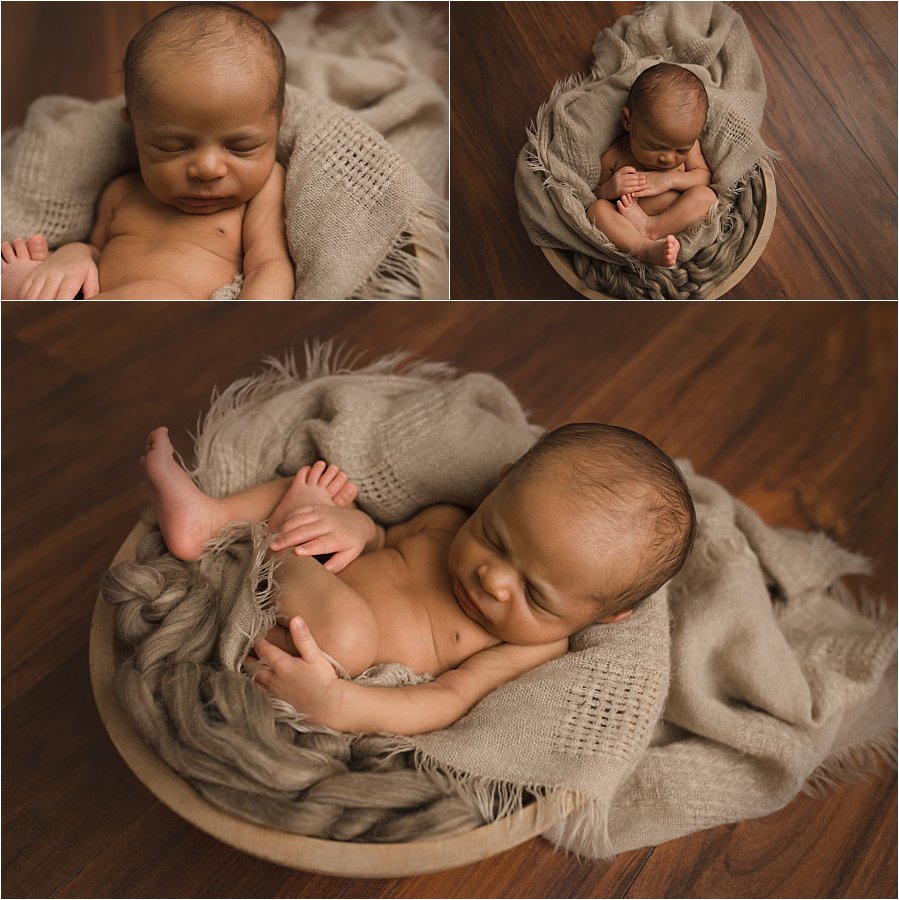 Are you wanting to book your Fresh Simple Newborn Pictures Greer South Carolina now? Click here to tell me all about your ideal photography session.
Are you looking to book Newborn Pictures with 2 Year Old Big Sister in Simpsonville SC? Click here to learn about working with me or read on to learn more about this session.
This family session featuring Kalyn, Robert, Magnolia, and Ruby Rose features the unpredictable fun of a newborn session with two year siblings. Like all sessions, I want your images with big siblings to be natural, timeless, and emotional. I want you to be able to remember exactly what this time with your little ones was really like in all it's beauty, joy, and sheer exhaustion. I think we nailed that here!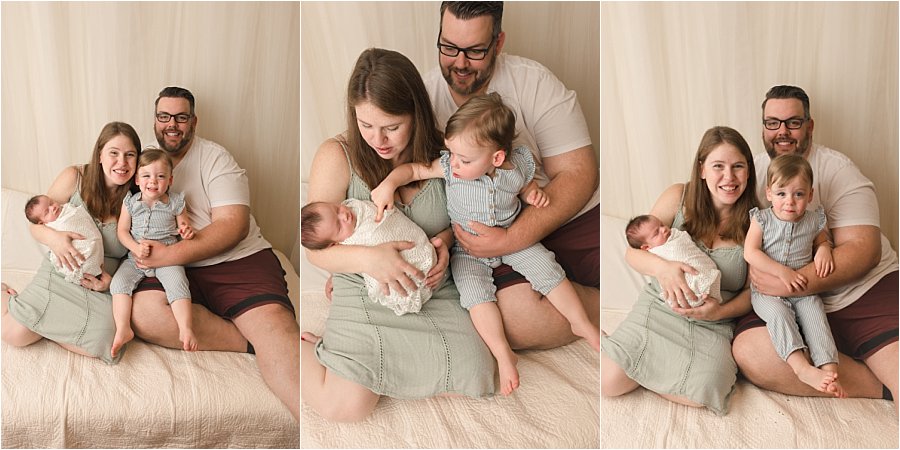 Kalyn and Robert vlog their family fun on YouTube. You can view their channel by clicking here. It's fun to watch their family grow and learn and have adventures there. Kayln and Robert are authentic: they share both their heartbreak and their joy in every situation. It's always a joy to have them in the studio for this reason as well. You can fee how much Magnolia and Ruby are loved!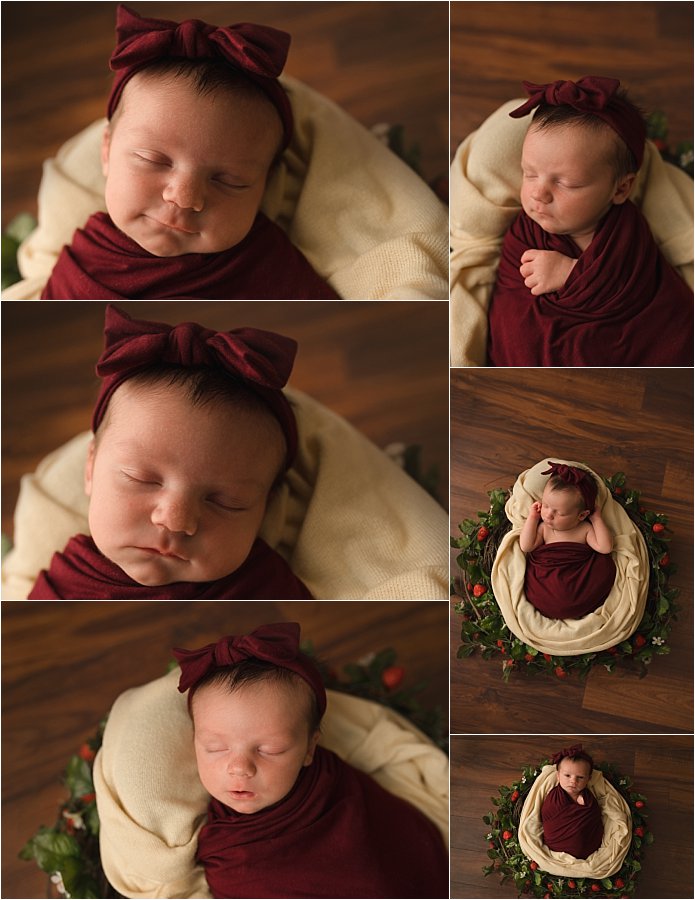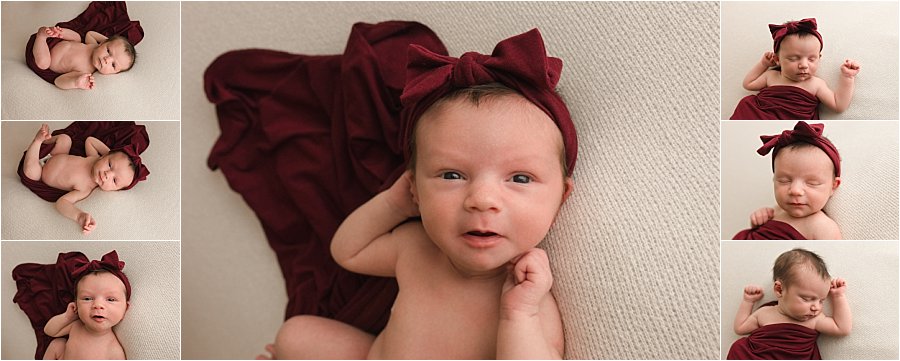 Kalyn brought this amazing wrap set to the session to highlight how Ruby Rose's name evokes color. I don't have a lot of color of in the studio outside of ferny greens, peachy pinks, and this yellow drop so it was super fun to play with this set!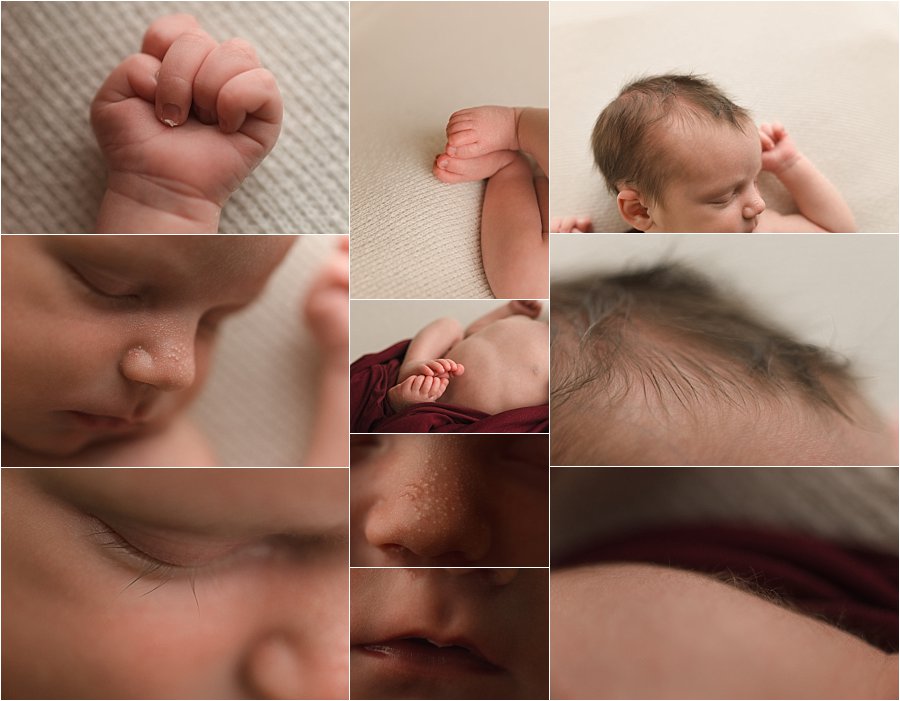 One of the thing I love most as a newborn photographer is to capture details that change in the blink of an eye. Babies grow so fast and the beauty of these little details always takes my breath away.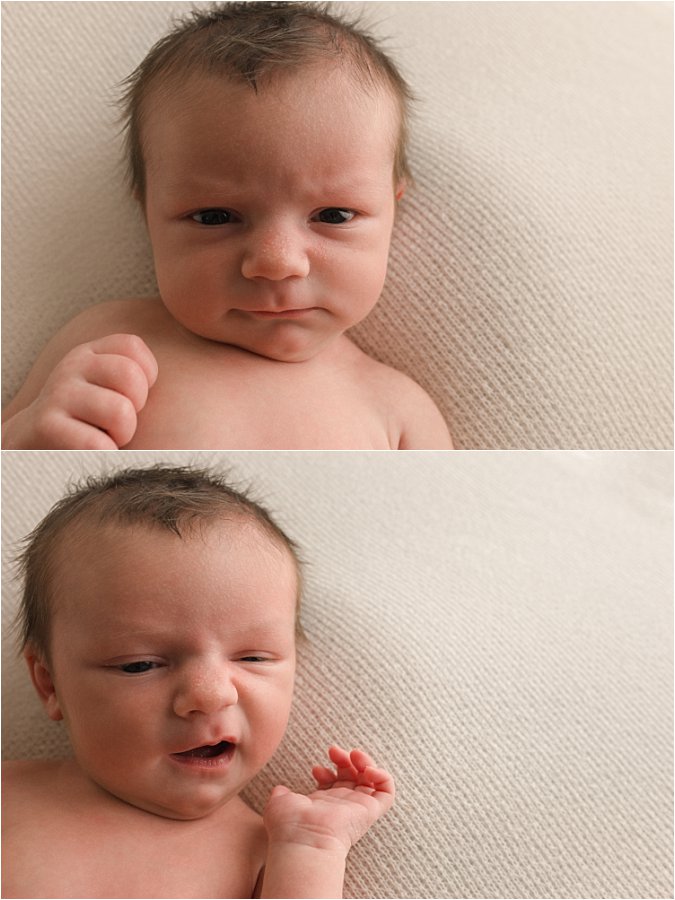 I finished out this session on my neutral cream set. I do a cream backdrop almost every session so you'll always have some very natural, classic images.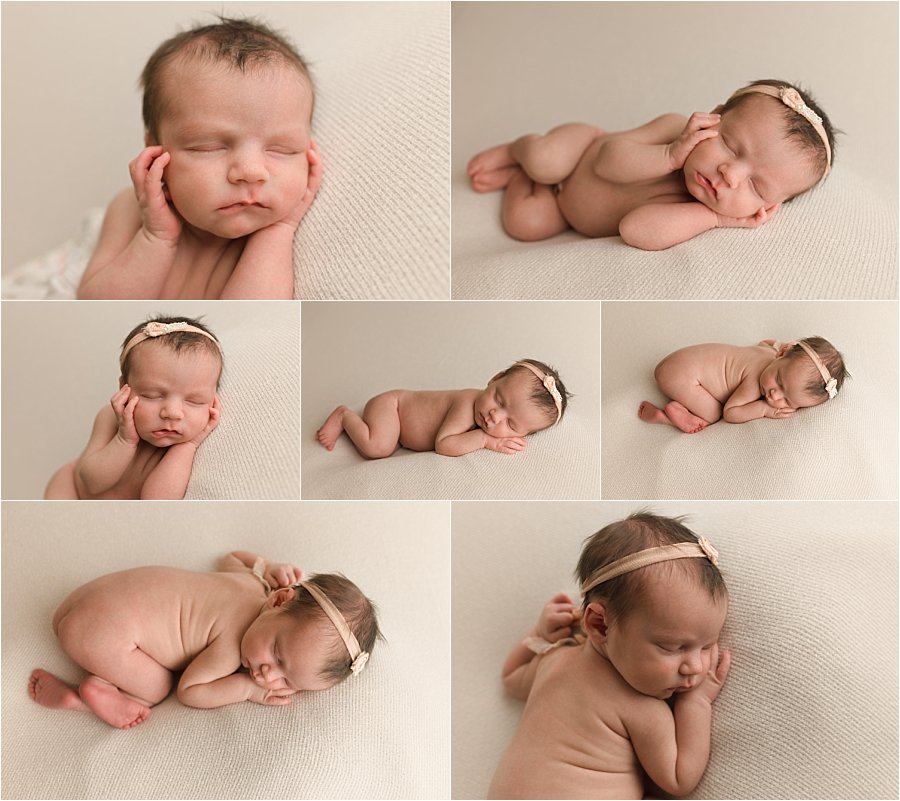 This last set is a parent request and it was meant to mirror the same set we did with big sister Magnolia.  Ruby is on Top and Magnolia, who was 3 months old due to being a micro preemie at birth, is below. You can see all of Magnolia's Session by clicking here.
Looking to book your own Newborn Pictures with 2 Year Old Big Sister Simpsonville SC? Click here to contact me today!http://quietgraces.com/contact
Do you need one month newborn pictures Greenville SC? Have you been turned down by a lot of photographers saying to wait until your baby is older? Or have photographers told you that only and in home lifestyle session will work to capture your little one when you really wanted posed newborn images? Are you kicking yourself for not booking a newborn session in advance?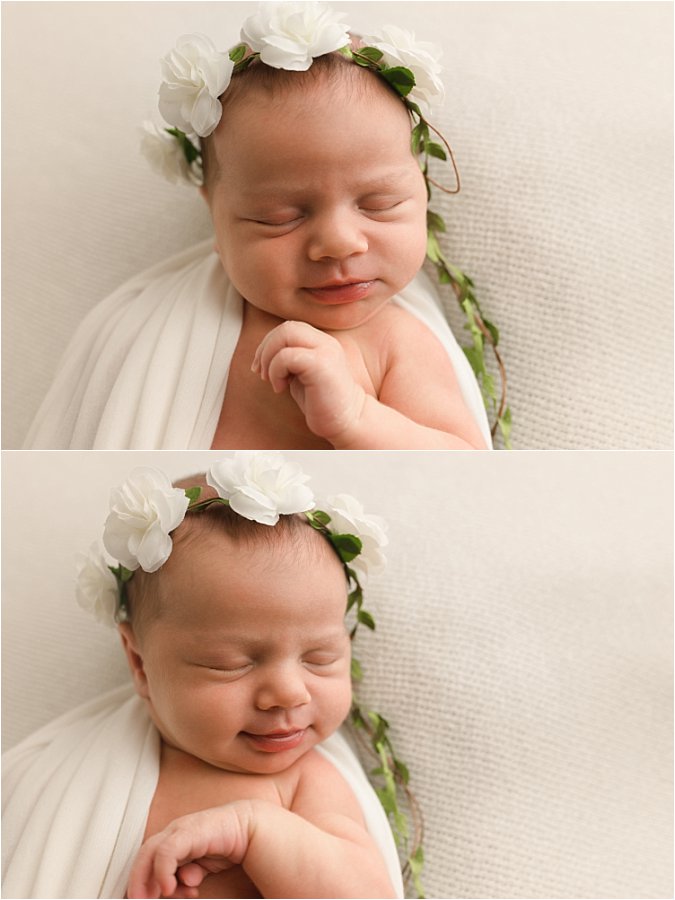 One of the things I've learned in my ten years of running a Newborn Photography business in Greenville SC, is that babies are inherently beautiful. My job is to capture their beauty no matter how old they are. Maybe you had a rough pregnancy or delivered early or didn't think you'd want newborn pictures. Maybe your first photographer didn't create the art you wanted or your c-section recovery was more than you expected.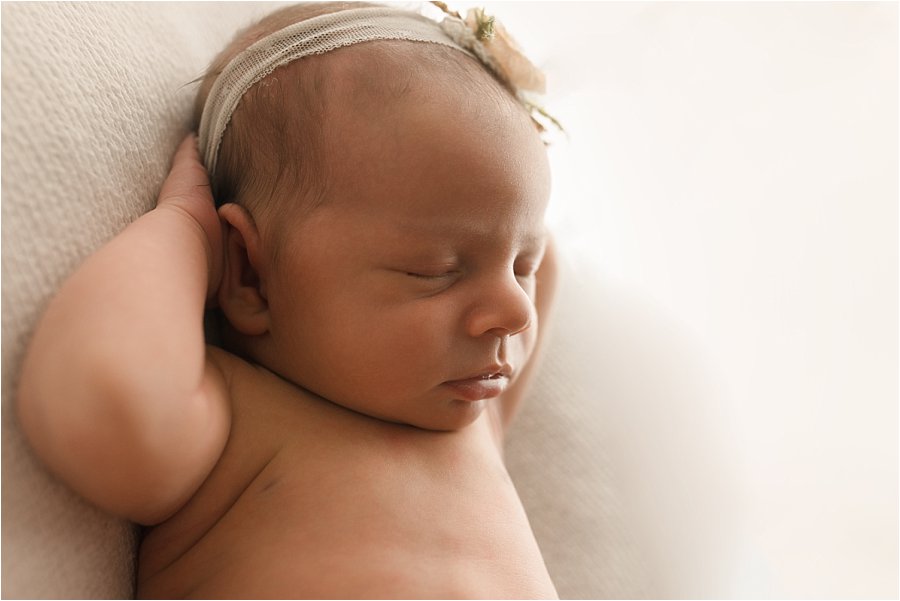 Whatever your reason for booking late, I'm here for you. I can create beautiful, relaxed, simple, and posed images up to two months old. And even if your baby is three months old, we can still capture their beauty using wraps and props if that's what you want.
Evelyn was just about 1 month old when she came to the studio. She was sleepy and content and her mama was restful. It's one of the things I appreciate most about my "older newborn sessions": Mama has had time to heal and adjust to all the stresses of early motherhood. The other amazing thing is the your baby will have learned to feed well and, therefore, sleeps a bit more deeply.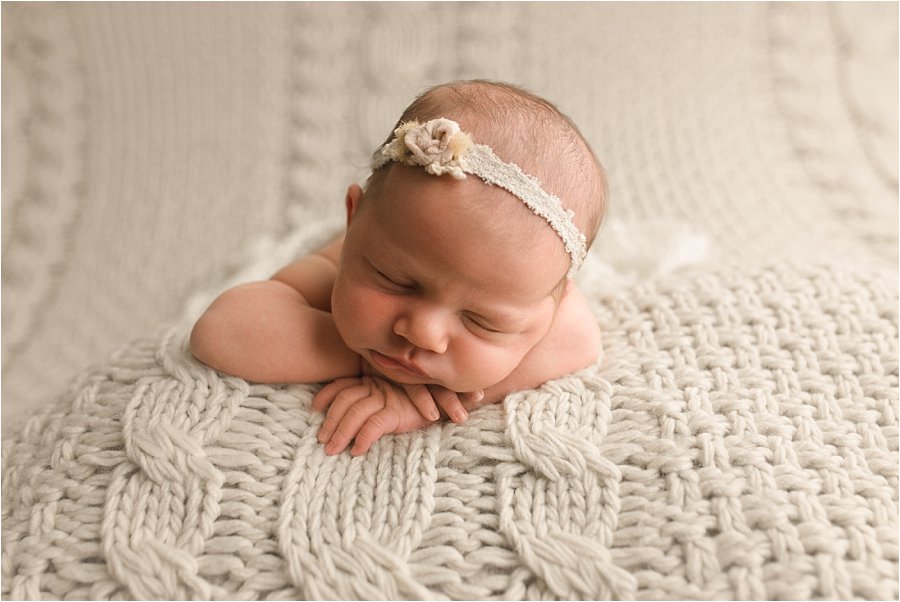 I find that because of this deeper sleep, I am able to capture a lot more smiles! Look at all of these smiles that mama picked from her proof gallery. I love every image she picked.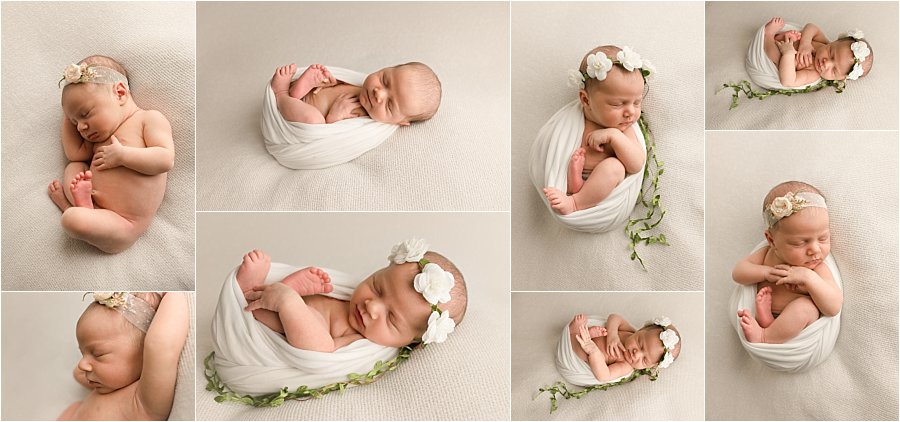 Are you looking to book One Month Newborn Pictures Greenville SC for your older baby? I'd love to be considered. Take a moment to drop me a line and tell me all about your dream photoshoot.
Are you looking for a Simpsonville SC Newborn Photographer? I'd love to be considered to capture the joy you feel over your beautiful new miracle. My style is simple and timeless leaving the natural beauty of your little one shining through and not some trendy prop or colors. Click here to find out more about working with me. Click here to drop me a line. And please scroll down to see the images from Rachael's lovely newborn session.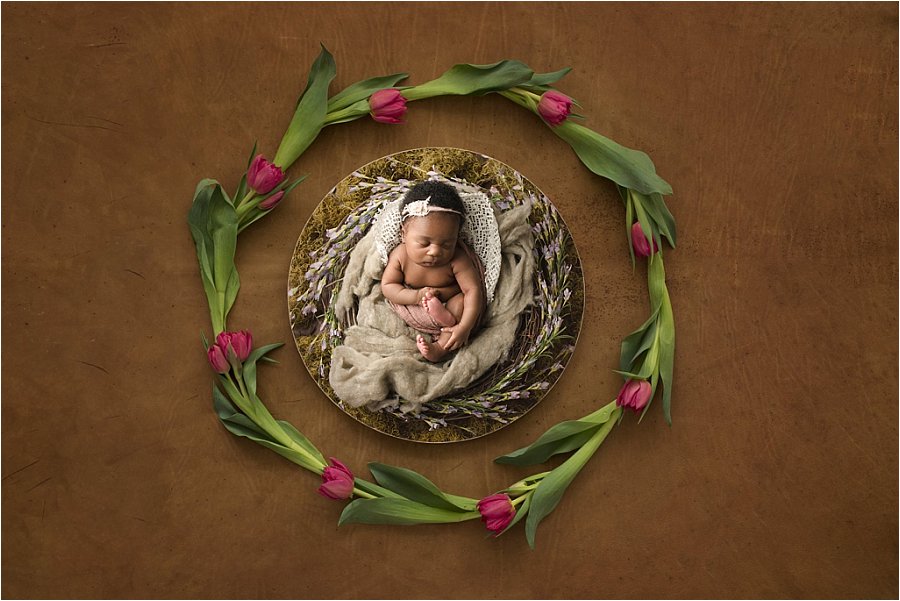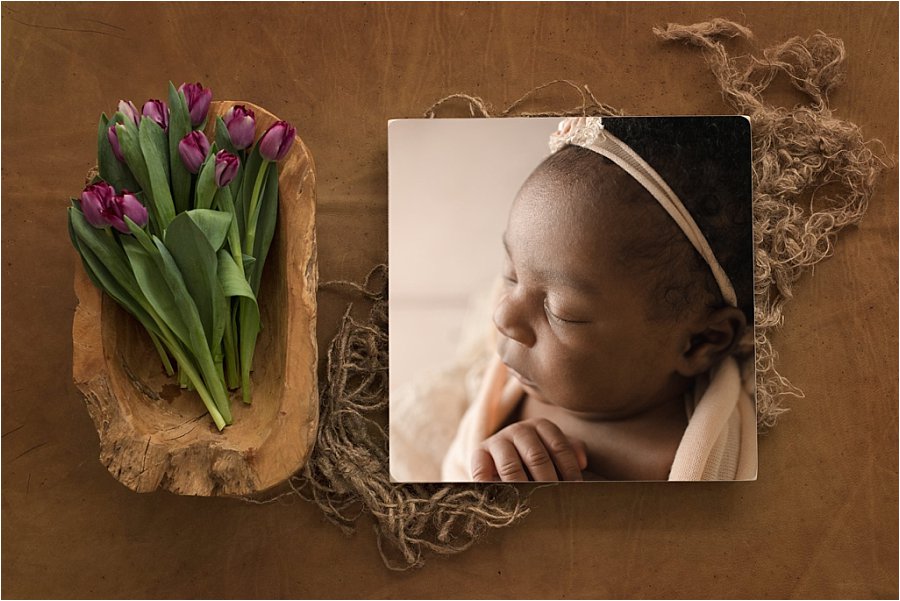 Sweet Racheal was a little "old" for most newborn photographers at almost 3 weeks. Many photographers won't do newborn style images over 2 weeks. I am not one of them.  No matter how "old" your baby is, we can still create images that showcase their beauty.  I especially love the images of Rachael with her parents.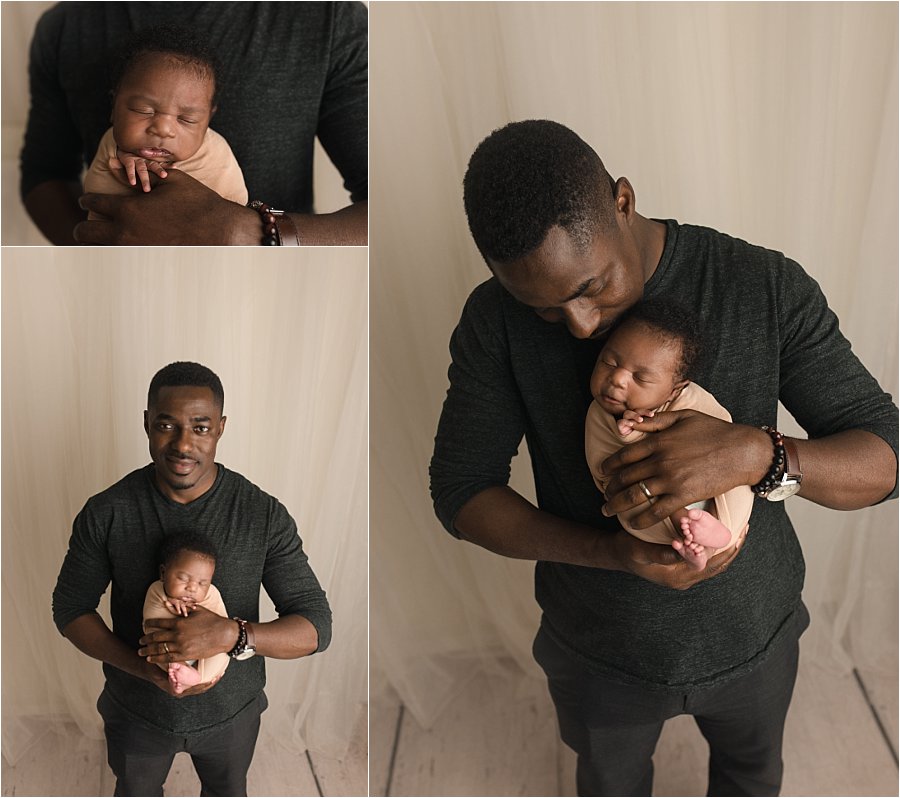 First, there's this smile in daddy's hands and there's another smile in mom's hands!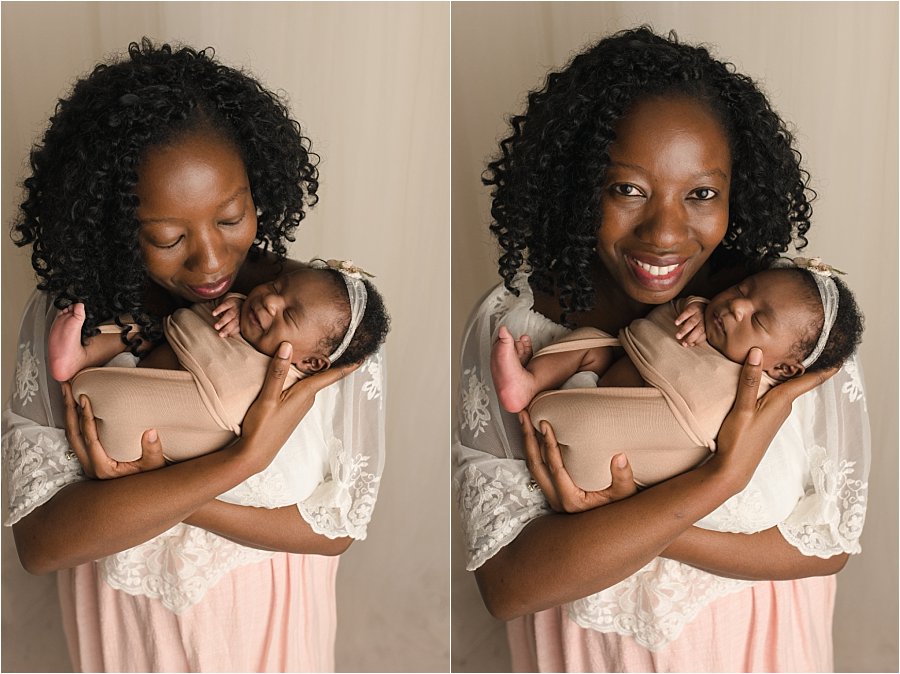 Finally, there's the way these two simply adore their sweet baby girl. I mean you could practically feel their love like a warm embrace of joy and hope.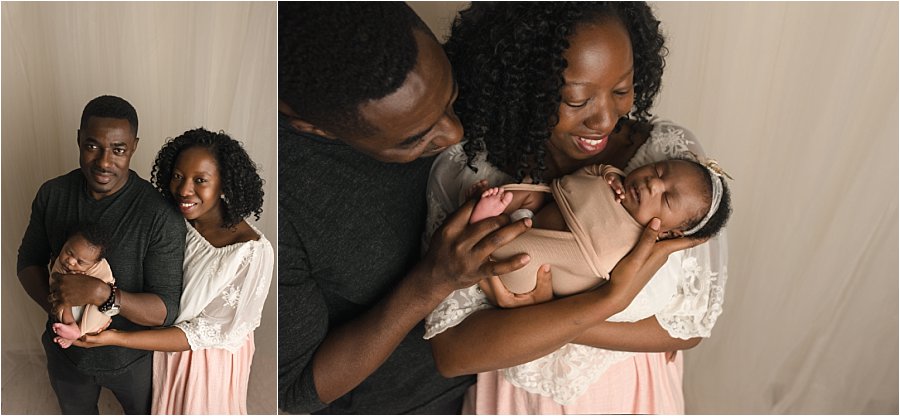 I always try to let baby lead with posing and Rachael was most content to be wrapped. Therefore, this session was full of props and wraps and gentle movement just the way she liked it. Baby's are people and, as a newborn photographer, I want to respect their wishes and preferences as best as I can.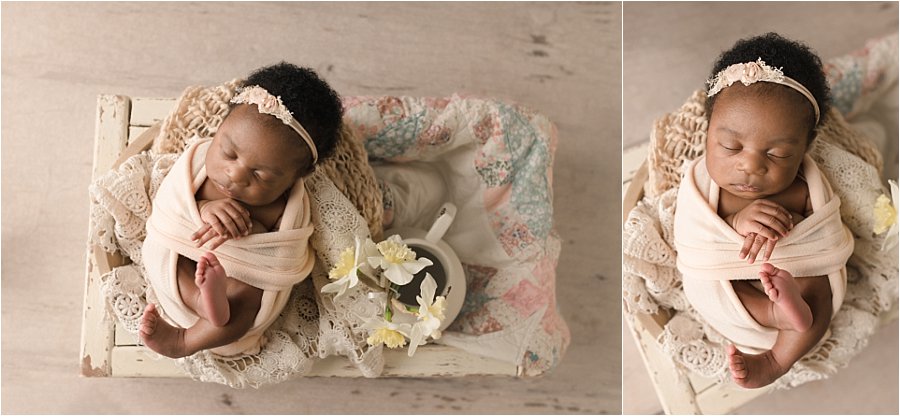 This sweet little nest is among my client's favorite props. I tend to decorate it differently for each little one based on my client's color preferences. Babies seem to love it too!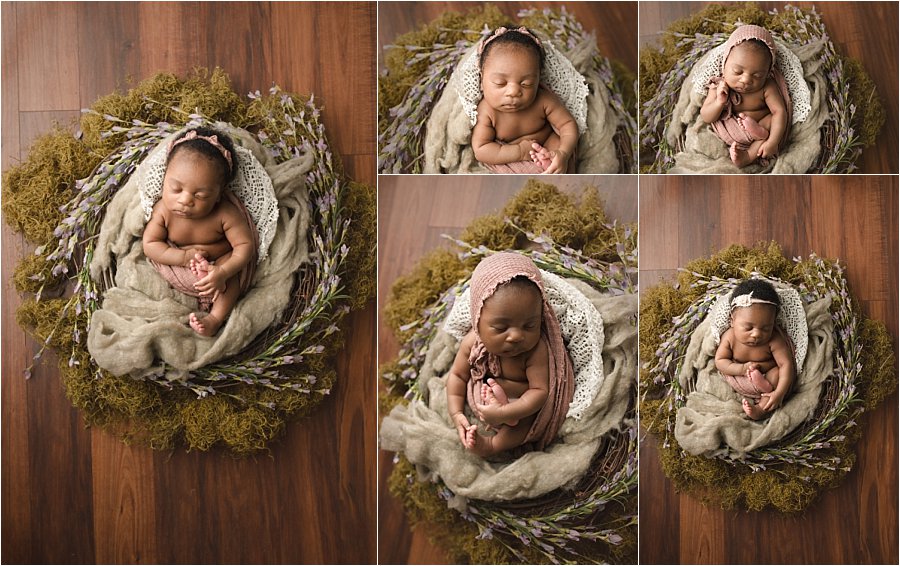 The following image set is my favorite from this session. Daddy set to work picking out the prop, blanket, and colors. I loved how involved he was. And like usual, I tend to have daddy's assist when I'm doing a pose where your little one isn't completely stable or settled. I'd rather remove your hand from an image than put a little one at risk. And yet the contrast of daddy's hand keeping Rachael safe makes me teary everytime. She's such a cherished little girl. I loved being their Simpsonville SC Newborn Photographer.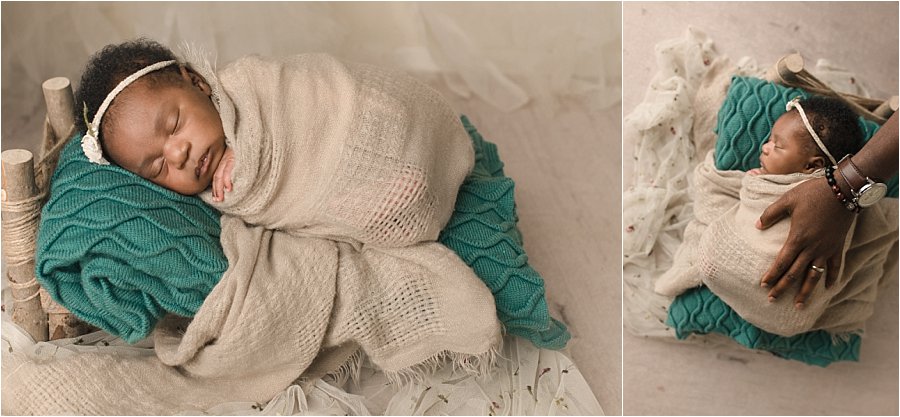 The best part about taking newborn photos on white Greer SC is that I am able to highlight your baby's natural beauty. While I do have a full set of props and some muted colors in the studio, putting baby on whites and creams will forever be my favorite. It's classic and timeless. If you're a sucker for whites, then please consider booking me by clicking this link.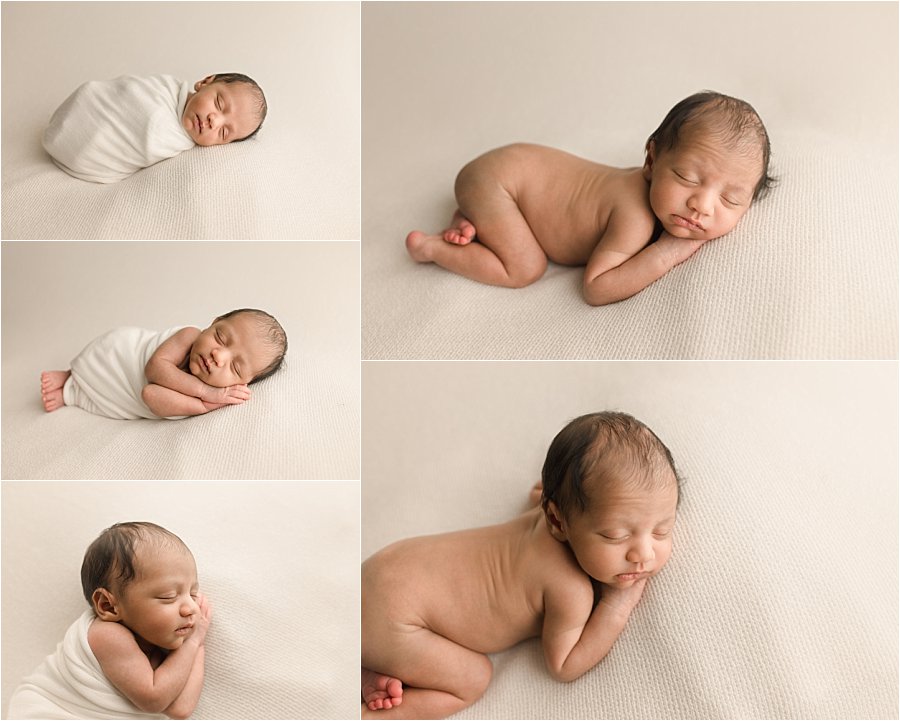 This little guy's name is Vihaan. He was such a sweet petite little guy.  I loved recording these simple images featuring his smooth caramel skin and fuzzy hair.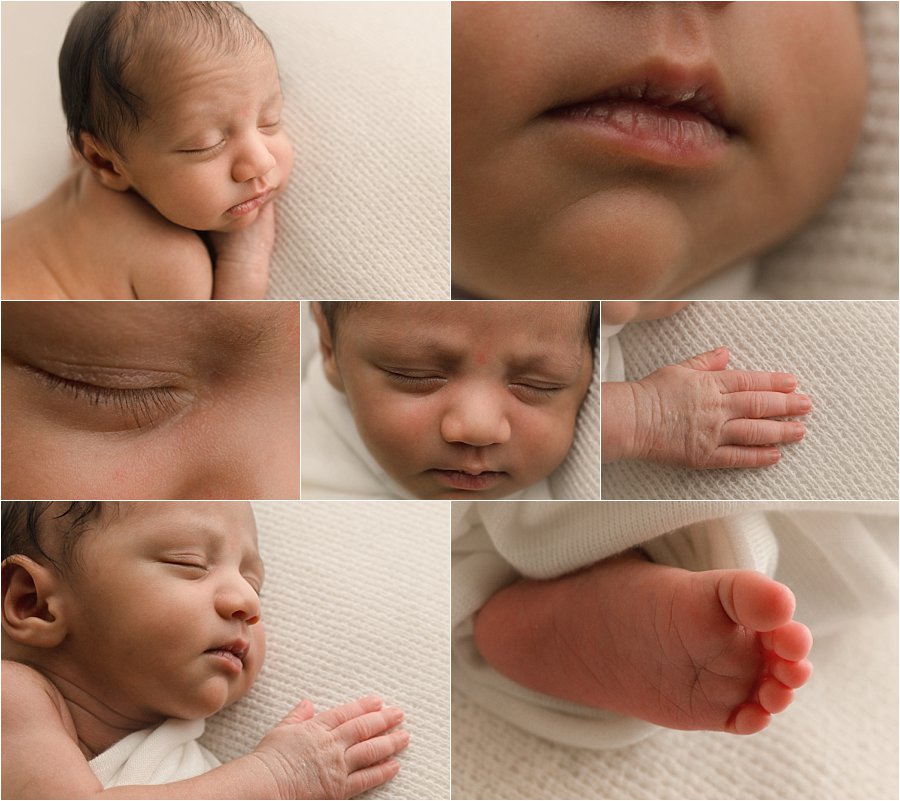 I also love that Vihaan's mama Kinnari requested close up images. These images, also called macros, help you remember just how little your baby was. The newborn season and it's sleeplessness often means we forget little things.  But details like Vihaan's peeling skin and little nursing blister and tiny little toes activate memories of this precious season in such a viscerally beautiful way.

As you can imagine, babies do not typically sleep the entire time in my studio. I do give you great instructions for making sure your little one is sleepy, but invariably there's a window where your little one is awake. These little yawns and cute faces are a result of Vihaan's awake period.  Eventually the swaddle did the trick and he drifted off to sleep.  But I also took the family images while Vihaan was awake.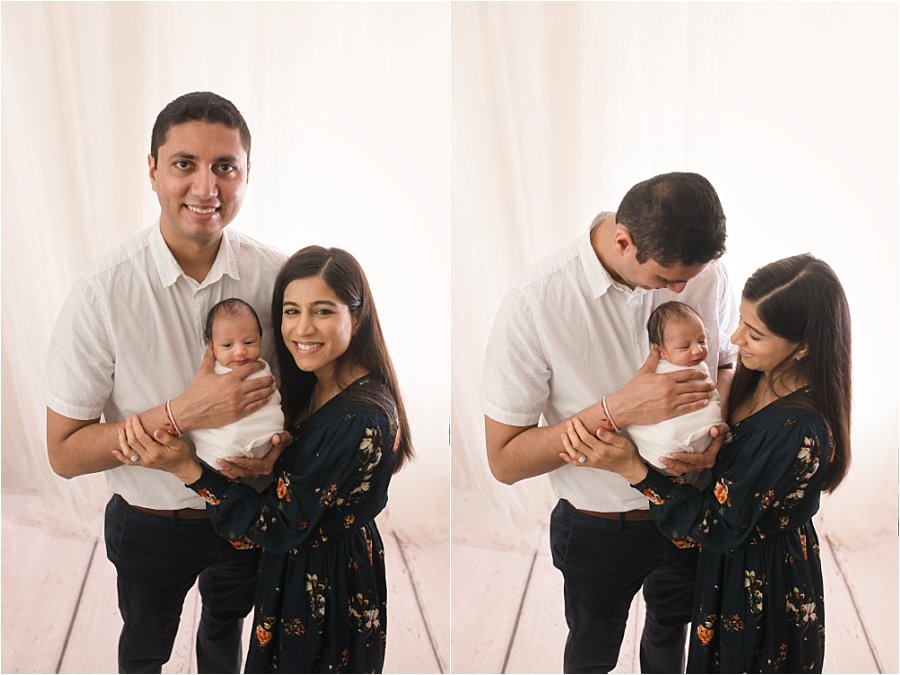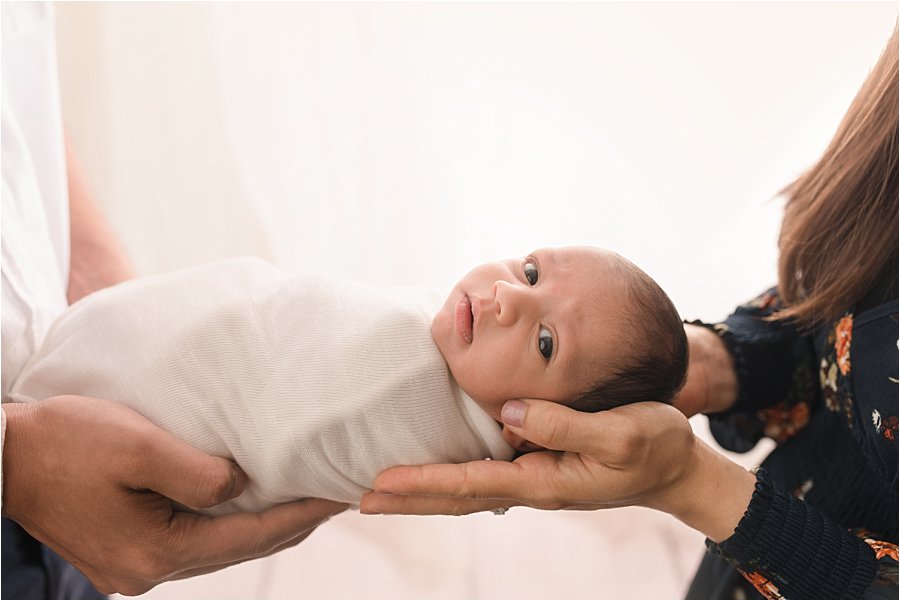 This eye contact is so unusual but I loved it! Isn't Vihaan the sweetest?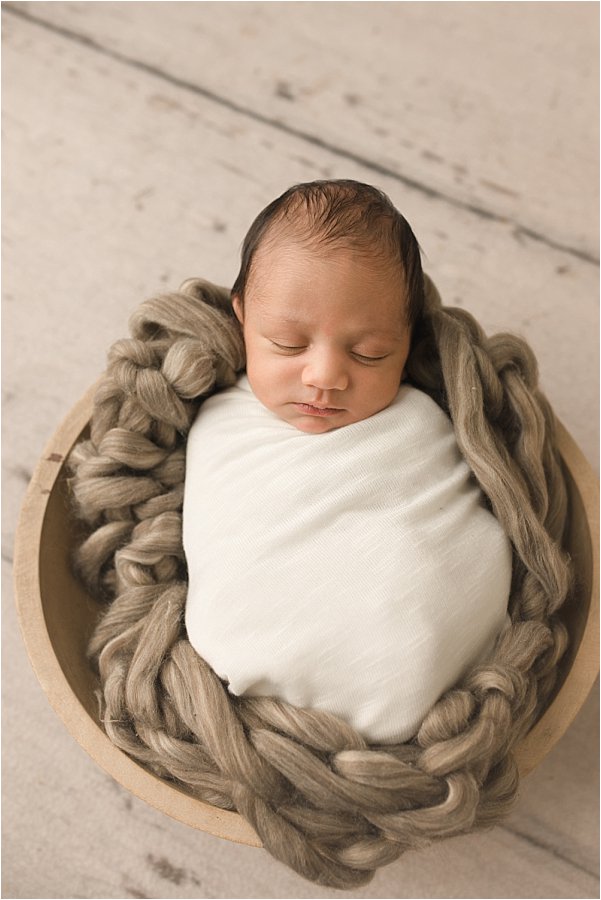 Booking your Own Greer SC Newborn Session
If you're interested in booking your own Newborn Photos on White Greer SC, I'd love to work with you.  Together we'll plan the session of your dreams.  I make it easy for you with a studio stocked full of swaddles and props like this little bowl, headband, bonnets, and even a wardrobe to borrow from for you, your husband, and baby's siblings. Click here to tell me about the session you envision and we'll get to work creating the memories you want to record.