Newborn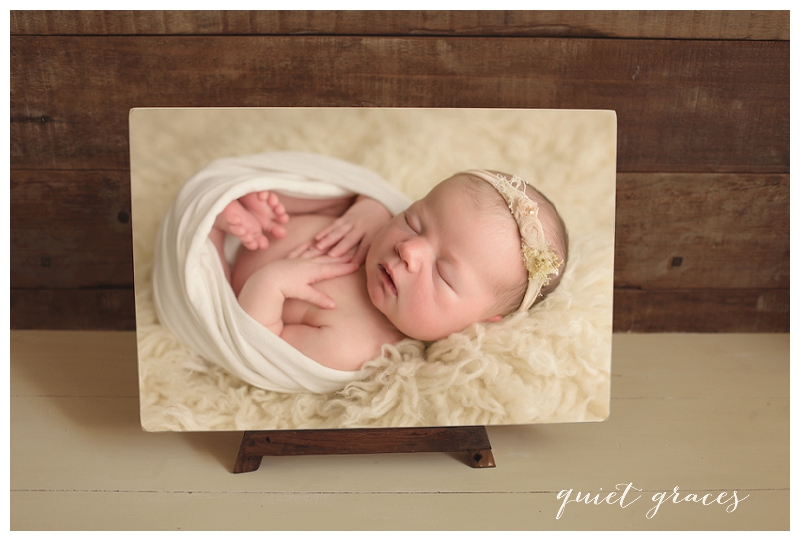 Repeat clients for Newborn Baby Pictures Simpsonville SC are my favorite.  I really try hard to develop a relationship with my clients.  I want them to feel cared for during their time with me.  I want them to leave encouraged.  So when a client trusts me with a second or third baby, I feel like I get to take this joy-responsibility to the next level.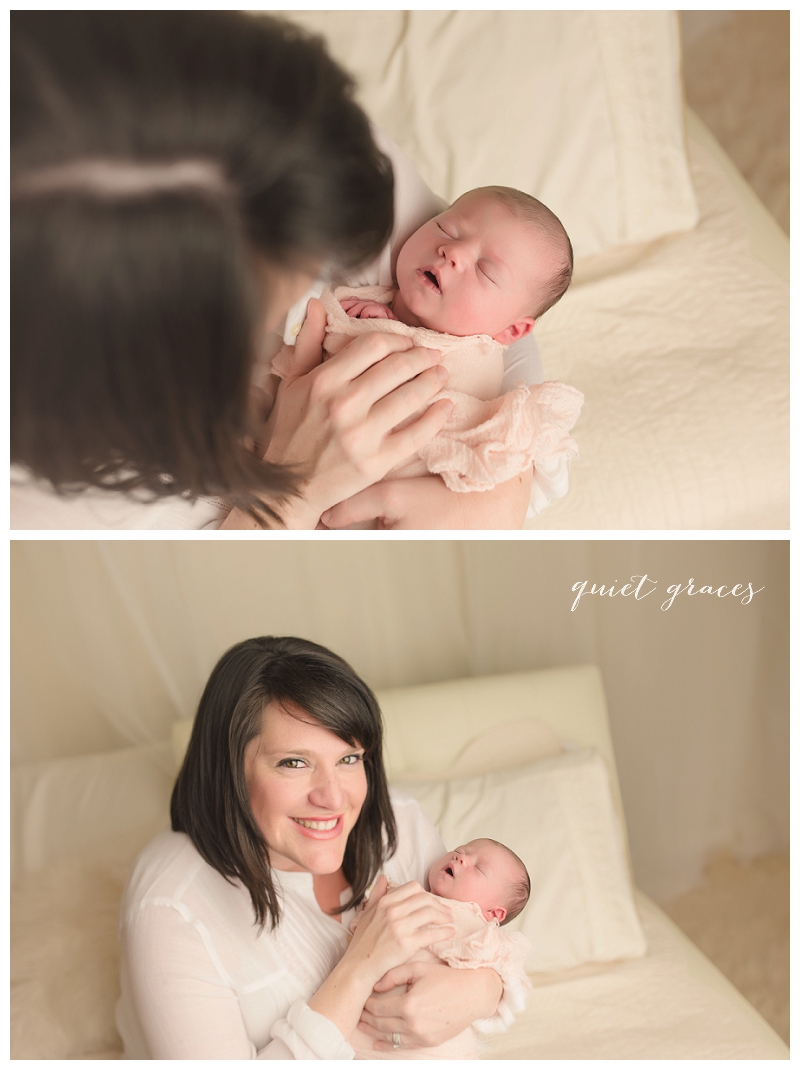 But the best part is seeing the growth in the mothers themselves. Meet Loriele the mama of this amazing trio of sweet girls.   You've met her before here, but the growth since this session in her heart and mothering is tremendous.

Loriele sat on the floor and nursed sweet Ruby (even though she could have sat on my bench) and she laughed delightedly while the two big girls played and posed for individual pictures.  Nora and Ella were relaxed and happy confident in their mama's affection.   it was just so beautiful to watch.  You can see some snippets of this laughter in the video at the bottom of the post!
Nora and Ella have grown so much as well!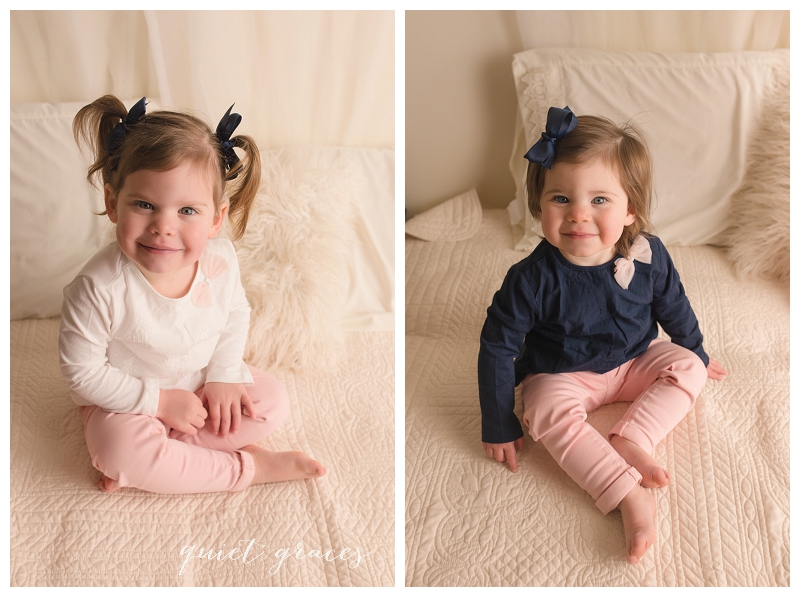 And this show of sisterly affection is probably one of my favorite images of all time.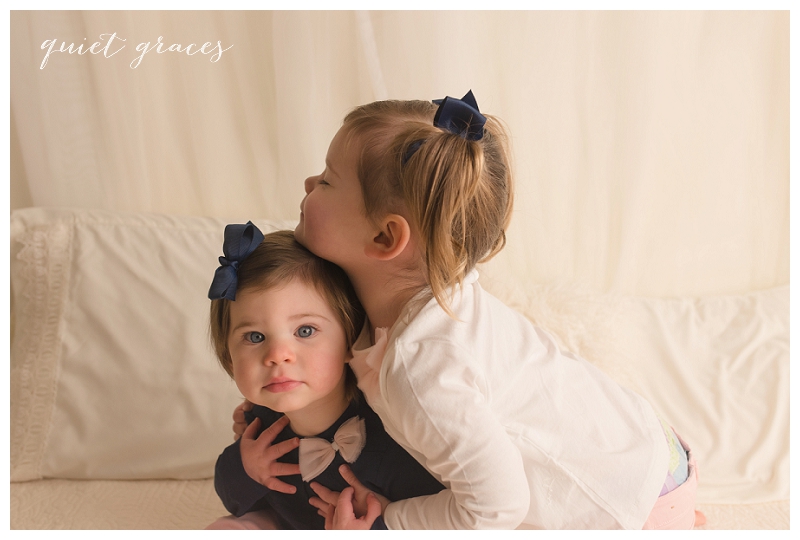 As usual, we sent daddy away with big sisters to complete the newborn part of the session.  Daddy spoiled them with Chuck-E-Cheese while Loriele and I got to sit in the quiet warm studio and catch up.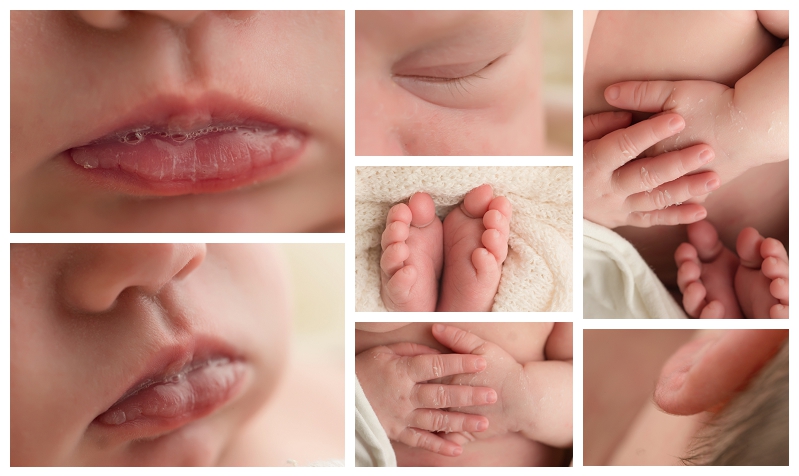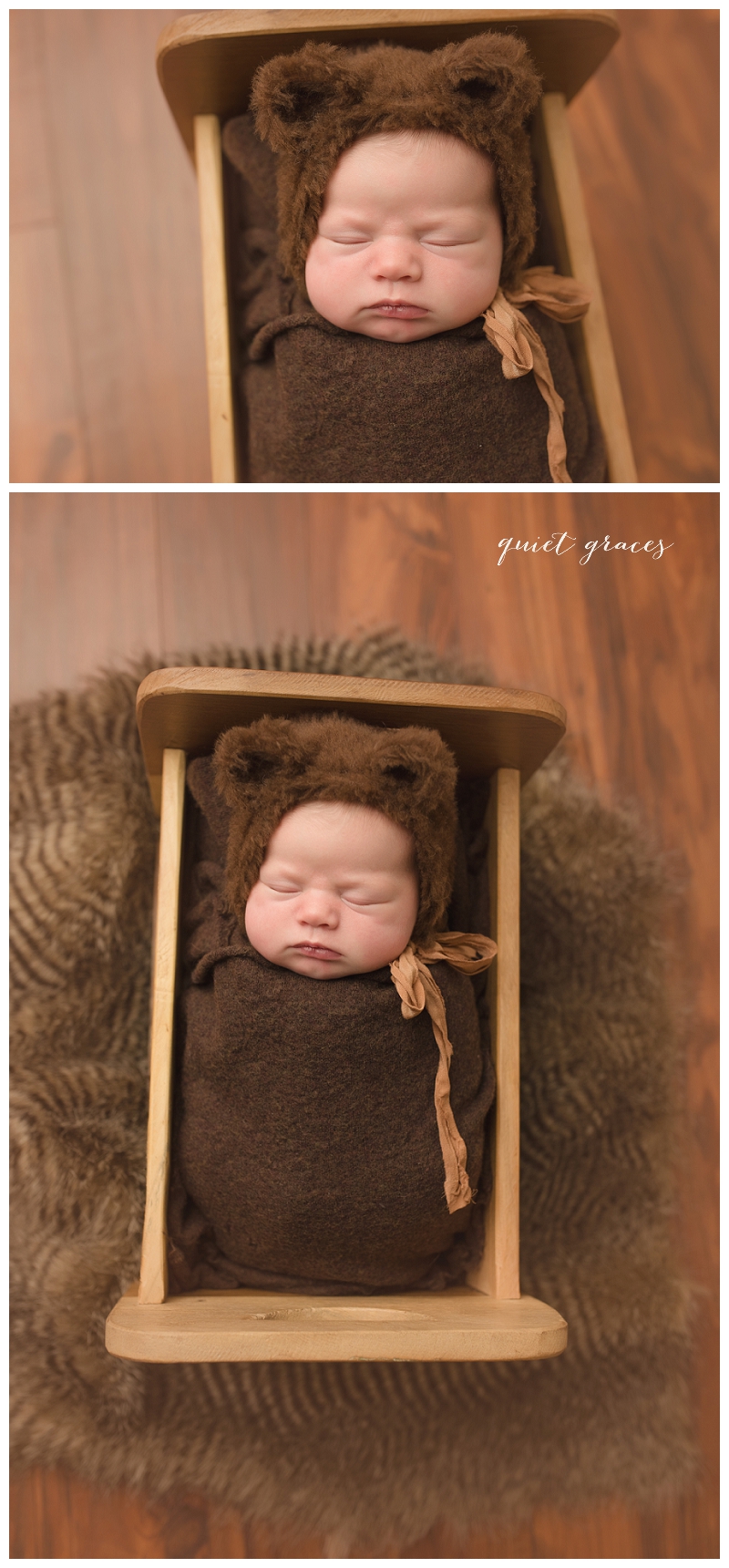 Hearing her share her desire to be out and about again with the two big sisters, but her deliberate choosing to rest and enjoy the newborn stage with Ruby was such a breath of fresh air.  Loriele knew she needed to heal and that her own healing would pay dividends in mothering calmly when it was time to take three under three out.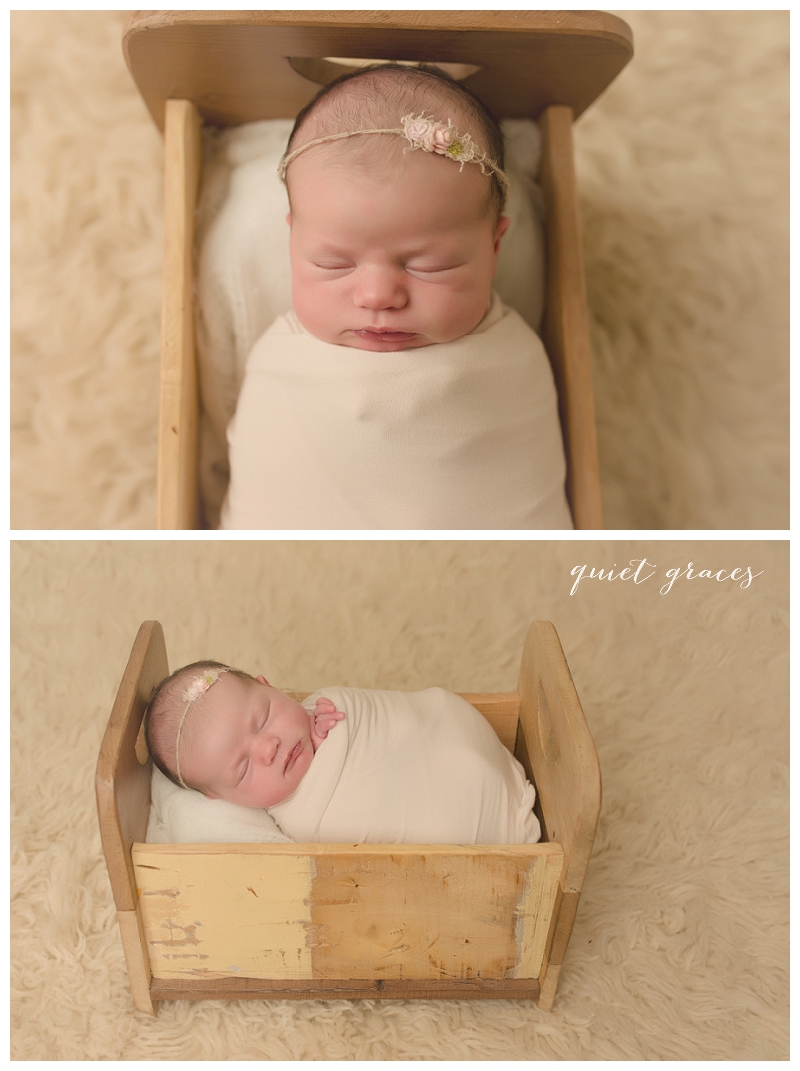 Loriele, I have been so blessed to see you blossom and grow this past year and a half.  I am inspired to be a better mama through knowing you and your beautiful family. Thank you for choosing me to capture you again.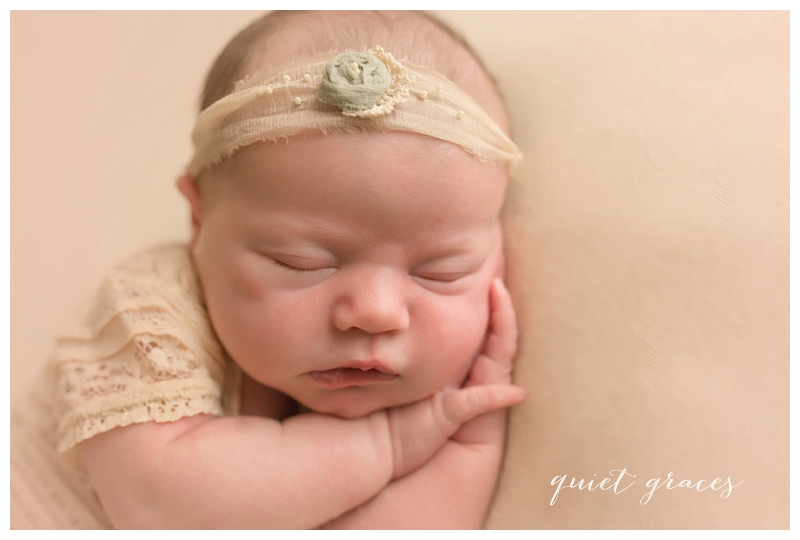 Thinking about finding a photographer to grow with your family?  I'd love to be considered!  Get to know me and start the inquiry process by clicking here.
See a few clips from this session in the video below!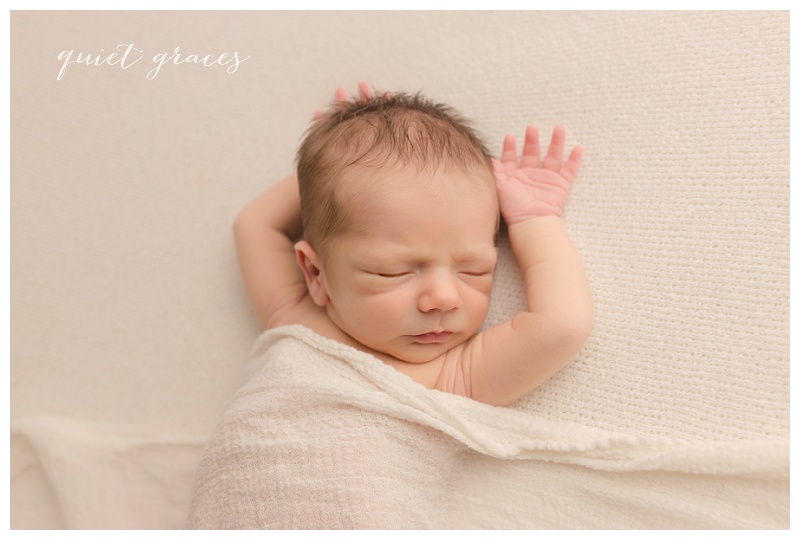 Kate contacted me about a newborn session at the beginning of her third trimester for her second boy.  She had been less than pleased with the style of her previous photographer.  She wanted someone with a clean, classic, and timeless newborn photography Greenville, SC. I was so honored to be chosen for these special portraits.
George has a precious older brother named Neil who was just two for this session.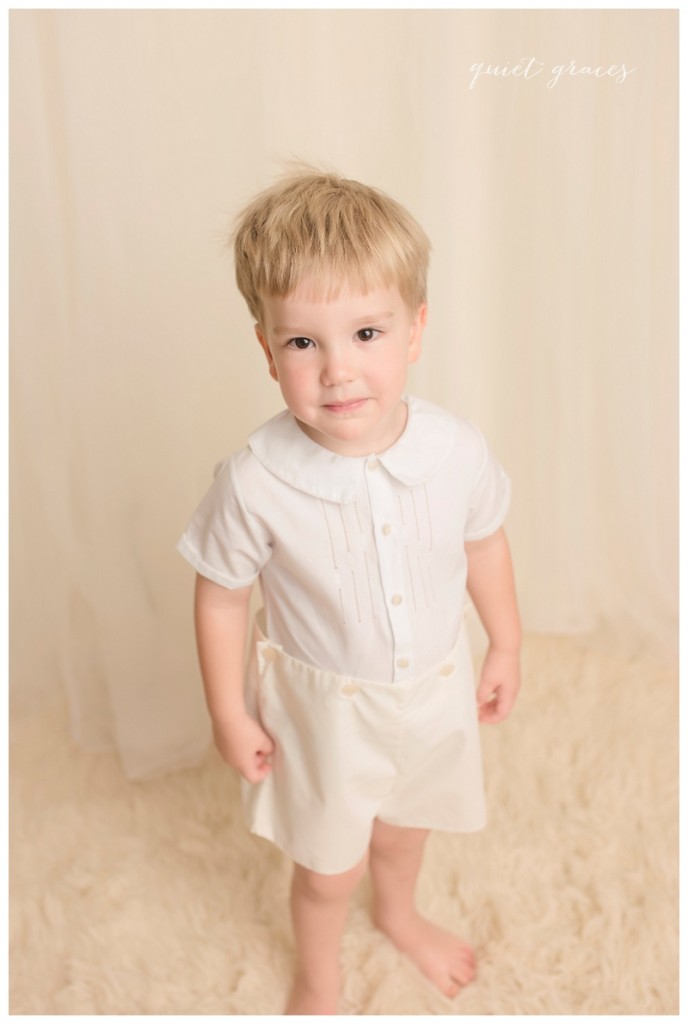 Kate is an amazing mama, too!  She read my post about preparing big siblings for a session and thoroughly prepared big brother Neil for his portraits.  He was ready to follow directions and super excited about receiving instant bribery for each image.  Neil's preference was to get a green jelly bean from the jar mama brought.  I dug one out for every smile and you can see it was worth it!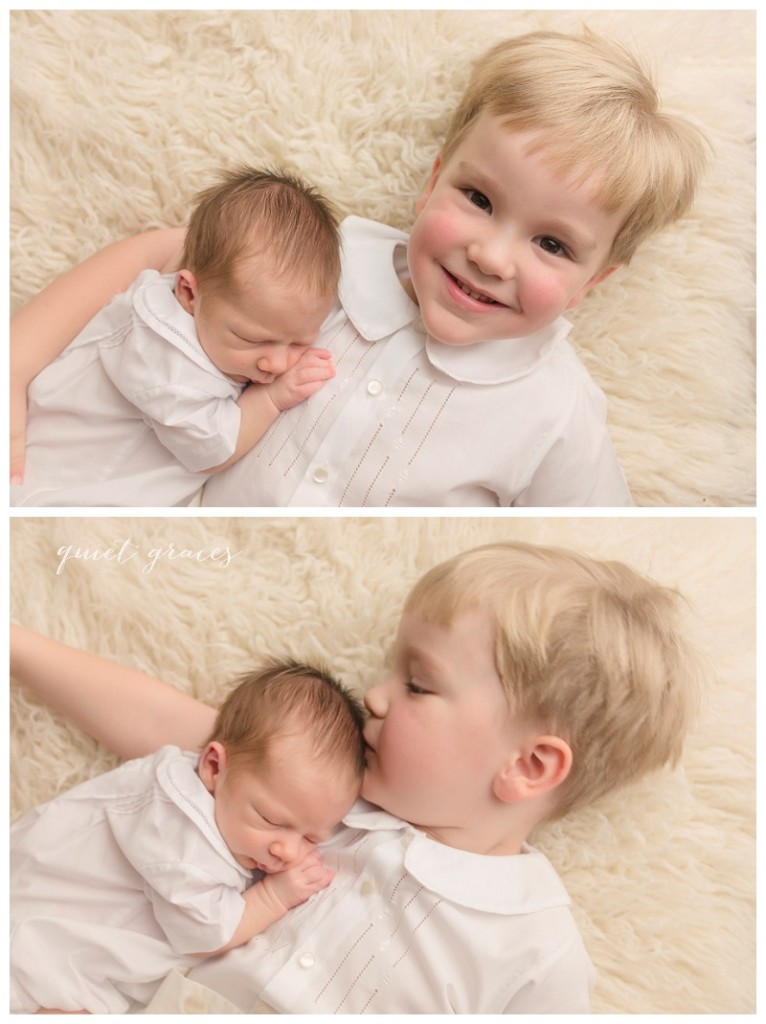 Neil was a little less excited about family portraits after playing in my book and toy nook while I did portraits with his parents.  But we still got a great smile from him with a couple of extra jelly beans!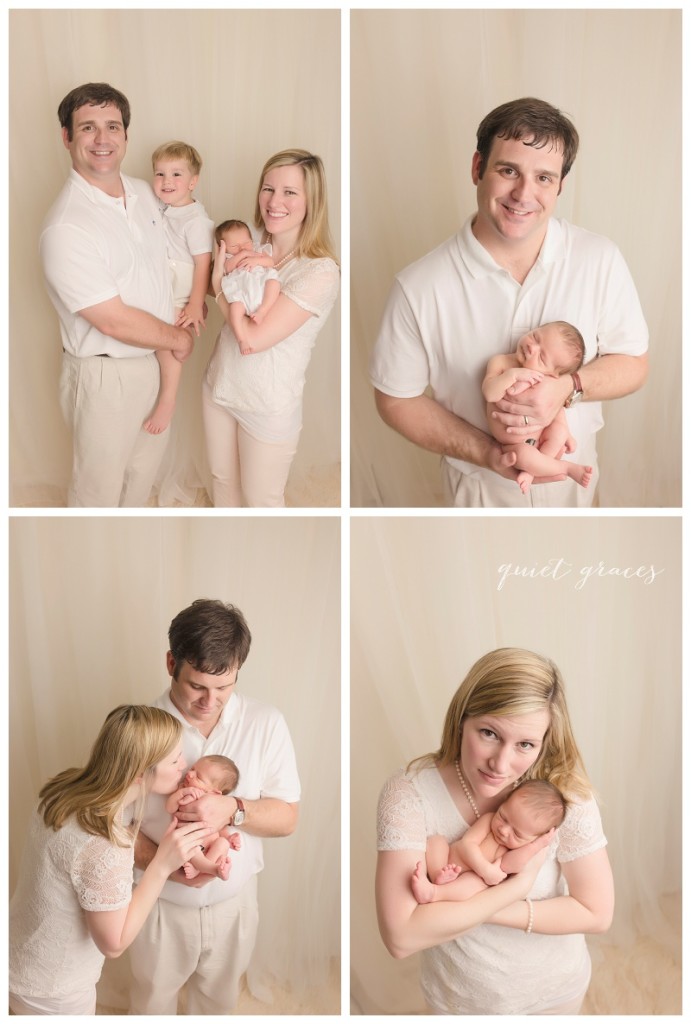 Some of my favorite images are always tight compositions in the parents hands.  There's just something so beautiful about the contrast of a tiny baby safe in his parents hands.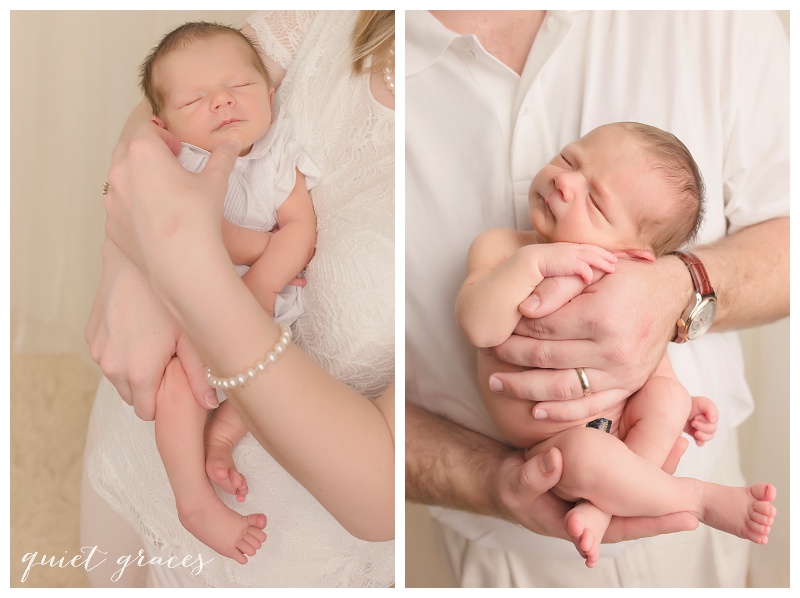 George was an extremely laid back baby.  I only saw his eyes for a brief moment when he first arrived at the studio.  I'm so glad I took a few seconds to capture these open eyes.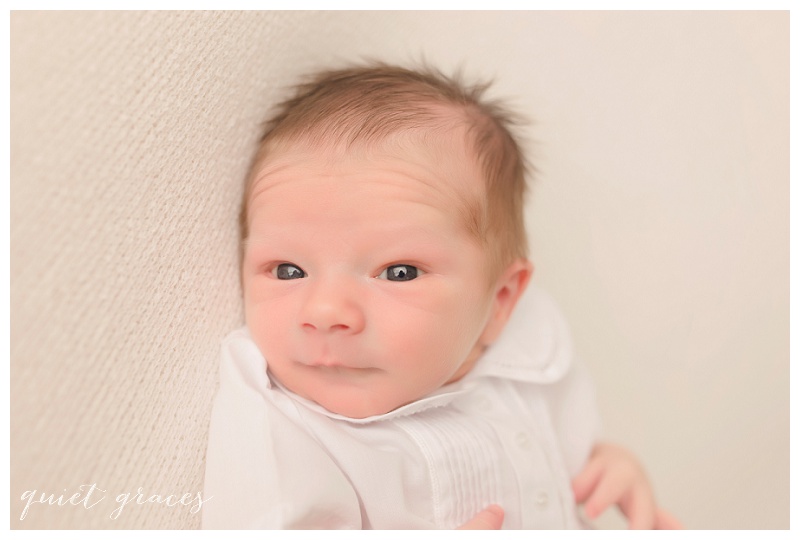 For the rest of the session George let us pose him however we pleased.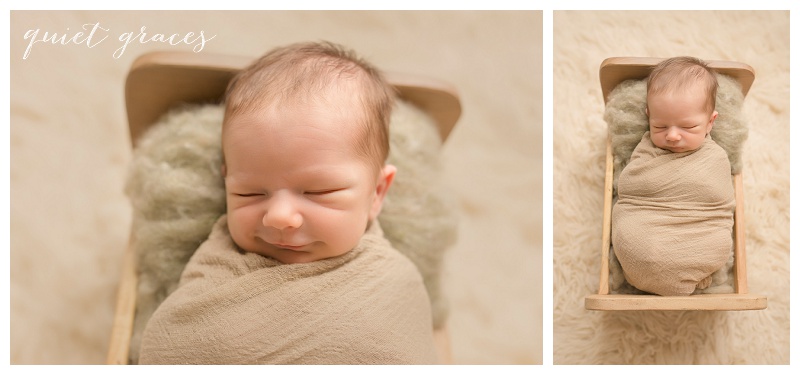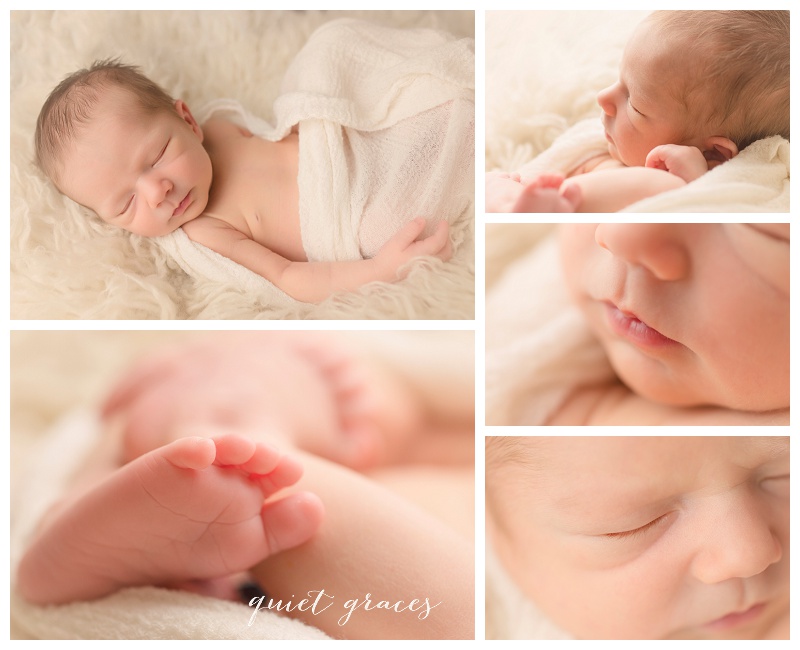 Kate, it was a joy to serve you and your family.  I can't wait to see your little boy grow.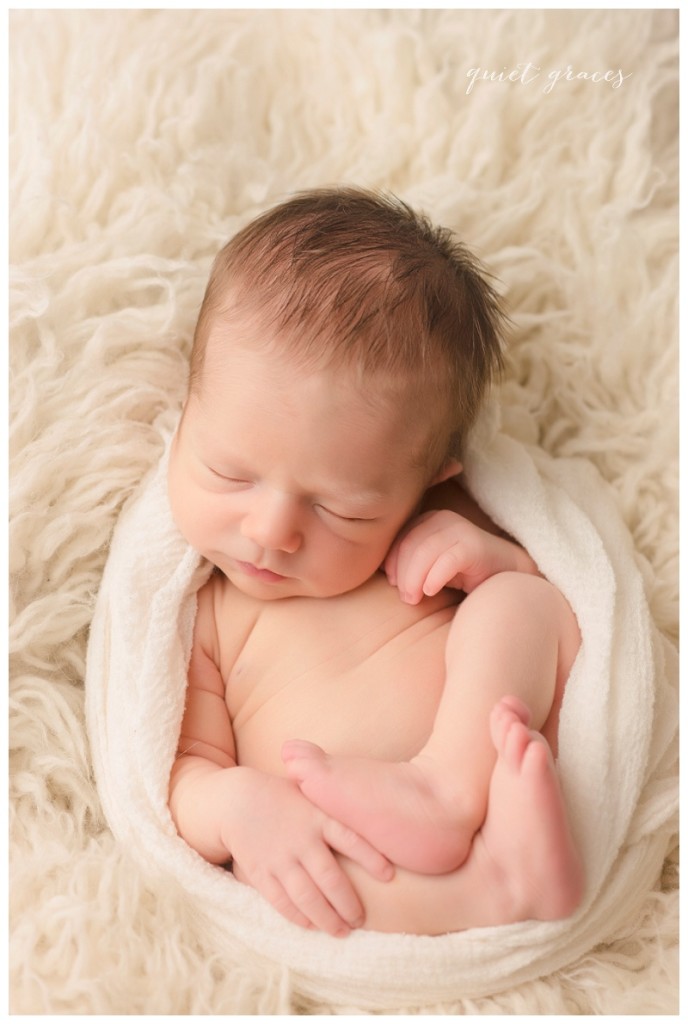 Looking to have Timeless Classic Newborn Photography in Greenville, SC?
We'd love to serve you!  Click here to get to know us more!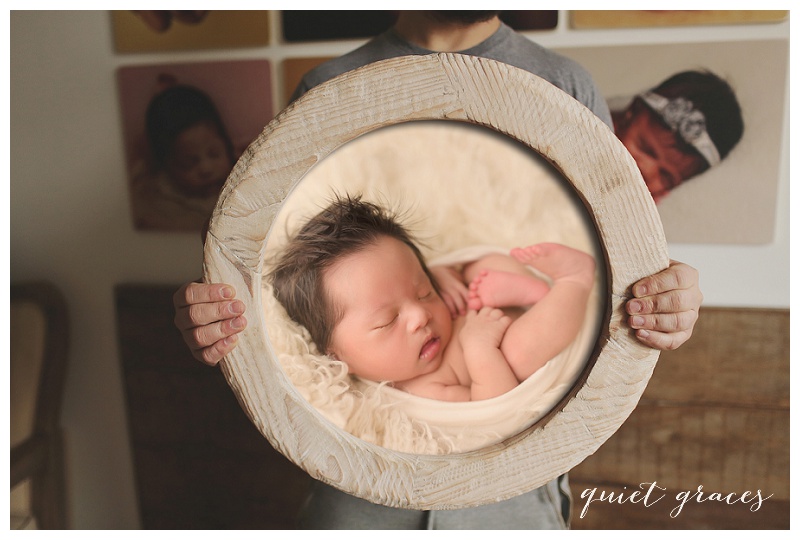 Meet Zane who came for Newborn Pictures Greenville SC.  This little bundle won the award for best hair in the history of all newborns here at Quiet Graces.  We didn't style it or anything.  It just stuck up like this! We called it "baby Elvis hair."  And it's to die for!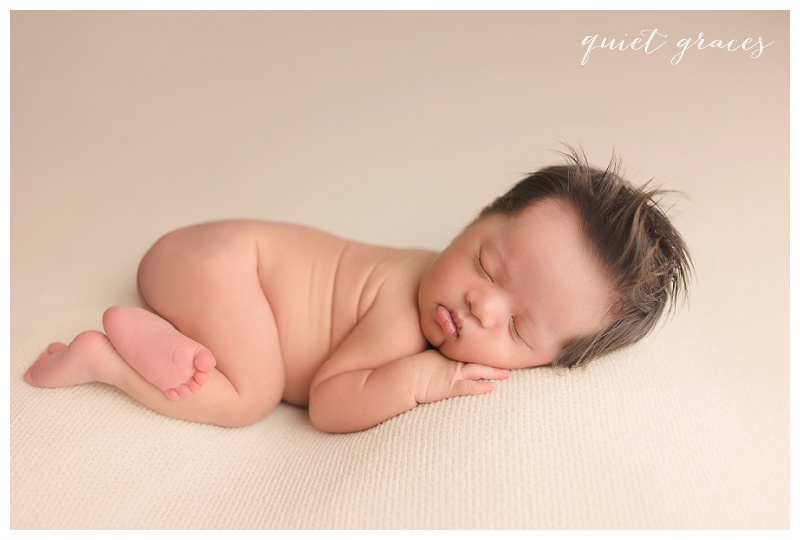 Zane has a remarkable story.  His adoptive mom Randi always wanted to adopt a little one with Down Syndrome.  It had been her dream since just 12 years old.  When the time was right, Randi connected with the National Down Syndrome Adoption Network. Randi's little girl dream was coming true!

After a year of waiting, Randi was matched with Zane's amazing birth Mom.  Their relationship is beautiful.  Gifts and goodies are mailed to Zane.  Beautiful words are spoken between both of them to encourage and support. Their match was clearly a miracle of grace.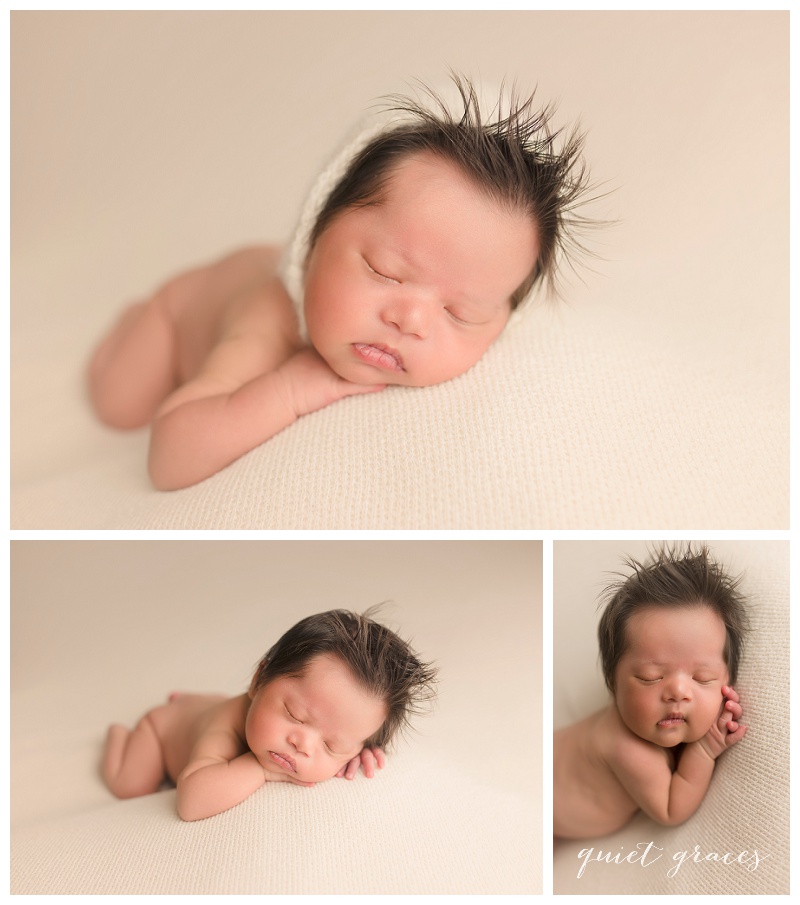 Zane came to see us at 1 month old which is the perfect age for newborns with low trunk tone or hypotonia.  All children with Down syndrome have hypotonia which make them super flexible but also very difficult to keep in a pose. Their little bodies just don't stay put in the same way as other newborns.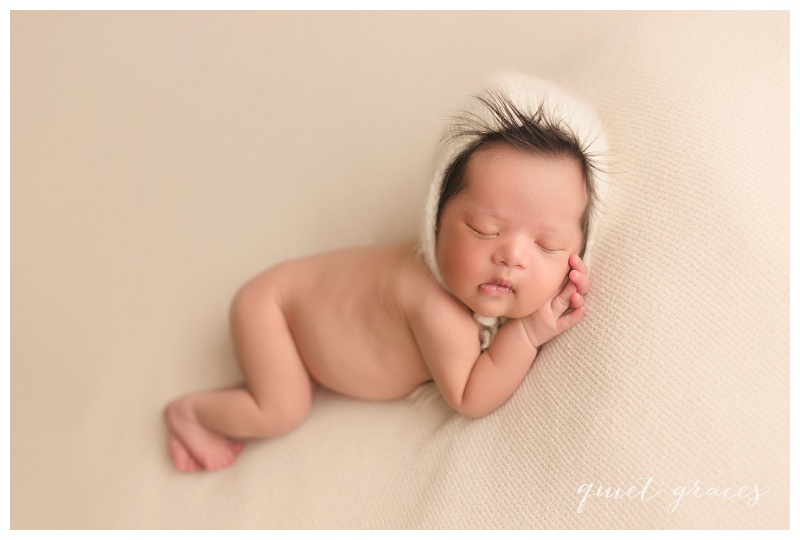 Zane's mama Randi and I are very passionate about Down syndrome awareness.  Did you know that between 75-90% of babies diagnosed in utero with Down syndrome in the USA are aborted?   The list of those ready to adopt are around 100 strong, but most expecting mamas don't know about the beautiful mamas ready to adopt. If you're an expecting mama, please feel free to contact me here and I can put you in touch with Randi or Amanda to hear their stories.  Down syndrome isn't scary, but it can seem overwhelming at diagnosis.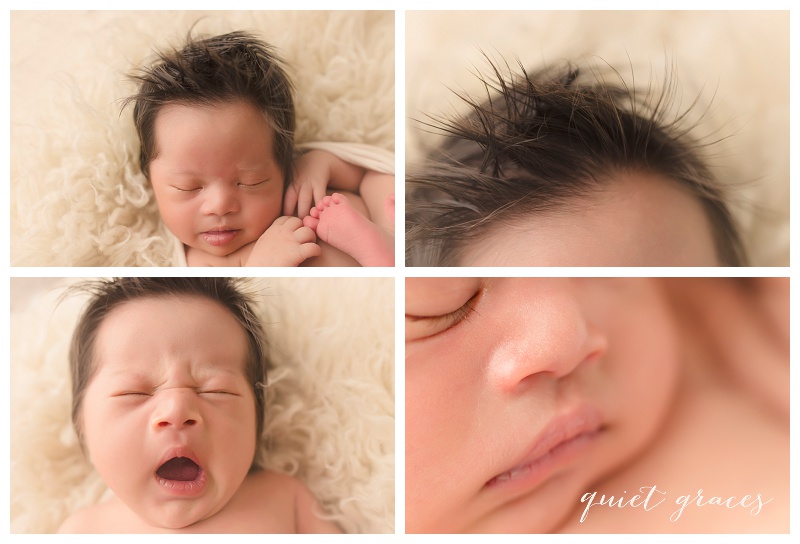 Do you have or are expecting a special needs newborn?  We'd love to help you plan your custom session with us.  We want to help you show just how beautiful your baby really is.  Contact us today!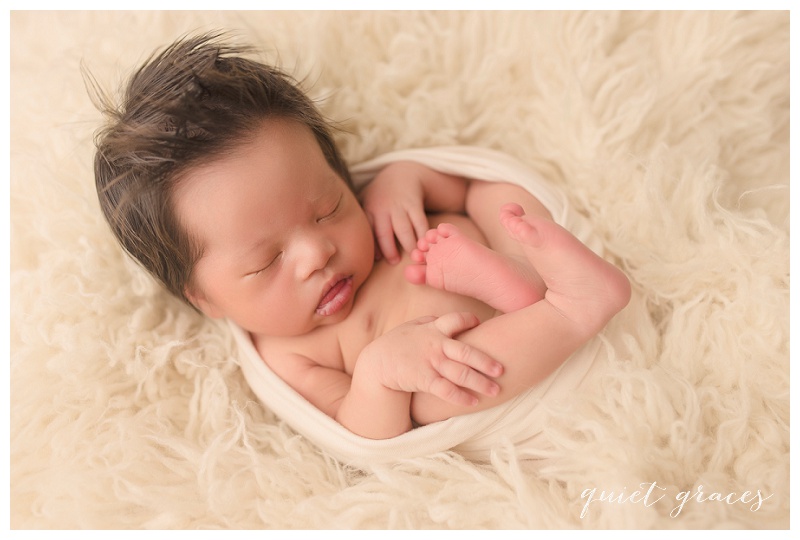 Silas's mommy Jaden is the super talented photographer behind Rooted North Portrait Studio outside of Anchorage, Alaska. Her husband Mark and Jaden have been spending all of their school breaks (Mark's a teacher!) in Greer as Mark's father's cancer became more serious.  This meant Jaden would be delivering Silas in Greer instead of at home.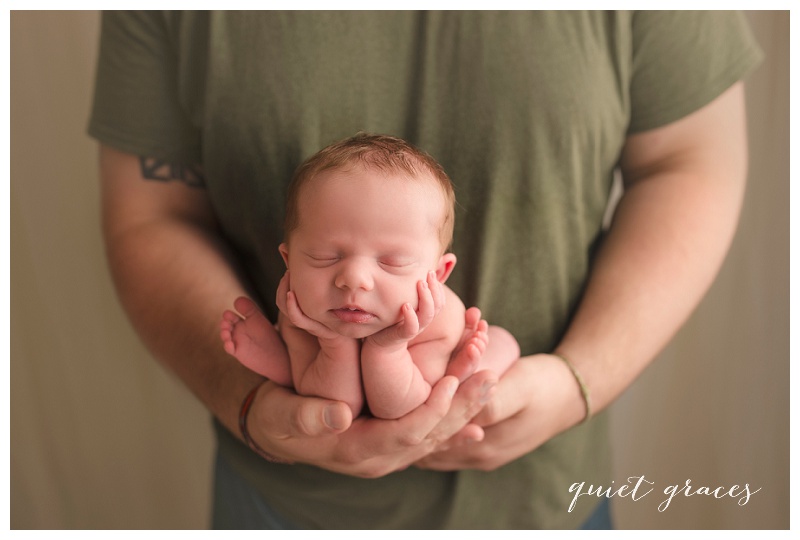 So when Jaden contacted me about Silas's newborn images, I was super excited. There's something magical about photographing another photographer's baby.  There's a level of collaboration with another photographer that allows you to try new and exciting things like the image above.  We dubbed this the "He's got the Whole World in His Hands" pose and it was our number one desire for this session.  It's even prettier in black & white.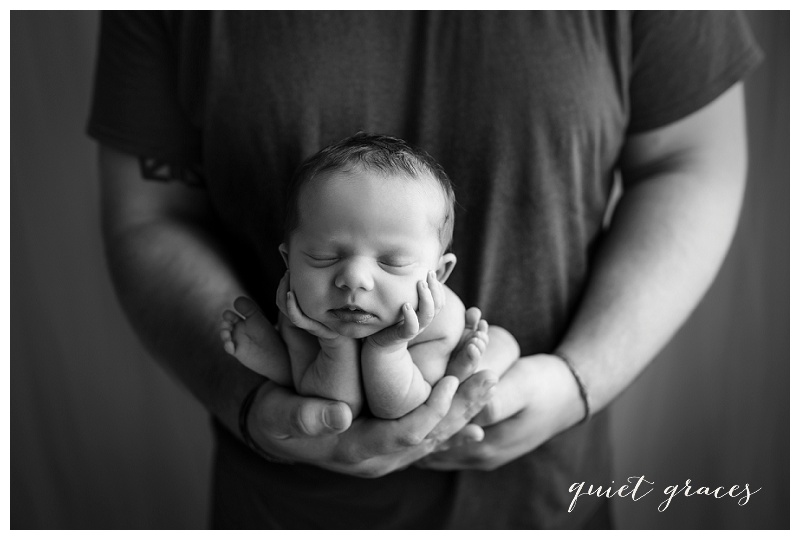 Baby safety is important to me so I always want to be transparent about how impossible poses like this one are achieved.  The following editing video shows you how Silas never supported himself in this position.  Jaden's hands or my hands never left him and Mark was super patient and still throughout the posing process which took several minutes. The final creation of this image was done in Photoshop as you can see below.
Silas also slept beautifully for the rest of his session to allow us to get so many beautiful poses to capture his newness perfectly for his mommy.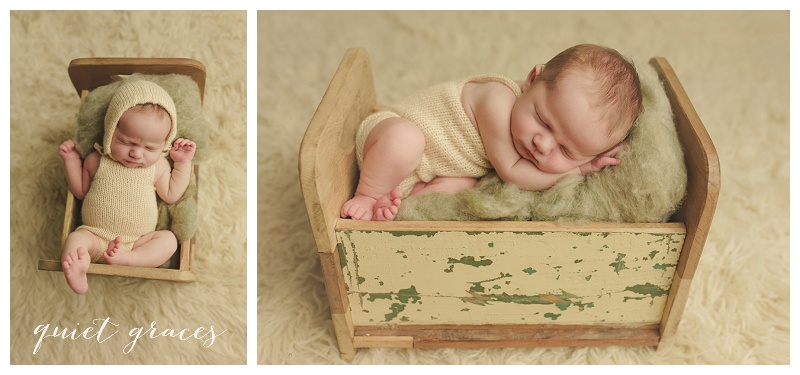 Family images are my absolute favorite.  I've said, time and again, that if I could only photograph one thing it would be newborns in the hands of those who love them.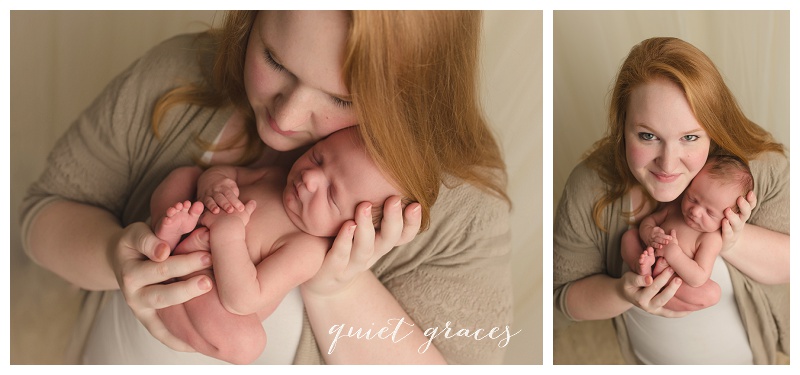 Here's a peak at our favorite images of Silas at this session!

Concerned with finding a photographer who is both baby safe and meets your style needs?  Click here to download a free ebook on finding the best photographer for you!
Ready to book a session soon?  Contact us today!