Studio Newborn Girl Photography with Family Greer SC
Are you looking for Studio Newborn Girl Photography with Family Greer SC that is classic and simple? At Quiet Graces Photography, I strive to capture the simple beauty of your little one using sets and colors that you're able to hand pick. After the session, you select your favorite images to be included in your digital collection. You'll receive your digital images in both color and black and white. My biggest goal is for you to have the images you've dreamed while supporting you in the postpartum period and honoring your baby's posing preferences.

If this sounds like the experience you're looking for, click here. If you'd like to learn more about working with me, click here! If you'd like to see a bit more of a session or read about Emilia's session keep scrolling down!

Emilia's mama Savanna preferred dark tones. She chose olive and mauve as the muted colors to focus on. Savannah requested posing that was more natural in style to allow her baby to stretch out. Emilia preferred being wrapped, but we still managed some sweet images without a wrap as well.
And finally Savannah had a special request to showcase Emilia in with her wedding dress. I encouraged Savannah to use her veil instead so that we could minimize the chance of accidents. I love the effect of a finely decorated lace veil with a sweet baby girl.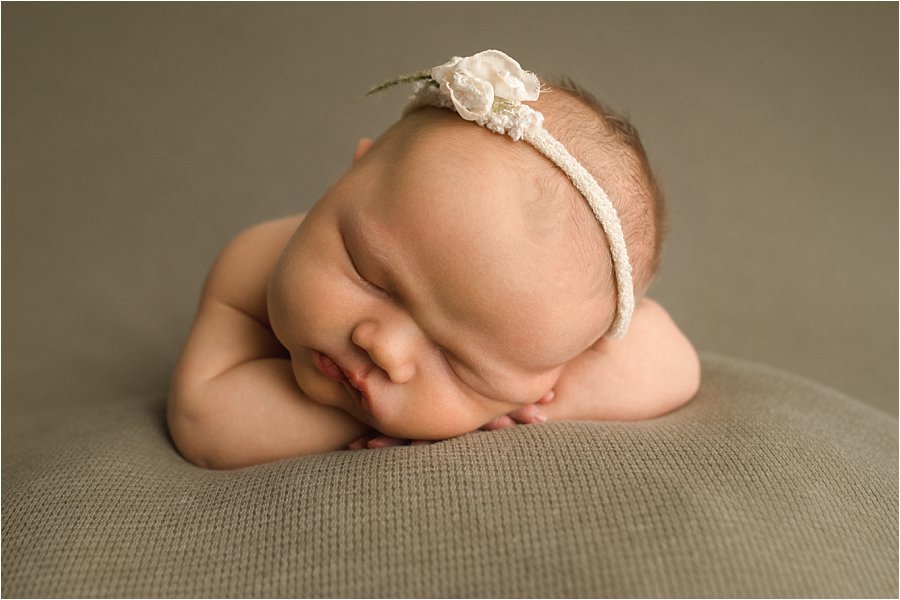 Family images are always some of my favorites. Often moms are hesitant to have photos taken after birth with so many recent body changes. However, I always do a little bit of Photoshop work to slim the areas that have experienced the most change and will not look the same in a couple of months. Frequently, mama's thank me for firmly requesting that they be in a few images. Sometimes they're even mama's favorite images.