Mandolyn Makes: A Review of Natural Body Care Products
Mandolyn Makes is a local store that offers sustainable sourced natural body care products and cute crochet items. I've been lucky enough to test a few of her items and wanted to write an review for you. But first let me introduce you to Mandolyn.
The Business Owner
Mandolyn Orrell is and incredible woman who has walked through more than her share of difficulty.  Right now she is battling a crippling auto-immune disorder that leaves her in constant pain.  Even so, she's daily on a mission to choose joy and bless others. Her business, Mandolyn Makes, started like most home businesses: by gifting a friend or two with a special item she had made.  Suddenly friends of friends were asking for crocheted minion hats or sweet owls or boot sock cuffs. She was happy to oblige.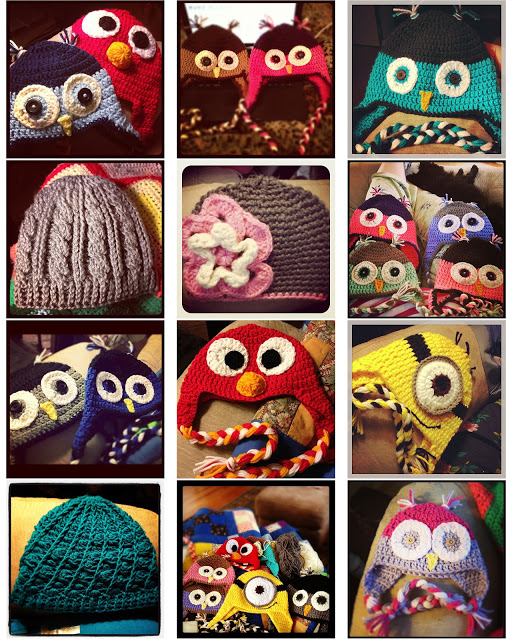 But crocheting is not Mandolyn's only passion.  She's also super passionate about removing chemicals from her daily life.  Part of this stems from the effects that chemicals have on her autoimmune disorder. The other part of her passion comes from her desire to produce sustainable sourced and fair trade items that are good for both people and the global economy.  So Mandolyn started offering the natural bath and body products she was making for herself.
Overview of Her Body Care Products
Mandolyn creates her body products with sustainabe-sourced ingredients with no extra chemicals.  All of her products are gentle and safe for babies and their mamas but are not tear free.   Her products are include the following:
handmade cotton wash cloths
shampoo bars formulated for dry, normal, and oily hair types
body butters
soap in many luscious scents
shave soap (with extra "slip")
mustache wax
Face wash
bees wax candles
bath fizzies
laundry soap
beard balm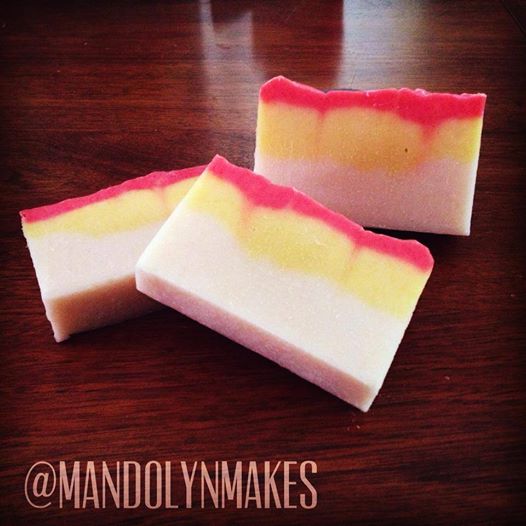 My Review
I had the pleasure of reviewing three of Mandolyn's products.  Two of these products were gifted to me in order to review, but I purchased the Goat's milk bar, however, all opinions are my own. Let me tell you, my shower is a happy place right now 😉
Goat's Milk and Honey Oatmeal Soap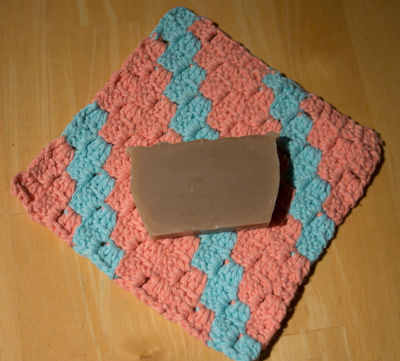 The smell is my love here.  I feel like I'm enjoying a spa date even when the 2 year old is standing in the bathroom asking "What's this, mom?" over and over again.  If you've never smelled a milk and honey soap before… you have to get this.  It's such a calming scent.
The lather is also superb.  I run this bar across my loofah one time and that will last me a whole shower.
The shea butter in this bar means that I don't usually need body butter after the shower.  This streamlines my morning so that I can quickly get the crafty two year old out of the nail polish or mascara or whatever little goodie he found while I was in spa zone.
Unscented Moisturizing Baby Bar/Shave Soap
I'm using this as a shave soap and it is perfect.  The lather on this shea butter bar has what soap makers call "slip".  This means your razor glides along smoothly.
I have super sensitive skin and I can't even use a women's razor because of the irritation caused by the "moisturizing pad" at the front of the blade. I also find traditional shaving cream extremely drying so I was super excited to try this soap.
It exceeded my expectations.  It's so moisturizing that it was my go-to soap when I sun burnt myself this summer. I'm about to start using it with the kids as the sensitive/organic baby soap we've been using is starting the flare the exczema on one of the girls.  I'm sure this is going to be the best fit for her!
Citrus and Herb Combination/Oily Hair Shampoo Bar (she has one for normal/dry hair too!)
Confession: I haven't used shampoo in nearly a decade.  I had switched over to a baking soda "no 'poo" routine early in our marriage.  I switched because I have oily hair and  no 'poo was supposed to help with that.  I used straight baking soda to wash my hair and I could go 3-4 days without washing my hair.  I loved it, but during the summer I struggled with dry and brittle hair.  Between the sun and the swimming pool, my super fine hair felt so coarse and dry. So I gave this shampoo bar a try.
For those of you using traditional shampoo, there is a detox period as you scalp normalizes to not having as many natural oils stripped from it where you might be a bit greasier than usual for 7-10 days.  I did not experience this, but what I did experience was a return to supple ends.  No longer was frizz-zilla taking over the lower portion of my hair: even after multiple days in the water with the kids.
However, this bar carries enough moisture that I do have to wash every 2 days to keep the grease away.  All in all, the extra washing is a sacrifice I'm willing to make to avoid having to use products to keep my hair from frizzing.
Conclusion
If you're in need of natural beauty products, passionate about supporting local business, love a little luxury, or need a crocheted gift: Mandolyn Makes is your girl!