Local Business Owners Series
If you're looking to shop small in Greenville, SC on Small Business Saturday, here's my categorized guide of some of the best local places to shop.
Local #ShopSmall Promotions
Greenville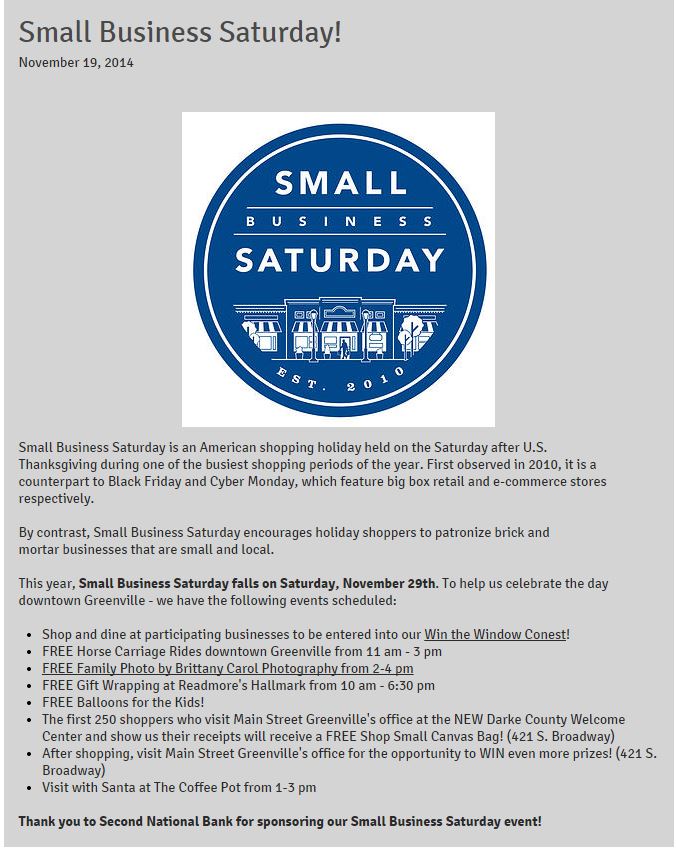 Simpsonville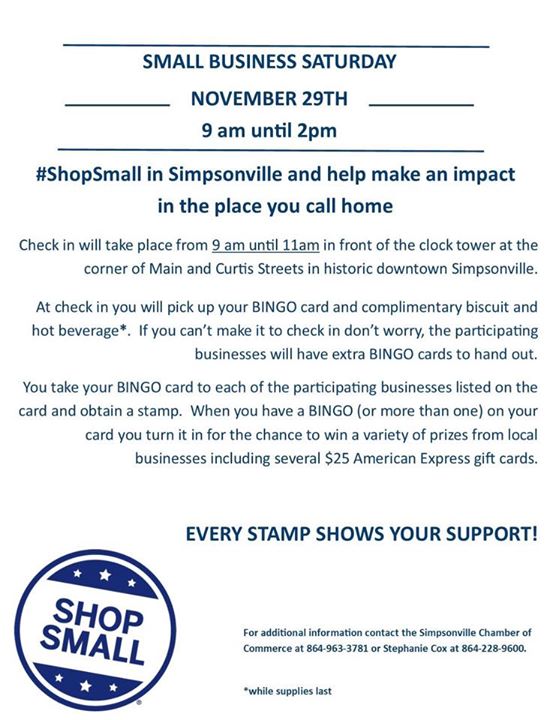 For Expecting Mamas and New Babies
(864) 915-4045
I'm offering two packages for the expecting mama and babies on your list:
A New Baby Package: A newborn mini session (1 hour, 2 set ups, 5 digital files, but no siblings allowed), and a 20×30 canvas for just $349. Valued at nearly $500, this steal is only available until Monday, November 24th. This is the perfect baby shower or Christmas gift for the expecting mama!

A $100 gift card good toward any session for just $75 (price only valid until Christmas)
(864) 585-7003
Haute Mama in Spartanburg specializes in stylish clothing that a mama can wear before, during, and after pregnancy/while nursing. Her entire store is 25% off for the weekend!!!
(864) 284-0920
Save $110 on select 4-in-1 convertible cribs.
Full Nursery Sets starting at just $599
Infant CPR Class taught in your home for 2 people $25 (reg.$50) within a 30 mile radius of Greenville, SC. Purchased on Saturday only. Send email on Saturday to laura@needsfornewmoms.com if wanting to purchase. Visit my website www.needsfornewmoms.com for more services available.
Poppy Consultants is offering 10% off of any of her packages.  From bed rest packages to nursery organization to postpartum visits, Katie has many packages catered to help the new mom.
Home of the most beautiful and practical crib savers, pack-n-play sheets, and burp cloths.  The entire store is 15% a purchase of $5 or more with the code: CHRISTMAS2014. Click here to shop.
Luxury Strollers and all accessories in store are 15% off!  Includes well known brands such as Bugaboo, Joovy, Bumbleride, Britto, Quinny, and Stokke.
Megan Bowen at Snap Life Photography specializes in utterly stunning birth photography and films.  Her work takes my breath away.  She's offering an incredible $300 off birth videography from now until December 31st, 2014!
15% off orders over $45 and free stocking stuffer for all orders over $75. Free shipping for orders over $100. No code necessary. Click here to shop.
(864) 239-2266
Maternity Clothes at Whippersnappers will be 20% on Saturday. Open from 10-5.
Children's Clothing
(864) 520-8118
Vann and Liv carries boutique children's clothing including Persnickety and ToobyDoo.
10-2pm 25% off
2-6pm 15% off
(864) 233-6261
Moppets carries boutique children's clothing including Mustard Pie and Tea Collection.
All Fall/Winter Clothing will be 25% off.
(864) 228-2223
A Children's consignment store in the Simpsonville Area.
Extended hours for small business Saturday from 9-2
10% off any stroller.
Everyone who makes a purchase will be entered to win a $50 gift card!
For the Fiber Lover
20% off Yarn
15% off Everything else (excluding classes, yarn bowls, gift certificates, and sale items)
If you become a VIP member you'll receive an extra 10% off!!!
Door prizes every hour!
Special gifts for $75 and $150 purchases!
Toys and Electronics
(864) 2324731
10% discount on all Kickboard Scooters!
(864) 978-5245
This sweet little boutique opened on October 11, 2014 and features 18″ doll clothing and accessories for your little girl.
Specializes in items for mamas and Waldorf toys for the little ones. Everything in the Etsy shop is 25% off from now through November 30, 2014 with coupon code SMALLBUSINESS
(864) 236-8383
Valid only on Small Business Saturday
• Get up to $50.00 off any iPad ($25.00 Discount off any iPad , additional *25.00 off iPad AppleCare)
• Get up to $100.00 off any Mac ($50.00 Discount off any Mac in stock, additional $50.00 off Mac AppleCare )
• $75.00 off any iPad Air Cellular Model3 (Offer applies only to remaining iPad Air stock on-hand, does not apply to iPad Air 2 models. )
Jewelry
(864) 288-2501
1/5 carat 14kWG Diamond Bezel Necklace, Reg $1227.00               Sale $699.00
Angelica Stackable Bracelets, Reg $25.00                                               Sale $15.99
Black & White Diamond Jewelry                                                                40% off
Off The Cuff Flexible Pearl & Gemstone Bracelet, Reg. $35.00     Sale $16.99
Storewide Sale 30% – 50% Off* (*excluding engagement rings, wedding bands and loose diamonds, in stock items only)
Home Decor and Gifts
Mandolyn Makes Creates handcrafted soaps from natural and sustainable sourced ingredients. Discount code HAPPYHOLIDAYS14 will give you 30% off any order $15 or more from her Etsy shop. Good through 12/7/2014
Gingerly Stated sells gifts and home decor (including licensed Clemson items!) 15% off orders over $30 – coupon code 15smallbiz2014. 20% off orders over $50 20smallbiz2014. If located in Greenville, shipping will be refunded and order delivered for free. Code will be good until Dec. 1. Order from her Etsy Store!
(864) 525-3994
25 % off the entire home decor shop at our new location in Palmetto Home and Garden 2242 Laurens Rd.
Food Gifts
(864) 298-0304
Free 60 mL bottle of oil or vinegar with a $30 purchase.
– Giveaway: if you tweet or instagram from the store and tag us on Saturday and you'll be entered to win a locally made cutting board!
– Kleen Kanteen travel coffee mugs- 2 for $40 plus free cup of coffee with purchase
– tshirts- 2 for $30
– local chocolate and bagged coffee $1 off (the perfect stocking stuffers for everyone on your list!)
Beauty, Health, and Fitness
The Crazy Oil Ladies with Young Living essential oils are offering a FREE guide to essential oils with a purchase of a Premium Starter Kit on Small Business Saturday. If you've heard anything about the benfits of using essential oils and are thinking about getting started, take advantage if this great offer!
Click this link to sign up as a member and purchase the kit
After your kit has been ordered, one if the Crazy Oil Ladies will contact you regarding where to ship your free Essential Oils Pocket Reference. This offer applies to new Young Living members only.
If you have any questions or would like more information on becoming a Young Living member, please contact Esther at The Crazy Oil Ladies: 864-201-9505 or email TheCrazyOilLadies@gmail.com. Be sure to check out their Facebook page for more specials and giveaways!
I always offer free shipping and will offer 15% off with the promo code KAG. Www.marykay.com/heatherpratt
(864) 235-4800
On Black Friday, Fleet Feet will feature door busters including gift certificates for the first 50 customers and prizes packs from 10-12.
GPS watches and Vivio Fit are just $100!
$10 off shoes. Socks are buy 3, get one free. Apparel, Bras, and CEP are Buy 1 Get one 50% off.
Email kassiaowens@gmail.com to recieve 15% off you purchase on and a free wrap with $50 or more purchase on Saturday Only.
Mandolyn Makes is a local store that offers sustainable sourced natural body care products and cute crochet items. I've been lucky enough to test a few of her items and wanted to write an review for you. But first let me introduce you to Mandolyn.
The Business Owner
Mandolyn Orrell is and incredible woman who has walked through more than her share of difficulty.  Right now she is battling a crippling auto-immune disorder that leaves her in constant pain.  Even so, she's daily on a mission to choose joy and bless others. Her business, Mandolyn Makes, started like most home businesses: by gifting a friend or two with a special item she had made.  Suddenly friends of friends were asking for crocheted minion hats or sweet owls or boot sock cuffs. She was happy to oblige.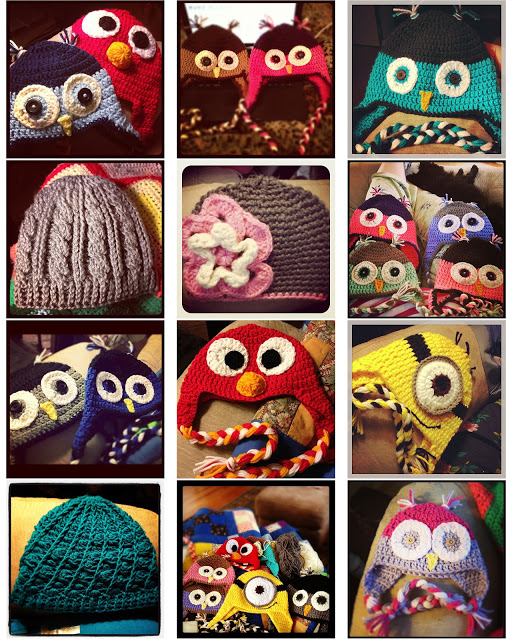 But crocheting is not Mandolyn's only passion.  She's also super passionate about removing chemicals from her daily life.  Part of this stems from the effects that chemicals have on her autoimmune disorder. The other part of her passion comes from her desire to produce sustainable sourced and fair trade items that are good for both people and the global economy.  So Mandolyn started offering the natural bath and body products she was making for herself.
Overview of Her Body Care Products
Mandolyn creates her body products with sustainabe-sourced ingredients with no extra chemicals.  All of her products are gentle and safe for babies and their mamas but are not tear free.   Her products are include the following:
handmade cotton wash cloths
shampoo bars formulated for dry, normal, and oily hair types
body butters
soap in many luscious scents
shave soap (with extra "slip")
mustache wax
Face wash
bees wax candles
bath fizzies
laundry soap
beard balm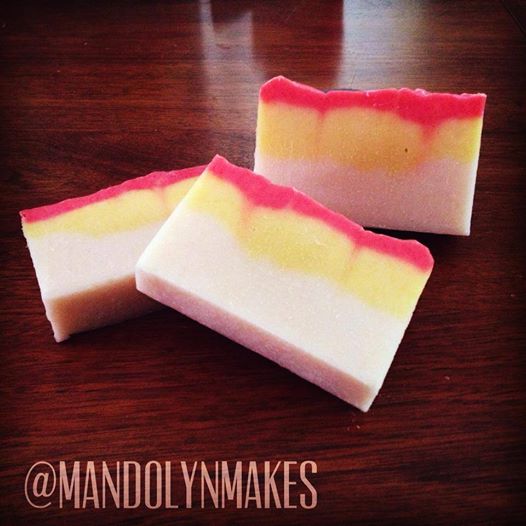 My Review
I had the pleasure of reviewing three of Mandolyn's products.  Two of these products were gifted to me in order to review, but I purchased the Goat's milk bar, however, all opinions are my own. Let me tell you, my shower is a happy place right now 😉
Goat's Milk and Honey Oatmeal Soap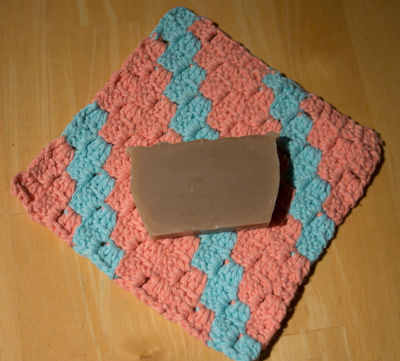 The smell is my love here.  I feel like I'm enjoying a spa date even when the 2 year old is standing in the bathroom asking "What's this, mom?" over and over again.  If you've never smelled a milk and honey soap before… you have to get this.  It's such a calming scent.
The lather is also superb.  I run this bar across my loofah one time and that will last me a whole shower.
The shea butter in this bar means that I don't usually need body butter after the shower.  This streamlines my morning so that I can quickly get the crafty two year old out of the nail polish or mascara or whatever little goodie he found while I was in spa zone.
Unscented Moisturizing Baby Bar/Shave Soap
I'm using this as a shave soap and it is perfect.  The lather on this shea butter bar has what soap makers call "slip".  This means your razor glides along smoothly.
I have super sensitive skin and I can't even use a women's razor because of the irritation caused by the "moisturizing pad" at the front of the blade. I also find traditional shaving cream extremely drying so I was super excited to try this soap.
It exceeded my expectations.  It's so moisturizing that it was my go-to soap when I sun burnt myself this summer. I'm about to start using it with the kids as the sensitive/organic baby soap we've been using is starting the flare the exczema on one of the girls.  I'm sure this is going to be the best fit for her!
Citrus and Herb Combination/Oily Hair Shampoo Bar (she has one for normal/dry hair too!)
Confession: I haven't used shampoo in nearly a decade.  I had switched over to a baking soda "no 'poo" routine early in our marriage.  I switched because I have oily hair and  no 'poo was supposed to help with that.  I used straight baking soda to wash my hair and I could go 3-4 days without washing my hair.  I loved it, but during the summer I struggled with dry and brittle hair.  Between the sun and the swimming pool, my super fine hair felt so coarse and dry. So I gave this shampoo bar a try.
For those of you using traditional shampoo, there is a detox period as you scalp normalizes to not having as many natural oils stripped from it where you might be a bit greasier than usual for 7-10 days.  I did not experience this, but what I did experience was a return to supple ends.  No longer was frizz-zilla taking over the lower portion of my hair: even after multiple days in the water with the kids.
However, this bar carries enough moisture that I do have to wash every 2 days to keep the grease away.  All in all, the extra washing is a sacrifice I'm willing to make to avoid having to use products to keep my hair from frizzing.
Conclusion
If you're in need of natural beauty products, passionate about supporting local business, love a little luxury, or need a crocheted gift: Mandolyn Makes is your girl!
So I had this huge milestone a couple of weeks ago.  My small business page on Facebook hit 500 likes!  See?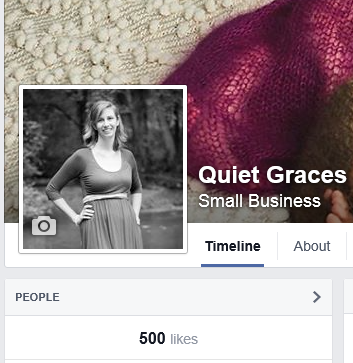 Two weeks later I'm almost up to 520 fans! I started off this year with just under 150 fans.  I am blown away by having all of you follow along in my adventures and encouraging me through the crazy up/down of owning a small business. Thank you.
I wanted to do a little something special to celebrate this milestone so I'm giving away a Baby Shower in a Box!  You can enter if you're expecting or your can enter to give it away to a friend (after maybe keeping a few pieces for yourself?).  You can tag your expecting friends and have them enter too.
What's in the Quiet Graces Baby Shower in a Box?
I'm so glad you asked!  With a value of over $570, this Baby Shower in a Box is sure to delight any new mom!
Click below to let me introduce these lovely businesswomen who are teaming with me to bring you these awesome goodies in alphabetical order.  But if you'd like to just jump in to win now, hop over to my Facebook Page and enter there.  Make sure to share the giveaway with any expecting friends!
Read More

»
Today I'd like to you to meet Sara Riddle.  She's the lady behind the Spartanburg modern maternity clothing boutique: Haute Mama.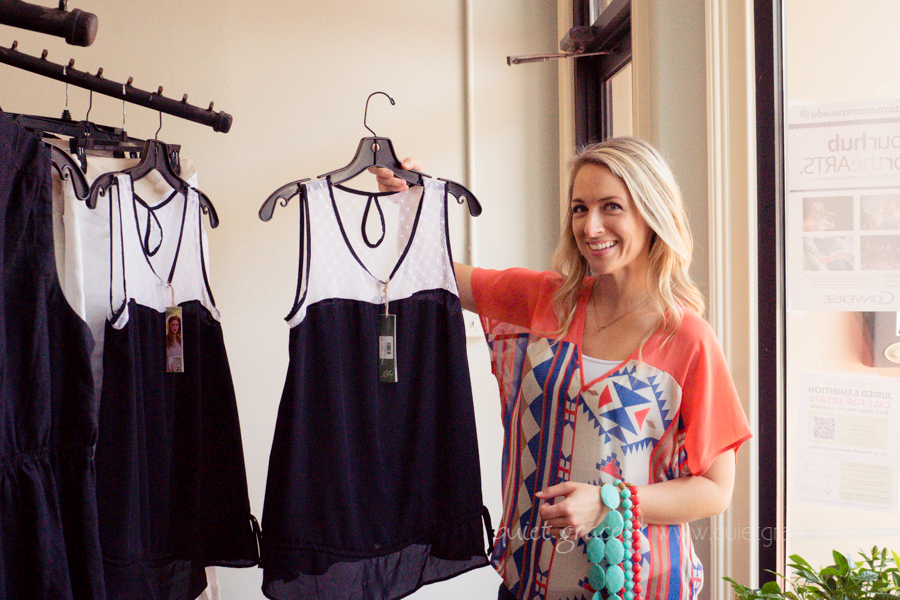 If you walk into Haute Mama, you'll meet this adorable spunky woman who likely has eaten veggie straws, chocolate, and champagne for a recent meal.  Sara's thoughtful and listens carefully to each person she serves.  And Sara has big dreams for her little store.
Haute Mama exists for two reasons.
To bring fashionable clothing options to mamas in the upstate which are wearable before, during, and after pregnancy.
To provide a space for expecting and new mothers to receive education, support, and hope for those weary long days.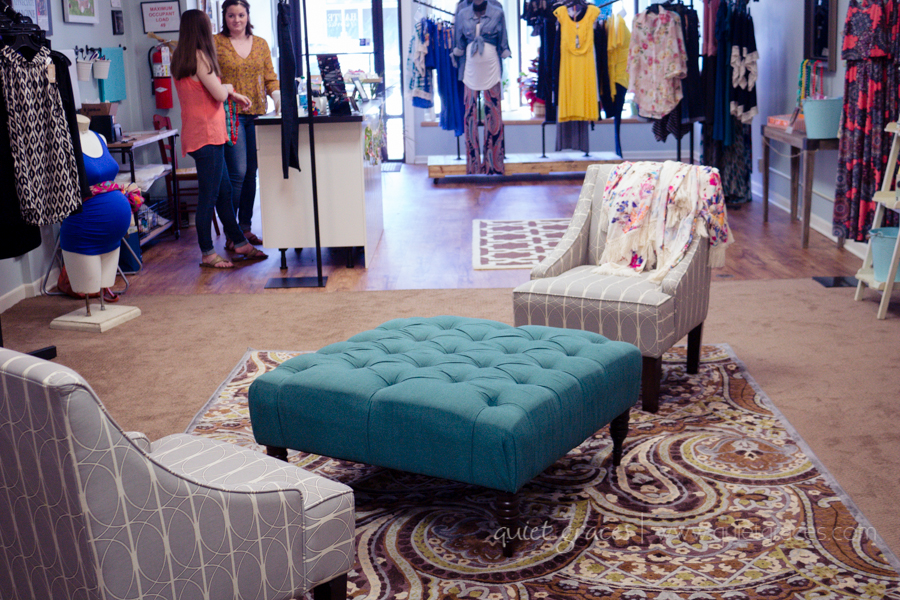 Fashionable Clothing for All Seasons of a Mother's Life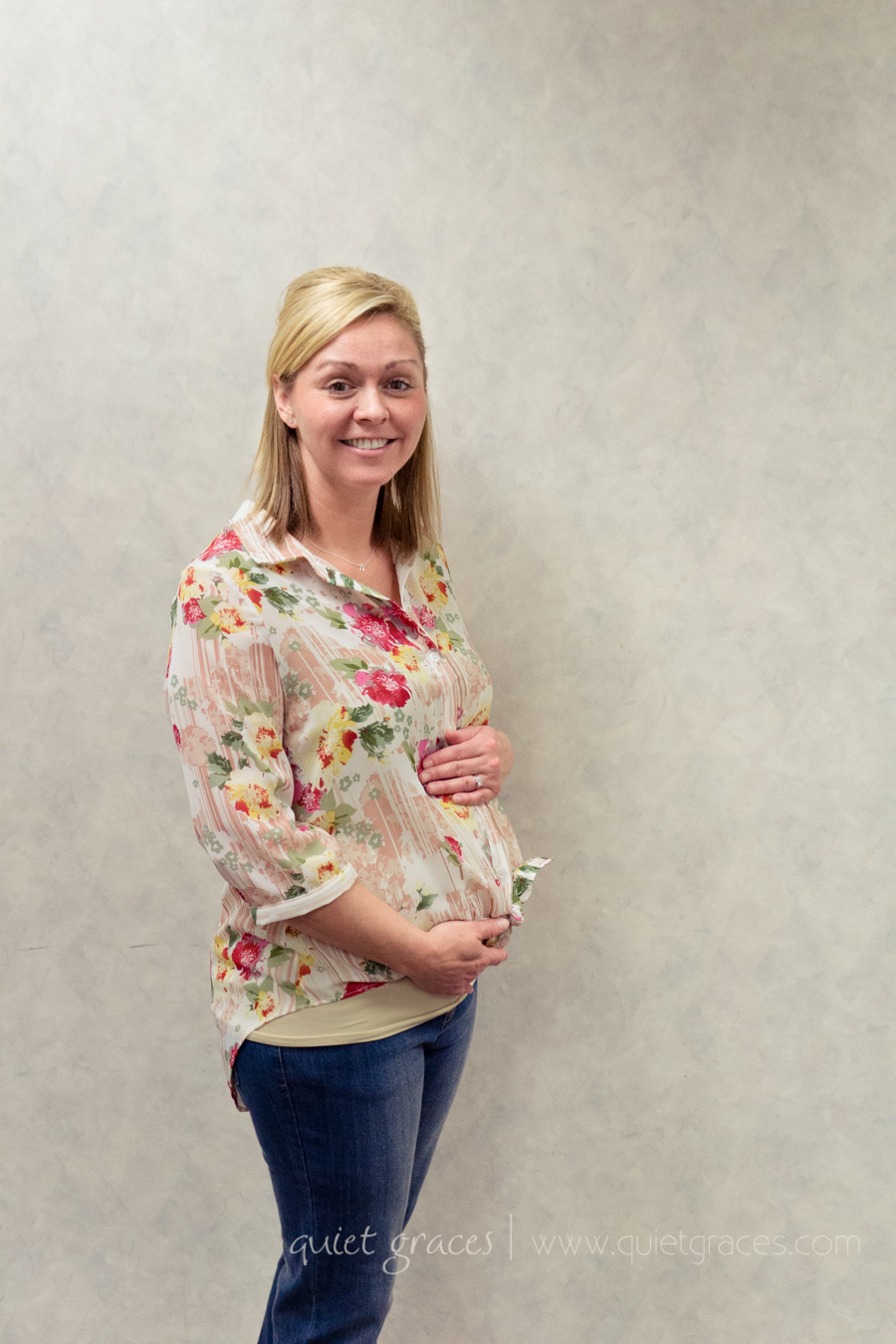 When Sara was expecting her little guy Cash, she couldn't find any maternity clothing she liked.  She had to settle for an endlessly boring routine of a black maxi that she wore until it became sheer, leggings and any top she could find that would cover her belly, and she used the rubber band trick for way too long on her jeans.  She refused to have a frumpy bump and knew there had to be a better solution to a wearable and long lasting maternity wardrobe.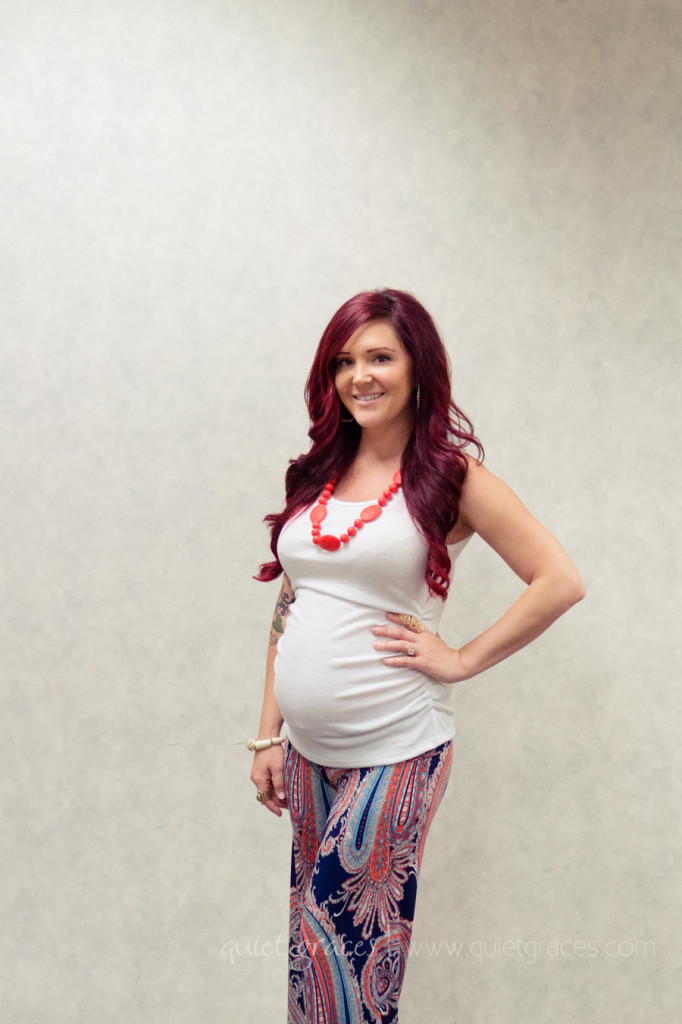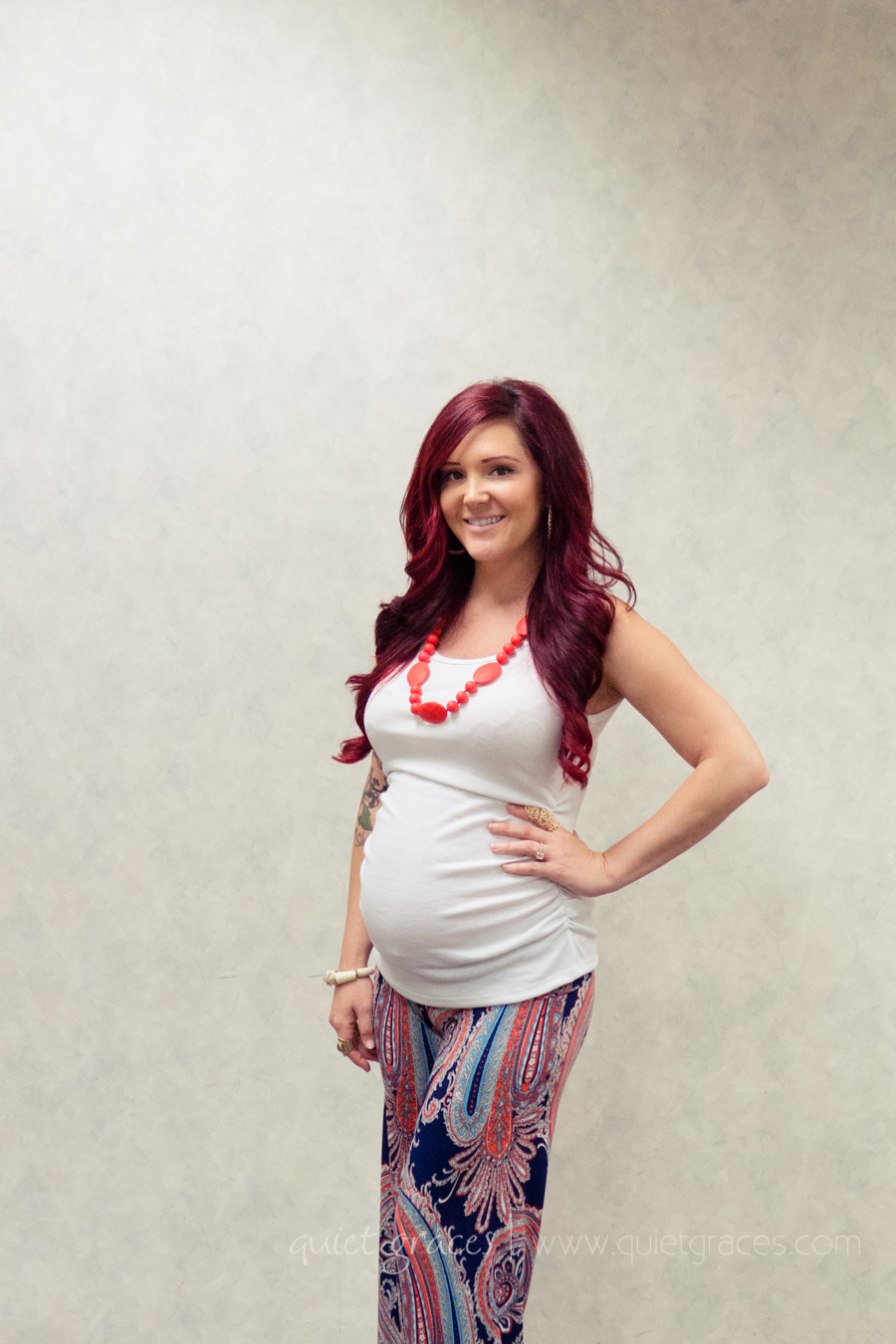 So when she heard about Spartanburg's Main Street Challenge, she jumped at the opportunity to fix these problems and create a store specializing in fashionable clothing for all seasons of motherhood.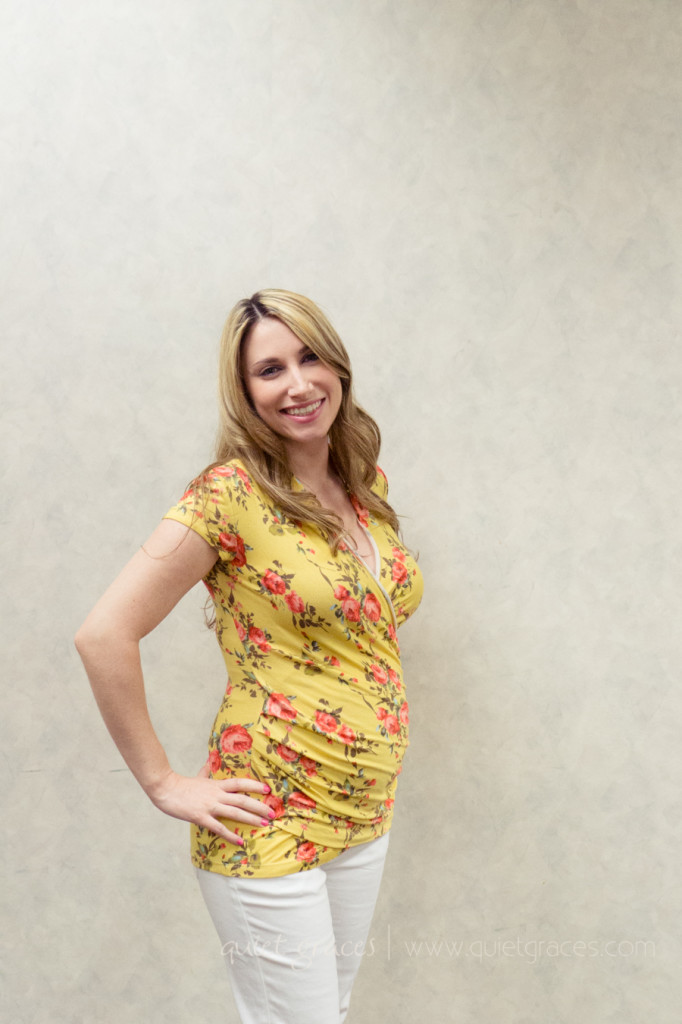 Everything Haute Mama carries can be worn during any season of your life.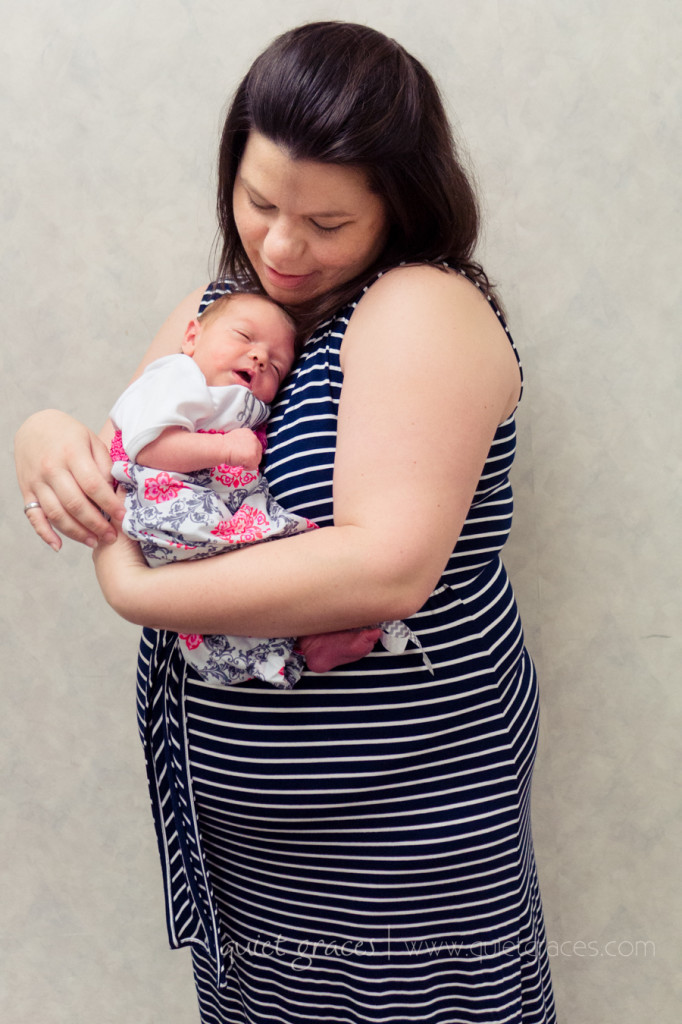 Stop envisioning tent like dresses and shirts and start imagining casual clothing that looks like it stepped off a rack at Anthropologie.  Or imagine that perfect stretchy little black dress that accommodates a baby belly. Or that pair of jeans you can wear pregnant, 10lbs overweight, and 5lbs underweight (yes, they do exist!). She also carries cute lingerie, jewelry for mom, stylish diaper bags, amber necklaces, baby shower gifts, and really cute maternity swim options!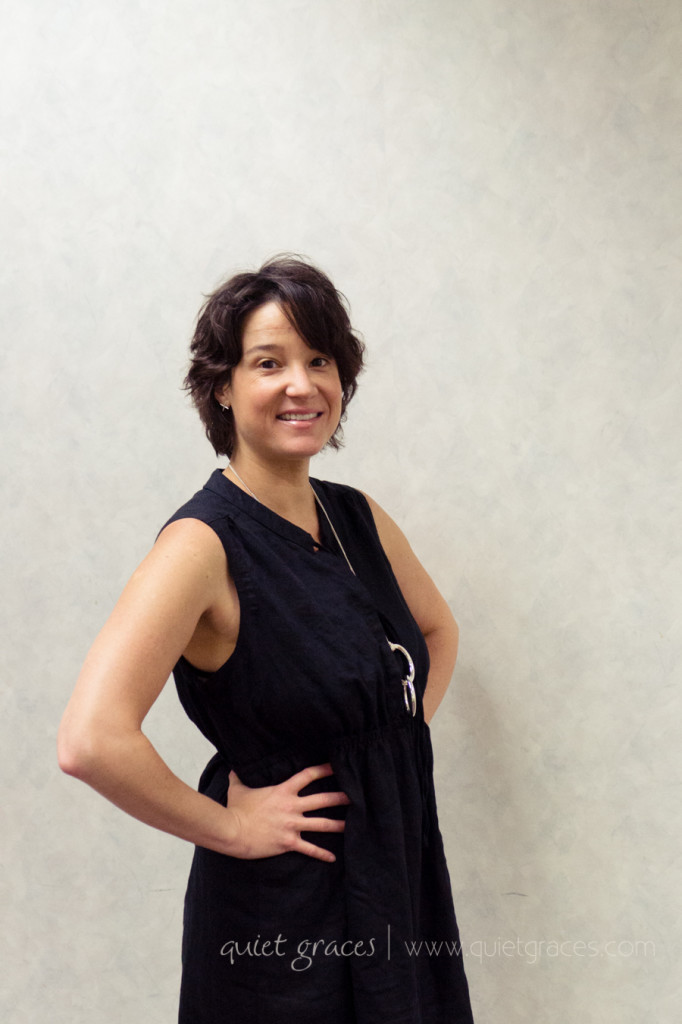 All of the real women in this post are modeling clothing from her boutique!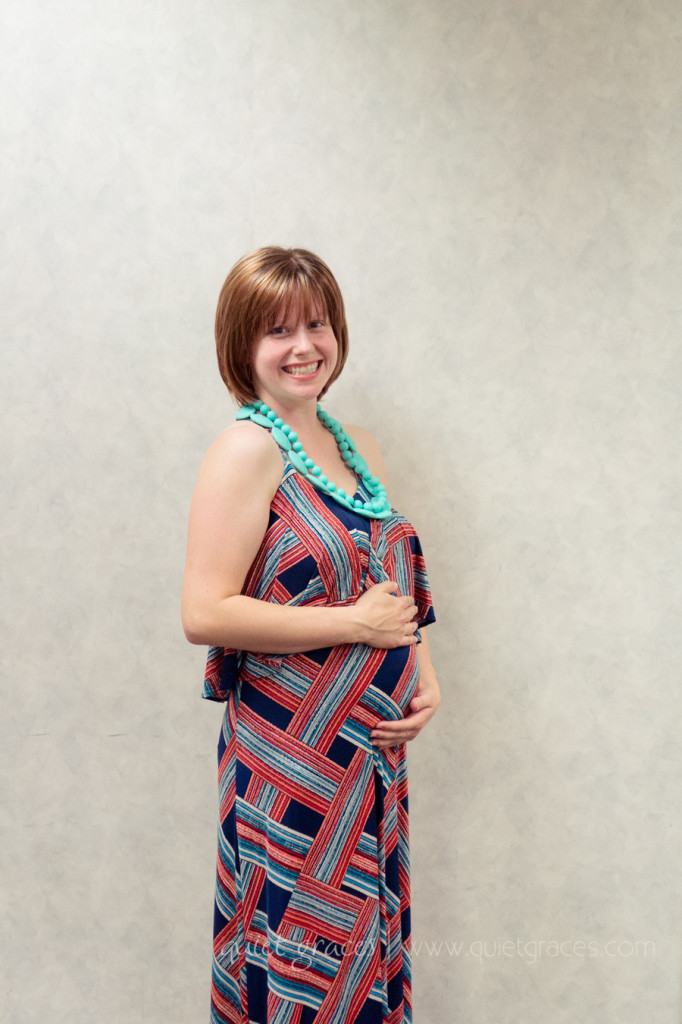 A Space for Education and Support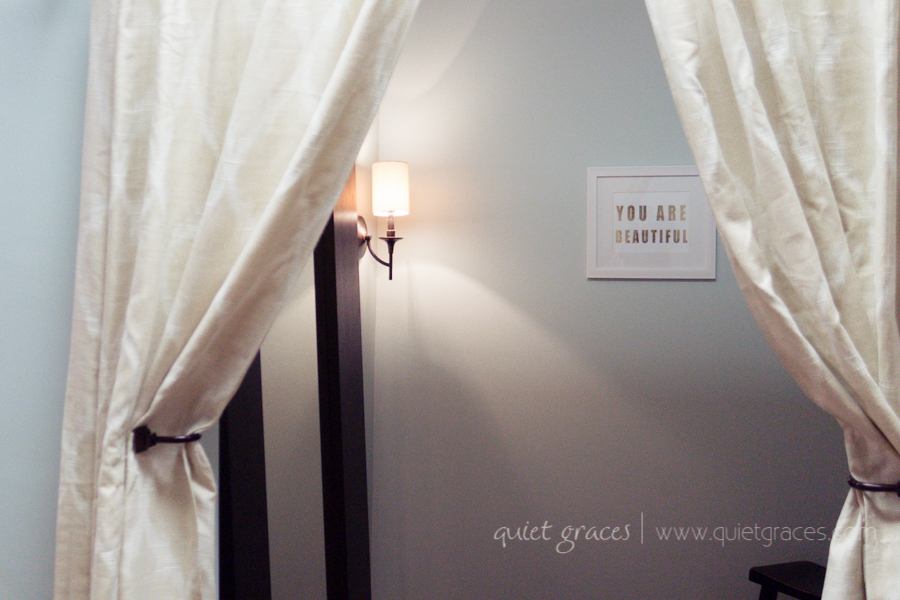 Sara launched Haute Mama just a few months after Cash was born. She was struggling with sleep, with nursing her boy, with loosing the baby weigh,  and, worse still, from the comparison/competition of those  first years of motherhood.
"Is cloth diapering the way to go?  Is it okay to use a pacifier and nurse? What options do I have for birth besides the hospital?  What do I really need to put on the baby registry for the first year? Which stroller or baby wearing device do I need?  How do I sleep train? Where can I take an Infant CPR Class? How do I introduce solids to my little one? Where can I get breastfeeding support without having to take my newborn into a germy hospital?"  These were all questions she was faced with.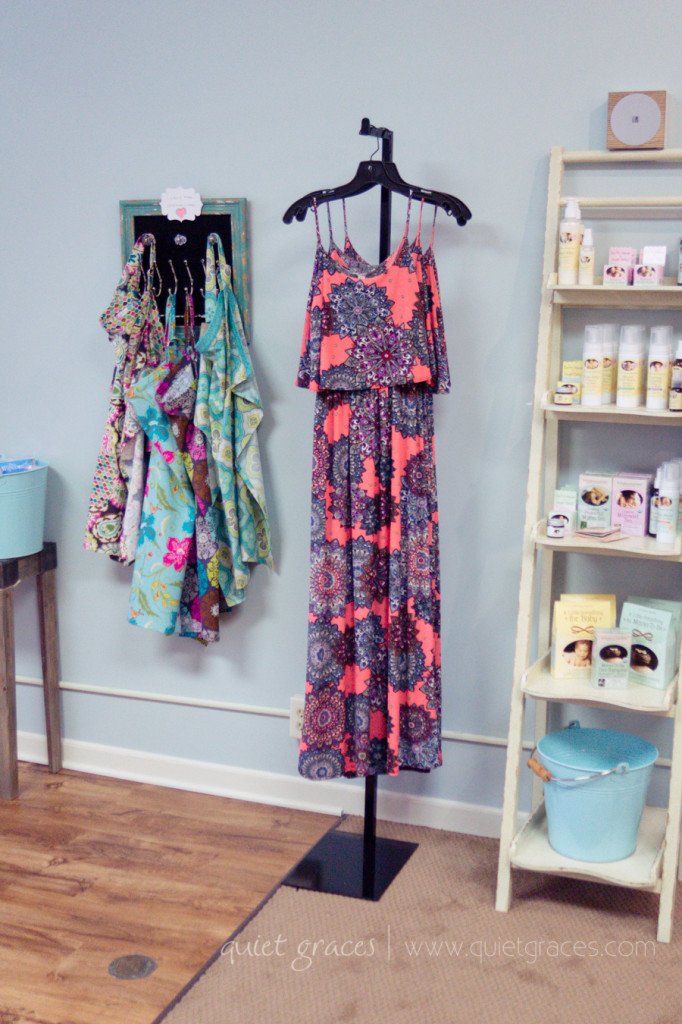 So as Sara created her downtown space, she designed a space for education and support.  In a little over a year, she's hosted classes on numerous topics ranging from breastfeeding, to cloth diapering, to essential oil bug spray options, to birth classes.  She's working with a few other business owners to bring in infant CPR, options in sleep training, and possibly occasional mini sessions from Quiet Graces. 😉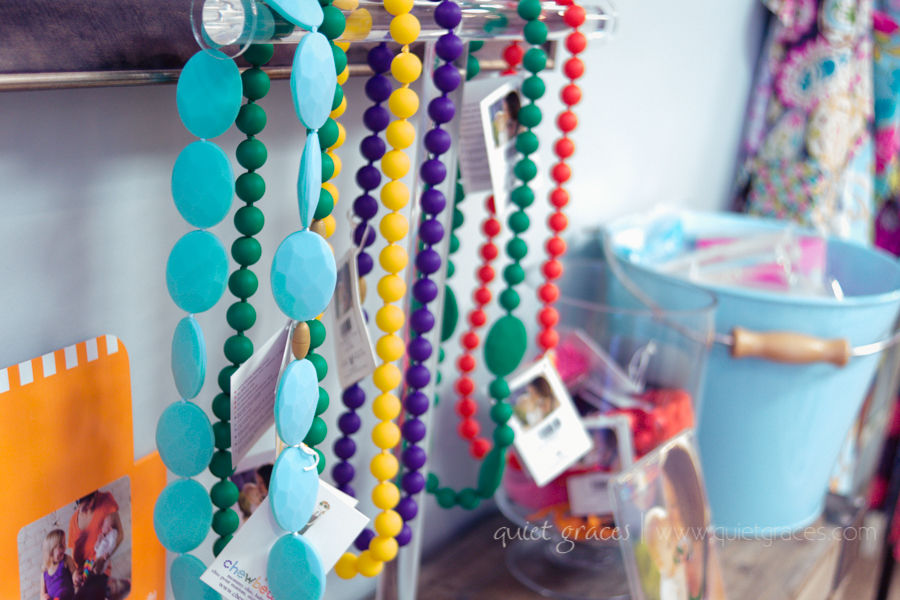 My favorite thing that Sara offers is a Mama support group.  So many support groups seem polarized around a common thread: cloth diapering or baby wearing or a specific method of child rearing.  I found this really hard because I didn't fit into any one box as a mother.  Sara's group is diverse and I think it's healthy for new moms to have a number of different perspectives until they find what works for them and their child.
Interested in seeing what Haute Mama has to offer?
Hop on Haute Mama's Website to see current class offering on the Calendar.
Keep up with Haute Mama on Facebook to see all of her new clothing items.
Or best yet: drive on over to the store at 154 East Main Street, Spartanburg, SC and visit today.  You're sure to find something you love!
Each Friday I interview a local business owner who caters to new moms and their little ones.  My goal is to expose you to some great people you would otherwise not know about.  I want you to meet and grow to love these brave local men and women who enjoy serving you.
---
Spartanburg SC Cloth Diaper Service: The Diaper Queen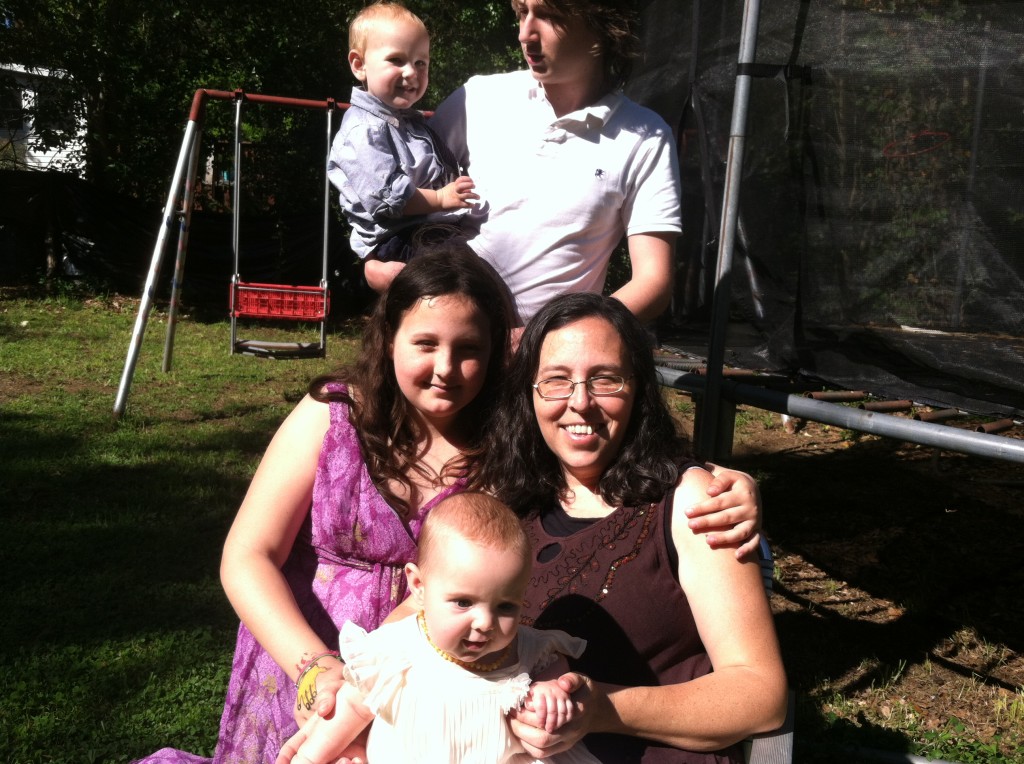 Kristin Harling, The Diaper Queen, provides a traditional cloth diaper service in both Greenville and Spartanburg SC.  She's a mother of 4 amazing kids, ages 15, 12, 2 and 6 months . She loves her man, the rare quiet moment, and the opportunity to play in the remaining loud moments!
The Diaper Queen's website can be found here: http://www.thediaperqueen.com
Hop over here to give her Facebook Page a like! 
Tell me a little about your family.
My partner, Nathan, is my rock and favorite cuddle bunny. I'm pretty sure my kids are the coolest ever, and I love spending time with them. They're smart and interesting and funny and genuinely kind.
What advice do you wish someone had given you as a new mom? What advice would you give to a new mom?
You don't need to be a perfect mom. Relax.
All those people telling you how to raise your child don't actually have a say. That's why it's called mother's instinct and not nosy in-law's instinct or bossy neighbor's instinct.
What have been your favorite moments of motherhood?
I love watching my kids together. I love watching them play with and nurture each other. The way they love one another helps me remember I did some things right as a mom.
What has been your most challenging moments of motherhood?
This business of 2 under 2 is pretty wild. It's really hard to get a moment of peace to think or clean or spend time with my man. I'm looking forward to being bored again someday.
This is one of the things that's awesome about the diaper service. I feel like it makes it a little easier for moms to use cloth, and that benefits them, their babies, and all the rest of us by keeping disposables out of the landfill.
What inspired you to start your business?
I was living in Asheville and pregnant with my 3rd child. I had already decided to use a diaper service this time. I cloth diapered my older 2 kids and just wanted it to be a little easier.
When I moved back to Spartanburg, I was horrified to find out there was no service for me! So I started a Spartanburg SC cloth diaper service, which is a little crazy since I now wash for a lot more than just my two.
What services & products do your provide for new moms?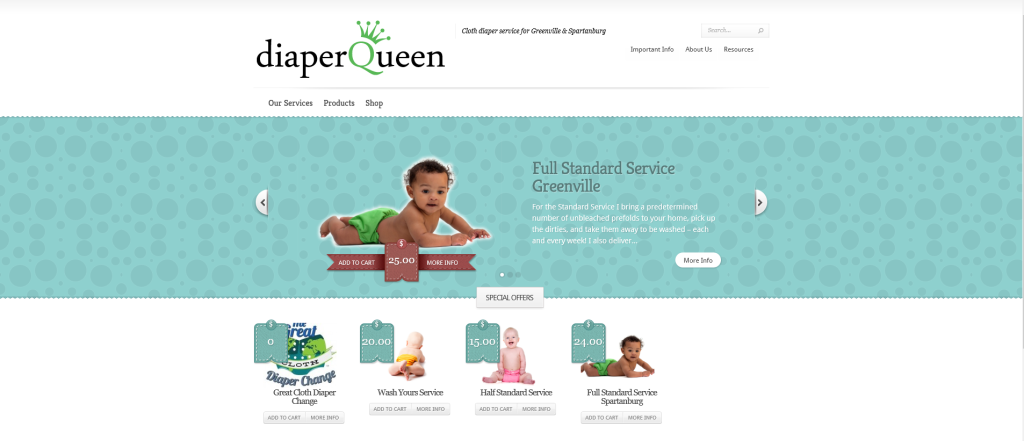 We provide old fashioned diaper service with modern cloth diapers. We use 100% organic, Unbleached cotton prefolds.
I also sell Thirsties and Sweet Peas covers, diaper liners, pail liners, and a cool pail deodorizer called Fairy Dust.
What are some things that you offer that make the transition to cloth diapering a little easier?
I sit with each of my clients before their due date for at least an hour explaining how cloth works. I try to provide helpful info, as well. Most importantly, I pick up and drop off at their door. They only have to put the dirties on the porch. It's one less thing to do!
Special Discount for Quiet Graces Fans!
I cloth diapered all three of my kids (including my twins!) and let me tell you, wash day can sneak up on you and have your reaching for the disposables!  A cloth diaper service would have made this a bit easier.  And I love that Kristin's pre-folds are organic!
Are you interested in a Greenville or Spartanburg SC diaper service?
As a special discount for Quiet Graces readers The Diaper Queen is offering 10% off Thirsties Duo Wrap. Use the code "Quiet Graces" at checkout.
Interested in photography of your new little love?  Check me out!