Cherish the Small Moments
Dear Mama,
Last week was my baby boy's 5th birthday.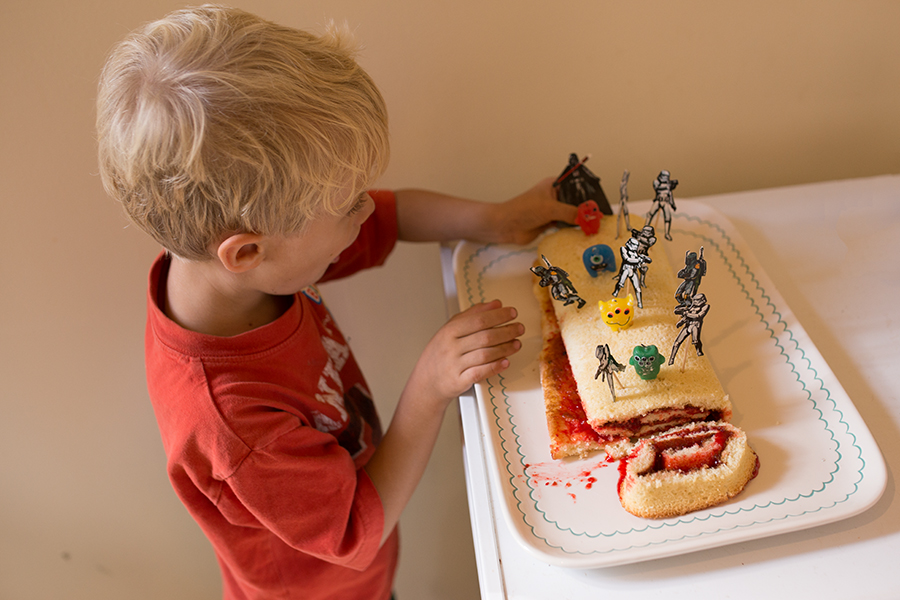 (Yes, Sedryn is my baby boy.  I don't care how old he gets.  Don't argue with me… he's still a baby… with nasty big boy feet.  I digress.)
The day was a busy one for him including preschool and late stay.  He didn't get home to me until 2.  We were able to spend a few moments together before one of his sisters got dropped off and before we had to pick up the other.  But then it was a normal Wednesday Rush:  Coppelia Ballet rehearsal for Bronwyn.  Aeralind had an Artios Academies The Illumination of Exonor practice.  And I had an Artios Academies parent meeting.
Sedryn fell asleep in the car and then sat next to me drawing in the parent meeting on his birthday.
I don't know if you're anything like me, but I started to feel pretty guilty about his "lame" birthday filled with our usual things.
And I wrestled with this guilt until Bronwyn pulled out a poster from her back pack on "Small Moments."
And I thought, "That's what I remember about my childhood: small moments."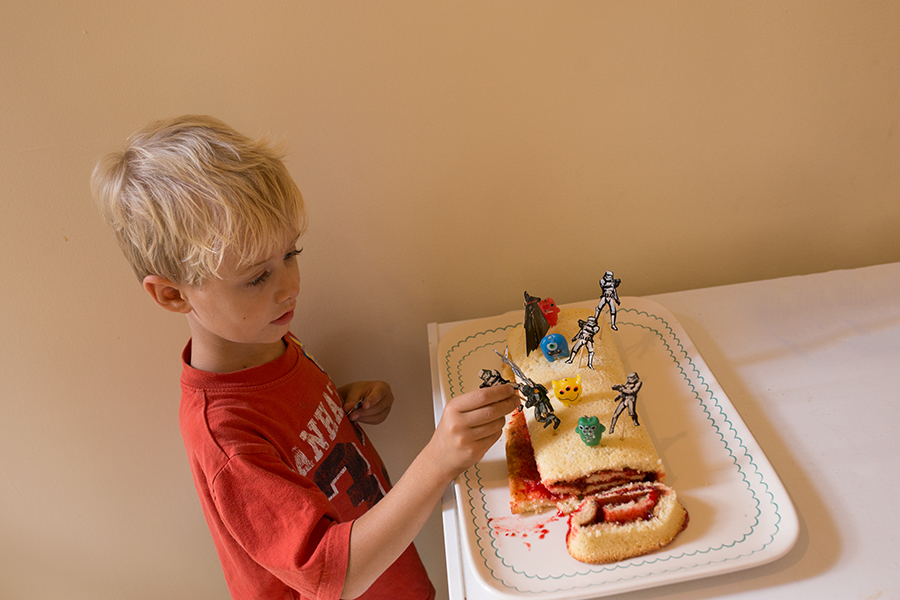 You know what Sedryn will remember about his 5th birthday?
He'll remember how he stuck all kinds of Star Wars tooth picks into a Jelly Roll.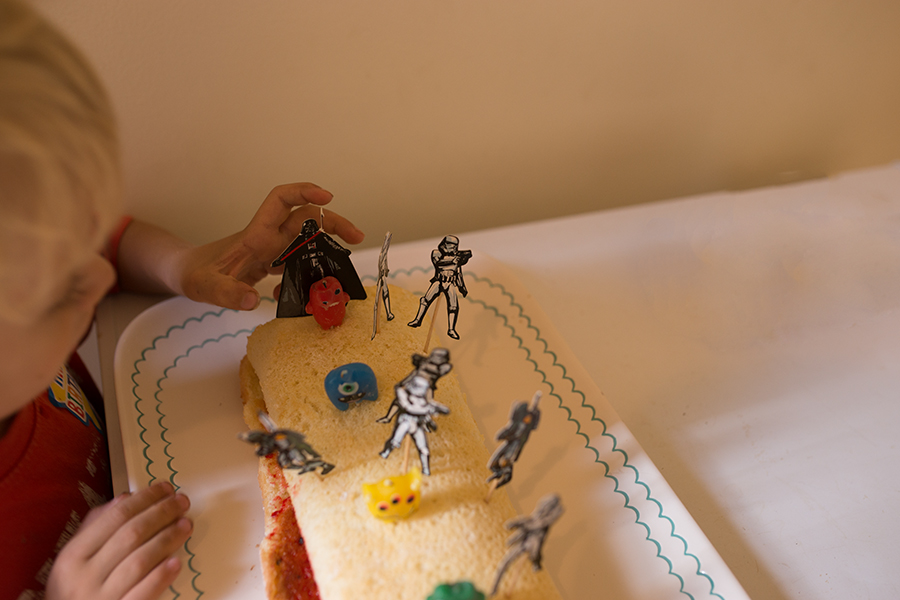 He'll remember that he had sushi (his favorite) for his lunch at school.
He'll remember that we all got on the floor and played with K'Nex as a family.
We can choose to focus on our children intentionally for little moments here and there to fill their love tanks.
So, sweet mama, let go of the guilt for all the in between moments and spend intentional time focusing you heart on the little moments that you and your child will treasure.
Cheering you on,
Melissa
P.S. I may have also almost forgotten to make Sedryn a birthday cake at all.  I remembered when I had just 1 hour to spare before the afternoon rush.  The following is the recipe I used for this quick jelly roll with things I had in my kitchen.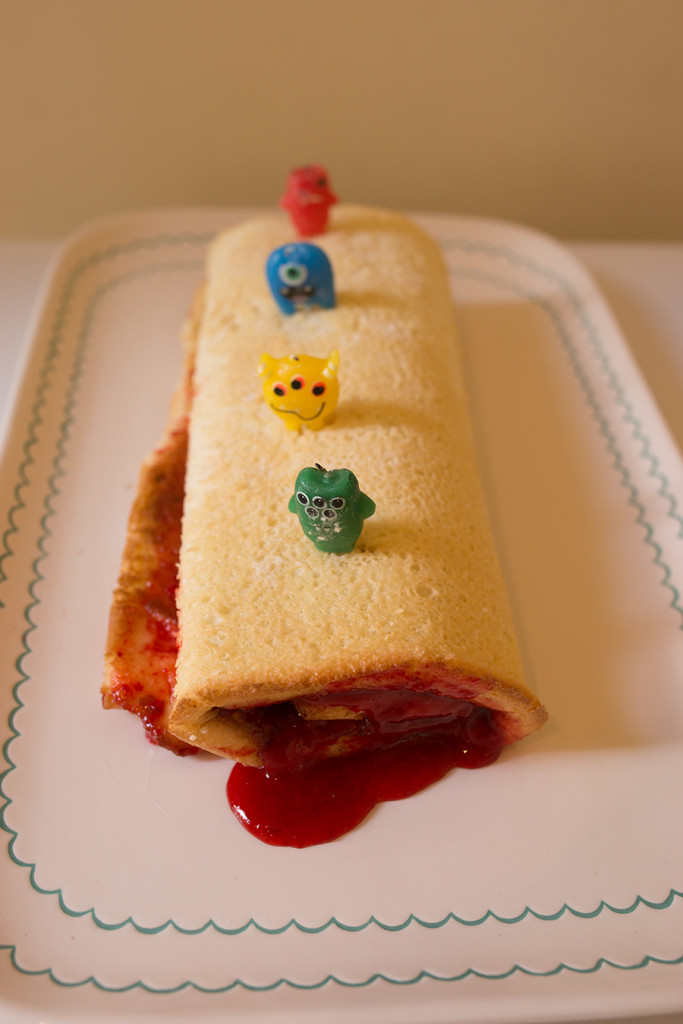 Cherry Pie Jelly Roll Recipe
4 eggs
1 cup granulated sugar
1 tsp vanilla
1/4 cup water
3/4 cup flour
1 tsp baking powder
1/4 tsp salt
powdered sugar
parchment paper
a clean kitchen towel with not very much nap
1 can of cherry pie filling or cherry jelly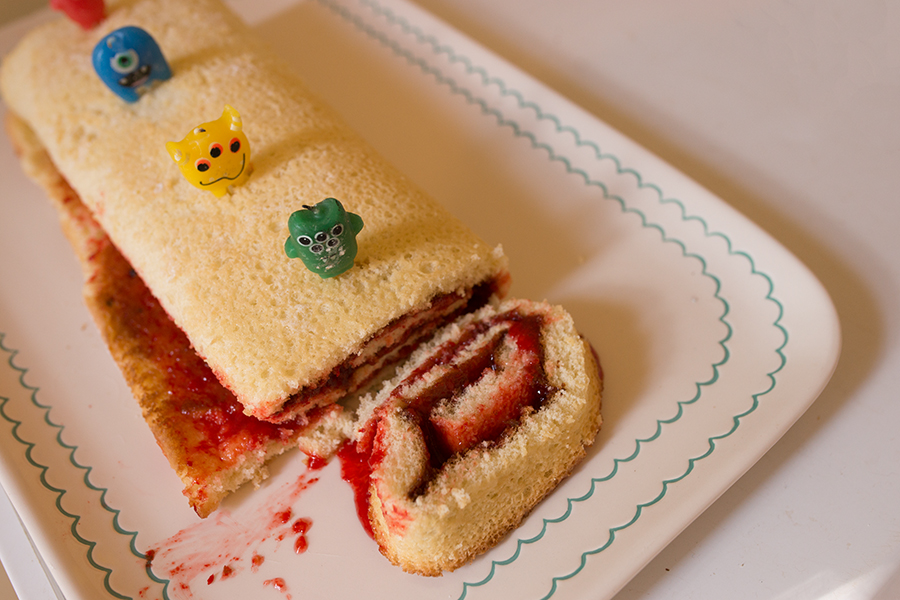 Directions
Preheat oven to 375
Beat eggs on high until foamy and yellow.
Gradually add sugar
Turn down mixer and gradually at vanilla and water
Mix dry ingredients in a bowl (except powdered sugar)
Gradually add dry ingredients until just incorporated.
Spread mixture on a parchment paper lined baking sheet
Bake for 10-15 minutes until set and dry.
Immediately invert cake onto your kitchen towel and peel off parchment paper.  Roll up inside the towel and set it on a drying rack for 30 minutes.
If using cherry pie filling whir it in the blender or food processor until smooth.
Unroll jelly roll, spread a thin layer of filling, and re-roll up the jelly roll
Let birthday child stab fun toothpicks into your jelly roll.