Giveaway Day 16: 25% off coupon for Handmade Dolls
Operating a small business is work well loved but often hard and lonely with little support.  So during my "big" birthday month, I'm going to be sharing with you some wonderful businesses and each of them will be giving away one thing to one lucky person. I'm sharing these small businesses because my heart is with the business owner struggling to make it, but really passionate about serving people.  Any given day, I may fit that description. 😉 This month I'm offering a Newborn Special coupled with a chance to win free sessions.  If you're expecting a little one, read this post for details.
And now let me tell you a little bit about today's small business owner.
Lani makes me smile.  Just thinking of her sitting in my car just minutes after I met right next to my potty training two year old using our "porta potty" in the drivers seat will always make me laugh.  But really Lani is a beautiful woman.  She blogs at All this Crazy Grace and my favorite post is a piece of encouragement called Don't Take You for Granted.
Lani has six kids and homeschools up in freezing cold Canada and when you ask her how she finds time to blog and sew, she looks at you seriously and replies, "It's how I keep my sanity."  I totally understand how a creative pursuit makes me a better mommy.
Lani makes these adorable dolls called Button Beauties.  They're whimsical representations of childhood and she can customize them to your child's preferences.  My girls love this one the best because she's wearing blue (Aeralind's favorite) and has on pointe shoes (Brownyn's favorite).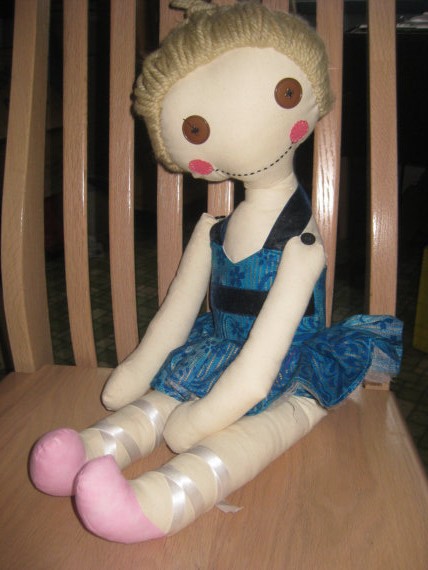 Contest Entry Instructions
Leave a comment below telling me what your little girl would name her doll from Lani's shop All this Crazy Grace.
Make sure to include a way to reach you if you win. Giveaway Closes on January 31st.
Winner will be chosen through a random number generator and notified on February 3rd.