A Growing and Changing Business
Refining my Focus
I've been clicking camera shutters and tapping at the keys here at Quiet Graces for four years now. I never intended to start a business in that season with two 9 month old girls. I simply gifted a friend with an album of her yearly Easter gathering and then she asked me to do family portraits, and then another friend asked me to do portraits, and then two people who I barely knew on Facebook asked me how much I charged.
The God-sized dream of my 16 year old heart just fell in my lap and I didn't even think the time was right.
I've made a lot of mistakes in these first four years; yet the Lord has given me the most gracious and merciful clients who have walked with me through these learning experiences. I'm so grateful for each one of you who has allowed me the privilege of capturing your lives.
Back in January, I wrote about how I need to say "no" to some things in order to pursue the things I need to say "yes" to. One of those things was limiting my business to just 2-3 sessions a month so that I can focus on my family. For those of you who don't know, my primary calling is to be a stay at home mom. I have three precious children 3 years of age and under and I spend my days loving and learning with/from them. I have regular "office hours" during nap/quiet time. I sometimes work an hour or two in the evenings after the kids are in bed to finish editing a session. I often blog in the fringe hours.
My children are my most important calling.
So the first change that I need to make to this business is stop doing lifestyle family sessions in this season of my children's childhood. I love doing these sessions. I love laughing as dad tickles his child or as mom whispers soothing words in a child's ears. I love seeing water fights or mothers teach children to bake grandma's recipe. I love documenting real life as it occurs. But regular family sessions aren't fair to my children. They take mommy away at dinner and bed times and fill my already busy evenings.
For the time being, I will be focusing my business solely on Maternity, Birth, Newborn, and One Year Sessions.
I will, however, offer opportunities for lifestyle family mini-sessions that will include full resolution digital negatives in both the spring and fall of each year. These mini-sessions will only have 4 open slots. If mini-sessions are something you're interested in, please subscribe to my newsletter here to be the first to know the dates of those events. And if you're not local, but love my work or my writing, sign up for the newsletter, too!  I'll be featuring much more than just dates and specials in these bimonthly newsletters.
Price Changes
My second announcement is a pricing change.
My business has been what most would call a "hobby business." A business where I pull in just enough money to cover the products I've supplied for my clients, purchase new or much needed gear and just few newborn props (or the supplies to hand make them), an occasional learning experience for me to improve my art, and to pay the sweet babysitters who watch my children so I can photograph yours.
I have never once cut myself a paycheck.
If I had forgone some of my purchases and given myself a paycheck, I might have been able to pay myself $5 an hour. I take a well lit and exposed straight out of the camera shot like these two and turn it into a piece of art for clients. There's hours of work involved in that process for all of a client's images and I love doing it. I love even more when my clients value the resulting images.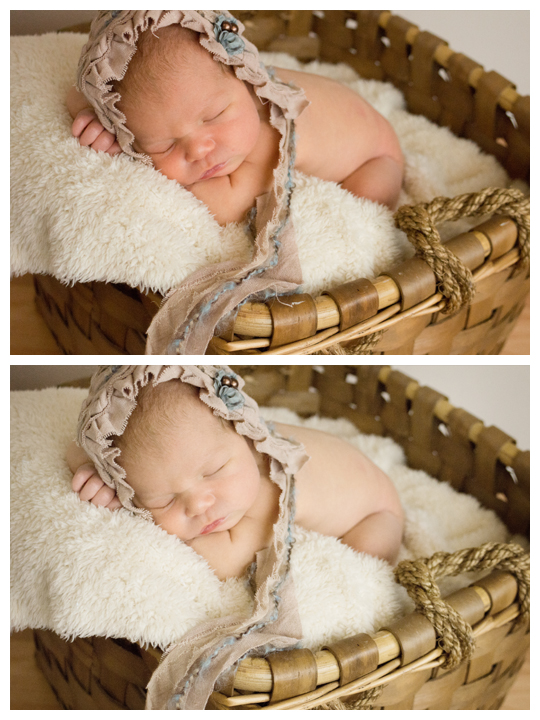 But, again, I do my work at the expense of taking time away from my family. And it's time to start rewarding myself and my family with a paycheck that would allow our family to afford things like gymnastics, a weekend trip to the beach, or the simple blessing of being able to sponsor another Compassion child or two. These are things that we're not able to do on my husbands salary at this time despite his ample provision for all our daily needs.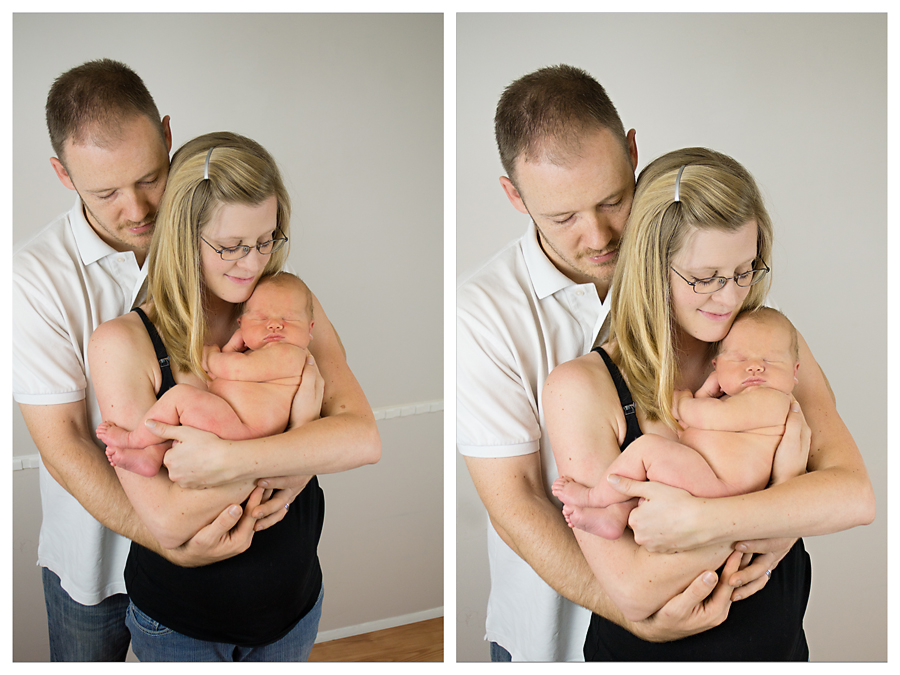 The artist in me rebels against price changes in the same way that you as a client must feel reading this. I create art from your life simply to capture the glory of God, but it's also a means that God has provided for our family to make some extra income. I will be transparent enough to say that outside of the expense of running a business (business license, insurance, sales tax, federal taxes, used but new to me gear when required, editing software,  cost of client products, studio samples, and the occasional education experience), my goal for the next 12 months is to bring home just $7000 in take-home pay while still maintaining my commitment to take only 3 sessions a month.
Summary of Price Changes
My new pricing will go into affect on July 15th, 2013 (that's today!). If you've already booked a session with me that falls after that date, rest assured that nothing will change for you. However, if you'd like to apply your session fee toward the purchase of one of my new packages, please let me know!
Your session fee of $250 will be required to secure your session date and $150 of that amount will be applied to order your chosen products (with the exception of birth/welcome home sessions)
My goal as an artist is to create a piece of art that your family will treasure.  I want to see you enjoying my art on your wall or a stunning album on your coffee table. I want your guests to look through and exclaim over your beautiful stories and I want your piece of art to inspire you to verbally tell these stories to your children. When I have a camera in my hand, this is always my desired outcome. Yet I know that clients want digital files for making scrapbooks or albums or gifting small prints to the grandparents or for birth announcements or Christmas cards.
When I designed each of my 4 collections, I kept both of these end goals in mind: you will have a a beautiful piece of art of your choosing and a selection of digital files with a print release.  The products I've selected to offer make my heart sing: they're simply gorgeous. I can't wait to share them with you in the coming weeks!
A more detailed look at my session pricing can be found on my Investment Page.  If you'd like to see my detailed Pricing Magazine, please Contact Me.
Thank you all for your grace as I work through these changes. I've been so blessed by the most wonderful clients I could have asked for.