God-Sized Dream
They're all asleep in the back seat.  I wonder what they're dreaming.
My Aeralind: quiet and determined to try.
My Bronwyn: growing into a strong leader.
My Sedryn: an engineering problem solver.
What will the Lord call these three little ones to pursue with Him?
More importantly, how can I prepare these little ones to pursue Him and the dreams He has for them? While in pursuit of my own dreams, am I taking the time to encourage theirs?
I'm not the best at this, I know, and I imagine I'm not the only dreamer who struggles to lead her own children.  So I'm going to compile a list of habits we can practice to encourage our children to pursue His dreams for their lives.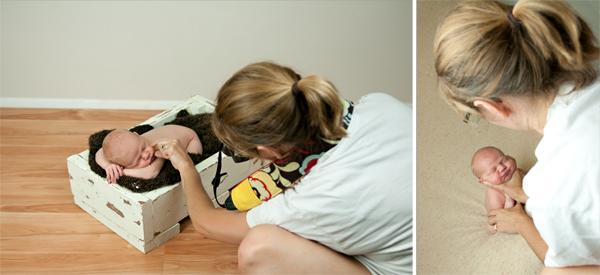 It's been a little over a month since I raised my prices to a place that will allow me to bring home a salary equivalent to the value and time spent on my work.  I want to tell you, that's been a scary leap for me.  It's still scary.
I've booked a couple of St. Louis Lifestyle Family Mini-Sessions in this time, but nothing else.  4-8 people contact me a week and usually disappear after receiving more information even after great phone calls.  I'm standing in the gap between making a scary decision that is right for our family, and seeing the fruition of years of hard work.
It's a scary place to be: waiting.  This pregnant anticipation between a dream conceived and a dream realized while waiting under the mercy of a sovereign God.
And that's where I am right now: trying to hold on to contentment in a season of waiting on the Lord to move.
Here are some great links that have really spoken to me this week about waiting and dreams.
Let's be real; honest.

Let's let go of regret and forgive ourselves.
Let's run towards intelligent people who emulate the life we want to live.

Let's be intentional in friendship so that community happens.

Let's set aside our egocentric hours to serve someone else.
Let's run into the Scriptures to learn the lessons we need to.

This is hope chasing. This is my dream. Will you join me?
~Nasreen Fynewever
Just like Eve, we women tend to spend more time analyzing what we are not or what we don't have than recognizing who we were created to be. Satan's victory with Eve started way before she ate that fruit.

The bite was only the culmination.

Eve's demise began when she entered a conversation with the devil. And that's what we do a lot. We talk. We rehearse on a daily basis what we don't have or who we are not. We focus on the areas of our "garden" (our domain or our realm) that seem just out of our reach or control.

We take the seed of discontentment offered by the evil one and inform our souls of our dissatisfaction, unhappiness, or displeasure.

Just like Eve we have a choice.

~Chrystal Hurst
Waiting can be a type of resistance when you have something you're passionate about. You imagine something, get motivated to do it, make a few plans. But then you hit a wall because this one part isn't clear yet or that other part doesn't make sense yet. And so you wait and imagine and have a long list of if only's.

And it's possible that somewhere in the waiting, you begin to realize how nice it is to have a dream but not have to do anything about it.

Maybe you're waiting because it's easier than doing the work.

~Emily Freeman
Refining my Focus
I've been clicking camera shutters and tapping at the keys here at Quiet Graces for four years now. I never intended to start a business in that season with two 9 month old girls. I simply gifted a friend with an album of her yearly Easter gathering and then she asked me to do family portraits, and then another friend asked me to do portraits, and then two people who I barely knew on Facebook asked me how much I charged.
The God-sized dream of my 16 year old heart just fell in my lap and I didn't even think the time was right.
I've made a lot of mistakes in these first four years; yet the Lord has given me the most gracious and merciful clients who have walked with me through these learning experiences. I'm so grateful for each one of you who has allowed me the privilege of capturing your lives.
Back in January, I wrote about how I need to say "no" to some things in order to pursue the things I need to say "yes" to. One of those things was limiting my business to just 2-3 sessions a month so that I can focus on my family. For those of you who don't know, my primary calling is to be a stay at home mom. I have three precious children 3 years of age and under and I spend my days loving and learning with/from them. I have regular "office hours" during nap/quiet time. I sometimes work an hour or two in the evenings after the kids are in bed to finish editing a session. I often blog in the fringe hours.
My children are my most important calling.
So the first change that I need to make to this business is stop doing lifestyle family sessions in this season of my children's childhood. I love doing these sessions. I love laughing as dad tickles his child or as mom whispers soothing words in a child's ears. I love seeing water fights or mothers teach children to bake grandma's recipe. I love documenting real life as it occurs. But regular family sessions aren't fair to my children. They take mommy away at dinner and bed times and fill my already busy evenings.
For the time being, I will be focusing my business solely on Maternity, Birth, Newborn, and One Year Sessions.
I will, however, offer opportunities for lifestyle family mini-sessions that will include full resolution digital negatives in both the spring and fall of each year. These mini-sessions will only have 4 open slots. If mini-sessions are something you're interested in, please subscribe to my newsletter here to be the first to know the dates of those events. And if you're not local, but love my work or my writing, sign up for the newsletter, too!  I'll be featuring much more than just dates and specials in these bimonthly newsletters.
Price Changes
My second announcement is a pricing change.
My business has been what most would call a "hobby business." A business where I pull in just enough money to cover the products I've supplied for my clients, purchase new or much needed gear and just few newborn props (or the supplies to hand make them), an occasional learning experience for me to improve my art, and to pay the sweet babysitters who watch my children so I can photograph yours.
I have never once cut myself a paycheck.
If I had forgone some of my purchases and given myself a paycheck, I might have been able to pay myself $5 an hour. I take a well lit and exposed straight out of the camera shot like these two and turn it into a piece of art for clients. There's hours of work involved in that process for all of a client's images and I love doing it. I love even more when my clients value the resulting images.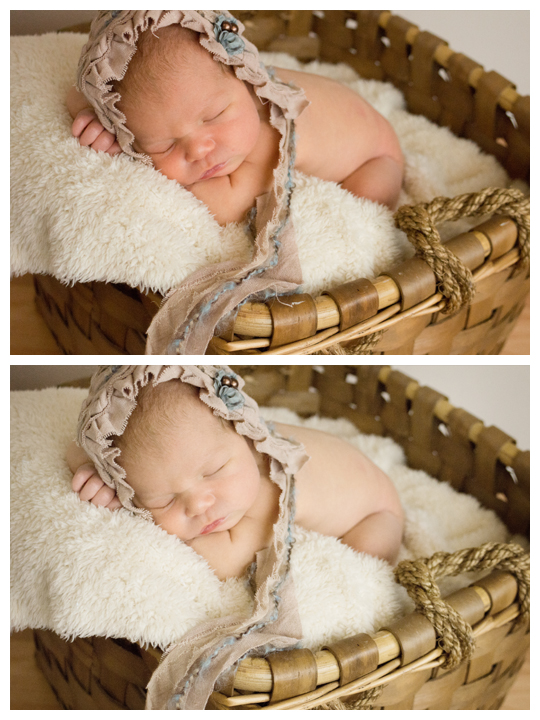 But, again, I do my work at the expense of taking time away from my family. And it's time to start rewarding myself and my family with a paycheck that would allow our family to afford things like gymnastics, a weekend trip to the beach, or the simple blessing of being able to sponsor another Compassion child or two. These are things that we're not able to do on my husbands salary at this time despite his ample provision for all our daily needs.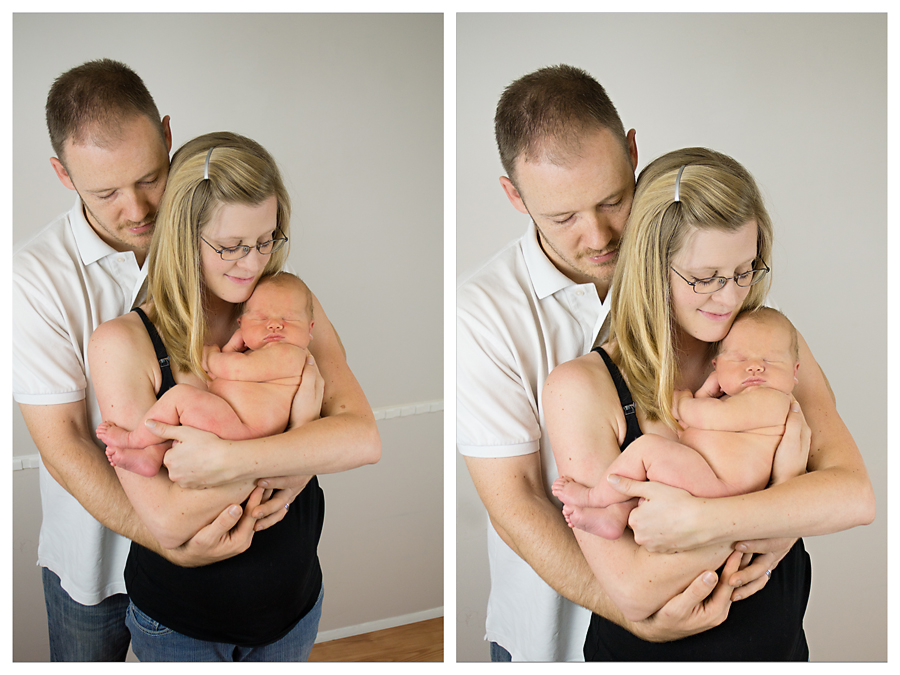 The artist in me rebels against price changes in the same way that you as a client must feel reading this. I create art from your life simply to capture the glory of God, but it's also a means that God has provided for our family to make some extra income. I will be transparent enough to say that outside of the expense of running a business (business license, insurance, sales tax, federal taxes, used but new to me gear when required, editing software,  cost of client products, studio samples, and the occasional education experience), my goal for the next 12 months is to bring home just $7000 in take-home pay while still maintaining my commitment to take only 3 sessions a month.
Summary of Price Changes
My new pricing will go into affect on July 15th, 2013 (that's today!). If you've already booked a session with me that falls after that date, rest assured that nothing will change for you. However, if you'd like to apply your session fee toward the purchase of one of my new packages, please let me know!
Your session fee of $250 will be required to secure your session date and $150 of that amount will be applied to order your chosen products (with the exception of birth/welcome home sessions)
My goal as an artist is to create a piece of art that your family will treasure.  I want to see you enjoying my art on your wall or a stunning album on your coffee table. I want your guests to look through and exclaim over your beautiful stories and I want your piece of art to inspire you to verbally tell these stories to your children. When I have a camera in my hand, this is always my desired outcome. Yet I know that clients want digital files for making scrapbooks or albums or gifting small prints to the grandparents or for birth announcements or Christmas cards.
When I designed each of my 4 collections, I kept both of these end goals in mind: you will have a a beautiful piece of art of your choosing and a selection of digital files with a print release.  The products I've selected to offer make my heart sing: they're simply gorgeous. I can't wait to share them with you in the coming weeks!
A more detailed look at my session pricing can be found on my Investment Page.  If you'd like to see my detailed Pricing Magazine, please Contact Me.
Thank you all for your grace as I work through these changes. I've been so blessed by the most wonderful clients I could have asked for.
When they snip that umbilical cord and pass you the squalling babe, a part of you that has been growing and depending on you is now loose.
Before that moment, that baby was part of you.  You hugged the toilet for a season knowing that tiny being was being formed.  You ate well.  You rested when you could. And you decorated a nursery.  But all those moments lead to the moment with that child is wrapping water logged fingers around your pinky.
And when your newborn locks eyes with you, you understand that all the suffering of carrying this extra person for months was worth it.
After 9 long months you have just birthed a dream knitted together within you by the very hand of God. <— Click to Tweet
I don't know about you, but I've birthed a lot of dreams in my short life.  Getting my driver's licence (don't laugh… I'm serious!), finishing college, marrying Derek, starting this fledgling photography business, writing the stories God gives are just a few.
But none of these dreams even compare to the three little dreamers running wild in my home.
My three are all 3 and under, so I don't yet have an inkling as to what dream God placed in their heart to pursue. I know my Aeralind has a soft heart that hates to see others cry.  I know my Bronwyn is a natural leader and will do well if she disciplines herself to hear her followers leads.  I know that Sedryn delights in service as I watch him run to the dish washer intent on handing me forks while I put things away.  But my dreams for them are simple: that they would hear and believe the Gospel of Jesus Christ, and that they would pursue the dream He knitted into their unique hearts.
I think it's fair to say that I'm not the only one dreaming big dreams for my children.  Moms all over this country are teaching their preschoolers to read.  Taking their elementary aged children to soccer, gymnastics, scouts, and music lessons.  Watching and coaching as their children encounter those tough middle school years.  Teaching responsibility by taking privileges and further coaching.  Scrimping and saving for that needed college education while their changing diapers.
But what about those moms on the other side of the world. The ones who live on around $1 a day. What are their dreams for their children?
I don't think they're any different.  When that 9 month gestation is up and the midwife (or neighbor or mom herself) cuddles the squalling babe in her arms, she sees a promise of a unique dream from the Great Dreamer.  And she will do whatever she can to help that child grow up to their potential.
She's not any different than us.  And her child is not any different than ours.
She will go without meals to feed her little one: so would you.
She will let herself be attacked to defend her little one: so would you.
She will walk miles to beg to have her child put on the nearest Compassion School's sponsorship list: so would you.
She will grow callouses on her knees praying for her child to walk the path of Christ: so will you.
The difference is, most of us will never have to do the first three things.  But the truth is we are blessed to do the last thing together.
So, mothers, I'm begging you: let those callouses on your knees develop while praying for a mother and child in poverty in addition to your own brood.  Give up a few lattes or those new shoes or that mother's day brunch and give a mother's dream child a chance to live.  Admit that your child doesn't like soccer, or gymnastics  or scouts, or whatever activity you place them in and use that money instead to teach them about poverty by letting them sponsor and write to a real child in poverty.
Teaching our children to give to birth another's dream is perhaps the best lesson we could hope to teach as moms.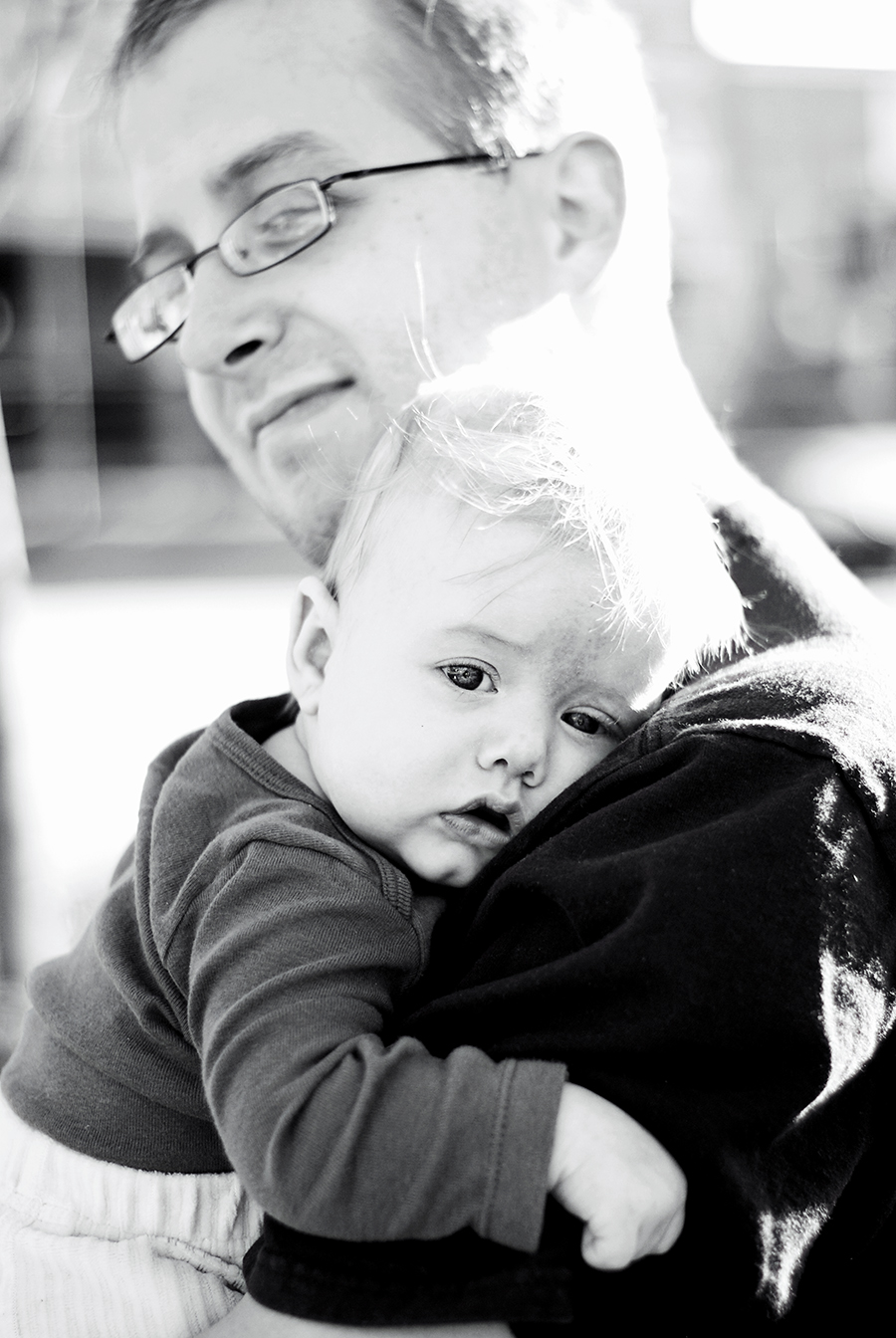 Dear Derek,
I know you don't often think of yourself as a God-sized dreamer. I know you struggle with fear of inadequacy.
But remember the definition of a God-sized dream is: desiring more of what God has for you.
Derek, God has so much for you. A job. Three beautiful children. Not to mention a ridiculously quirky wife.
And he's gifted you with a unique skill set. Hands that like fine work. A mind that "speaks geek". A heart that loves to pray. And he's made you a protective landing place for the 4 under your care.
Here's what I want you to hear most: I will follow you in your dreams and I am blessed to call you mine.
So, sweet husband of mine, solider forward in the full Armor of God. I'll be right behind you both shielded by your strength and encouraging you to keep at it (because He's worth it).
Love you more than bacon loves ice cream,
Melissa
(I couldn't think of a better person to write to when Holley's prompt was to write a letter to another dreamer in my life.)