Melissa Aldrich
Are you looking for Korean Doljanchi Photography Greenville SC for your baby's first birthday? Click here to inquire about booking your session. Or keep reading below to learn more about sweet Rhea and her session with Quiet Graces Photography.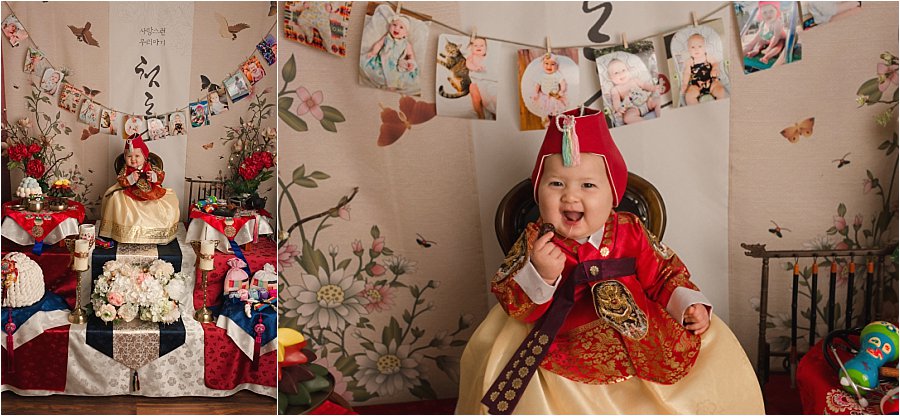 A Korean Doljanchi is a celebration of reaching the one year milestone. In many villages in Korean, many babies didn't make it to one year so a whole village would come out to the Doljanchi celebration. Since these photos were taken during the Covid-19 Pandemic, Kim and Tom were unable to travel to do Rhea's Doljanchi with friends and family. These photos served to bring their family together across the distance.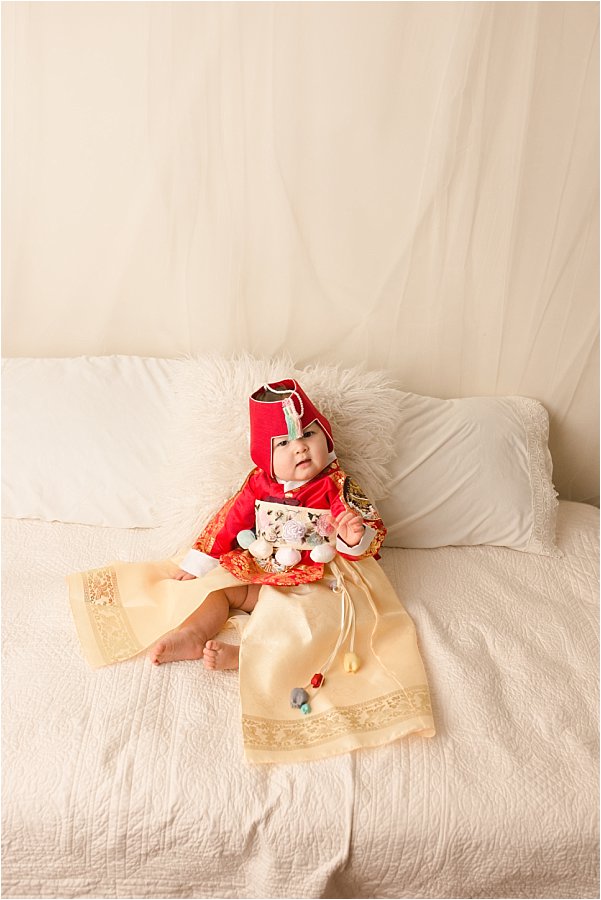 The highlight of a doljangi is a doljabi.  This ceremony involves placing a table filled with objects indicating different career paths on it and encouraging Rhea to select objects. Her selection will fortell her future profession.  Among the objects on the table were a microphone for entertainer, aviation headset (Tom is an air traffic controller!), $100 bill, calligraphy pens, and weaving supplies.

Rhea chose a golf ball first and then a gavel. Looks like a sports playing lawyer may be in her future! You can see video clips of her playing with the gavel in the video below.
In addition to her doljangi, we also did a little cake smash! This cake from Christine at Baking Sweet Scents was thoroughly enjoyed. Rhea also thoroughly destroyed the cake while enjoying all the berries.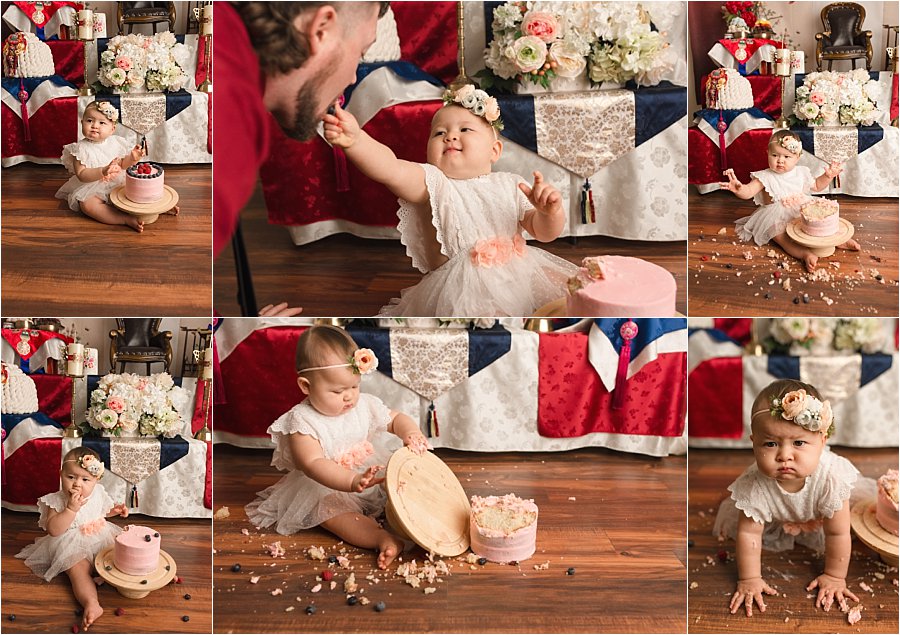 Rhea especially loved the bubble bath and delighted in sending water all over the studio making the cake clean up a simple mop job 😉 A cake and bubble bath are included in all one year sessions with Quiet Graces Photography.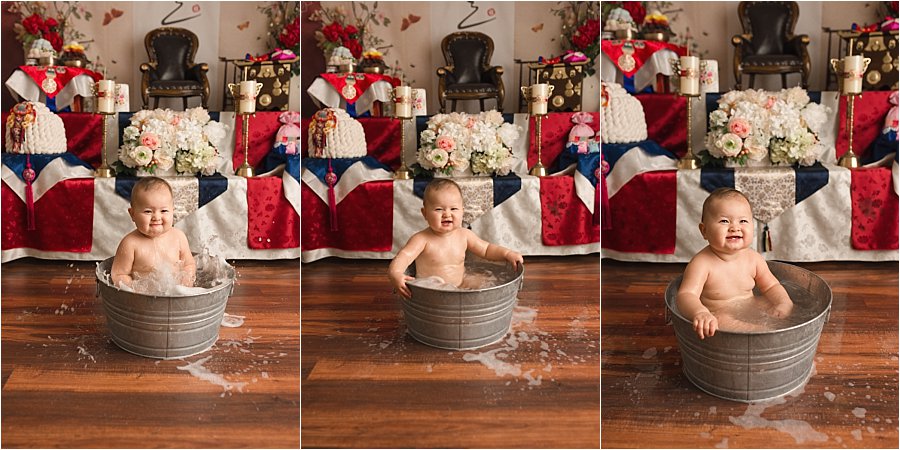 Finally, we also did family pictures during Rhea's Korean Doljanchi Photography Greenville SC. I loved capturing their family joy so much!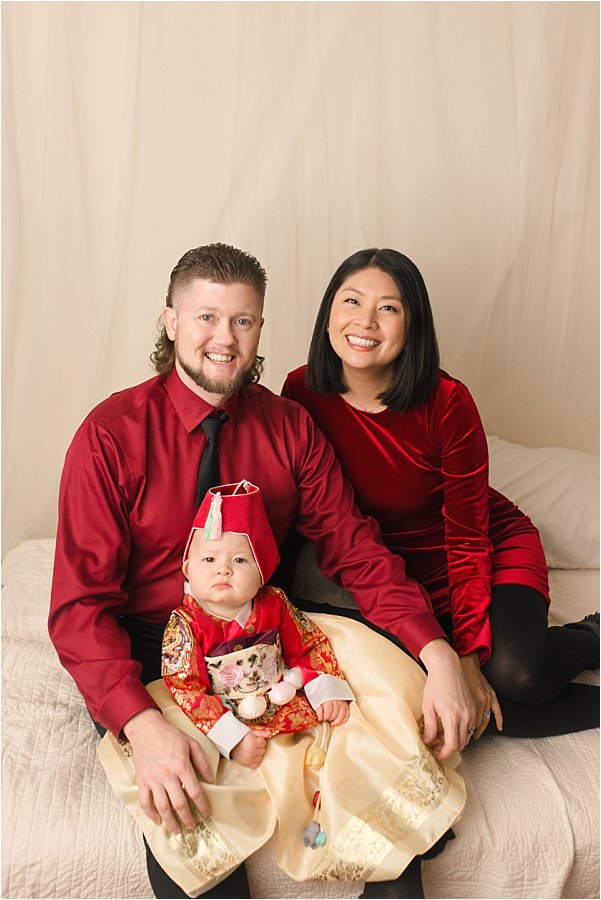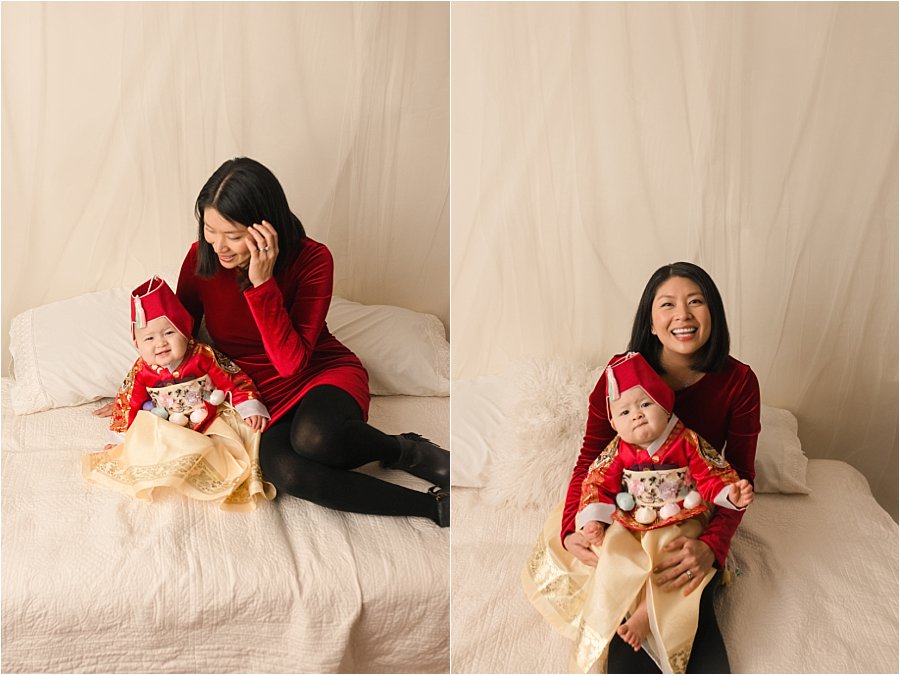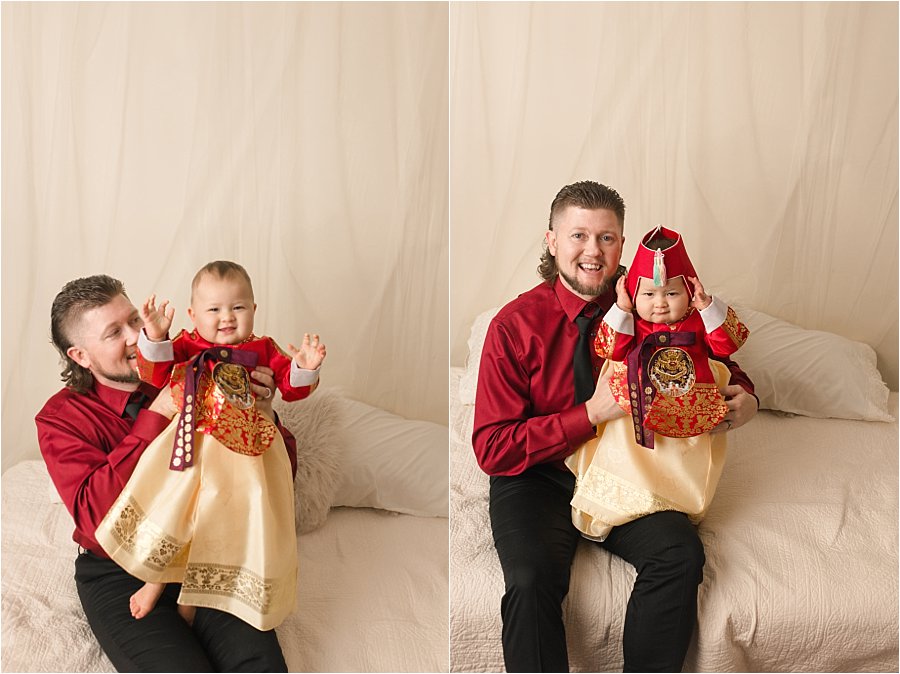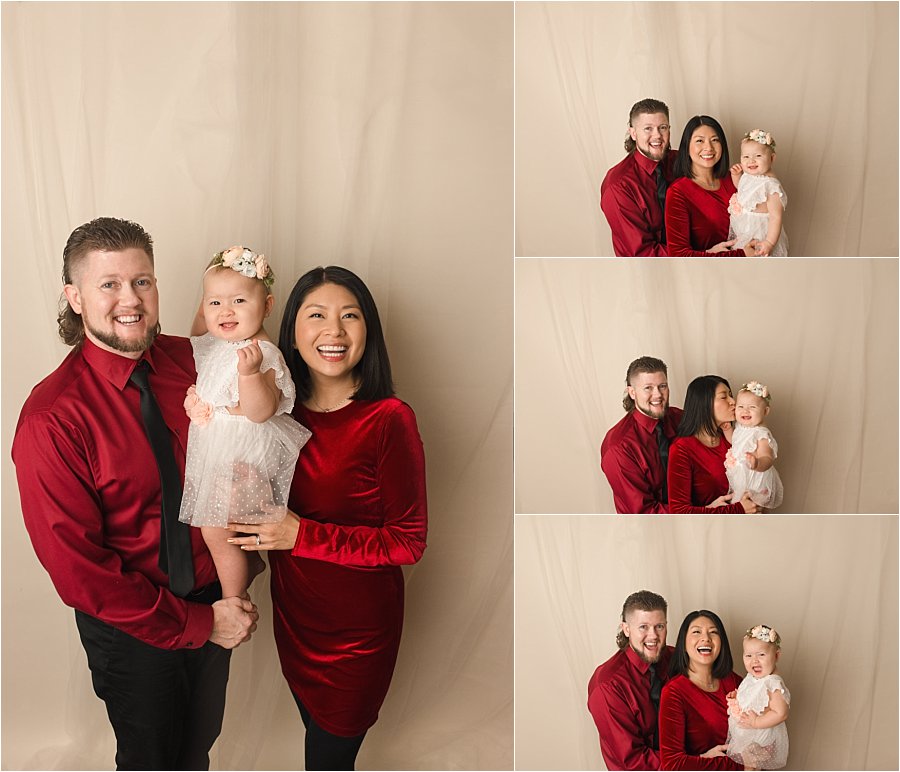 Are you looking for Fresh Simple Newborn Pictures Greer, South Carolina? Are you frustrated by loads of fussy sets that take the focus off of a newborn's natural beauty? I want your session to tell your baby's story and to highlight on all the little details you adore. Whether your baby isn't here yet or is 4-6 weeks old, simple timeless images help you remember every delicate feature. Click here to learn more about a photography session with me or read on to hear about baby Trace.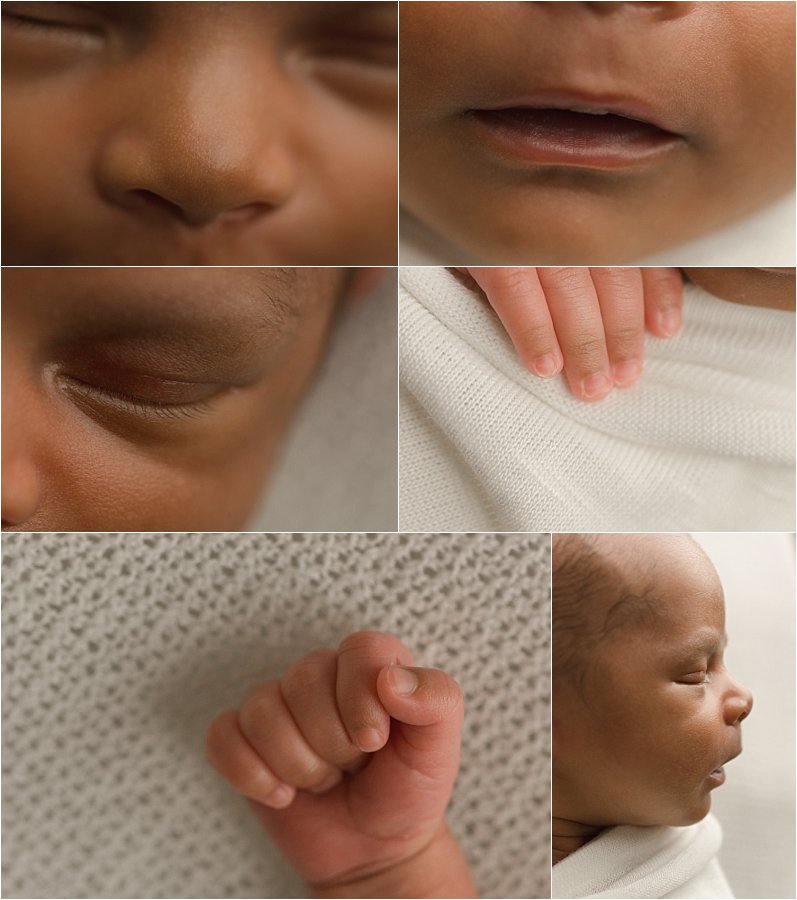 Meet Trace. He's clearly already a heartbreaker. This smile stole mine immediately!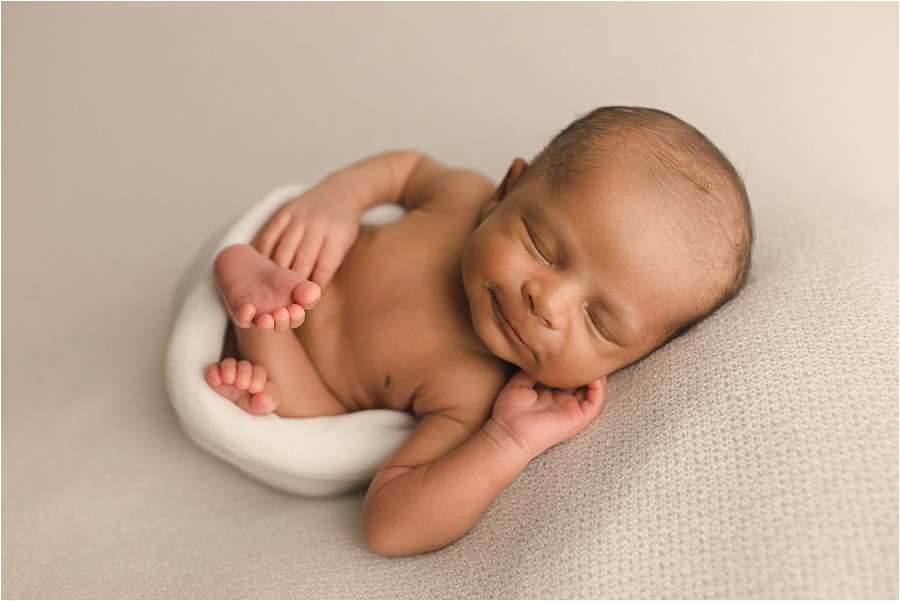 This little guy is a miracle that Celeste didn't see coming. Celeste brought her sister to the session and I was so glad she did! Her sister convinced Celeste to jump in a picture or two. Postpartum is a pretty vulnerable time for body confidence, so I always shoot angles with that in mind. I think this is hands down my favorite image from this session because it shows Celeste's quite joy and unexpected delight in baby Trace.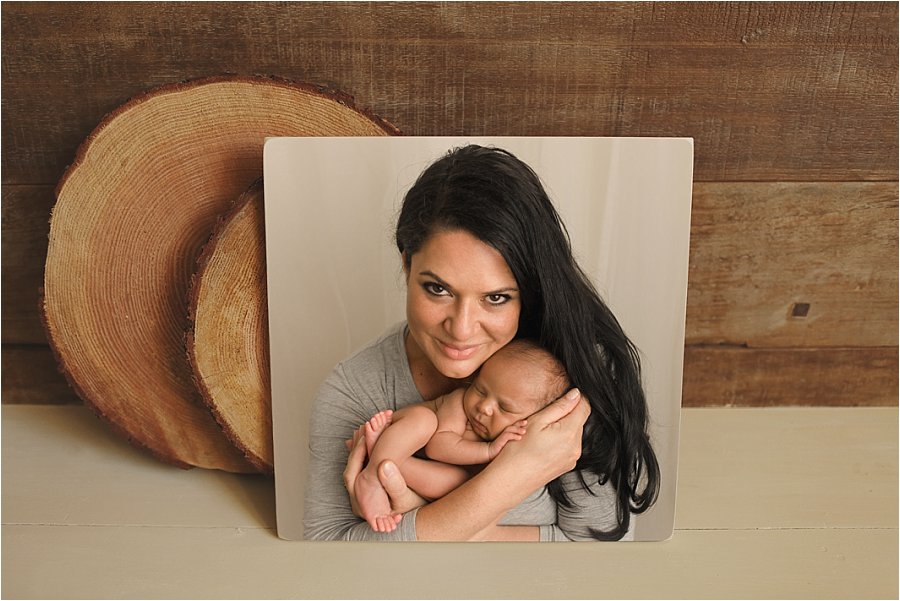 In all of my sessions, I try to pose through a flow of images. It's my way of responding to each baby's preferences while also accommodating the requested poses. This set shows you the flow of posing that Trace liked most. We started wrapped and as Trace feel more deeply into sleep, I unwrapped him in the warm studio. In between these images, I captured the little details above. I always want your baby cozy and comfortable.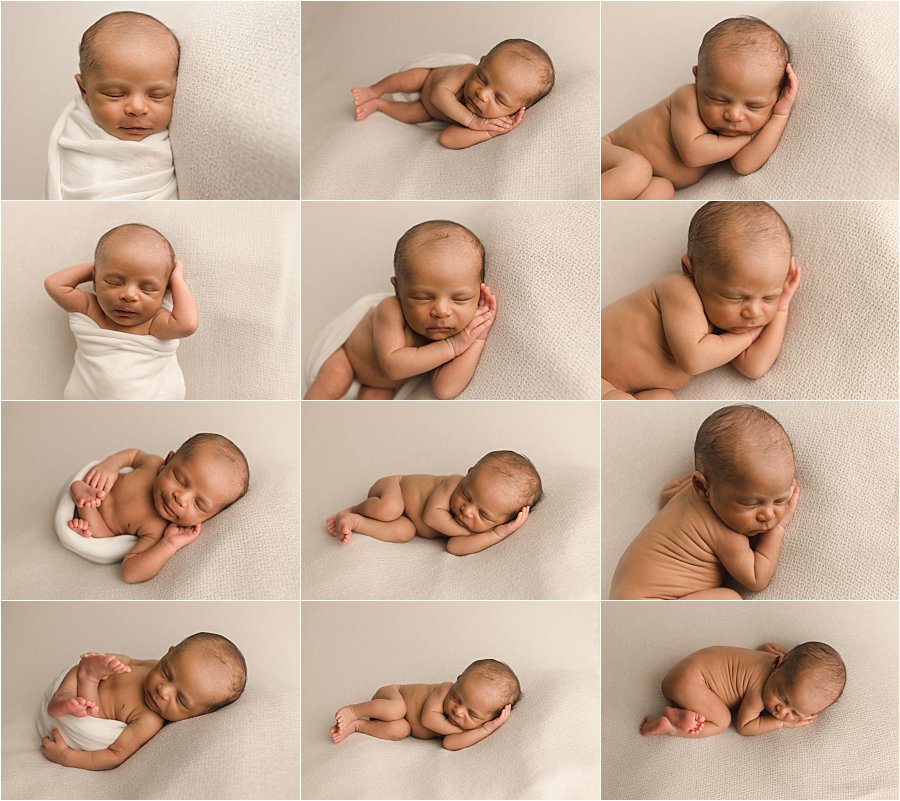 Although he was closer to a month old he was still super tiny and curly.  This little salad/dough bowl is only about 8 inches across!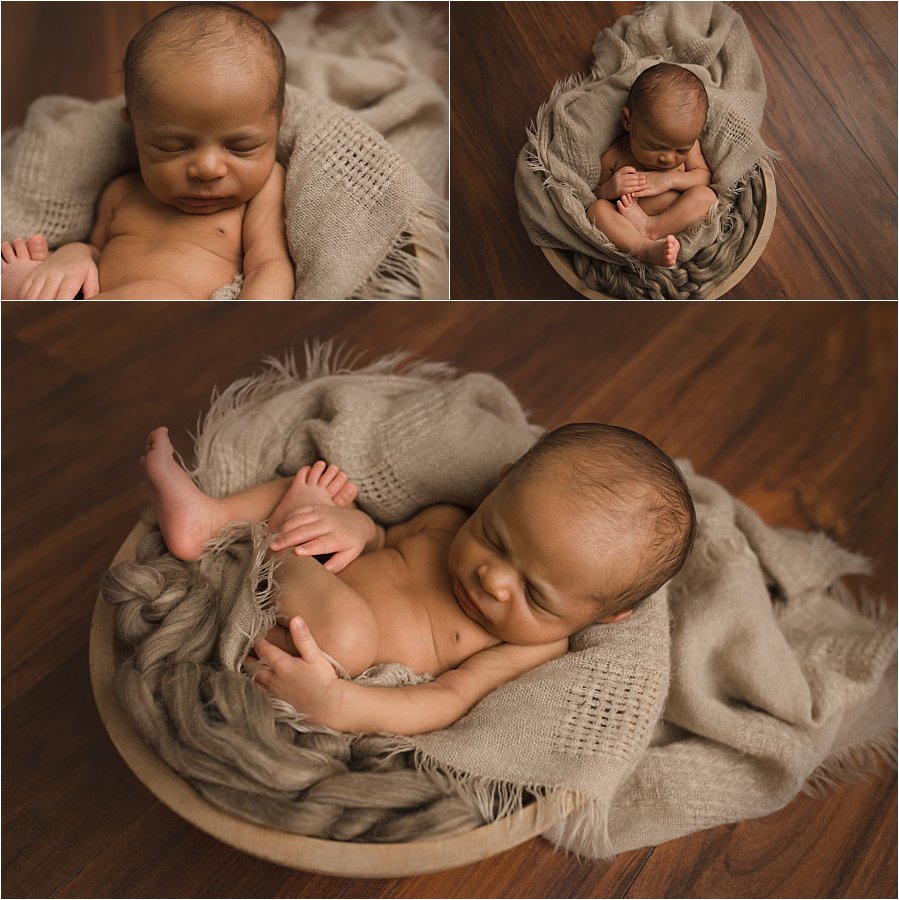 Are you wanting to book your Fresh Simple Newborn Pictures Greer South Carolina now? Click here to tell me all about your ideal photography session.
Are you looking to book Newborn Pictures with 2 Year Old Big Sister in Simpsonville SC? Click here to learn about working with me or read on to learn more about this session.
This family session featuring Kalyn, Robert, Magnolia, and Ruby Rose features the unpredictable fun of a newborn session with two year siblings. Like all sessions, I want your images with big siblings to be natural, timeless, and emotional. I want you to be able to remember exactly what this time with your little ones was really like in all it's beauty, joy, and sheer exhaustion. I think we nailed that here!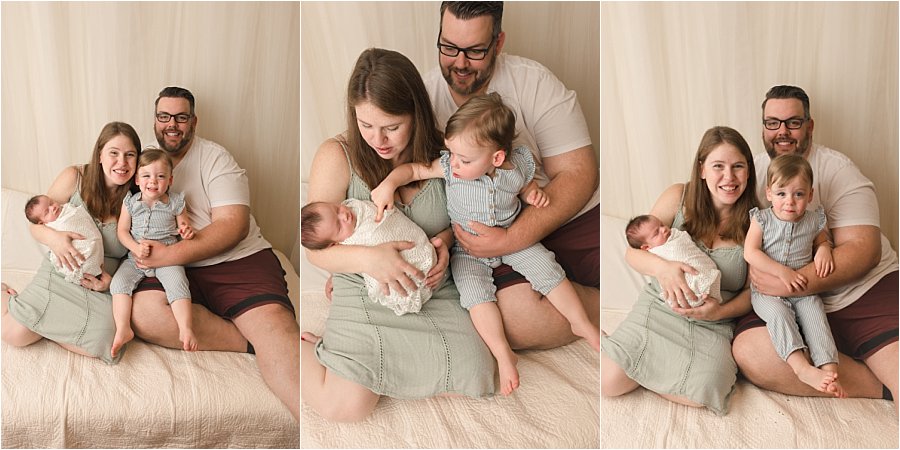 Kalyn and Robert vlog their family fun on YouTube. You can view their channel by clicking here. It's fun to watch their family grow and learn and have adventures there. Kayln and Robert are authentic: they share both their heartbreak and their joy in every situation. It's always a joy to have them in the studio for this reason as well. You can fee how much Magnolia and Ruby are loved!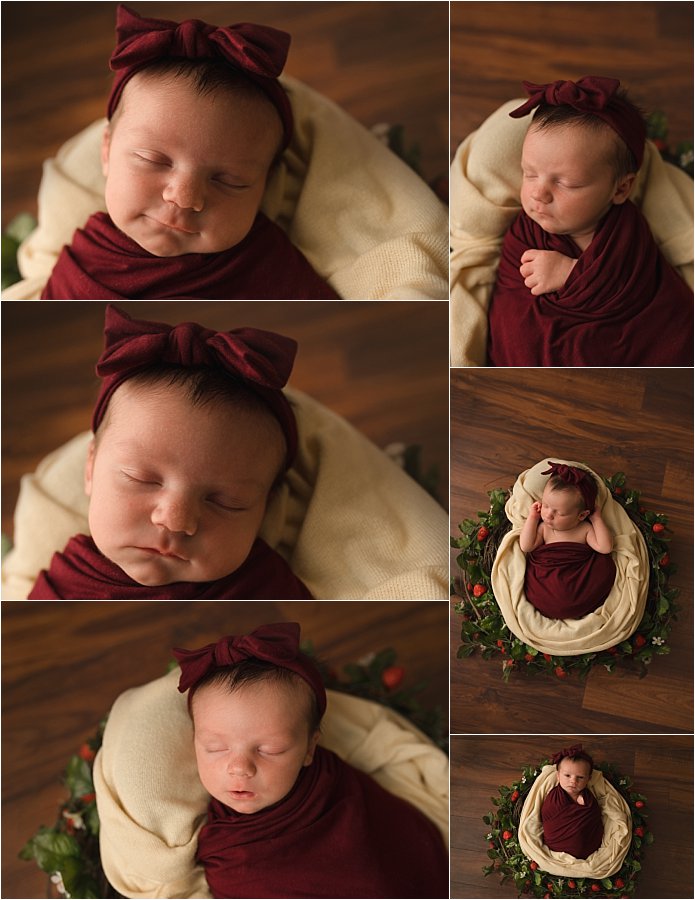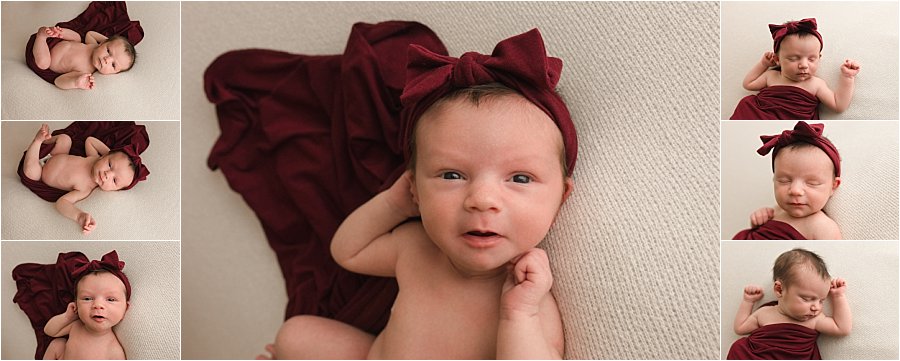 Kalyn brought this amazing wrap set to the session to highlight how Ruby Rose's name evokes color. I don't have a lot of color of in the studio outside of ferny greens, peachy pinks, and this yellow drop so it was super fun to play with this set!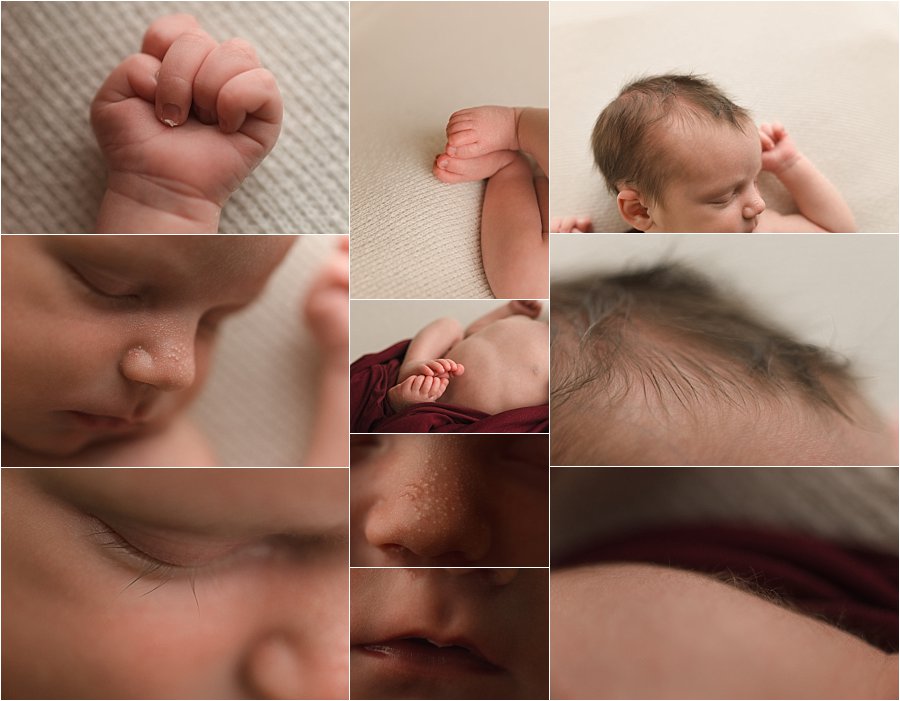 One of the thing I love most as a newborn photographer is to capture details that change in the blink of an eye. Babies grow so fast and the beauty of these little details always takes my breath away.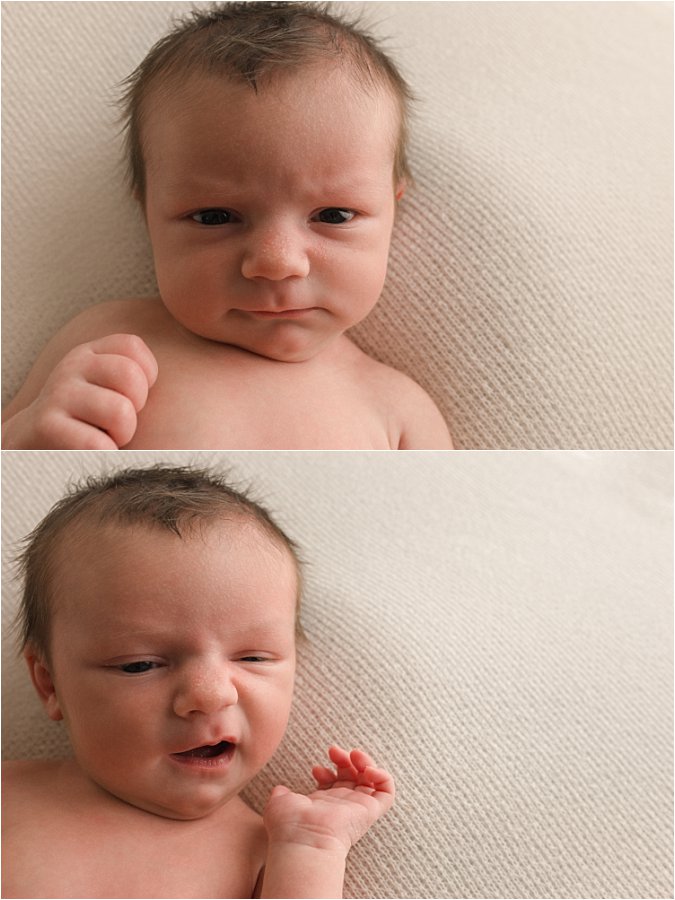 I finished out this session on my neutral cream set. I do a cream backdrop almost every session so you'll always have some very natural, classic images.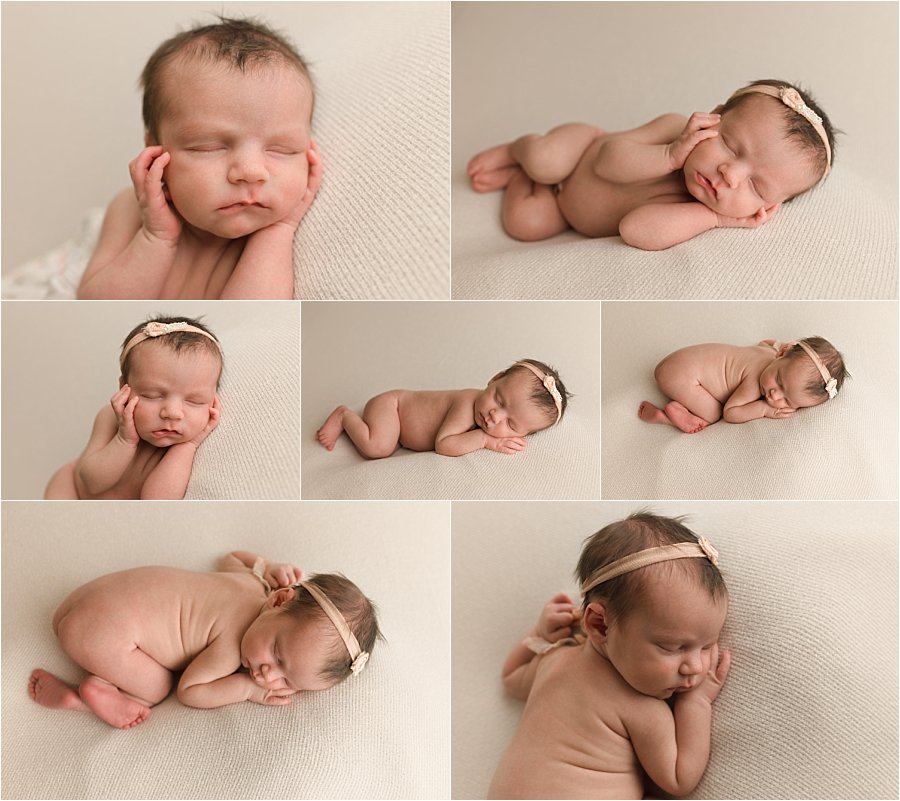 This last set is a parent request and it was meant to mirror the same set we did with big sister Magnolia.  Ruby is on Top and Magnolia, who was 3 months old due to being a micro preemie at birth, is below. You can see all of Magnolia's Session by clicking here.
Looking to book your own Newborn Pictures with 2 Year Old Big Sister Simpsonville SC? Click here to contact me today!http://quietgraces.com/contact
Do you need one month newborn pictures Greenville SC? Have you been turned down by a lot of photographers saying to wait until your baby is older? Or have photographers told you that only and in home lifestyle session will work to capture your little one when you really wanted posed newborn images? Are you kicking yourself for not booking a newborn session in advance?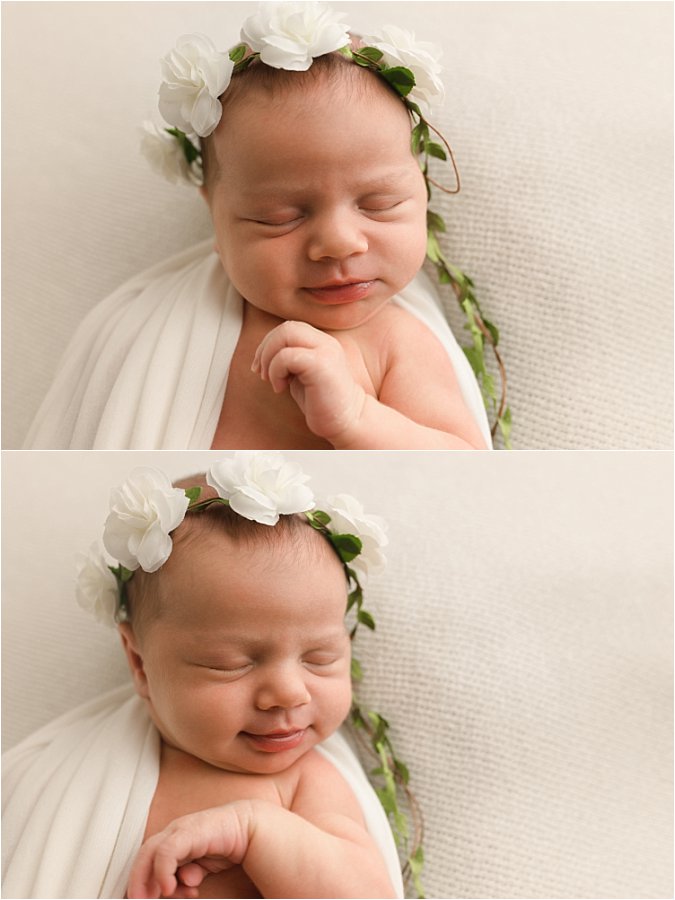 One of the things I've learned in my ten years of running a Newborn Photography business in Greenville SC, is that babies are inherently beautiful. My job is to capture their beauty no matter how old they are. Maybe you had a rough pregnancy or delivered early or didn't think you'd want newborn pictures. Maybe your first photographer didn't create the art you wanted or your c-section recovery was more than you expected.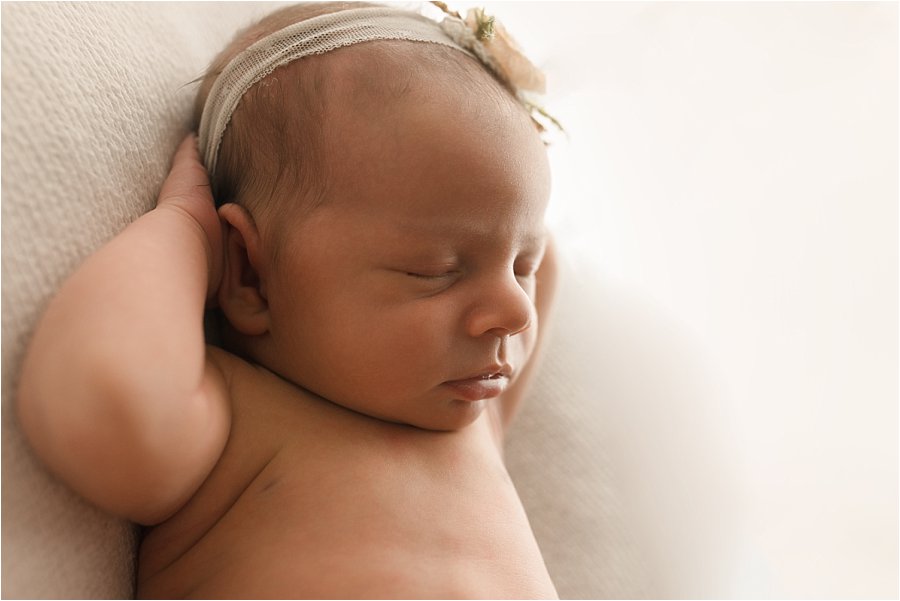 Whatever your reason for booking late, I'm here for you. I can create beautiful, relaxed, simple, and posed images up to two months old. And even if your baby is three months old, we can still capture their beauty using wraps and props if that's what you want.
Evelyn was just about 1 month old when she came to the studio. She was sleepy and content and her mama was restful. It's one of the things I appreciate most about my "older newborn sessions": Mama has had time to heal and adjust to all the stresses of early motherhood. The other amazing thing is the your baby will have learned to feed well and, therefore, sleeps a bit more deeply.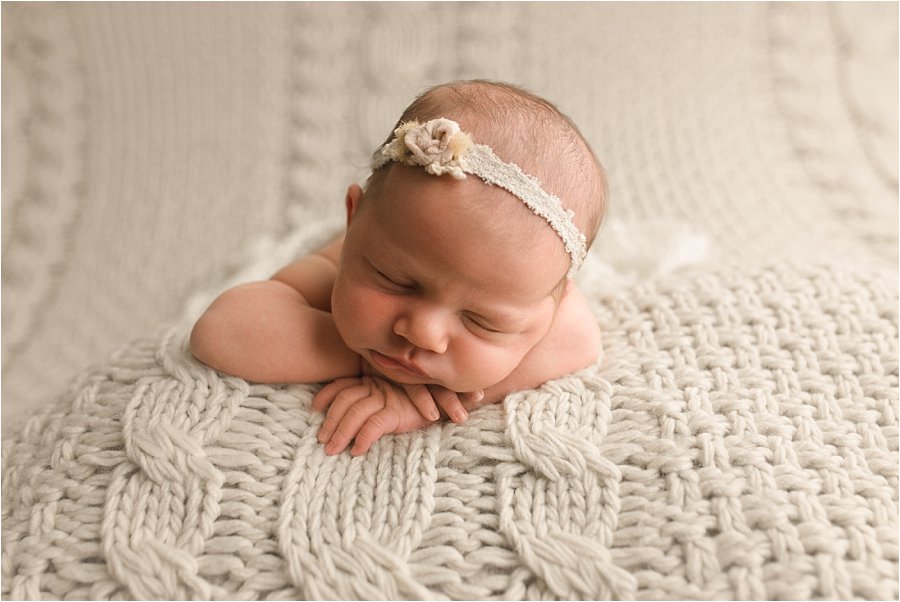 I find that because of this deeper sleep, I am able to capture a lot more smiles! Look at all of these smiles that mama picked from her proof gallery. I love every image she picked.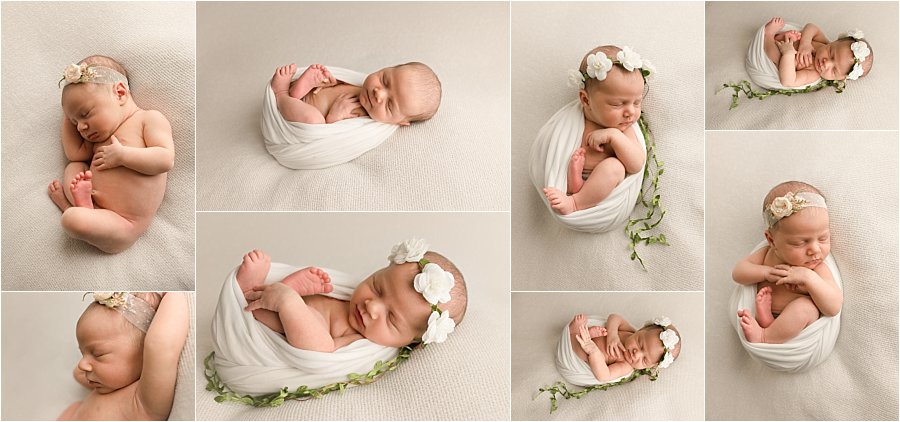 Are you looking to book One Month Newborn Pictures Greenville SC for your older baby? I'd love to be considered. Take a moment to drop me a line and tell me all about your dream photoshoot.
Holly contacted me for a Greenville SC Mini Maternity Photography Session including her older daughter Emma.  I met Emma when she was a newborn and was so excited to see her all grown up to almost 2 years.  Look at how cute Emma was in this natural and simple newborn set from her session. You can see the rest of Emma's natural and timeless newborn session by clicking here.
One of the best parts about booking a maternity session for your second child is the photos we're able to get of your first child during that session.  There's a little less pressure and I'm able to focus fully on your big sibling.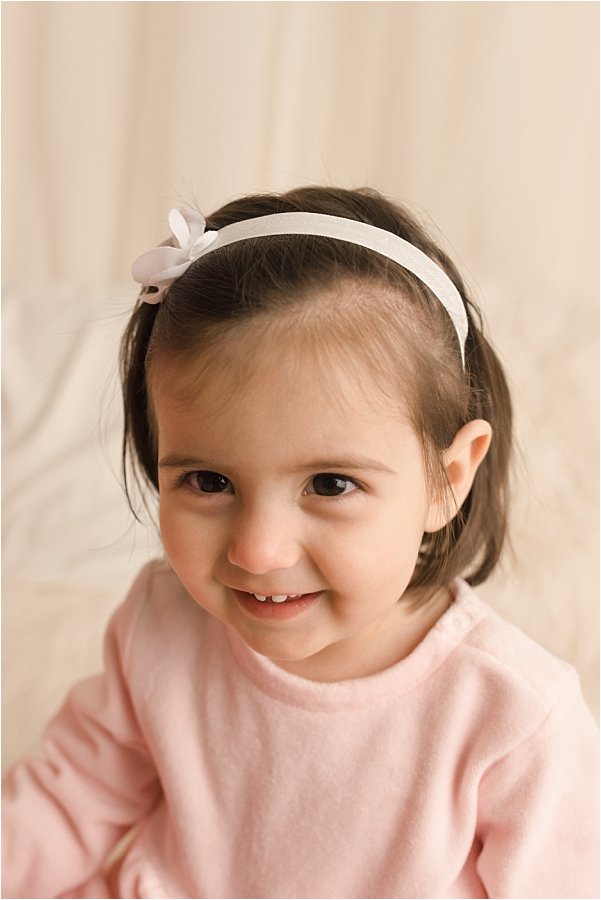 And the added benefit is that when you come back for your newborn session, your child will already be familiar with me and the studio. It's a win-win the day of the newborn session when we're able to get the sibling photos you want a little easier 😉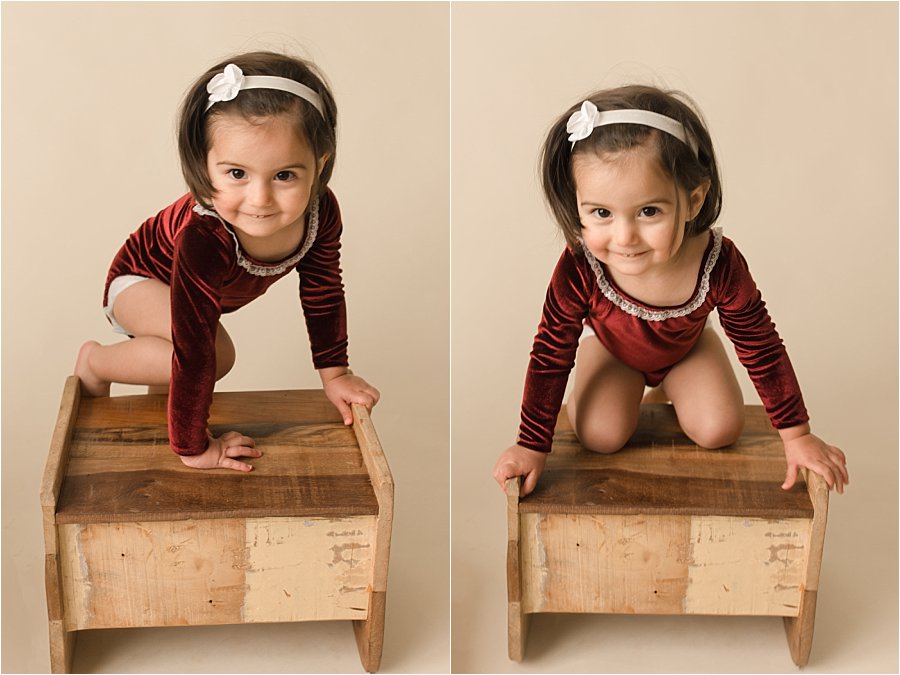 Emma was pretty much the most fun child I've had under two in a long time! She likes to climb, play, and throw around my studio newborn posing pillows (don't worry… I started that game not her!). We had a blast capturing some of that mischief on camera!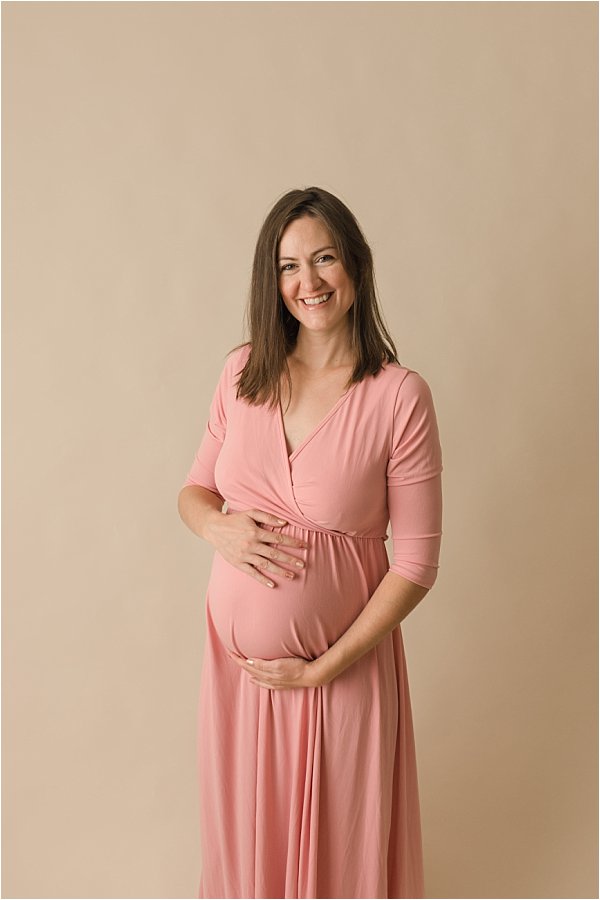 And ofcourse, we captured Holly's pregnancy with Emma's baby sister, too!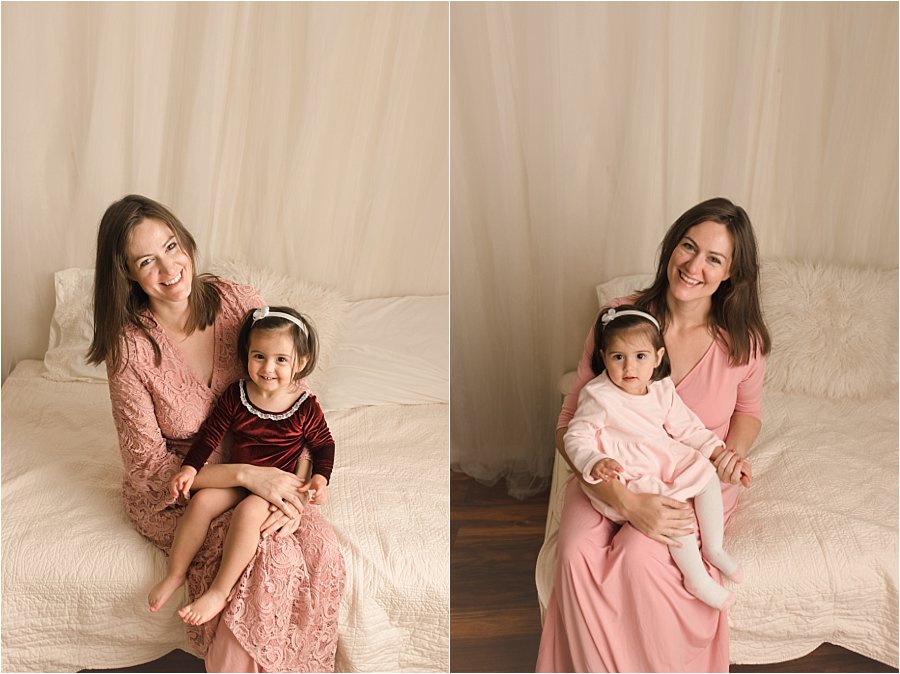 Because daddy was out of town on the day of the session, Holly's dad joined her. I really enjoyed getting to meet him and capture some images with him as well.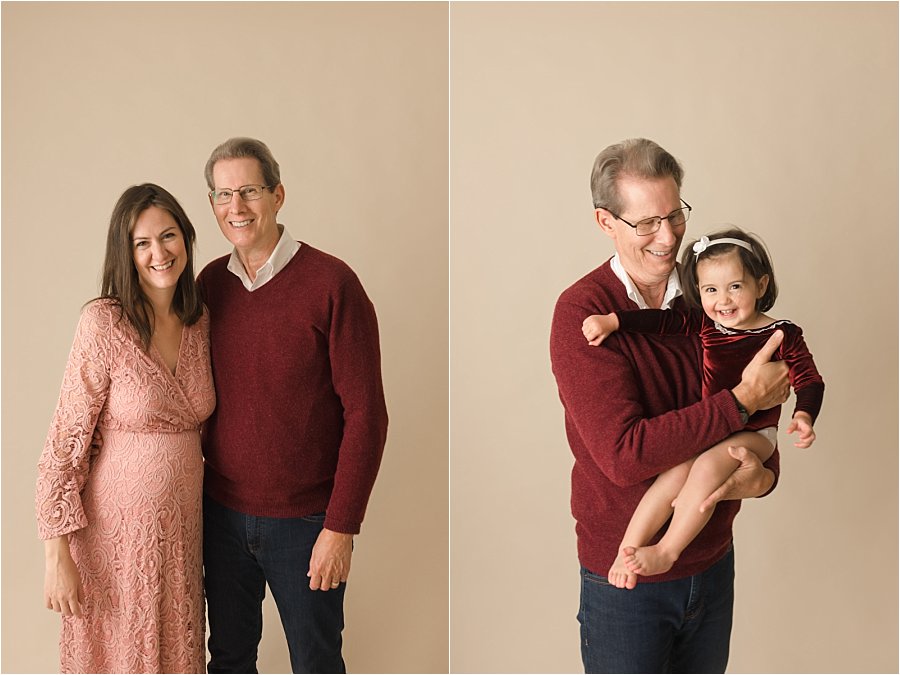 Are you looking to book a Greenville SC Mini Maternity Photography Session with an older child?  Wanting to meet your newborn photographer before your baby arrives at a no fuss session? I even provide a wardrobe for my clients and their kiddos to make it super easy! I'd love to be considered to serve your family. Click here to tell me about your dream Greenville SC Mini Maternity Photography Session.