Older Newborn
Are you looking for Fresh Simple Newborn Pictures Greer, South Carolina? Are you frustrated by loads of fussy sets that take the focus off of a newborn's natural beauty? I want your session to tell your baby's story and to highlight on all the little details you adore. Whether your baby isn't here yet or is 4-6 weeks old, simple timeless images help you remember every delicate feature. Click here to learn more about a photography session with me or read on to hear about baby Trace.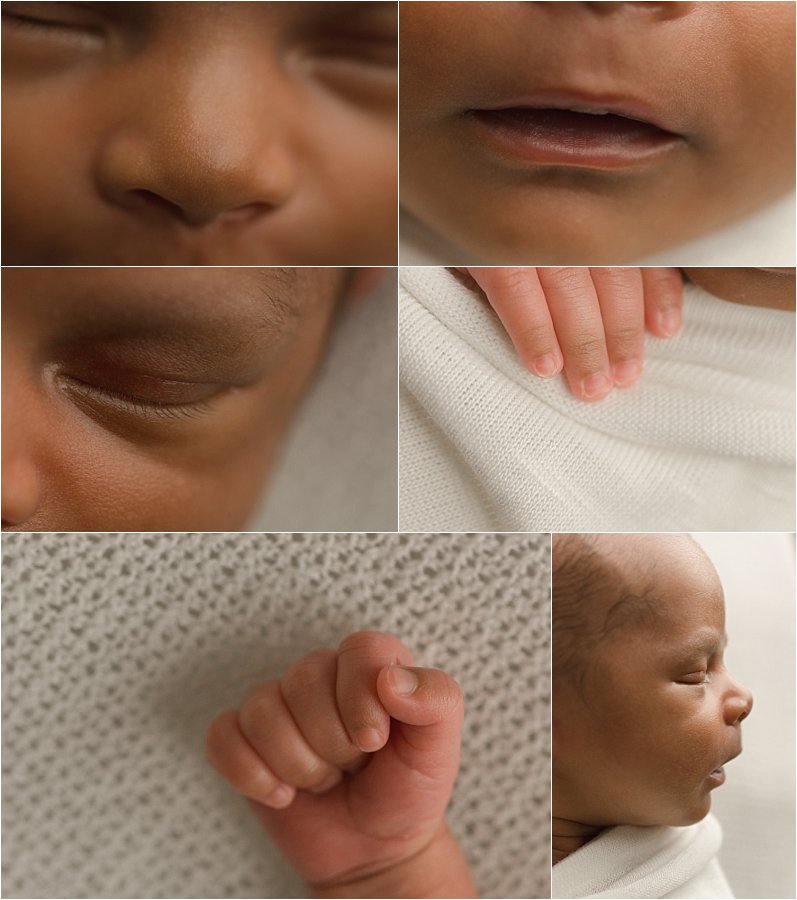 Meet Trace. He's clearly already a heartbreaker. This smile stole mine immediately!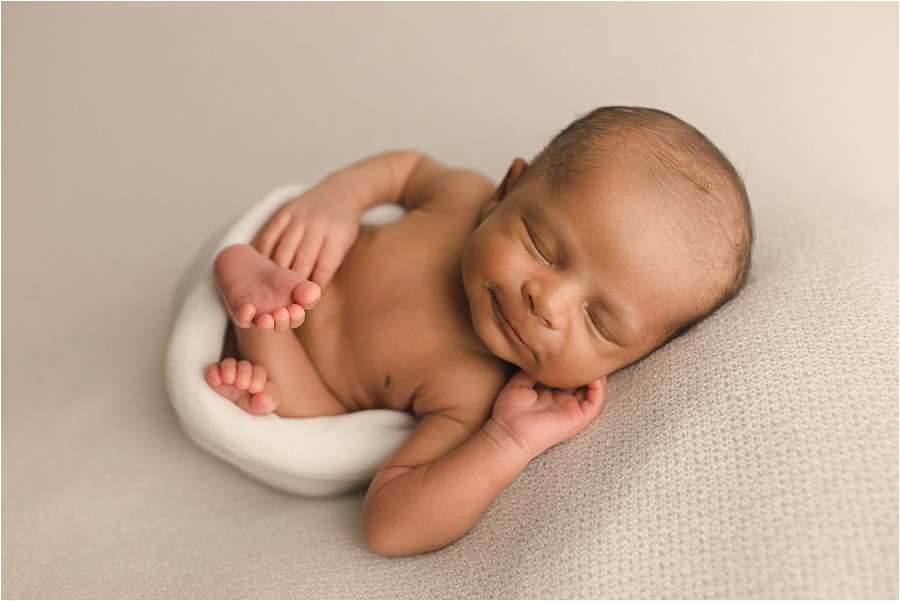 This little guy is a miracle that Celeste didn't see coming. Celeste brought her sister to the session and I was so glad she did! Her sister convinced Celeste to jump in a picture or two. Postpartum is a pretty vulnerable time for body confidence, so I always shoot angles with that in mind. I think this is hands down my favorite image from this session because it shows Celeste's quite joy and unexpected delight in baby Trace.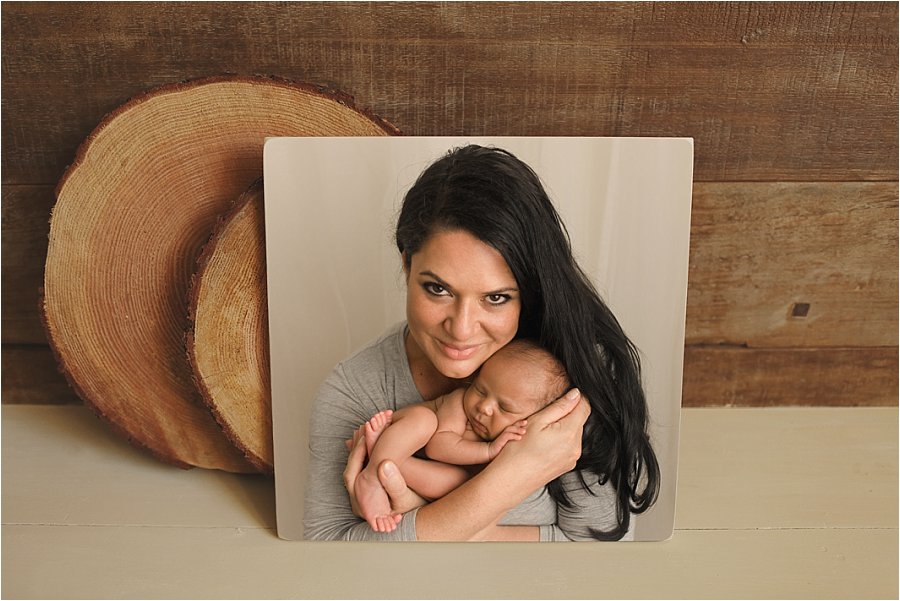 In all of my sessions, I try to pose through a flow of images. It's my way of responding to each baby's preferences while also accommodating the requested poses. This set shows you the flow of posing that Trace liked most. We started wrapped and as Trace feel more deeply into sleep, I unwrapped him in the warm studio. In between these images, I captured the little details above. I always want your baby cozy and comfortable.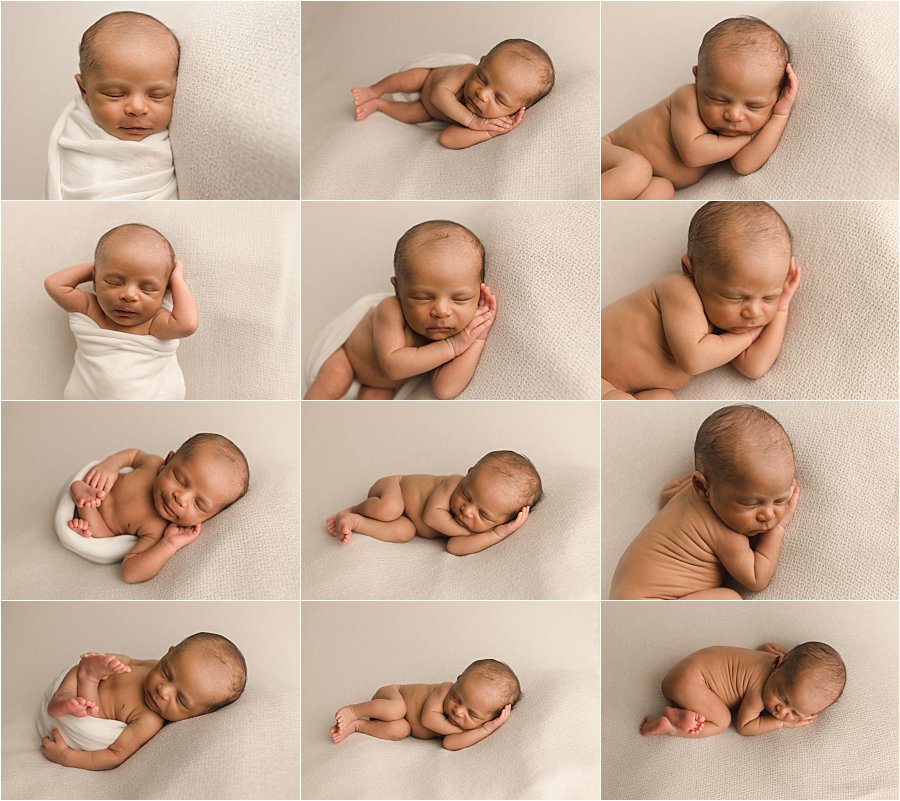 Although he was closer to a month old he was still super tiny and curly.  This little salad/dough bowl is only about 8 inches across!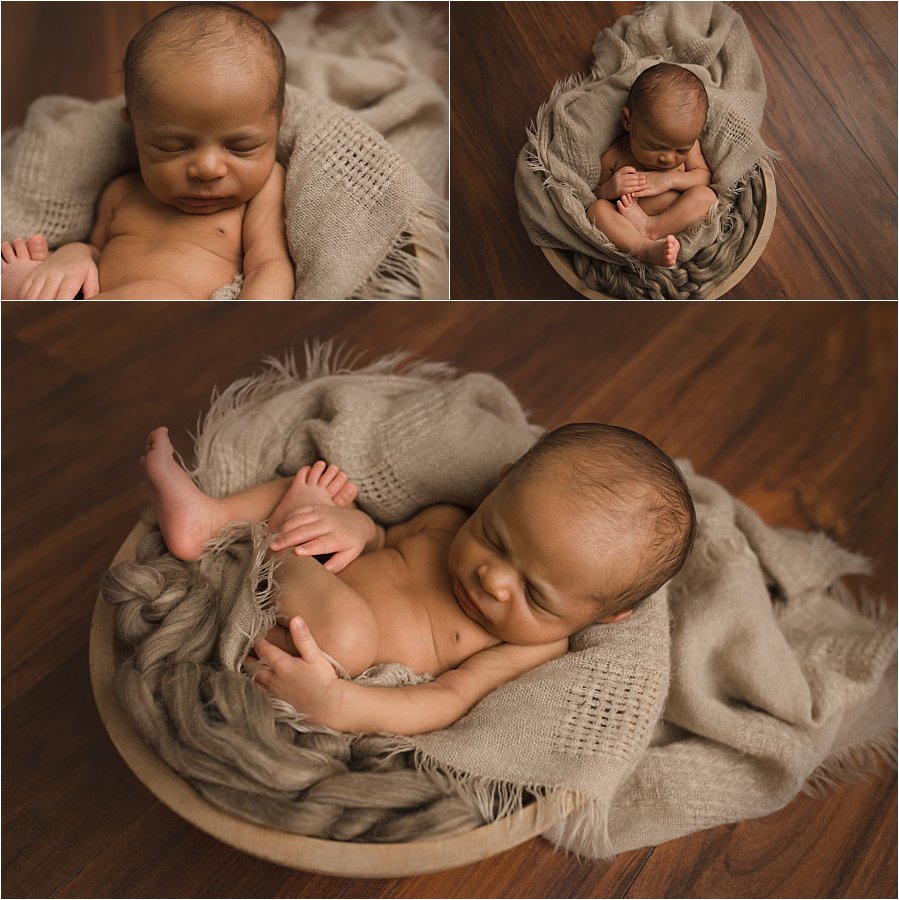 Are you wanting to book your Fresh Simple Newborn Pictures Greer South Carolina now? Click here to tell me all about your ideal photography session.
Did your baby have an unexpected stay in the NiCU? Are you looking for a Post NICU Newborn Photographer who will photograph your newborn regardless of age? One of my favorite things is the joy of holding and photographing your tiny miracle. I'm less concerned with chronological age and more concerned with capturing your sweet baby's beauty. I love all the details of your baby: his fingers, his eyelashes, and his tiny hands. I don't mind a little extra soothing and a little more baby led posing rather than photographer led. Your little one has a story to tell and I'd be honored to illustrate it.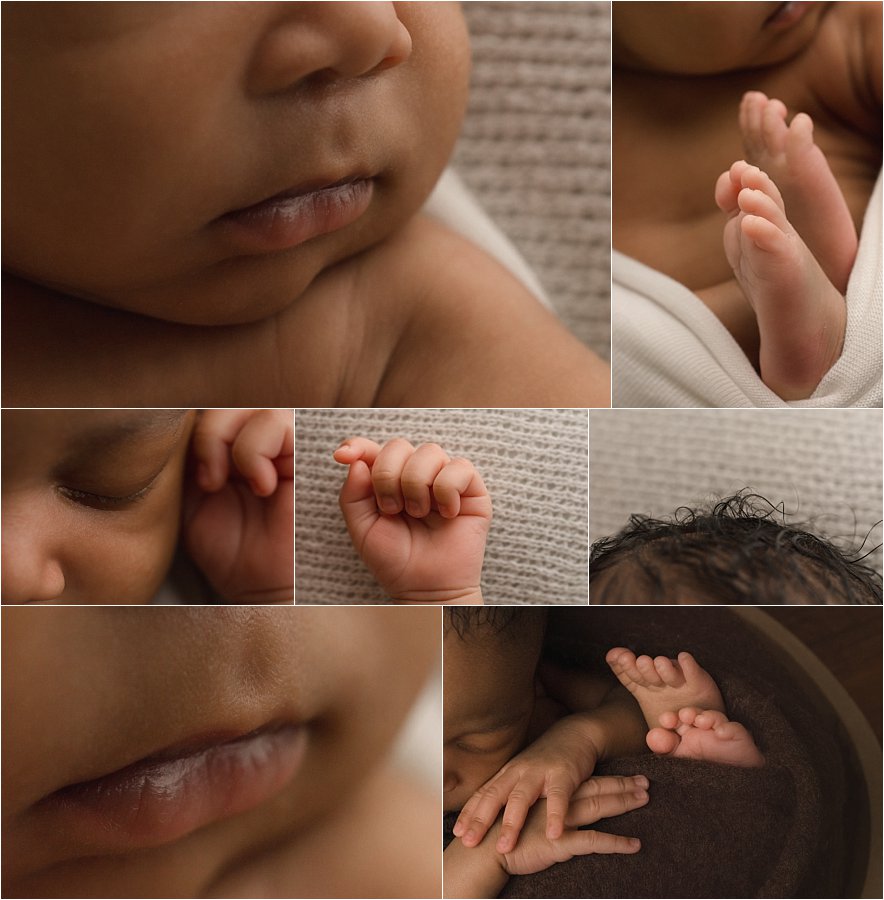 This beautiful NICU baby's name is Marley. His NICU journey amid the very first few weeks of the Covid-19 pandemic was completely unexpected. He was early, but not so early that mama Ericka expected him to be whisked away to the NICU. But Marley is a fighter and he fought his way out of a scary diagnosis and came home.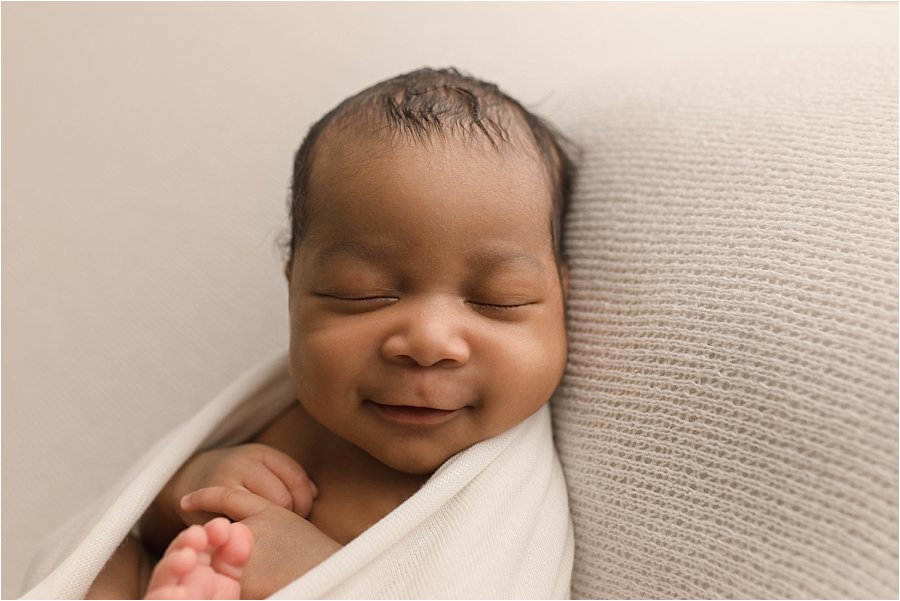 Marley was still a tiny little guy, weighing well under 6 pounds when I met him. He was laid back and very sleepy which was unexpected but welcome. He loved the comfort of the wrap, perhaps because he'd spent so much time cuddled up in Ericka's arms.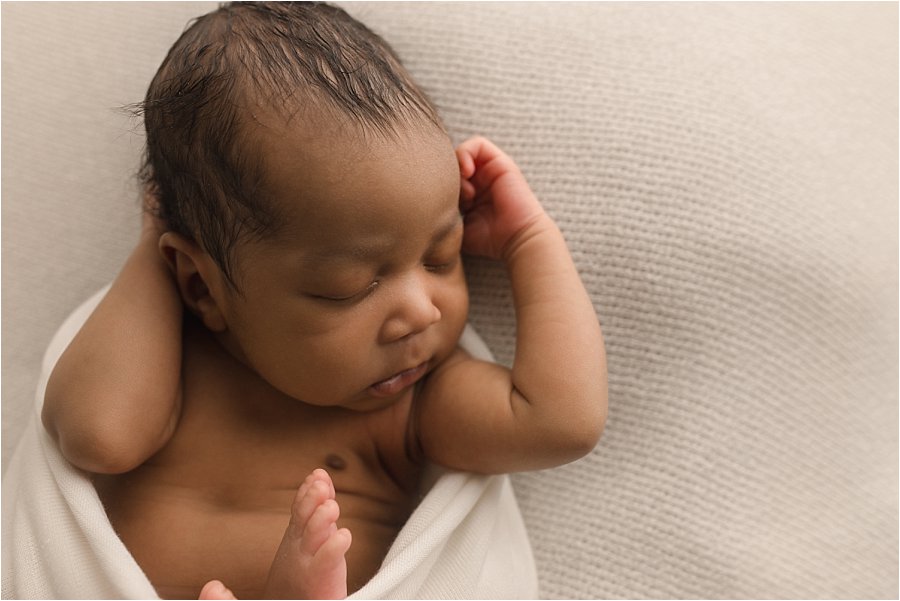 I had fun curling Marley up into the tiniest little props and showcasing his beautiful hands and feet. We even snuck a little bear bonnet on him!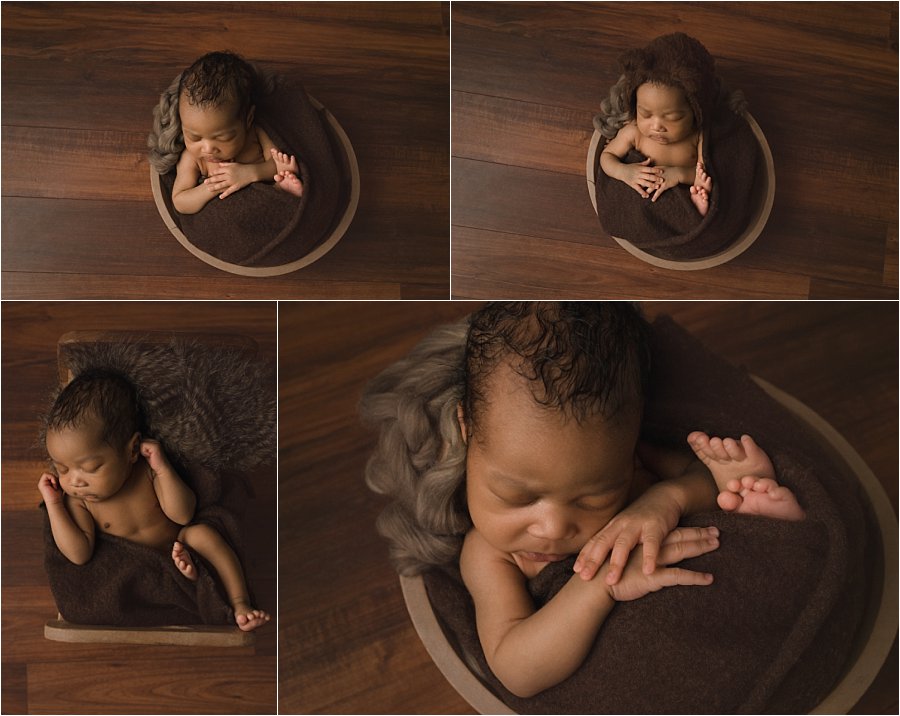 At the very end of the session, I dressed Marley in this little knitted footed PJ set from the studio wardrobe. He woke up just enough to get a sweet awake picture and these remaining images.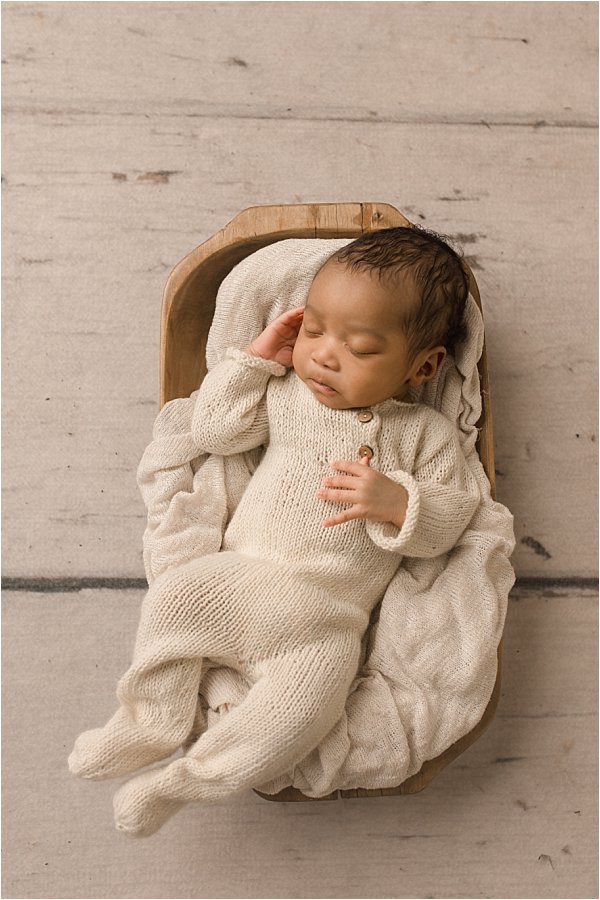 Are you looking to book your Post NICU Newborn Photographer? I'd be honored to be considered. Click here to contact me about setting something up.
Girly Emotional Newborn Photos in Greenville SC don't have to be all frills and bows and costumes. When your heart wants to tell the story of how beautiful your baby is from her tiny toes to the millia on her nose, choose a photographer who matches that vision. At Quiet Graces Photography, I believe that simple imagery celebrates your little one best.

Soothing and Calming
Isla is the sweet newborn girl featured in these session images.  Isla is an "older newborn" in the 3-6 week range.  Many newborn photographers will tell you this age is simply impossible to capture in curly poses, but that's obviously not true!  Yes, newborns at this age are a little more awake, but that just means we get good eye contact like in the image above.

Isla required a little more soothing and calming than your typical newborn and she wanted to be posed upright while she fell asleep.  I always take your baby's preferences into account during posing. It's more important to have a safe and happy baby than to make sure we get "the pose" we wanted most.

Feminine Simplicity on White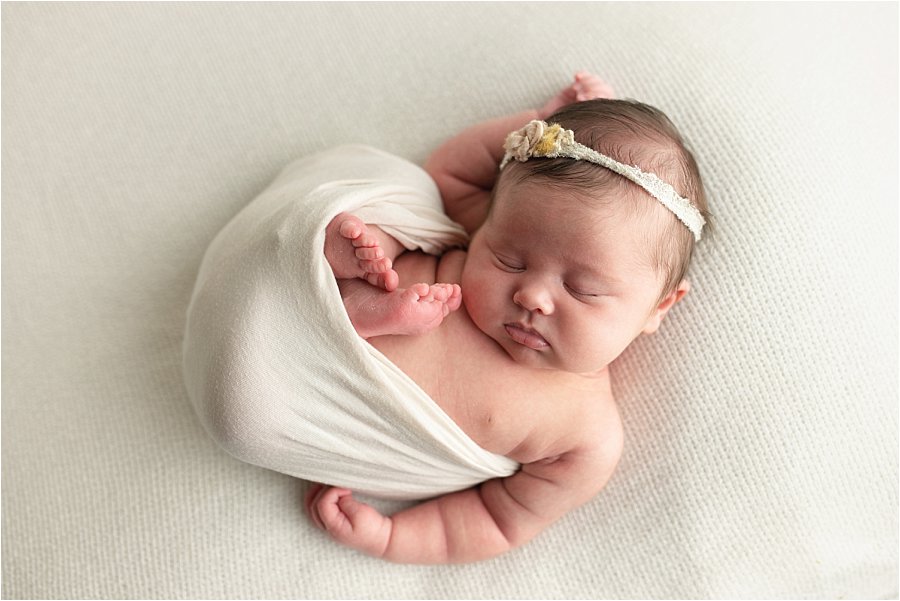 Once Isla fell asleep in her wrap, I was able to transition her into this set of poses on white.  I love posing girl emotional newborn photos on white.

There's a timelessness to white images that just showcase your baby's natural beauty.
Baby Pictures on Mauve
After the white blanket, I moved Isla to a mauve blanket for a bit of color.  This bonnet, wrap, and headbands set by Avonli Baby are studio favorites.  I love compiling a set of props for my clients to choose from so that all they need to do is show up to the session rather than worrying about purchasing and bringing extra items.
Tiny Details
All clients are given the opportunity to customize their pose request.  One of the things that was most important to Isla's mama was detail shots.  Especially including their wedding bands. Aren't these the sweetest? And those little squishy lips are to die for!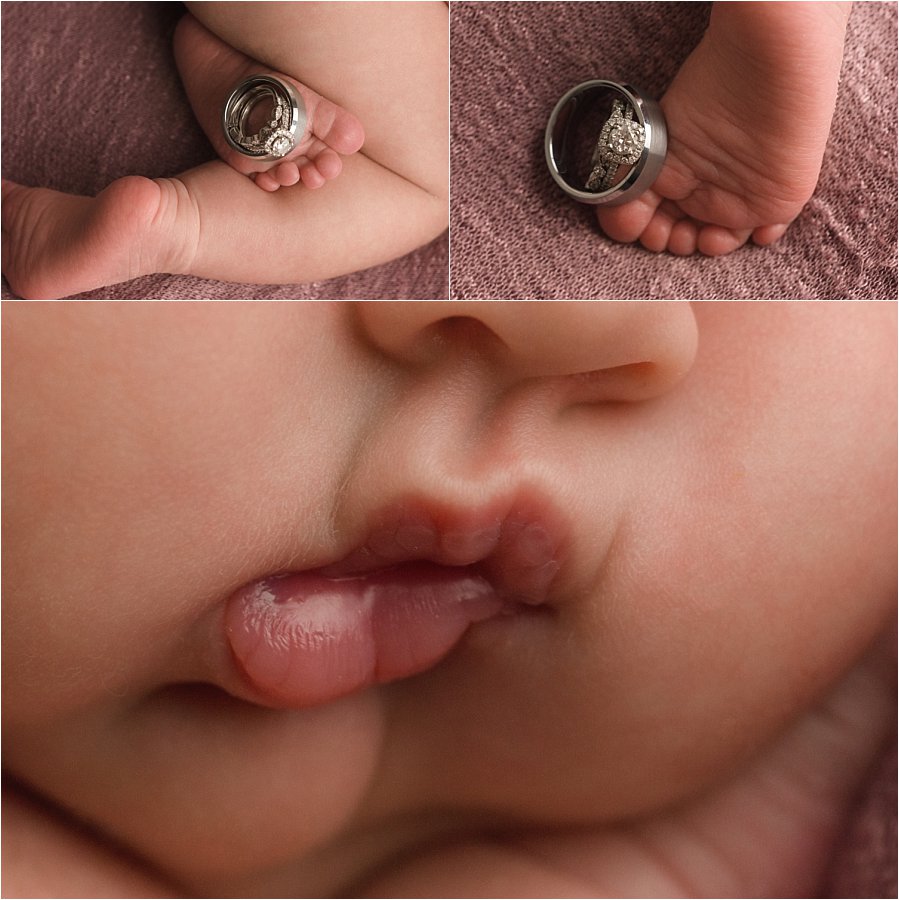 Booking Your Own Session
Looking to book your own Girly Emotional Newborn Photos in Greenville, Simpsonville, or Hendersonville?  I'd love to be considered for capturing your baby.  Contact me today to tell me how you'd like to remember your baby.

Nothing brings me greater joy than being a Natural Emotive Greenville SC Newborn Photographer. But I'm often asked: "What if my baby cries the whole session or won't fall asleep?"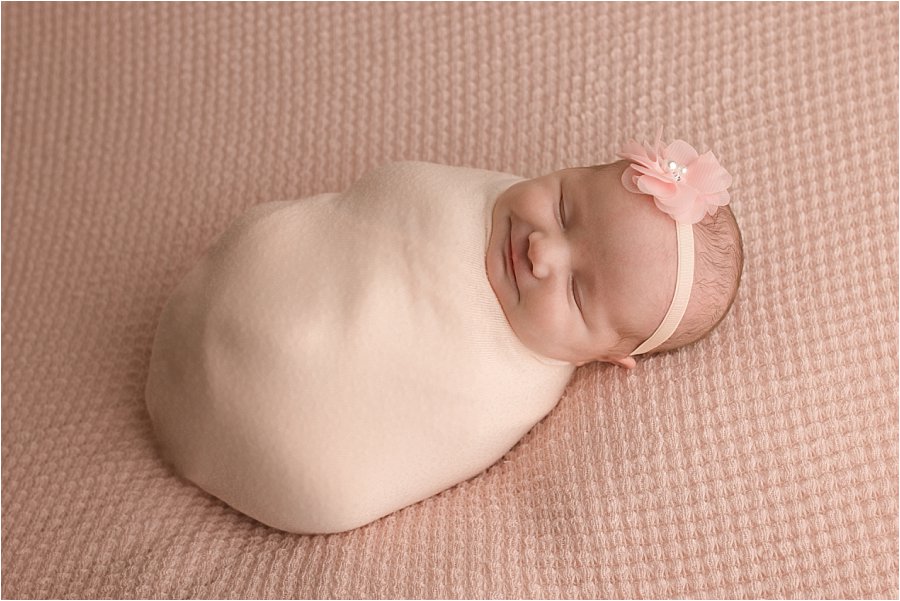 This sweet girl, Mariana, had a really difficult session.  You probably wouldn't believe it with this gorgeous smile, but Mariana was diagnosed with severe reflux and put on an elemental formula just a few days after our session.  Her digestion hurt and she wasn't very happy for most of the session.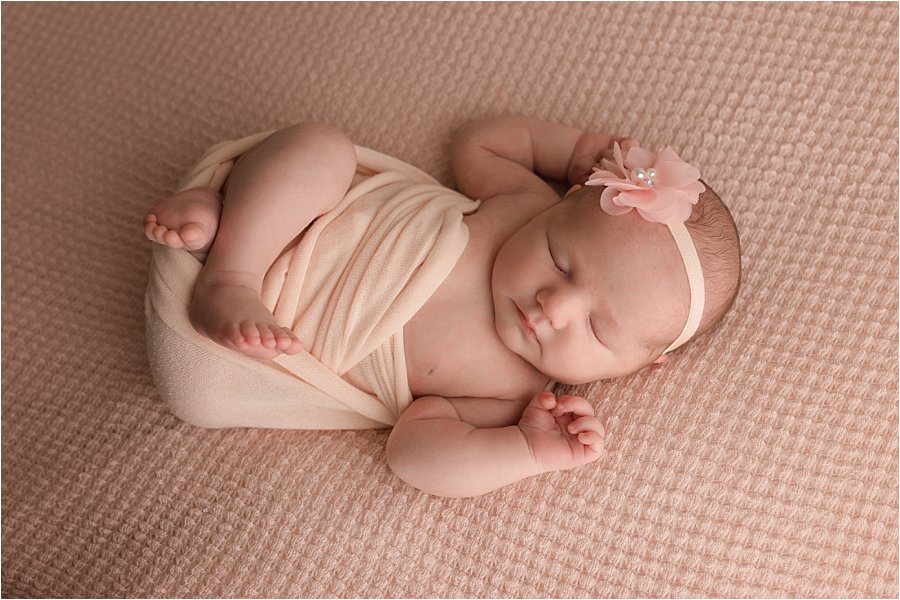 But I rocked and I soothed. I wrapped her up tight.  I found the incline that felt most comfortable for Mariana. And in this intricate dance of making another human feel most comfortable, we made art.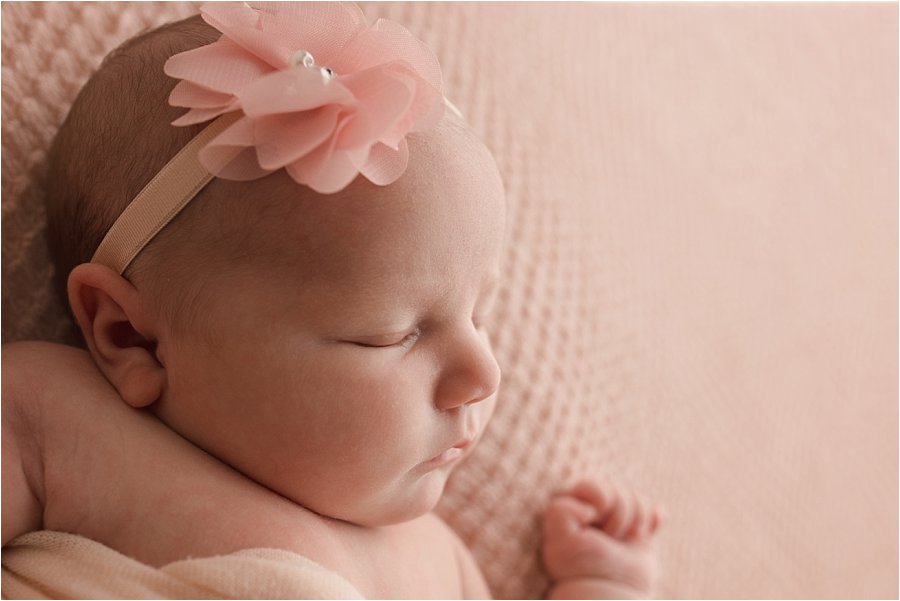 We captured her beautiful features and soothed her aching body. Sometimes I reschedule if your baby is having a rough day, but often I'll comfort and dance and capture moments in between the discomfort. It's always worth it to conform to your little one's needs of the moment.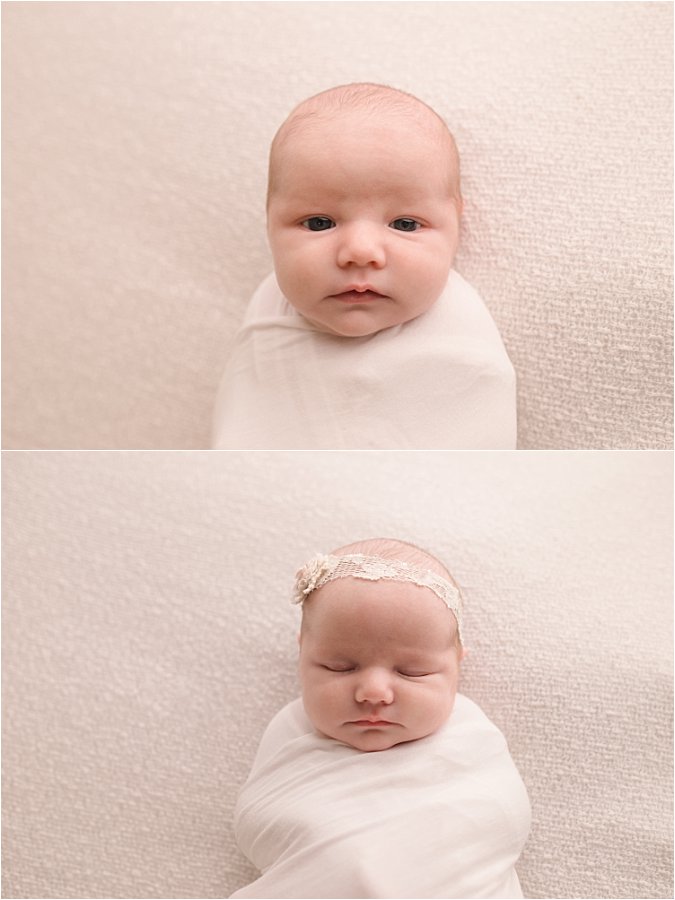 I'm sharing this to soothe your fears. I want you to have the most amazing art that celebrates who your baby is and their inherent beauty. But I also want to respect the tiny person that is your most important treasure above all else. Their comfort matters to me.  Their safety matters to me.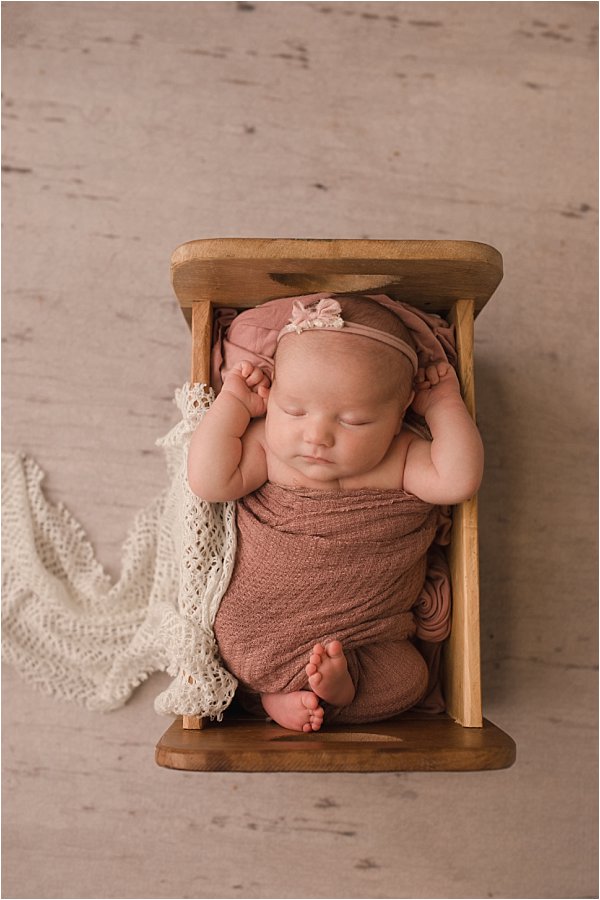 I rarely use this pose below. It's called "the potato sack," but for Mariana it was one of the most comfortable positions for her aching belly. Being vertical kept the reflux down. And even in these images, my hand is just out of the frame to comfort her if needed.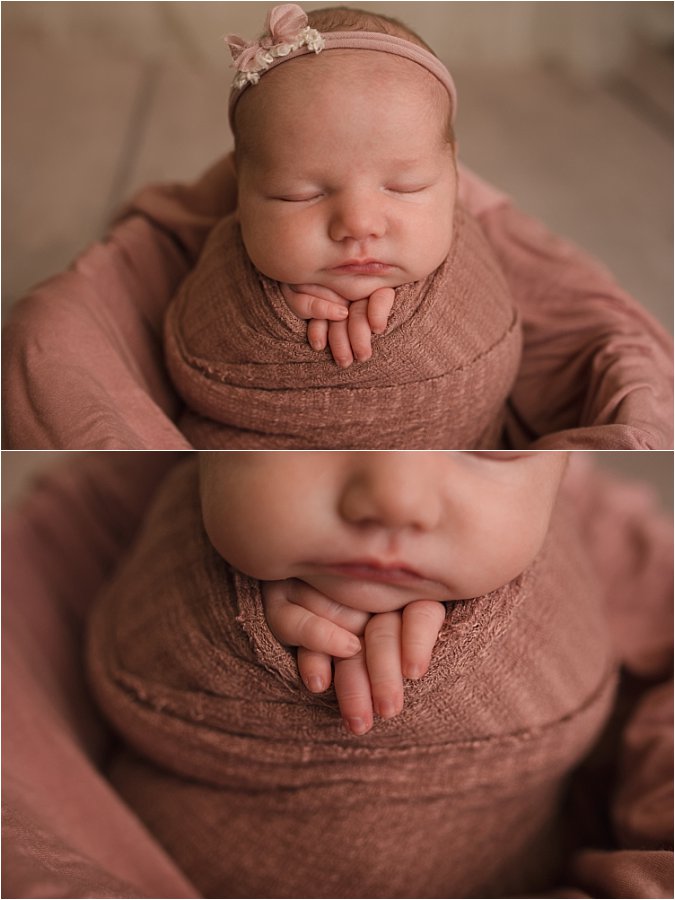 These brief smiles made every rocking and soothing motion worth it.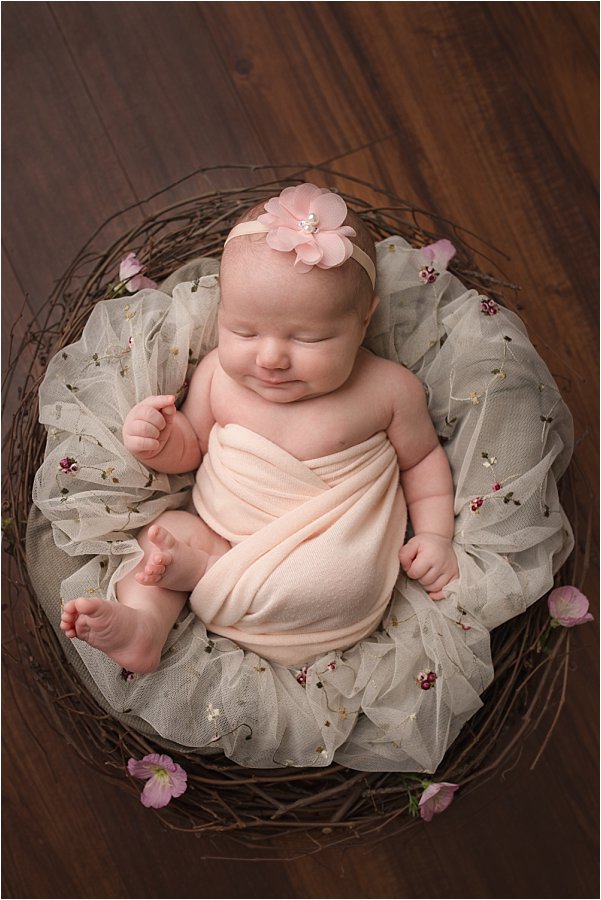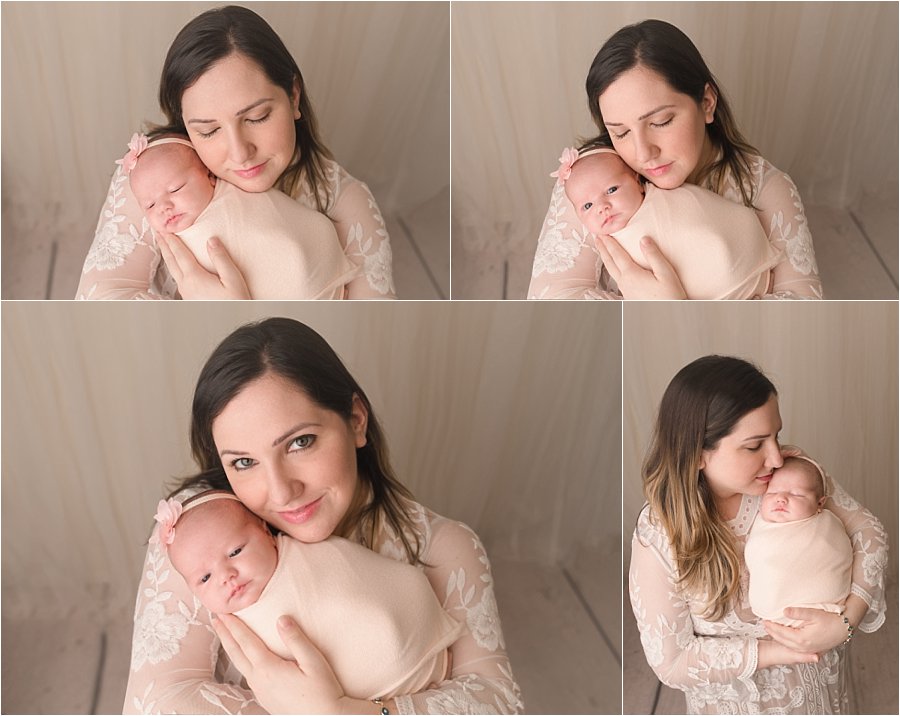 Are you looking for a Natural Emotive Greenville SC Newborn Photographer who respects your little one as a person while creating exquisite memories for you? I would love to be considered.  Drop me a line by clicking here.
Sometimes birth doesn't go the way that you had imagined and you find yourself in need of Newborn Photos for NICU babies in Greenville SC. Most local newborn photographers say only babies ages 3-14 days old.  What do you do if your baby had a tumultuous start and need a newborn session a little later than normal.  I will never turn you down.  From micropreemies to medically complicated to feeding tubs to club feet, I have photographed them all.
Cassie and Micah booked with me before Lachlan's birth. They took advantage of my waived maternity session fee and captured their pregnancy. You can see those images by clicking here.  We all anticipated a reunion shortly in the studio.  But Lachlan had some complications that caused surgery and an extensive NICU stay while he learned to feed without aspirating.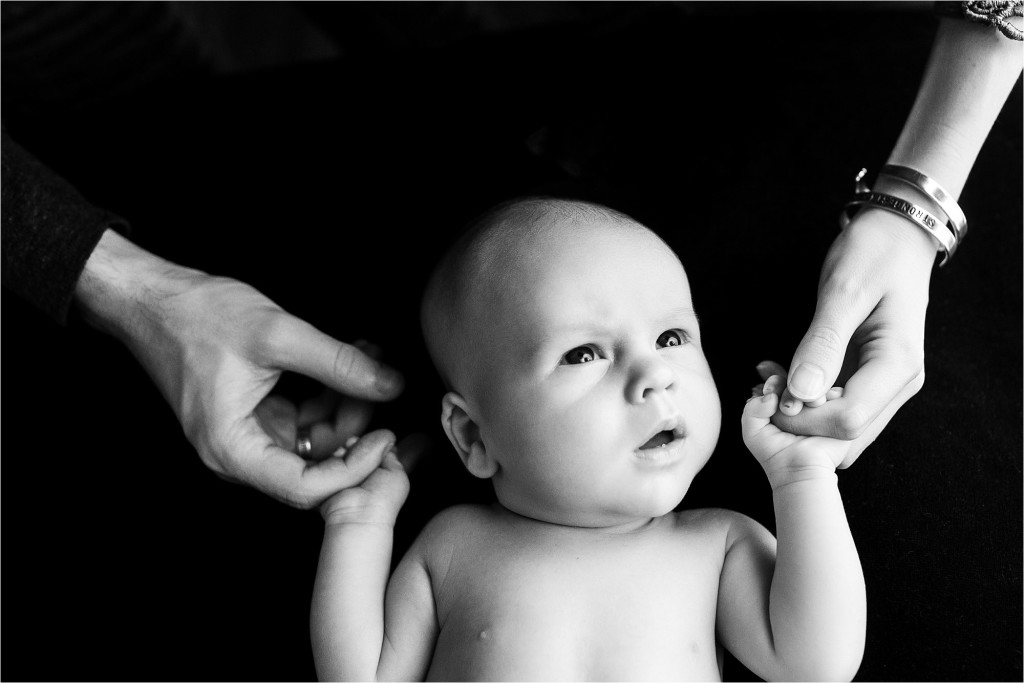 Lachlan was well over a month old when he came into the studio.  And as expected, he was more awake than my average newborn.  But aren't these expressions completely priceless?  They aren't images I would have captured in the first couple of weeks, but they do show you how quickly babies develop personality!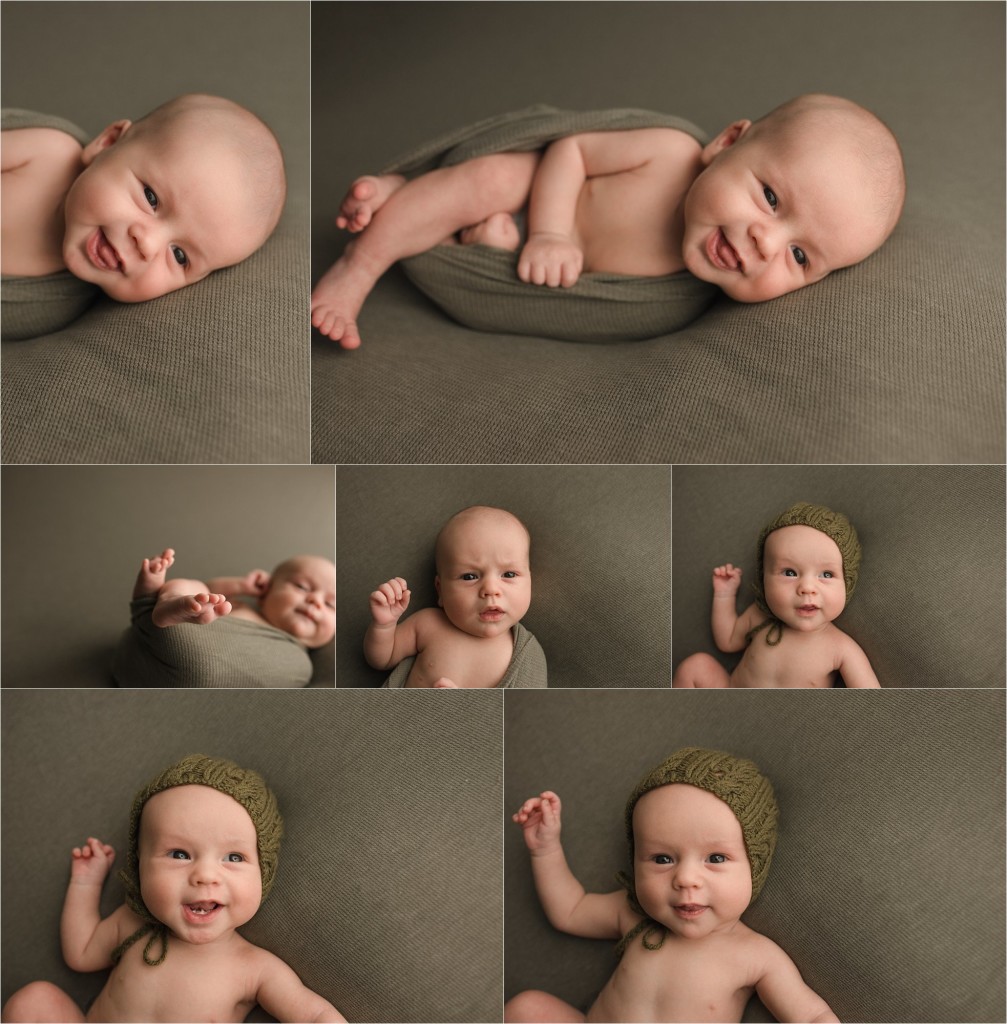 I worked pretty hard to get Lachlan to sleep and it was all worth it.  These trench bowl and little bed images caused Cassie to write the following email.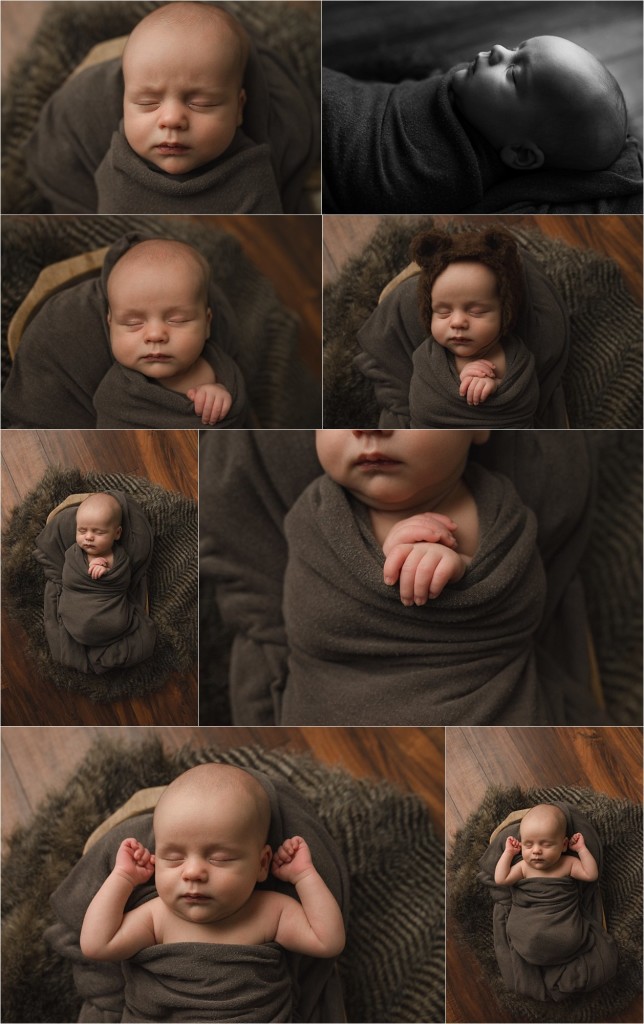 When Lachlan was in the NICU for those 5 weeks, I thought about his newborn pictures several times. Among many of the other things I felt that we "lost," capturing professional images of him early on was one of the things that kept resonating with me. And I was so worried that with him being older, we would not be able to capture the images I had hoped for. I walked into that session prepared for disappointment. But your skill and craft have blown us away again, and I am so grateful for these images — we will treasure them always. Thank you for your patience with us, and with Lachlan as you worked your magic!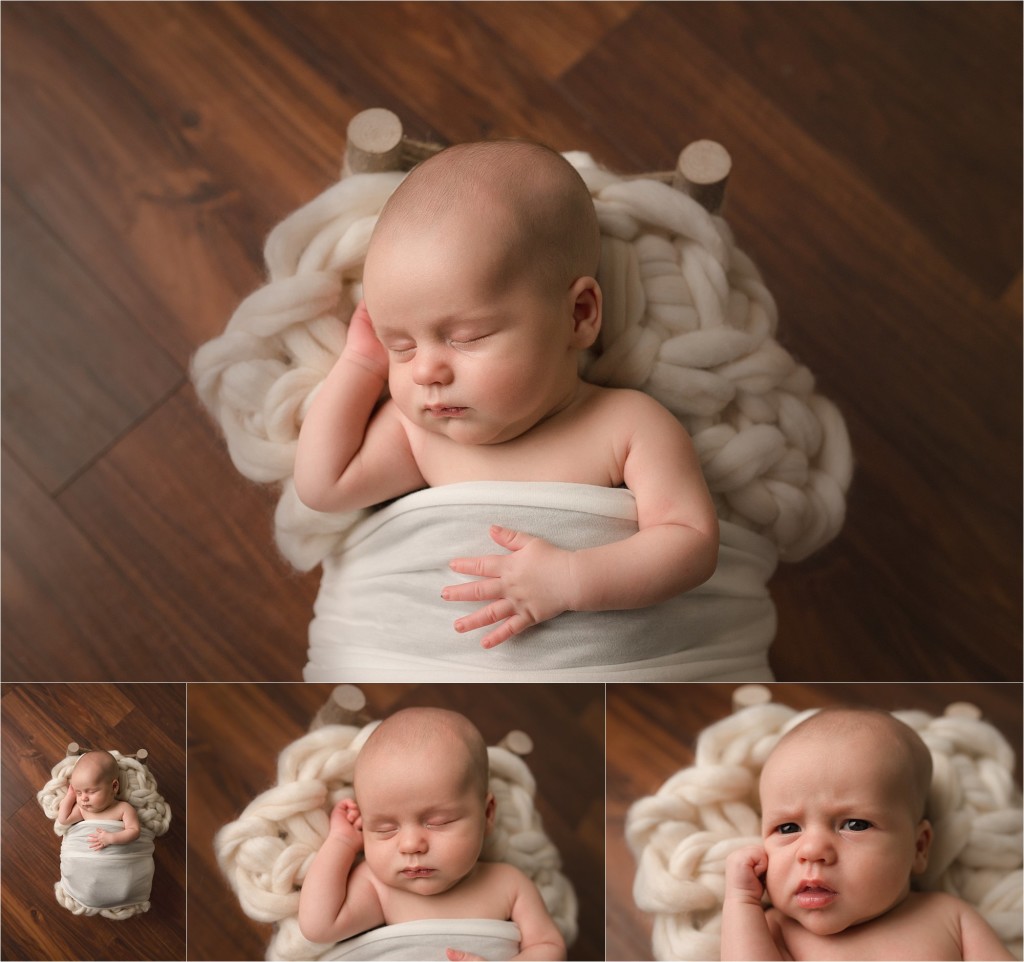 Cassie, I'm so glad I helped you redeem a hard season of early motherhood. I can't wait to see you again soon.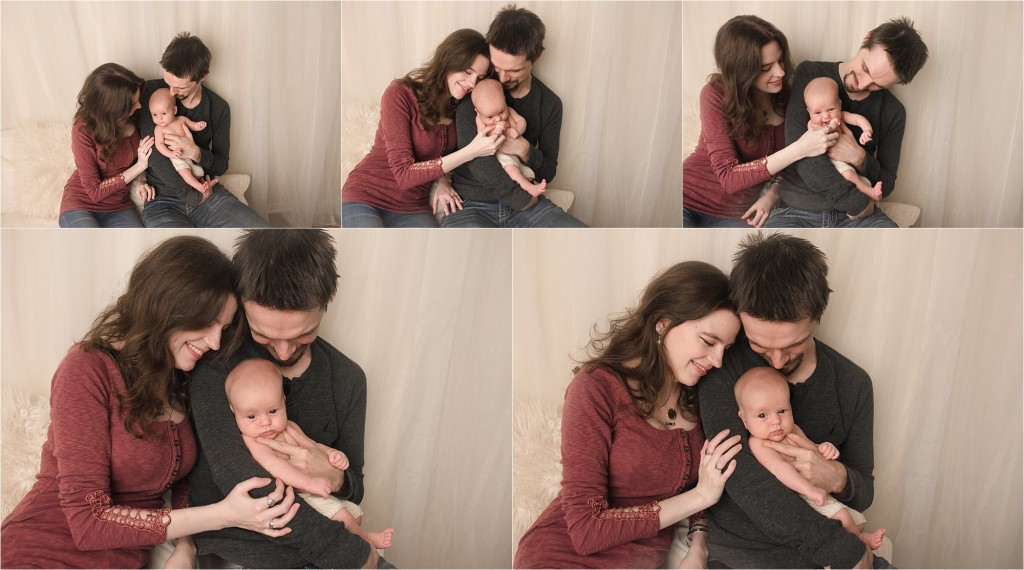 Looking to book your own session for your sweet baby fresh out of (or still in) the NICU.  I'd be happy to be considered for Newborn Photos for NICU babies in Greenville SC.  Drop me a line and let me know a little bit about your story and your vision.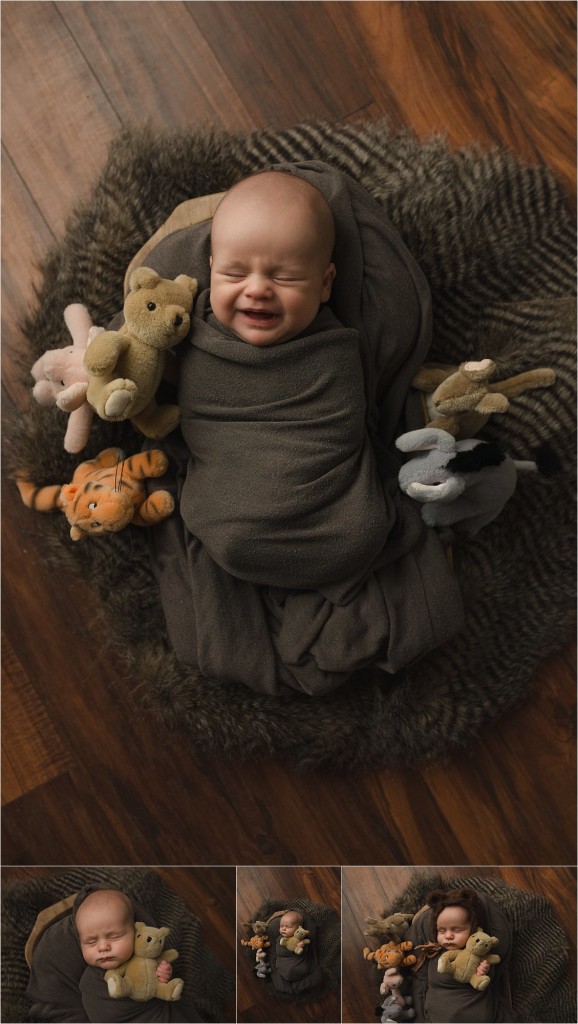 P.S. Don't you love the Winnie the Pooh images that Cassie selected for her nursery!  They're so fun!