Babies
We first met Grady in his newborn session here.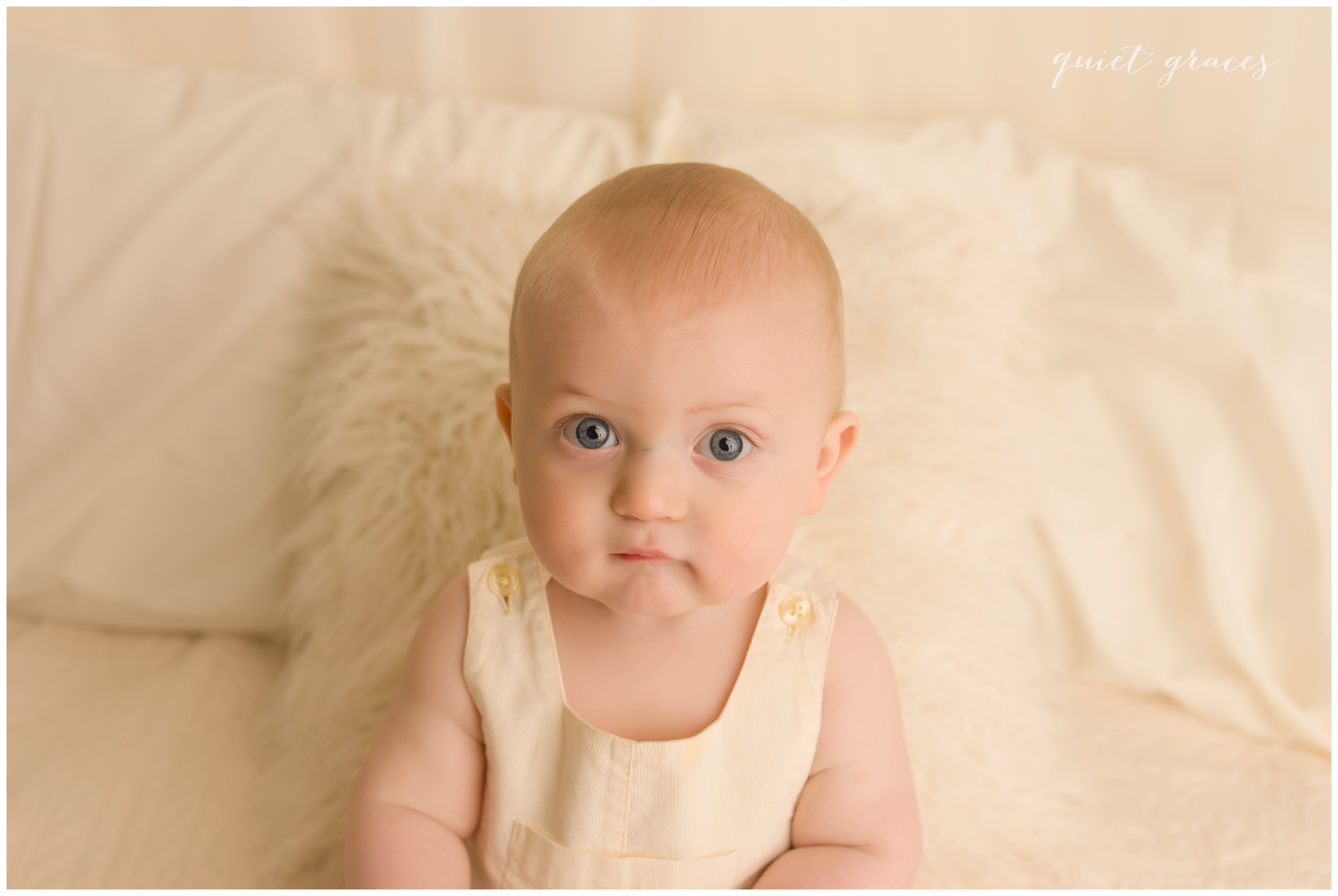 I was so honored when his parents decided to book both a 6 month and a 12 month session.  I can't tell you how good it feels to watch a mama (and her baby) grow over the first year and be able to encourage each mama on her journey. Because return clients are my favorite clients and I really like to honor their loyalty through our Baby Plan/Rewards program.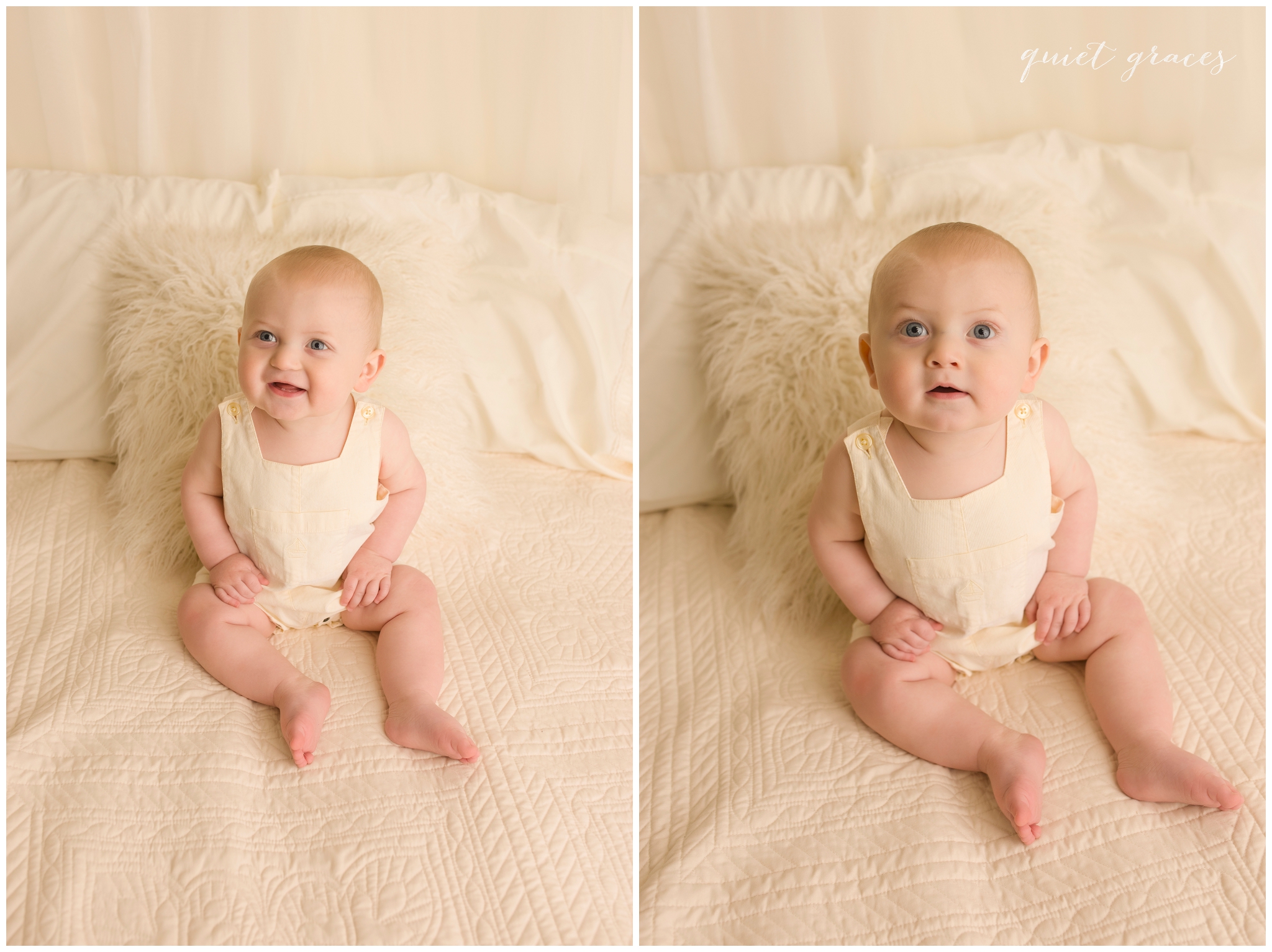 Grady's mama Courtney wants to bring a baseball theme through all of his sessions this year.  His daddy loves baseball and we've incorporated his favorite glove.  I love being able to honor requests like this that bring such sentimental memories to life in a visual way.  Years from now when the boys are playing catch in the yards, Courtney will look back on these heirlooms with joy.  Here are his newborn images.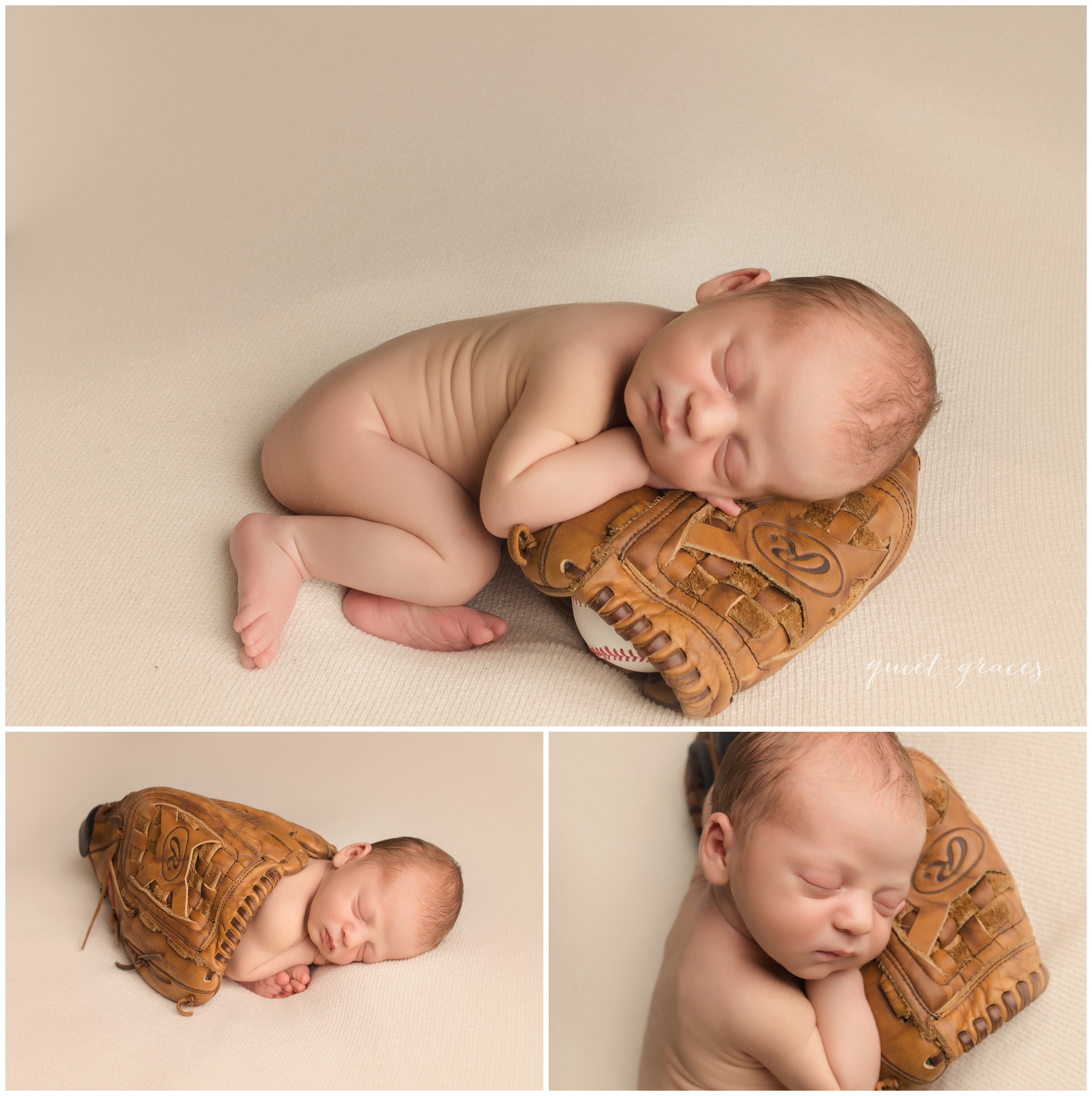 And here are his baseball images from his six month session. He just loved the stitching on the ball and trying to pick it up!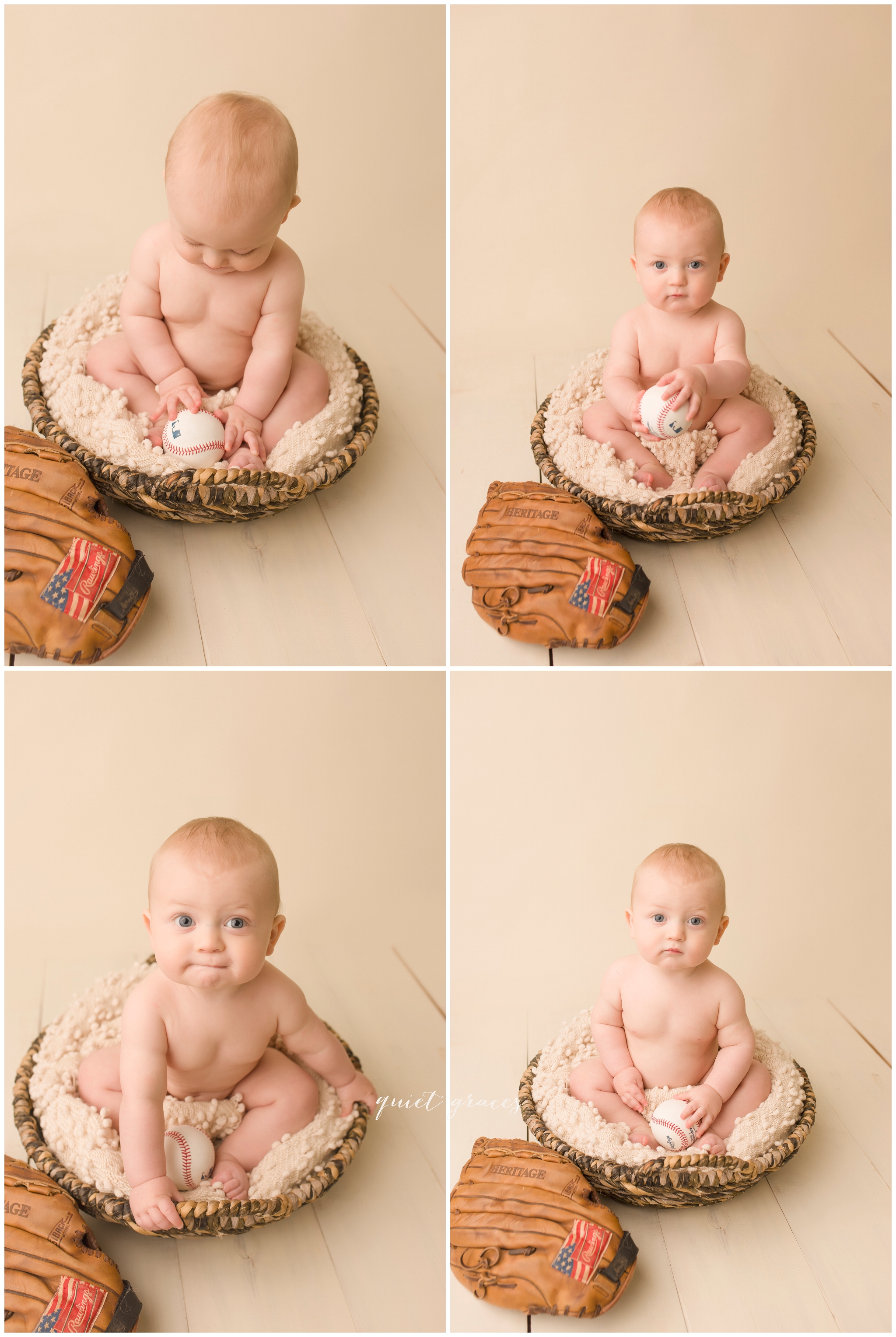 And I can't resist an image of sweet dimpled baby hands holding onto this special glove.  For me, the beauty is always in the tiniest of details.  Details are what stir our hearts to remember.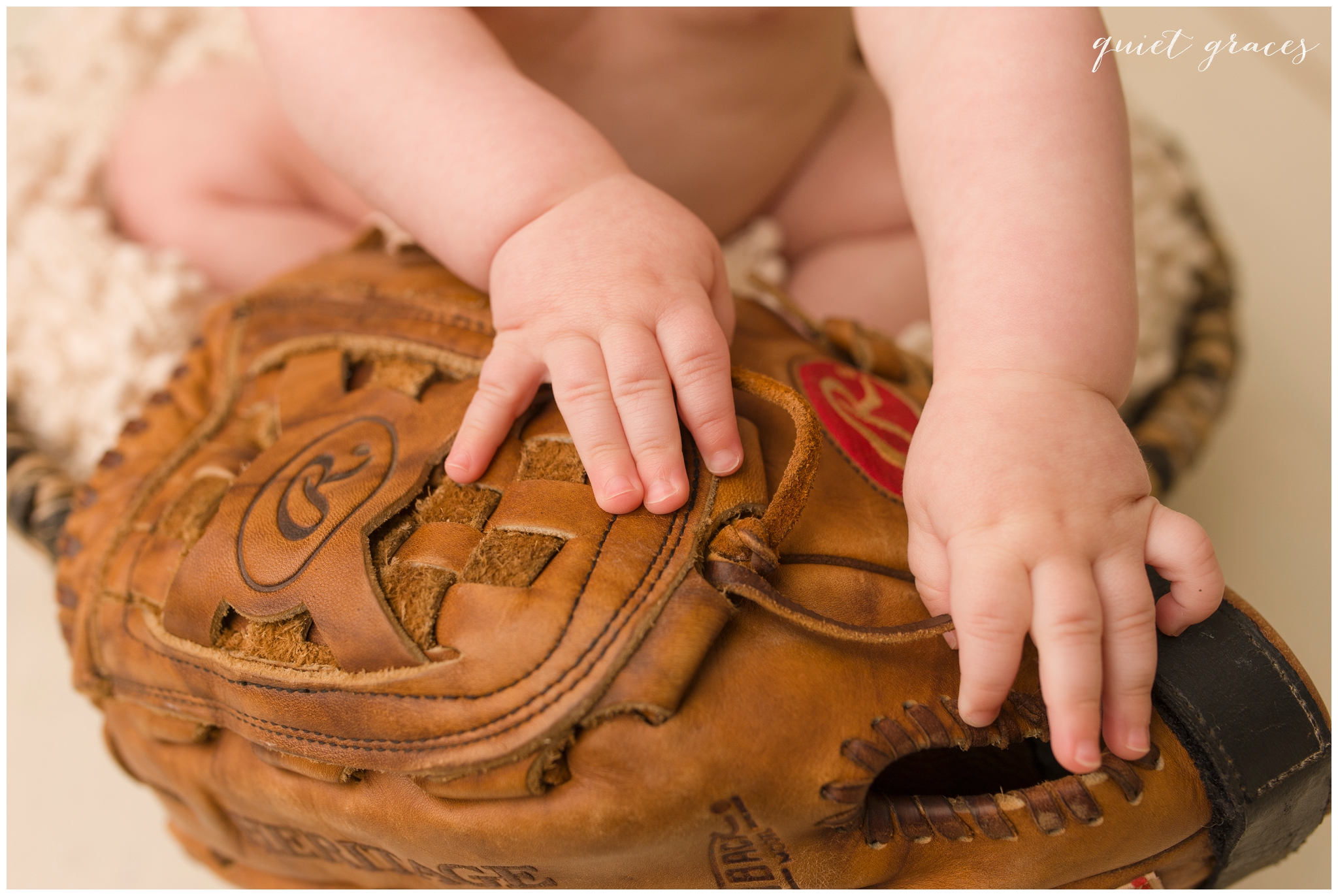 Courtney, thank you for trusting me with documenting Grady's growth.  I hope you will cherish these memories for as long as you live.  Also, your boy has the best personality ever!
Looking to capture your six month old (or older!) sitting baby?  I would love to be able to give you heirloom prints and digital files.  Never forget their pudgy fingers or the way you loved them from head to toe.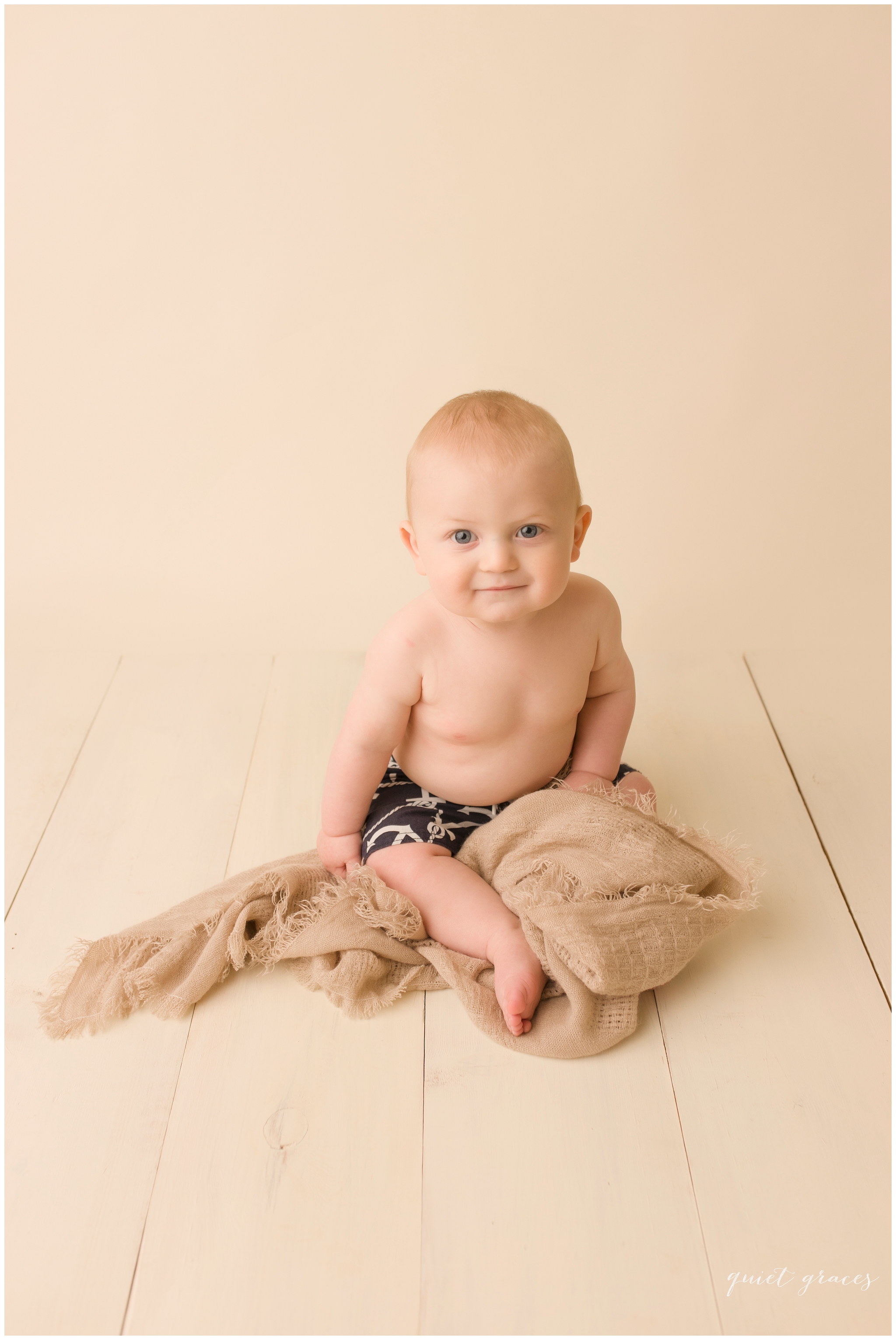 Click here to inquire about your session today.  Or click here to learn a little more about what it's like to work with Quiet Graces Photography.  We want to be an encouragement and memory maker for your family.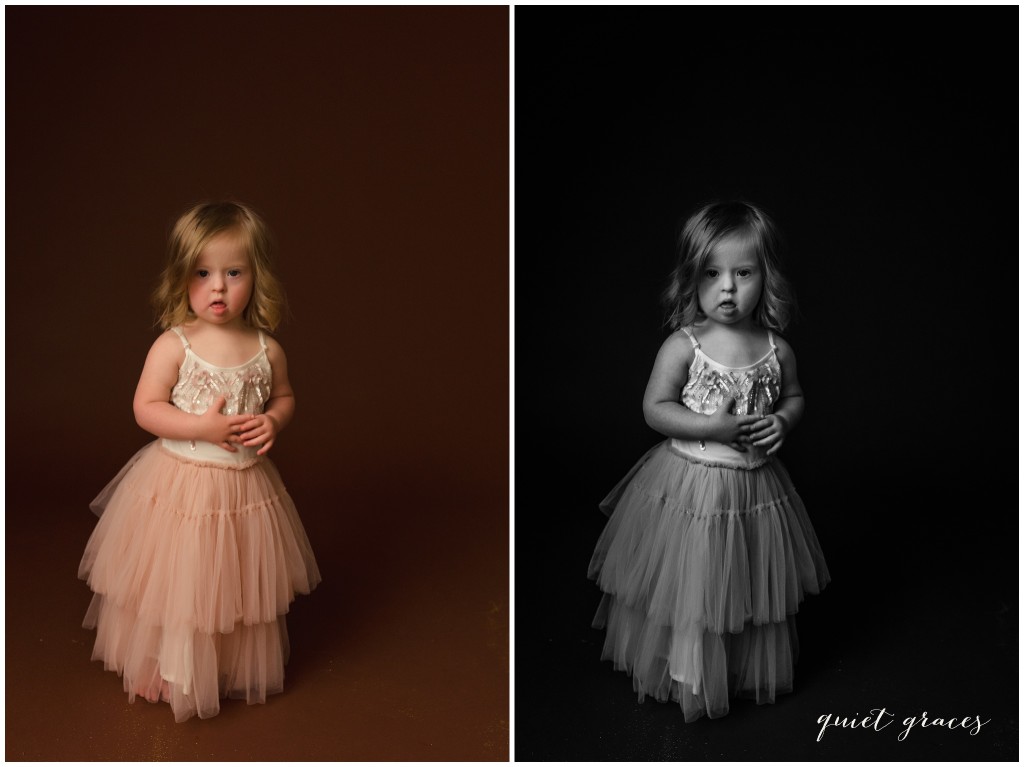 Rumor has it two total strangers have approached Lydia's mama and said "I know your daughter! I've seen her on the Quiet Graces Photography Facebook Page. She's even more beautiful in person!"  It's true: Lydia may be the most photographed child in the history of Quiet Graces.  I have no shame.  I love her.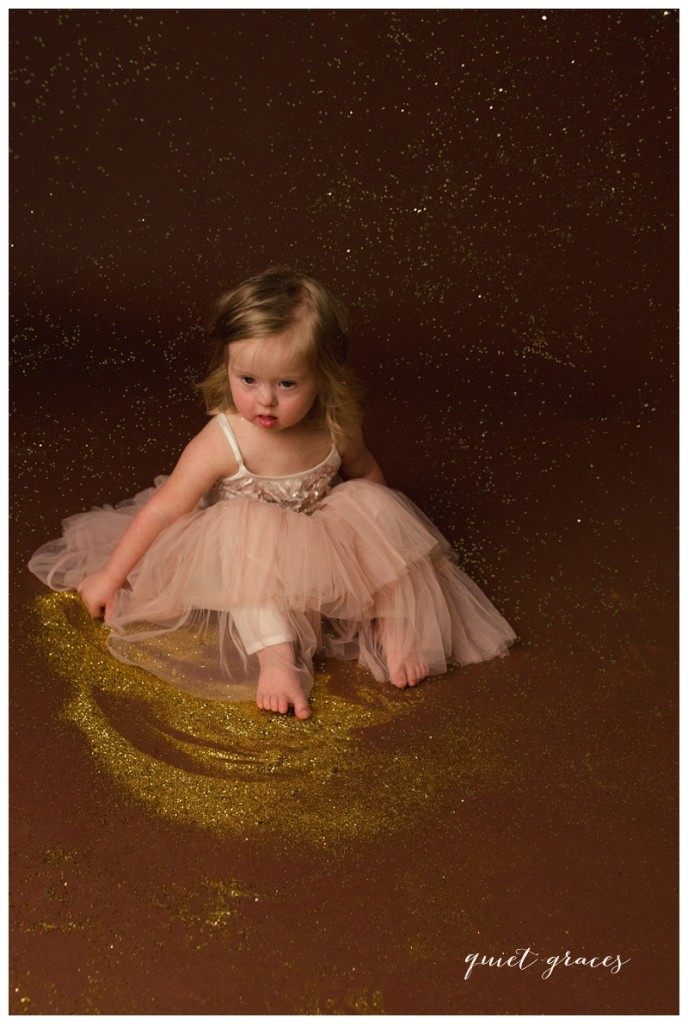 Lydia and her sisters came out for our trial run of our Glitter Princess Event coming up on June 9 & 10.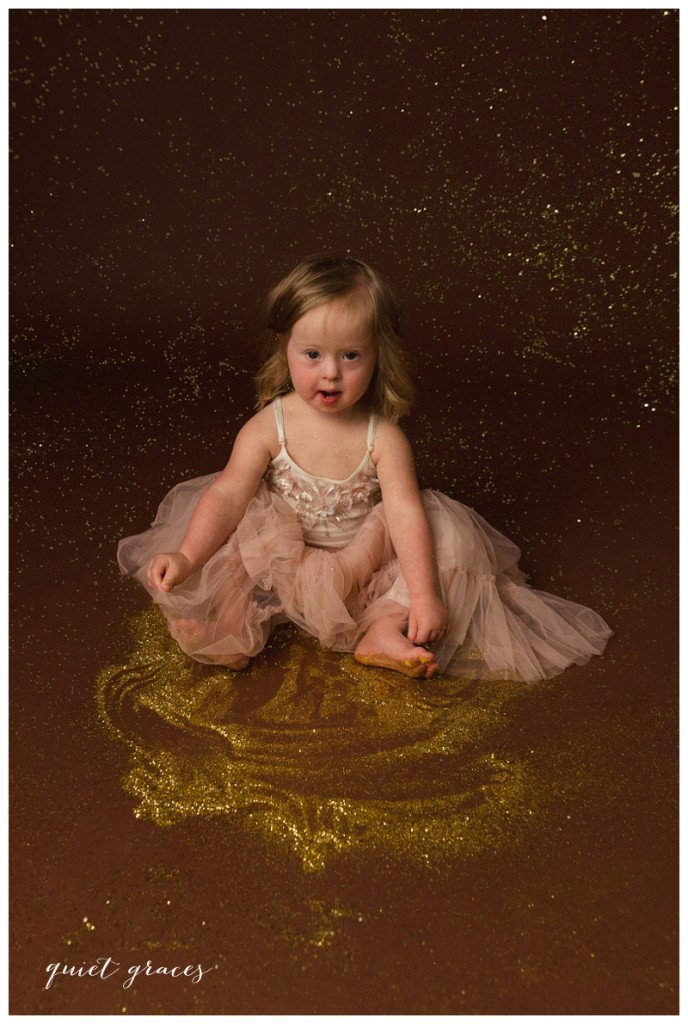 Lydia was an absolute stinker at 2.5 She pretty much just scowled at me and muttered "no," but the glitter won her over momentarily.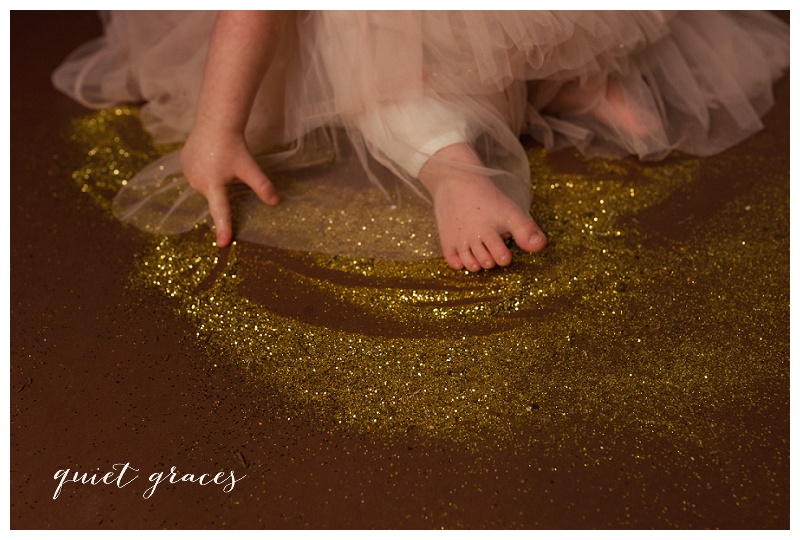 I'm so glad because these are some of my favorite portraits of Lydia ever!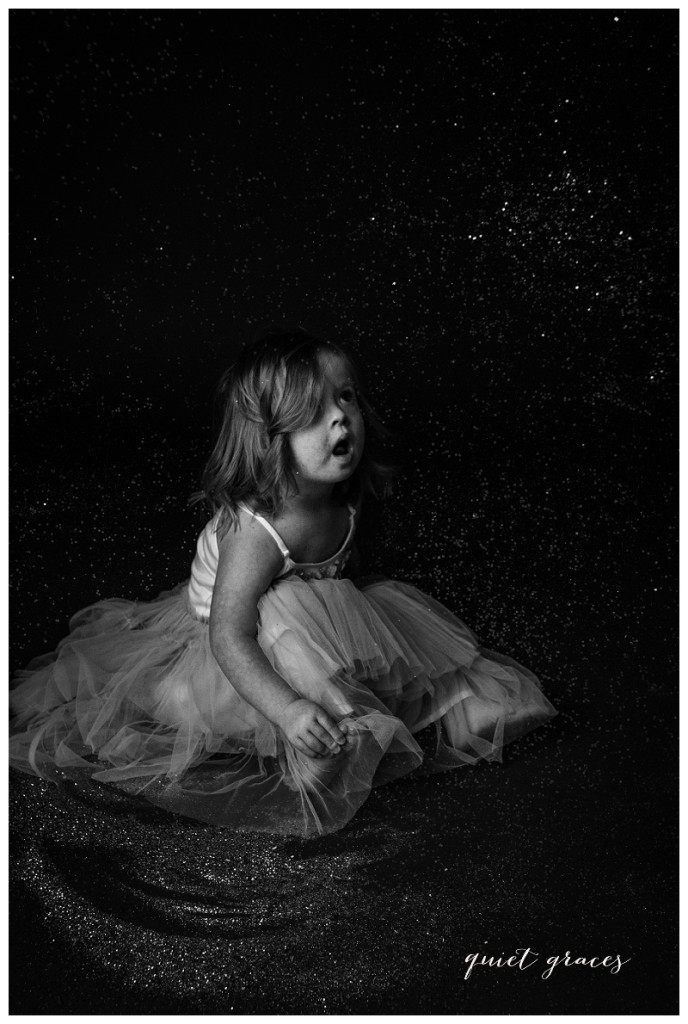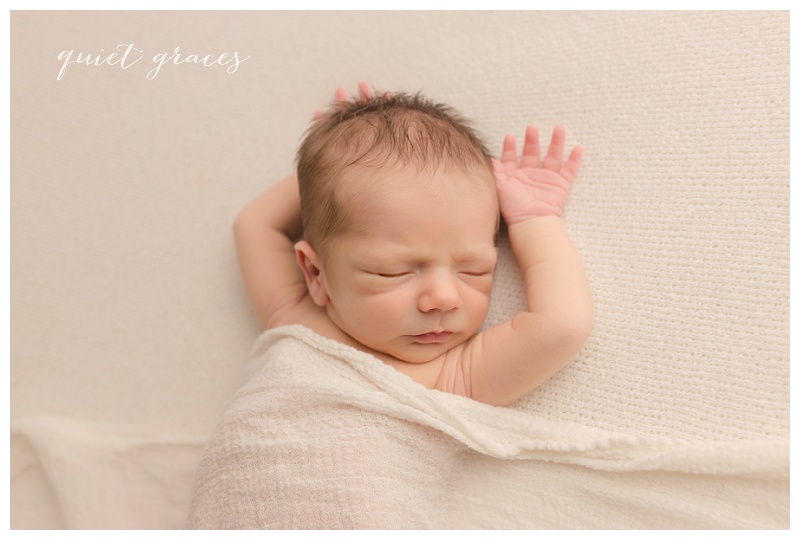 Kate contacted me about a newborn session at the beginning of her third trimester for her second boy.  She had been less than pleased with the style of her previous photographer.  She wanted someone with a clean, classic, and timeless newborn photography Greenville, SC. I was so honored to be chosen for these special portraits.
George has a precious older brother named Neil who was just two for this session.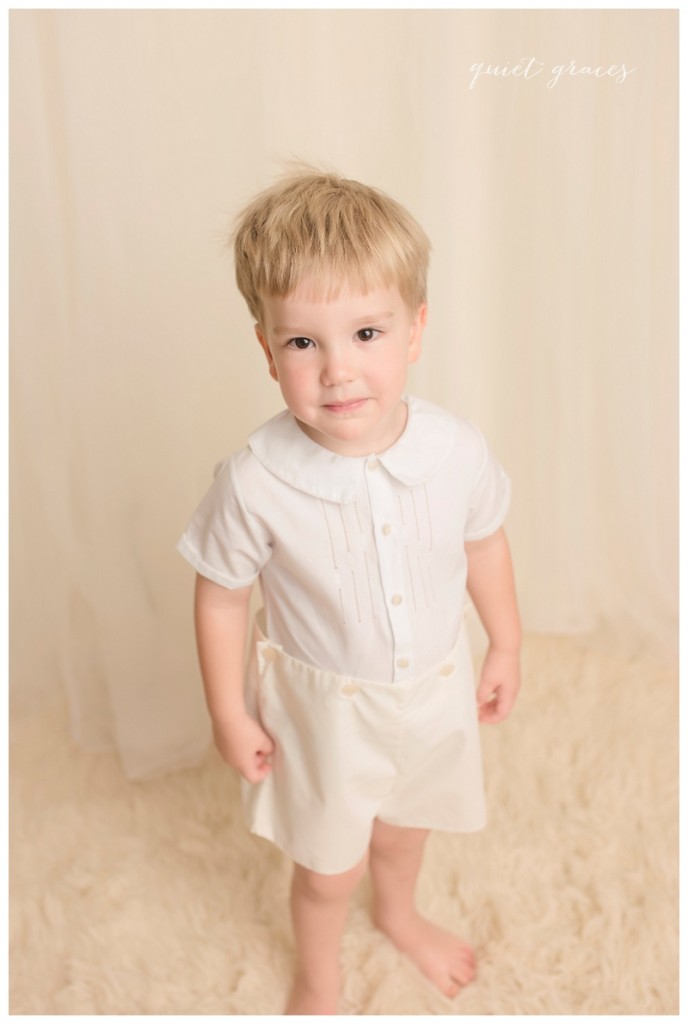 Kate is an amazing mama, too!  She read my post about preparing big siblings for a session and thoroughly prepared big brother Neil for his portraits.  He was ready to follow directions and super excited about receiving instant bribery for each image.  Neil's preference was to get a green jelly bean from the jar mama brought.  I dug one out for every smile and you can see it was worth it!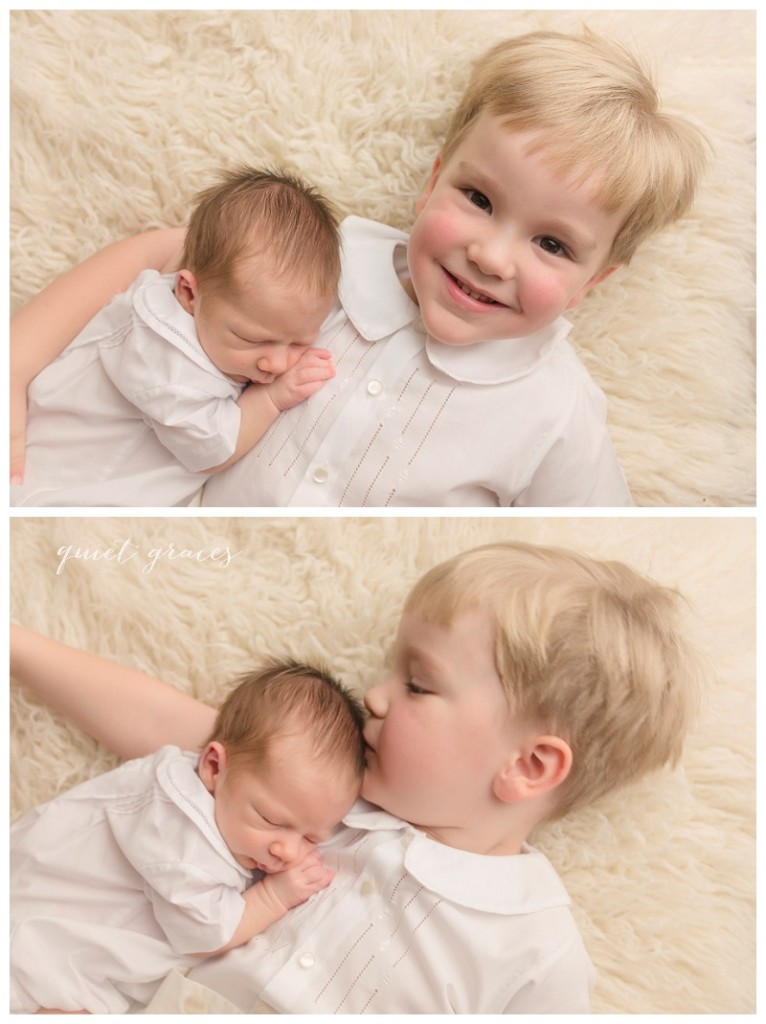 Neil was a little less excited about family portraits after playing in my book and toy nook while I did portraits with his parents.  But we still got a great smile from him with a couple of extra jelly beans!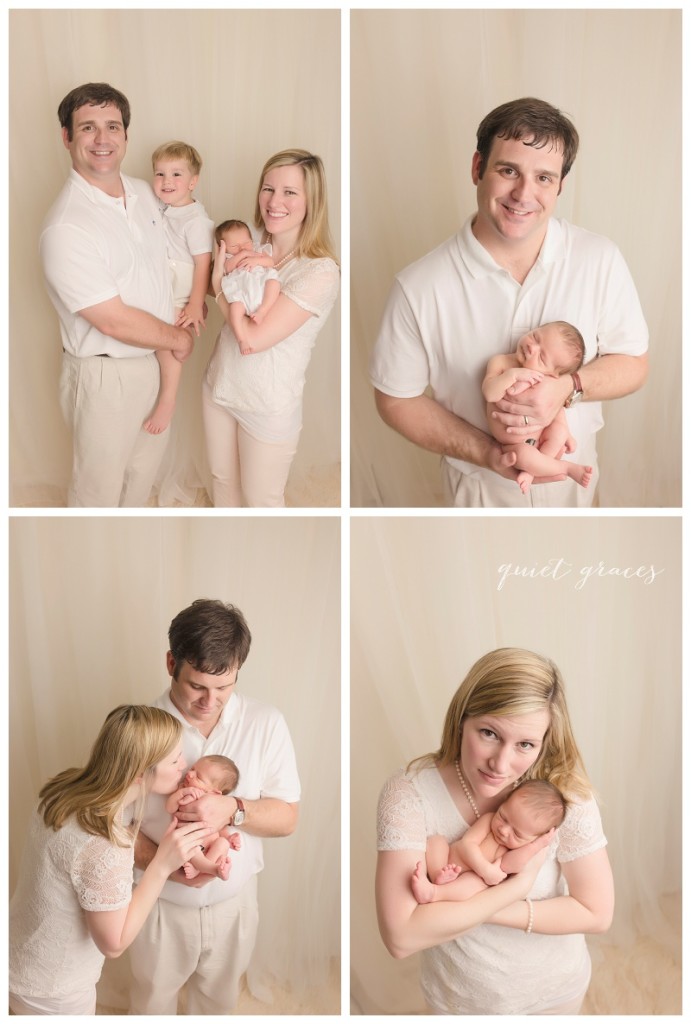 Some of my favorite images are always tight compositions in the parents hands.  There's just something so beautiful about the contrast of a tiny baby safe in his parents hands.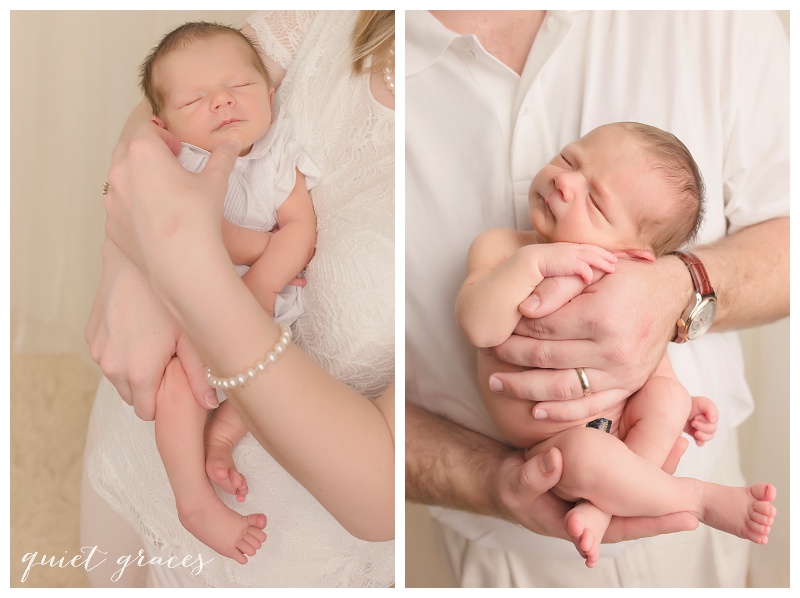 George was an extremely laid back baby.  I only saw his eyes for a brief moment when he first arrived at the studio.  I'm so glad I took a few seconds to capture these open eyes.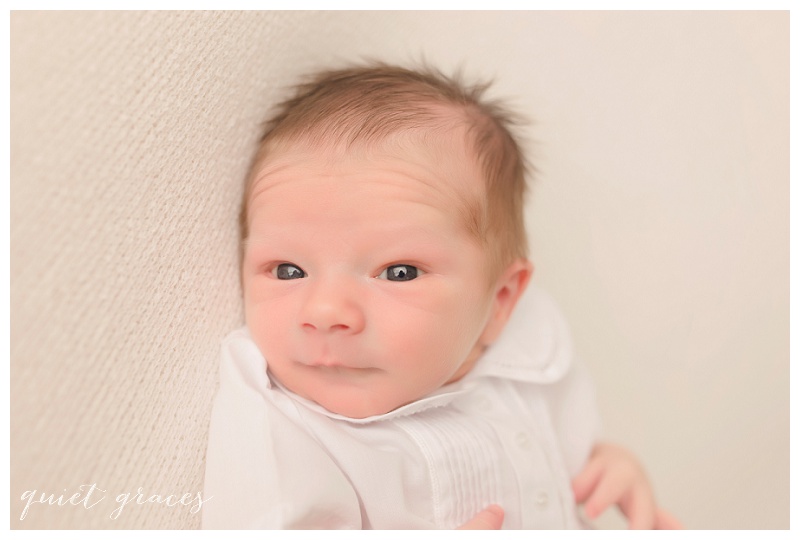 For the rest of the session George let us pose him however we pleased.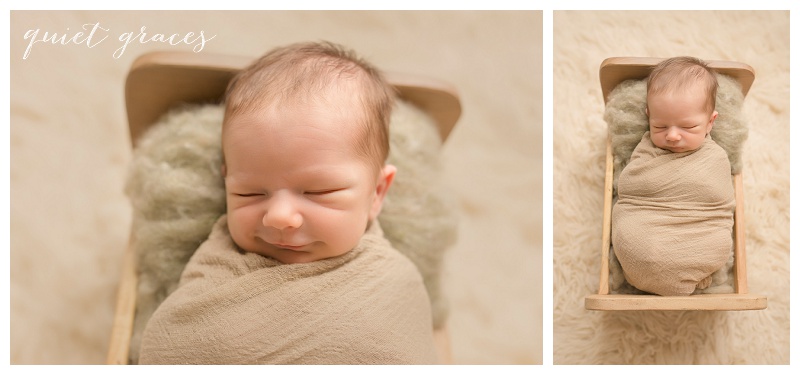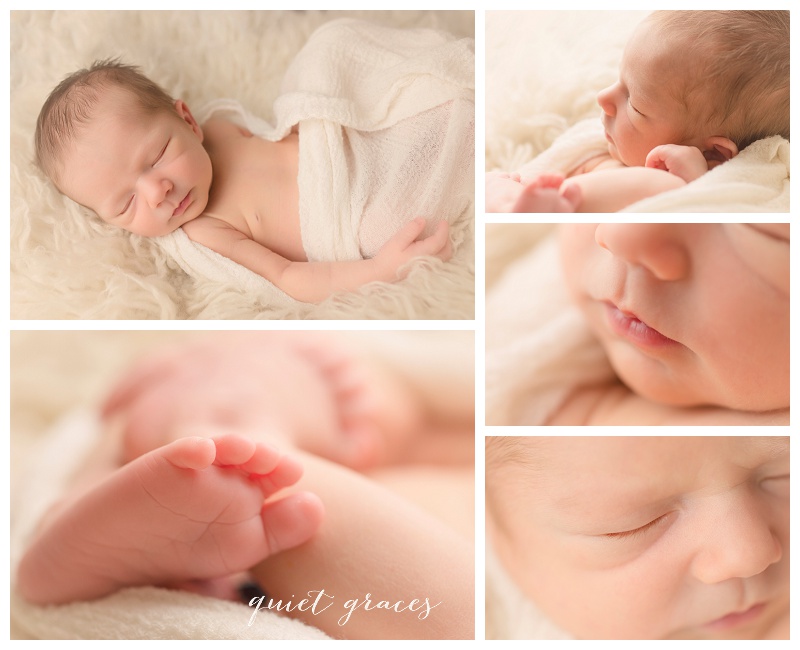 Kate, it was a joy to serve you and your family.  I can't wait to see your little boy grow.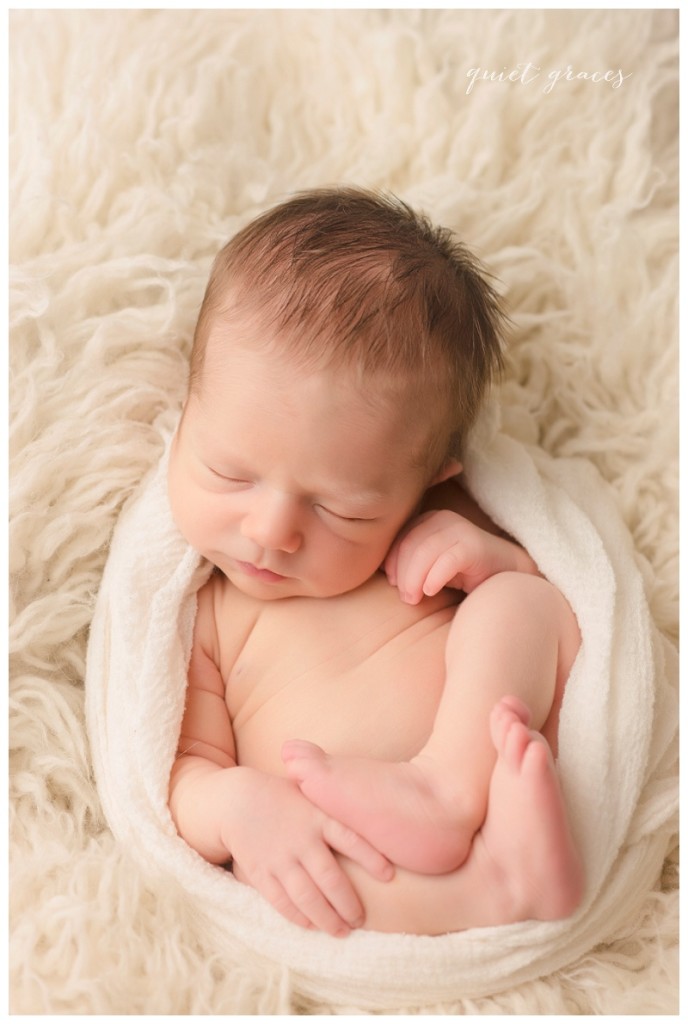 Looking to have Timeless Classic Newborn Photography in Greenville, SC?
We'd love to serve you!  Click here to get to know us more!
Hannah's mama Silvia called me a little after Hannah's first birthday for  Simpsonville Cake Smash photos.
Silvia wanted to memorize ever little detail of her little girl.  The time was moving so fast.
Silvia is from Germany and living and working here in the United States for two years.  While laughing Silvia requested a cake smash because "Those just aren't done in Germany and it will remind us of our time here."
So we set up a cake smash and bubble bath for sweet Hannah and we had a blast!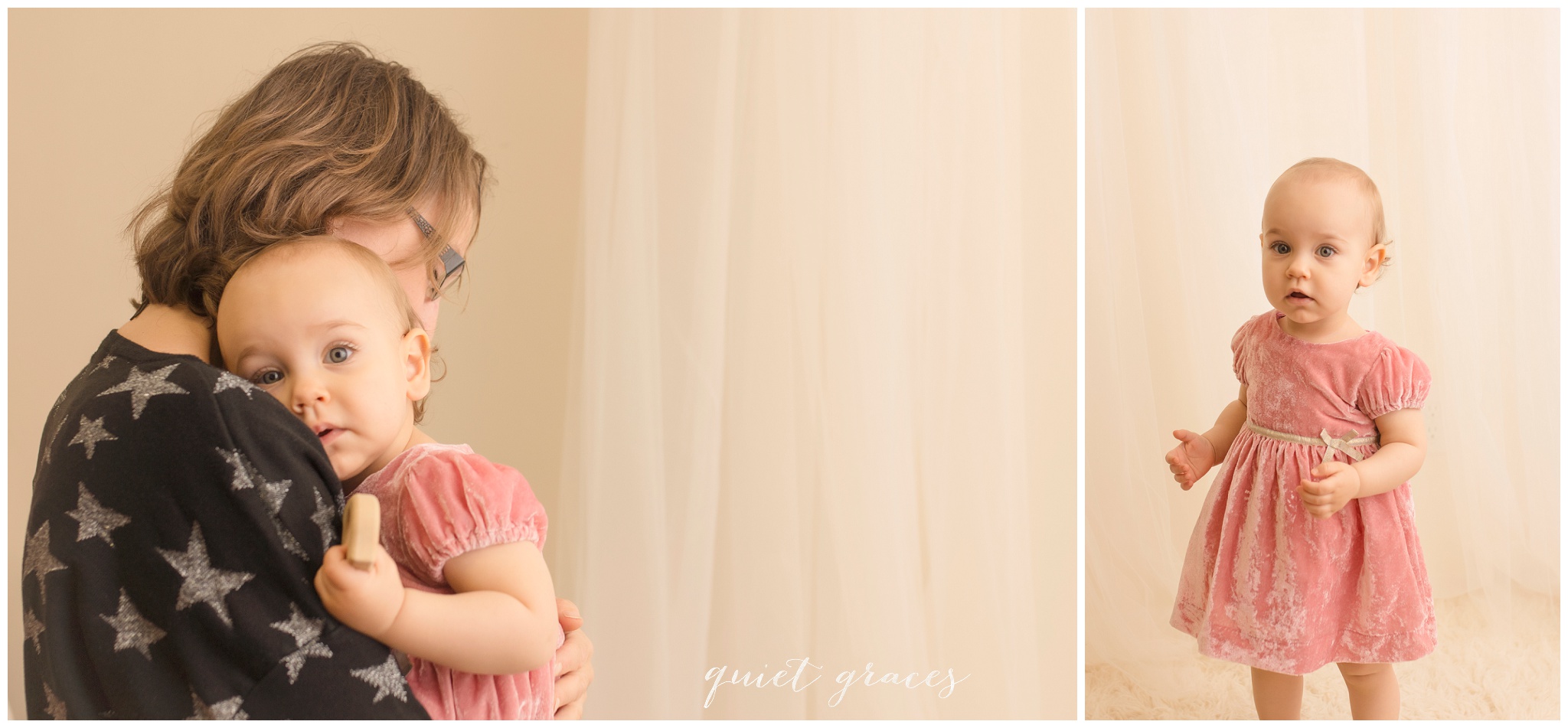 Hannah was a little shy at the begging of her sessions which is truly normal for a one year old.   This image of Silvia reassuring Hannah is my favorite from their whole session.As you can see, I won her over with the rocking horse above!
In Germany, they don't do cake smashes like they do here in the United States.  Silvia enjoyed creating a truly American memory.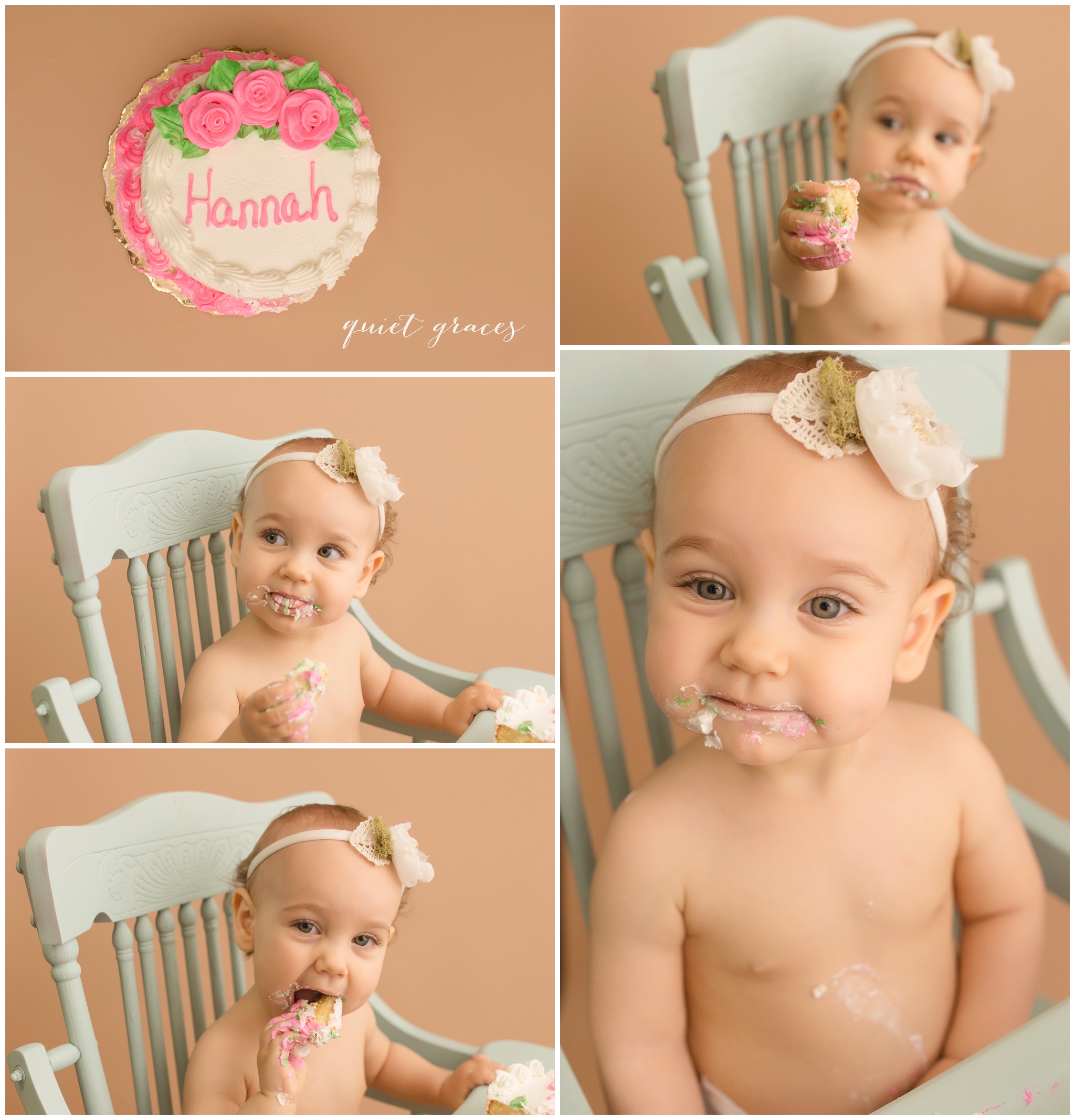 But Hannah really loved splashing in the water. It was the highlight of her time in the studio!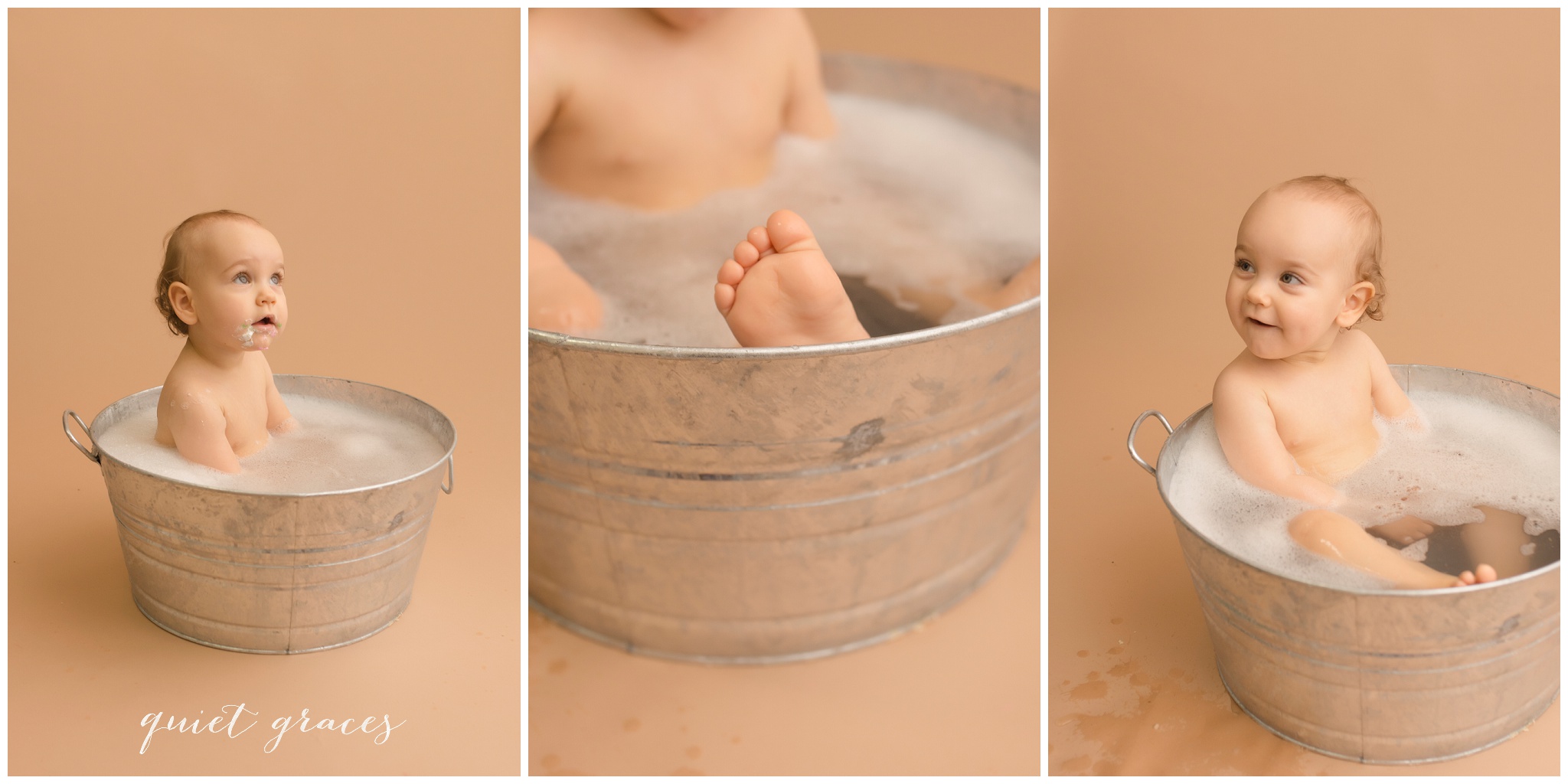 Babies always love splashing around after their cake and Hanna was no exception!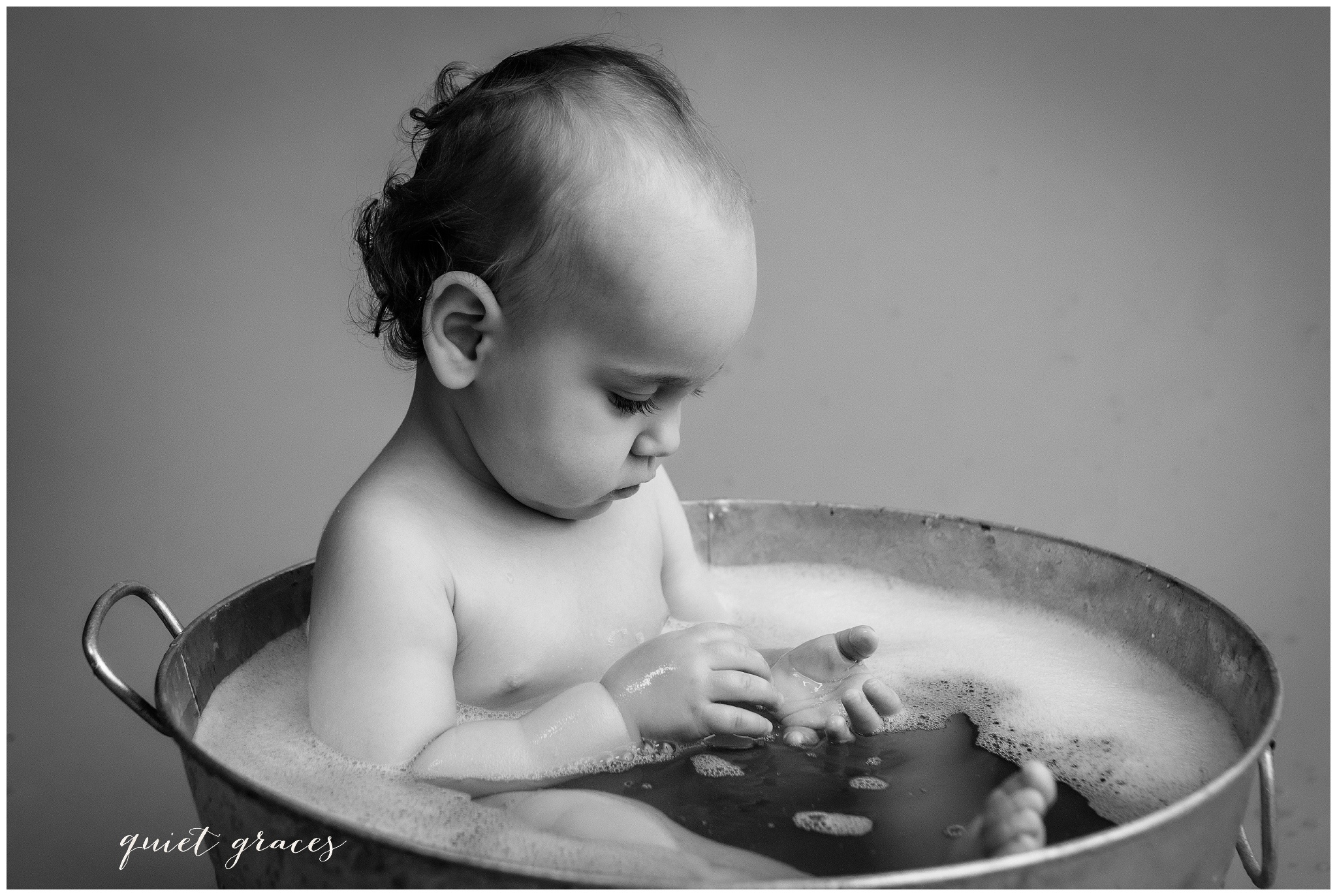 Silvia and Hannah, I look forward to seeing you again as Hannah grows!
Interested in booking your own cake smash?
Meet Augustus.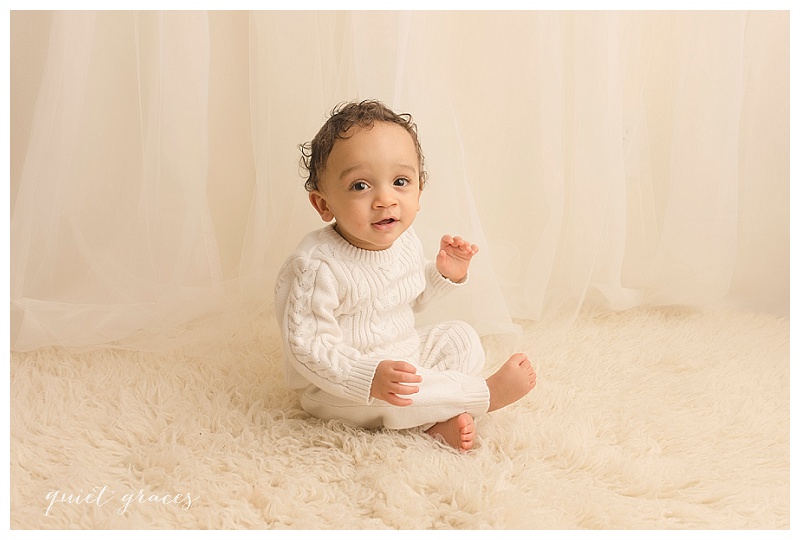 This boy's incredible smile and beautiful curls will light up anyone's day. His mama Marquita was so excited about using the studio wardrobe to fit her busy boy.  Our classic clothing line means that most people spend nothing on wardrobe for their session with Quiet Graces.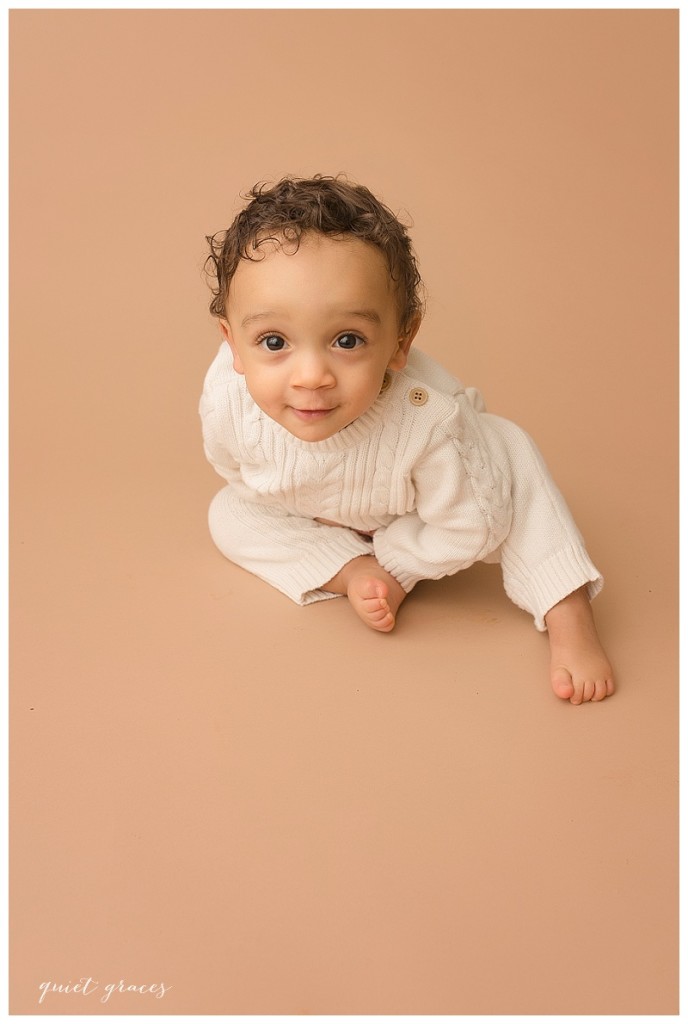 This cable knit romper is one of my favorites.  It was the perfect backdrop to show off Augustus's personality during his Cake Smash Photos in Greer SC.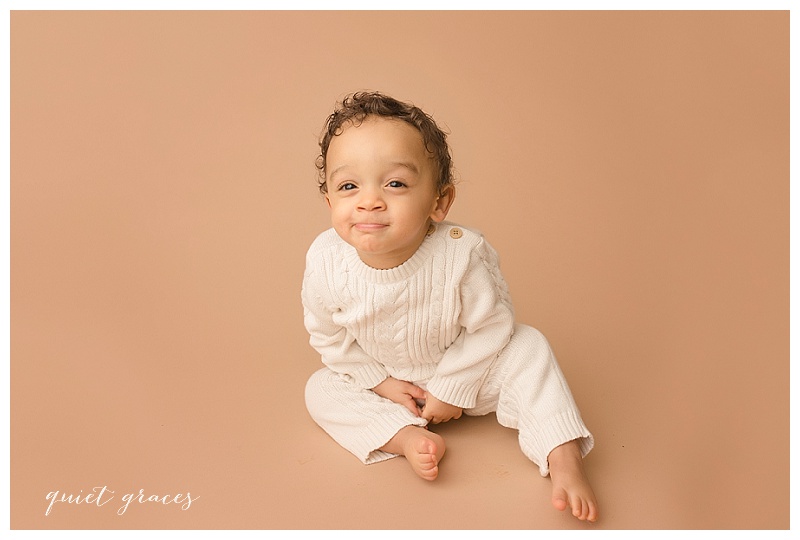 And Augustus is not short on personality!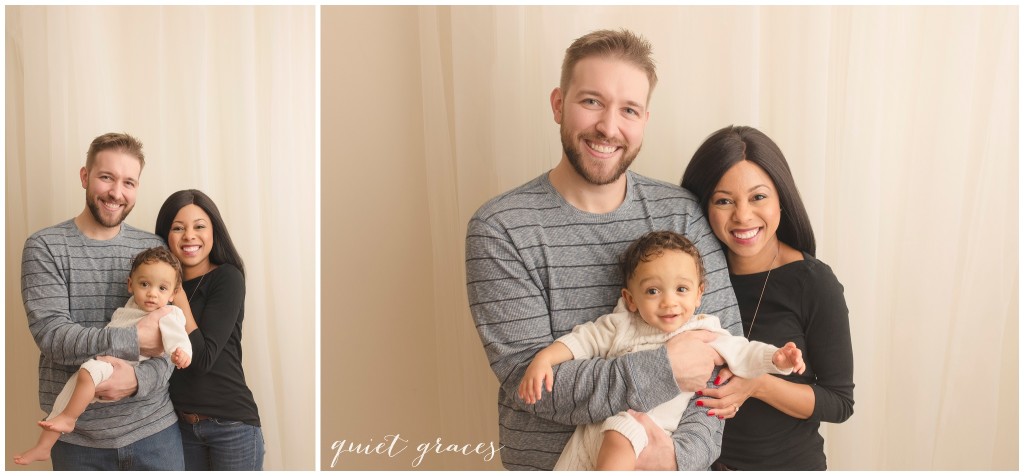 He even hammed it up for the family portraits!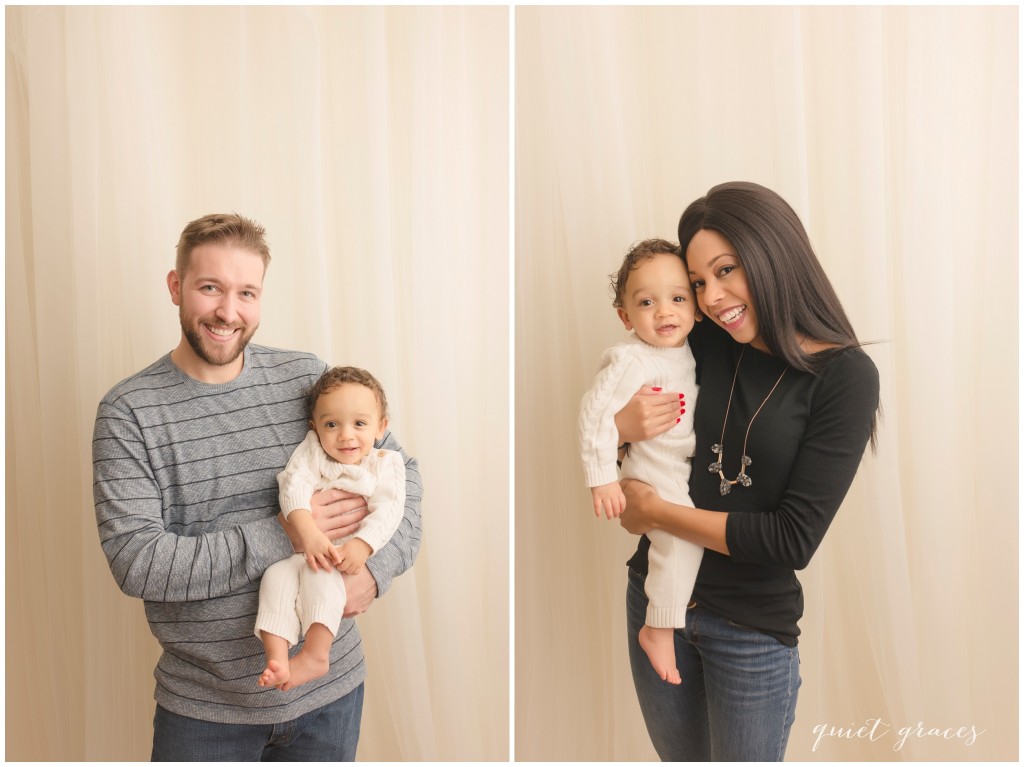 We changed Augustus into a simple knit pair of pants and classic bonnet.  His little curls sticking out of the bonnet stole the show, but like most babies at one year old, he was too busy to keep wearing it!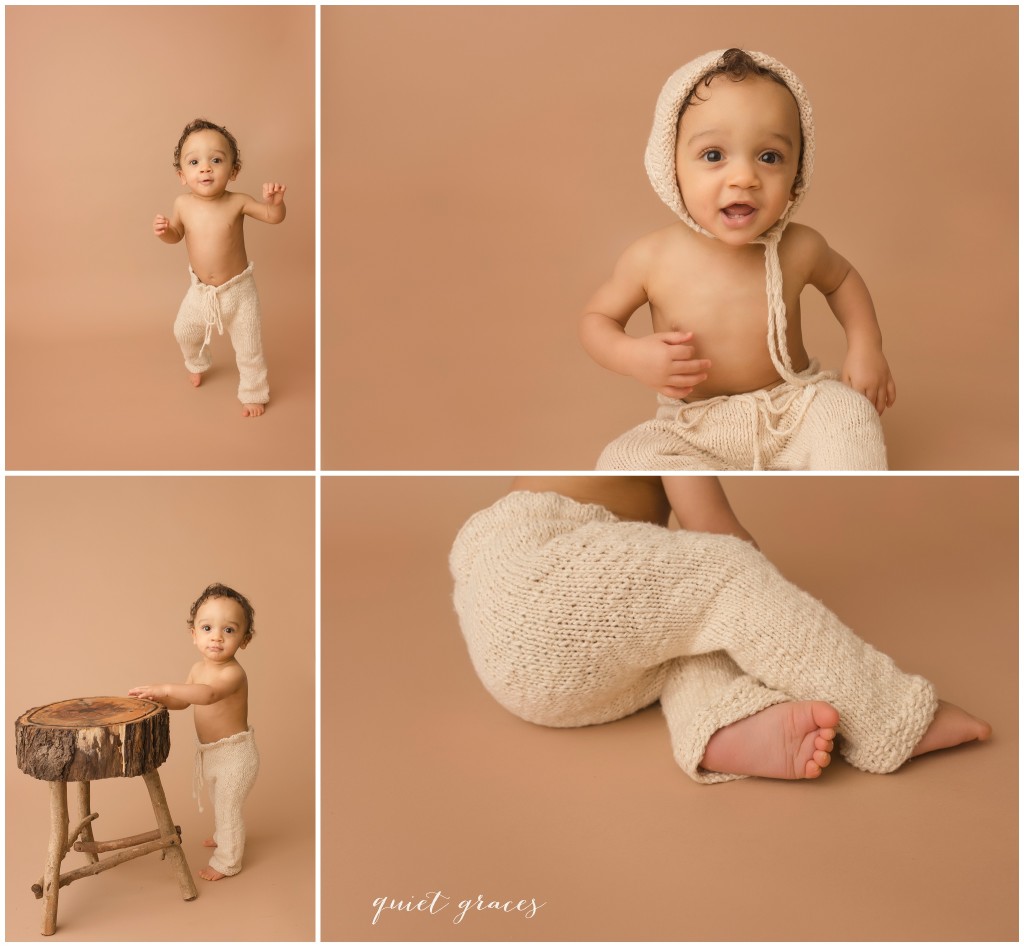 Yet, like most one year olds, August was busy!  Marquita and I got quite the workout chasing him around and trying to keep him in the good light.  Soon we decided it was time for cake!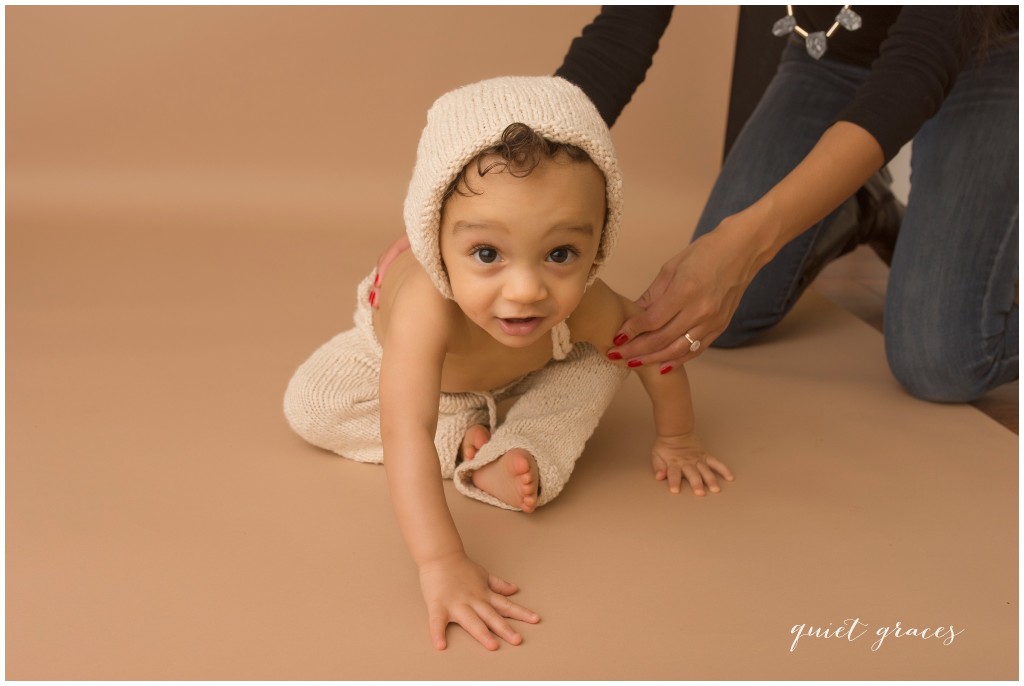 Marquita had chosen a Hungry Caterpillar theme for her son's cake. Eric Carle's book is always loved by these little ones so it was fun to watch the book come to life.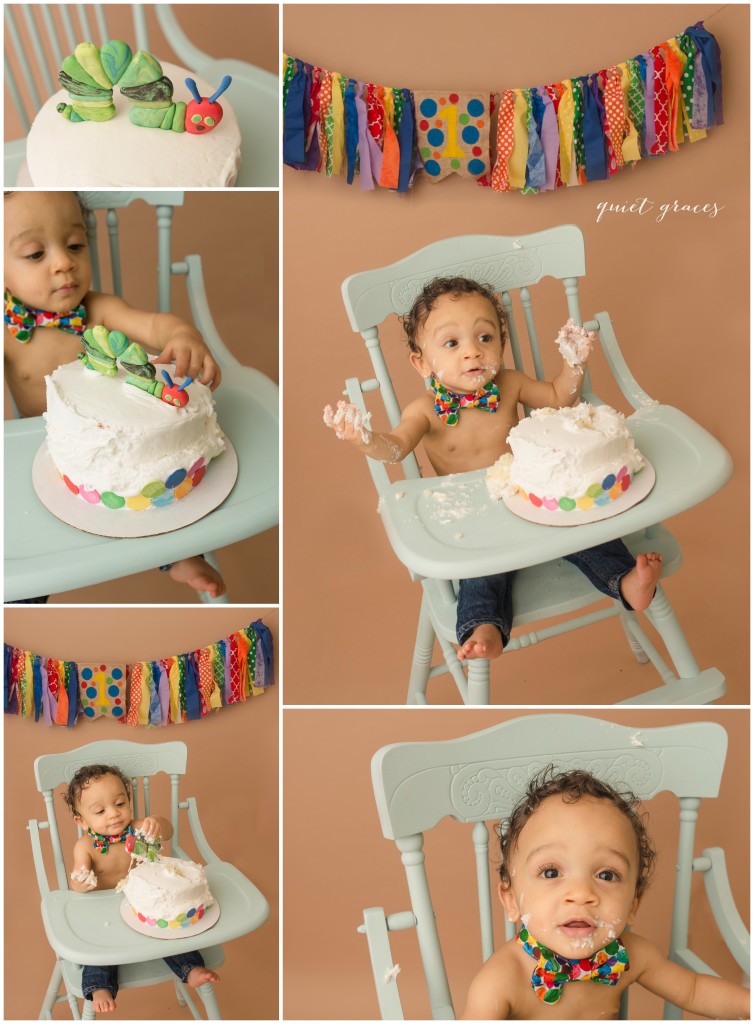 His curiosity for his cake was precious even though very little cake actually ended up in his mouth.

But cake finger painting and play dough fun is just as exciting (and messy) as a little one who just gobbles up the entire cake!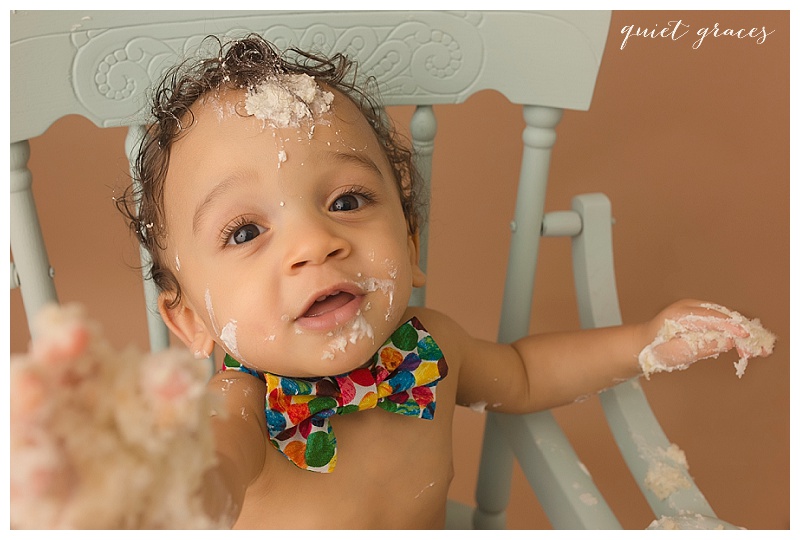 We finished Augustus session with a bubble bath.  This is my favorite way to end cake smashes because we are able both to clean up the mess and catch a few more images of your little one.
Augustus adored the bath and would have stayed in the tub for hours.