Babies
I adored doing this Simple Fun Six Month Studio Mini Session Greenville SC with sweet baby Claire!  I've photographed Claire 4 times now and each time gets more fun.  Here's some of my favorite from her 3 month old session.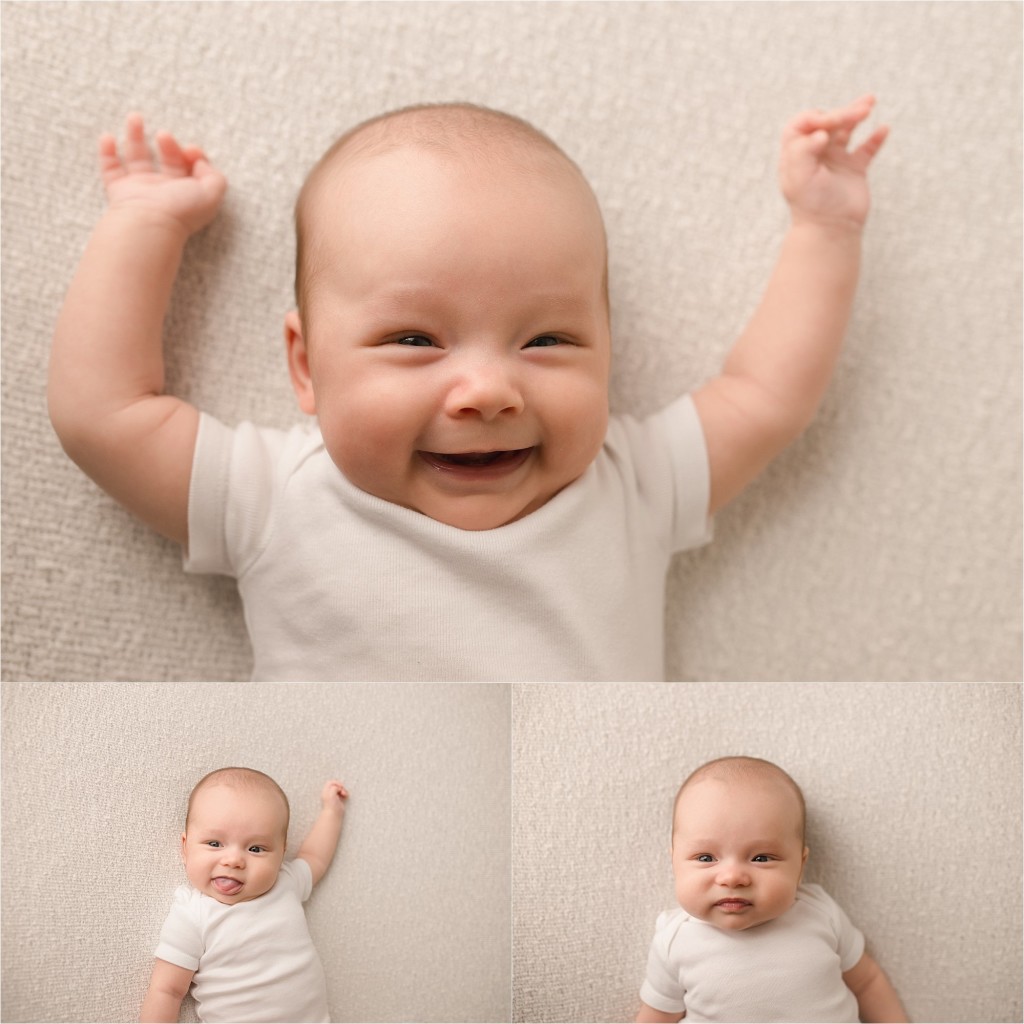 Would you like to see Claire at her three month session? Click here!  In the meantime, look how much Claire has grown in three months!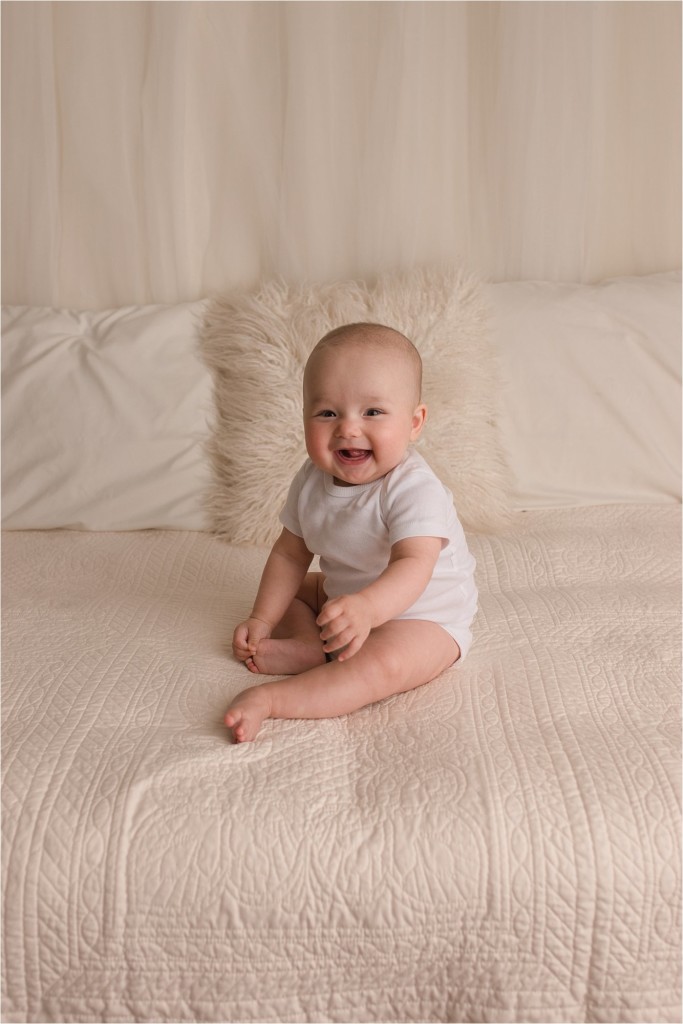 Claire's mom Lindsey chose a mini session for the 6 month session.  I think this is the perfect session length for 6 months old.  Babies tire quickly at 6 months old as they're still taking 3-4 naps a day.  Plus sitting up is hard work!

My mini sessions are fully inclusive: one price covers both your session fee and the 5 digital files.  You're still able to select your favorites for me to edit from a proof gallery and you're also able to add on more images after you see the finished gallery.   Generally we'll be able to do 2 outfits and 2-3 sets during a 30 minute window.
Claire's mama brought a favorite toy and it was so much fun to see Claire light up while Lindsey played with it.  I've never thought to recommend bringing a favorite toy, but I will from now on.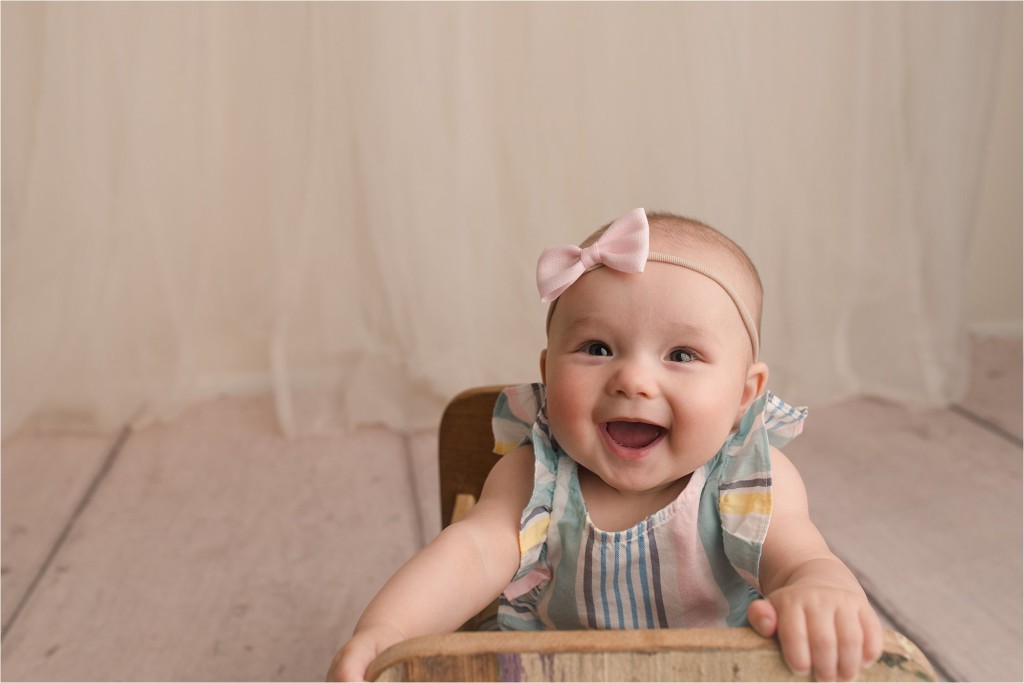 This little muted rainbow colored romper is the perfect outfit for a photoshoot.  I do offer a complimentary client wardrobe for my baby clients with a variety of choices, but I love it when clients bring their own items as well.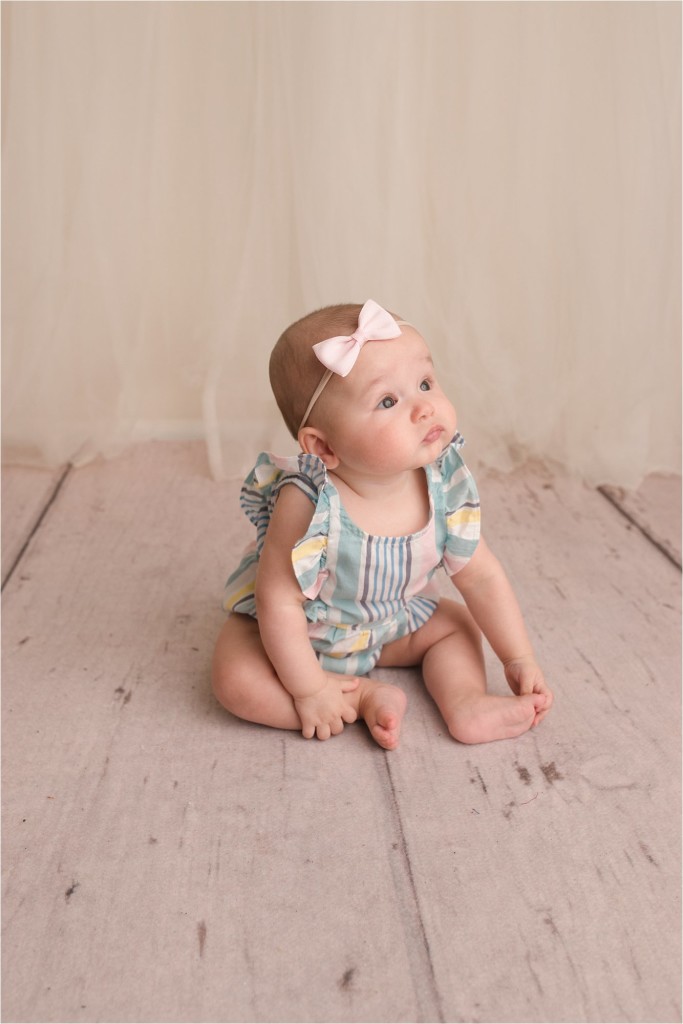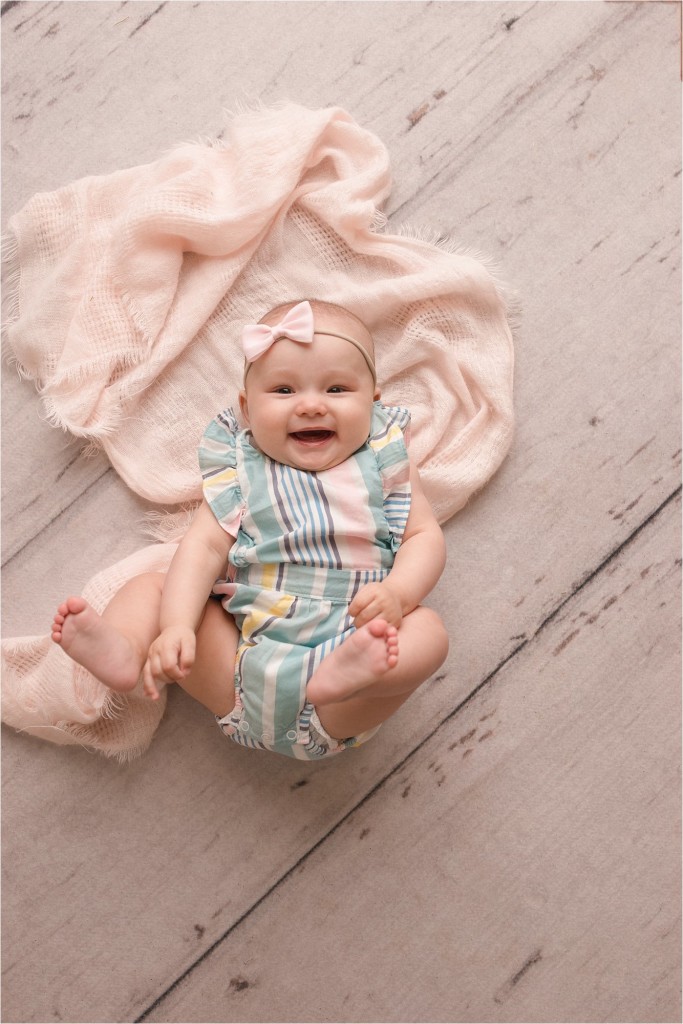 Are you looking to book a Simple Fun Six Month Studio Mini Session Greenville SC?  Or maybe a full session may be more your style?  Contact me today, tell me a little about your dream session, and I'll help you select which session works best and create memories you'll treasure for a lifetime.  Click here to get in touch. 
Mickey Mouse Boy Cake Smash Photography Spartanburg SC isn't my usual style, but it sure is fun to do something a little bit out of my normal.  Thaddeus rocked his session in his Mickey ears, bubble bath, and we captures some sweet and classic family portraits as well.
You can watch the whole session in the video below or read on for some of my favorite highlights.  If you're interested in booking your own one year old cake smash, click here to let me know what you're envisioning.
Thaddeus from Melissa Aldrich on Vimeo.
What Your Cake Smash Session Includes
Cake smashes with me come complete with simple backdrop decorations, and a simple, delicious, custom cake from Baking Sweet Scents. There's also a studio wardrobe for you to pick from if you'd like.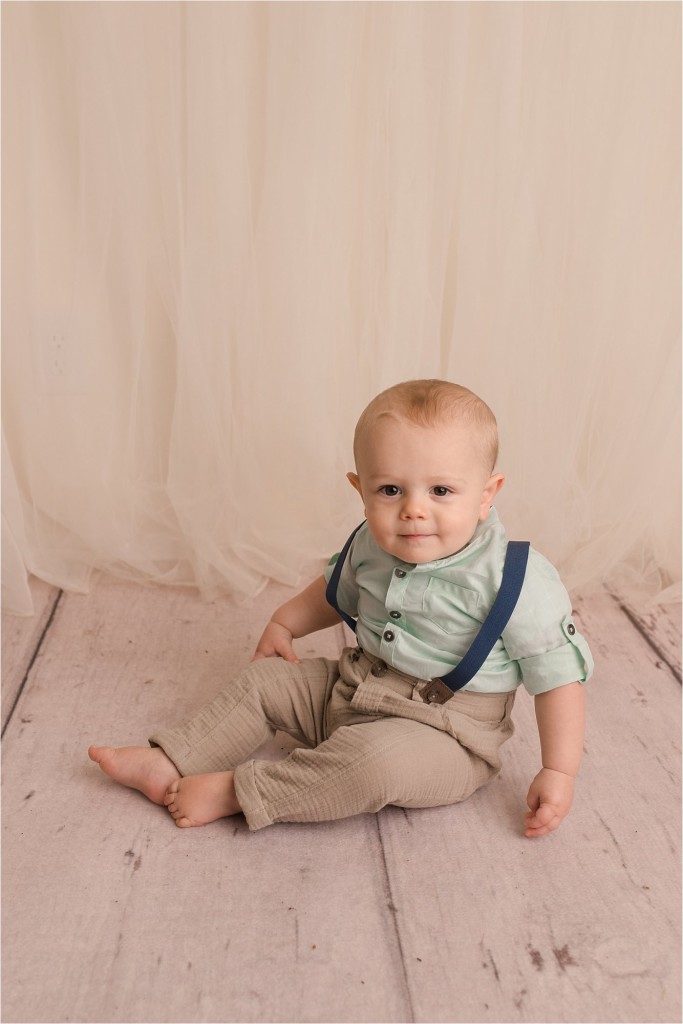 One Year sessions also include family portraits.  Please don't miss this opportunity for family pictures.  I promise you won't regret it.  Plus, one year old babies often need a quick cuddle of reassurance in a strange new place.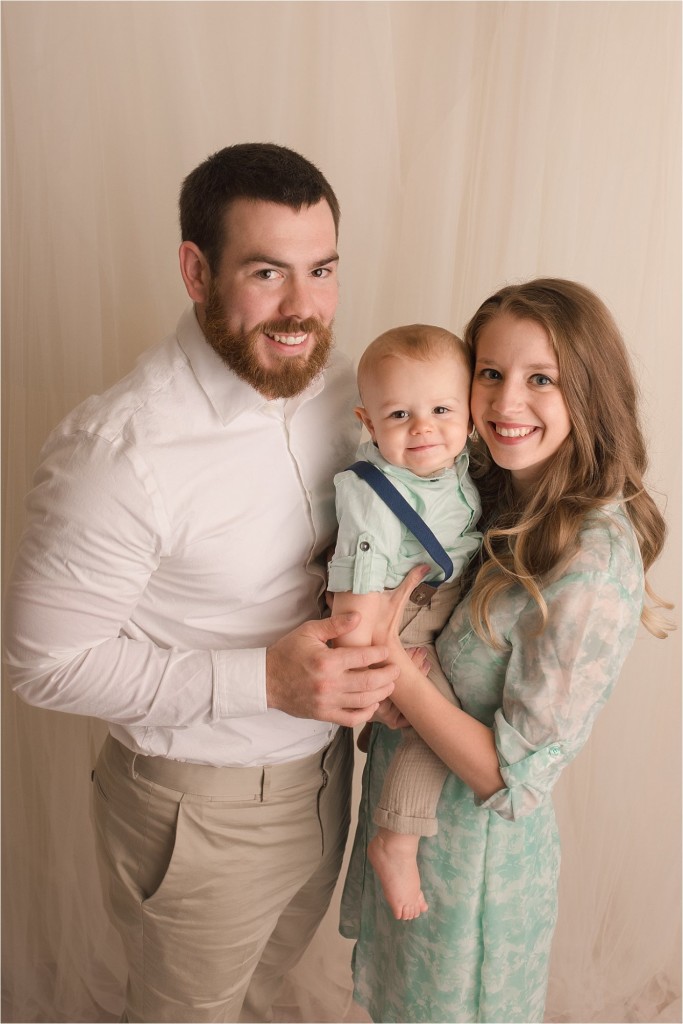 I love how you can feel love like Blue Ridge Mountain mist in these family portraits.  How adored is Thaddeus?
Like all one year sessions, we spent a lot of time chasing Thaddeus around and placing him back into the center of the backdrop.  This is totally normal for one year old babies. I always recommend that mom and dad bring workout clothes for after their family portraits. Photographing a one year old is like herding cats!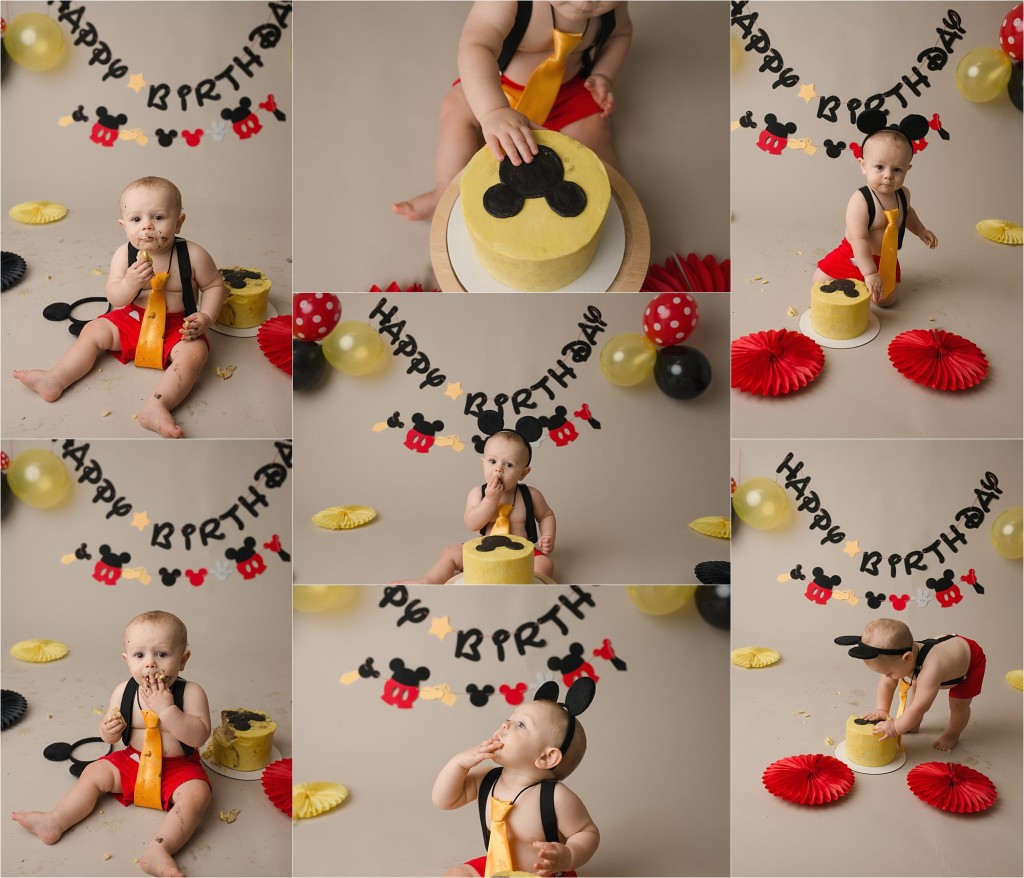 Finally, one year sessions end up in the bathtub to clean off, but also for some additional photo fun.  It's so nice when baby is contained in the tub for a bit. 😉  I love finishing sessions this way!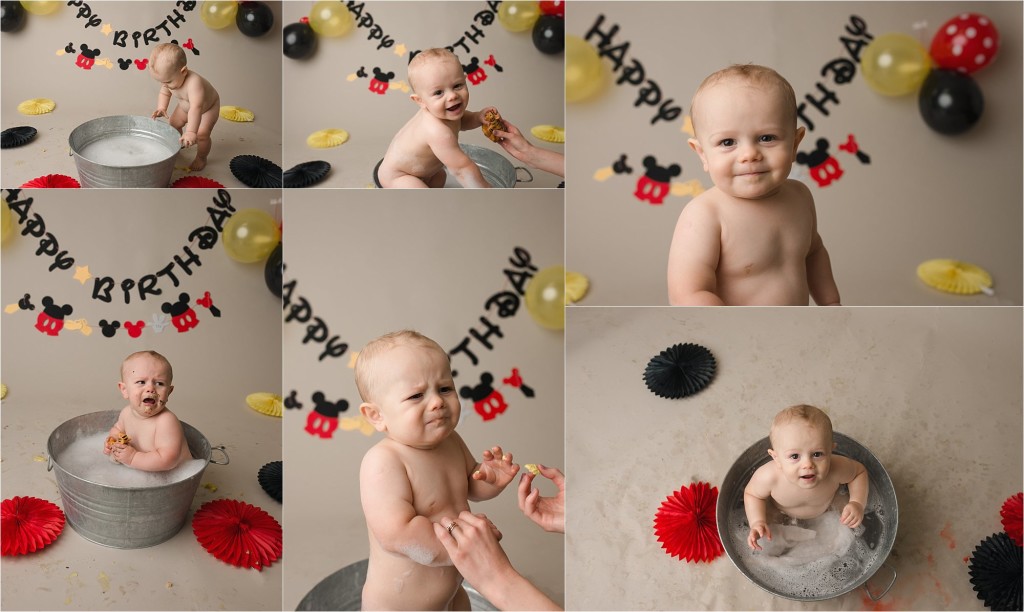 Still reading?  Thinking about your one year old session and wanting some more information?  Drop me a line today. Tell me about all the details you never want to forget in your little one.
I was so excited to do Timeless Natural Fun Studio Sibling Pictures Greenville SC as a part of Grace Anne's 9 Month Pictures.  Look at these three!

Their mama Devon had a dentist appointment and came home to these three elbow deep in the sandbox just minutes before they had to leave.  So she tidied them up, texted me that she'd be using the studio wardrobe for the boys, and came on! Devon is everything I love in a client: a doting mama with a good sense of humor (which is totally needed with 3 under 3!), relaxed and laid back, and just so grateful!

Devon's relax nature allow me to play jumping on the bed and "Photographer Says."  But it also lets me capture not sure sweet poses, but the budding personalities of all of her sweet babies.
Chris, Jack, and Grace Anne are NOT lacking in the personality department! Even the littlest is filled to the brim with personality.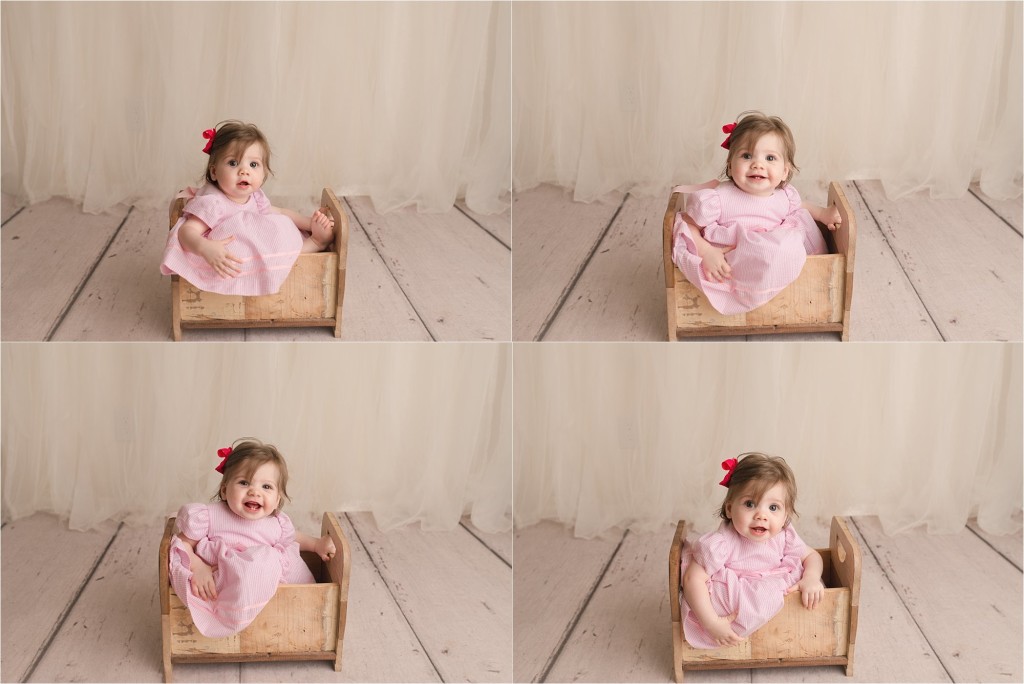 And not only does Grace Anne have personality, but she has the speed to keep up with her brothers (and give mama and me a work out).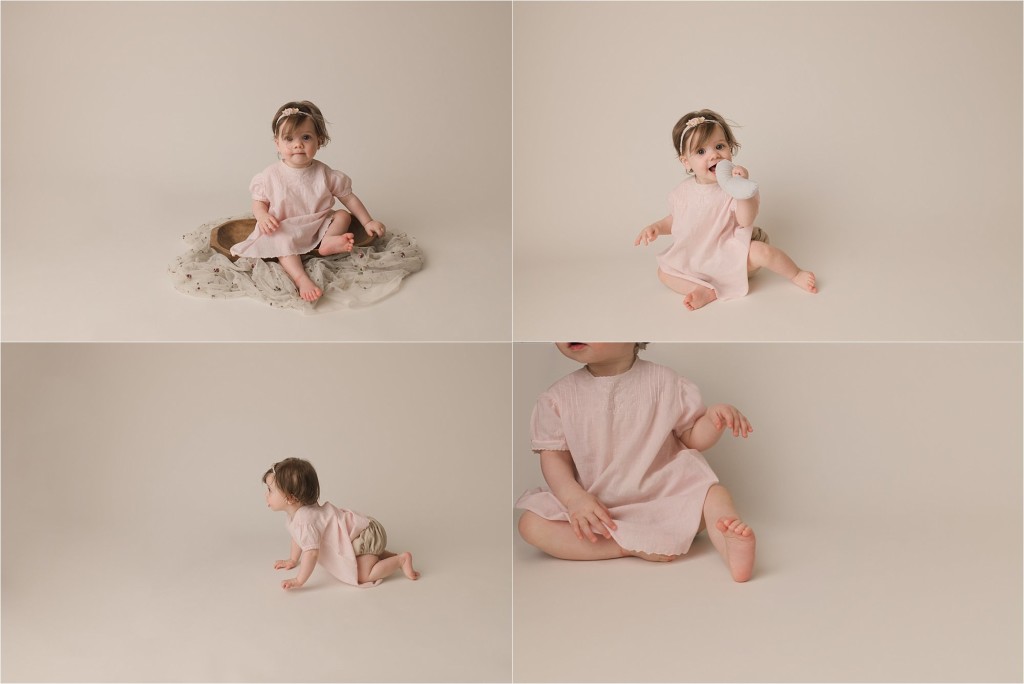 This girl MOVES. FAST. ALL THE TIME.  I guess when you have two big brothers… it's a survival mechanism. Or, perhaps, a thriving mechanism because she's always happy.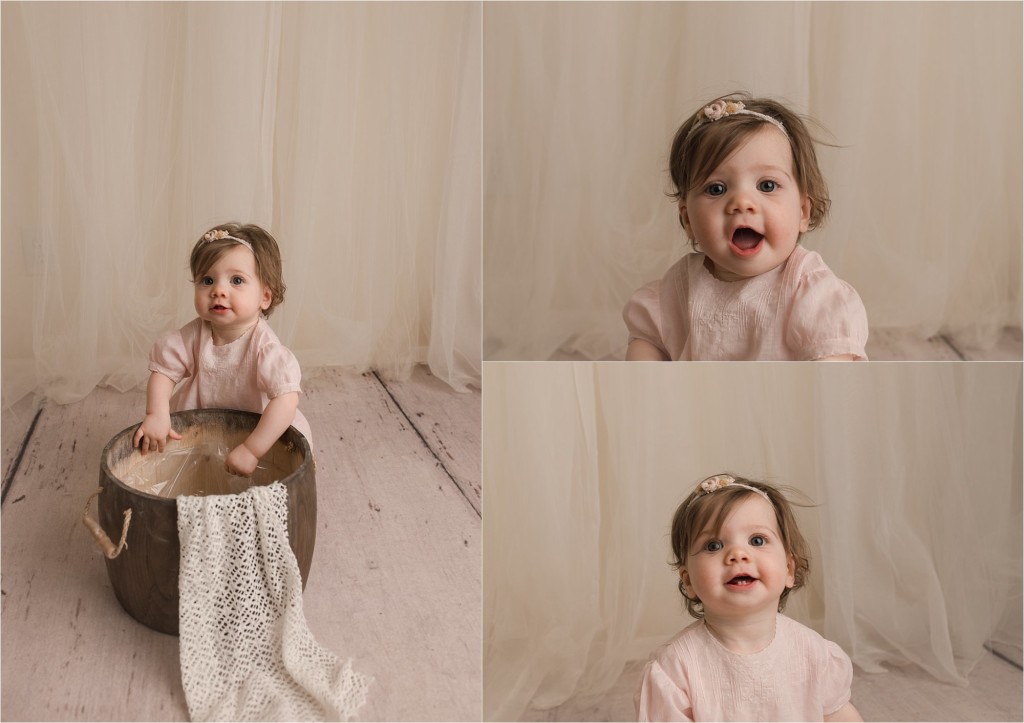 Are you looking to book a session for your little ones?  Looking to have a blast and capture Timeless Natural Fun Studio Sibling Pictures Greenville SC?  I love classic and timeless backdrops, but I also want your children to enjoy being children.  I try to make it fun. I take my time, but use it wisely.  I know that the best portraits come with relationship. And I help you to see that fun and relaxed may actually be the definition of perfection.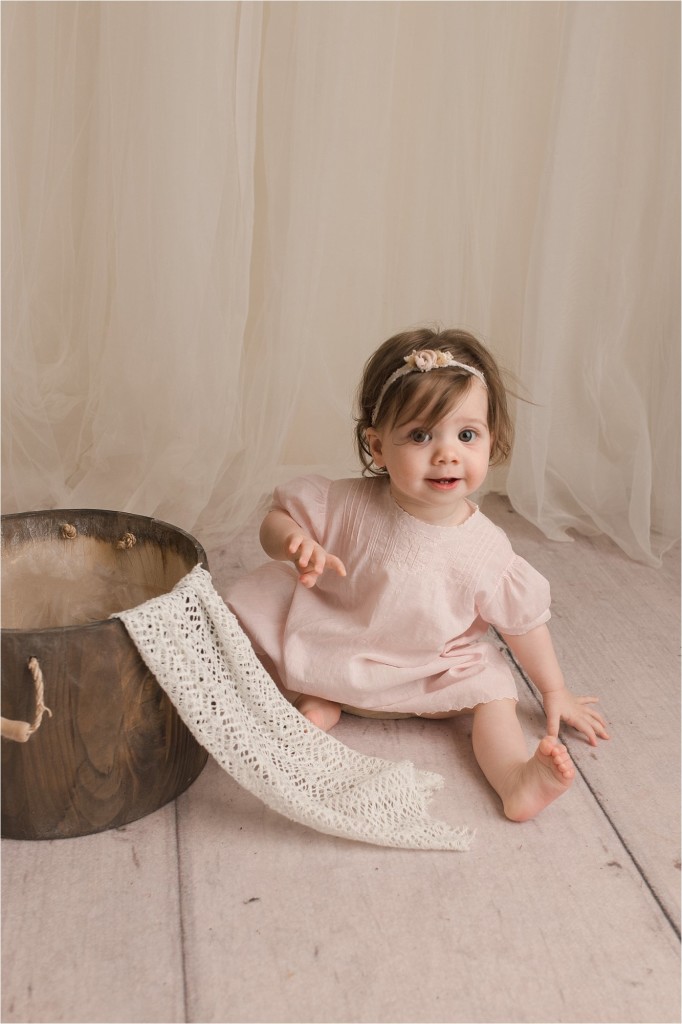 Contact me today and find out about how working with me is the opposite of working with a big name studio. 
I was so excited to serve Joshua and his family again for their Timeless Fun Simple Boys Cake Smash Photos Simpsonville SC.  We had a blast at this session.  This slideshow show all of Joshua's images, but I'll highlight a few selected images below as well.
Here is an image of Joshua's newborn session from last year. See the rest by clicking here.  I always find it astonishing how much little ones grow in just one year.  It's the reason I specialized in maternity-1 year when my oldest girls (twins) were just 9 months old.  I wanted to capture ever single second of their growth. Now I get to do it for amazing clients like Joshua's mama Angela.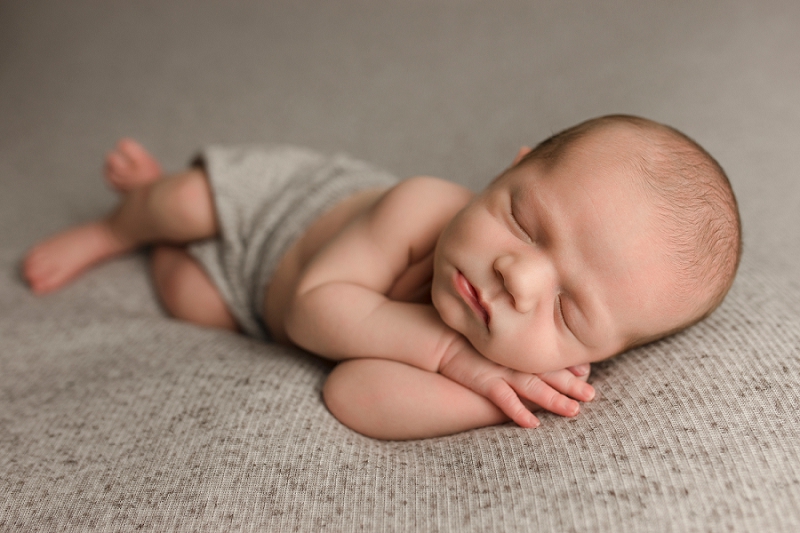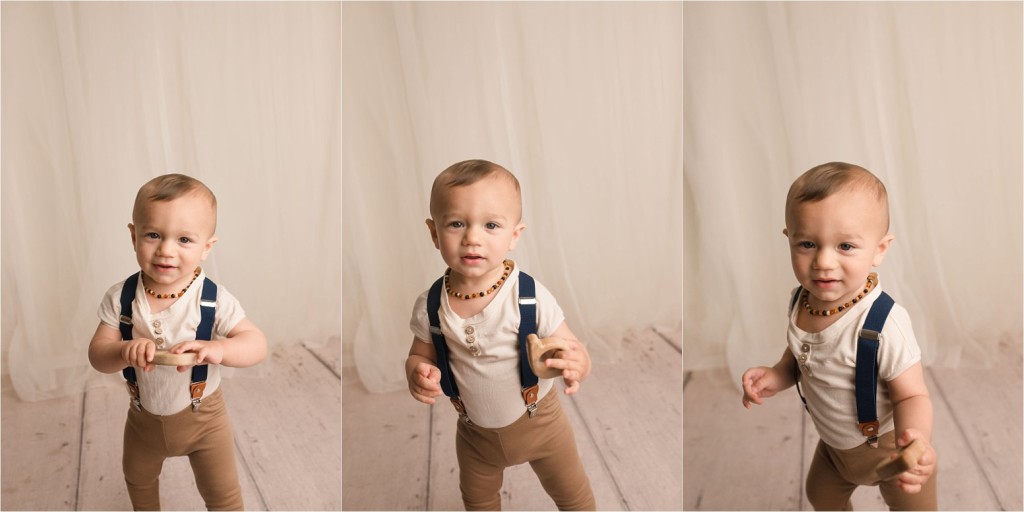 One year old babies are buckets of emotions.  From crying, to cuddling mama, to laughing, to playing in frosting, to crying in the bath, and everything in between, there is no way to predict what emotions your little one will display.  Parents always worry just a little about whether I caught any "good images."  And they're always delighted when the look at all the images in their proof gallery.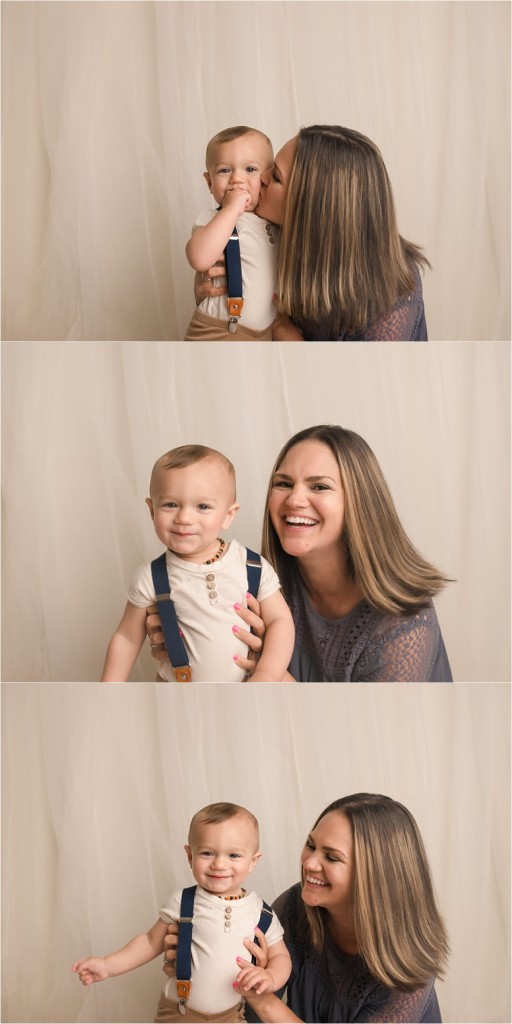 I recommend that mama wear something pretty for portraits (or borrow from my Mama Wardrobe) and bring workout leggings for helping me chase after baby!   Nothing escapes frosting covered babies who move so fast! Chase, grab, and place while quickly snapping a few is the way a one year session runs!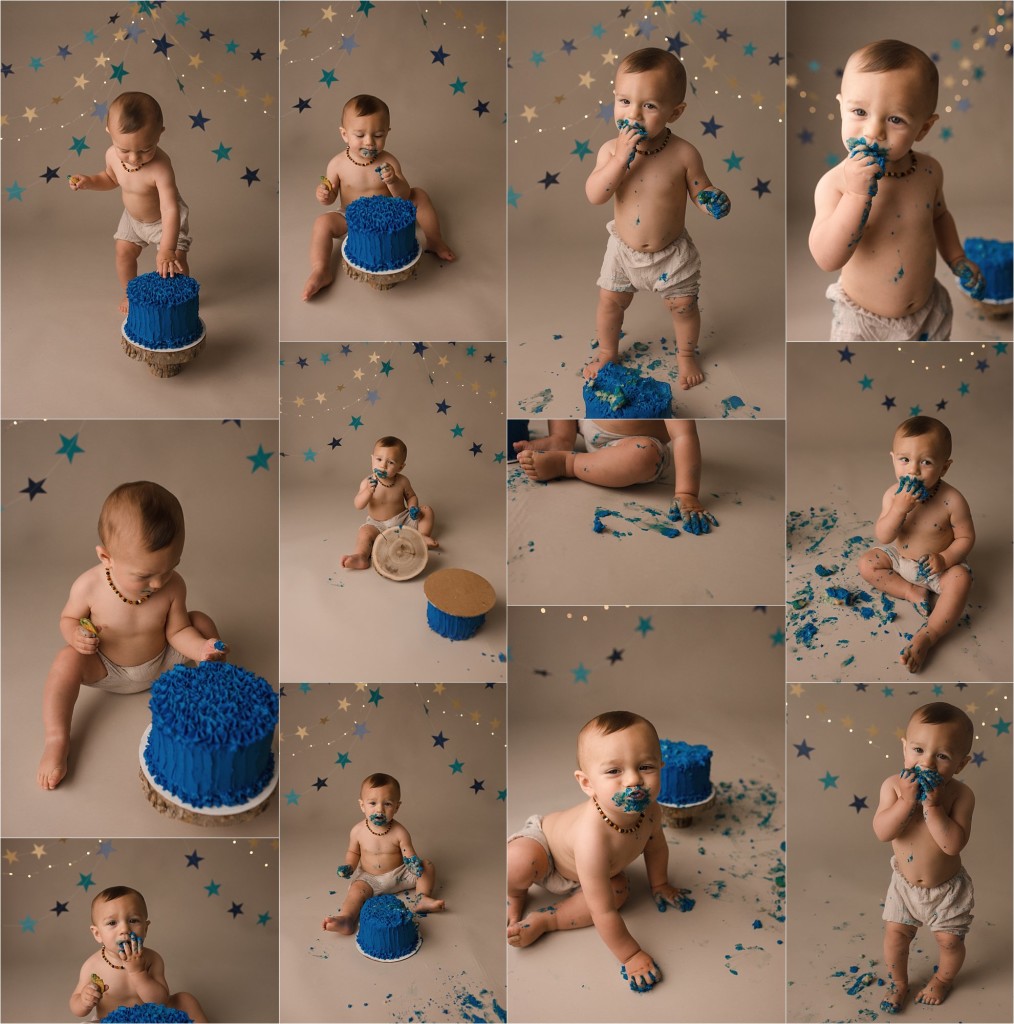 I also love ending my one year sessions with a bath. It's great to clean up baby and provide an opportunity for more images.  Most babies cry for either the cake or the bath. Joshua was not having his bath!  I love that Angela chose this image for her final gallery.  It's so good to remember these sweet dramatic faces as much as the happy ones.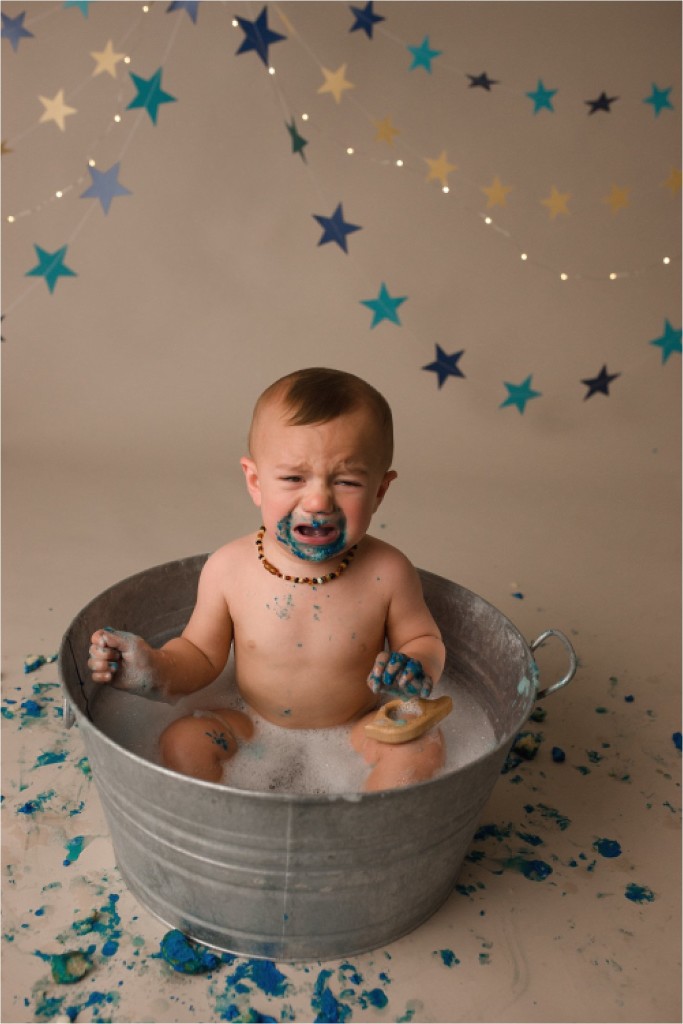 Interested in booking your own Timeless Fun Simple Boys Cake Smash Photos Simpsonville SC?  I'd love to help you make your dream come true.  Cake, simple decor, and some wardrobe options are included in your one year session.  I love making your visions come to life.  Click here to share your cake smash vision with me.
Classic Three Month Baby Pictures Greenville SC are so much fun in the studio!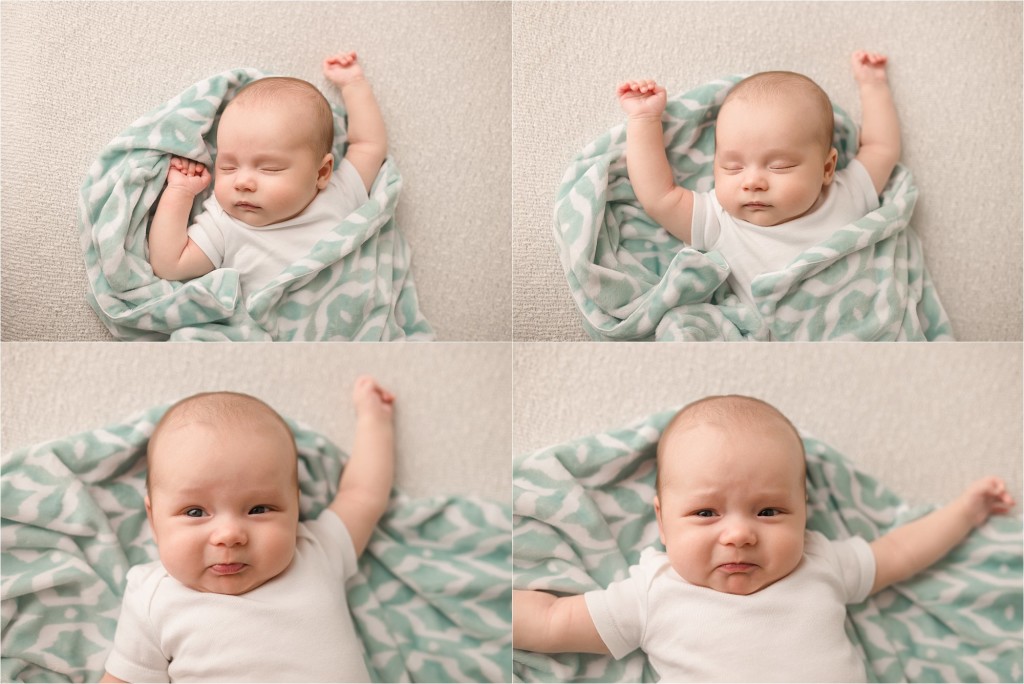 This age is full of absolutely priceless expressions.  Your baby will progress from frowning, to crying, to giggling, to sleeping, to just being content in the span of just a few minutes.  Claire was no exception; she shared all the emotions with us.  So much so that I even made a little montage of her soft proofed (unedited) images which you can see below.  You'll see corners of blankets missing, a bit of baby acne, and some scratches that I removed for her parent's selected images.
What is soft proofing?  Well, I really want my clients to see and PICK their final images.  I recognize that if I select the 15, 30, or more photos from your session that I'm going to miss "that face" or "the way she always stretches."  So my clients receive a soft proof gallery after their session showcasing the best in focus non-repeated images regardless of faces or actions.  Clients choose their favorites for me to edit.  I find this is a win for every client.  Below you can see the edited images from Claire's session and how they compare to the proof images.
While we got our fair share of awake images, Claire was so tired for her session.  She fussed a little and then was rocked to sleep by her sweet mama Lindsey. I took this opportunity to get some creative new images of their family and I love how they turned out!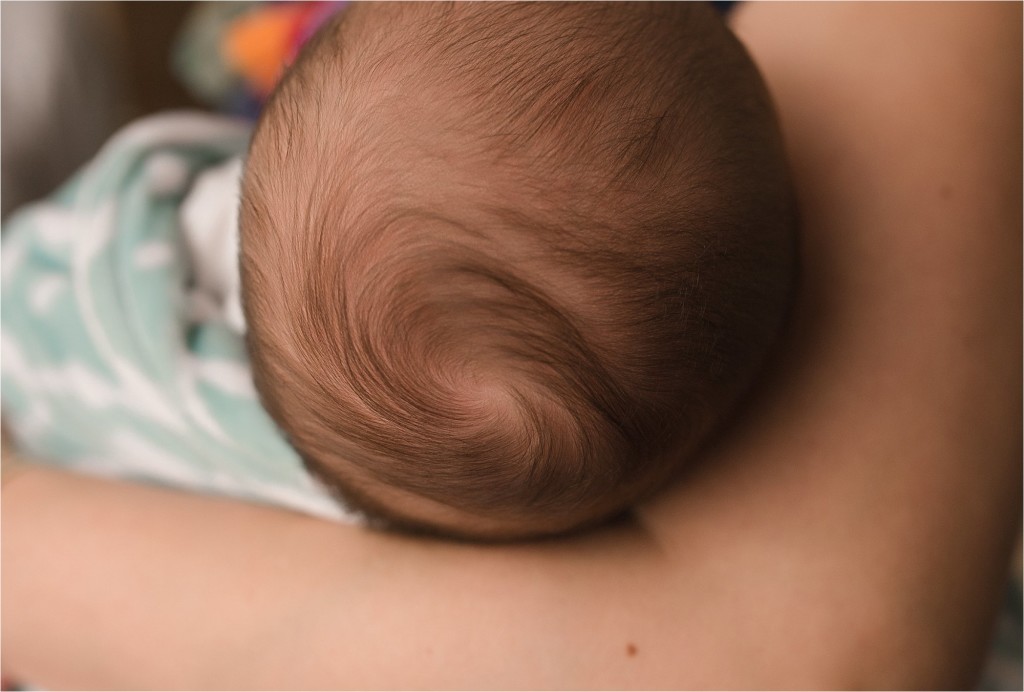 I especially love this sweet close up of Claire's little face and I can't decide if I like color or black and white more!  Which is your favorite?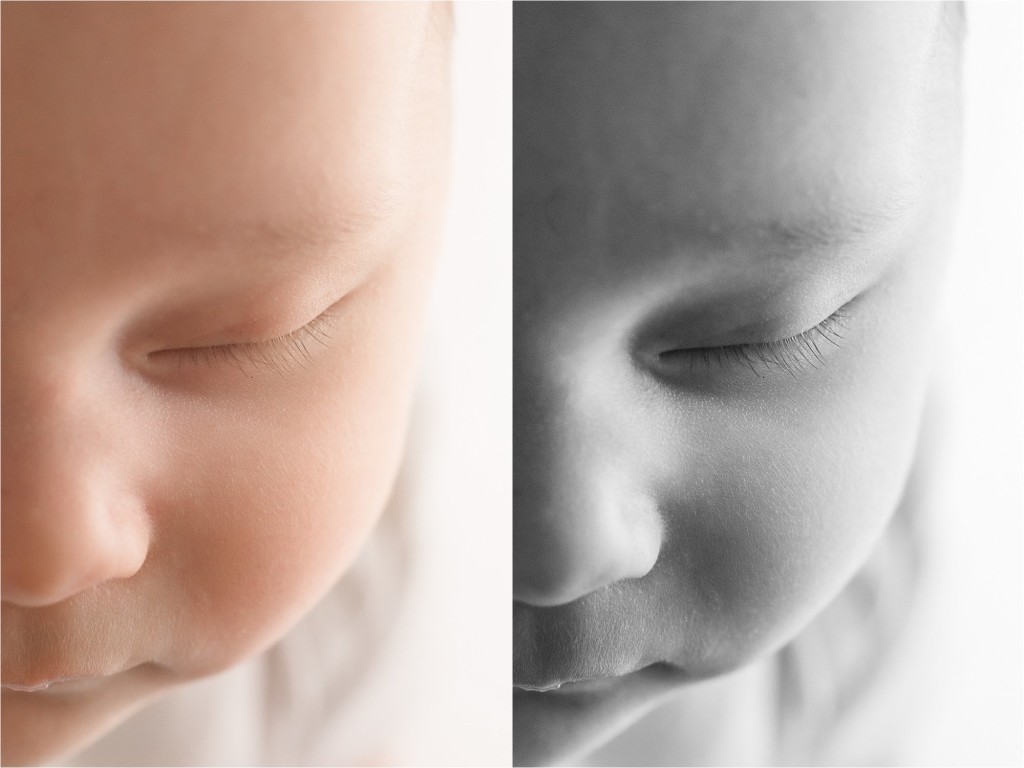 When Claire woke up we finished the session with the following images in an outfit from her mama Lindsey's childhood.  Aren't these the sweetest memories?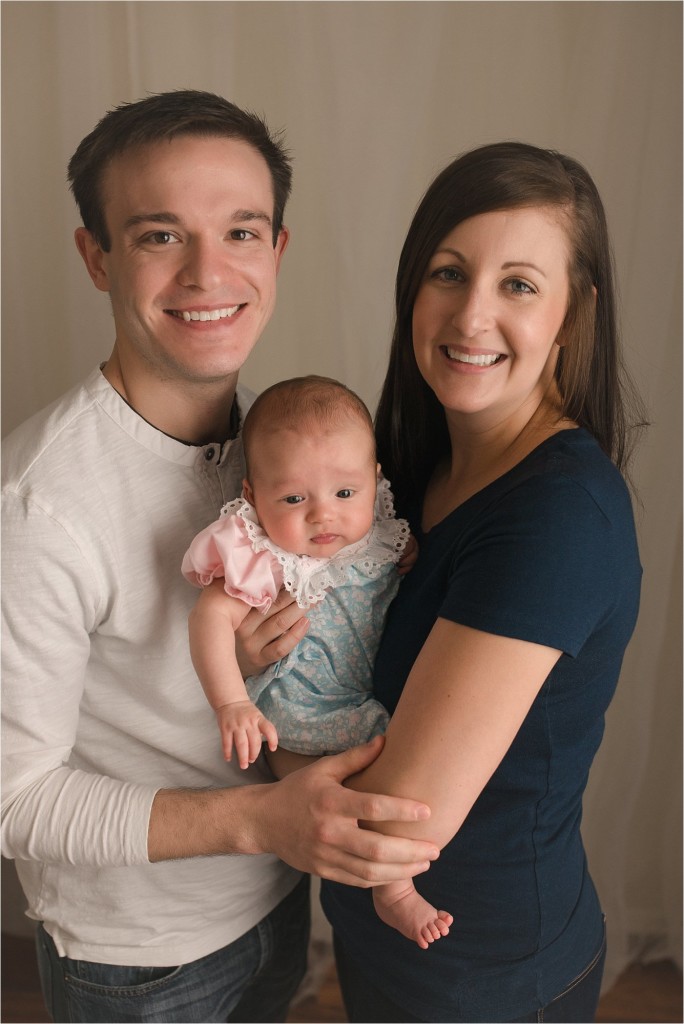 Looking to book a session for your 3 or 4 month old?  I'd love to serve you!  Tell me about your ideal session by clicking here.