Babies
I've photographed all of Jenn and Abel's sweet babies as newborns and at one year so I was just excited to do Classic Southern Studio Portraits Greenville, SC for Baby Theo's first year! You can see Theo's precious newborn photos and his whole family by clicking here. Right now Theo is the perfect Gerber baby. He's precocious as tries to swipe my camera, but his perfect pink cheeks and sweet curls stand out in both color and black and white. Look at him!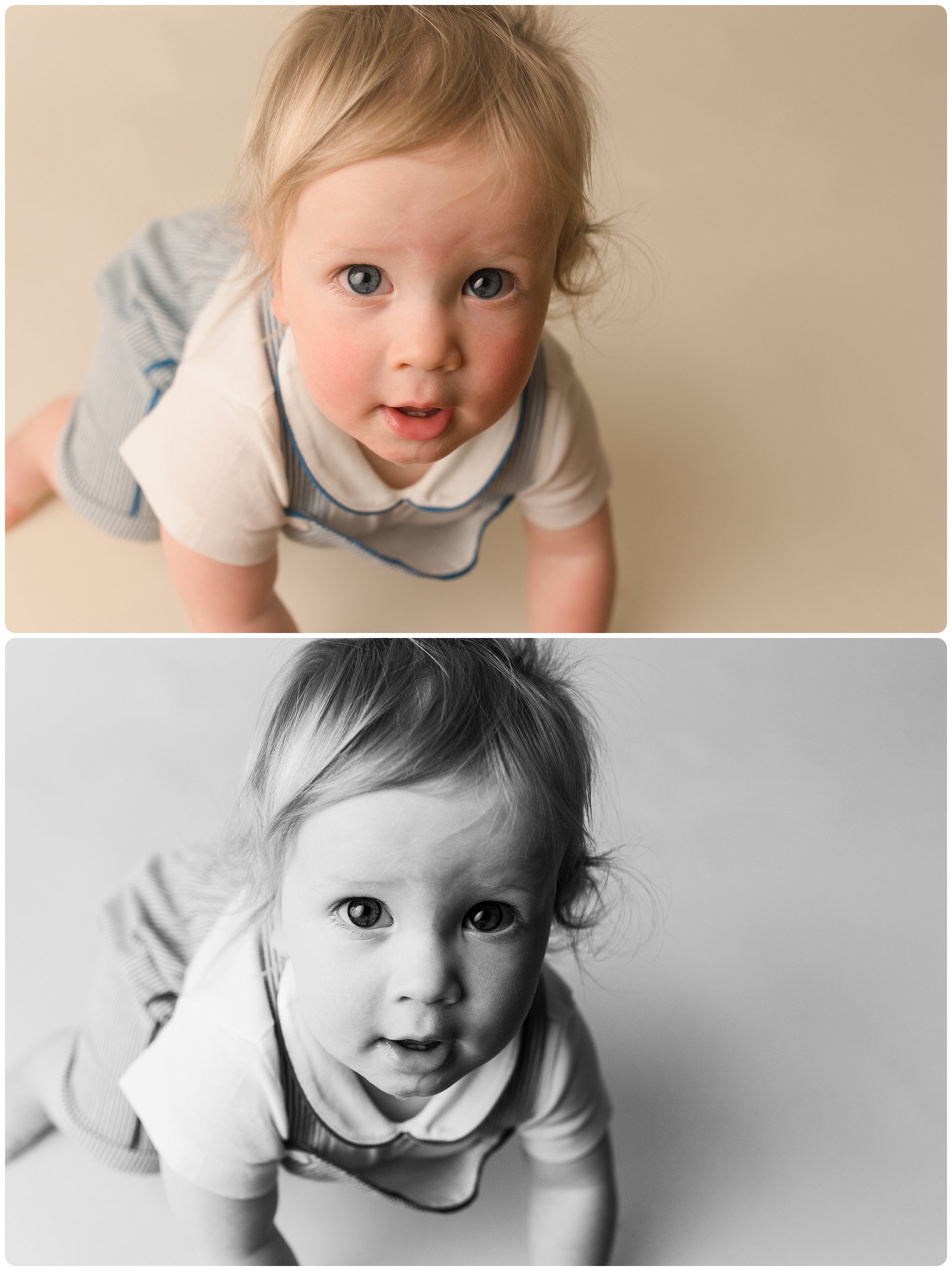 For reference, here is Theo at his newborn session where I scarcely saw his eyes. He was just a tiny little guy who wanted nothing more than to nap.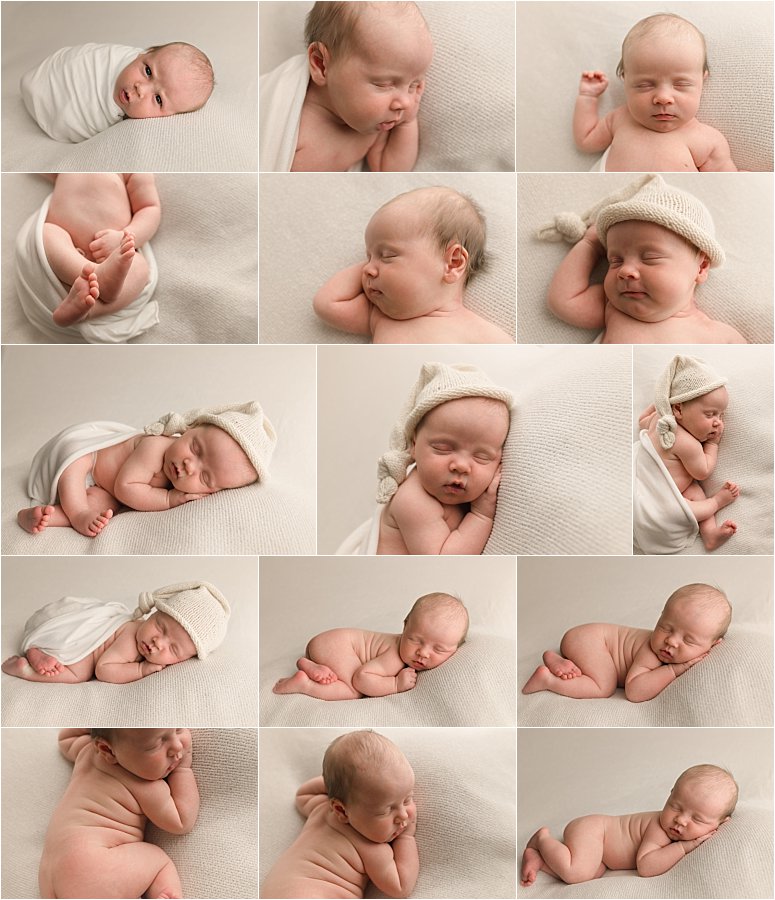 I'm always so shocked by how fast babies grow. Unlike parents, I don't get to see the incremental changes. I typically see your baby at 1 week old where all they do is sleep. Then again at 6 months where they're happy and aware of everything, but easily amused. And then again for either a milestone session (like this one) or a cake smash at one year. One year olds are total wild cards. They have good attachments to their parents and that makes them a bit cautious around me. They're hyper aware of being in a new environment too, but they have so much personality!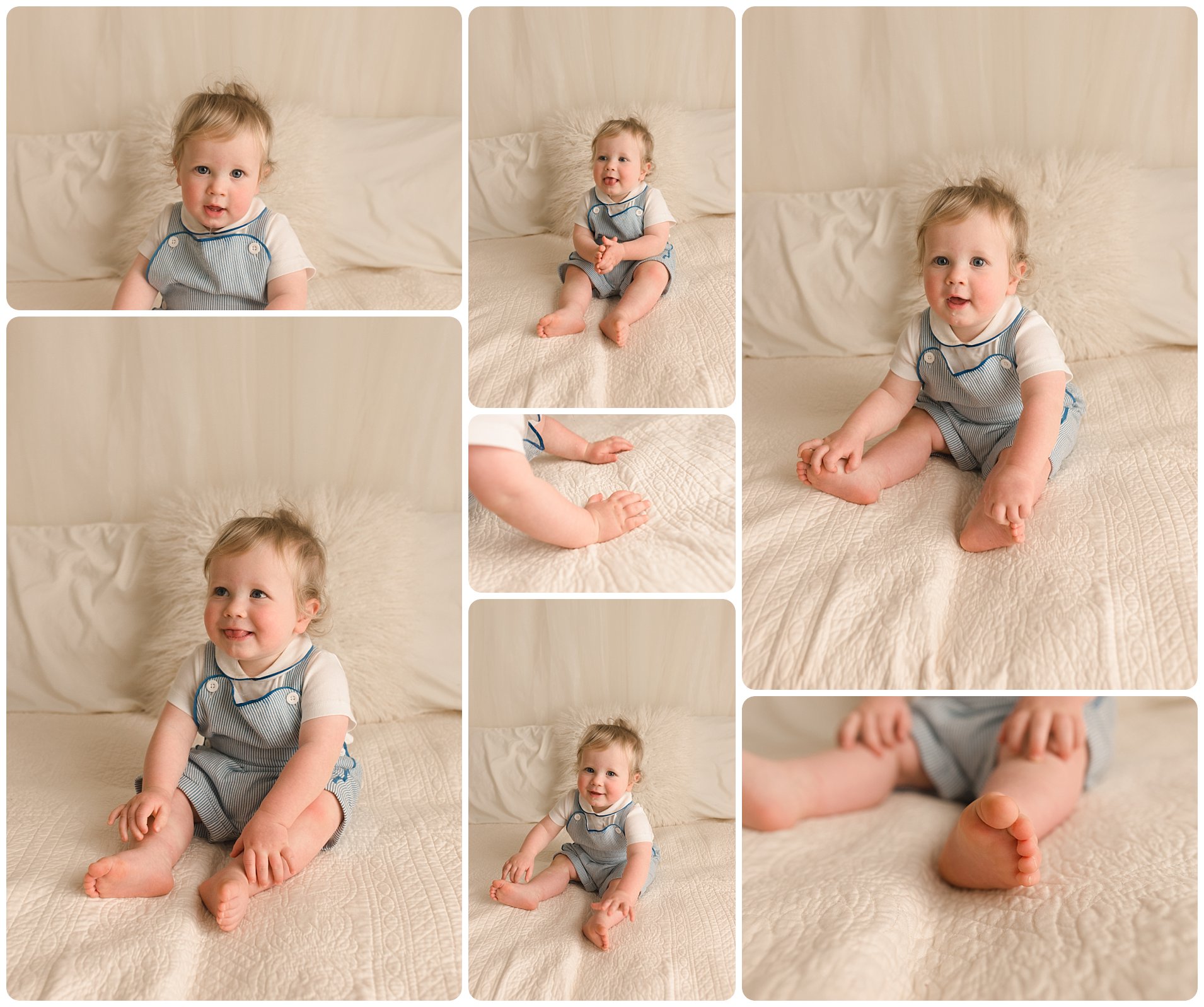 I tell all my one year old clients that your baby is going to be shy, they're going to cry, they're going to crawl or walk out of the frame! Bring your yoga pants for the images you're not in as you'll chasing your little one all over! Mom always leaves the studio feeling a little worried that I didn't get any good shots in all of the commotion. News flash, Theo did all these things and devoured about 5 snacks and a bottle too as he came all the way down from Asheville! If his session turned out this well, I promise you don't need to be worried about your active baby.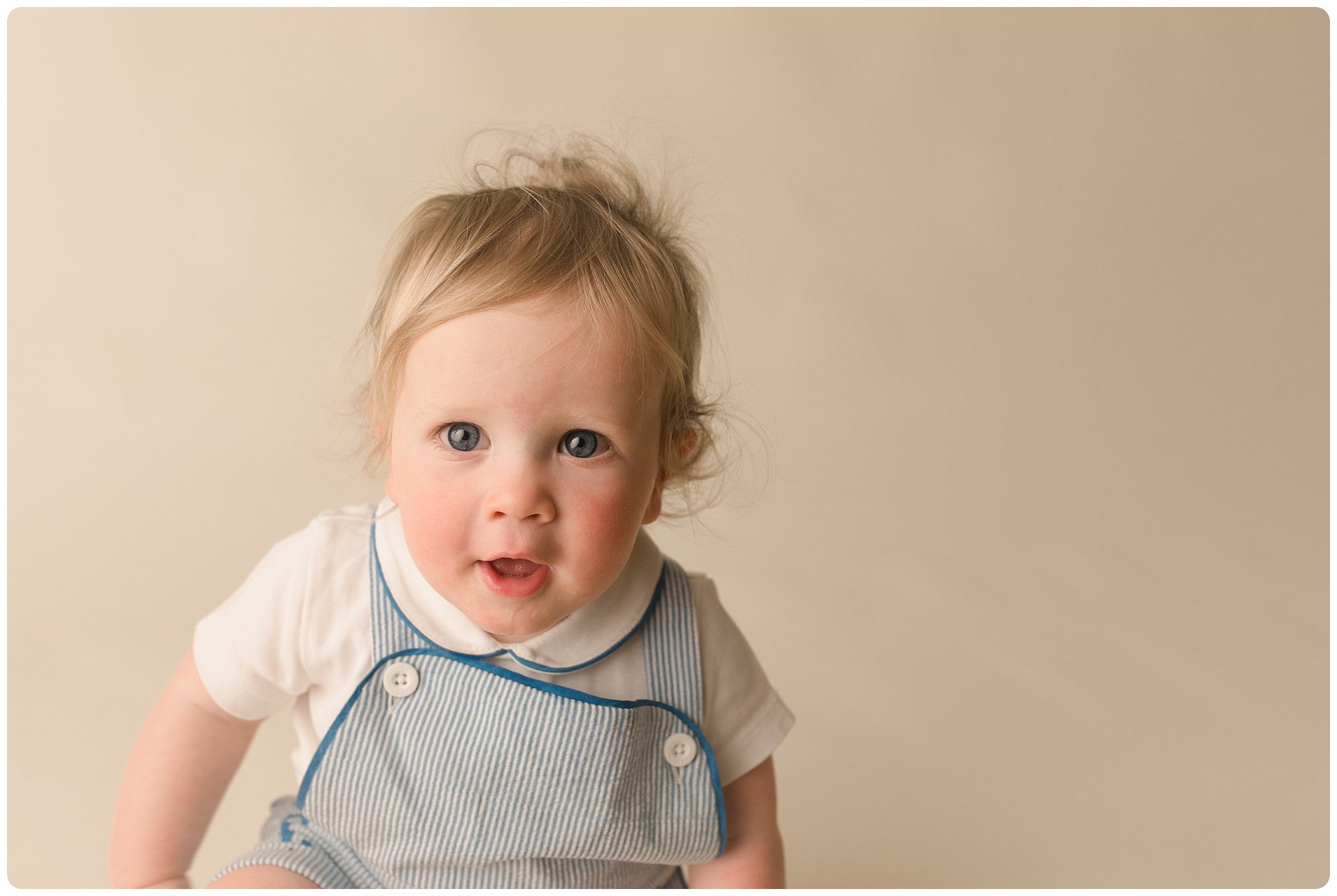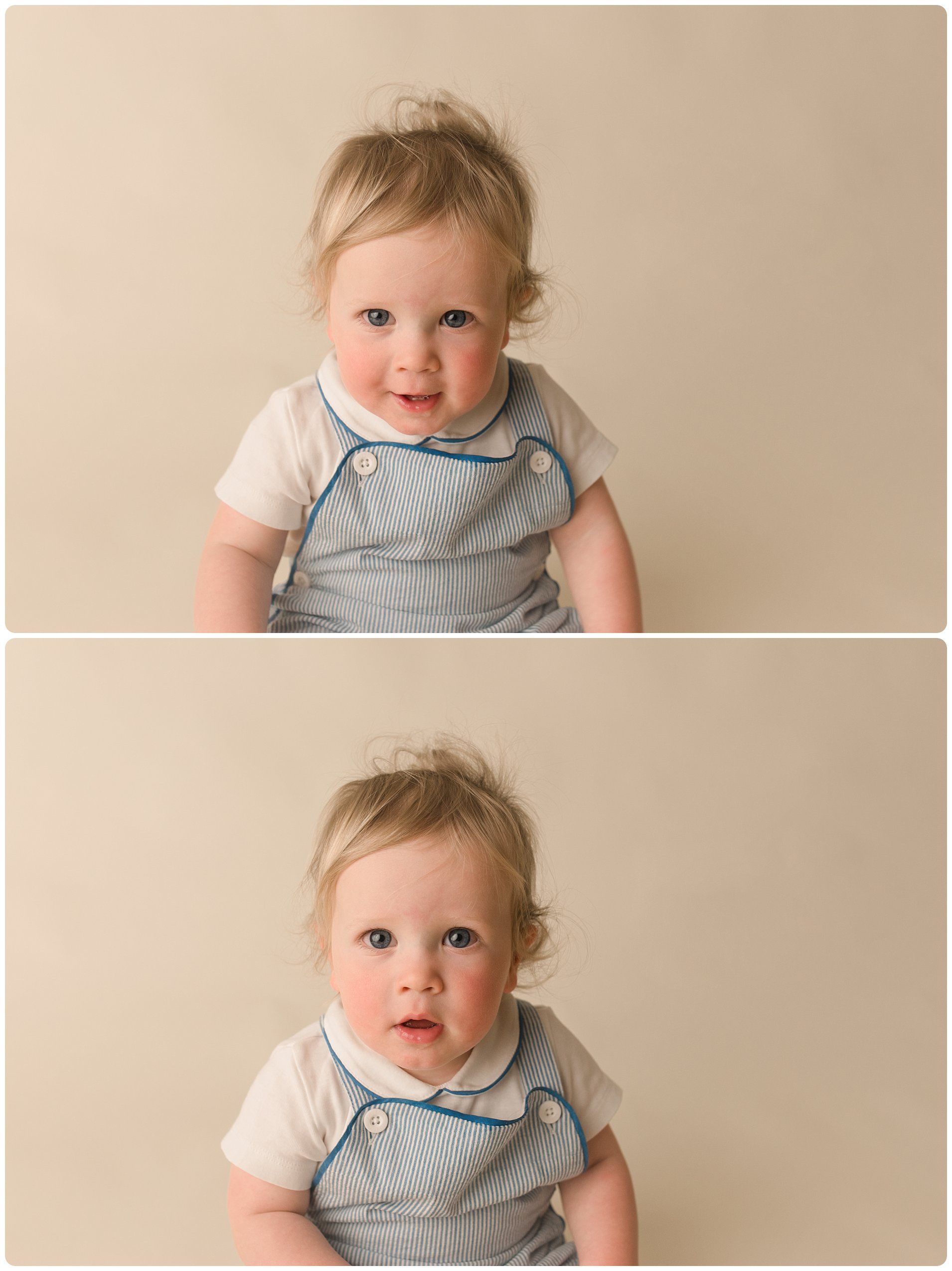 Looking to book your own Classic Southern Studio Portraits Greenville SC? Click here to contact me now! Want to see a little bit more of my work first? Sweet, check me out on Instagram!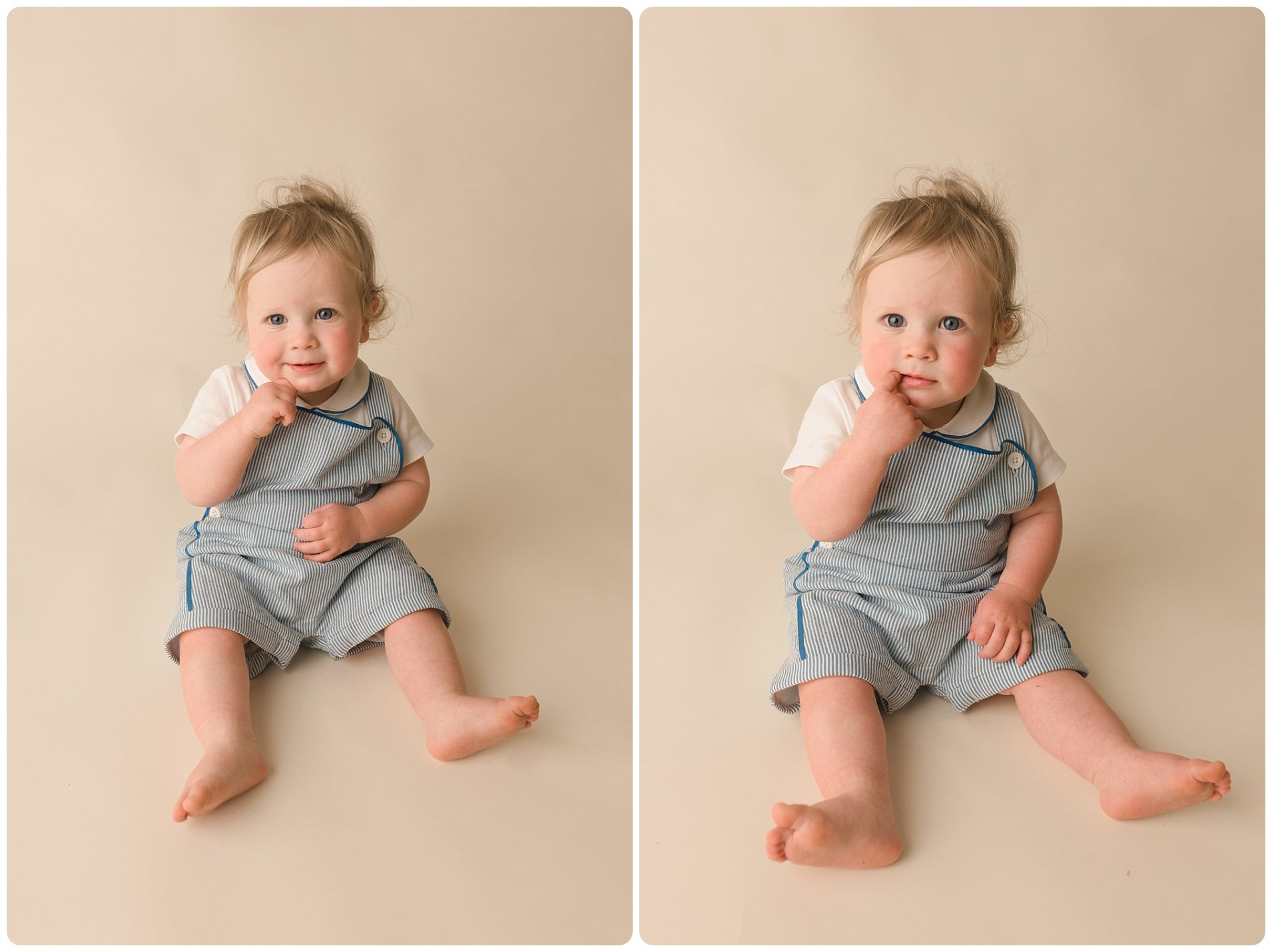 Are you looking to book a Funfetti Polka Dot Cake Smash Photographer Simpsonville SC? I'd love to be considered for your own cake smash needs. Your session includes a simple set, a semi-naked cake, and an hour of studio time. Click here to tell me about your dream cake smash session.  Read on to find out more about Wynter's Cake Smash.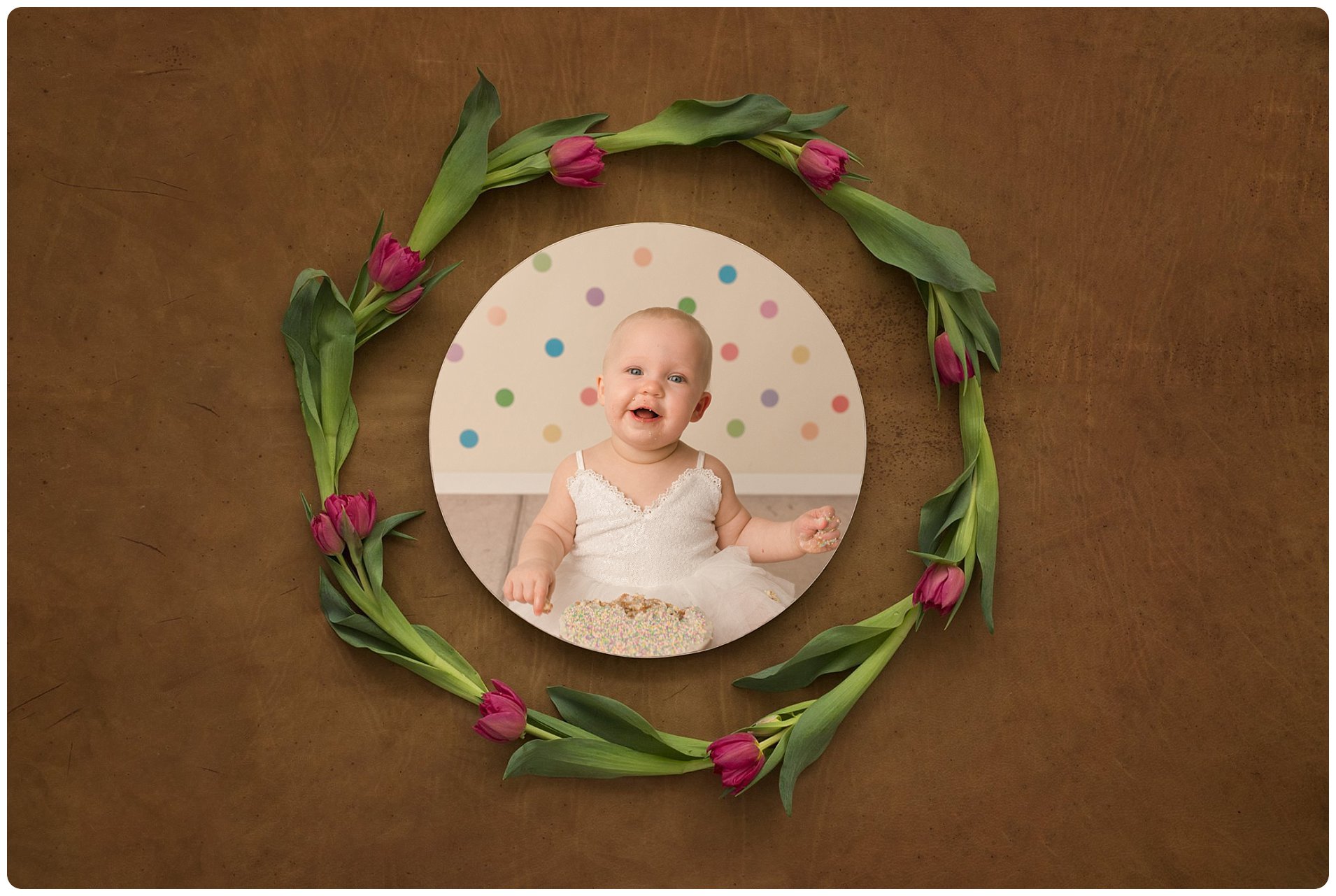 The last time I saw Emily she was expecting Wynter Rose. Click here to see her maternity session. The early Covid-19 quarantine season meant we weren't comfortable doing a newborn session with all of the unknowns during that time but I was delighted to finally meet Wynter for this cake smash. Emily had dreamt of the session during her long season of waiting for a little one. For her, it was the ultimate representation of the joy of a miracle child she wasn't sure she'd ever hold. Emily chose a funfetti, sprinkles, and polka dot theme and I loved it on the cream paper and floor!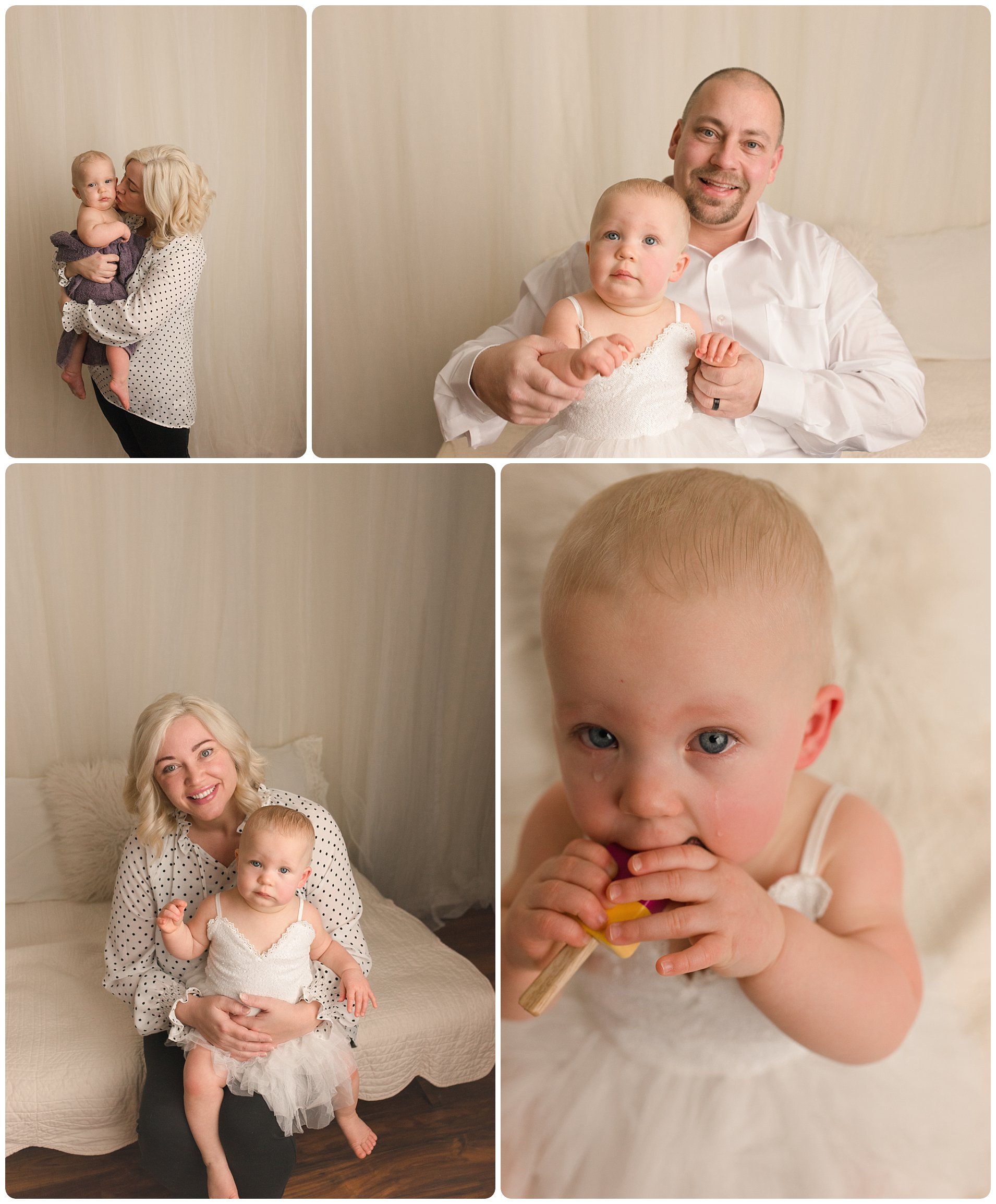 Wynter was a little overwhelmed in the new environment of the studio.  Often one year olds experience this kind of stranger danger at the start of the session. This sweet little crying image broke my heart, but as you can see with lots of mommy and daddy cuddles plus some Bonanza and Mickey Mouse Club songs helped Wynter be comfortable in the studio.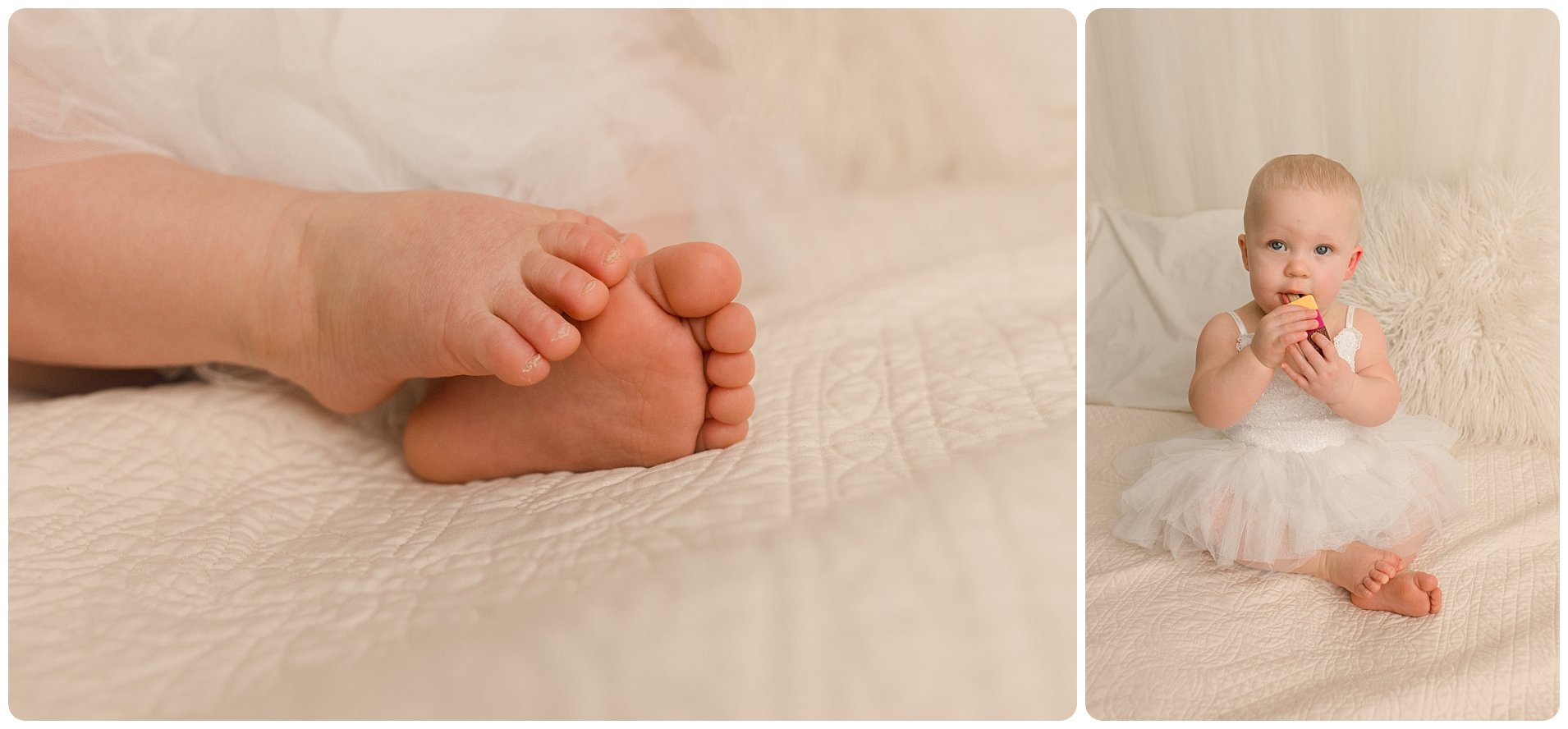 Christine of Baking Sweet Scents made this perfect semi-naked pastel sprinkle coated cake.  One of Chiristine's semi-naked cakes is included in each cake smash session. Clearly Wynter loved her cake so much!  I'm pretty sure she may have loved the box even more as we cleaned up!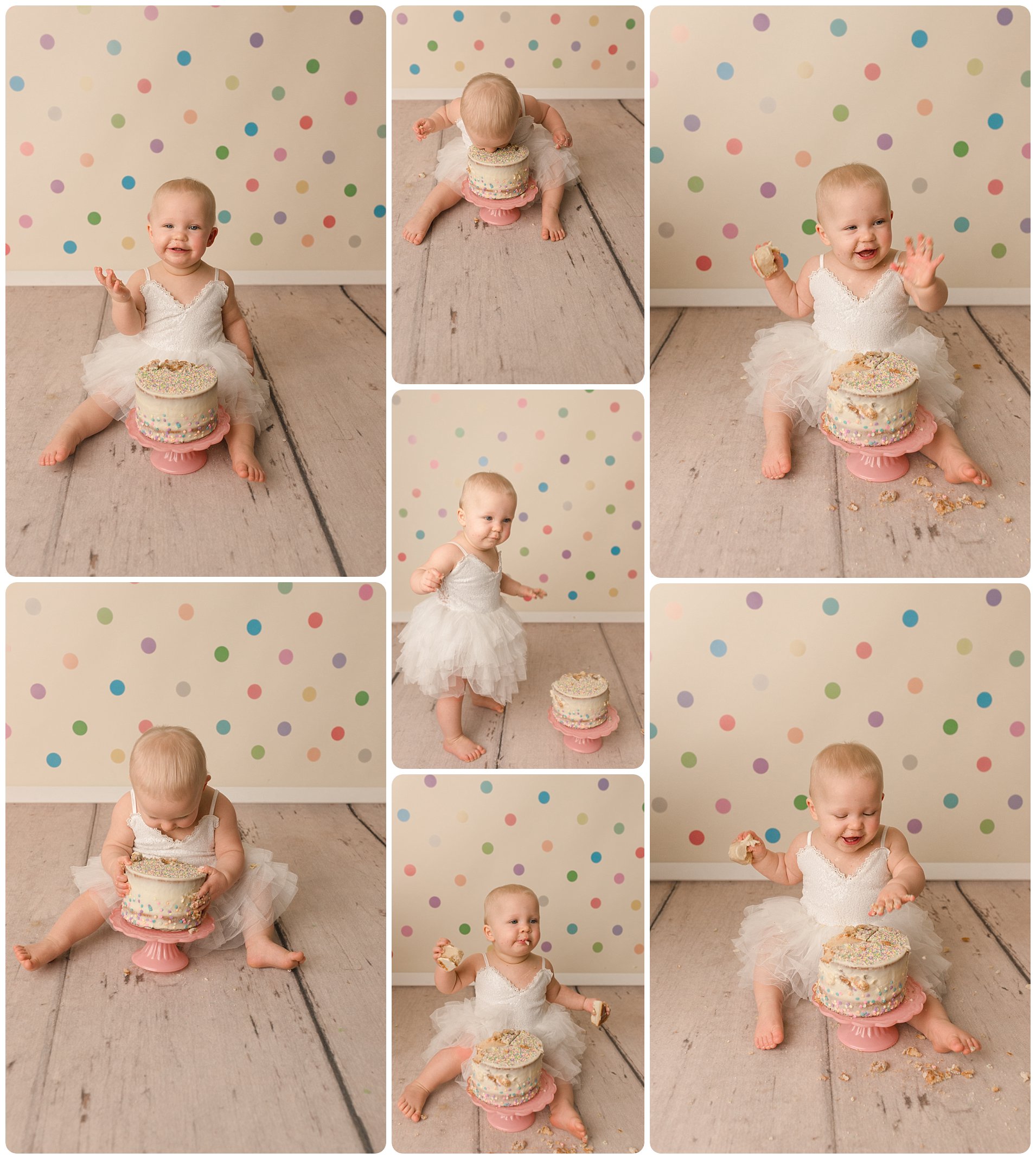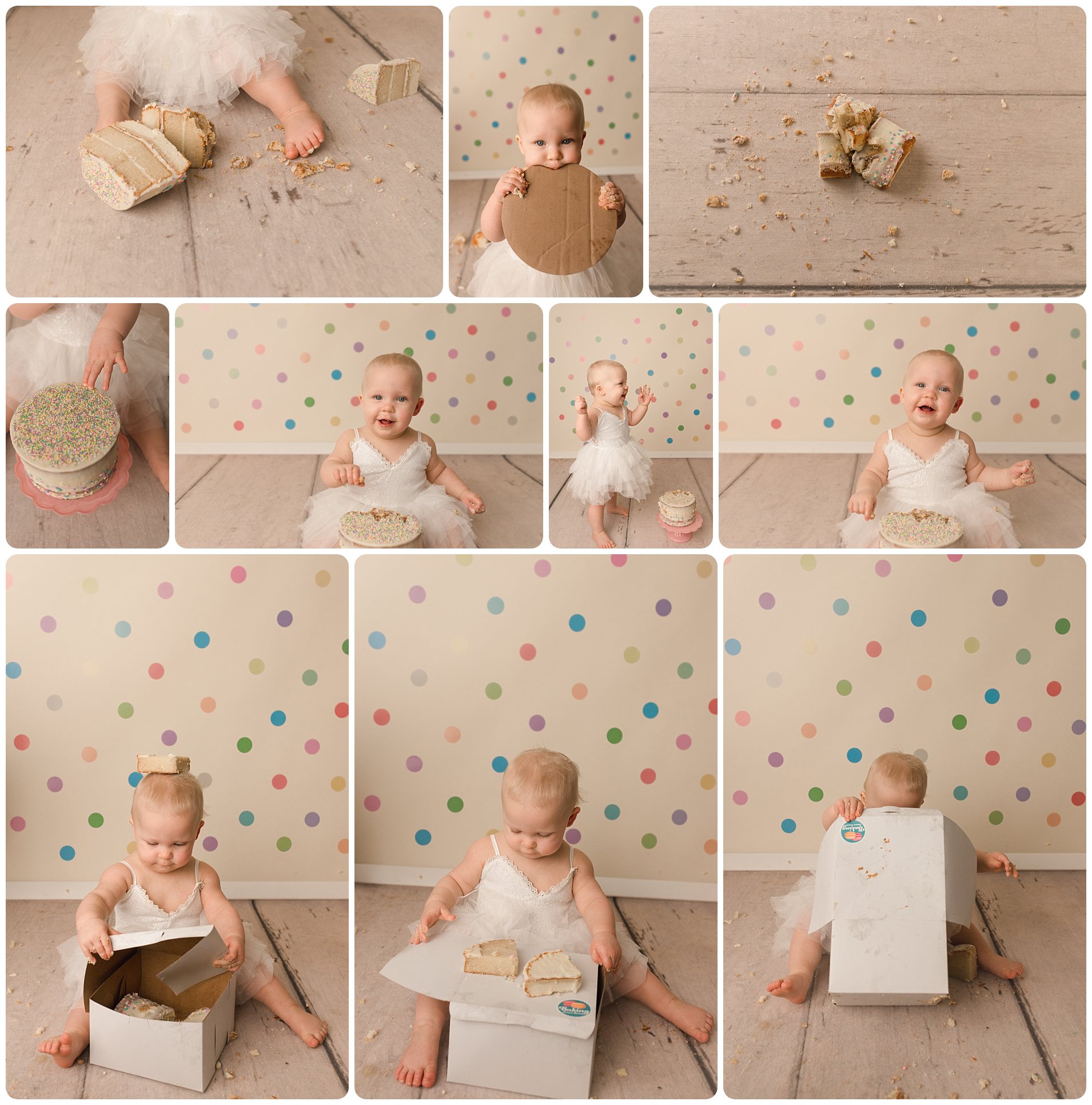 Seriously, aren't her little faces just too much!  I can't even pick a favorite one!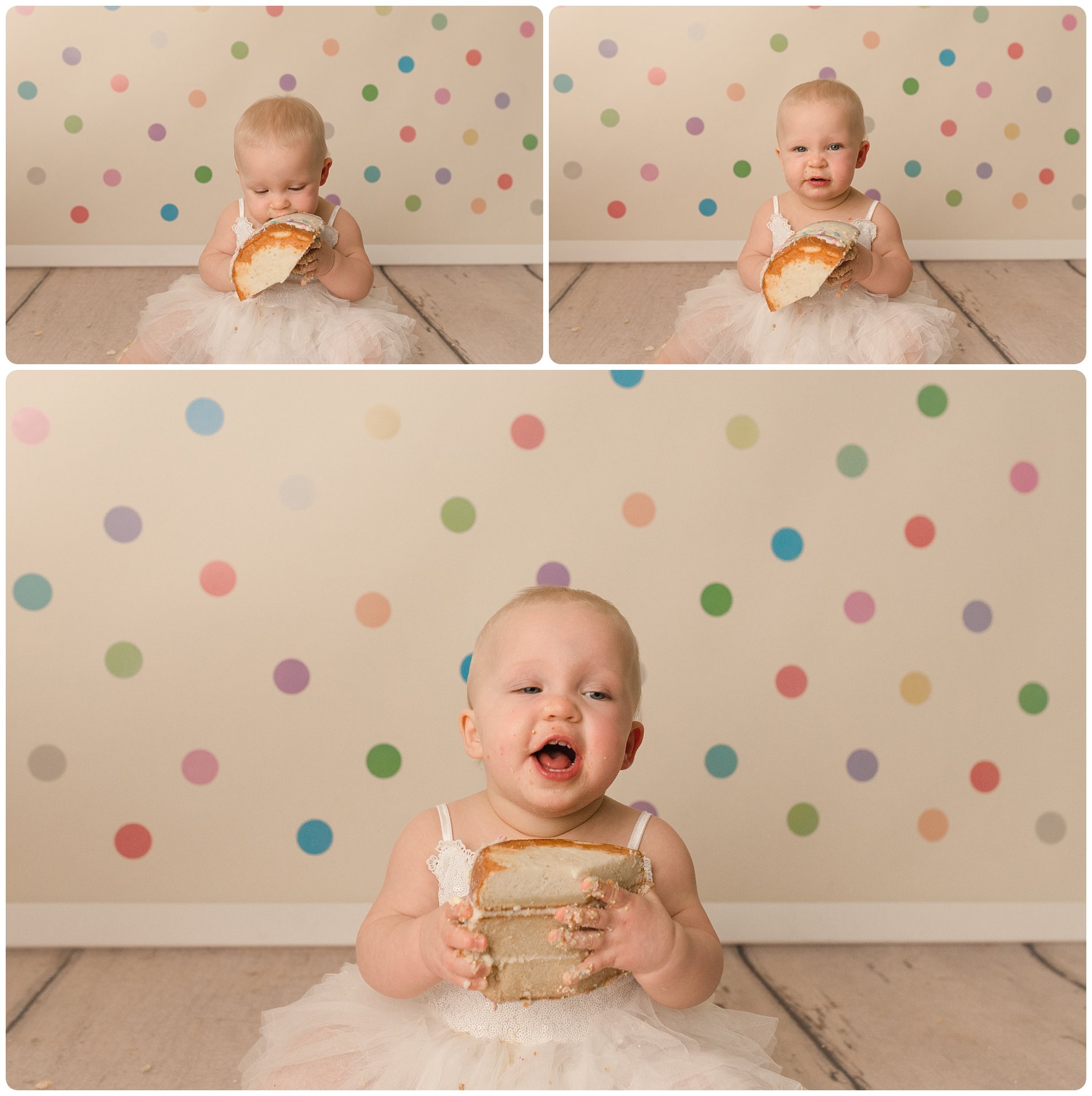 Finally, we finished our Funfetti Polka Dot Cake Smash Photographer Simpsonville SC with a bubble bath in the tub. It's such a fun way to end each session!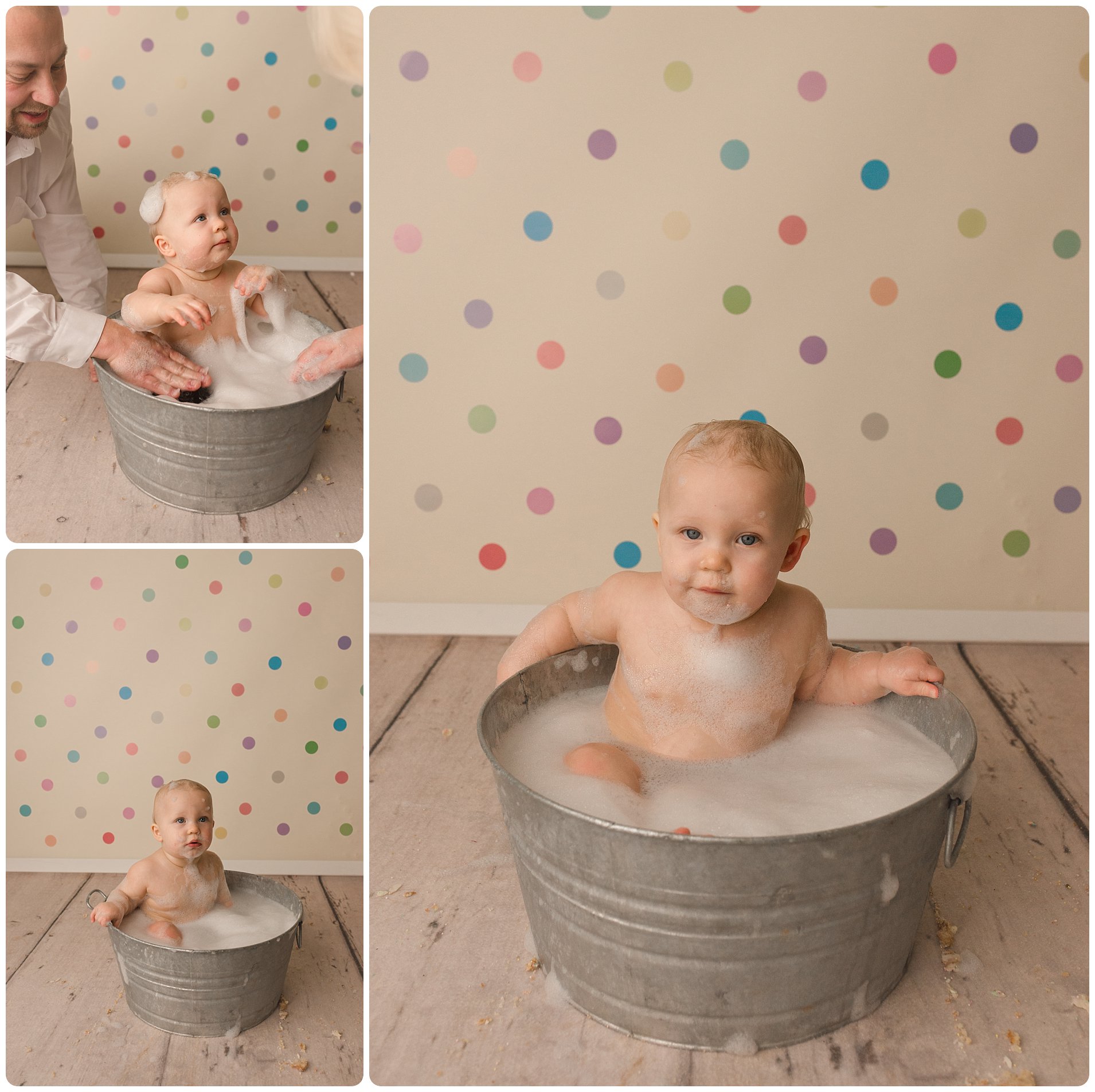 Somtimes I get to celebrate a special baby with Micro Preemie Miracle Baby Photography Greer SC. Meet Olivia! This precious girl weighed just over 1 pound at birth and is proof that sometimes the smallest things take up the most room in your heart. I mean look at the effuse joy this little girl has? Olivia is sheer delight.

Olivia came in for a Milestone Mini session. This session type is a great for budget a budget friendly option to capture just a few images of your baby. At around 30 minutes in the studio it's also quick and perfect for keeping your baby's attention in between feedings and naps.  Olivia was turning one just a few weeks after this session and so these images will help commemerate that milestone perfectly.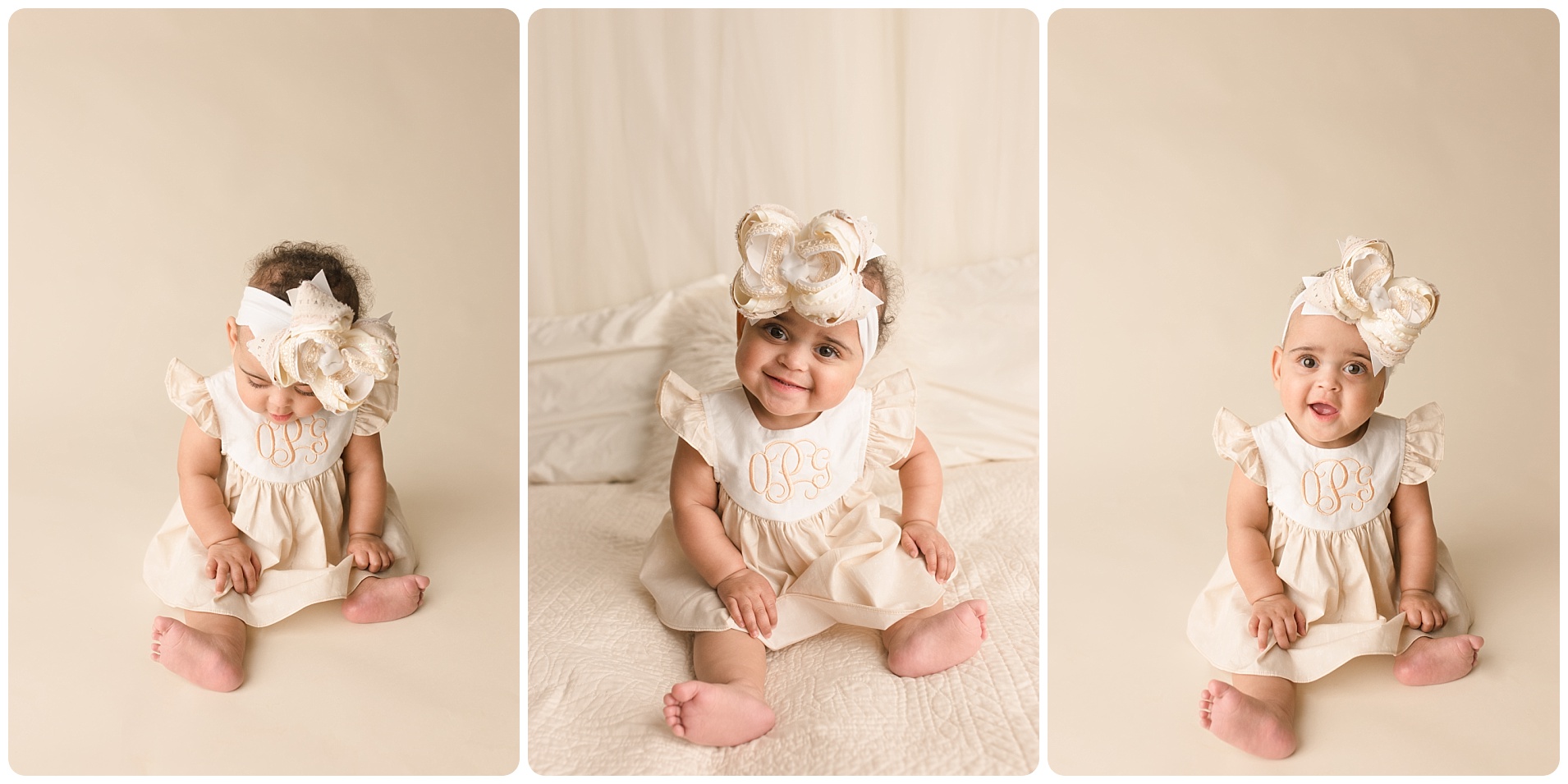 Of course, I couldn't resist taking a few detail images. I live for documenting the sweet beauty of your baby right now as they are. This little hand and feet image took my breath away. The ephemeral arm and leg roles, those delicious finger dimples, and those tiny toes cupped in a Olivia's hands are precious memories of a time much too brief.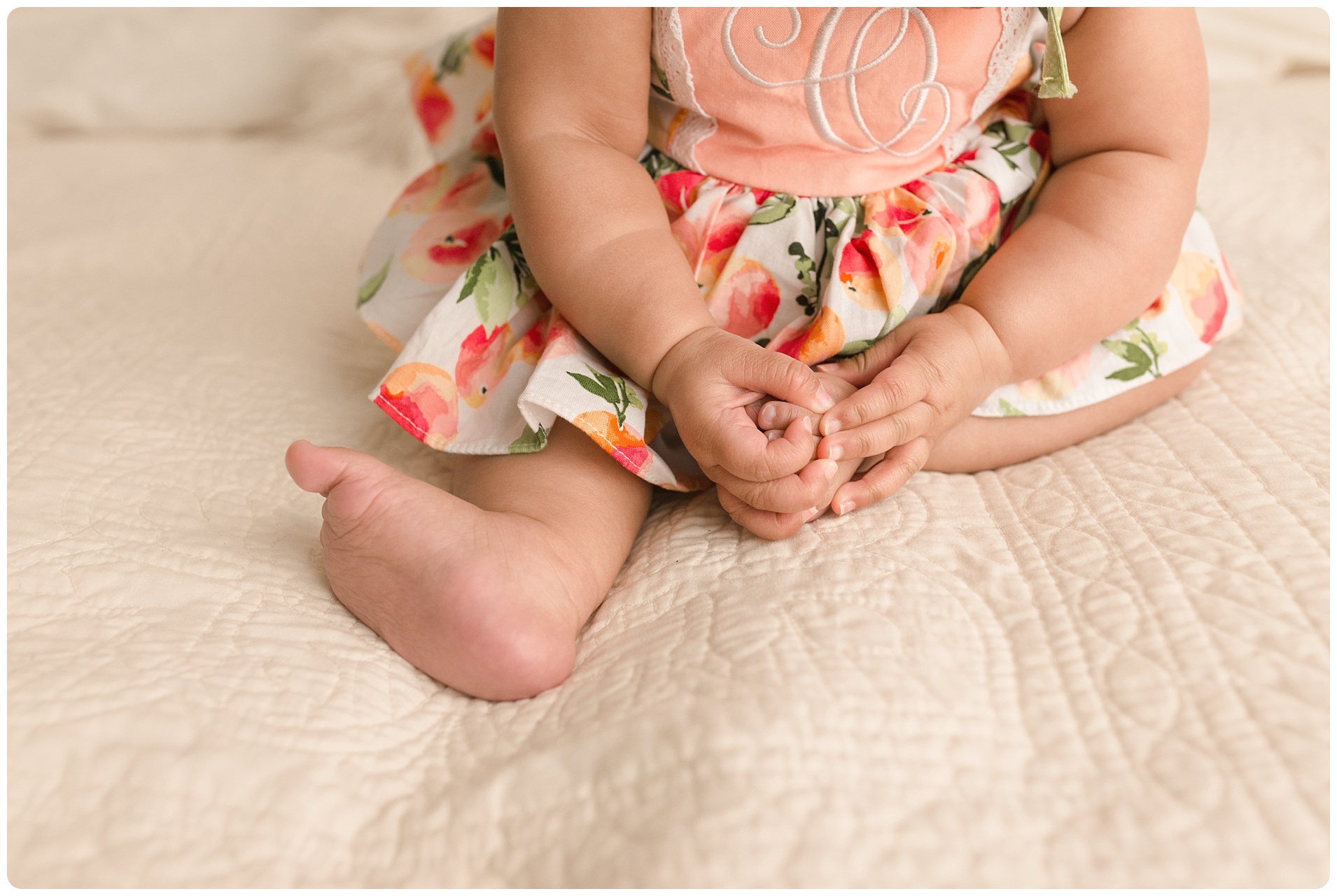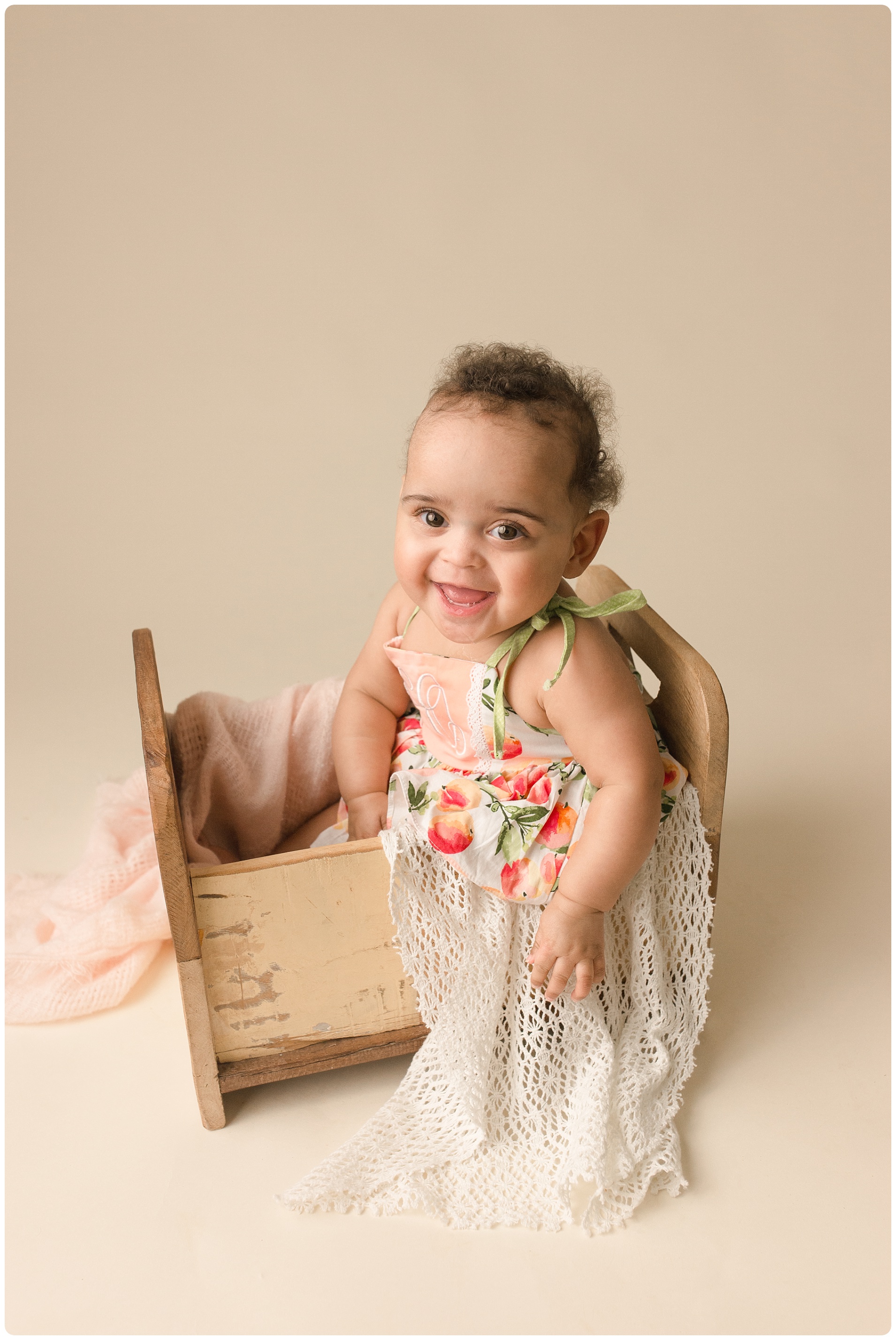 Like all one year olds, Olivia displayed a huge range of emotions. I personally love the look of surprise! I think I was making elephant noises behind my mask (in the season of Covid-19). Unlike most one year olds, Oliva never once cried. She loved all the attention and her pretty dresses!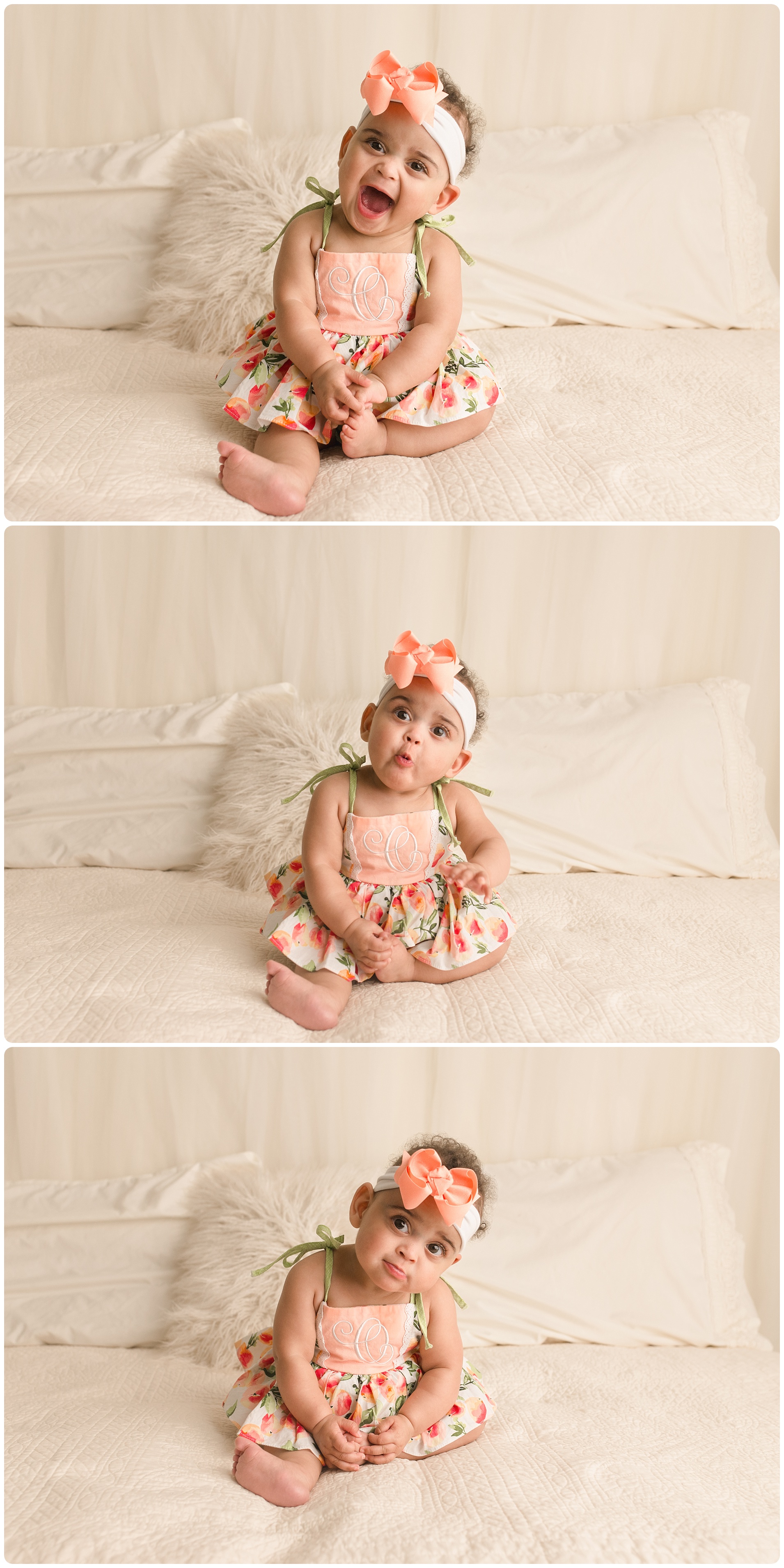 Are you looking to book your own Micro Preemie Miracle Baby Photography Greer SC? I'd love to be able to celebrate you precious baby with you! Click here to get to know me and my studio.  Click here to contact me today to tell me your baby's story, what you want to remember most, and book your session!
I was excited to see Marley again for six month Timeless Studio Baby Photography Greenville SC! If you'd like to see his newborn session, click here. Marley is a NICU graduate and his newborn photos turned out so cute. I can't believe how much he's grown up though!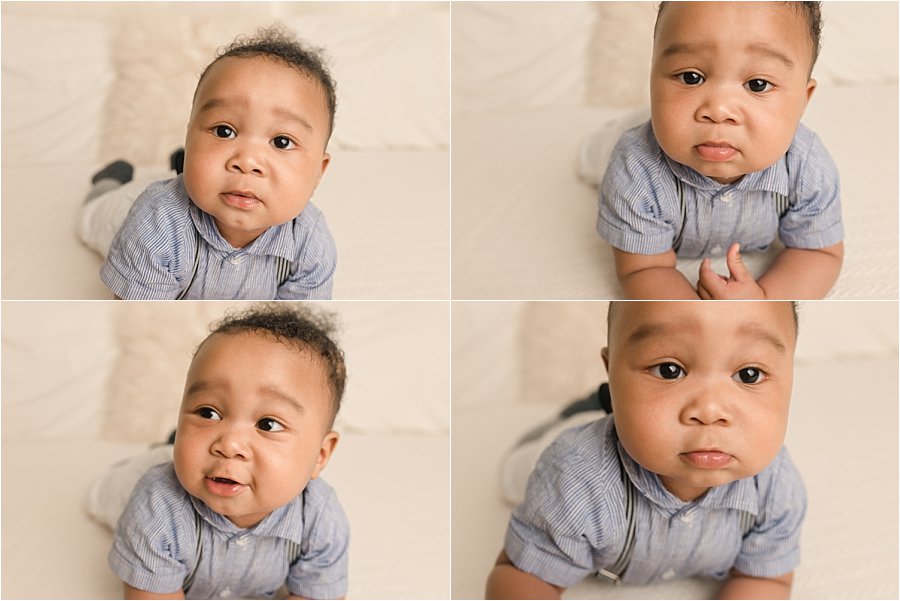 The best part about six month sessions is the variety of facial expressions.  Also, from a photographer stand point: they still stay in one place long enough to capture all of those sweeet faces! From pouty, to amazing Black boy joy, to pensive, Marley shared all of his personality! Plus this sweet outfit that his mama brought is sheer perfection.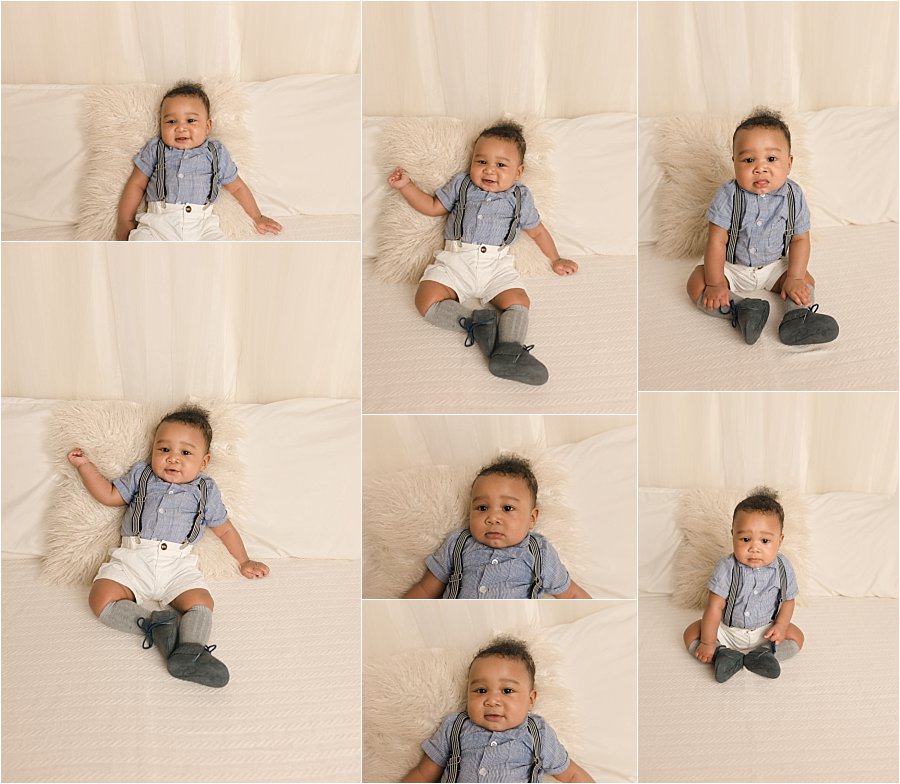 I loved this image set with Marley's Mama Ericka most of all. So often we mamas are ashamed of how motherhood has changed our bodies and reluctant to get into the picture.  But our babies just see the mama who loves them more than anything.  And honestly, the think we're the most beautiful creature that they've ever laid eyes on.  Our love for our sweet babies makes us more beautiful.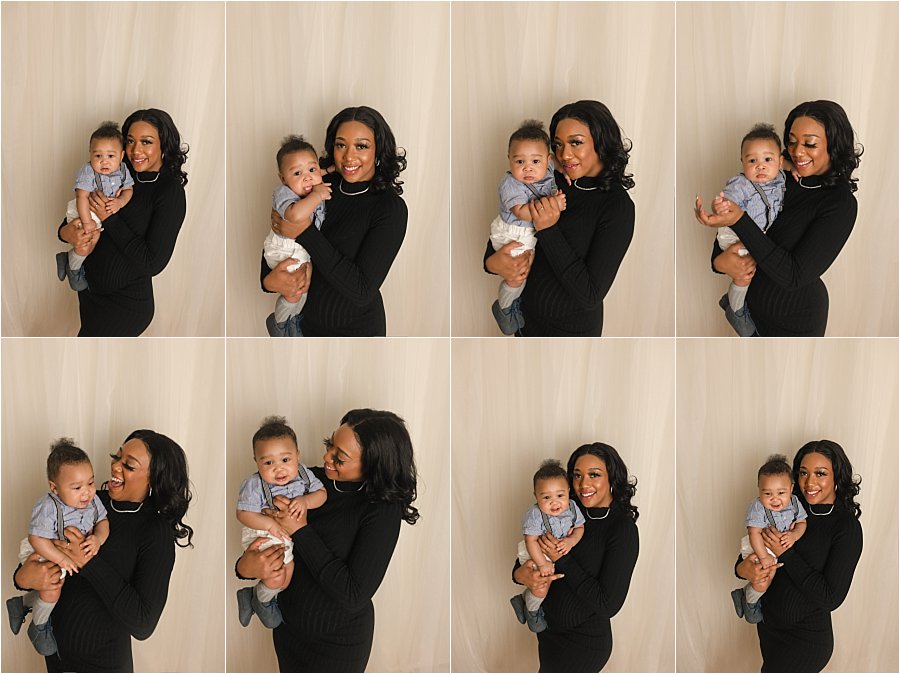 Shortly after this last image with Ericka, Marley had an epic spit up incident. These things happen! However, because I have a studio wardrobe for babies, we quickly cleaned up Marley and put him in a new outfit. You can see my studio wardrobe for babies by clicking here. I love providing this perk to clients, not only does it save you money if you choose to use the wardrobe exclusively, but it also helps in the case of accidents like this!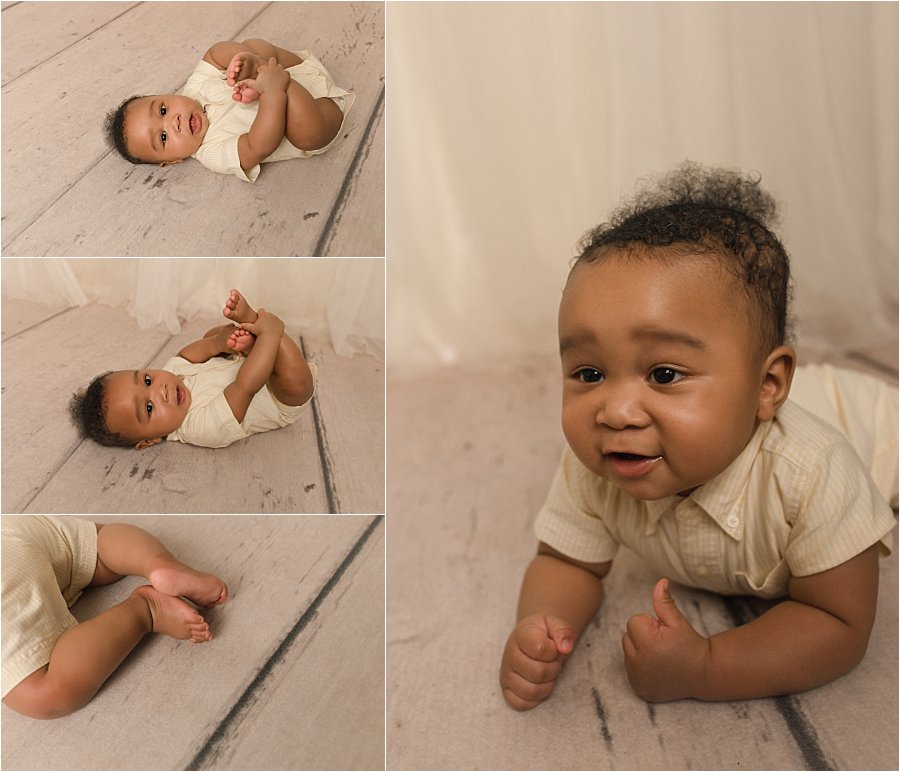 To make sure his tummy was settled we moved onto some floor images. I so enjoy seeing babies grabbing their feet and capturing all these sweet details! Little toes are pretty much the sweetest thing ever, am I right?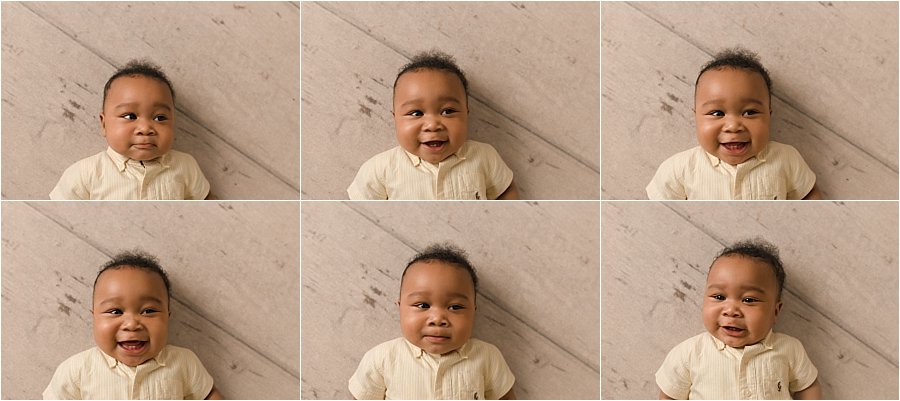 Six month olds are still mastering the skill of sitting up so at the end of the session, I offered Marley some respite from all the exercise by placing him in this little bed. I think these images captured the most of his personality!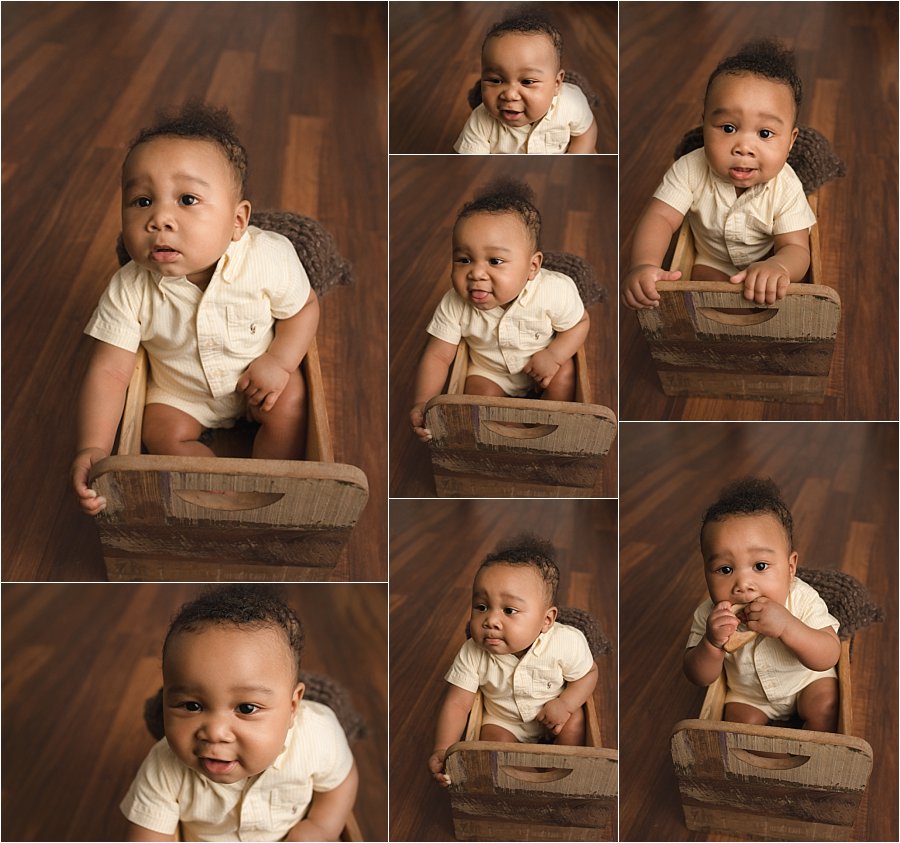 Looking to book Timeless Studio Baby Photography Greenville SC? I'd love to be considered!  Click here to learn more about working with me or click here to contact me right away!
This Baseball Theme Cake Smash Simpsonville SC was the perfect end to photographing Abel every 3 months for his entire "rookie year"! I had a blast getting to know this family, but first a quick recap. Here is Whitney's Maternity session. And here is Abel as a newborn, at three months, at six months, and at nine months. This year flew by for me as photographer, but I'm sure it was even faster for Whitney!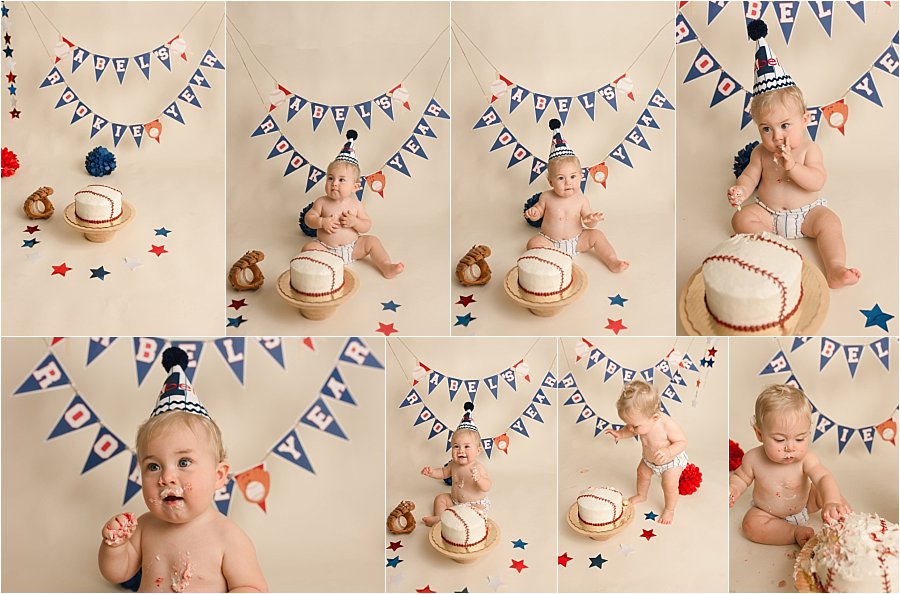 I think the best way to show you how much this sweet boy has grown is to compare images from his newborn session. Here is Abel in Whitney's arms as a tiny little thing.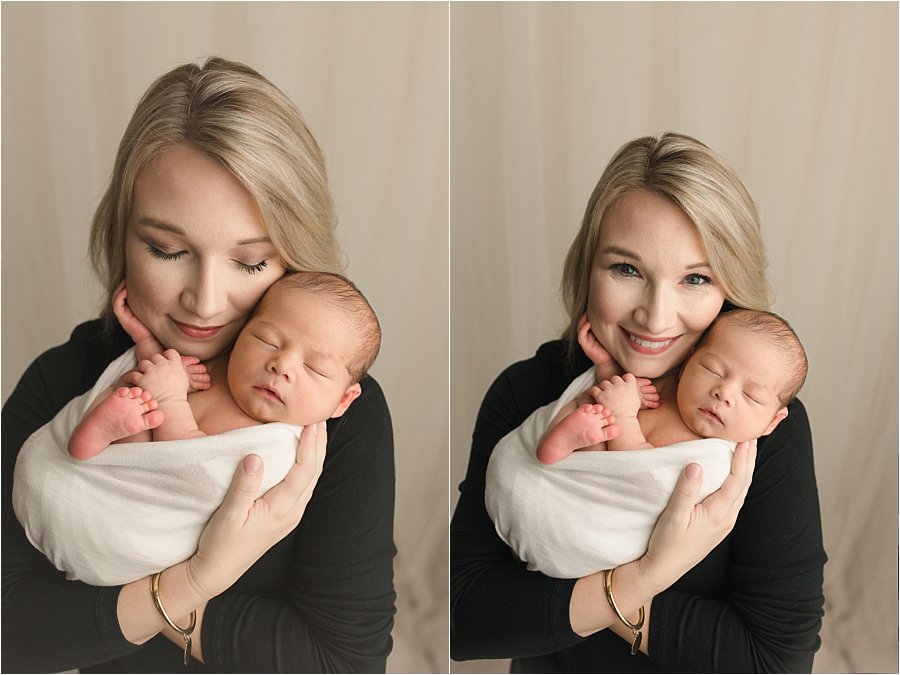 And here is Abel in his mama's arms now. I mean he's the cutest little chunk of sheer joy!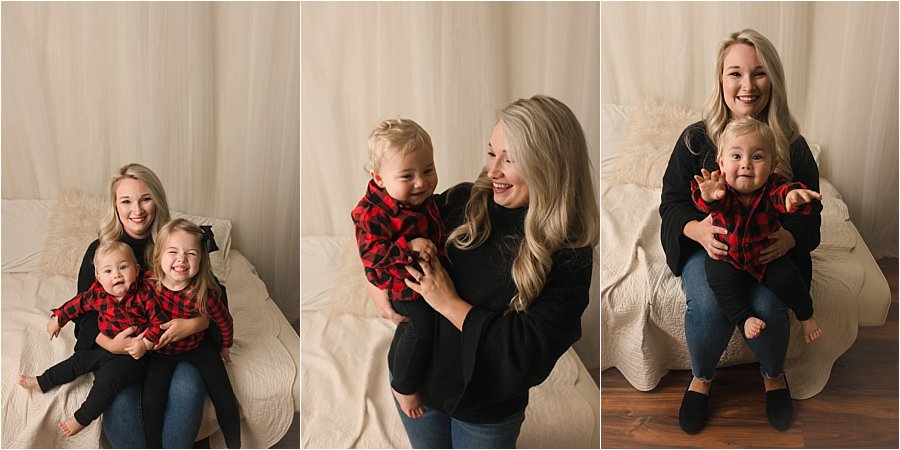 And, boy, does his family just adore Abel. His spunk and adventurous spirit complete their family.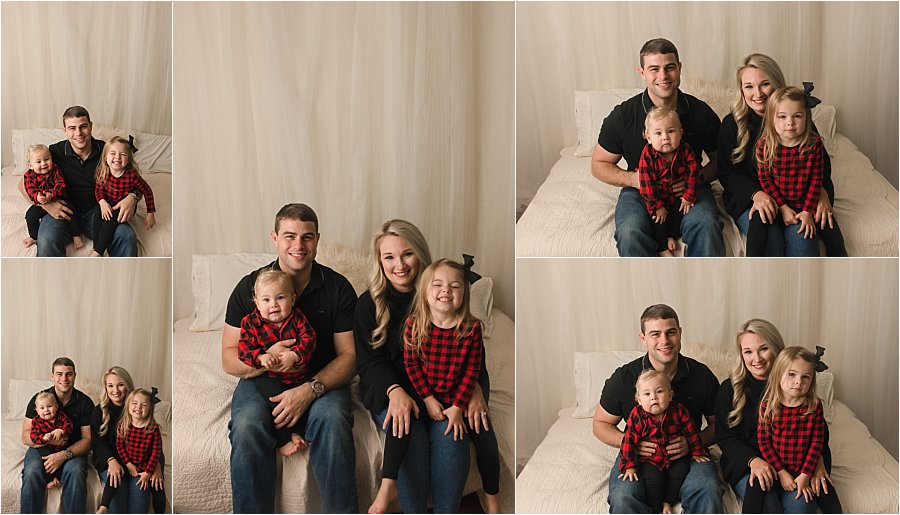 One of my favorite thing about Whitney is that she treasures ALL of her children's faces. She doesn't show up expecting the perfect family photo (though we always strive to get it), but she shows up honoring her children as little people with moods and funny faces that are just as adorable as their smiles. Her file selections always include things that others would wonder why I left in their proof gallery.  You can see this in the fun selection of family images above. Abel and big sister Sloan are clearly experiencing all of the emotions.
You can also see how downright funny and expressive Sloan is in the image below. She's the best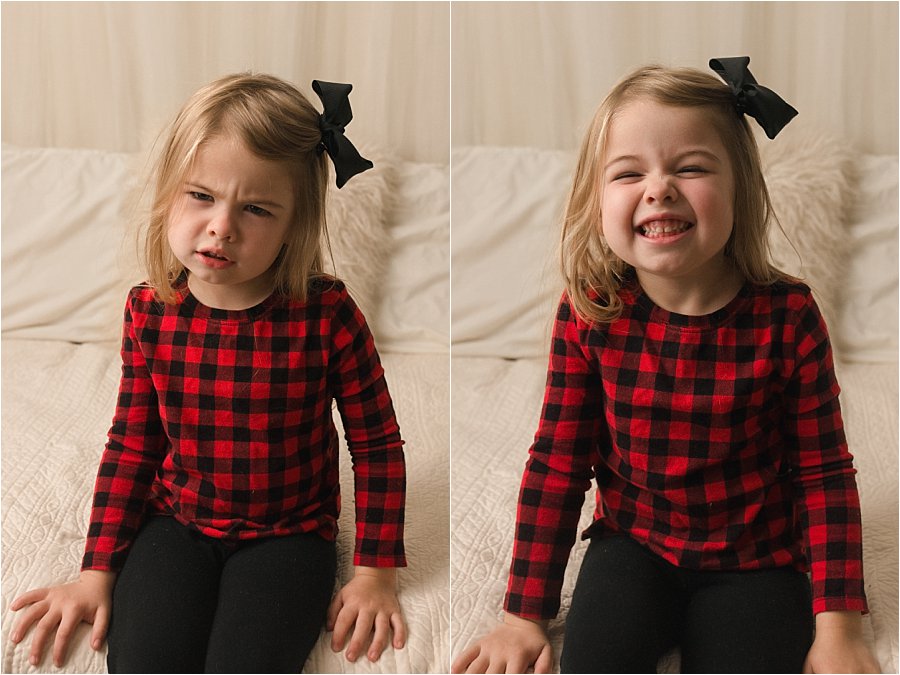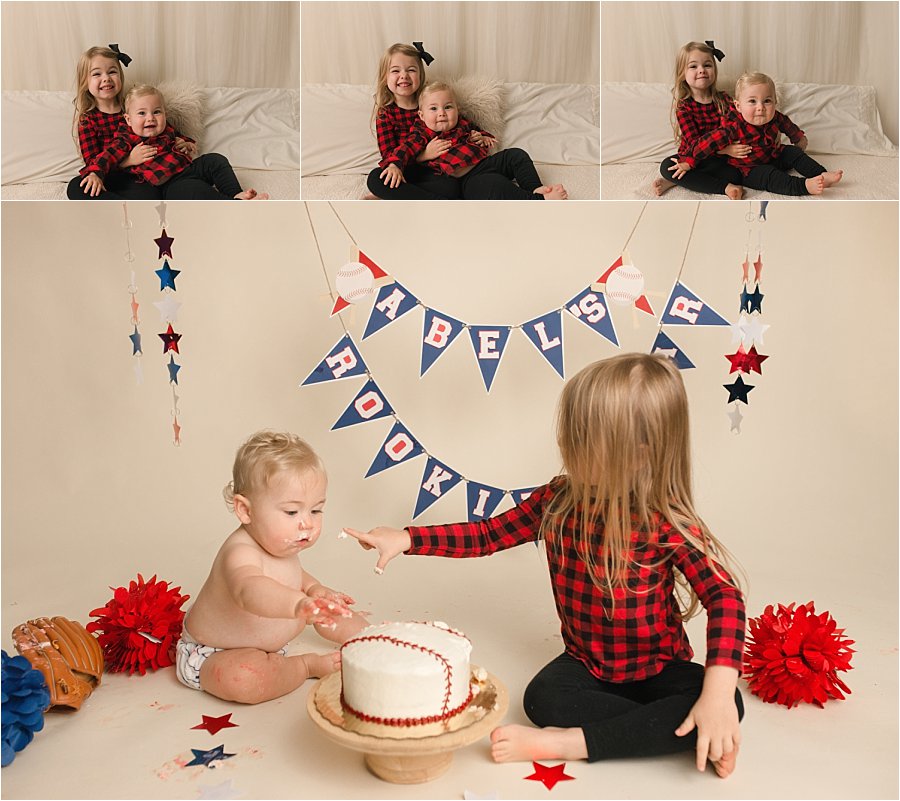 It's safe to say that Sloan and Abel were made for each other and are already developing into best friends for life.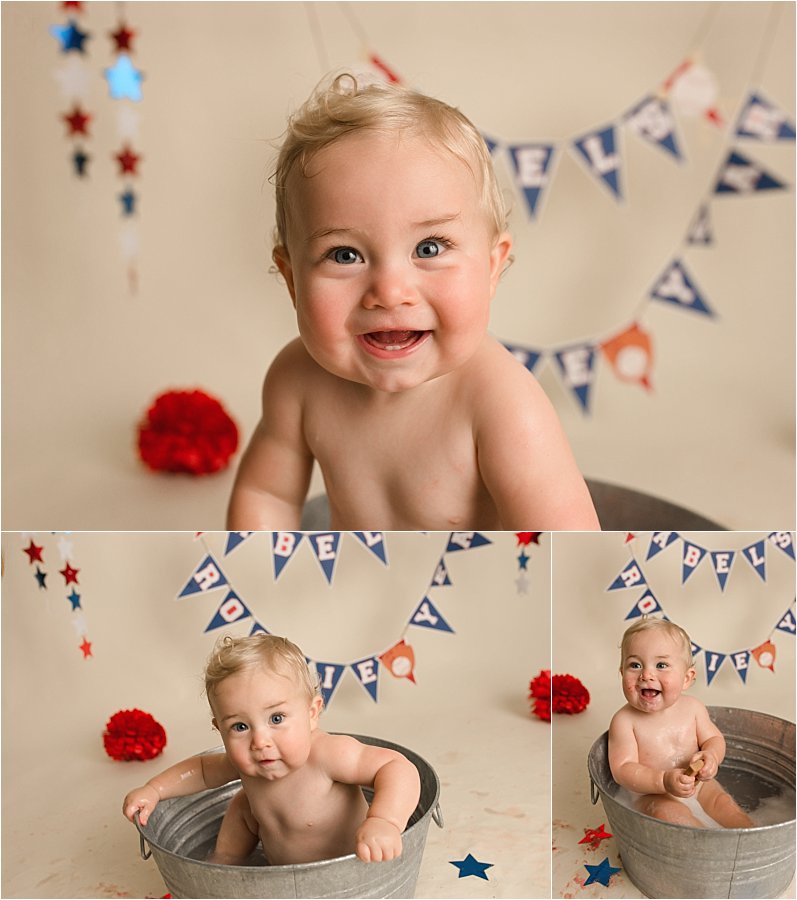 We finished Abel's session, like all one year sessions, with a cake clean up bath. He really enjoyed this time as most babies do. I love that it serves the purpose of cleaning up your frosting and sugar high baby before you have to take them home as well as gives the opportunity for more photos!

Looking to book your own Baseball Theme Cake Smash Simpsonville SC? I'd love to be considered! Click here to tell me about your dream session.