Babies
I absolutely love watching my newborn's grow up so I was ecstatic when Jihan contacted me about Sebastian's Greenville SC cake smash photos!  For a reminder of how tiny and precious Sebastian once was you can see the photo below or click here for his newborn blog post.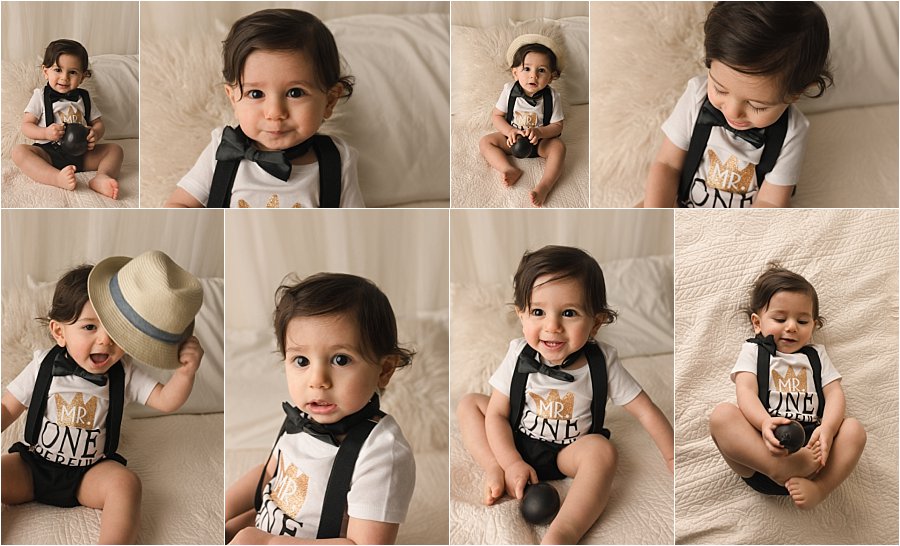 That mohawk! Good news! Sebastian still has great hair. Check out how his mohawk grew into these sweet curls.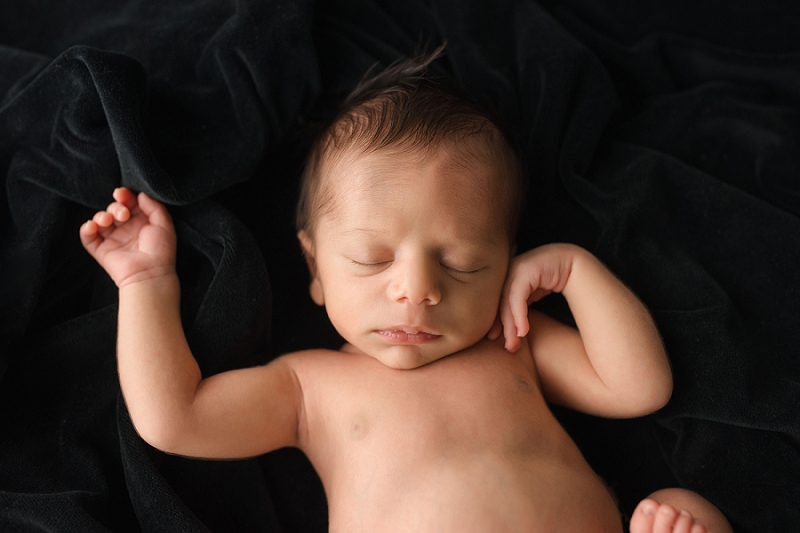 Like all one year olds, Sebastian was busy! Unlike most one year olds he was not just walking but RUNNING! He was all over the studio and tried to nose dive off the bed more than one time. I'm glad both Jihan and I were wearing workout pants so we could keep up with this tiny joyful mischief maker!  Luckily, this little guy fell in love with a deflated balloon with a hole in it.  Otherwise I'm pretty sure both of us would have marked work out off our plan for the day!


Sebastian is going to be a heartbreaker. I mean really, how cute can a one year old be? From his mischievous smile to those handsome curls he's fully adorable.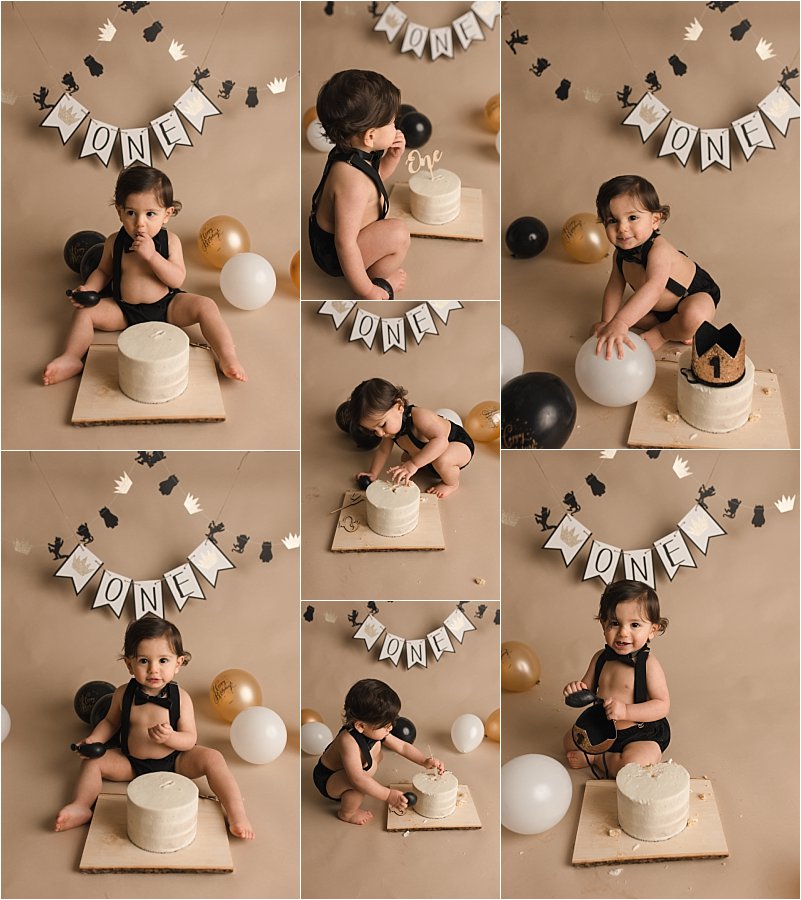 By the time Sebastian got to his Baking Sweet Scents cake, he had worked up an appetite! I provide a Baking Sweet Scents semi-naked cake for every cake smash session and decorate it with ribbons or little sign. These cakes are so good that I sent it home for Sebastian's brothers to finish off.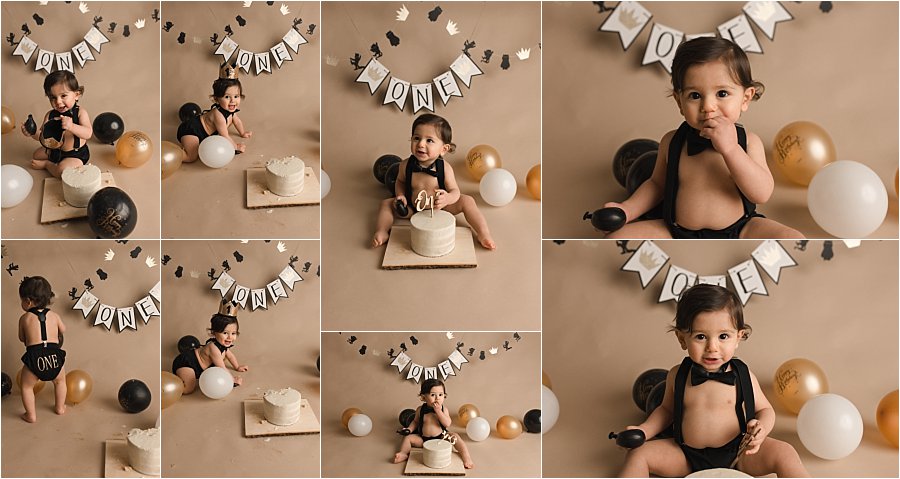 As always, I finished off the session with a bubble bath which was Sebastian's favorite part! He loved splashing and squealing in the tub and he FINALLY stayed one one place! Look at all the water on the paper! He flooded the studio!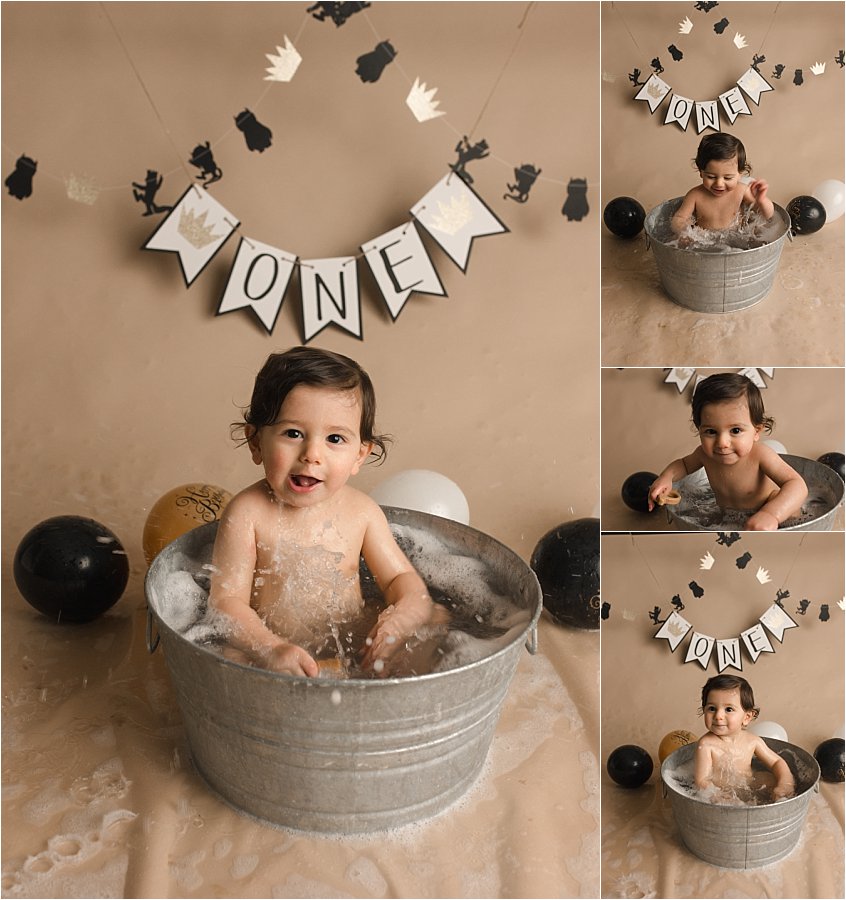 Are you looking to book your own Greenville SC Cake Smash Photos? I'd love to be considered to help you freeze this special time in photos. Click here to tell me about what you want to most remember about your one year old and inquire about availability.
I fell in love with the B family the instant Kayla inquired for these Simple Dreamy Cake Smash Photos Greenville SC. Kayla's biggest question was "Ella never sits still. She's a mover. Will it be worth it to even try to get these photos?"  YES!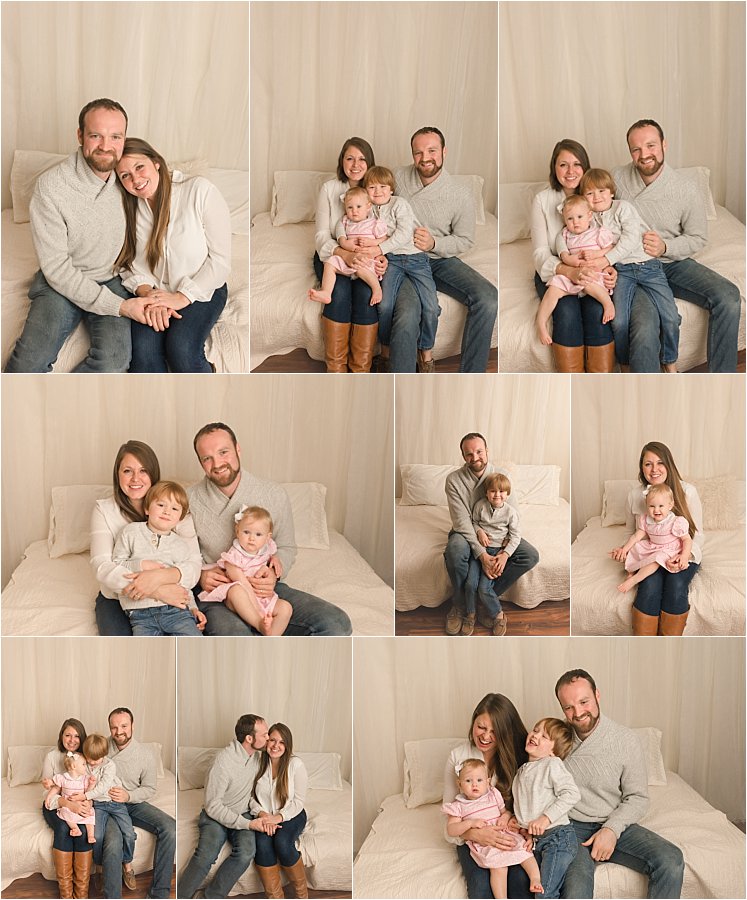 It might look like cake smash pictures are all sitting still cute docile babies, but that's just not true. Each cake smash session is a like wrangling a whole frosting covered zoo!  There will be running, crawling, crying, baby chase downs, and, yes, FROSTING everywhere when we're done. I even have to clean my camera after each cake smash session!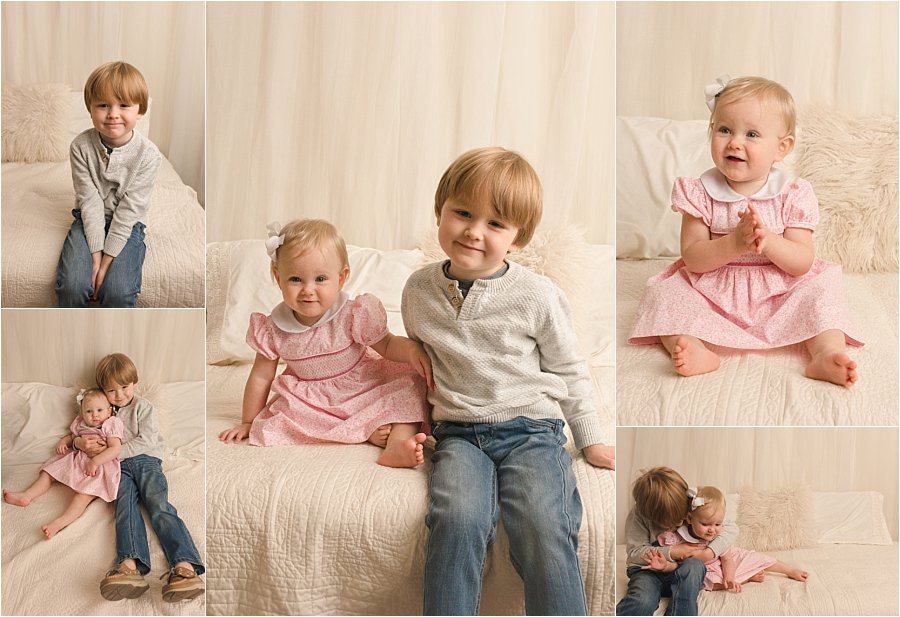 Ella behaved just as Kayla anticipated.  But I have a plan for active babies.  When they first arrive, one year old are a little cautious. They tend to cling to their parents and stare curiously around. This is when I take family and individual photos on my bed.  When babies start trying to crawl off the bed, it's time for cake!
I also keep mom and dad super close to baby at all times so they feel comfortable. One year olds have some stranger anxiety that's perfectly normal so I recommend to my parent to bring clothing that's comfortable to move in especially during the frosting extravaganza.  And Ella did not disappoint on frosting!  There was frosting all over mom, dad, me, the little bookshelf, and even my exit door!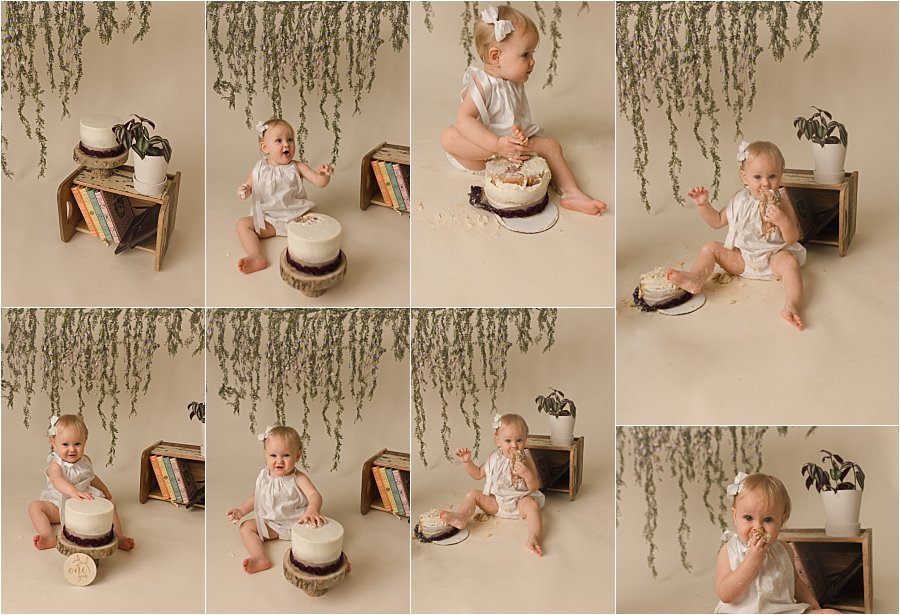 I mean look at this mischievous face! Baking Sweet Scents' semi-naked cakes (that I include with your session fee) are just this good!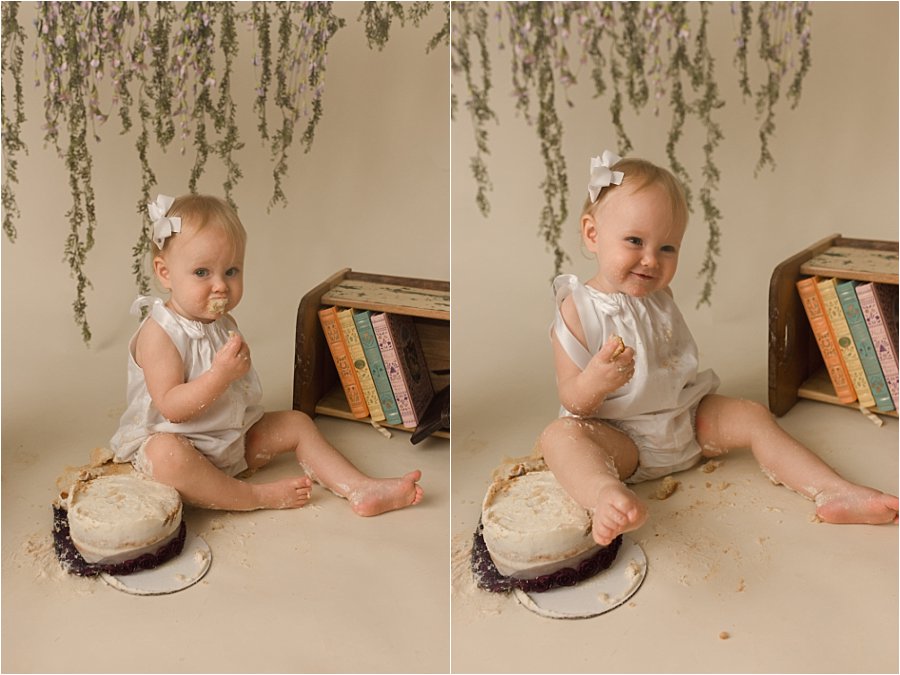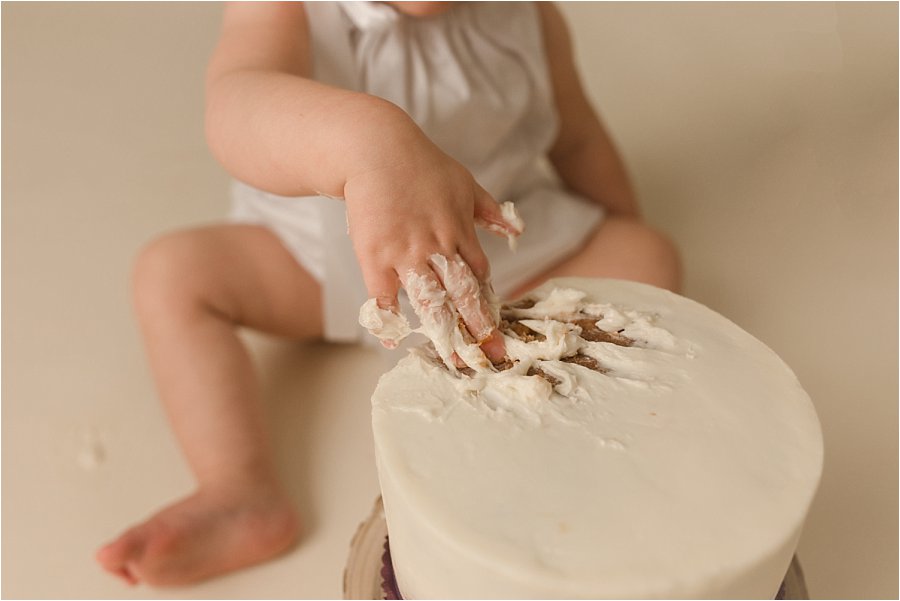 Finally, when your baby starts to get bored with frosting, I finish the session in a bubble bath.  I often say that one year olds typically cry either during the bath or during the cake, but rarely during both.  Ella cried during neither, but she was clearly a little high on frosting!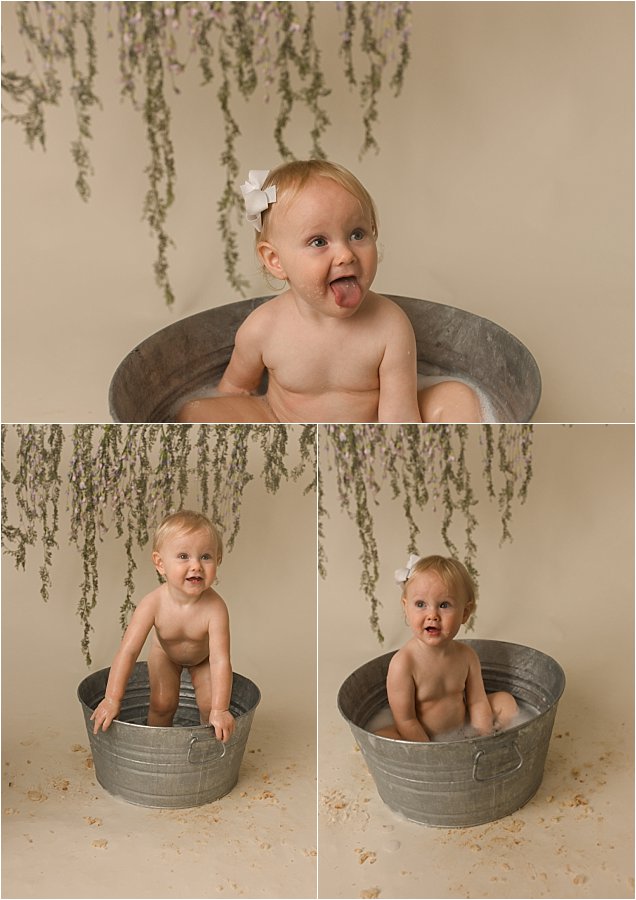 Looking to book your own cake smash for your baby? I'd love to hear your vision.  Drop me a line about your dream photography session by clicking here.
I've seen this beautiful family for classic studio family photography Greenville, SC five times this year. You can see Whitney's Maternity session here, and then Abel's newborn, Three month, Six month, and Nine Month by clicking each individual link. It's been so beautiful to see Sloan and Abel grow and develop.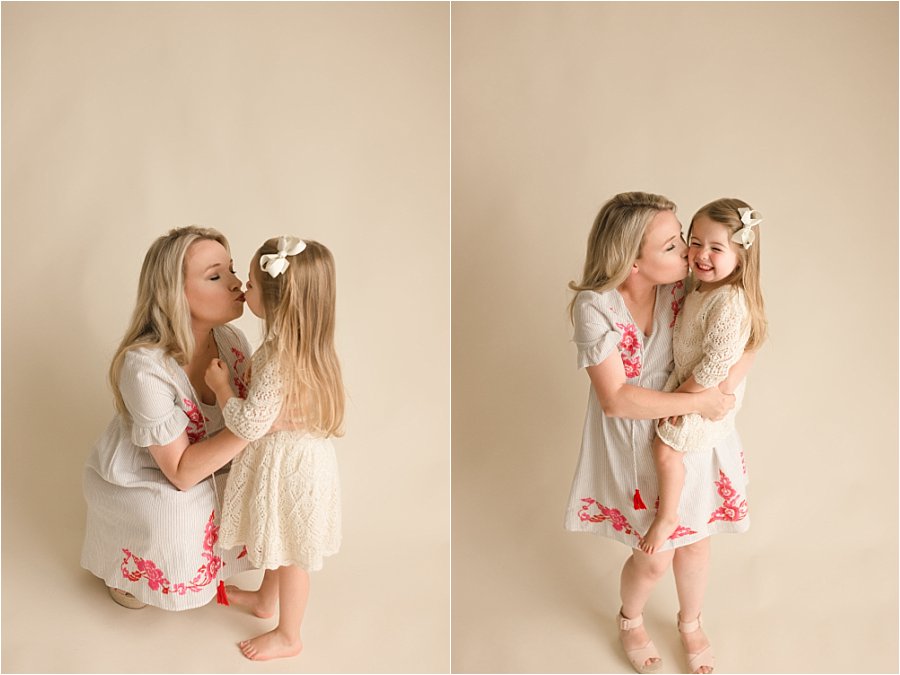 At this session, Sloan was the clear star. She wanted to wear something from my client wardrobe rather than what mama picked out and we were cream fits most every color scheme. Sloan loved her mama and dad cuddles so much.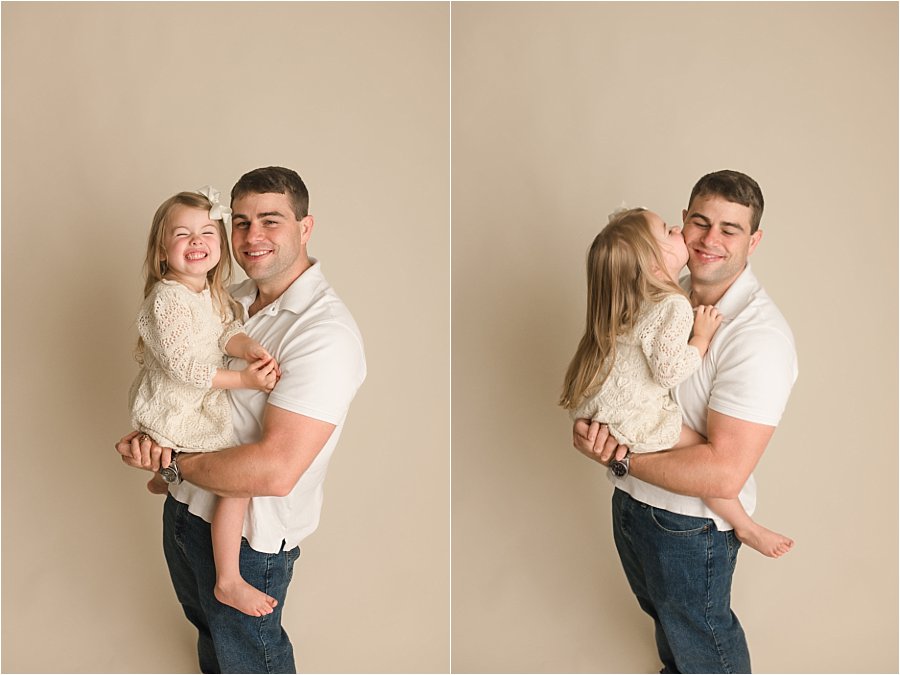 You can really tell how much Josh and Whitney adore their little ones. I've been so grateful to watch that love develop.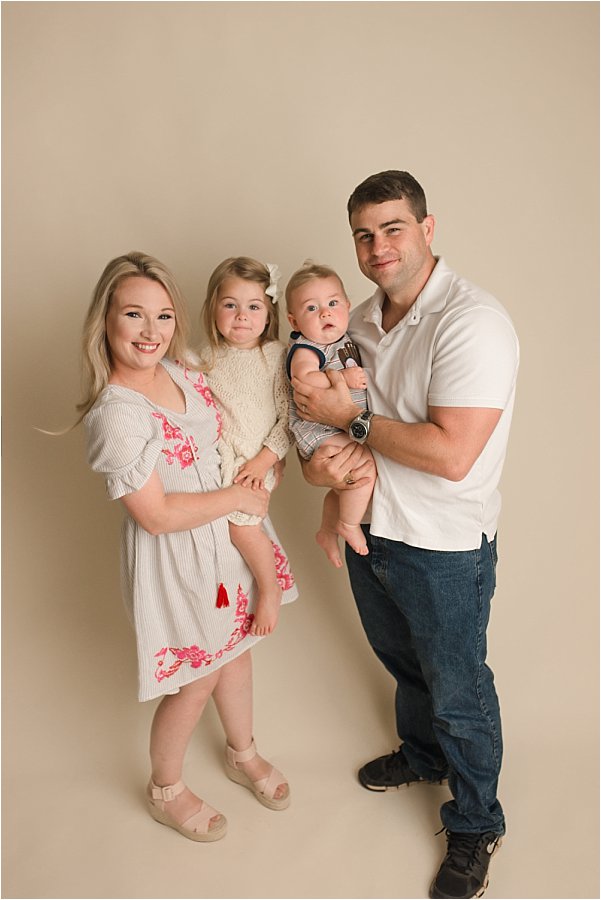 Nine months is one of my very favorite ages to photograph in the first year. Abel, like all nine month olds, is able to sit steadily, move by crawling or scooting, didn't have stranger anxiety yet, and has so much personality!!! Abel was even able to stand supported.  He was so strong!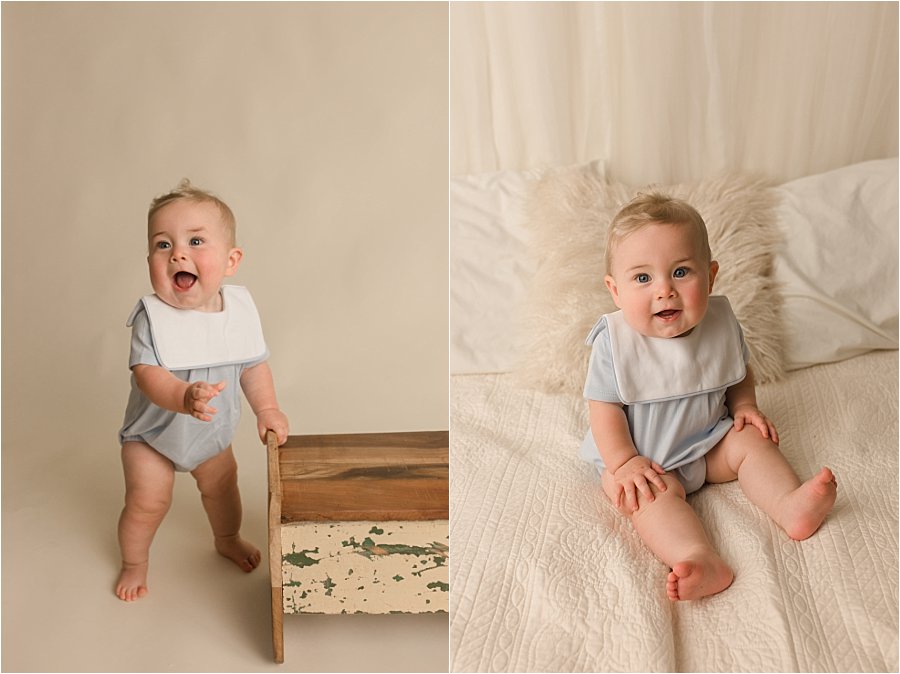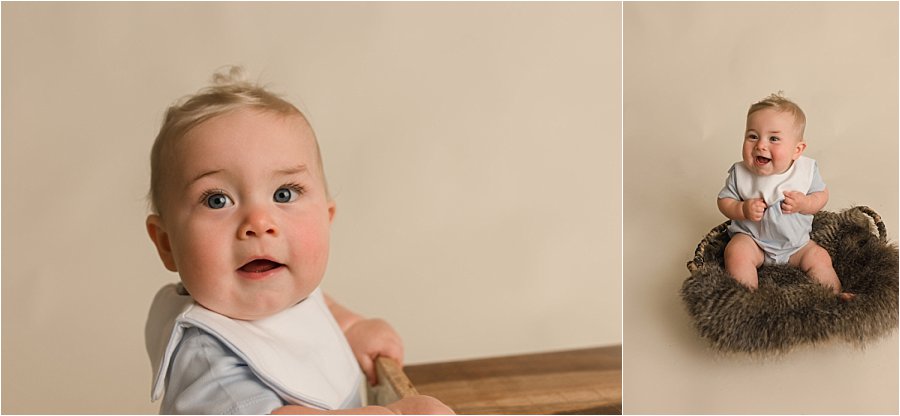 Sloan adores Abel.  She wants to hold him and squeeze him and love on him.  It's precious to see her emulating her parent's affection.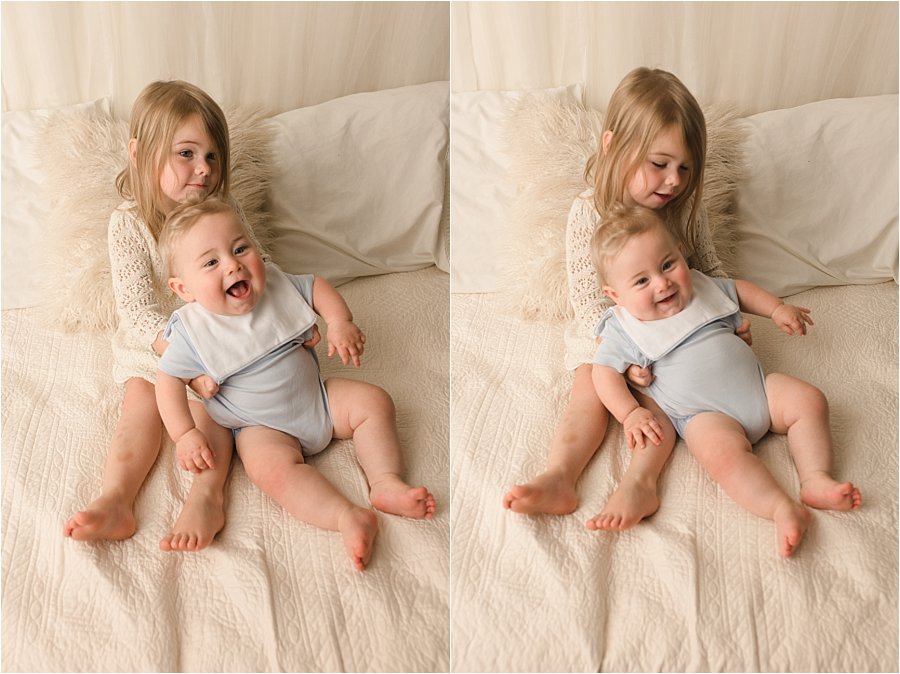 Did I mention that Sloan totally stole to the show during this session? My clients all pick their images from a proof gallery so that I'm sure that they get that "one face" that their child makes the most. Sloan's cheesy smile is the one face that is so uniquely hers. I always smile editing such silly joy. But this angry face (daddy asked her to show it to me) had me almost it tears laughing.  Sloan has so much personality!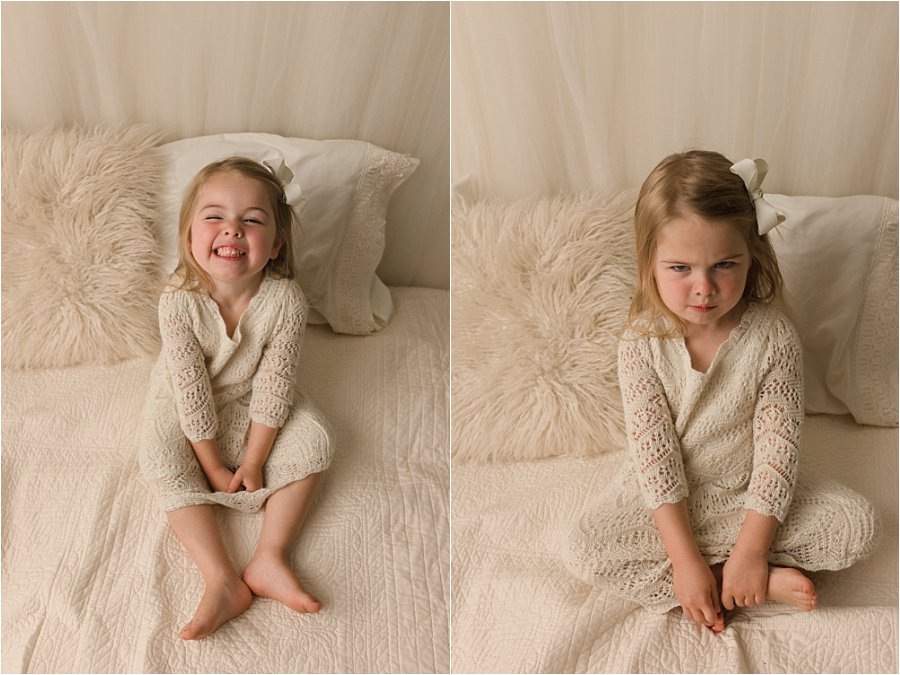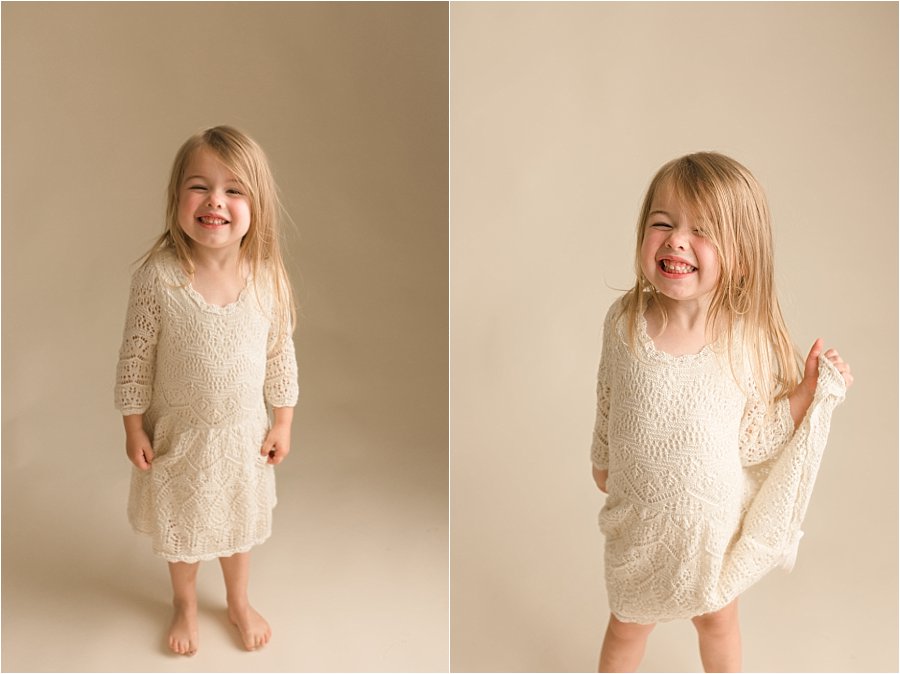 Whitney, thank you for sharing your beautiful family with me! I can't wait to see you at Abel's cake smash soon!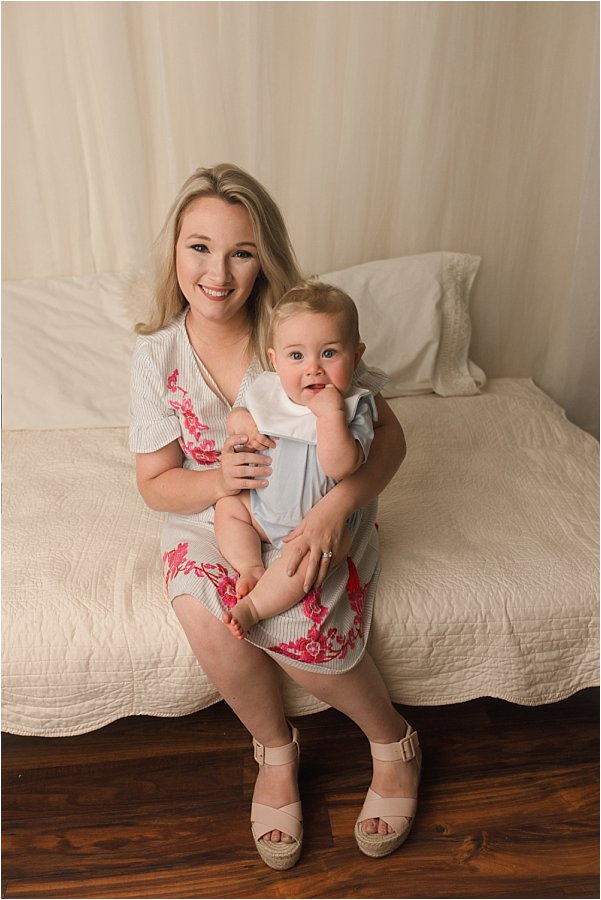 Are you looking to book your own classic studio family photography Greenville, SC? I would love to be considered to capture your family. You can drop me a line about your dream session by clicking here.
I've really loved getting to know Josh, Whitney, Sloan, and Abel through their Studio Baby Plan Photography Greenville SC. If you'd like to look at their other sessions, here is Whitney's Maternity Session, Abel's Newborn, and Abel's 3 month session. I can't believe were already up to 6 months!
Six Month Pictures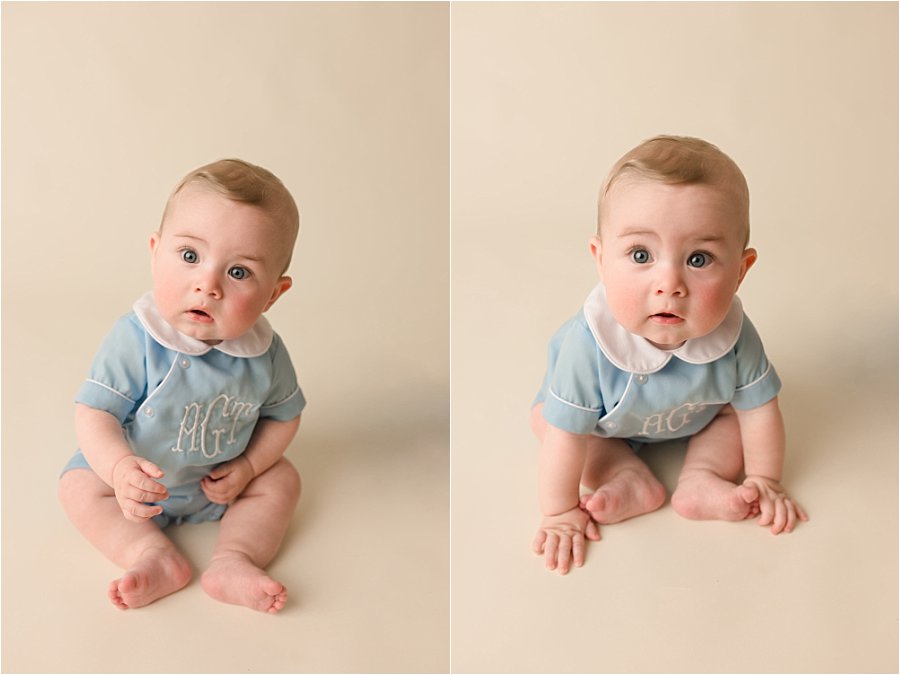 Six months is one of my favorite ages to photograph.  Babies at six months have a budding personality.  They're curious, they laugh easily, and they don't yet have stranger anxiety.  Abel was no exception!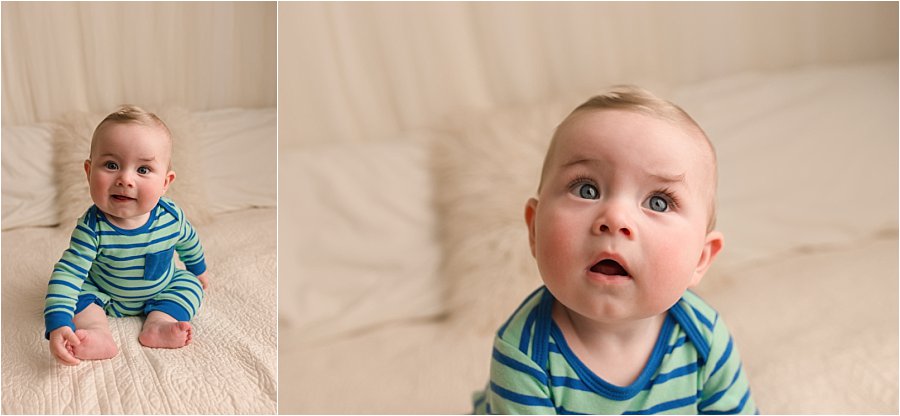 I love Abel's rosy cheeks, but by far his sweetest feature is still all those glorious baby rolls! Just feast your eyes on the cuteness!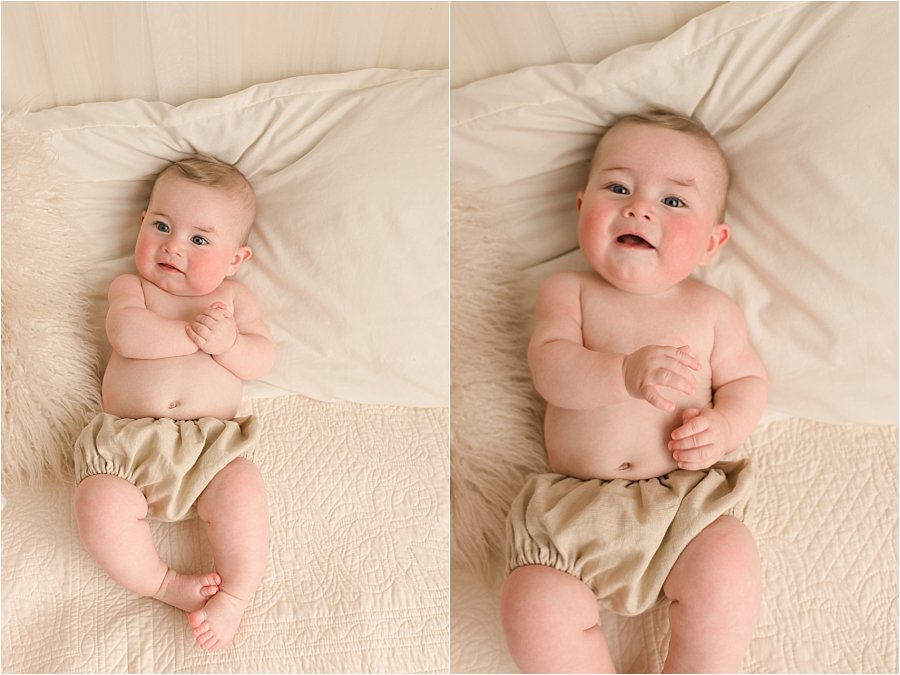 Sibling Pictures During a Session
One of the things that I love is including big siblings and family images during baby plan sessions.  Sloan is two and she's a sheer delight of fast motion and sassy personality.

Sloan also makes the best cheese face.  And Whitney and Josh love it so much that they choose cheese face images every session.  Sloan and Abel are truly delighted in for everything they are.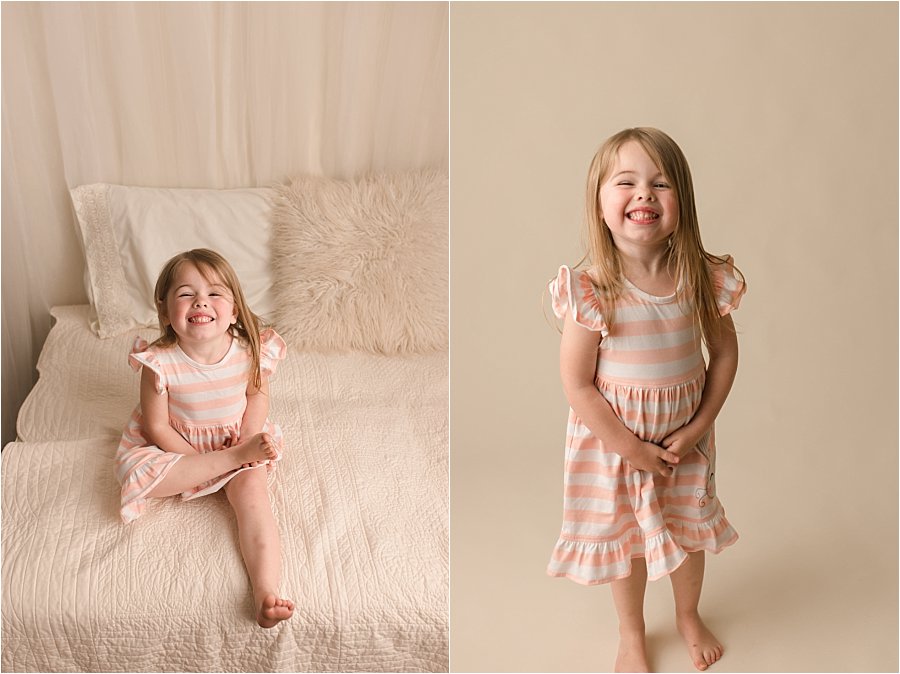 Sloan adores Abel.  This series of sibling images makes my heart so happy!  However, I do really wonder how Abel must taste 🙂
Detail Images
One of my favorite parts of being a Greenville SC Baby Photographer is taking little detail images.  Babies grow up so fast.  I want you to be able to remember all their little rolls and the way they fit into your arms.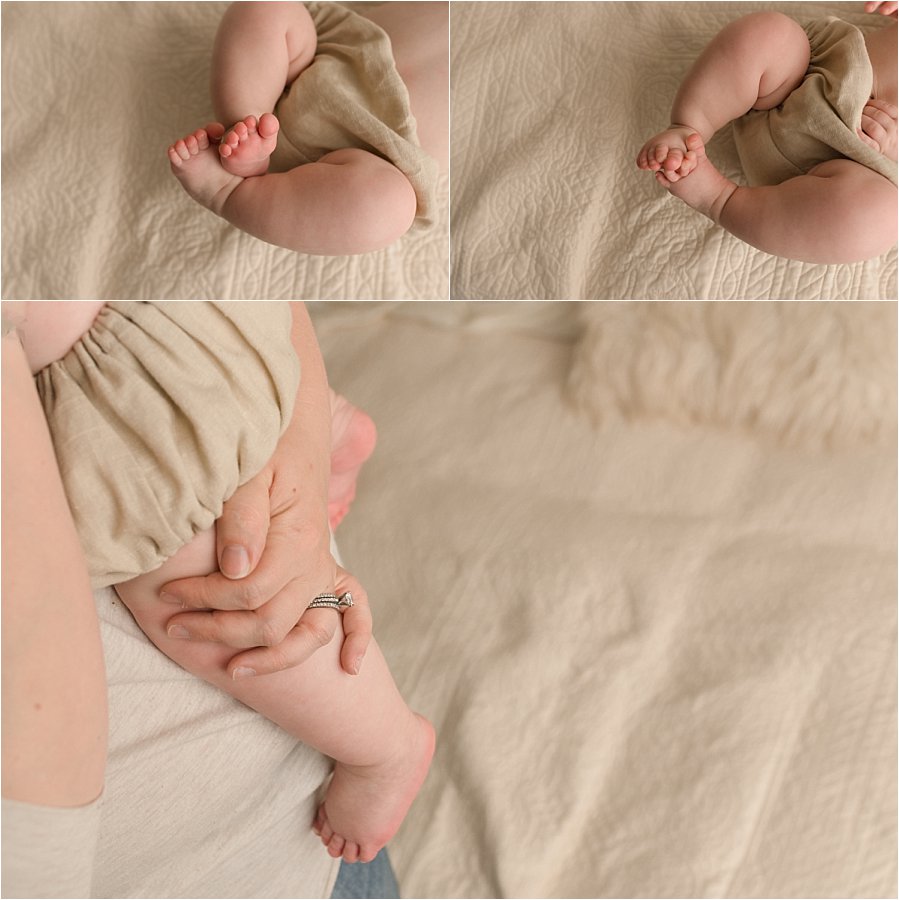 Booking your Own Series of First Year Sessions
Are you looking to book your own Studio Baby Plan Photography Greenville SC?  Or maybe you just want to book a six month session or a cake smash?  I'd love to hear what you have in mind. It's a joy to give you timeless, emotional images of your little ones. Drop me a note about your dream session by clicking here.

I was so excited for Claire's Girly Tutu and Pearls Cake Smash Photography Session Simpsonville SC! I've photographed Claire as a newborn, at 3 months, at 6 months, and now it was time for her one year session. Claire's mom Lindsey has always been super involved in planning Claire's sessions. Lindsey has chosen adorable outfits, Lindsey's own baby dresses, and including a simple white onesie to focus on Claire's inherent beauty. So it's no surprise that Lindsey creatively designed Claire's set. She handmade this banner and tutu!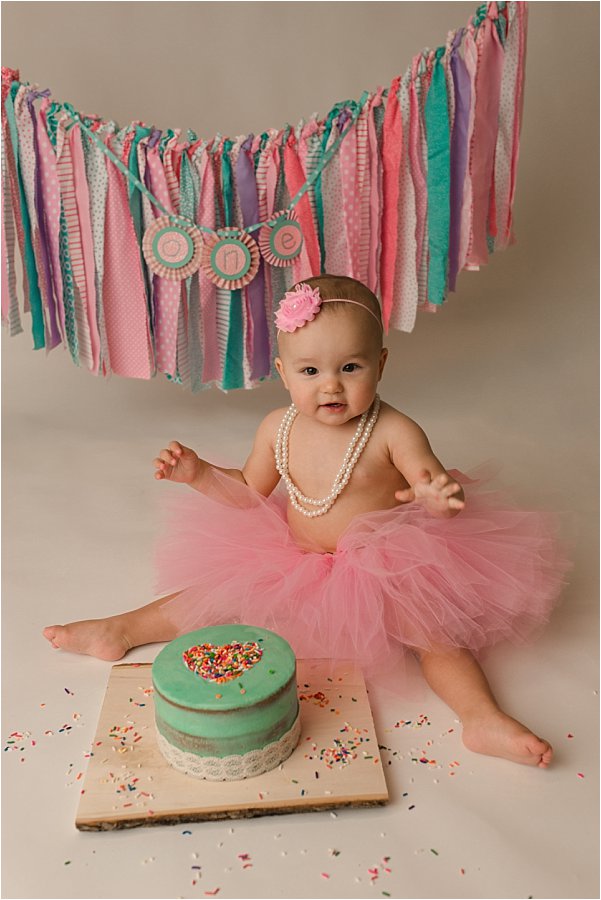 I loved seeing Lindsey's vision come true!  Lindsey and I also collaborated with Christine at Baking Sweet Scents for this adorable (and dairy free) smash cake. Each session includes a semi-naked cake like this one from Baking Sweet Scents. Lindsey added sprinkles and color to her order and I love the effect!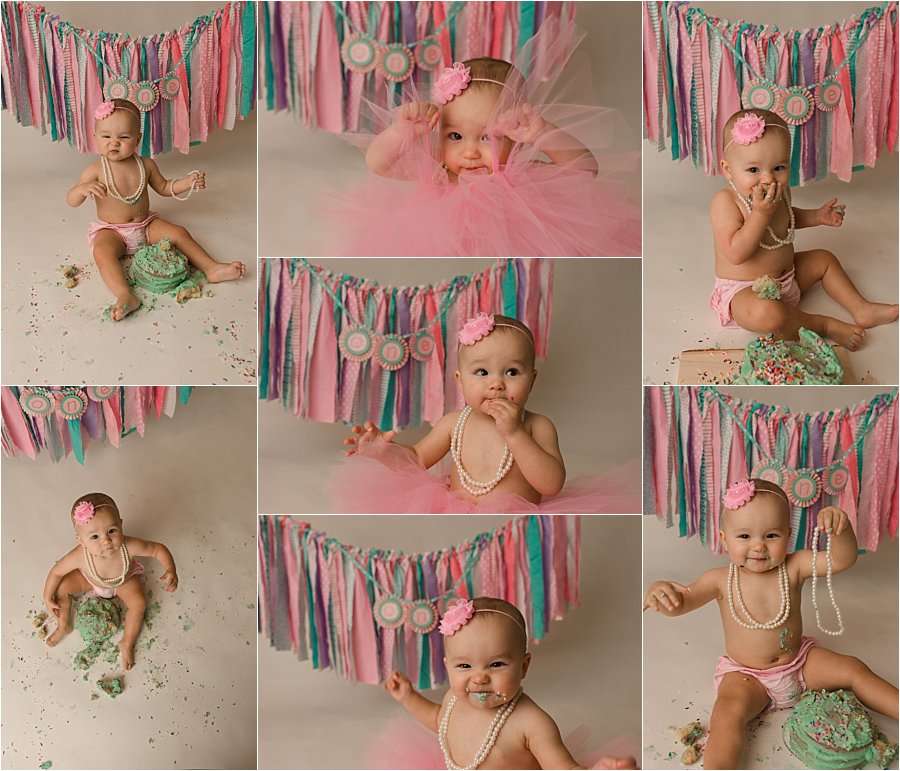 Claire LOVED Baking Sweet Scents cake. She even hugged and face planted into it. It was glorious. Claire even had to enjoy the frosting with her toes! We laughed so hard we could barely breathe.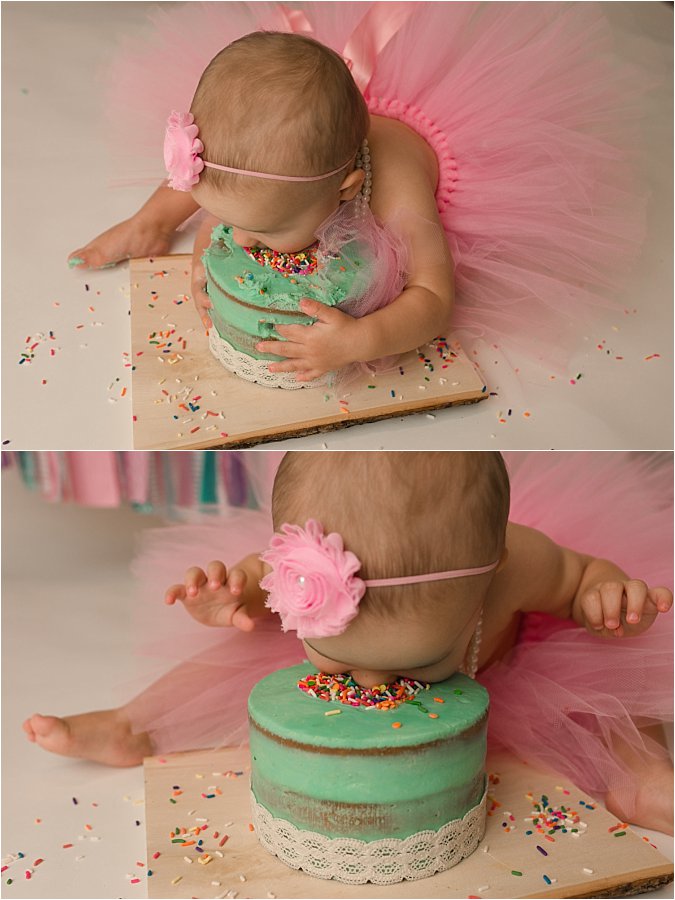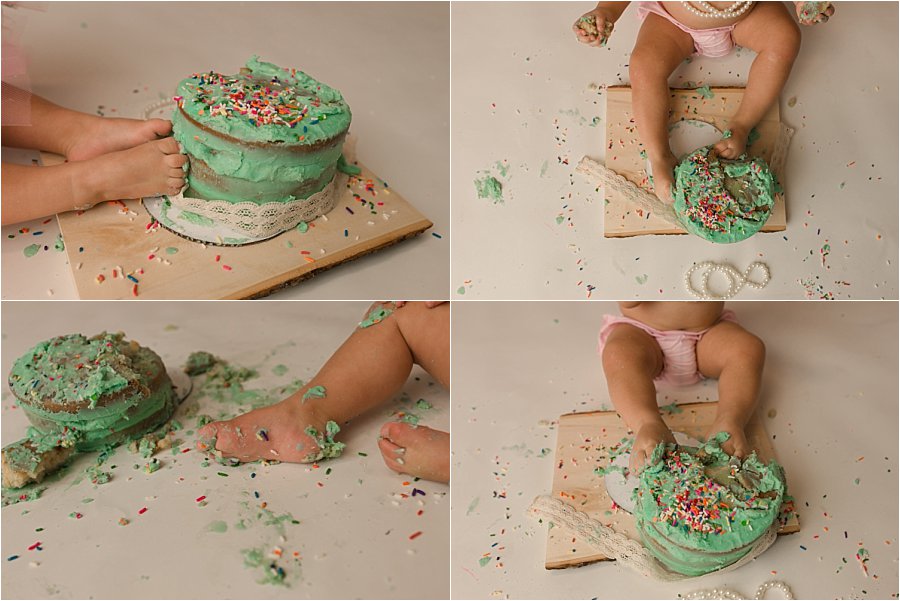 Not all babies love their cake as much as Claire did, but every baby is equally emotional about cake. From tears to screaming horror at the sticky substance on their hands to feeding cake to mom and siblings, all one year olds react uniquely.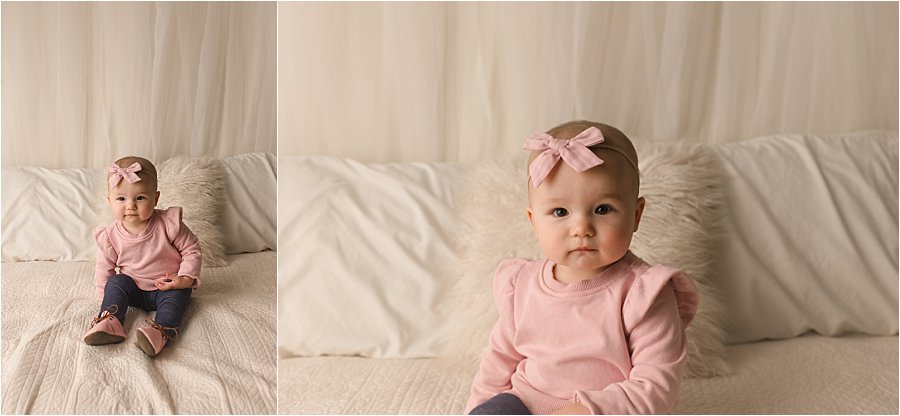 Before these cake smash images we also took some simple portraits. You can see Lindsey's unique style in her beautiful wardrobe choices for Claire. And I love that Lindsey also opted for family photos.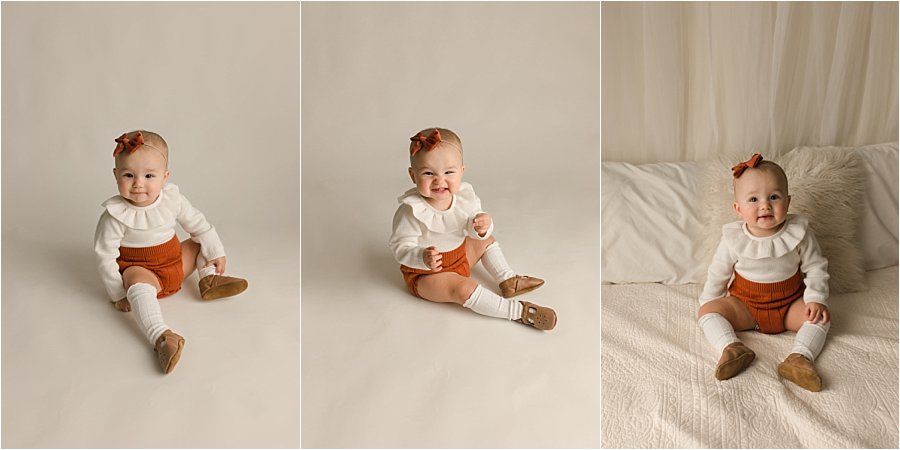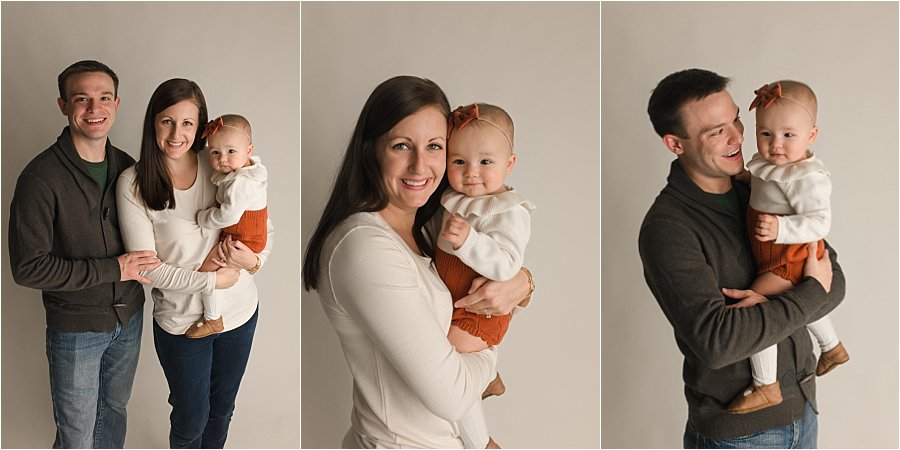 Are you looking to create and design your own daughters girly cake smash? I would love to hear your creative ideas and collaborate with you to create the images that you are dreaming up. Click here to tell me about your baby, your wishes, and get information about working with me.