Girly Emotional Newborn Photos
Girly Emotional Newborn Photos in Greenville SC don't have to be all frills and bows and costumes. When your heart wants to tell the story of how beautiful your baby is from her tiny toes to the millia on her nose, choose a photographer who matches that vision. At Quiet Graces Photography, I believe that simple imagery celebrates your little one best.

Soothing and Calming
Isla is the sweet newborn girl featured in these session images.  Isla is an "older newborn" in the 3-6 week range.  Many newborn photographers will tell you this age is simply impossible to capture in curly poses, but that's obviously not true!  Yes, newborns at this age are a little more awake, but that just means we get good eye contact like in the image above.

Isla required a little more soothing and calming than your typical newborn and she wanted to be posed upright while she fell asleep.  I always take your baby's preferences into account during posing. It's more important to have a safe and happy baby than to make sure we get "the pose" we wanted most.

Feminine Simplicity on White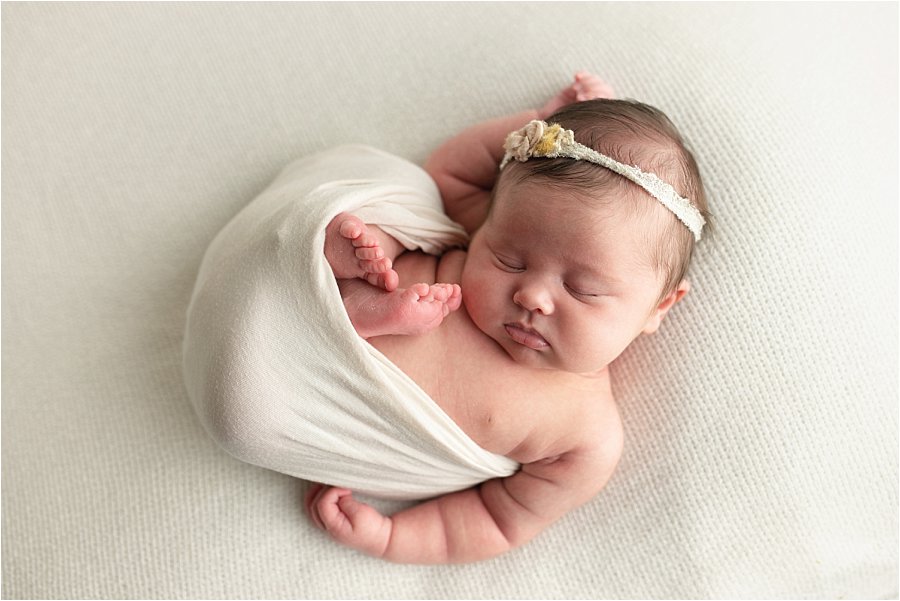 Once Isla fell asleep in her wrap, I was able to transition her into this set of poses on white.  I love posing girl emotional newborn photos on white.

There's a timelessness to white images that just showcase your baby's natural beauty.
Baby Pictures on Mauve
After the white blanket, I moved Isla to a mauve blanket for a bit of color.  This bonnet, wrap, and headbands set by Avonli Baby are studio favorites.  I love compiling a set of props for my clients to choose from so that all they need to do is show up to the session rather than worrying about purchasing and bringing extra items.
Tiny Details
All clients are given the opportunity to customize their pose request.  One of the things that was most important to Isla's mama was detail shots.  Especially including their wedding bands. Aren't these the sweetest? And those little squishy lips are to die for!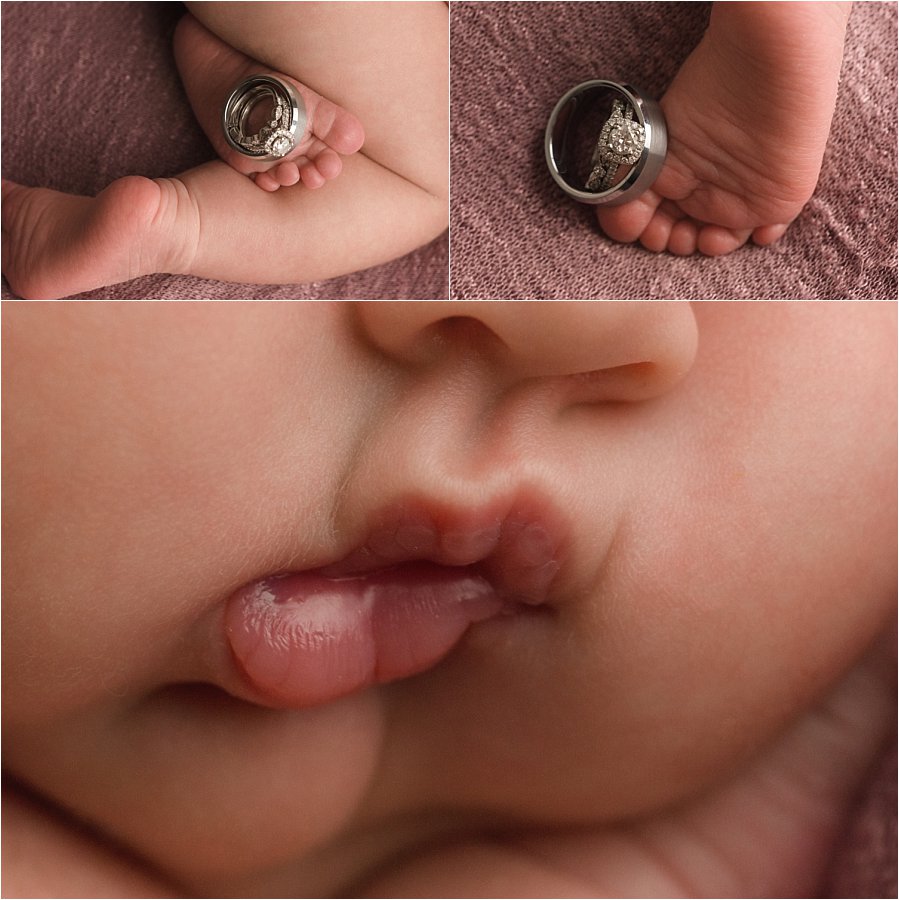 Booking Your Own Session
Looking to book your own Girly Emotional Newborn Photos in Greenville, Simpsonville, or Hendersonville?  I'd love to be considered for capturing your baby.  Contact me today to tell me how you'd like to remember your baby.