Small Business Saturday Sale FAQ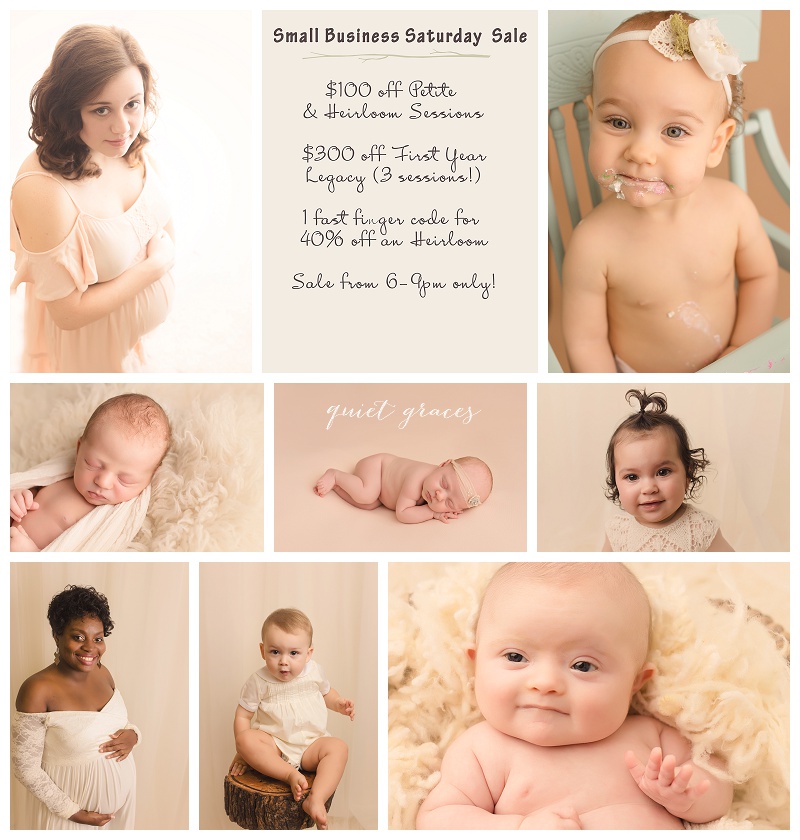 When is the sale?
What do you photograph?  Do you do family photography?

I am a specialized studio maternity, newborn, and baby photographer.  My studio is located in Taylors, SC about 15-20 minutes from downtown Greenville and 40-45 from downtown Spartanburg.I do not do family photography, except for a few family images at each Heirloom Session.  My focus is on capturing your little one's personality in timeless clothing and tones.  Click around the website to see if the photography you're envisioning matches the style you see presented.

Can I redeem my session in 2015? 

No, I'm sorry.  My 2015 calendar is almost completely booked.  The sale is only for 2016.

How do I pick the session date?

If you're wanting a maternity session, pick the month where you will be between 33-37 weeks pregnant. I find that mama's are most comfortable around 35 weeks pregnant and still feel up to posing.If you're wanting a newborn session, pick the month of your due date. Session dates for newborns are finalized after the birth and usually occur when baby is between 4-20 days old.If you're wanting a baby session, pick the month that corresponds with the age of your child.  So if you want a sitting milestone/6 month session pick the month where your child is between 6.5-7.5 months old.  If you want a one year session, pick the month of their birthday.If there are no options left for your month, the sale is sold out in that month.
What are your normal prices?

First Year Legacy Sessions (3 sessions and an album) are $1399. Heirloom Sessions are $499. Petite Sessions are $299.  You can view my complete pricing here.For the sale, the Legacy Sessions will be discounted $300. The Petite and Heirloom will be discounted $100.

What's included with each session type?
Will I have to pay the full session amount at the sale?

No. Regardless of session type chosen, you will only pay a $199 non-refundable retainer fee to secure the sale price (with the exception of the quick finger 40% off Heirloom Session). The remaining fees are due prior to your session date. While the retainer is non-refundable, I will allow you to downsize your plan if needed.  So if you purchase a Legacy at the time of the sale and later have extenuating financial circumstances, I will allow you to downsize to an Heirloom or Petite.  The same applies to an Heirloom downsizing to a Petite.

Can I change the month of my session later?

No. The only exception is newborns, whose early or late arrival may put you outside of the calendar month selected at checkout.  I only book a limited number of clients to give my clients full care, the month chosen at checkout  is final for all maternity and baby clients.

What happens after the sale and how do I schedule?  

Within a week of the sale, I will contact you via the email you used at checkout.  I'll have you sign a contact, establish a payment plan (if needed), and have you choose a session date. I am in the studio primarily on Tuesdays and Thursdays.


What does your contract include? 

You can see a copy here.  Some terms change based on the occasion for which you purchased the session; for example, baby announcements are not included in a Maternity Petite for obvious reasons 🙂

I have a question not included here.