Maternity
I think a Greer SC Maternity Mini Photo Session is the perfect way to capture a few beautiful images from your pregnancy. However, it's also the perfect way to audition a newborn photographer. Just like a bridal portrait helps you get to know your wedding photographer and reduce the stress of so many portraits on your big day, a Mini Maternity let's you get to know your photographer, find their studio, and know what to expect from your photographers business process.  I was so glad that Savanna chose to book her maternity mini!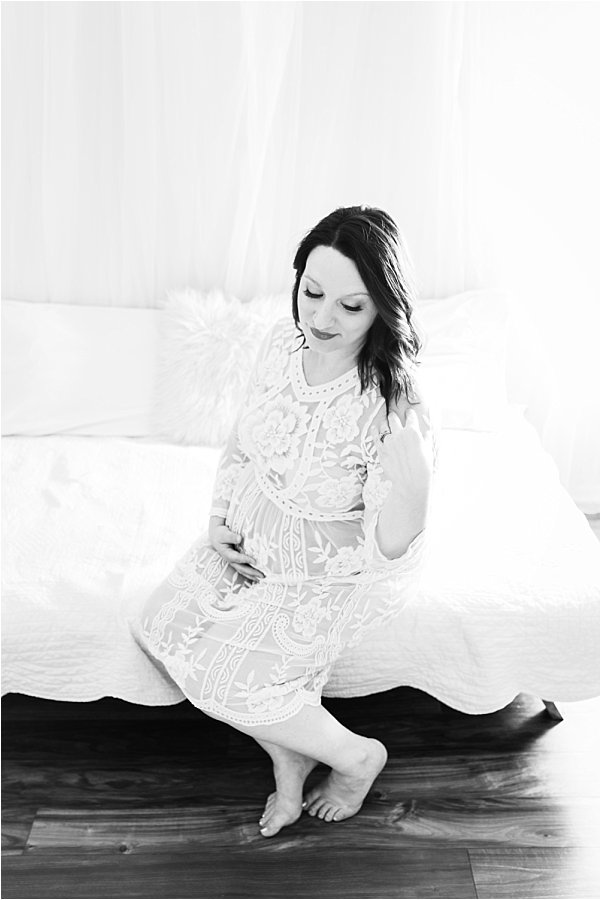 Savanna also chose to book hair and make up through me with Cotton Rogue. Katie Cotton, the owner of Cotton Rogue did a wonderful job pampering Savanna. Having your hair and make up done is such a confidence booster.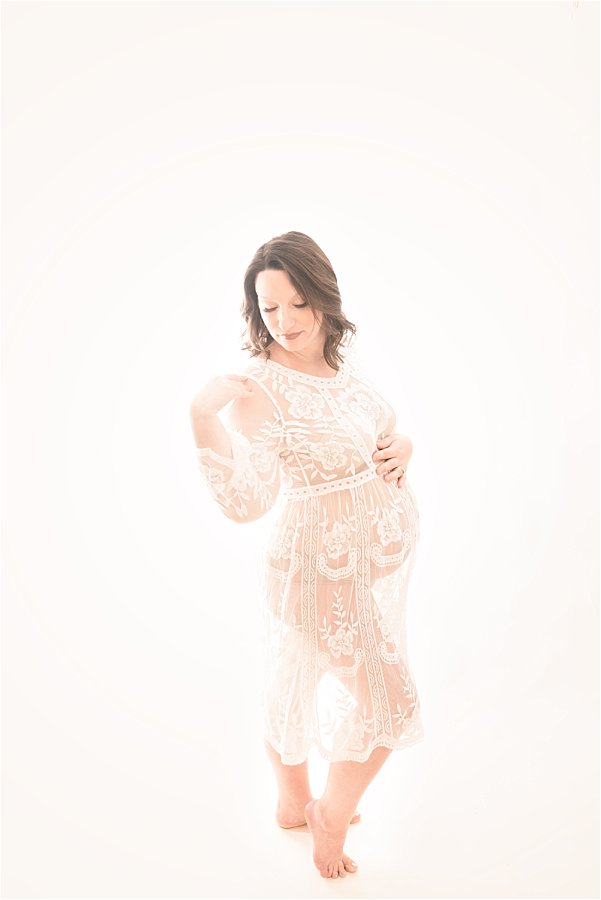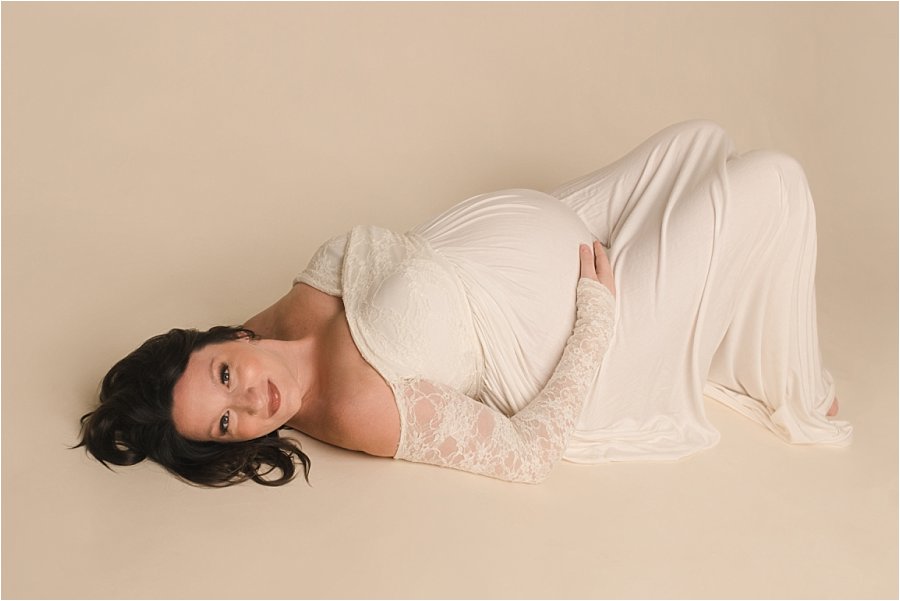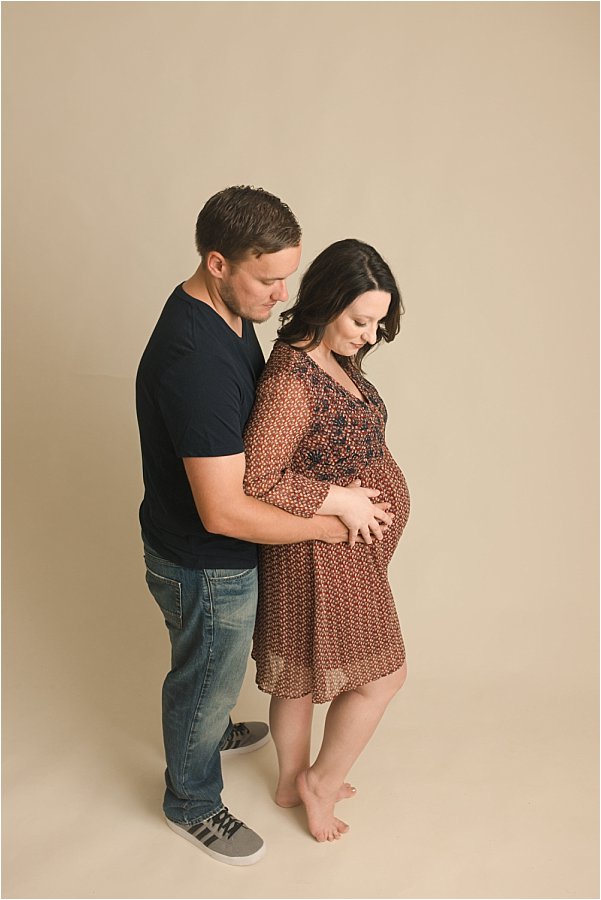 If you'd like to book your Greer SC Maternity Mini Photo Session to get to know me, click here!  I'd love to tell your story and get to know you!
Holly contacted me for a Greenville SC Mini Maternity Photography Session including her older daughter Emma.  I met Emma when she was a newborn and was so excited to see her all grown up to almost 2 years.  Look at how cute Emma was in this natural and simple newborn set from her session. You can see the rest of Emma's natural and timeless newborn session by clicking here.
One of the best parts about booking a maternity session for your second child is the photos we're able to get of your first child during that session.  There's a little less pressure and I'm able to focus fully on your big sibling.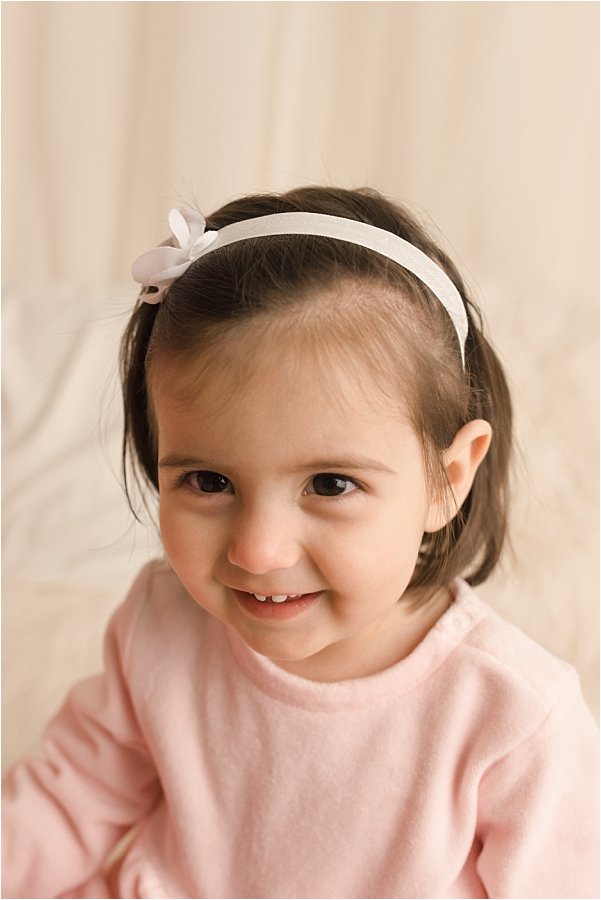 And the added benefit is that when you come back for your newborn session, your child will already be familiar with me and the studio. It's a win-win the day of the newborn session when we're able to get the sibling photos you want a little easier 😉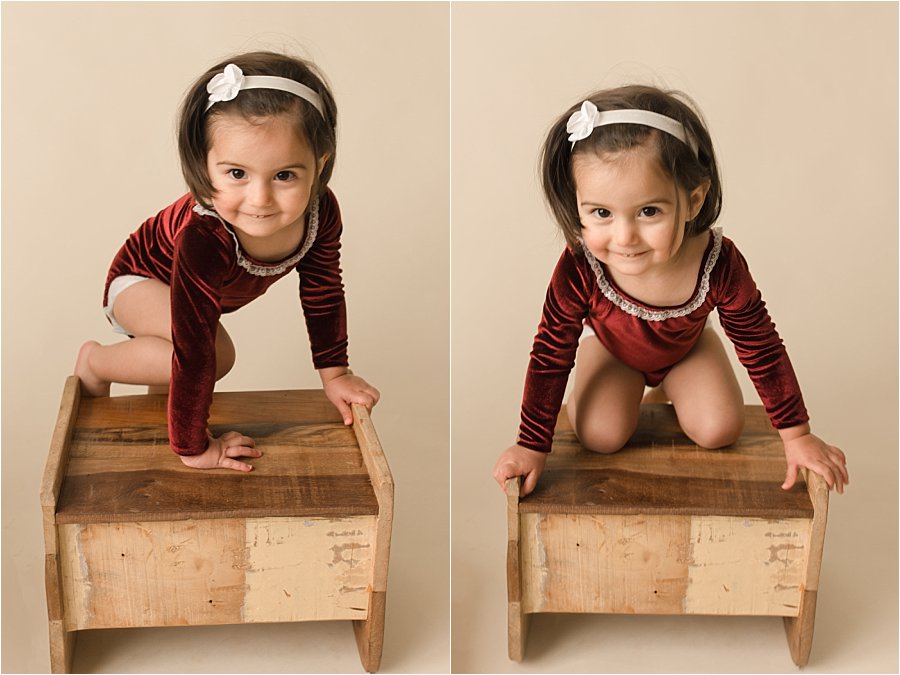 Emma was pretty much the most fun child I've had under two in a long time! She likes to climb, play, and throw around my studio newborn posing pillows (don't worry… I started that game not her!). We had a blast capturing some of that mischief on camera!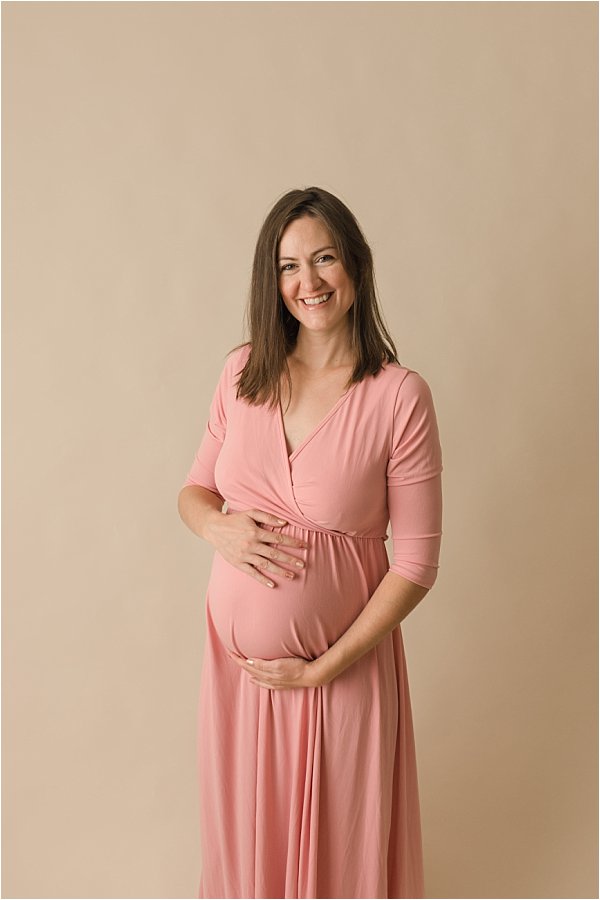 And ofcourse, we captured Holly's pregnancy with Emma's baby sister, too!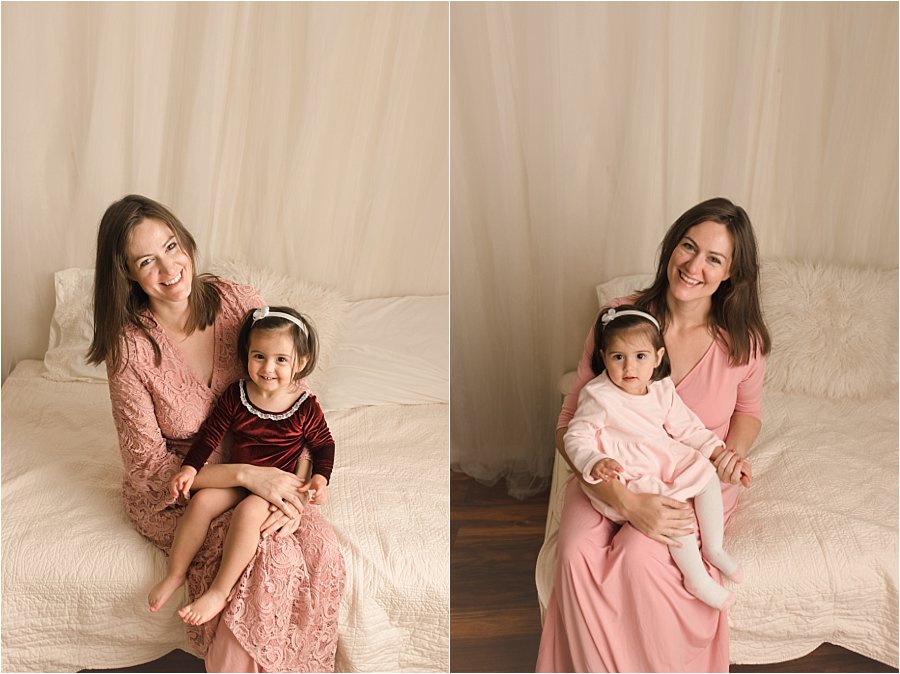 Because daddy was out of town on the day of the session, Holly's dad joined her. I really enjoyed getting to meet him and capture some images with him as well.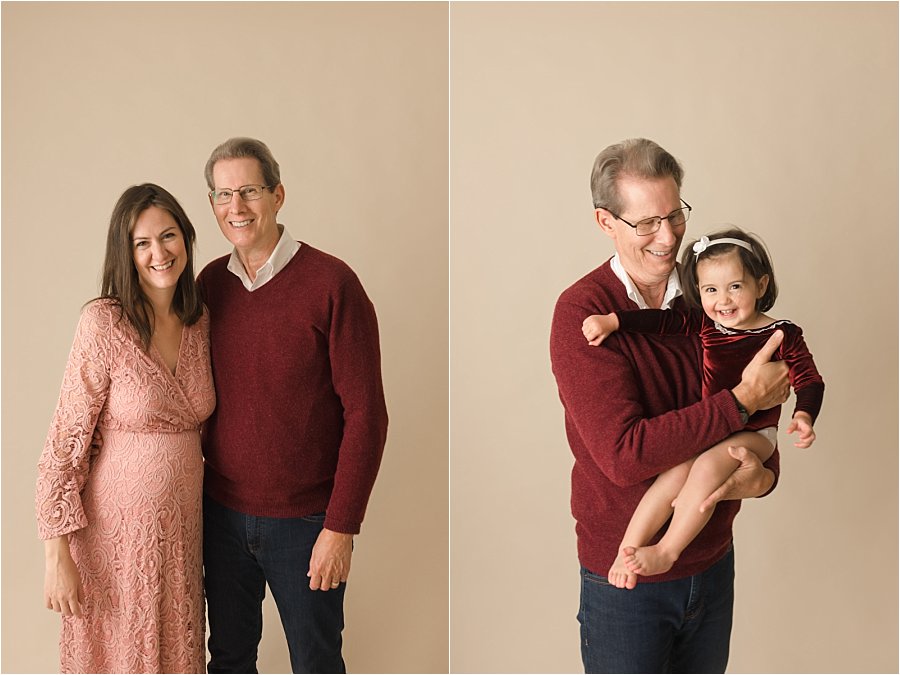 Are you looking to book a Greenville SC Mini Maternity Photography Session with an older child?  Wanting to meet your newborn photographer before your baby arrives at a no fuss session? I even provide a wardrobe for my clients and their kiddos to make it super easy! I'd love to be considered to serve your family. Click here to tell me about your dream Greenville SC Mini Maternity Photography Session.
Are you looking for a mini maternity session in Greer SC? Mini maternity sessions in my Taylors, SC studio include a full wardrobe for you to borrow as wells as dresses for your daughters and shirts for your husband and son. A mini maternity is perfect for getting no-stess images of big siblings individually before the session.  I flexibly schedule mini maternity sessions for week night evenings and afternoons (as well as normal daytime slots).  You get to select the images that you want most from your session after you see them.  And, best of all, if you book your newborn session after your maternity session, I discount your newborn session fee by the cost of the maternity session fee.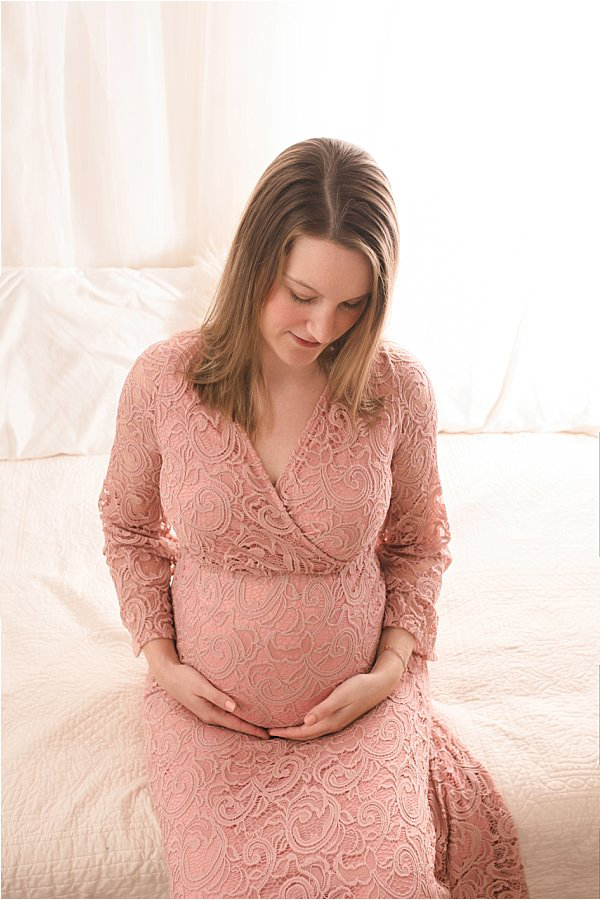 Cortney borrowed three gowns from my maternity wardrobe in addition to the cute outfit she wore. It's so fun being able to play dress up with mamas in the studio. Wardrobe sizing ranges from S-3XL. I pin larger garments to fit you precisely. I hope all my mama's feel like princesses in this time where everything feels like it doesn't fit or flatter the way they'd like.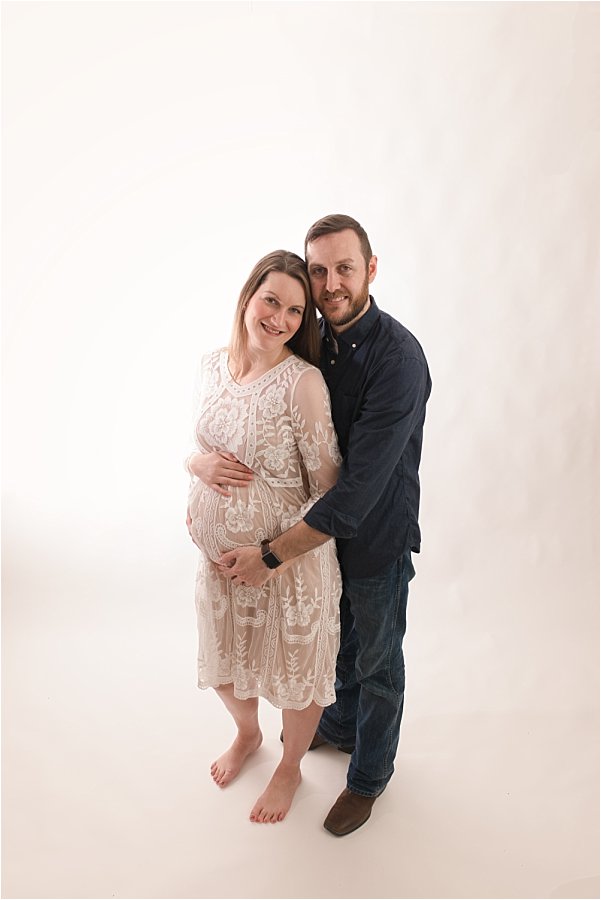 I love playing with light during maternity sessions.  It's such a fun way to add drama and highlight emotion in your images.  The two images below were taken just a few minutes apart and they tell such different stories about anticipation. The back lighting gives a sweet dreamy effect to their shared looked of joy. While the front lighting highlights the hopes and dreams for their baby girl.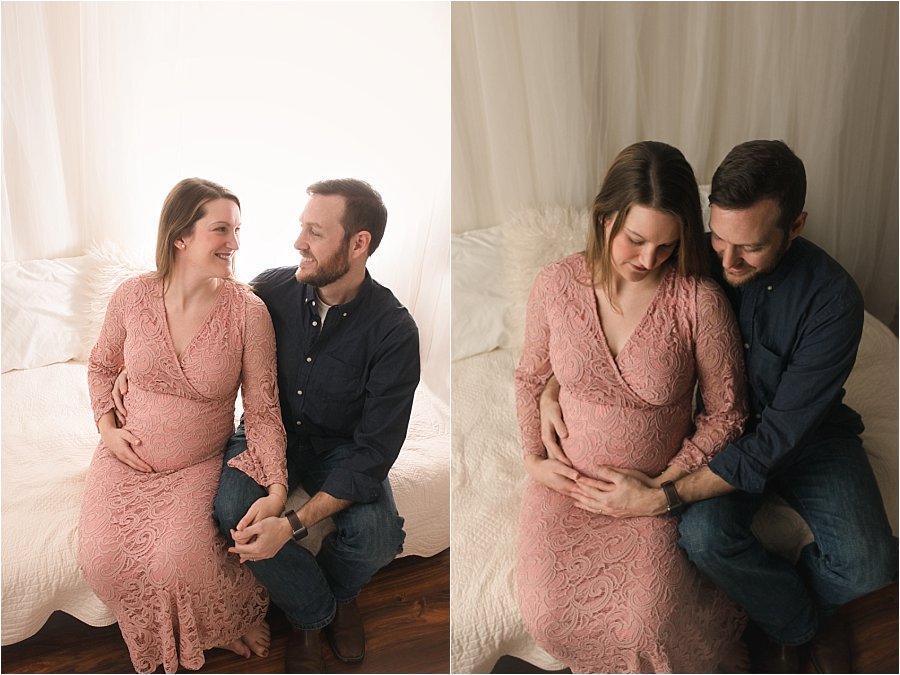 .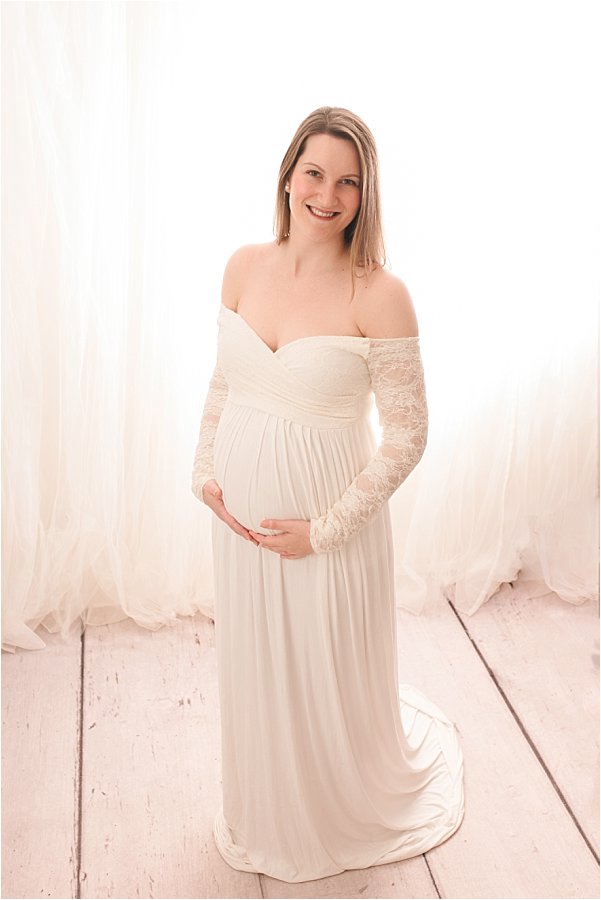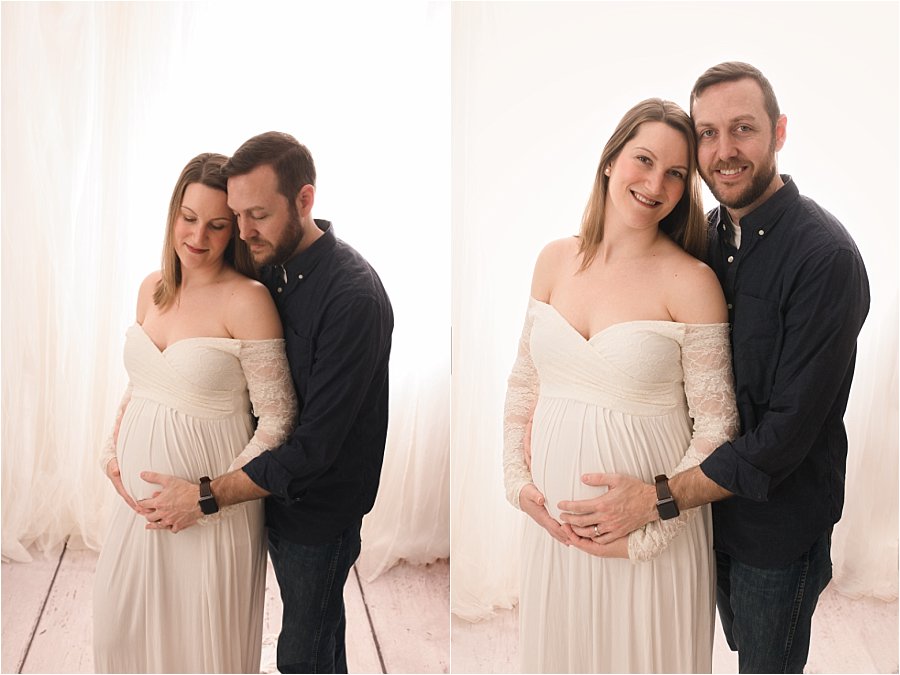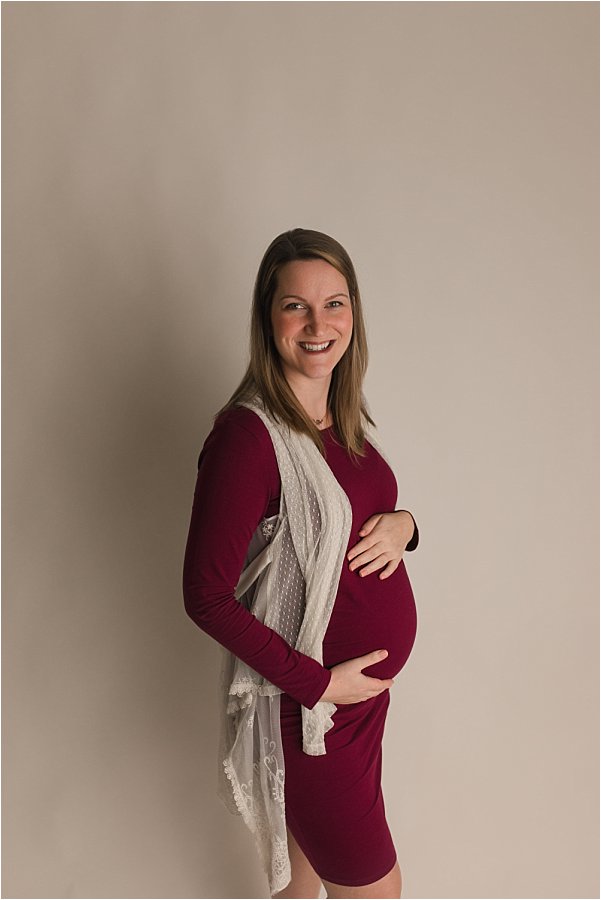 Are you looking to book a maternity session?  Or maybe just hoping to meet your newborn photographer and explore her studio before your little one arrives?  Mini maternity sessions are a great way to do both!  Click here to contact me today and tell me about your ideal maternity session.  Session book quickly so don't wait until the last minute. I would be so honored to serve you.
I adored working with Emily on her Romantic Airy Maternity Photography Greenville SC.  Emily had both vision and amazing enthusiasm for this session. I can tell you how much fun it was to work with someone so excited.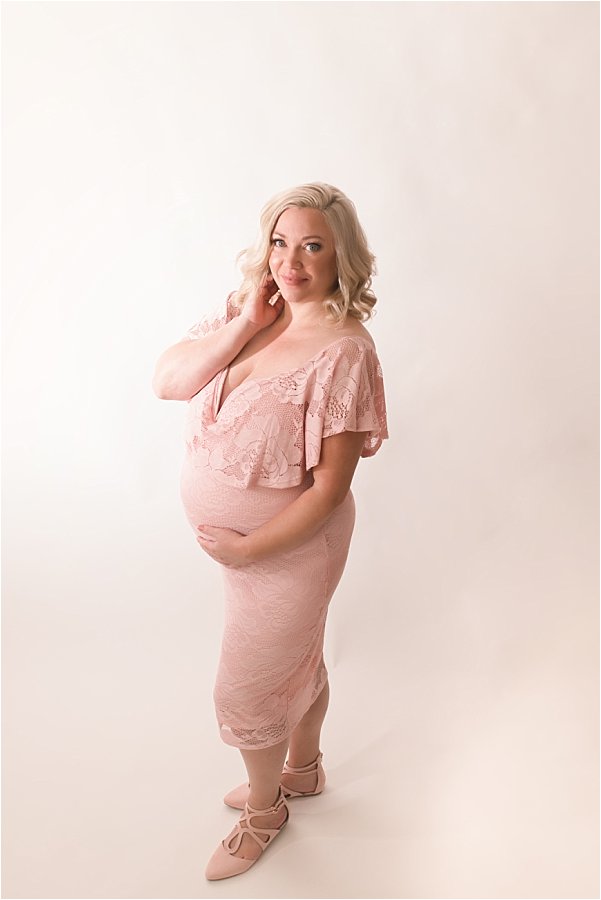 Emily and Byron have wanted a little one for a long time.  But the process hasn't been easy. After years, they gave it one more shot.  Wynter Rose is already so loved that you can feel it in these images.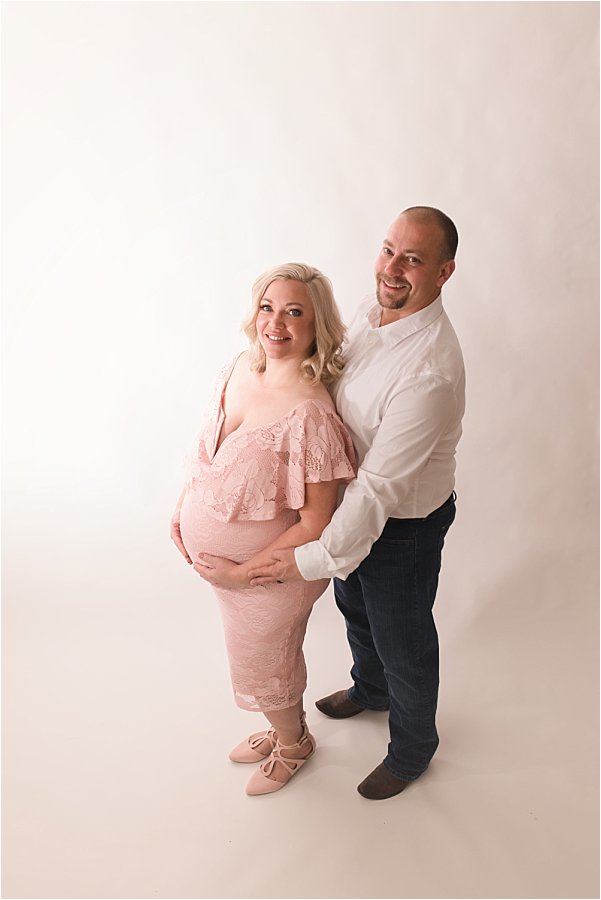 In the midst of pregnancy joy, Emily and Byron have been dealing with moving and an extended house remodel.  So Emily rightfully splurged on hair and make up with the lovely Cotton Rouge who came to my studio ready to pamper Emily. I love watching the makeup artists work their magic.  Emily delighted in being spoiled.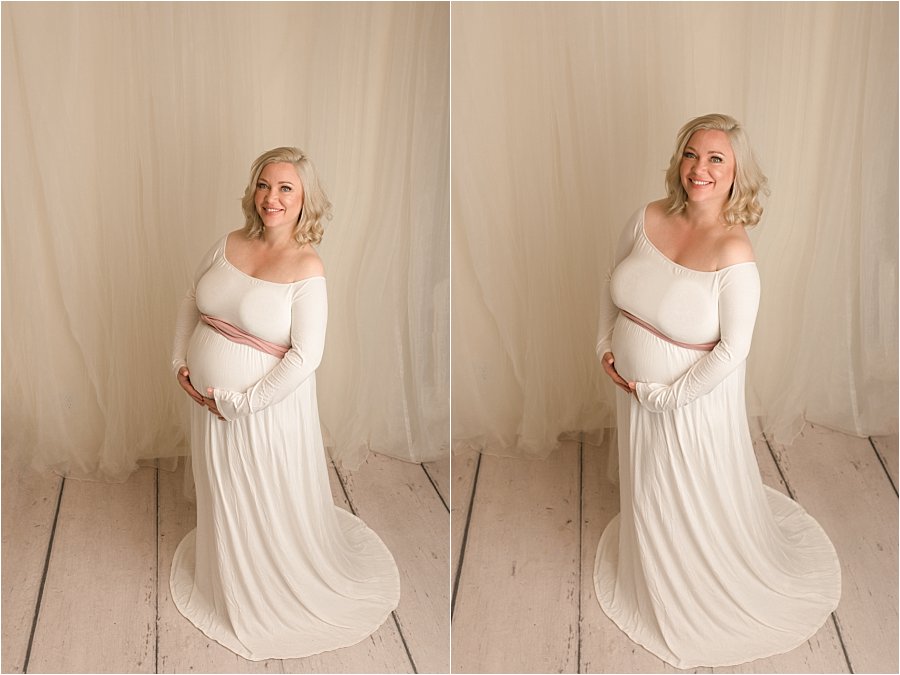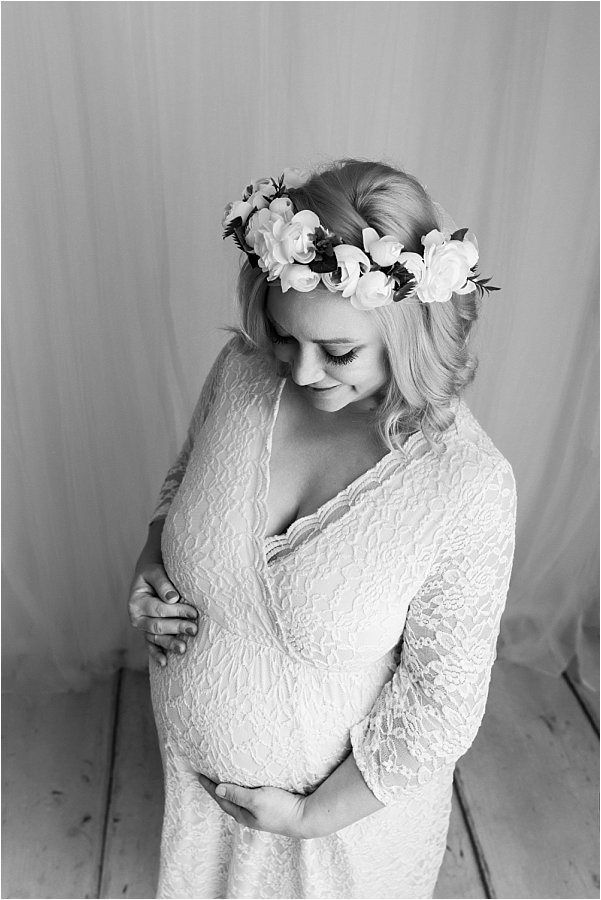 Emily brought a few dresses from Pink Blush, but also borrowed this one from my mama wardrobe. I love providing a wardrobe for my clients so they don't have to purchase something new unless they want to.  You can view my mama wardrobe items by clicking here.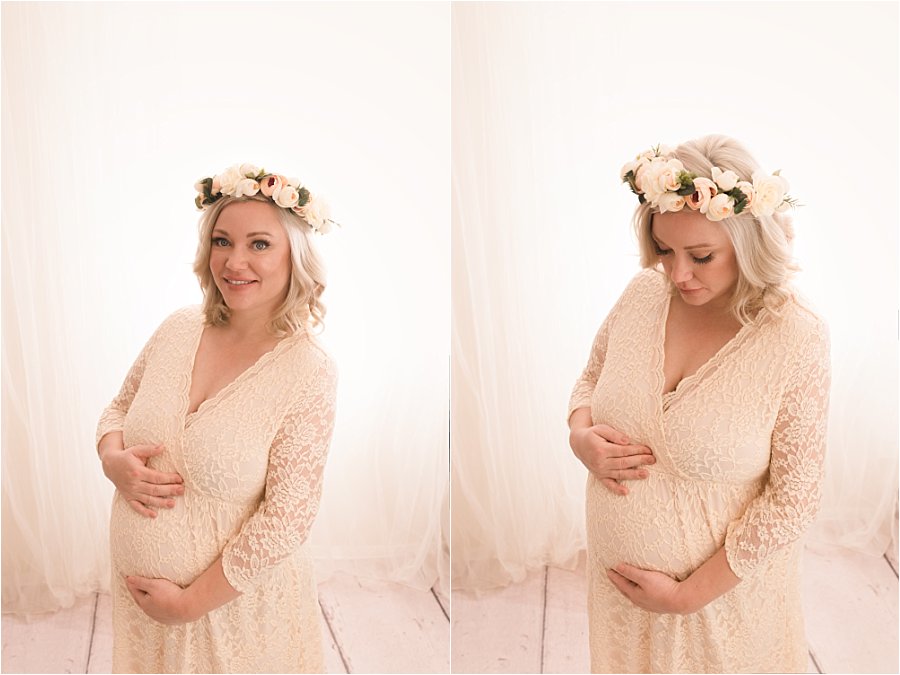 I think these two are my favorite Romantic Airy Maternity Photography Greenville SC from this session.  I love how Emily is looking at Byron with so much respect and love.  And I love how both of them are looking at Wynter Rose with so much joyful anticipation.  I cannot wait to see them hold her in just a few weeks!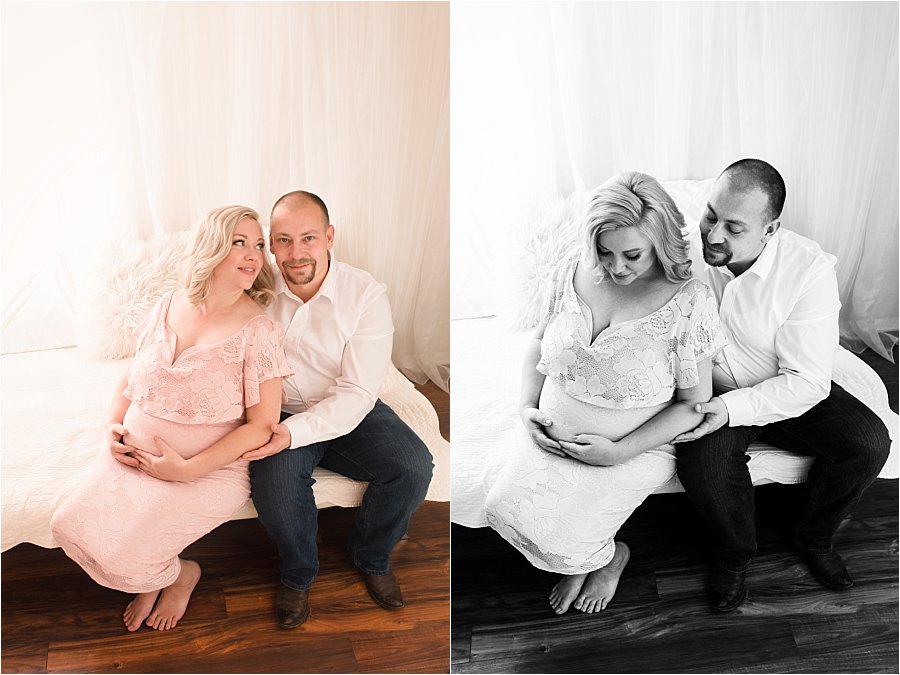 Are you looking for your own maternity photographer with a romantic and airy style?  I would love to be considered!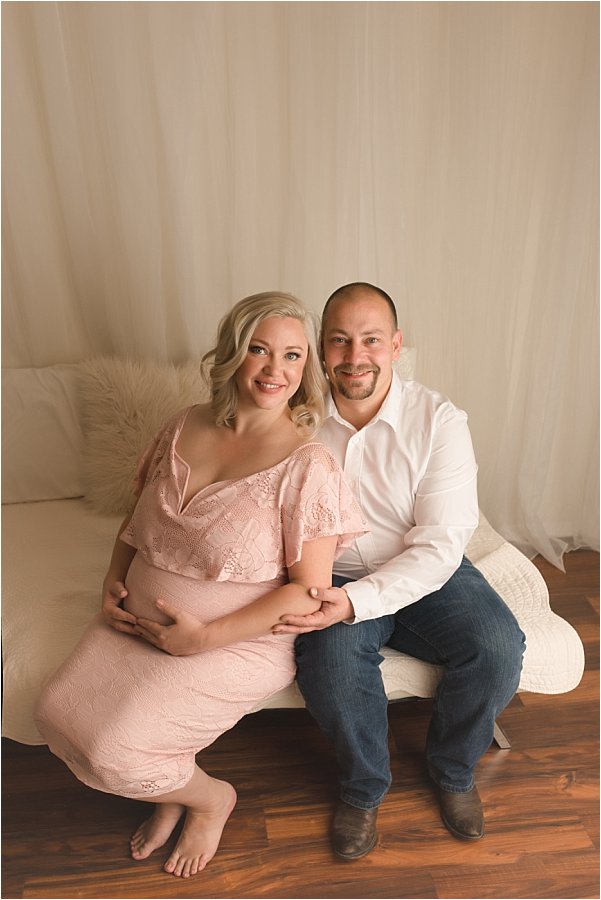 Maternity session fees are waived for all newborn clients, but if you'd prefer to try me out before booking your newborn that's okay too. I apply your maternity session as a credit to your newborn session fee instead.  Contact me today to tell me about your dream session(s) by clicking here.
One of my favorite things is to meet my newborn families for Creamy White Backdrop Simpsonville SC Studio Maternity Photography.  The maternity session fee is waived for newborn clients so that I can get a chance to know you before your session.  I especially love this option with my families with big siblings.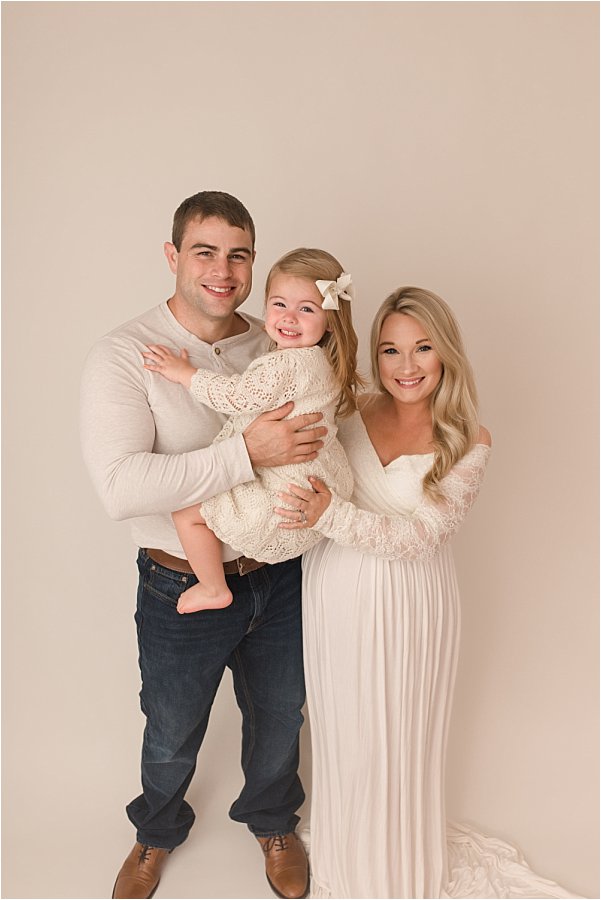 Meet Sloan and her mama Whitney and daddy Josh.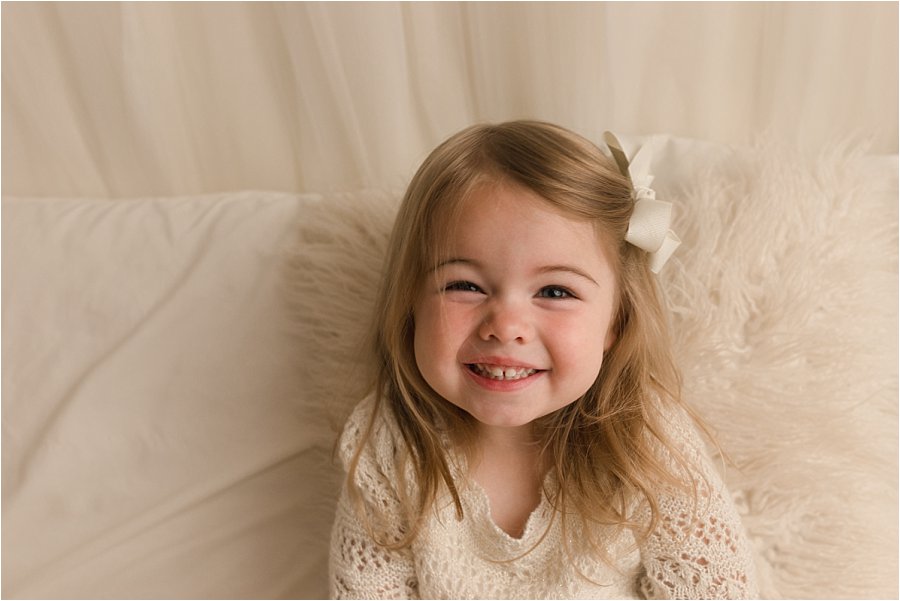 Whitney did an amazing job prepping Sloan for this session!  Sloan was a two year old Angel. We were able to play and laugh and fun faces and capture so many images of Sloan alone and with her family.  Sloan knew my name, had practiced her silly faces, and knew what was expected of her and it shows.  I send prep instructions for big siblings to all my families for this reason.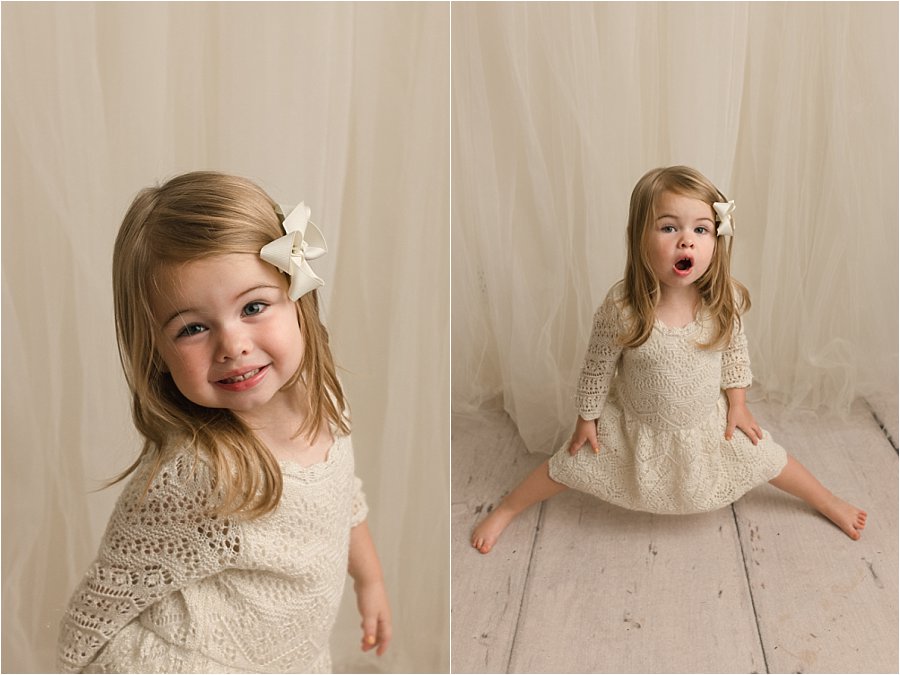 This shocked face cracks me up!  Part joy and part surprise, for me it encapsulates what will happen when baby Abel is born.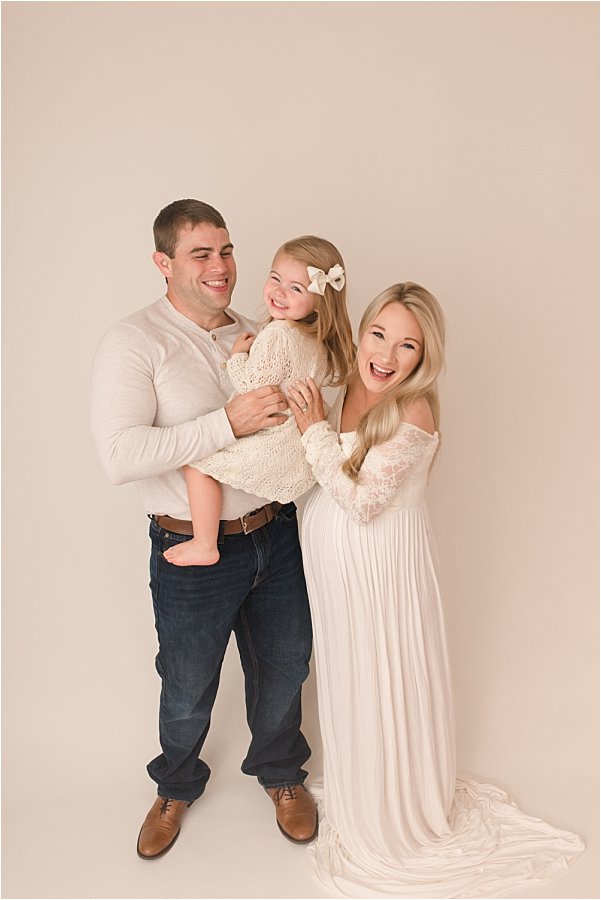 During a maternity session, we play with light to create variety.  This high key light on my cream drop was new for this session and I love it. It's such a perfect way to showcase the love of this family. The joy from Josh tickling Sloan in this image is tangible.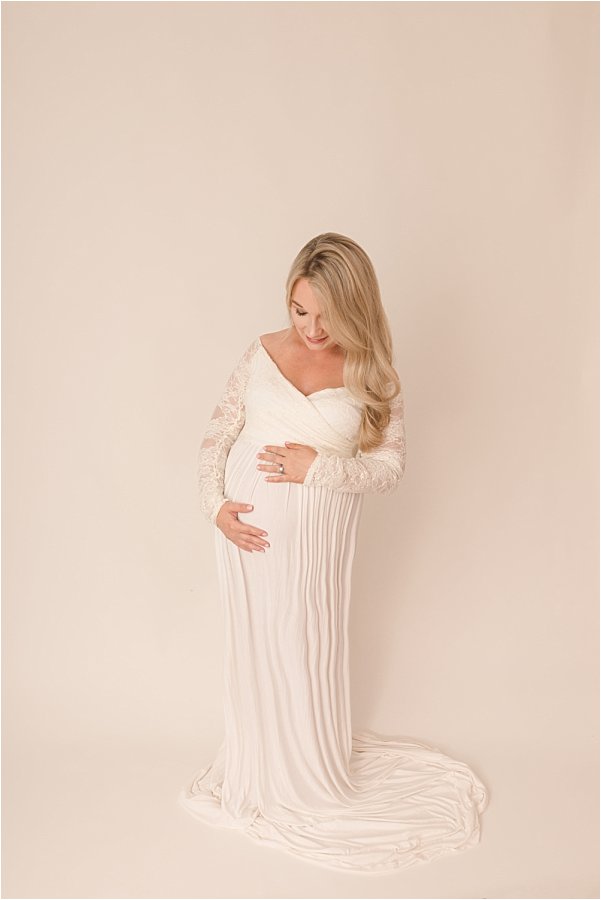 But my favorite set from this session is when Whitney changed into this pink lace gown from my studio wardrobe and we back lit this series. Looking at this following series feels like drinking hot chocolate by a fire on a cold evening. So much cozy welcoming joy.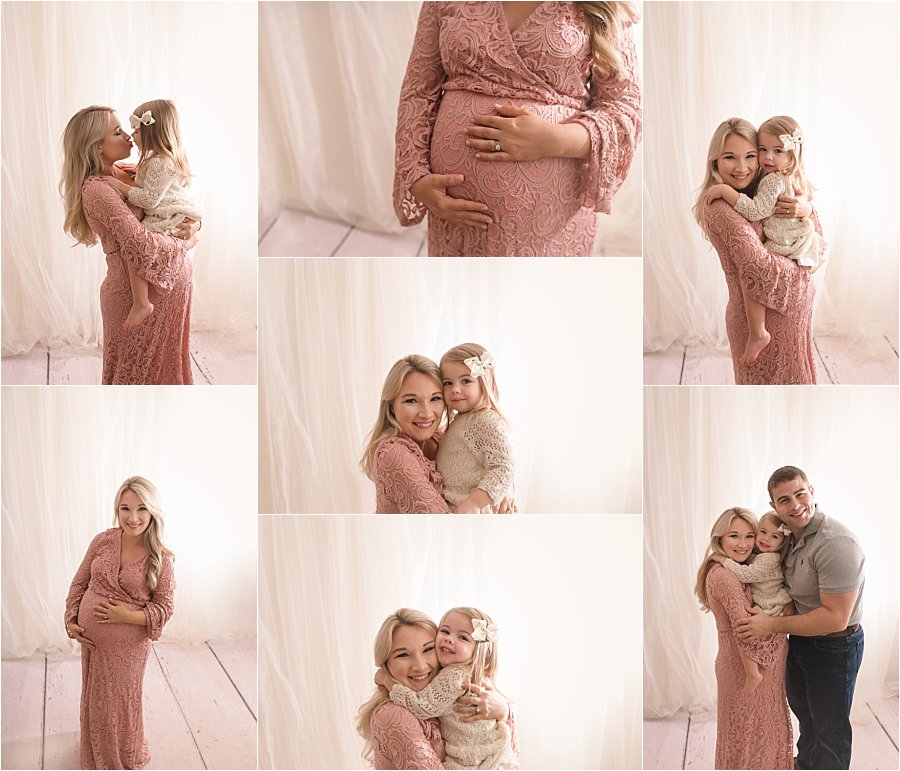 Whitney and Josh, I can't wait to meet baby Abel soon.  Thank you for sharing your love with me.

Are you wishing for your own Creamy White Backdrop Simpsonville SC Studio Maternity Photography session?  I'd love to serve you!  Click here to tell me about your sweet family and your dream session.