Multitude Monday
The gratitude journal, it falls missing one afternoon.
Lost.
Somewhere between the dashboard cubbie at the beach and the switch from the Corolla being my primary car to the Camry being mine.
Lost.
Satan uses my scatterbrainedness to stop the pen he hates so much from scrawling the Eucharisteo of the Lord's Glory across the page.  My heart wanders.
Lost.
Moment pass.  The morning (probably the last) where the year old nursling falls asleep early in the morning snuggled right up to my side and we sleep for hours cuddled together. Aeralind's hand so soft on my cheek asking me, "Please, Mama, can we go see the chickens." while we're at the farm.  Bronwyn's crazy "ballet" as Ruthie plays "Bless the Lord (10,000 reasons)" on the violin.  Sedryn's young voice whispering "All done" when the violin stopped and asking daddy for "mor" milk.  Girls tucked around Mrs. Margaret lulled by the reading in her soft English accent.  A surprise date dancing on a Tuesday night.  These moments pass.
Lost.
Unrecorded.
Ingratitude.
No quiet thanks for those beautiful moments.  No pen to count the ways He loves.
But redeemed (it's my identity after all!).  These moments here.
Joanna shares this song on Facebook (that place I love for the way God uses, yet hate for the way it allows us to wear masks), this challenge bringing me back full circle.  "Don't you want to thank someone?"
I pause.  Turn again.  Repent.  Won't you do the same with me?  Pause… listen for a few minutes of Rest. (Or just don't stop listening to it… over and over and over like I am doing to steady my wayward heart.)
Don't you want to thank someone for this?
I know I want to. Join me?
It's no secret that I tote three kiddos around in the back of a Toyota Corolla.  Three carseats smashed in that back seat like sardines (two Radians and a Scenera… poor baby in the middle).  I love my Corolla, but it's just time for the mini-van. We were saving for it and praying for a van.
Late August Derek got in a wreck.  He barely bumped the truck in front of him at 10mph, but sent the truck's trailer hitch right though his headlight and into the radiator.  His 1999 Saturn was officially totaled a few days later.
We were committed to paying cash for our 'new' van and did not have nearly enough yet saved to purchase one even with the cash for his totaled car.  We asked his very generous parent if they could lend us their "child emergency fund" and we could pay them back come spring and our tax return.  They agreed and gave us a figure to shop for.
We had around $8000 total with his parent's loan and shopped in earnest.  Being that we want to drive the 'new' van into the ground, we wanted her to last a good long while.  We searched for as long as the insurance would let us keep a rental and then another 2 weeks I stayed at home while Derek took my car.  We were interested in a few vans (and one Chrysler Pacifica Touring wagon/crossover), but they either came not passing inspection or would/could not drop the price to be in our range.
All the mini-van doors were closing and, yet, we had peace.
Our small group leaders talked to their car hoarding father about parting with their Toyota Camry.  We purchased it a half week later for $500 less than the money received for the totaled Saturn.
We smiled at our still full emergency/saving account and had hope for purchasing a minivan in the spring.  Yet, we still wondered why our van prayers were unanswered.
A week later we closed on a refinance of the house.  We were bringing our interest rate WAY down and allowing ourselves to prepay an extra $200 a month toward being debt free.  We had thought the process would be mostly free for us, but because our home valued at less than we thought, we were required to pay enough to bring the debt down to less than 90% of our house value.  A $1000 dollars slipped out of our emergency savings toward being debt free.
Six weeks later, I elbowed Derek awake in the bed startled by a strange noise that sounded like a cross between a motorcycle and a cat in heat.  He popped out of bed and immediately started flipping breakers off.  Our air handler was having an issue.  We called an HVAC service company. It not worth it to repair it, we had to replace it.
All of the remaining money except $300 disappeared from our emergency savings account.
All of our van money.
Gone in an instant.
Yet, Derek and I were giddy like the kids at the beach.  We knew why we didn't own a van!  We knew that our God had prepared us financially for this emergency (lows the week of no-heat hovered around 52 degrees IN the house) by saying no to our van dream at that time.
The day the repair was complete Derek opened an envelope and pulled out a check.  He started laughing.
"What?" I said.
"We just got a check for over a grand." He replied.
I looked at him skeptically.  "You're kidding, right?"
"No.  Really."  He said between laughter.  "It's the leftovers from our old mortgage escrow account."
Our emergency fund (which we try never to let go below a grand) was restored above that point.
I don't own a van.  I still have three kids strapped across the back of a Sedan (though I'm currently driving the Camry so the kiddos have a wee bit more wiggle room).  I don't even have 1/2 of what we had had saved for the van.
No, but I have a God who provided for all our needs through a very strange set of circumstances and the faith to trust him more.  That's a pretty awesome trade-off, don't you think?
(Thanks here from our beach trip.  Written in a spare notebook… taken awhile to track down the graces)
4533-4566
Sunrise 9 stories high on the beach
Ham and eggs
Sand and pools
Aeralind jumping in the lazy river when I wasn't looking
Giggles and singing with my girls in the lazy river
Sleepy boy cuddles
Shovels, buckets and a net in the condo
Heading over to Huntington to see the birds and alligators
Derek and I praying for an alligator to be close to shore and seeing one with the girls just as we left
Bronwyn cautiously approaching the alligator "Mommy, I scary."
More sand
Sedryn lying over our sand pit and splashing when the waves filled it
Just a few scrapes and bruises on me and not on Sedryn when I slid/fell into the kiddie pool
Pineapple and hot chocolate with a sunset and all my family
early bedtime for all
Yummy breakfast
Long beach walk
Aerie walking behind me "I walk in Mommy's feet" (Footprints)
Singing with Sedryn
One good long nap for Sedryn finally on this trip
Bronwyn and Aerie beggine for Kay Kay to ride with them
Toddler girl wardrobe shopping in styles that fit their personalities
Nerd shirt for Sedryn
All 3 kids gleefully coming down the slide
Sedryn waiting for daddy to push him down
All of us exploring Anthropologie
Little girls pouring over tons of books at Barnes and Nobles
Ice Cream
Quiet evening with Sedryn
Sedryn fighting a nap and for once falling asleep on the bed with me.  Napping in a big boy bed.
A new book that corresponds so sell with Ladies Bible Study
Girls coming back with Halloween art masks and Necklaces and spiders and tales of feeding fish at the Papa's fish show at Bass Pro
Everyone safely asleep
He'd been screaming for over 45 minutes now.
Short story.
Missed Nap.
Exhausted Baby.
Cries mid 2nd nap.
Cry it out.
Oops.
Poopy diaper.
Still Screaming.
Even while Rocking,
bouncing,
and
shhing.
He was laying on my arm in a crumpled ball on the floor.  It was near the end of the girls rest time.  I didn't know what to do to make him stop screaming.
So I sang.
"My Jesus, I love thee. I know thou art mine…"
A long shuddering sigh.  Silence.  Little eyes flutter closed in rest.
Sometimes I wonder why God created music.  He didn't have to.  We could all speak in monotone… or even telepathically.
Sometimes I understand the pure beauty of music.
To change my heart…
and calm his.
4516. Finding Fairy land with the girls on a walk
4517. Girls pointing out with joy the fish in the creek at fairyland
4518. Being a two car family again
4519. Watching B Grow
4520. Karen's genuineness
4521. Little boy standing up and ravenously cleaning plates at the kid table while we all laugh
4522. My own selfishness always before me.
4523. "Roar (feed me)" An answer to a prayer.
4524. Nana over at my hosue for inpromptu lunch
452. Music
4526. Quiet evening alone after two rough cold days
4527. Bronwyn's tight neck hugs
4528. Our friend Abel's beautiful (hard) story
4529. How B says "Momma, there's a bird." and shows me a mocking bird puffed in the cold.
4530. Sedryn's "World's cutest alarm clock" onesie.  A truthful find at a consignment slae
4531. Quiet blessed days
4532. Spaghetti Squash.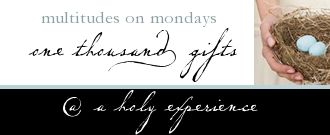 The soreness comes on in the late afternoon.  Accompanied by chills, I begin to doubt that it's related to my workout the day before.  Sometimes I have have to be brought low to understand what's truly great.  
Low is where I belong.  Weak.  Helpless. Tired.
But God.
(oh, I love that phrase more and more each time I hear it!)
He became lower than me.  Took my form.  Lived my life and served everyone.  Dug into the hearts of others.  Cared more about them than himself.  And most of all: was obedient to death.  He died a death I deserved so that I could come to him.  Unashamed.
I forget this.  I cling to other things looking for value.  Cling to my to-do list.  Cling to my latest craft.  Cling to the opinions of others.
But my value is high in the eyes of Christ Jesus.  So high, I am privileged to serve low with him.  Those three little children.  That husband.  My friends.  Strangers at the store.
I start this week lower than usual.  Drag myself from the chair and head to bed early on a Sunday night.  Where I rest in bed and in my identity as the beloved.
4503. How I look for pretty stick shaped colored pencils and decide they're too pricey.  And how Carol had already purchased them for the girls in Ecador before I had even looked at them.
4504. How I watch a moth and spider battle it out on the web in my window
4505. How the girls wake every morning asking "Is it my party?"
4506. That we made them feel so special that they want to feel that way each day
4507. That our neighbor could watch Sedryn for our birthday date with the girls
4508. The girls enthusiasm for chopsticks
4509. A sweet little visit with my mom and sister
4510. The girls announcing their fear of the gibbons
4511. Sedryn's first tooth at just past 11 months
4512. Hearing him use the car ramp all by himself
4513. Those sweet wild beachy curls
4514. Using a gift to bless other ladies
4515. Nights of lack of sleep followed by just enough to catch up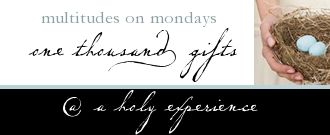 It's been almost a month since I've been able to post a Multitude Monday post.  It's mostly been because my Sunday night writing has been interrupted by the life of two night potty training toddlers.  I have been recording gifts!  I just haven't had a moment to type them up and share them with you.  So here they are!
4459-4502 reason to say "Thank you!" to my maker
Catching Aeralind with hands over eyes after stealing some food from Sedryn's tray.  "If I can't see you, momma, then you can't see me."
Quilt design board made
How Aerie always takes apart my rotary cutter when I'm not looking
How Sedryn grabs at my pant leg while I'm cooking so I'll smile and laugh at him
Sleeping in
Bronwyn's crazy laugh
Sedryn following me around with little adoring smiles
Inviting ourselves to Nana's farm
How the girls' tell daddy- unprompted- how they would like to bring a kitty home
How the girls are trustworthy enough that I can send them outside alone with firm boundaries
Nana's joy at the girls playing with her toys
Girls snuggling up to Nana with a Pooh book
Nana saying "This is the most disjointed story I have read in a long time." about Pooh
Talking about home school.  Her encouragement that I could do it well if I chose.
Nana's tearful wish for a student at her little desk
Such wonderful hugs
Laughter about how everything fell into chaos at one time- ant bites, messes, Sedryn cracking open an egg, hunger, Sedryn heading for a fan
How somehow during the chaos we managed not to burn the cookies
3 beautiful children sleeping on the way home
Lydia and Sedryn playing so sweetly and ignoring the girls
Tamara's visit
Danielle and Jessica- how they so relate with laughter
ballgown finsihed
Fabric for dresses laid out
Quilt on the design board
Chanwey coming
Kevin's steadfastness in arriving at the pool so I can't slack off
Two blond head snuggled up to me as I'm sensitive to their need for space from their cousin
Long talk after intense tantrum with Mariana over selfishness and how to love others with space and actions
Stretching me to hear her needs and balance my girls
Two blondies in a bubble bath processing their cousin's visit through play
Praying hard to plant seeds
Grace not to yell even when she yells at me
Knowing where her heart is
2nd  or 3rd physical journal filled with gratitude to the maker of it all
My husband making everything possible and holding me when it is hard
The way Mariana started asking before unbuckling Sedryn
Karen coming to the rescue with her van
Two little girls reading stories with me at wake up- soaking in having me to themselves
Good conversations with Sarah on growing Mariana
Prayers for us to plant seeds
Bronwyn's exuberant reply to "Who loves you?" with "Ben & Jay!" when she normally says daddy
Sedryn clapping his face for laughs
Naptime
A couple good nights sleep
The prayer jar
My own growth
Aerie's grumpiness after nap
Quiet evening with my girils while Derek takes Mariana to the pool
Unprompted "I love you!" from my sweet Aerie
Lost purse resulting in a good bit of laughter filled quiet time with Karen
Playing dollies with two beautiful girls
Bronwyn requesting "Rosies"
The way Sedryn must play with his feet (preferably on my bare skin) while nursing
Roaring and laughing and chasing all three around the room
Most fun 3 year old birthday party ever 
Generosity of Becca letting us play in her yard
The magic of Daylin helping and playing pin the tail on Eeyore for the first time
Brady and Derek and Daniel having a water fight
Girls new room half painted
Bronwyn requesting snow after seeing her baby photo of her playing in the snow
Blowing up Ivory in the microwave to make it happen
How Bronwyn played with the ivory flakes for a long time and helps me make bath paint
Girls tucked on the couch with owl towels
Feeding Daddy popcorn
Open mouth kiss from Sedryn–> right on my nose
Taking the girls dancing and watching them squeal as they ran around the dancers
Leading a table at Mops- excited to get to know these girls
Little girls laughing as one of their dolls from their dollhouse directed them on where to put their furniture