Cake Smash
Are you tired of over done cake smashes and loving for a more Fresh Timeless Emotional Cake Smash Photography Simpsonville SC look? I love a pretty set (as you can see below), but for me photography is really about capturing the essence and personality of a person as they are right in that moment. Nowhere is this emotional side of my photographer more visible than in a cake smash. One year olds FEEL it all… and I shoot it all! Because I know, you'll want to remember it all someday soon.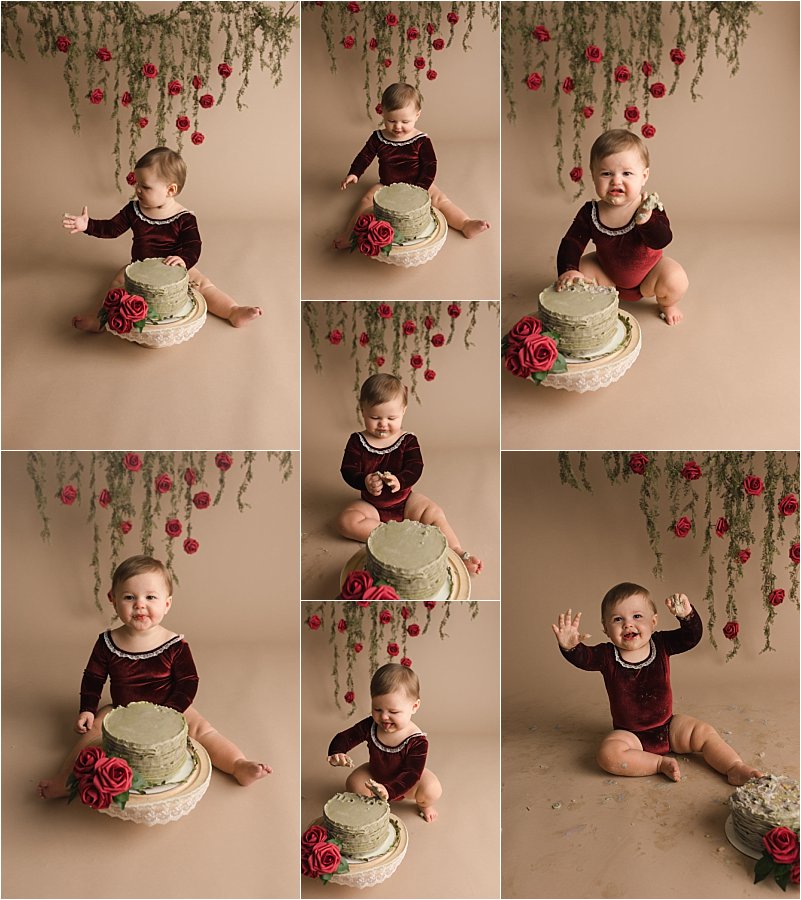 Reagan was feeling all kinds of ways about her cake above. And as I scan through all of those photos I took experience all of her emotions. I laugh at Reagan's disgust at the texture of frosting. Then, I smile over her surprised look at the taste of frosting. I celebrate her joy at actually eating this cake. It's just a treat for my feelings. This is what a good day looks like. And this is what I want to capture, not perfectly posed moments with sets so stunning I can hardly find your baby.

So what's included in a cake smash session with me?
First, time! A typical cake smash takes 60-90 minutes. I don't try to rush your little one, regardless of whether they need extra snuggles or extra time to explore their cake.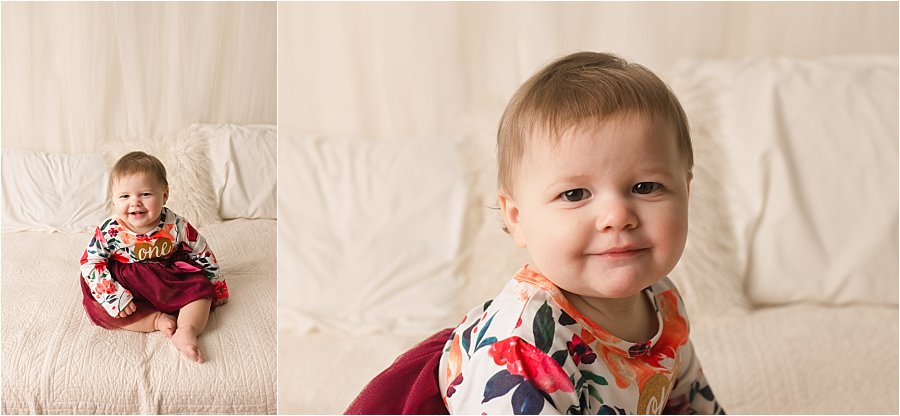 Second, cake! Christine from Baking Sweet Scents makes you a lovely white tiered naked cake that is included in your session fee. If you'd like to customize it like this one, then you can do so for an additional fee.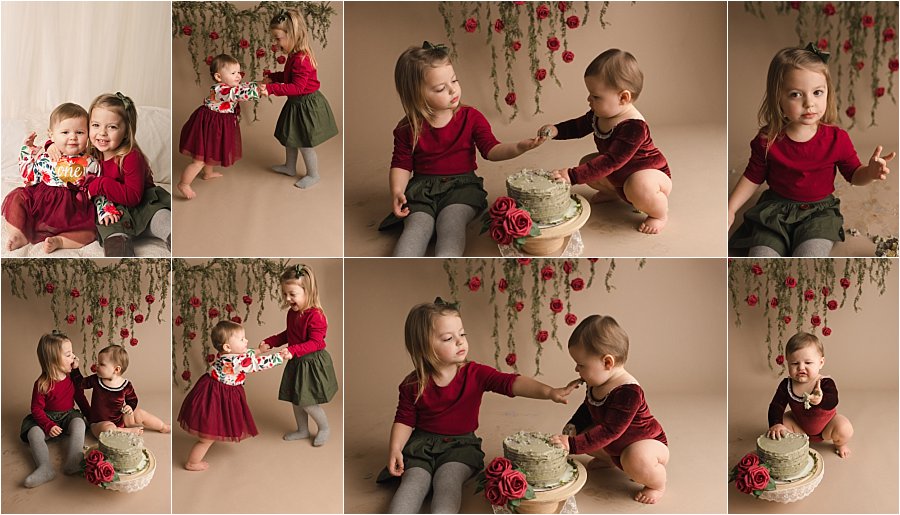 Finally, you have the right to choose. You get to choose whether you want a budget session with 15 images or an extravagant session where you get every image we produce. And you get to select the images in your package.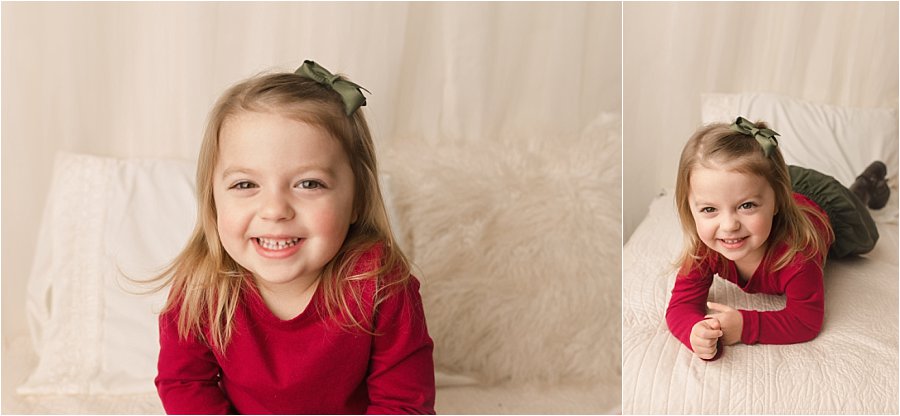 And did I mention that family and a bubble bath are included as well?! Does this sound like the Fresh Timeless Emotional Cake Smash Photography Simpsonville SCn you're dreaming of for your little one? I'd love to capture all their little expressions. Contact me by clicking here.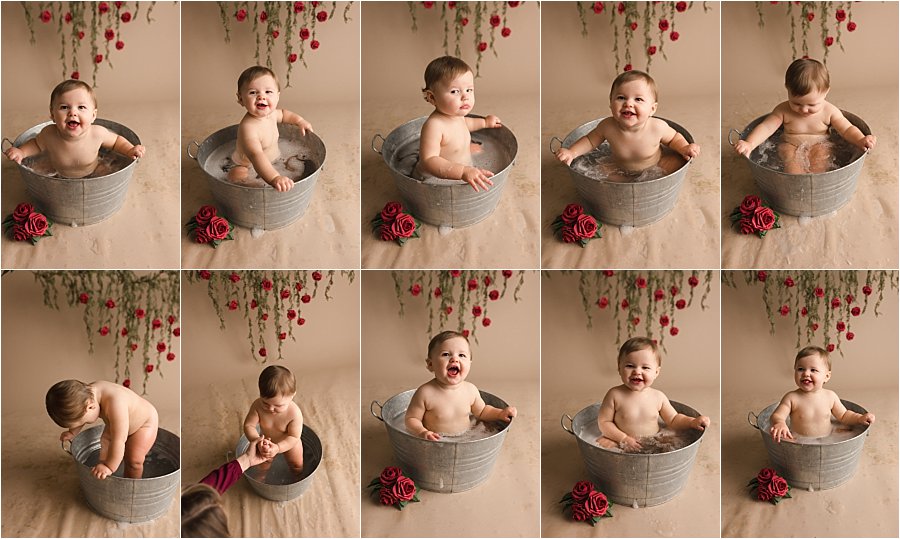 Eli had a a wonderful time at his Woodland Inspired Cake Smash Photography Greenville SC!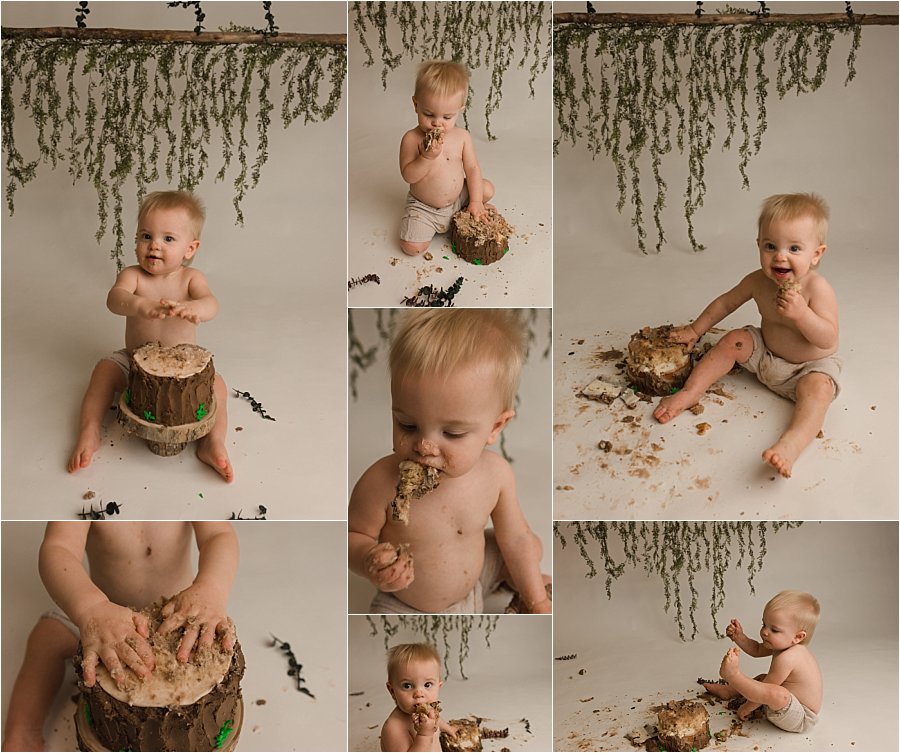 Eli's Mom Danielle requested this cute set. The moss background, stump cake stand, and simple diaper cover are studio standards. I use these all the time.  But the cake from Christine of Baking Sweets Scents really made this set! Danielle had an inspiration image and Christine made it happen.  A Baking Sweet Scents semi-naked cake is included in every cake smash session, but a special request like this can be added into your session investment if desired.  As you can see, Eli thinks that Christine's cake is amazing.  He smeared it everywhere and ate fistfuls!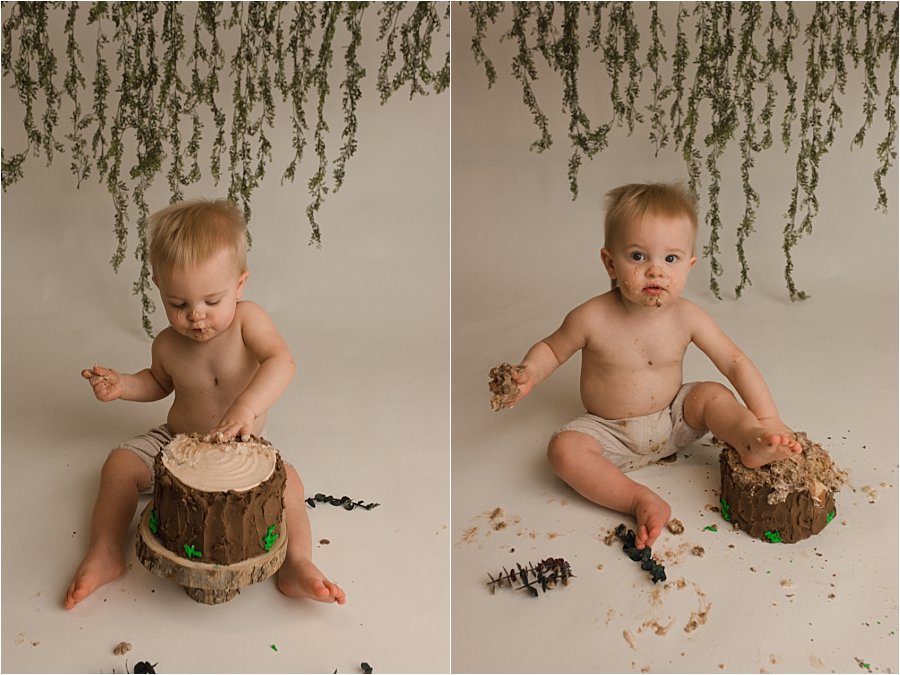 What a mess he made!  Watching babies react to the cake in so many different ways is my favorite part of every cake smash session. The range of reactions is hysterical: from digging in to being disgusted with the cake to crying because they have sticky stuff all over their hands the reactions are so varied.  I love capturing all of the emotions one year old have.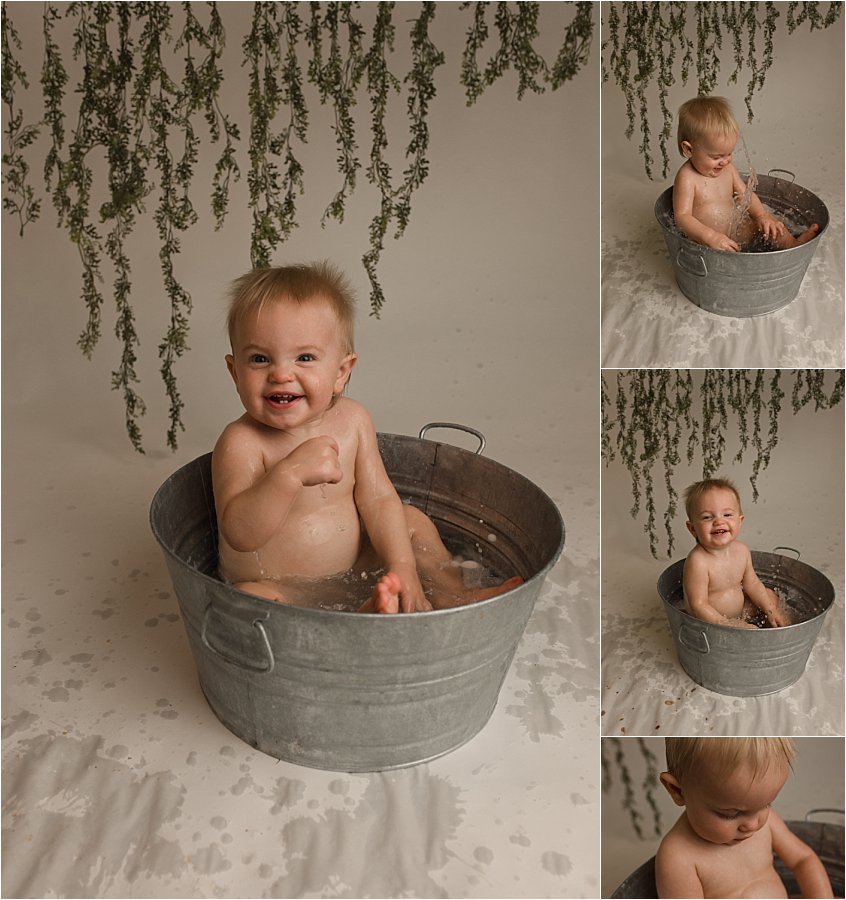 But even if the little ones cry during cake, usually a bubble bath cheers them up! It also gives you more opportunities for fun photos of your little one.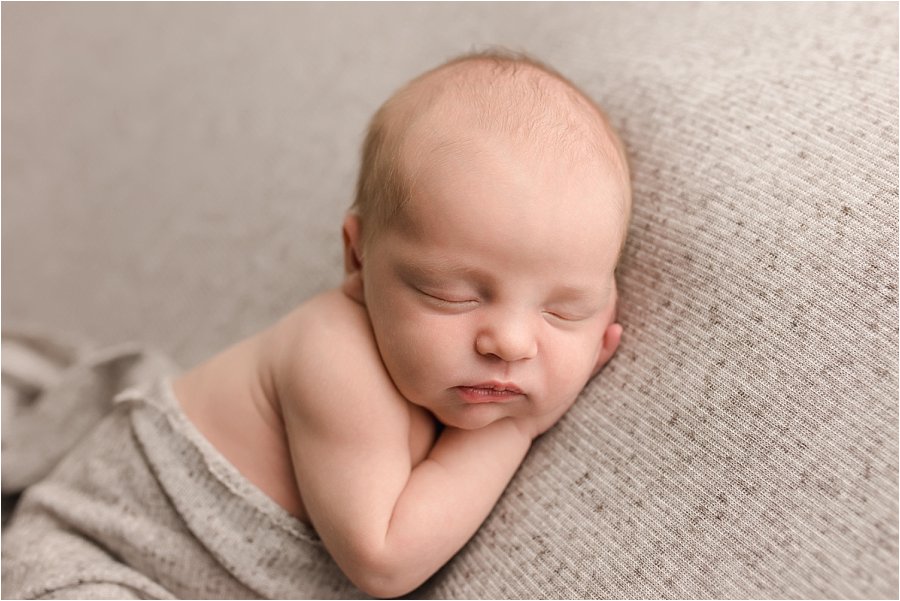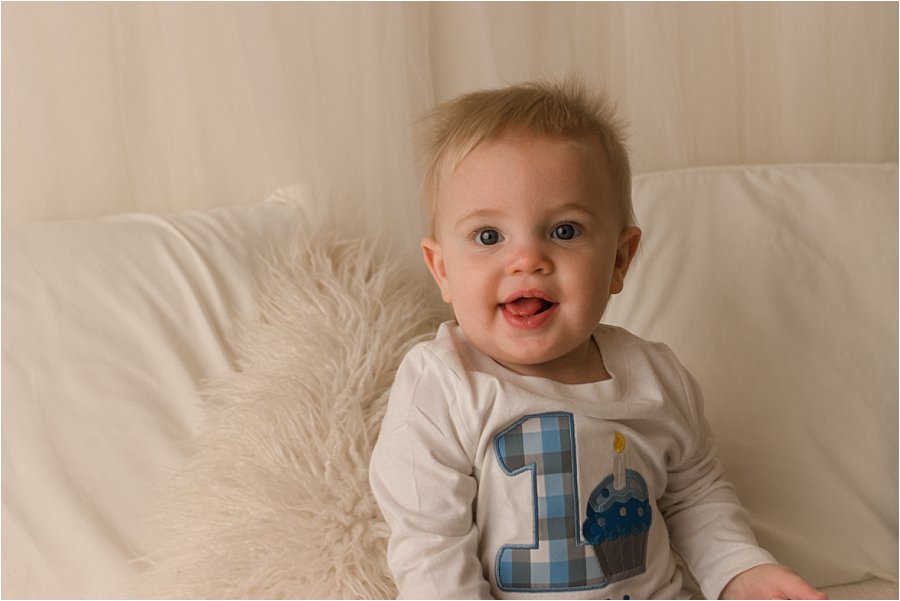 This is my fourth year photographing this family. You can see his brother's Samuel in Newborn and Cake Smash photos here. And here's an image from Eli's Newborn session. But look at how little he was! They grow so much in the first year.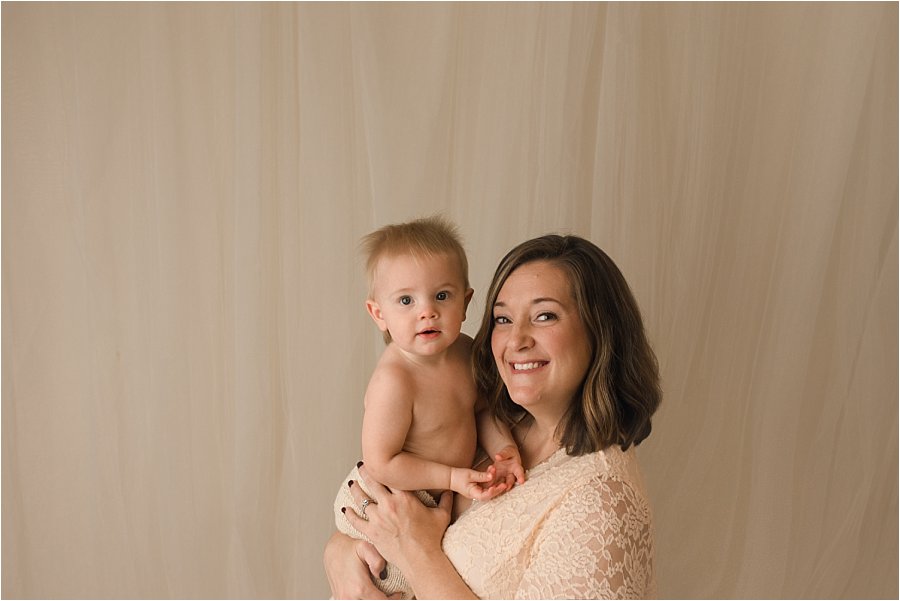 One of my favorite parts of working with Danielle is that she always chooses to be in images. She knows that her babies just want to see how much she loved them. She knows her babies think she is beautiful. It's a small act of bravery for Danielle, but it's a huge gift to her children.

Looking to do your own Woodland Inspired Cake Smash Photography Greenville SC? I'd love to serve you.  Click here to tell me about your dream session.
It's not everyday your baby turns one years old so treat her to Simple Rustic One Year Cake Smash Photography Greer SC. I provide wardrobe and pre-assembled backdrop options as well as a cake for your session. Click here to inquire about booking your session. Then, scroll down to read about the adorable Nalani's time in my studio.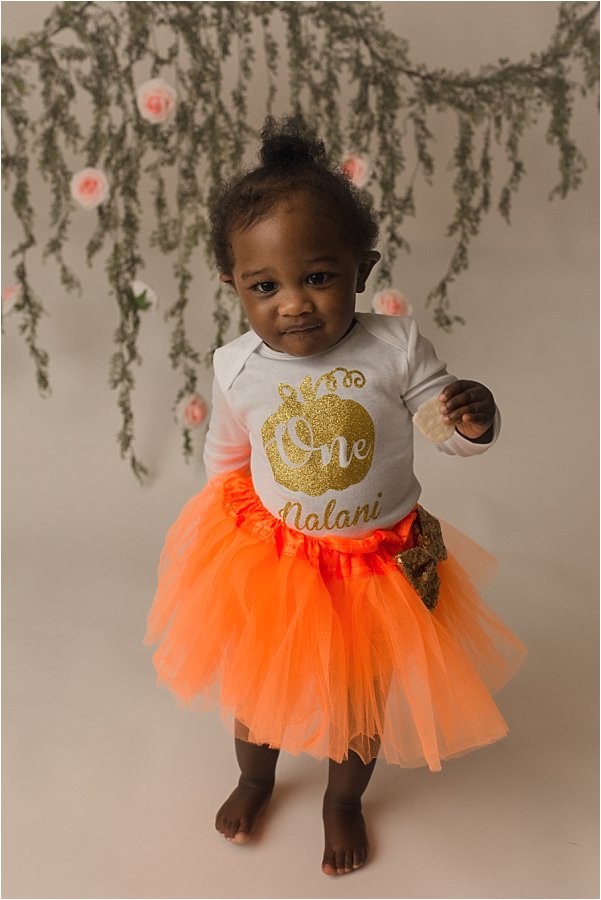 Nalani's mama brought this sweet outfit to the session. It's so fun when client bring something of their own for the portraits before cake.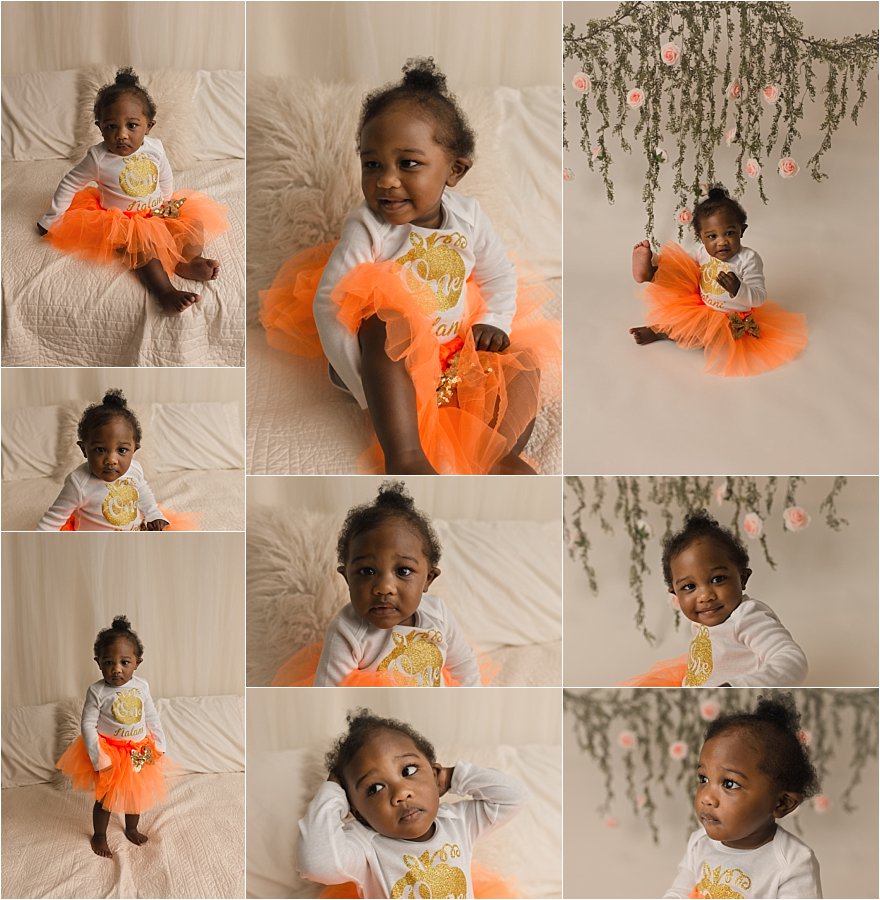 I loved these special portraits of Nalani and her Mama Tia. Tia is a single mama working hard in EMT school. Together these two women are proving to each other that they can do anything with a little hard work and each other to provide encouragement. Tia amazes me.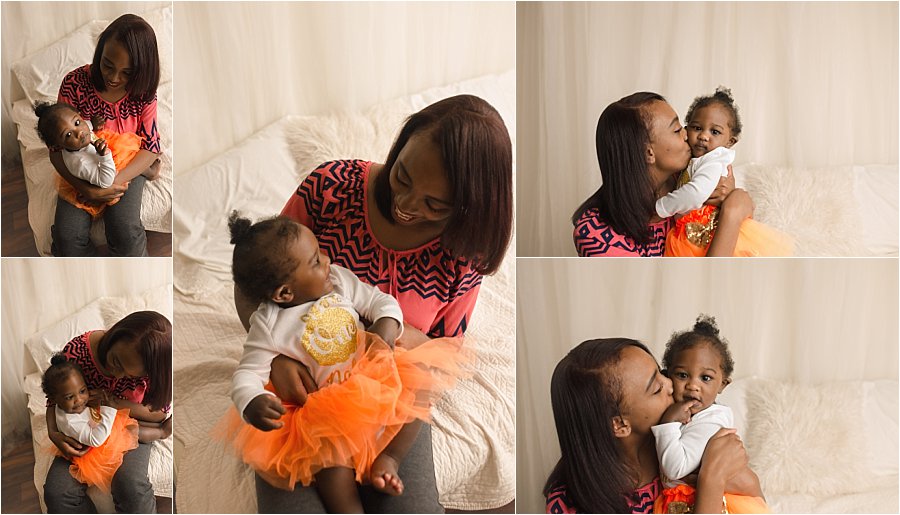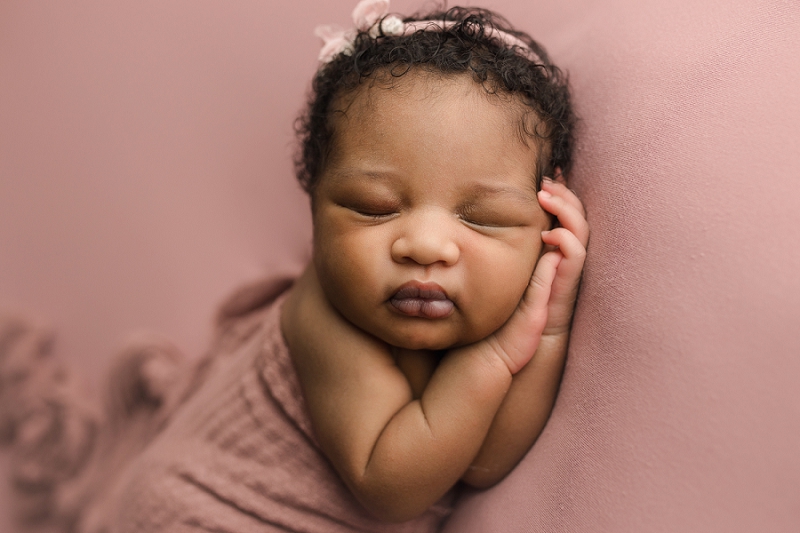 I was so excited to have Nalani back in the studio. You can see her full newborn session by clicking here, but here's a little peek at her a year ago.  I loved this mauve wrap and headband from her first session and couldn't resist carrying over the theme with an outfit that matched. Won't these be an amazing collage on the wall? The outfit and wrap are both part of my studio wardrobe and were purchased from the amazing Avonli Baby.  I love providing my clients quality items for their portrait sessions.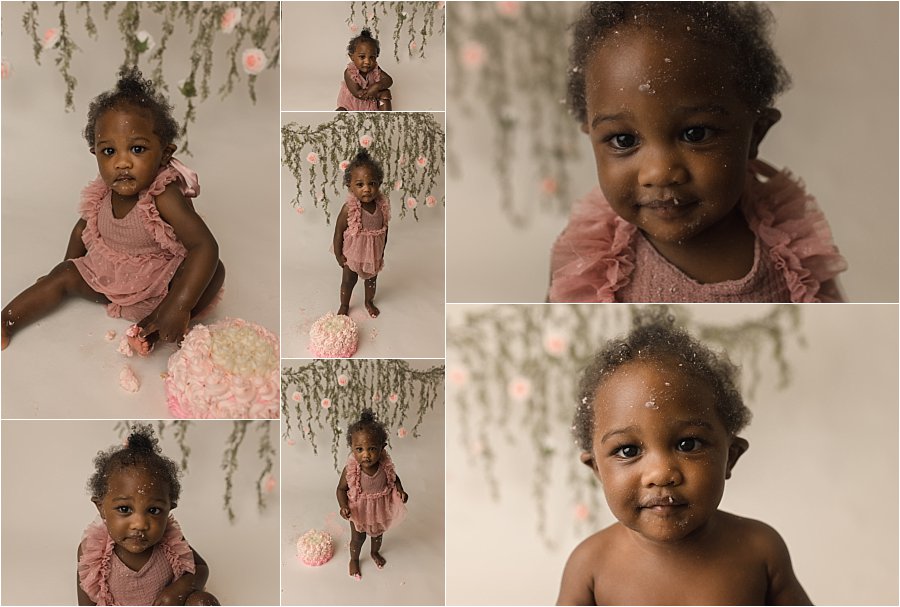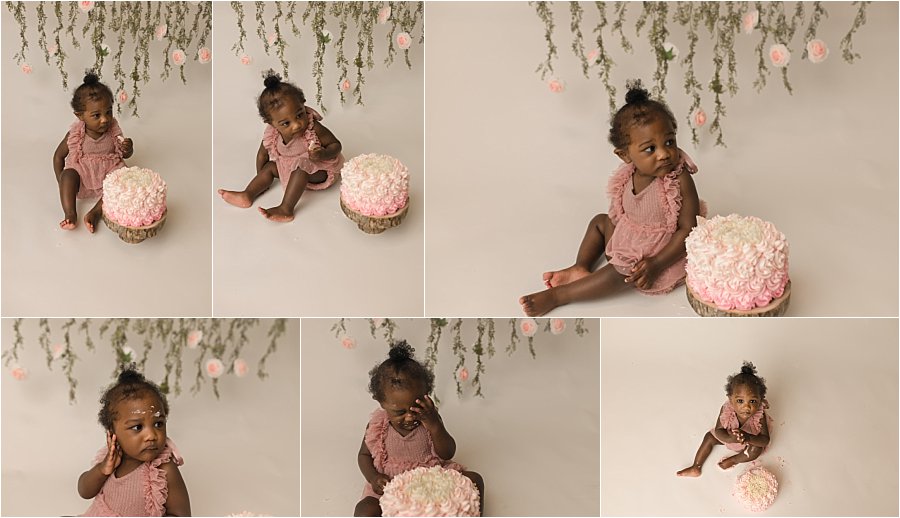 I tell all my one year clients that their baby will either love the cake and hate the bath or hate the cake and love the bath. Rarely I have a baby who loves or hates both… but generally they love one best. Nalani was definitely more into her bath. I love that the bath gives us some more opportunities for sweet images while giving an active one year old something familiar (water!) to play with.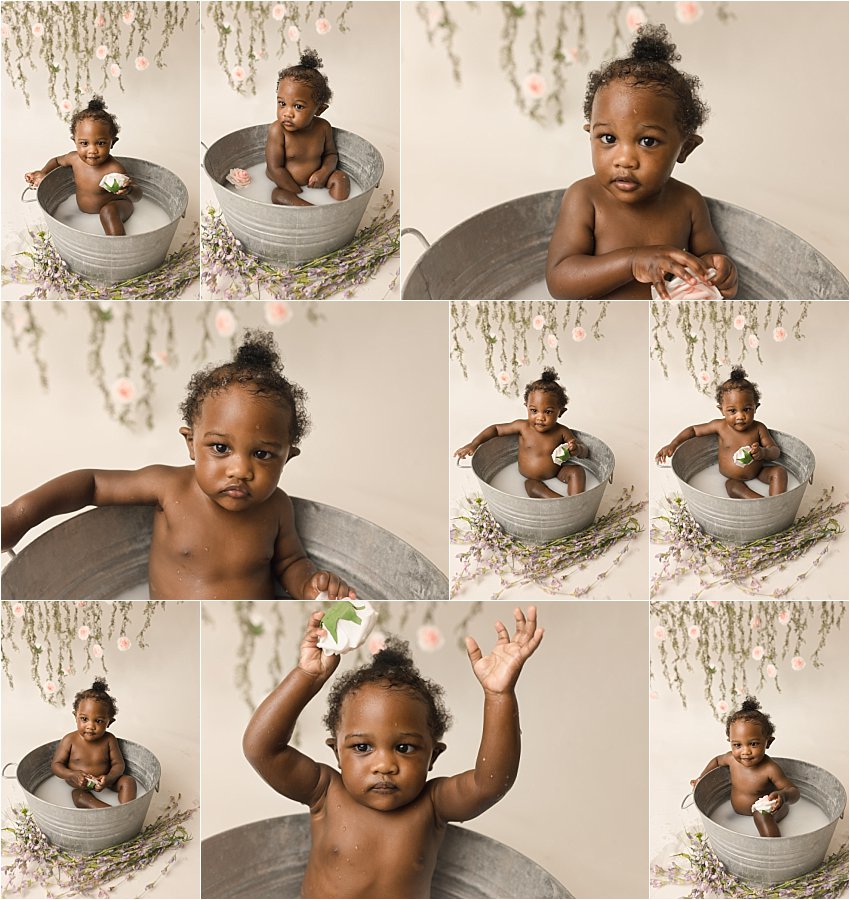 I have loved working with Devon on Simple Timeless Baby Plan Photography Greenville SC for Grace Anne's first year. We did a newborn session, a 3 month session, a 6 month session, a 9 month session, and this is our 12 month cake smash session. I can't believe how quickly time flies! Look at Devon and Grace Anne one year ago and now today. Why don't babies keep for just a little longer?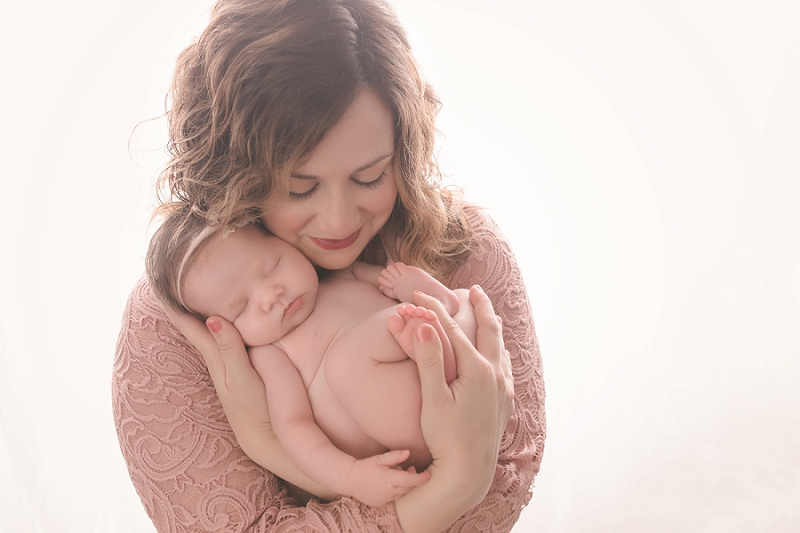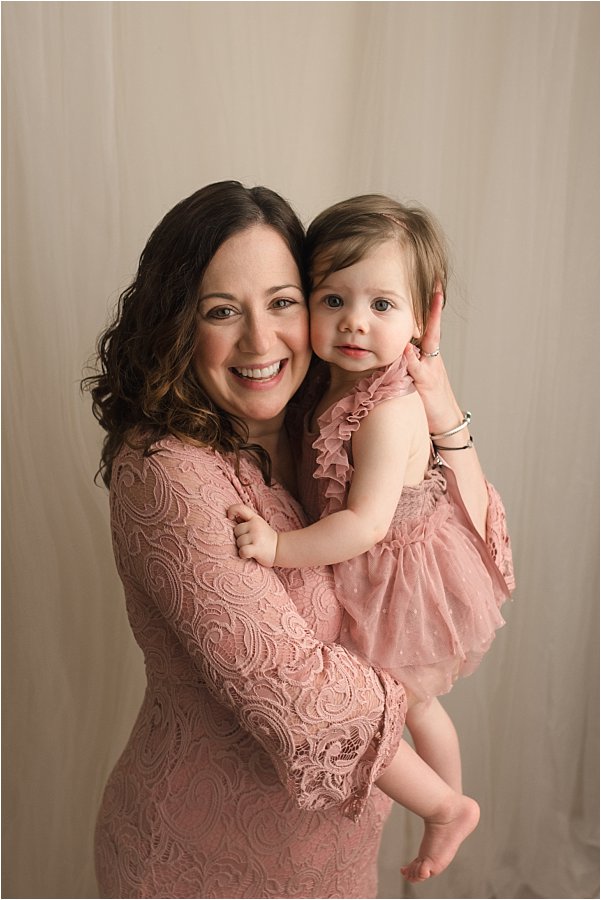 Grace Anne is Devon' third baby and we both had a good laugh about how 9/10 month sessions are so much easier than cake smash sessions.  By 12 months, there's a good deal of stranger anxiety and I always tell mamas that we will catch just about every emotion their 12 month old feels.  Grace Anne proved that theory!

I was so excited when Devon let me create the Swan Lake Ballet themed session of my dreams. It was so fun to put this together!  But I'll let you in on a little secret. Devon was just inches from Grace Anne during this entire cake eating experience.
See how close Devon was? I tell my one year old mamas to expect to be on the floor with their little ones.  I love that Devon was still wearing a gown from the studio wardrobe during this time.  These two images are some of my very favorites!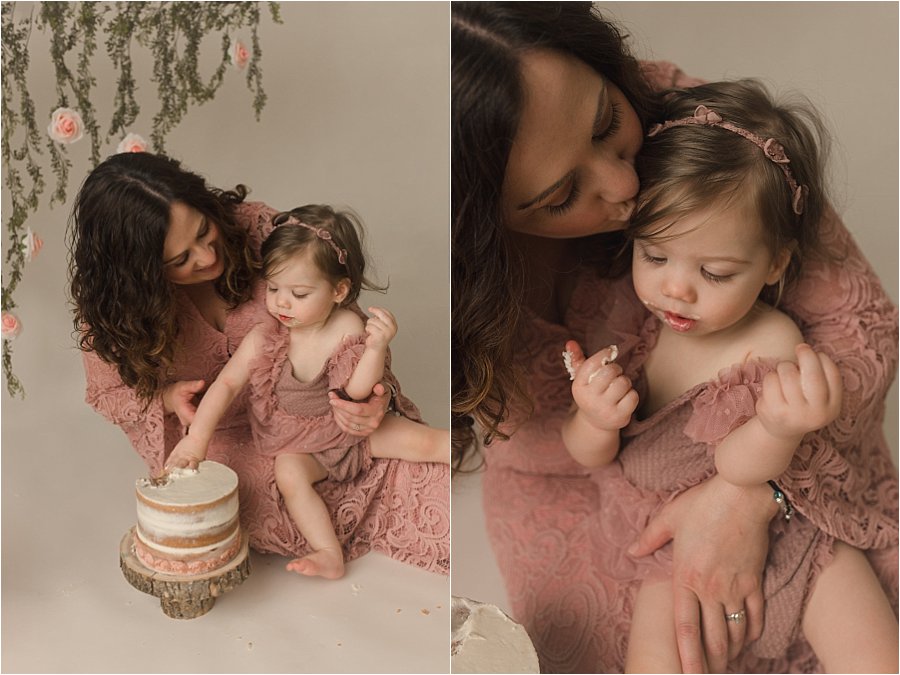 We finally settled Grace Anne into my studio high chair and she felt a lot more comfortable eating in a more familiar place.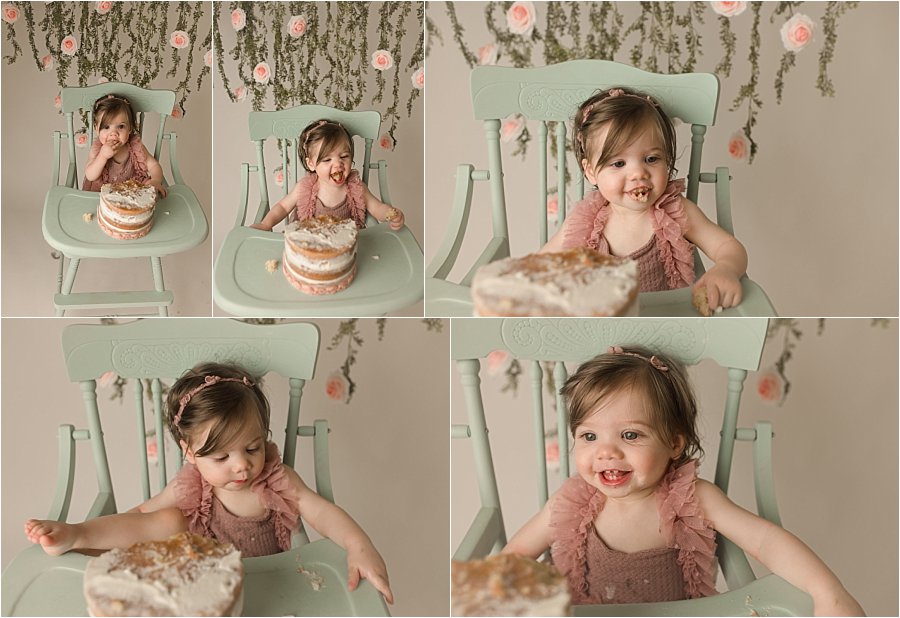 As always, we ended the session in the bathtub which Grace Anne loved the most.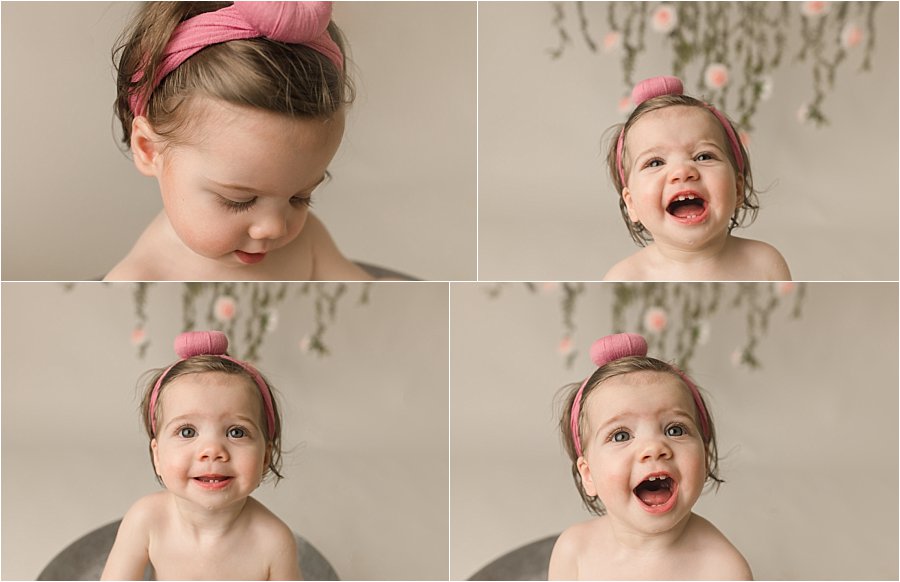 Are you looking to book a baby plan for your little one's first year?  My baby plans are super flexible with a discount for each session and culminating in a reduced session fee at the one year session.  I'd love to hear what you'd like in your baby's first year of memories.  Drop me a line by clicking here.
I absolutely adored doing this Floral Princess Cake Smash Photography Greenville SC for baby Kylie.  This floaty chiffon dress was sheer perfection for the romantic look we wanted for Kylie's session.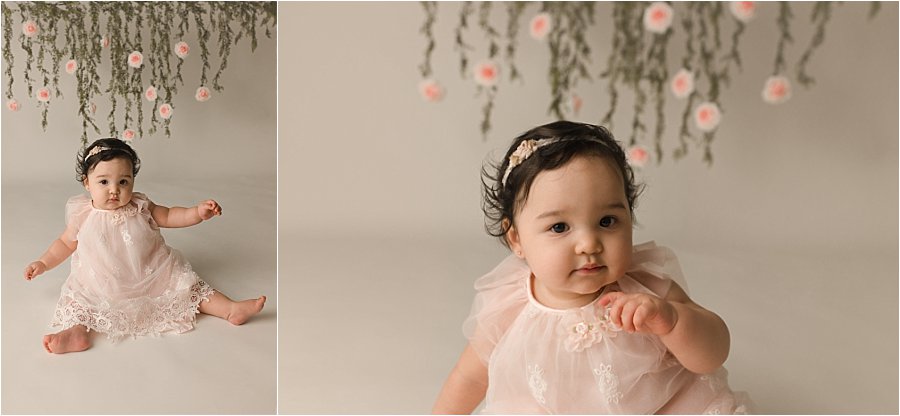 Kylie's whole family came to her cake smash and I loved having them there.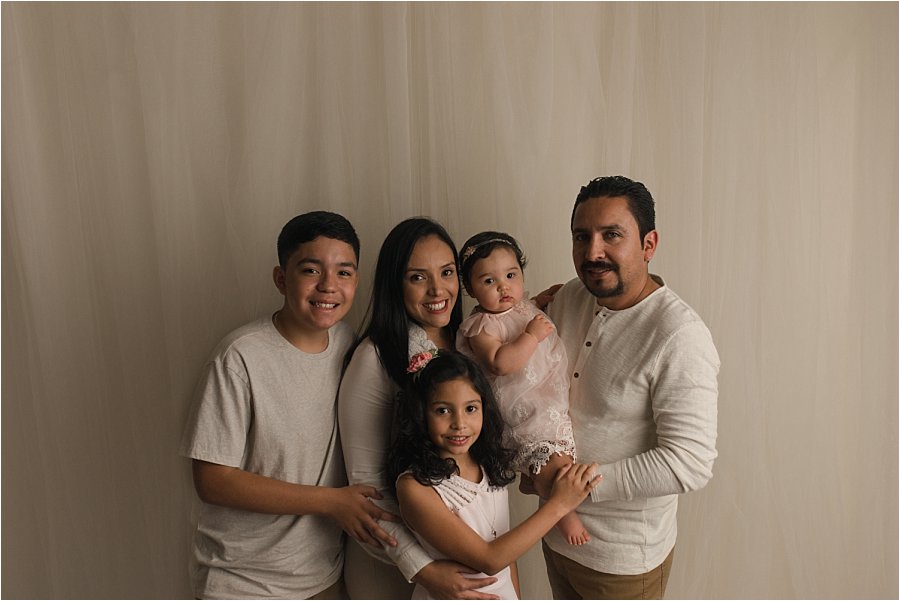 Her mom Evelyn specifically asked if she could bring her mama Vilma to the session.  Vilma is fighting cancer and I knew having this photos would be a gift for all time.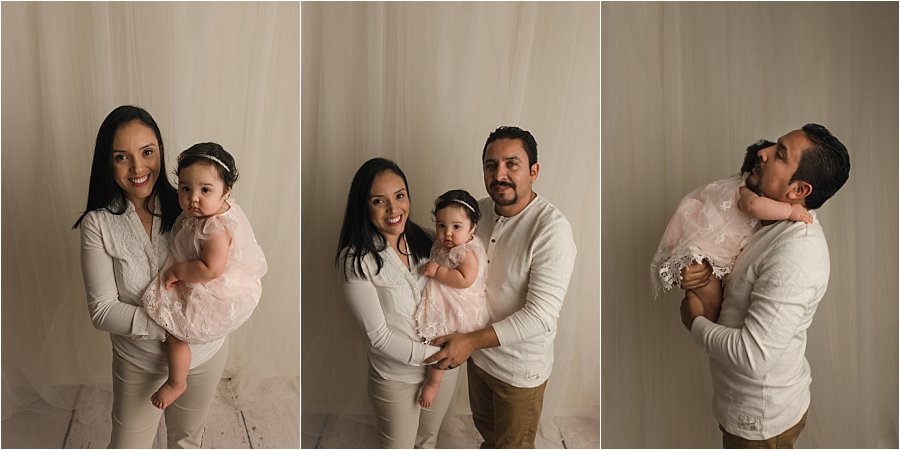 I also loved interacting with Kylie's siblings Camila and James.  James is outgoing and just content in his own skin. Camila is a shy beauty with a gentle smile.  Kylie is so lucky to have older siblings who just dote on her.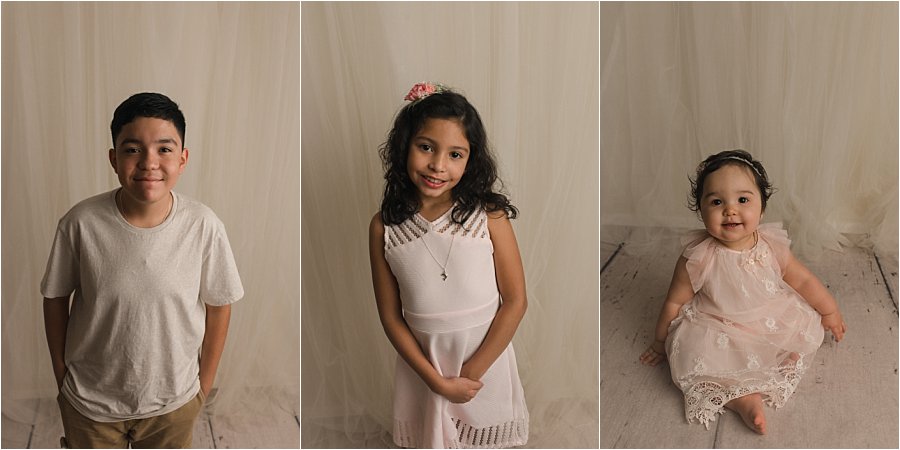 I especially loved how this wood print of the three siblings looks.  This square shape brings the three siblings into beautiful focus and the wooden edges give the weight and depth of a canvas on the wall.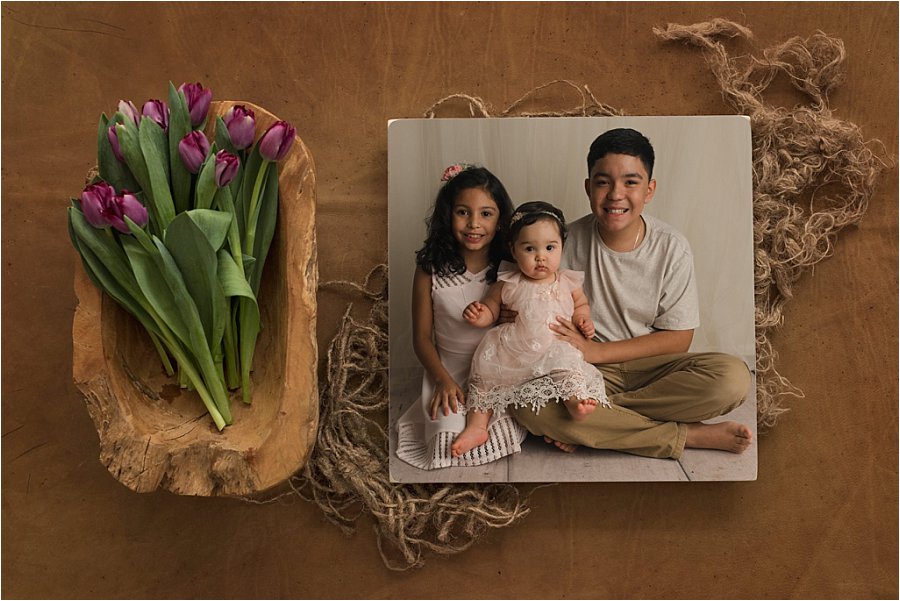 In between changing, I took this sweet image of Kylie.  Ya'll, baby rolls are divine.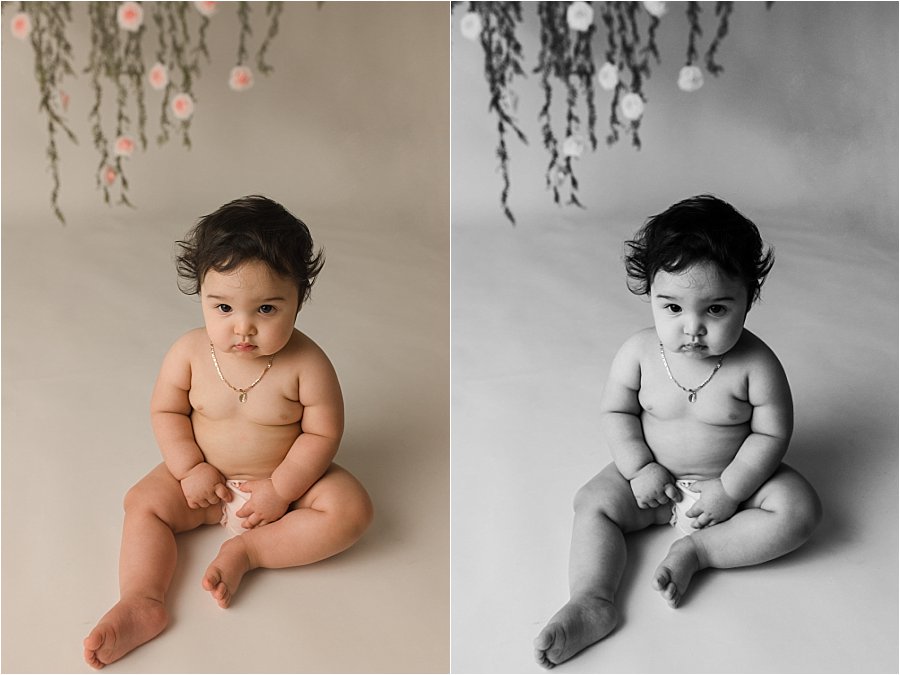 Evelyn had also picked a sweet cake smash dress for Kylie.  I loved this pale shade of pink against Kylie's beautiful skin.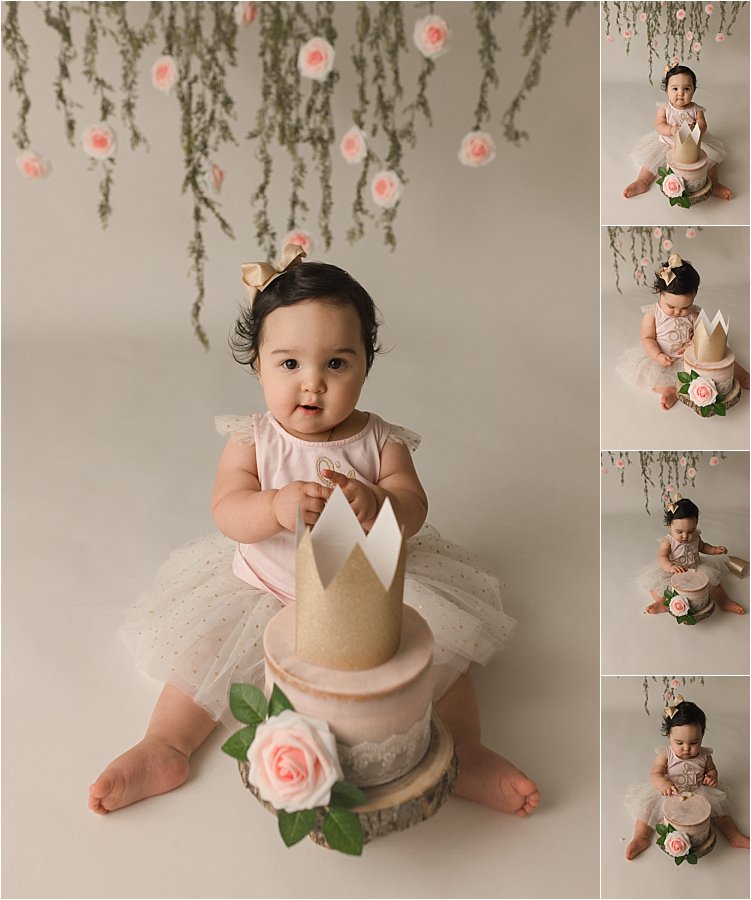 Choosing this rose backdrop Baking Sweet Scents really made this Floral Princess Cake Smash Photography Greenville SC come alive.  I also added a paper crown, lace, and a rose to Christine from Baking Sweet Scents semi-naked cake. A semi-naked cake is included with all cake smash sessions.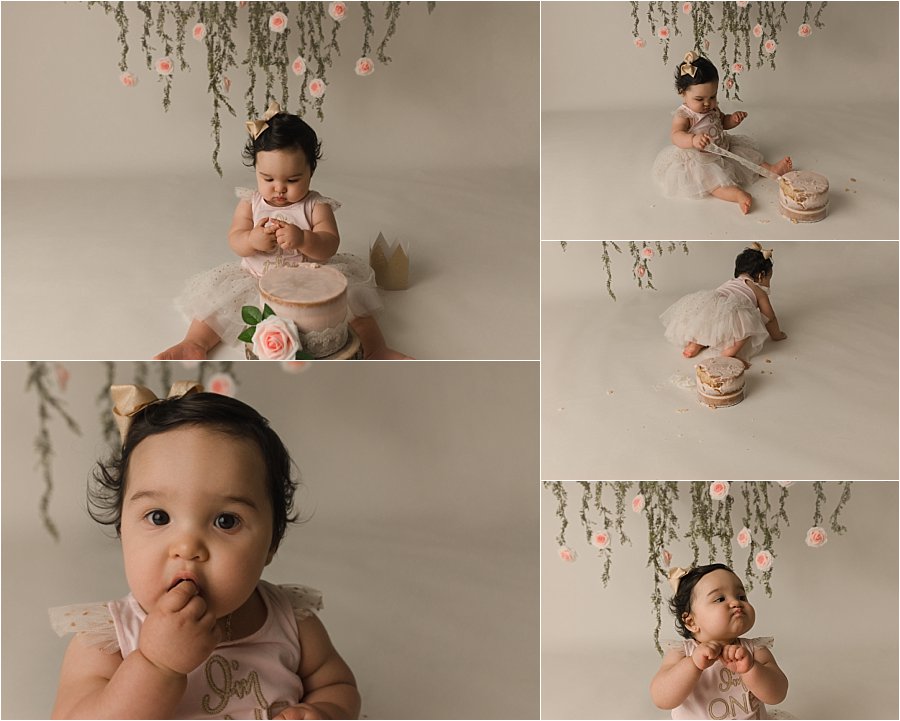 Kylie picked at her cake but then dramatically shoved it to the side.  She's such a sweet diva.
Are you looking for a timeless princess theme for your precious daughter's one year cake smash photos? I'd love to be considered!  All cake smashes include family images, cake, a simple backdrop set of florals or paper banners, a bubble bath to clean off, and a full studio wardrobe to borrow.  I love making your photo session easy!  Contact me today to share your vision for your cake smash.