Cake Smash
Are you looking to book a Funfetti Polka Dot Cake Smash Photographer Simpsonville SC? I'd love to be considered for your own cake smash needs. Your session includes a simple set, a semi-naked cake, and an hour of studio time. Click here to tell me about your dream cake smash session.  Read on to find out more about Wynter's Cake Smash.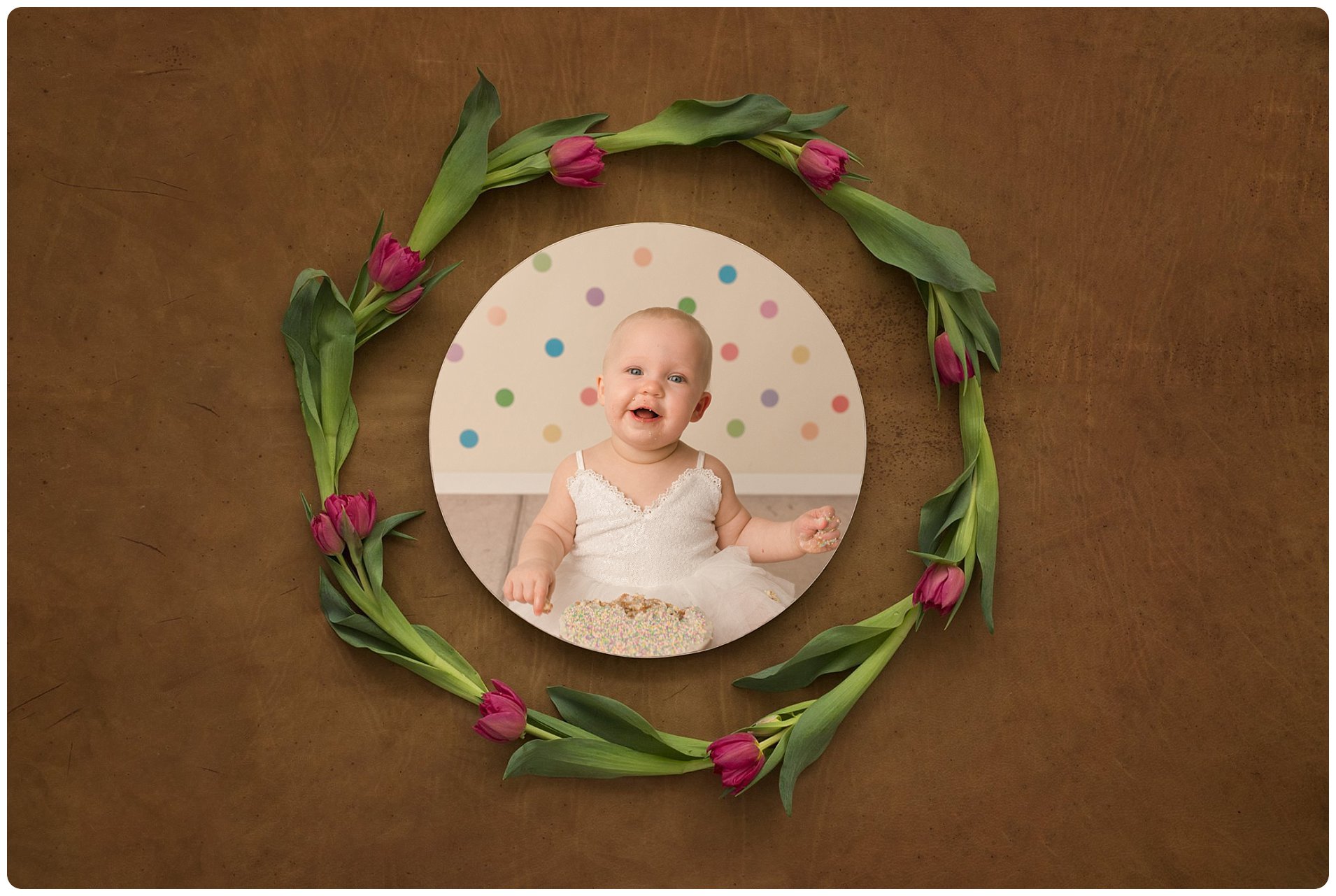 The last time I saw Emily she was expecting Wynter Rose. Click here to see her maternity session. The early Covid-19 quarantine season meant we weren't comfortable doing a newborn session with all of the unknowns during that time but I was delighted to finally meet Wynter for this cake smash. Emily had dreamt of the session during her long season of waiting for a little one. For her, it was the ultimate representation of the joy of a miracle child she wasn't sure she'd ever hold. Emily chose a funfetti, sprinkles, and polka dot theme and I loved it on the cream paper and floor!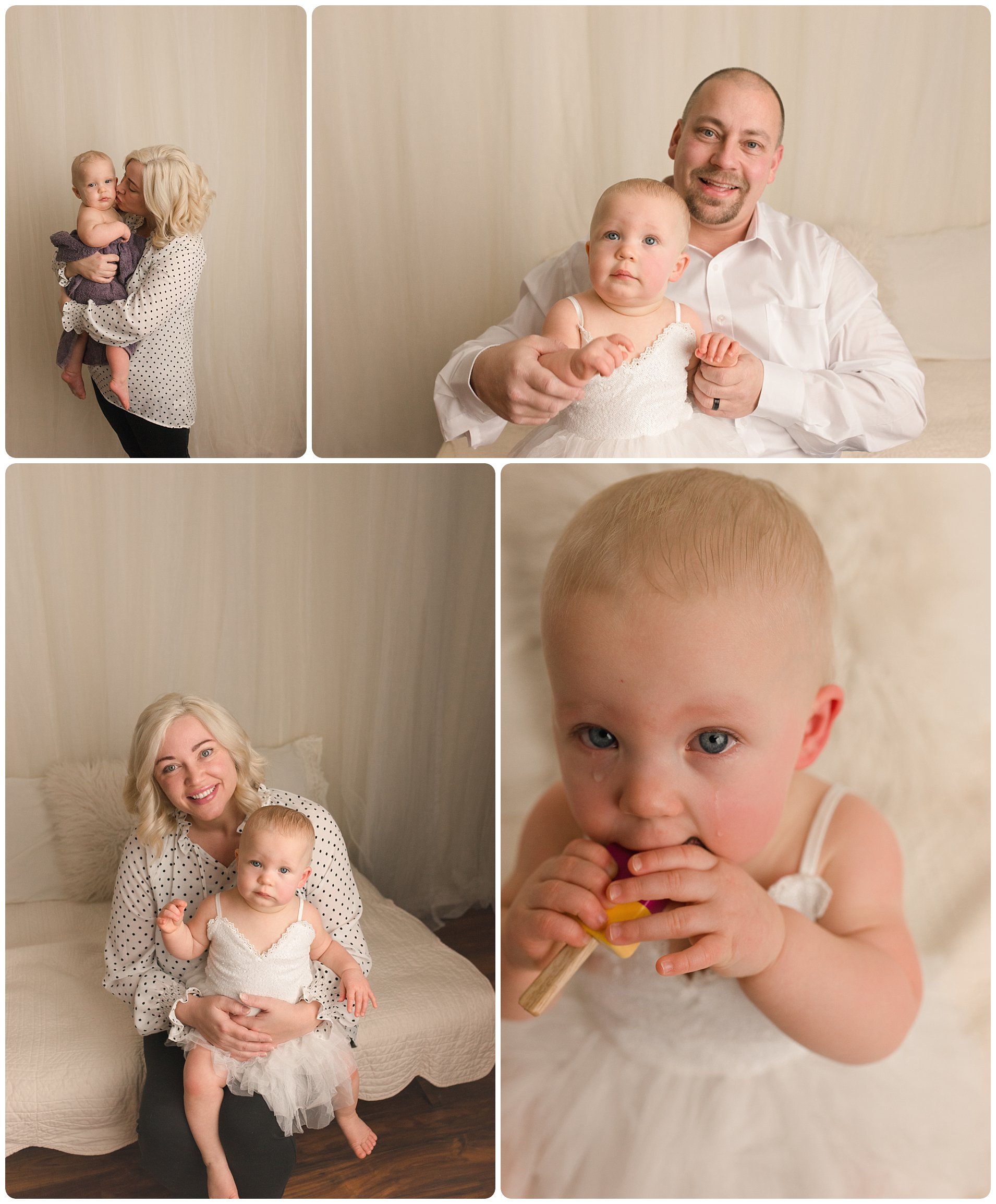 Wynter was a little overwhelmed in the new environment of the studio.  Often one year olds experience this kind of stranger danger at the start of the session. This sweet little crying image broke my heart, but as you can see with lots of mommy and daddy cuddles plus some Bonanza and Mickey Mouse Club songs helped Wynter be comfortable in the studio.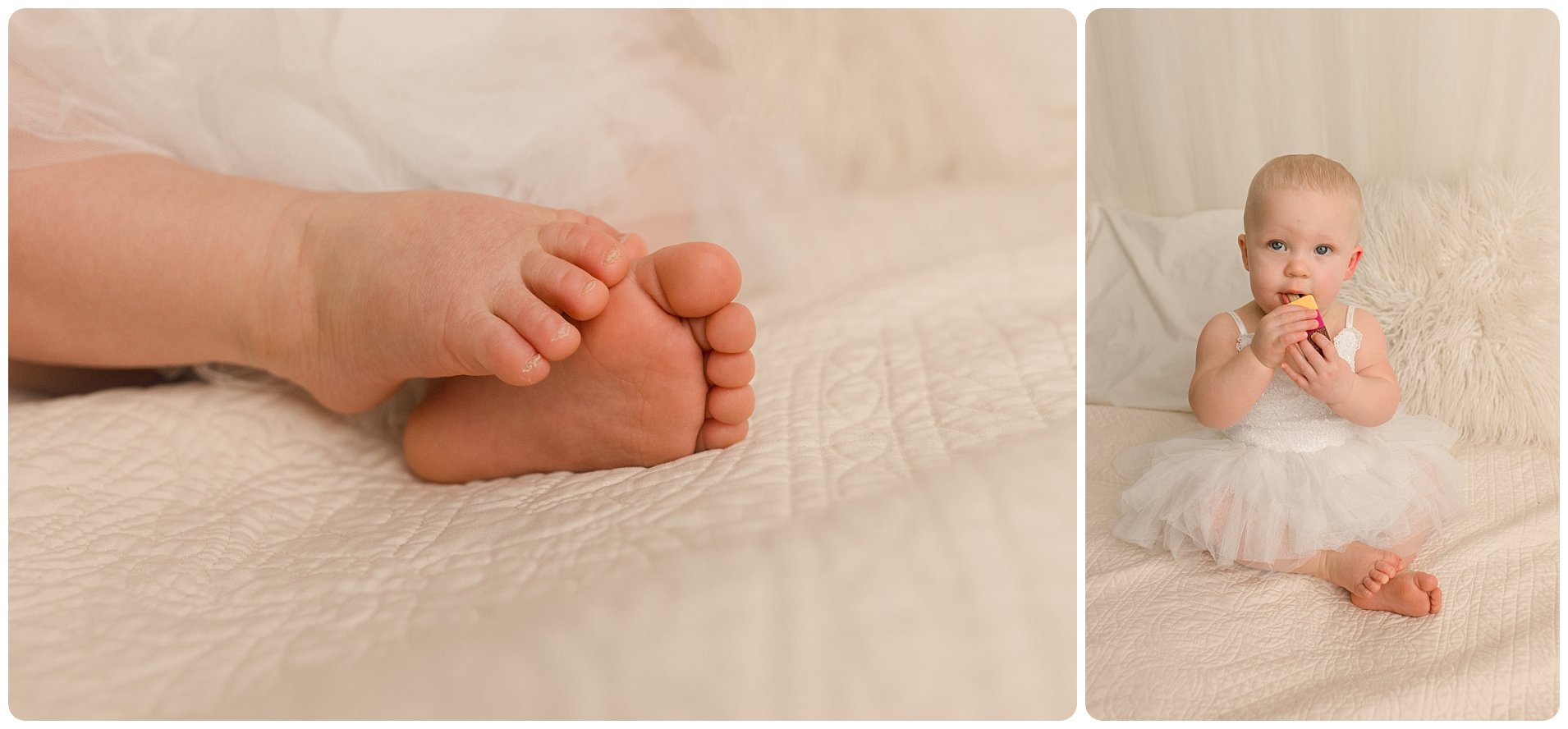 Christine of Baking Sweet Scents made this perfect semi-naked pastel sprinkle coated cake.  One of Chiristine's semi-naked cakes is included in each cake smash session. Clearly Wynter loved her cake so much!  I'm pretty sure she may have loved the box even more as we cleaned up!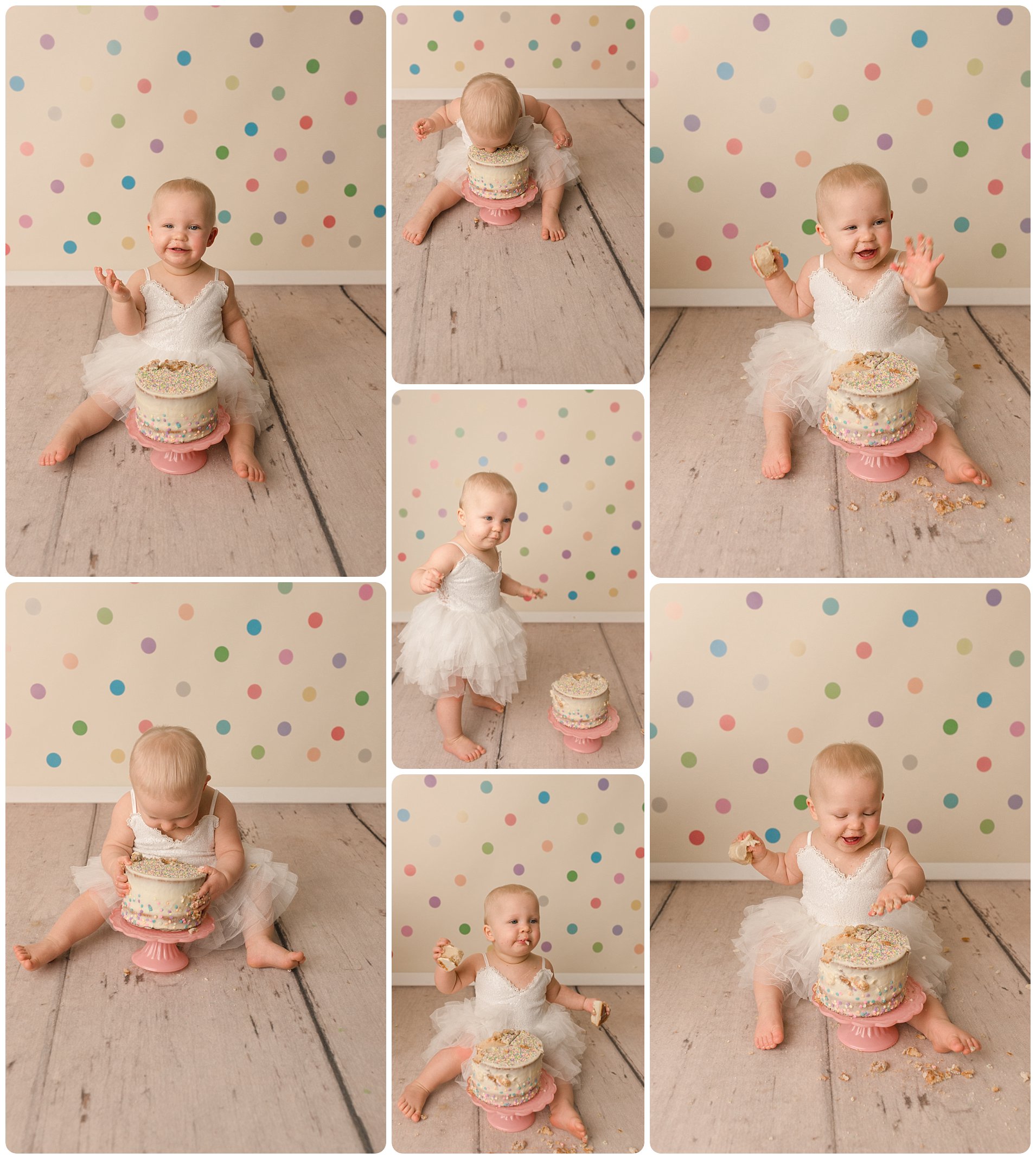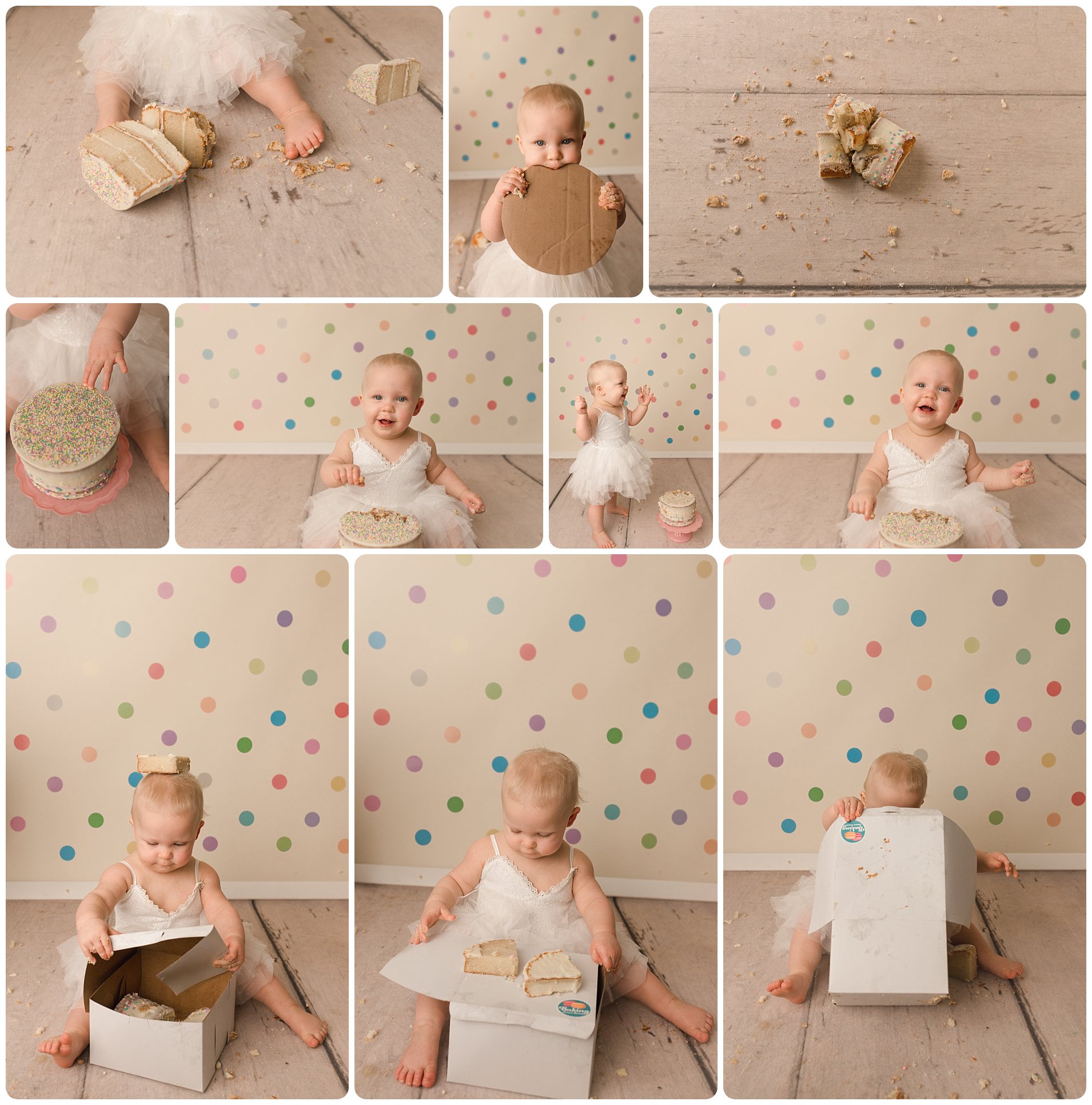 Seriously, aren't her little faces just too much!  I can't even pick a favorite one!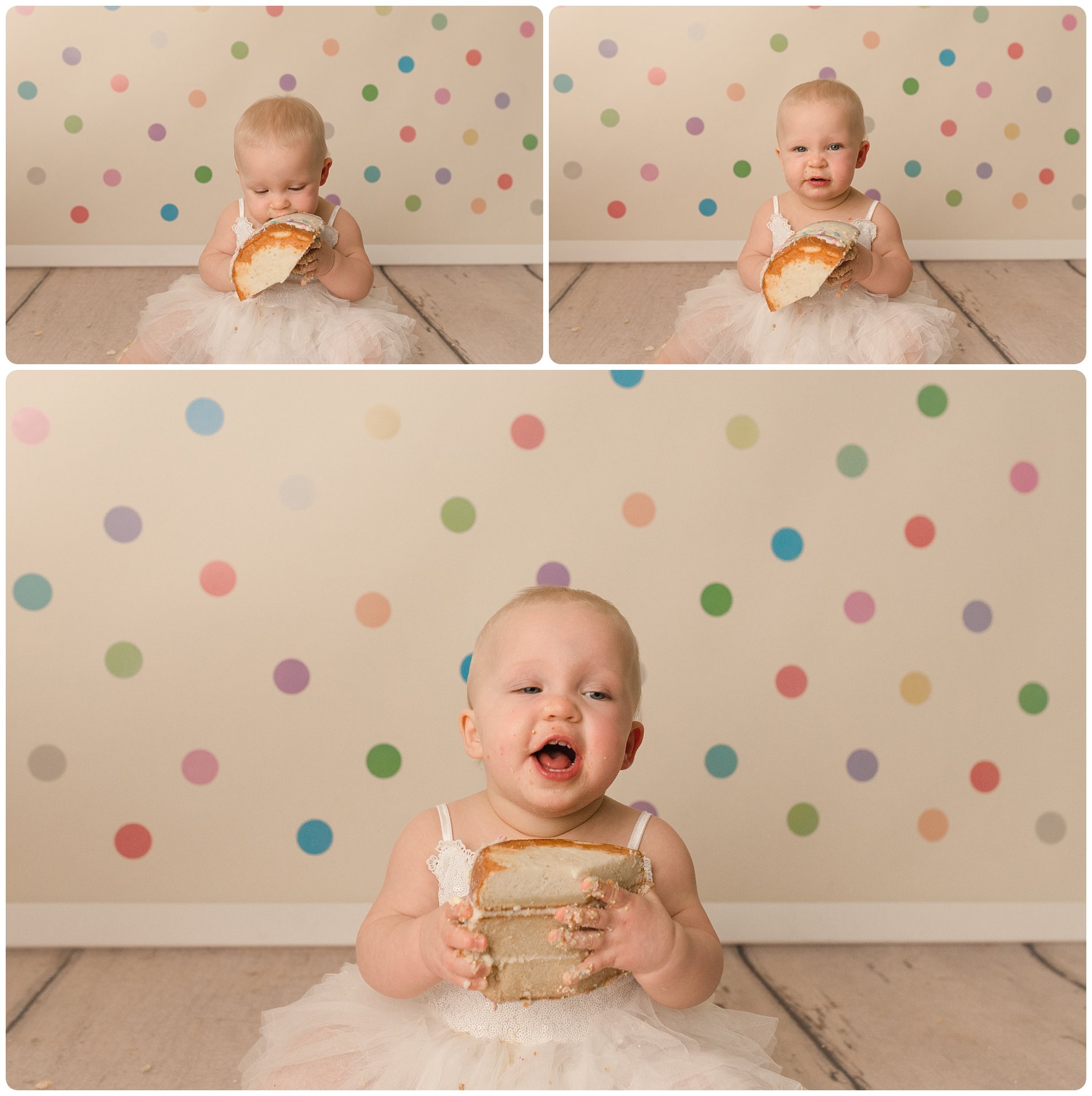 Finally, we finished our Funfetti Polka Dot Cake Smash Photographer Simpsonville SC with a bubble bath in the tub. It's such a fun way to end each session!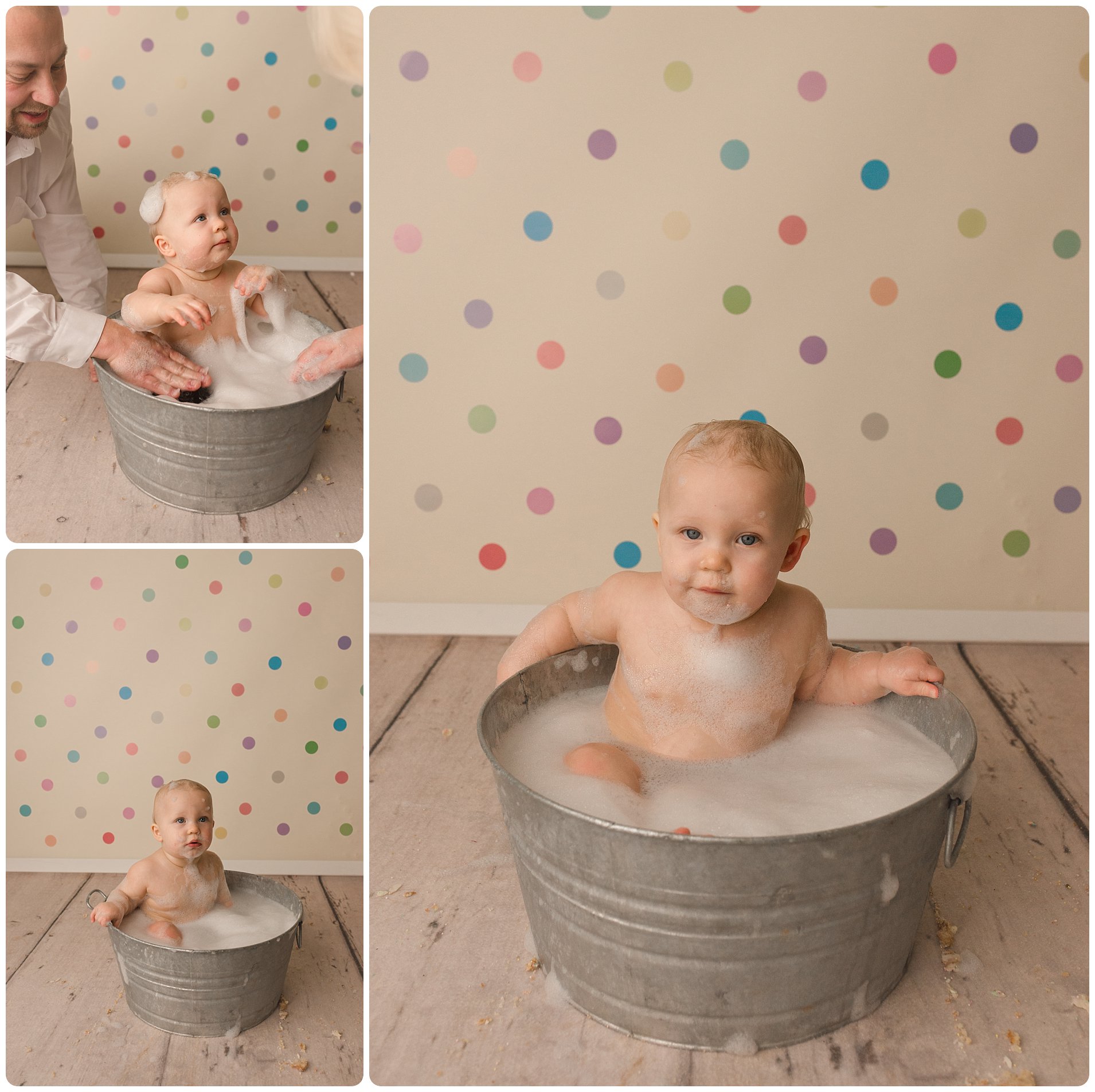 This Baseball Theme Cake Smash Simpsonville SC was the perfect end to photographing Abel every 3 months for his entire "rookie year"! I had a blast getting to know this family, but first a quick recap. Here is Whitney's Maternity session. And here is Abel as a newborn, at three months, at six months, and at nine months. This year flew by for me as photographer, but I'm sure it was even faster for Whitney!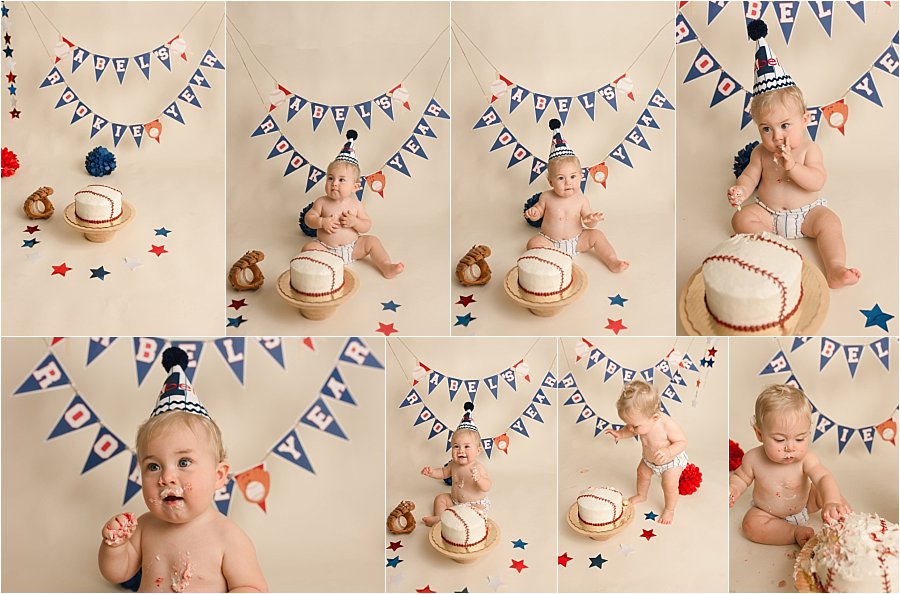 I think the best way to show you how much this sweet boy has grown is to compare images from his newborn session. Here is Abel in Whitney's arms as a tiny little thing.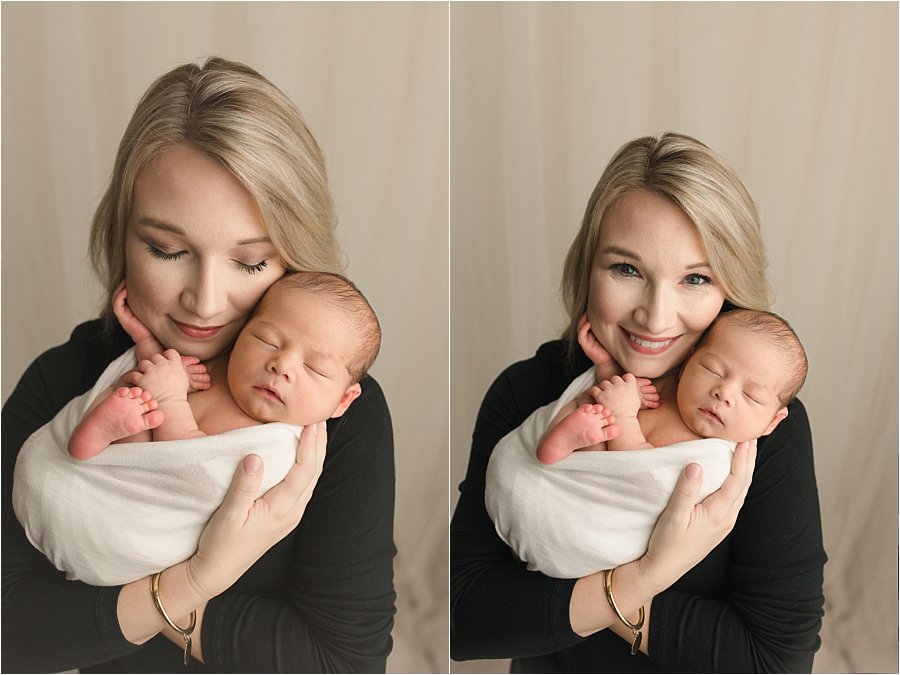 And here is Abel in his mama's arms now. I mean he's the cutest little chunk of sheer joy!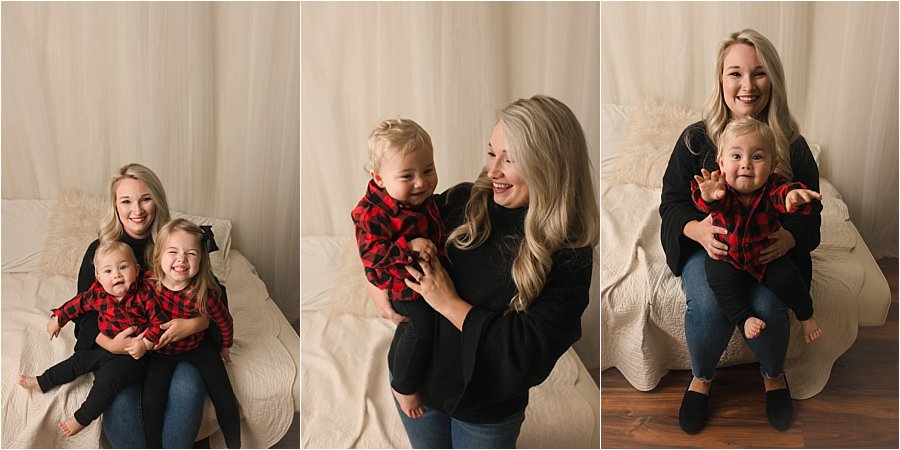 And, boy, does his family just adore Abel. His spunk and adventurous spirit complete their family.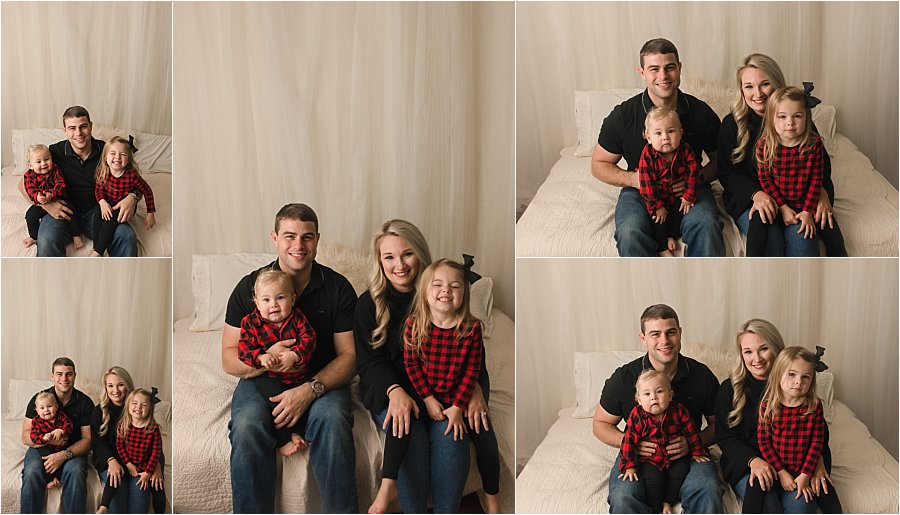 One of my favorite thing about Whitney is that she treasures ALL of her children's faces. She doesn't show up expecting the perfect family photo (though we always strive to get it), but she shows up honoring her children as little people with moods and funny faces that are just as adorable as their smiles. Her file selections always include things that others would wonder why I left in their proof gallery.  You can see this in the fun selection of family images above. Abel and big sister Sloan are clearly experiencing all of the emotions.
You can also see how downright funny and expressive Sloan is in the image below. She's the best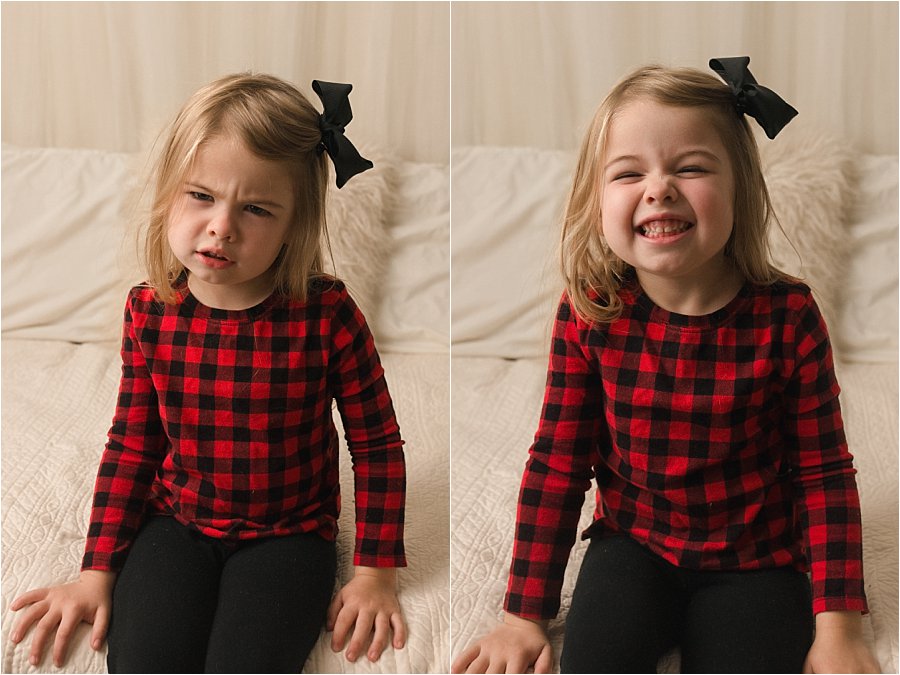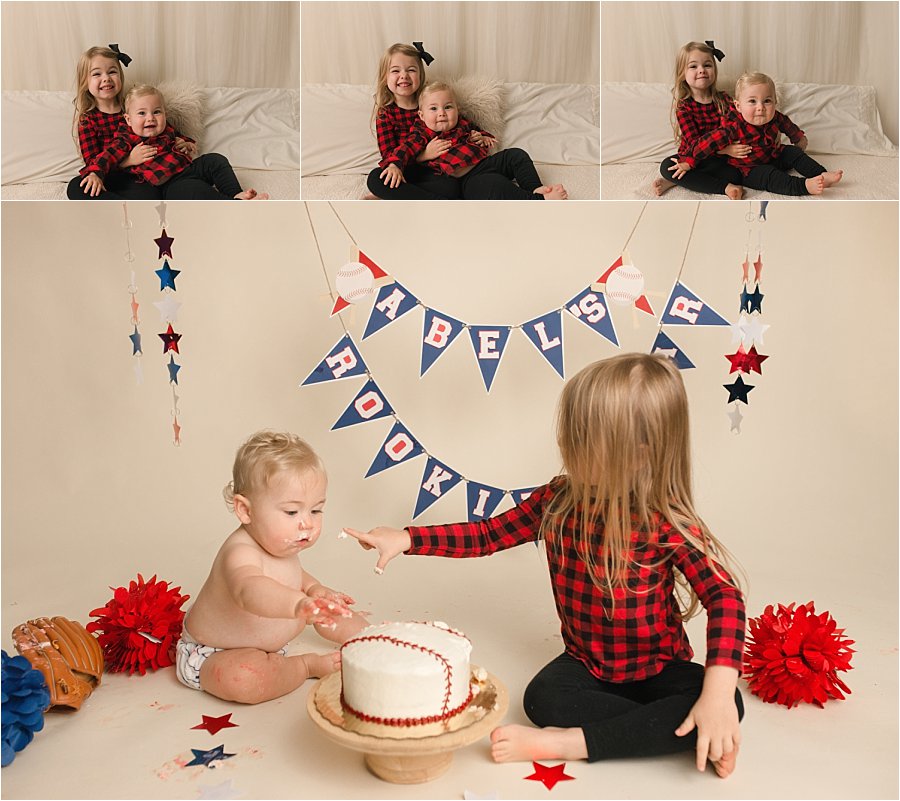 It's safe to say that Sloan and Abel were made for each other and are already developing into best friends for life.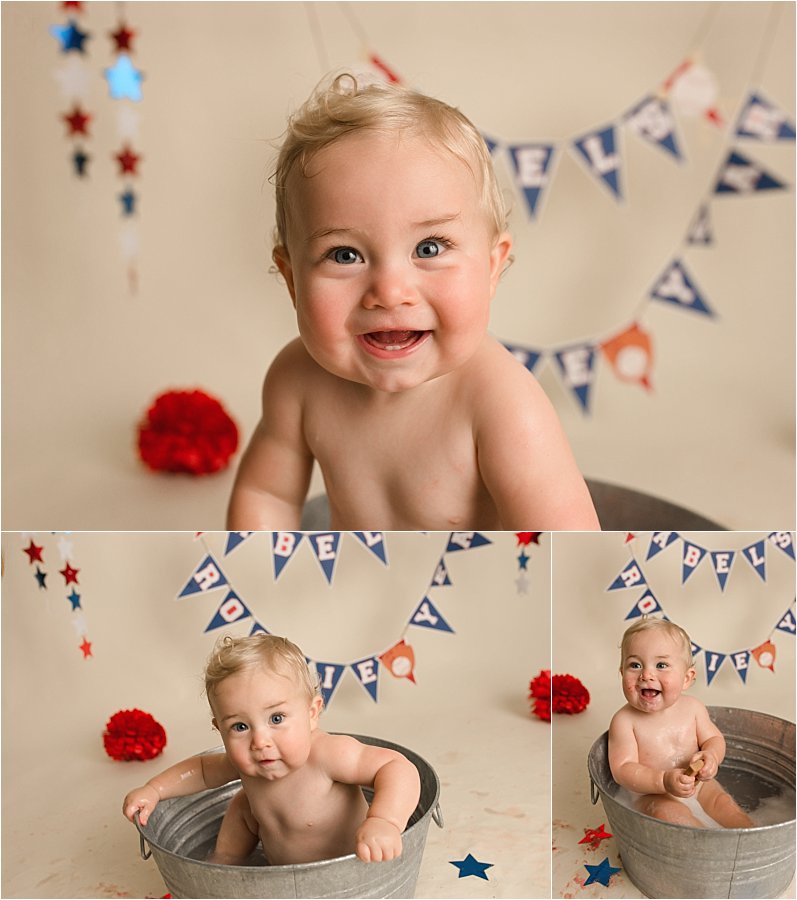 We finished Abel's session, like all one year sessions, with a cake clean up bath. He really enjoyed this time as most babies do. I love that it serves the purpose of cleaning up your frosting and sugar high baby before you have to take them home as well as gives the opportunity for more photos!

Looking to book your own Baseball Theme Cake Smash Simpsonville SC? I'd love to be considered! Click here to tell me about your dream session. 
Are you looking for Korean Doljanchi Photography Greenville SC for your baby's first birthday? Click here to inquire about booking your session. Or keep reading below to learn more about sweet Rhea and her session with Quiet Graces Photography.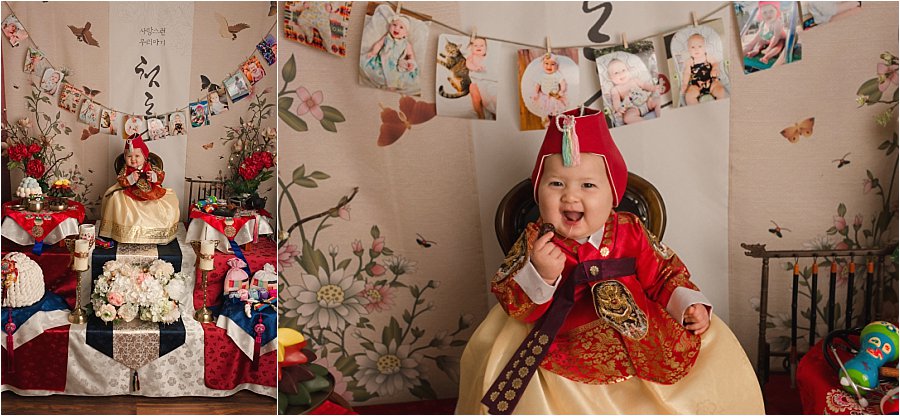 A Korean Doljanchi is a celebration of reaching the one year milestone. In many villages in Korean, many babies didn't make it to one year so a whole village would come out to the Doljanchi celebration. Since these photos were taken during the Covid-19 Pandemic, Kim and Tom were unable to travel to do Rhea's Doljanchi with friends and family. These photos served to bring their family together across the distance.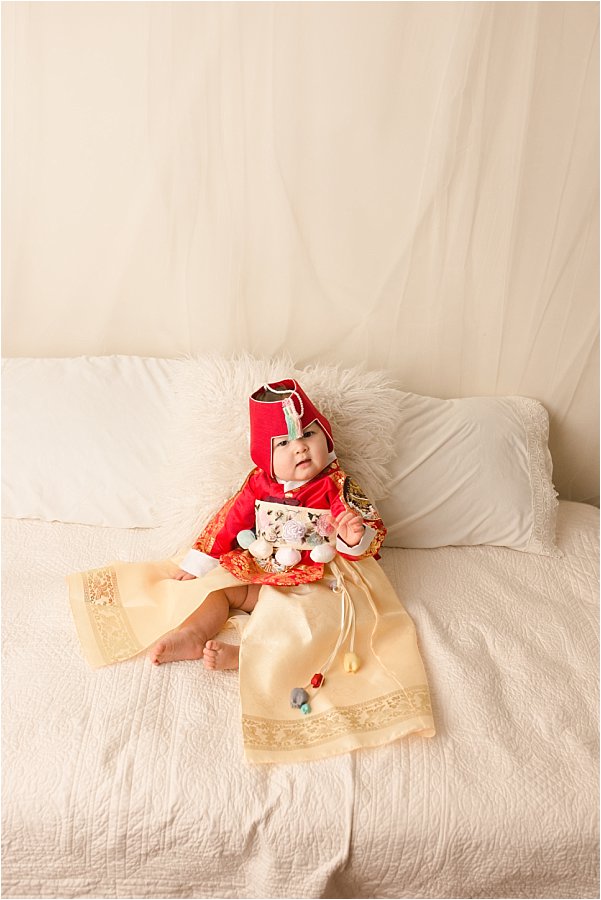 The highlight of a doljangi is a doljabi.  This ceremony involves placing a table filled with objects indicating different career paths on it and encouraging Rhea to select objects. Her selection will fortell her future profession.  Among the objects on the table were a microphone for entertainer, aviation headset (Tom is an air traffic controller!), $100 bill, calligraphy pens, and weaving supplies.

Rhea chose a golf ball first and then a gavel. Looks like a sports playing lawyer may be in her future! You can see video clips of her playing with the gavel in the video below.
In addition to her doljangi, we also did a little cake smash! This cake from Christine at Baking Sweet Scents was thoroughly enjoyed. Rhea also thoroughly destroyed the cake while enjoying all the berries.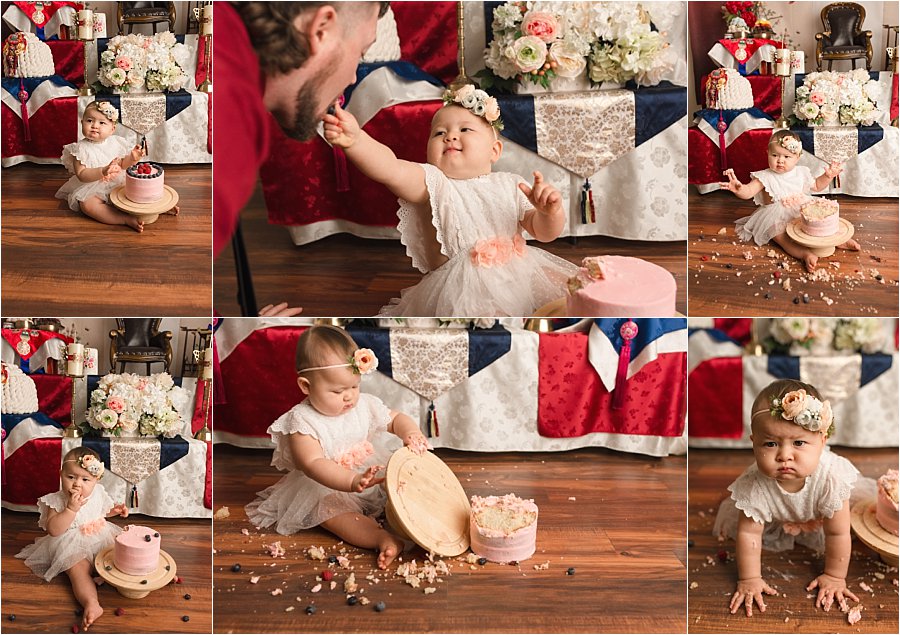 Rhea especially loved the bubble bath and delighted in sending water all over the studio making the cake clean up a simple mop job 😉 A cake and bubble bath are included in all one year sessions with Quiet Graces Photography.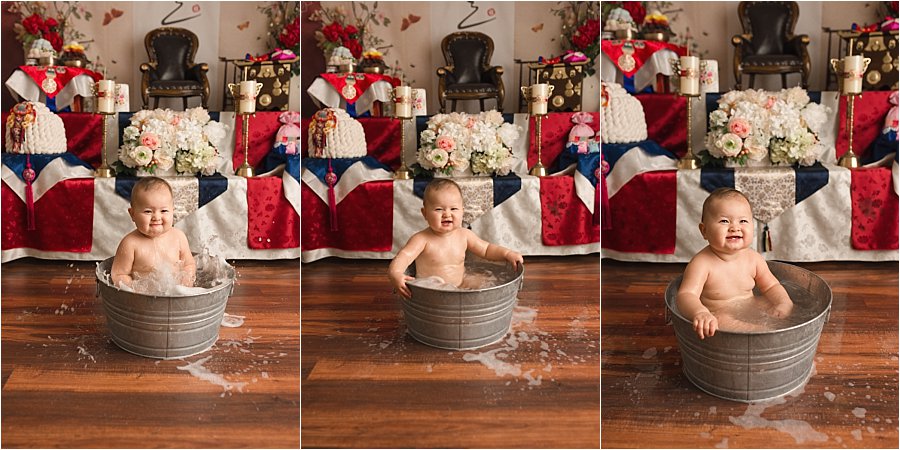 Finally, we also did family pictures during Rhea's Korean Doljanchi Photography Greenville SC. I loved capturing their family joy so much!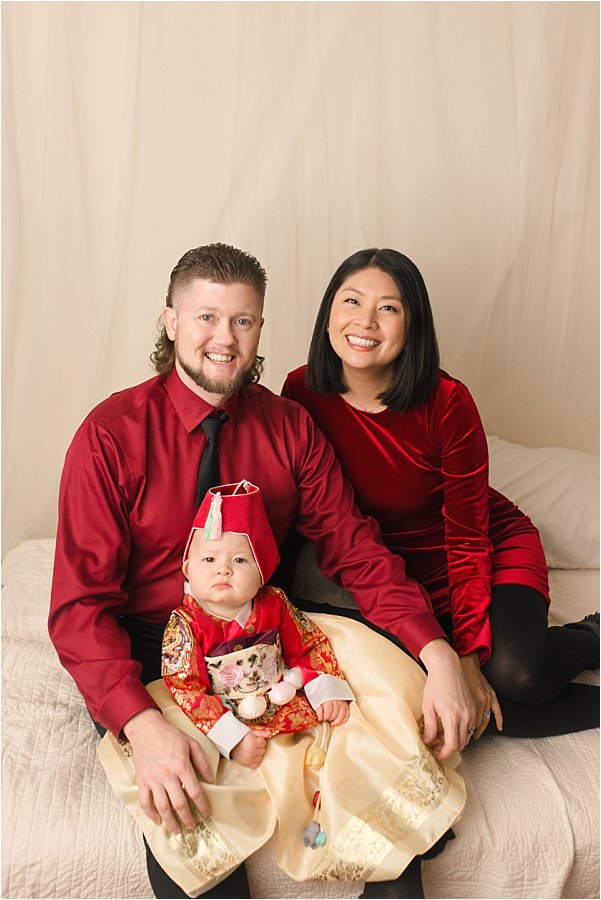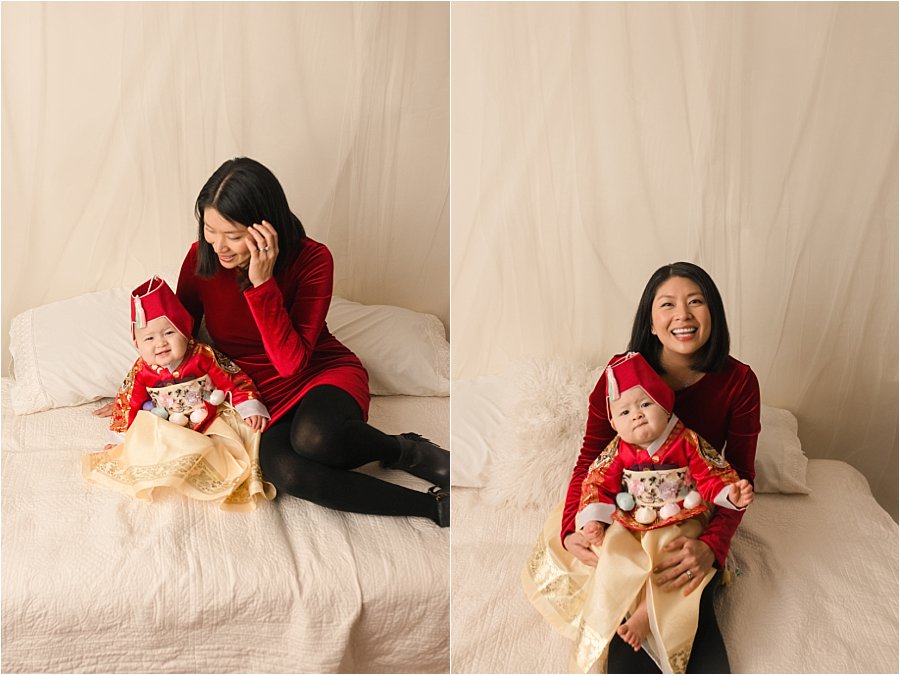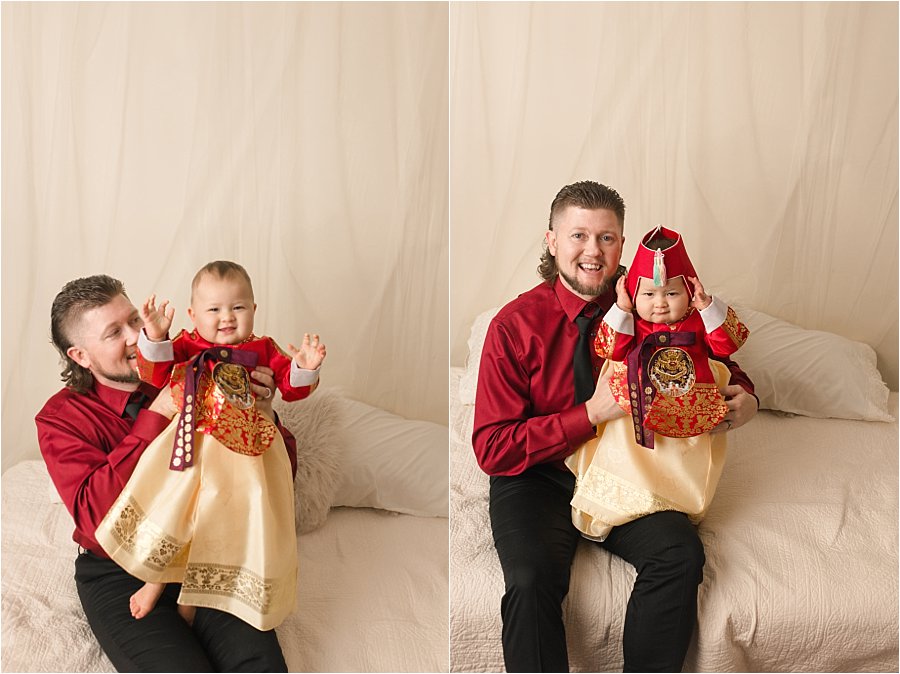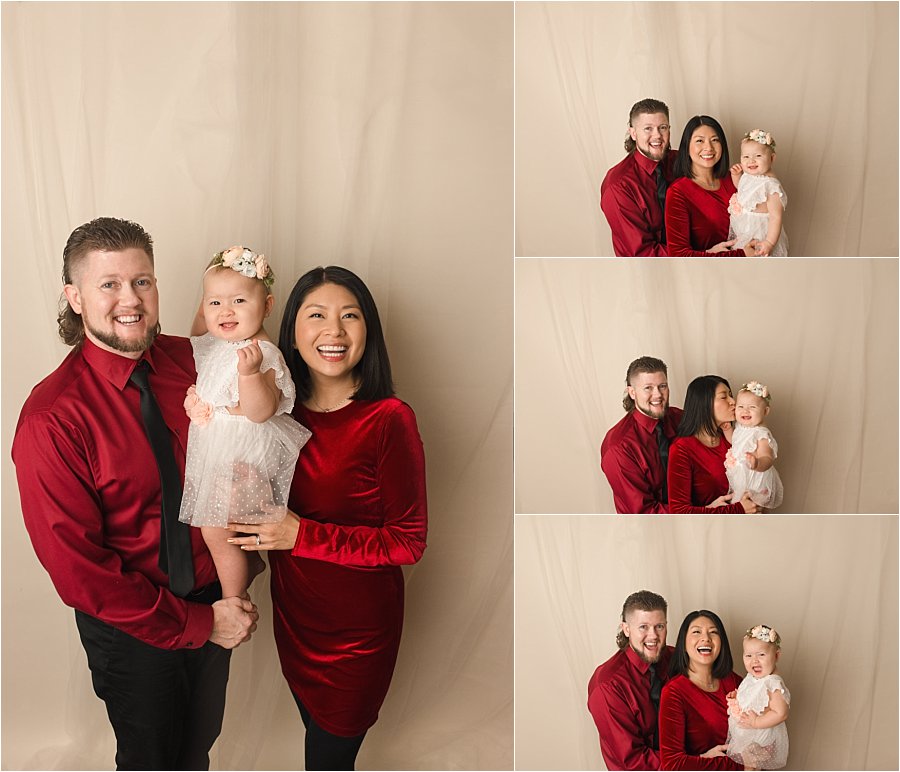 I loved serving Marquita and her family again for these Minimalist Cake Smash Pictures Greer SC. You see, Marquita is a repeat client. Three years ago I photographed her sweet boy Augustus for his cake smash. Isn't he the cutest baby?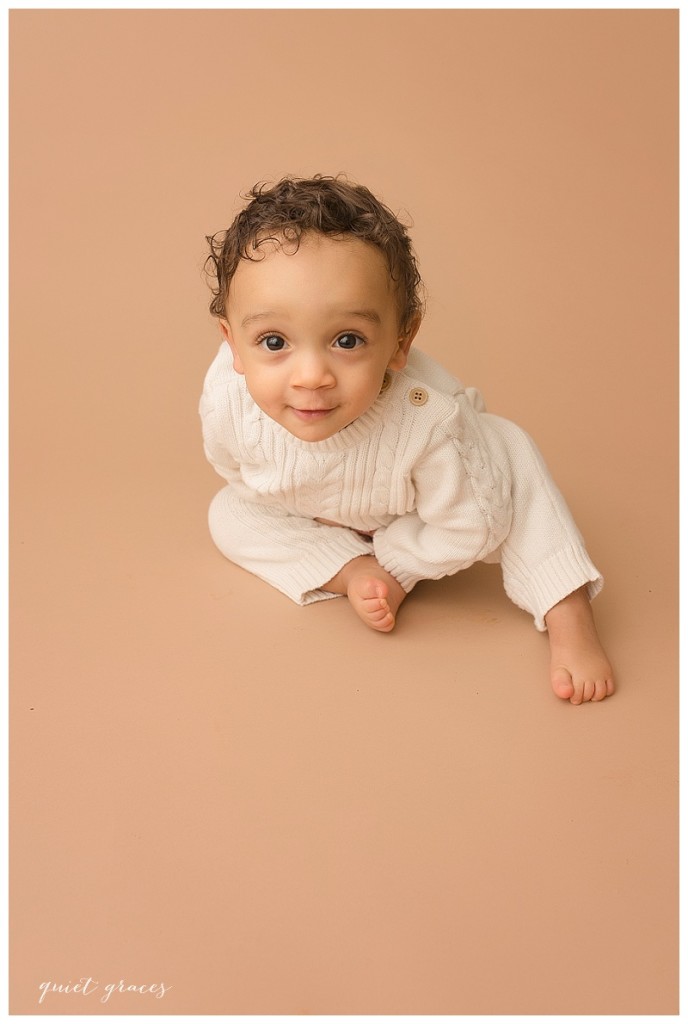 I couldn't believe how much he's grown! Look at him!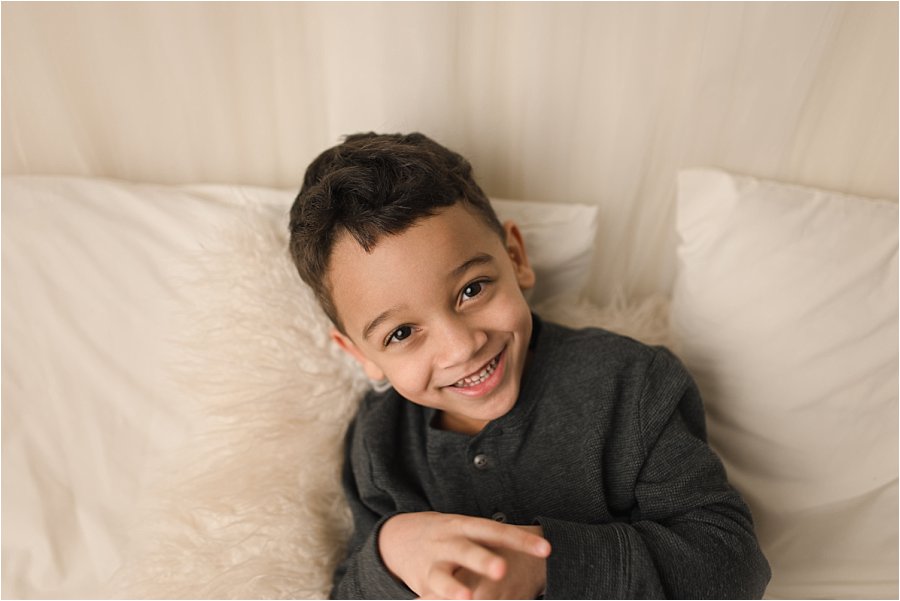 Augustus is also an amazing big brother to his sister Petra. Look at their sweet sibling bond. And that smooshy face kiss is to die for!  These candid moments are my favorite to photograph. I always want you to be able to remember, not only their sweet little faces, but also their full personality.

Petra fits in perfect with this family bunch.  She's got this wild joyful personality and is just so expressive.  Every single photo I took had a different expression. From joy to curiosity to disgust to contentment, we captured all of these sweet faces for Marquita to hold onto.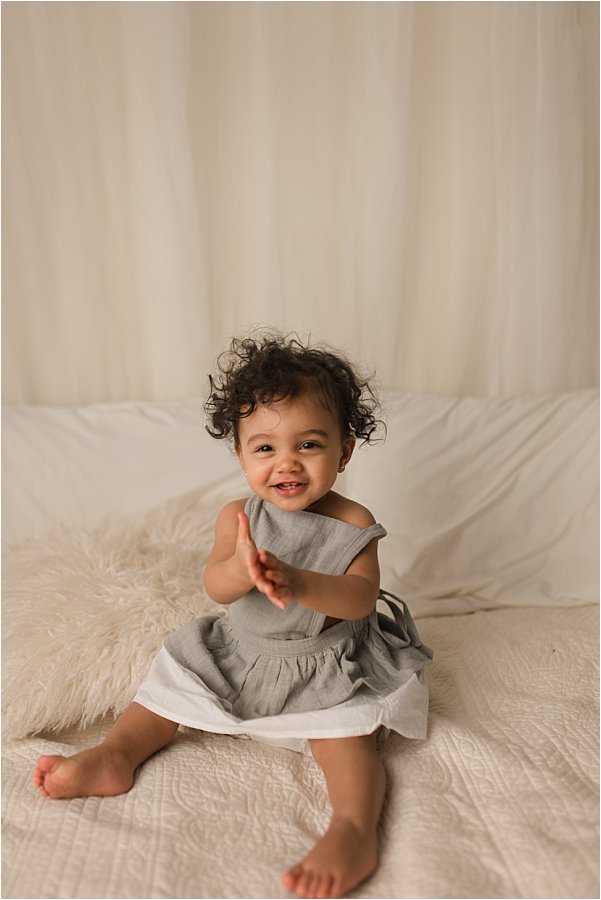 I'm pretty sure Petra is the perfect addition to the family.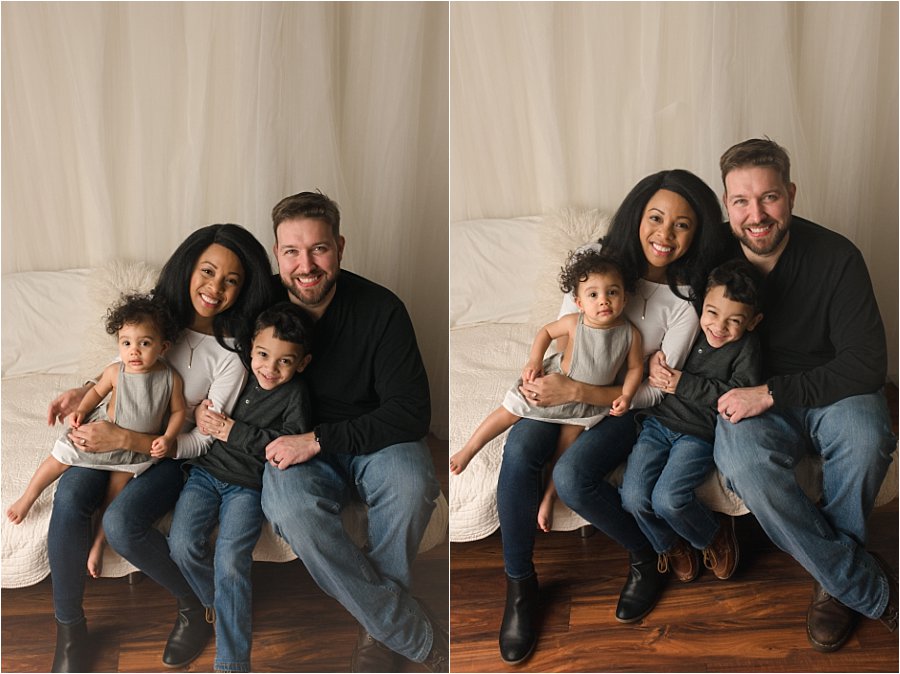 While I try to keep your baby the focus of the session, I also welcome family imagery during a cake smash. Your baby deserves to see how much she is loved. And family portraits are the perfect medium for seeing that love displayed for years to come.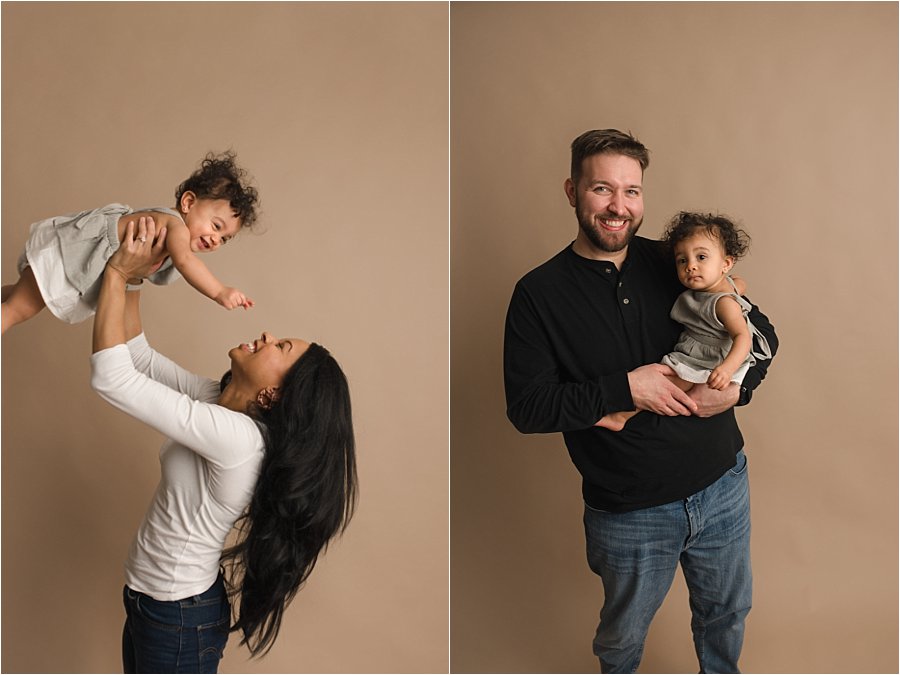 After family pictures, we moved toward the cake smash. I always keep cake smash decorations minimalistic, timeless and classic.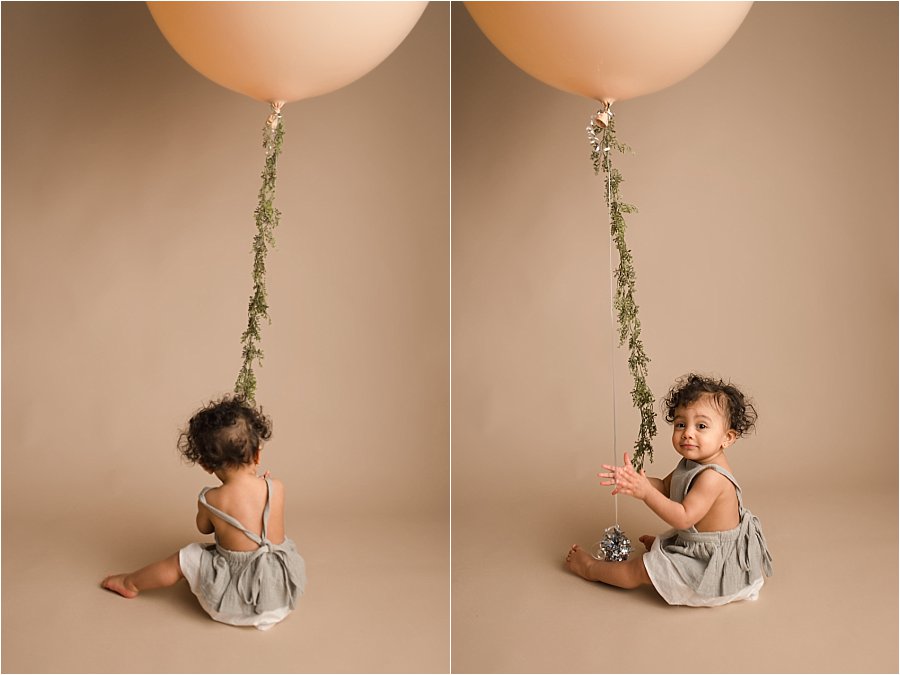 Marquita brought this giant balloon. Christine of Baking Sweet Scents provides a complimentary triple layer semi-naked cake for your session which we frosted in millennial pink per request. And then we just added in some sweet florals. I love the effect of keeping Petra the sole focus of the images.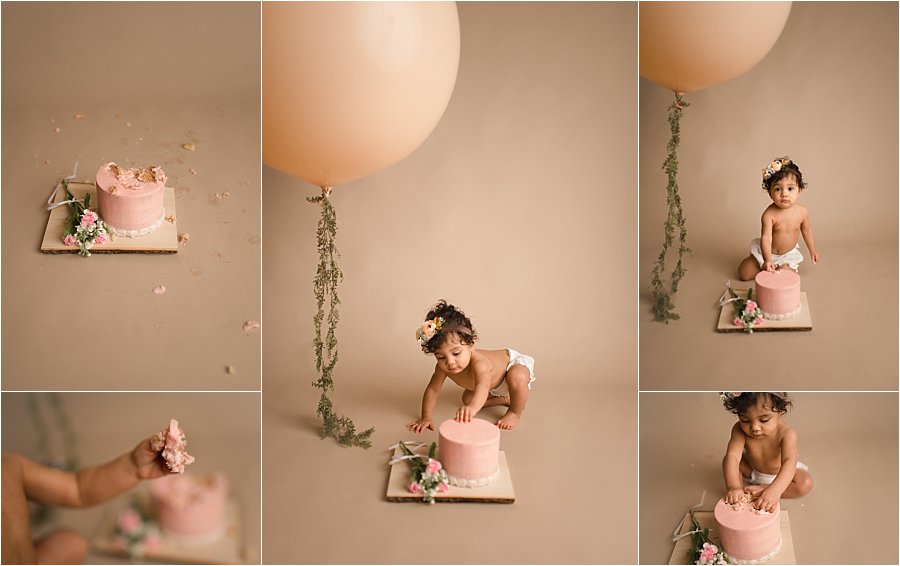 And don't worry, everyone took a bite out of the cake! Including Augustus who was so happy to help!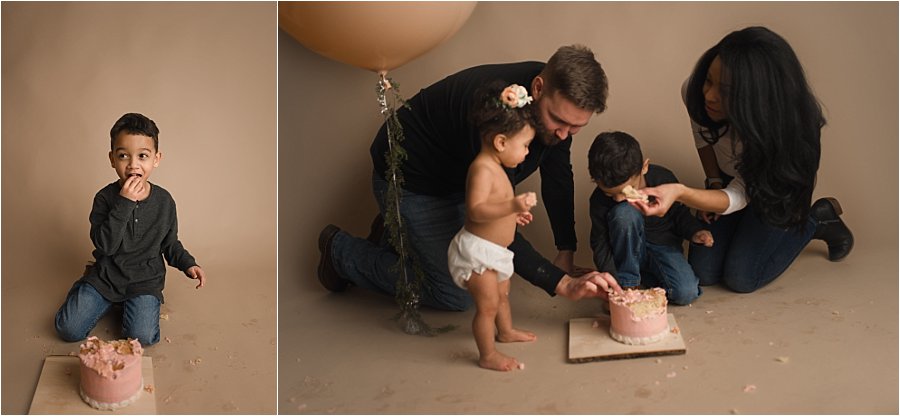 We finished the session with a little clean up in a milk bath. I always do baths at the end of cake smashes. It's a great way to clean up, but it's also a great opportunity for babies who found the cake experience a little overwhelming. Baths are familiar while frosting is not

I love this image as a circle wood print for the house. Seriously, how cute is Petra?!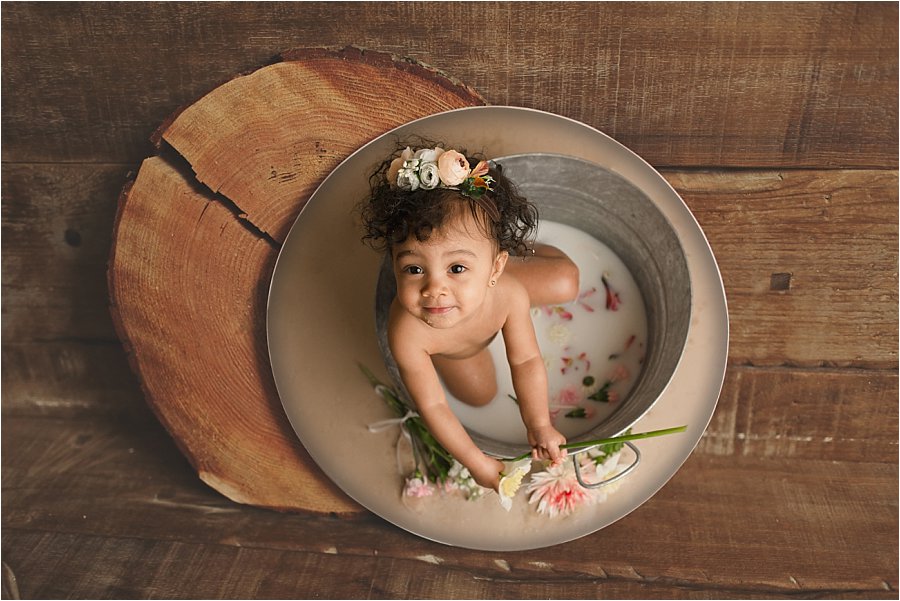 Looking to book your own Minimalist Cake Smash Pictures Greer SC? I'd love to be considered! Drop me a line by clicking here. Or learn more about sessions with me by clicking here.
I was super excited to do Kylie's Garden Fairy Style 2 Year Old Cake Smash in Simpsonville SC. I absolutely adore watching my babies grow up. I've photographed Kylie when she was a newborn as well as for her first birthday (those links are clickable if you'd like to see her other sessions). Look at how amazing she is at two!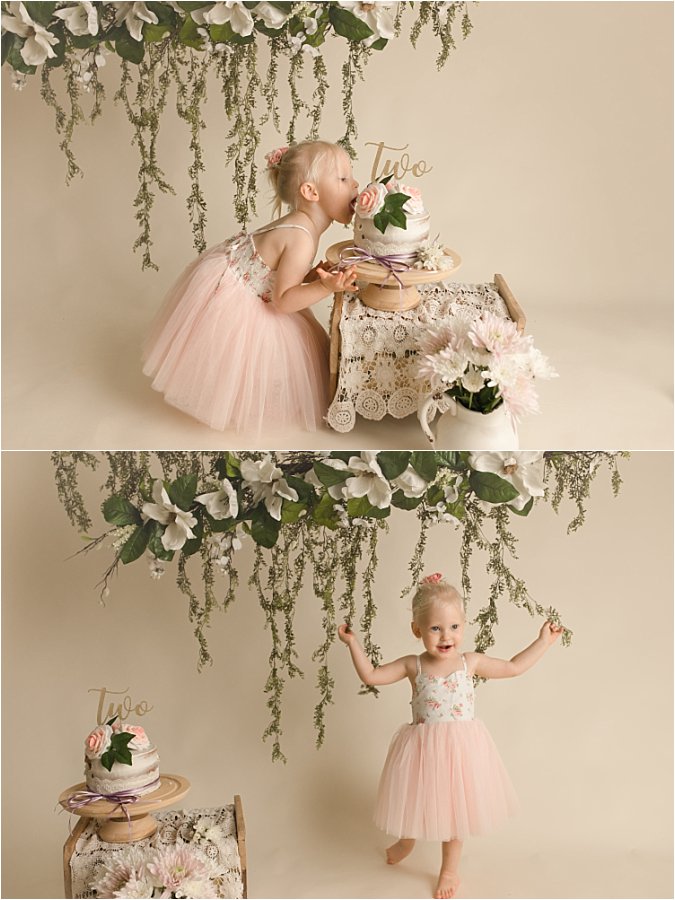 Kylie's mama Beckyloves to be super hands on with session planning.  Becky wanted to keep the colors soft and pink with some really girly touches and lots of floral touches.  I think it looks like a garden fairy paradise!  And this floral tutu dress that Becky picked out is sheer perfection! The simple semi-naked cake from Baking Sweet Scents was clearly a hit as well.  This cake (decorated to suit your vision) is included with every cake smash session.

Becky wanted to include the gifting of a stuffed bunny which is a wonderful addition to a two year old session. Especially for this age, bringing a new photographable toy to the session is the perfect option to help a little one warm up to the camera and have something to do to stay still. Clearly we loved on bunny and then moved onto climbing the chair!  As you can see, it really helped get a couple of sweet images when Kylie was feeling a little shy.  I also really loved that we photographed Kylie receiving what will hopefully be a sweet childhood friend.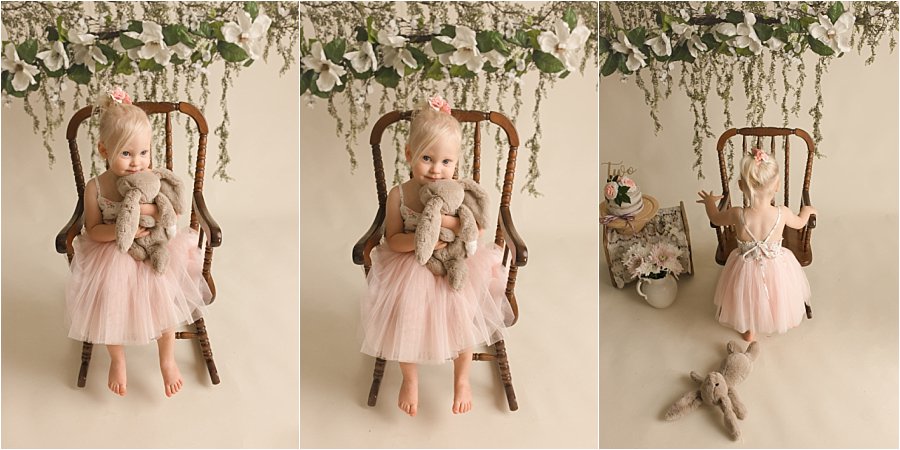 All 2 Year Old Cake Smash in Simpsonville SC include family photos and Becky took advantage of this opportunity and brought her older boys.  Becky borrowed her dresses from my mama wardrobe which is available for all sessions.  It just makes getting dressed for mama super simple!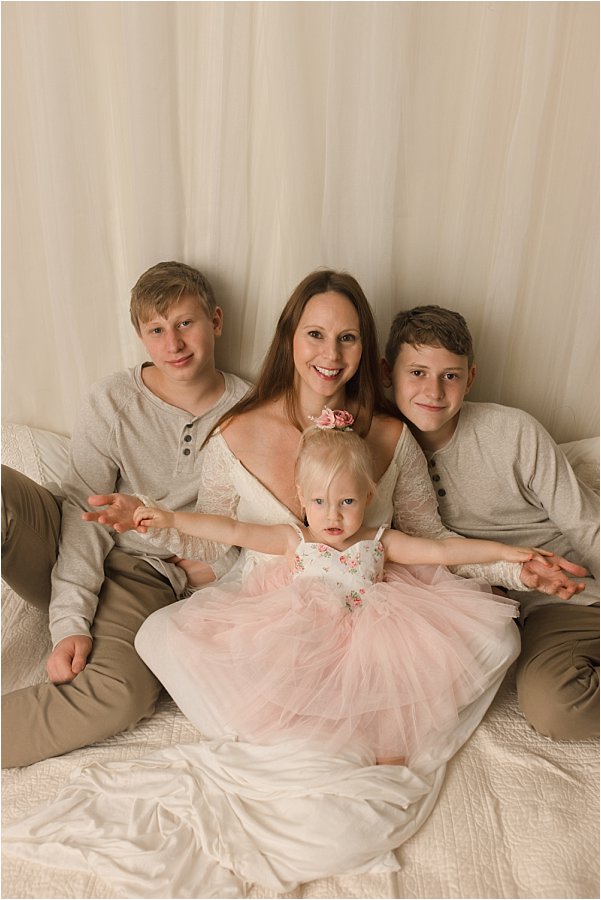 Are you looking to book your own Garden Fairy Style 2 Year Old Cake Smash in Simpsonville SC?  I'd love to be considered for immortalizing your family's memories. Click here to tell me all about your vision for your session.