Baby Shower in a Box Giveaway
So I had this huge milestone a couple of weeks ago.  My small business page on Facebook hit 500 likes!  See?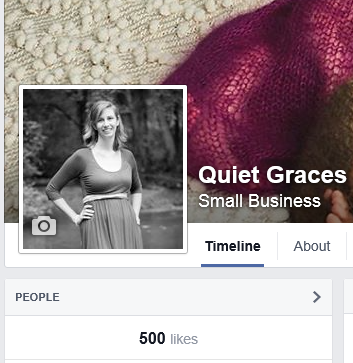 Two weeks later I'm almost up to 520 fans! I started off this year with just under 150 fans.  I am blown away by having all of you follow along in my adventures and encouraging me through the crazy up/down of owning a small business. Thank you.
I wanted to do a little something special to celebrate this milestone so I'm giving away a Baby Shower in a Box!  You can enter if you're expecting or your can enter to give it away to a friend (after maybe keeping a few pieces for yourself?).  You can tag your expecting friends and have them enter too.
What's in the Quiet Graces Baby Shower in a Box?
I'm so glad you asked!  With a value of over $570, this Baby Shower in a Box is sure to delight any new mom!
Click below to let me introduce these lovely businesswomen who are teaming with me to bring you these awesome goodies in alphabetical order.  But if you'd like to just jump in to win now, hop over to my Facebook Page and enter there.  Make sure to share the giveaway with any expecting friends!
If you've spent any number of days following me on Facebook, you'll know that I'm sort of obsessed with Noonday Collection.  Noonday collection features beautiful everyday and special occasion jewelry, accessories, and bags hand crafted all over the world.  The catch with Noonday is that not only are Ambassadors earning a living, but your purchases fuel the economy for men and women who would otherwise live in extreme poverty.  Buying a necklace pays an artisan a fair wage, feeds a family, sends a child to school, and mostly gives men and women and children a hope and purpose in what could be bleak situations.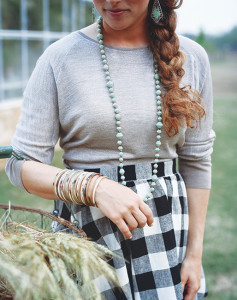 Want to hear more of these incredible stories?  Host a Noonday Collection Trunk show with Amanda Cobb!  Amanda is donating a Minted Necklace  because every new mom needs something that makes her feel special.  The Minted Necklace is handmade in Uganda through a workshop run by Amanda's dear friend Jalia.   Yes, Amanda knows the artisans personally!!!  Visit her blog here as she unpacks meeting artisans in Rwanda, Uganda, and Haiti this summer.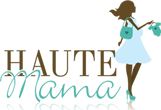 Haute Mama is a Spartanburg Maternity Boutique specializing in clothing that will fit from pregnancy to post-partum and beyond.  She specializes in making sure there are no more frumpy bumps but also has a heart for hosting education in her shop.  Owner Sara Riddle is also no stranger to Quiet Graces; you can read another post about her maternity boutique here.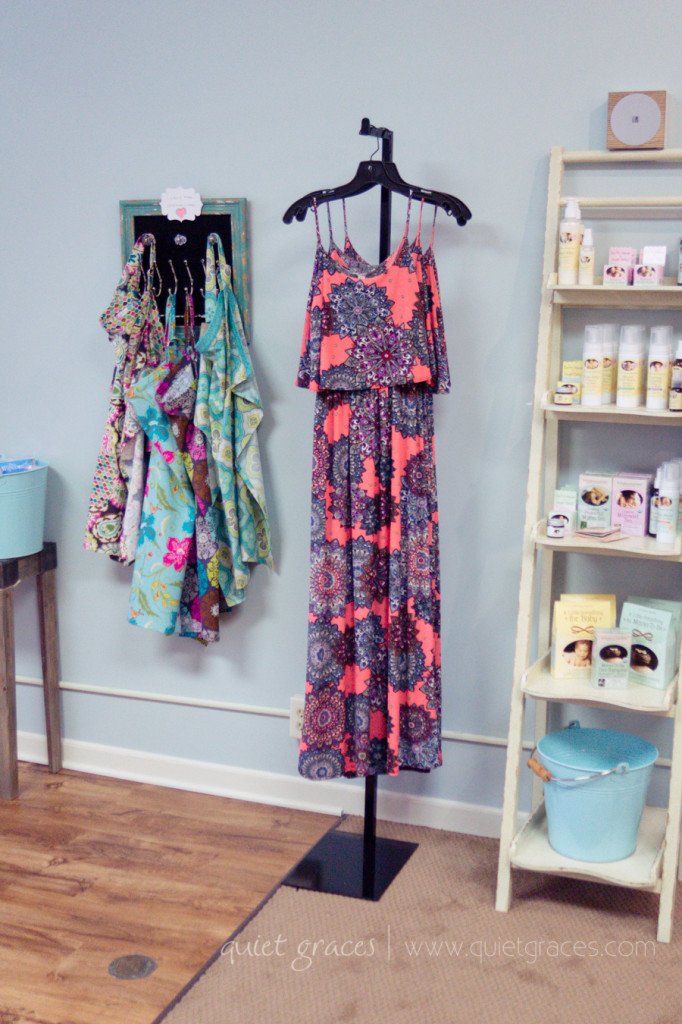 Haute Mama is sharing a $20 gift certificate to come shop her clothing, nursing wear, gifts for babies, or amber teething necklaces!
Jeni Layne Designs is owned by mama of two sets of twins and one singleton, Jeni Carter.  You can see her adorable family here from their newborn session.  All of Jeni's little ones are under 6 years old, so she needed a way to control the laundry monster.  So she took it on herself to create the perfect bib.  And I believe she has done it!
And they are so cute too! These bibs cover the shoulders of the shirt and are padded with super absorbent layers under the cut fabric to catch all those spills, splatters, and, most of all, drool!  Jeni Layne Designs is giving away this colorful chevron bib and a matching burp cloth set!
La-Di-Da Baby specializes in modern designs suited to your lifestyle.  My favorite products are her ingenious sheet savers (that unsnap in the middle of the night so you don't have to untie them or change soiled sheets!) and her Pack n Play sheets.  They also sell XL swaddle blankets, burp cloths, and bibs in ultra stylish fabrics.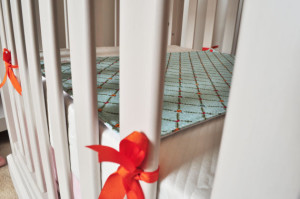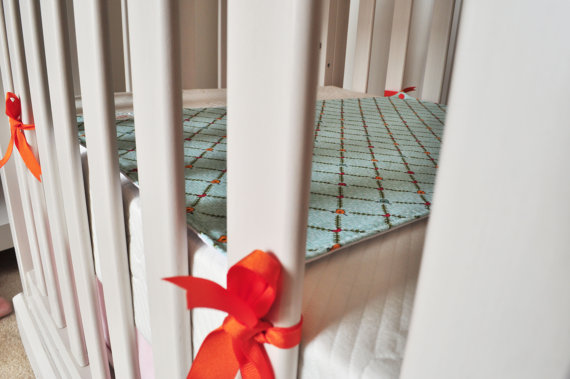 The ladies at La-Di-Da Baby are sharing an $10 off a $20 or more purchase to her shop!
Mandolyn is super passionate about two things: crochet and chemical free beauty products.  She crochets everything from minion hats to afghans to legwarmers to stuffed toys.  She also makes the most delicious soaps luxury bath items.  I'm currently using her shampoo bar, a second double duty shampoo bar/shave soap, and an oatmeal milk and honey bath wash bar.  Ya'll, these products are phenomenal!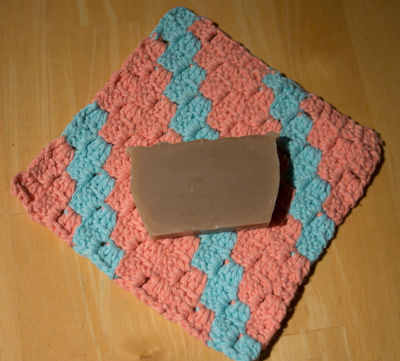 Mandolyn is giving one mama a cotton crochet wash cloth and a bar of the oatmeal milk and honey bath wash bar.  The soap is gentle enough for baby (though not entirely tear free) and luxurious enough for mama.  It smells delightful!

Melissa Dunbar of My Organic Foundation is a child birth educator and distributor for Young Living Oils.  She's passionate about natural options and loves advocating for growing families.
Melissa is offering a $25 Visa Gift Card when the recipient purchases a Young Living Premium Starter Kit.  Some of the ways these oils can be used for an expecting or new mom are mentioned in this article.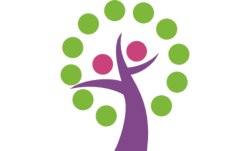 Laura Hodges is a registered nurse who spent 23 years working with new mothers and in the newborn nursery.  At Needs for New Moms, Laura offers a variety of services for new moms including night nursing and lactation support.  Her presence is soothing even to an adult but she's pure magic with a newborn.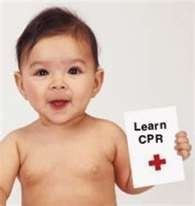 Needs for New Moms is giving away an Infant CPR class for two (Mom & Dad?  Mom & Nanny?)  She will come to your home to teach within 30miles of Greenville (there will be a standard charge for mileage for those outside this area).  This personalized class is valued at $50!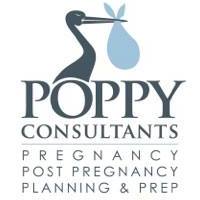 Katie Dill of Poppy Consultants offers some of the most unique, luxurious, and practical pregnancy and postpartum services in Upstate SC.  Her services include: registry creation and research, recommendations for trusted baby gear and clothing providers, personal shopping, bed rest assistance, help finding night nurses and nannies, postpartum care visits, in home lactation services, sleep support, and help planning your return to work. Poppy Consultants is The Poppy Mommy Package to our winner.  The Poppy Mommy Package includes 1 hour of care in the postpartum period to access the needs of the new mom and cover basic infant care including feeding, diapering, swaddling, bathing and more.
 That's me!  I picked up a handful of what I consider my favorite and most practical items for pregnancy and new babies. There's shea butter to soothe the itching and ward off stretch marks during pregnancy. This adorable fox swaddle wrap will help soothe your infant to sleep!  Reusable nursing pads were all I used due to the disposable pads giving me contact dermatitis.  The spoon by Sassy was pulled lovingly from my kitchen drawer as these are no longer made; my girls began feeding themselves with this spoon at just 8 months old and by 18 months old  they rarely dropped anything on the table or themselves (I might be bitter these were discontinued… they were my favorite shower gift!).  I also made a little pair of Fair Isle baby mittens that would be perfect as both scratch mittens and for keeping your little one's fingers warm.
In addition to my favorite items, I'll also offer the winner or recipient of this basket an 8×12 Journal Book album if they book a newborn newborn session with Quiet Graces.  This prize is valued at $299.
Ready to Enter to Win?
Use the simple widget below and be sure to share this giveaway with your friends!
Terms and Conditions
Winner or winner's recipient of these gifts must be local to the greater Greenville/Spartanburg area as all of the participating businesses primarily offer local-only services.
Winner will be drawn using the Rafflecopter Widget and contacted via email within 24 hours of the giveaway close.
If the winner fails to reply within 72 hours a new winner will be drawn.
Each businesses prize will feature all of their terms and conditions on their gift certificate or prize.