Blog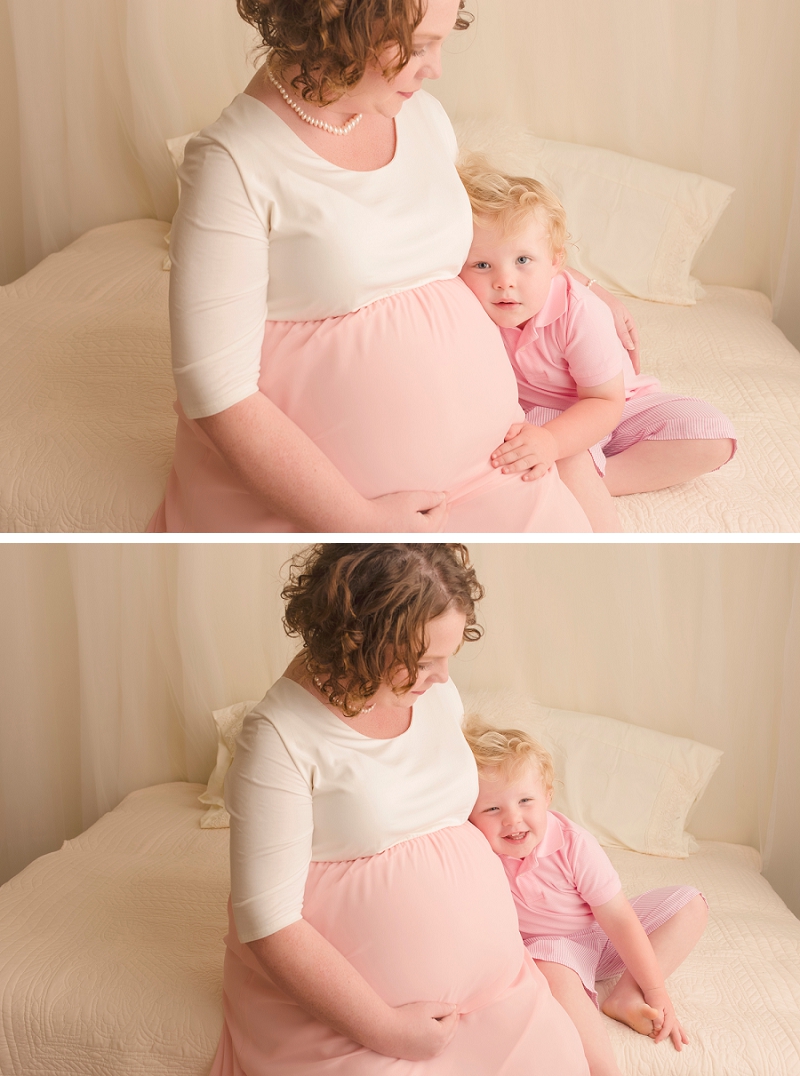 Meet April and McCall.  This sweet mama came by for both her Greer SC Studio Maternity Newborn Photography needs.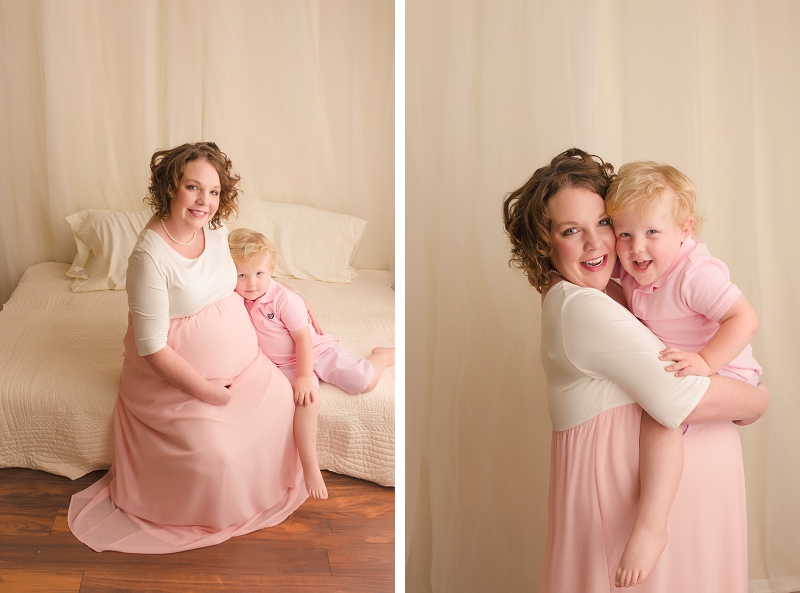 I'm not going to lie: I almost stole McCall.  Those curls and those crystal blue eyes.  Who wouldn't want to steal him after spending time with him?!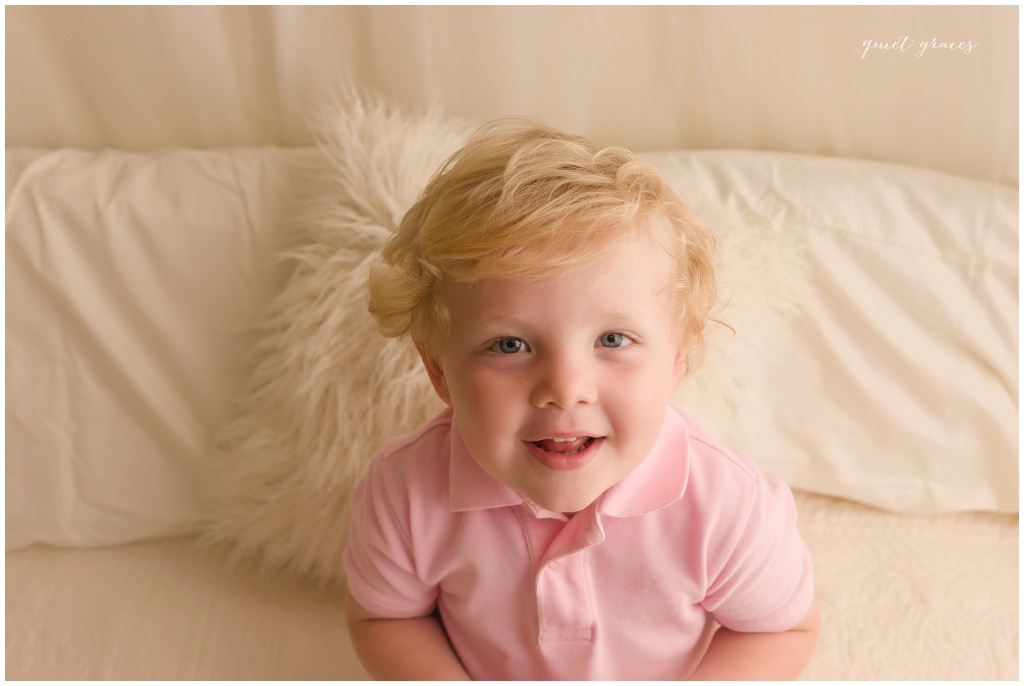 He made me laugh so much when he sneezed and I handed him hand sanitizer.  McCall licked it.  I learned to give better instructions and gave him a good cuddle for that mistake!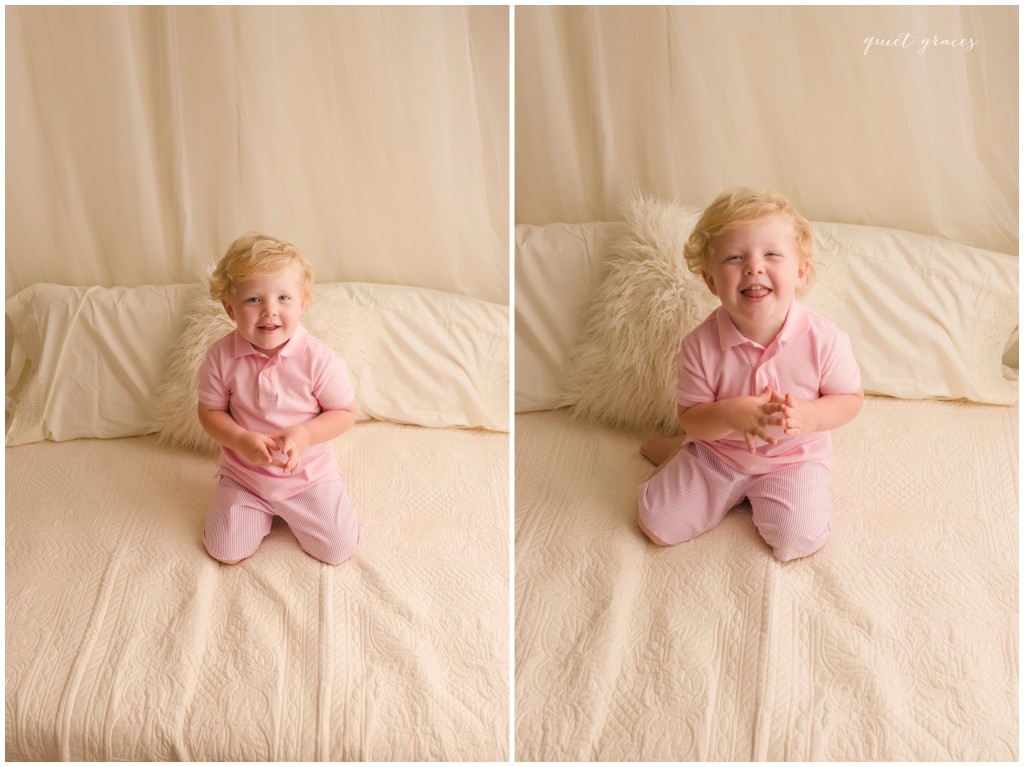 April is stunning.  She's such a gentle soul.  A speech therapist by trade, I could easily see her patience and perseverance at this maternity session.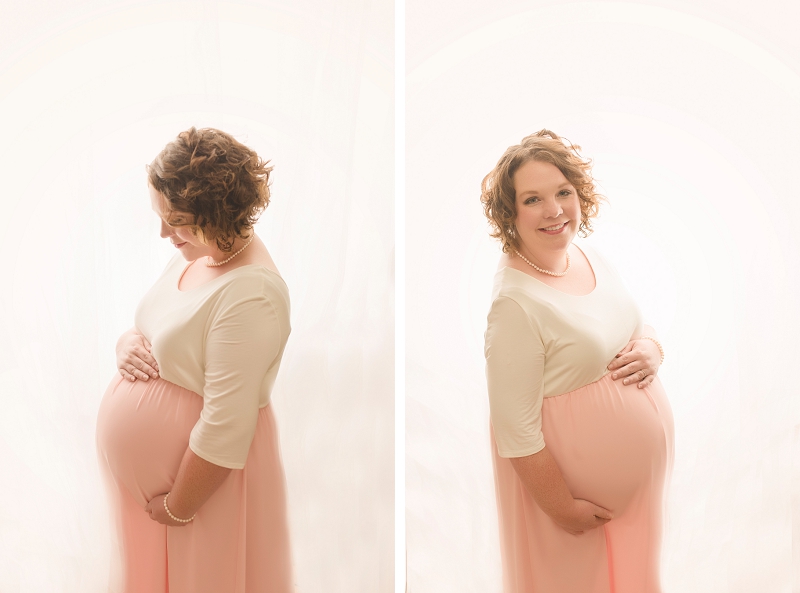 Everything about her color scheme just screamed serene.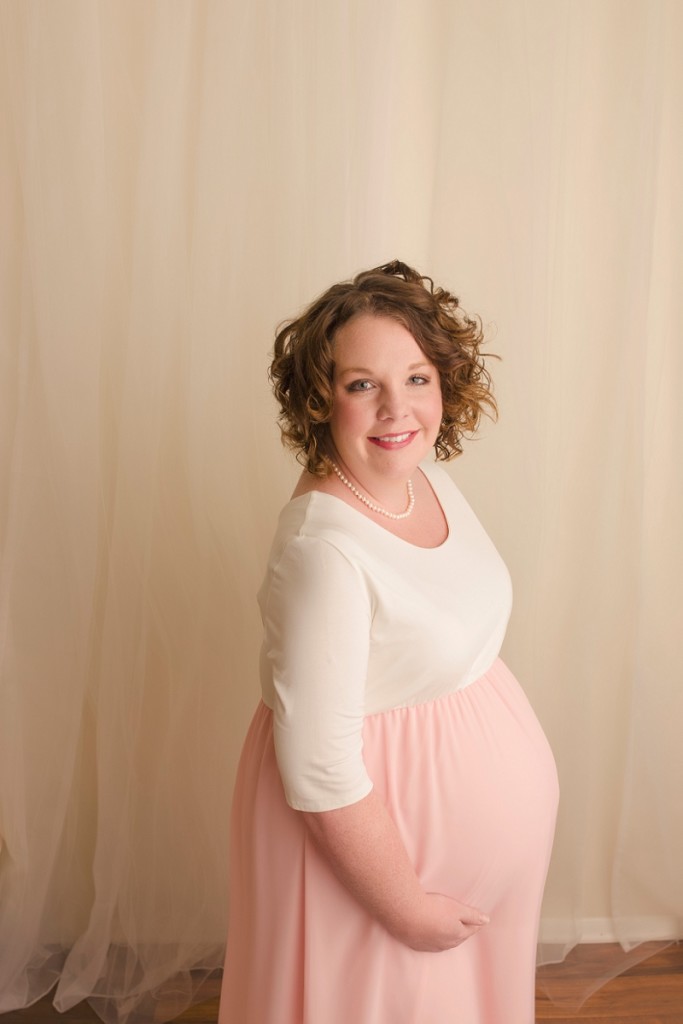 We carried the same color scheme over into her newborn session.  I love how this made both galleries perfectly suited for either an album or a wall collage together.f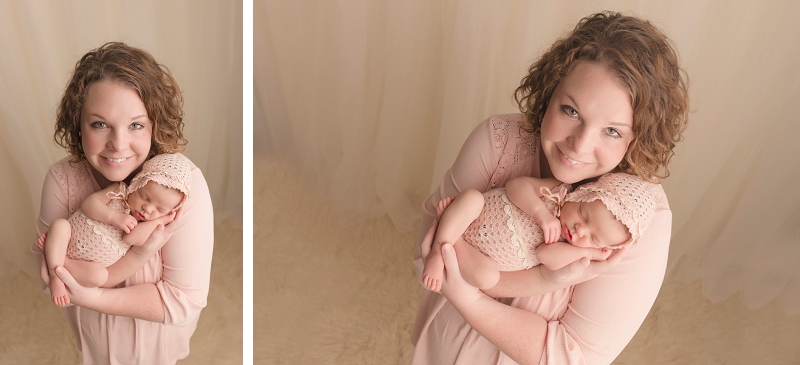 Baby Mattie Jane was delicious.  I constantly have to remind myself not to smooch client babies.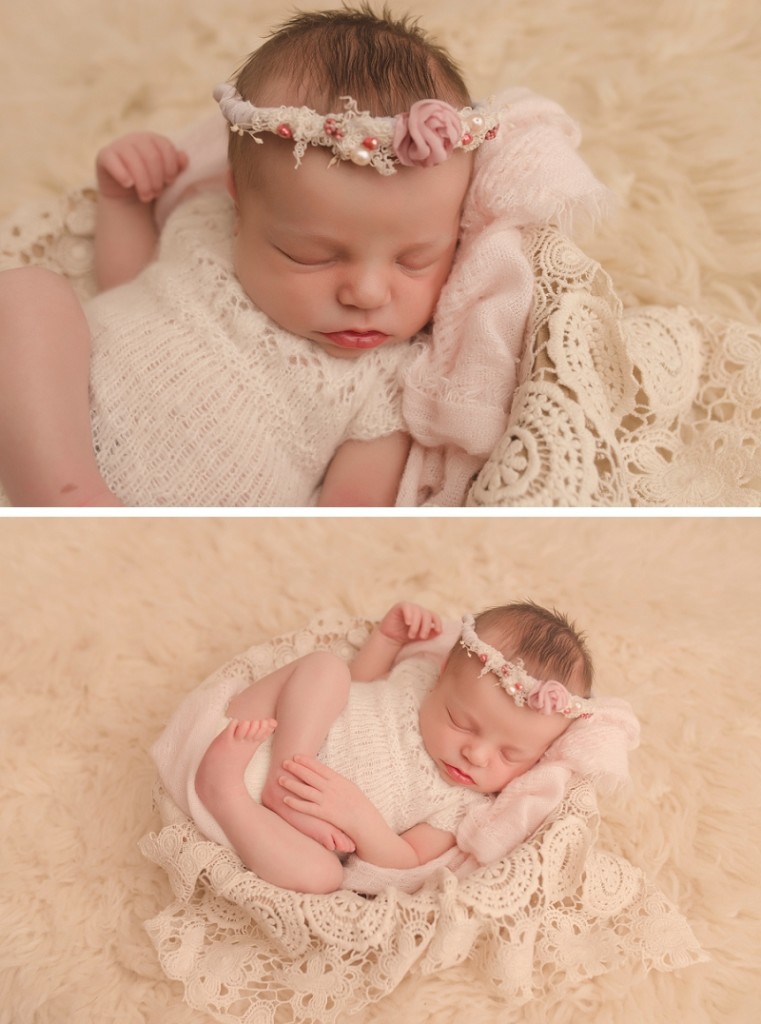 Her delicate features stole my heart immediately.  Her hands tucked under her cheek!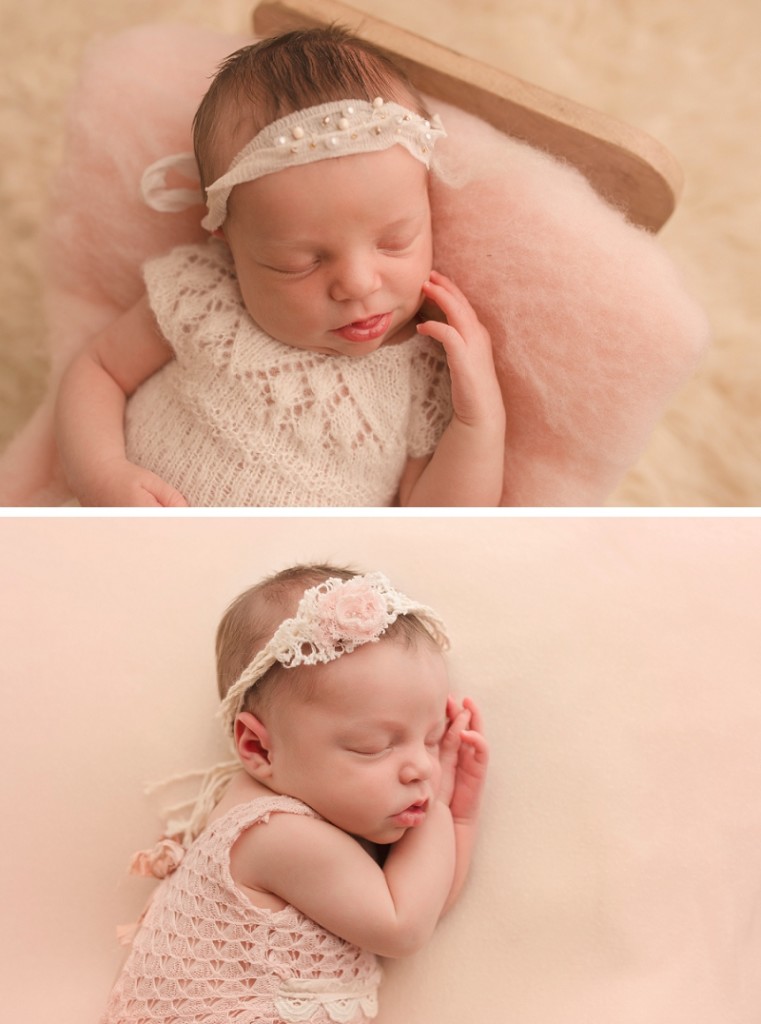 This tiny smile in this Piper Romper from Lydia's Hope Chest was my favorite from this session.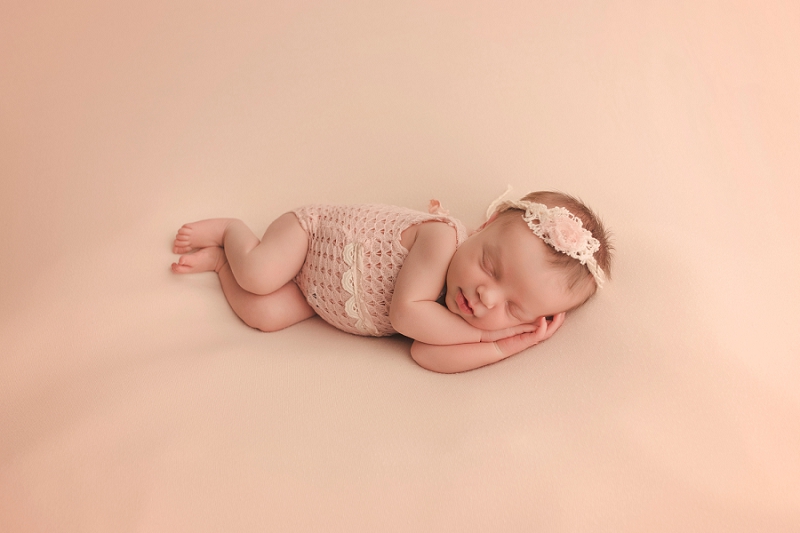 But a close second is the bottom image below where Mattie Jane moved her foot from the "perfect" pose. I love when they do this and express their personality.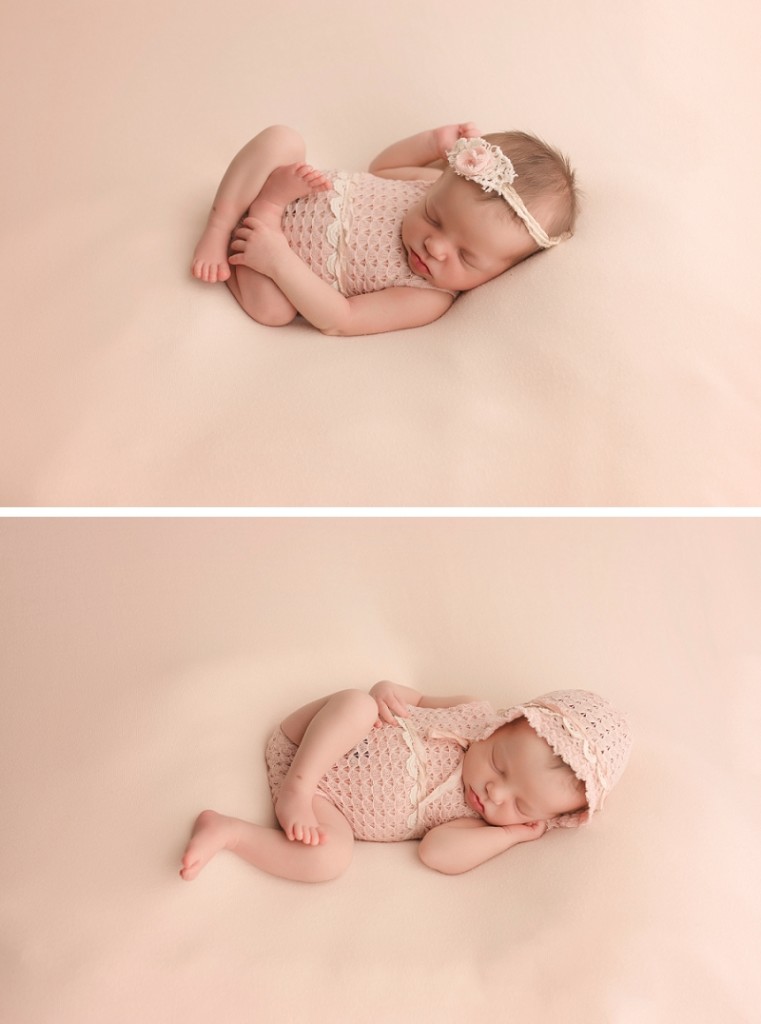 April, Mattie Jane and McCall are growing up in a home where they are absolutely adored.  Keep up the good work, mama.  I can already see it's worth it.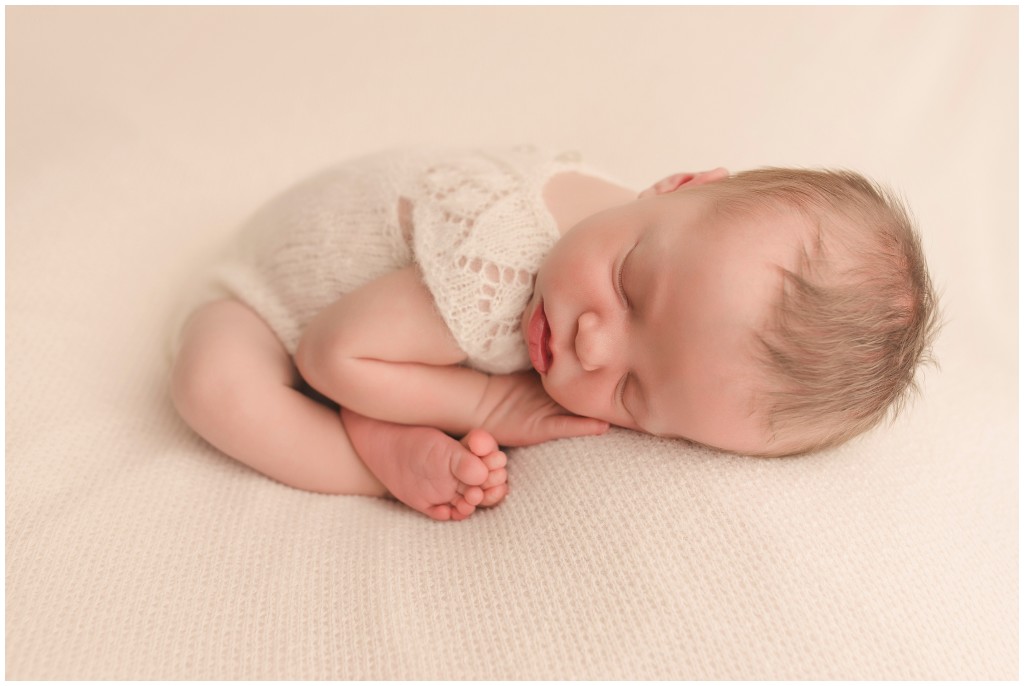 Interested in booking a studio maternity and newborn session with Quiet Graces?  I'd love to help you create a cohesive gallery perfect for an album.  Your first step to booking your session is to contact us.  We'll send you information about working with us in the studio and help you create the session of your dreams.
George's mamas contacted me early on in their pregnancy for Greer SC Natural Newborn Photos.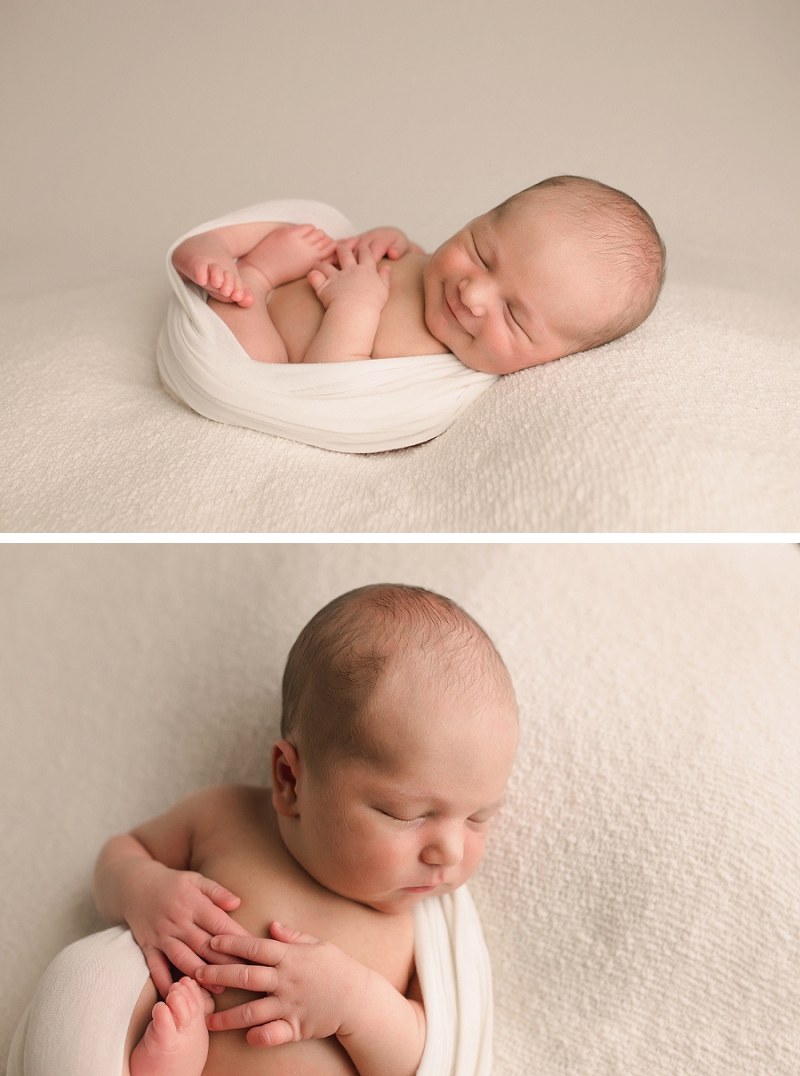 They had seen my work long before their little miracle was on the way.  Lisa and Martha couldn't wait to celebrate their precious baby with photos.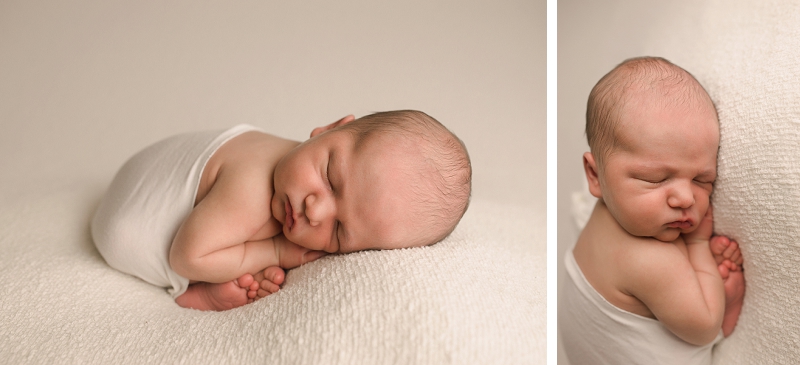 So we celebrated.  George was an absolute angel for his session. He slept soundly and let me pose him smoothly.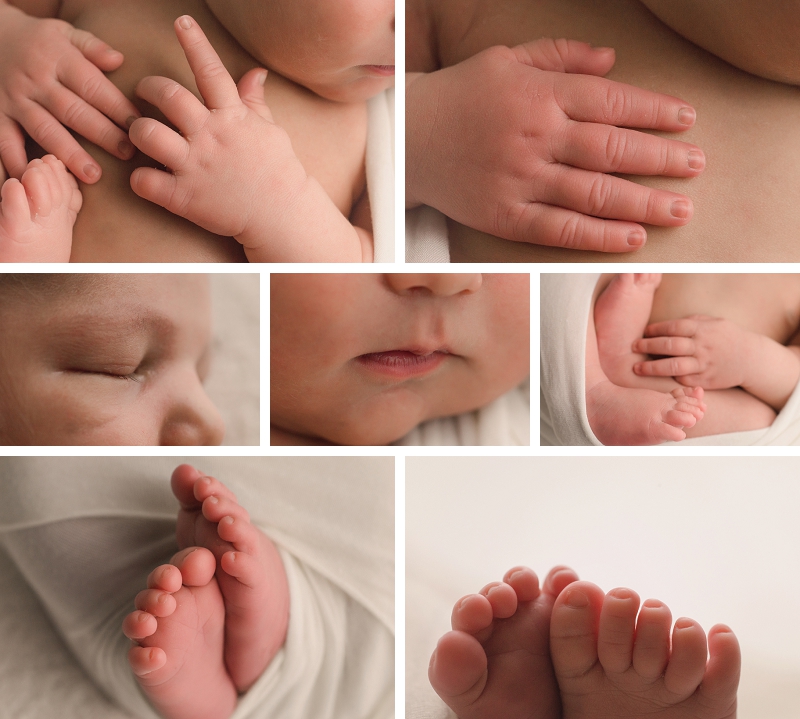 In fact, he slept so soundly that I had to wake him at the end of our session because he had yet to open his eyes!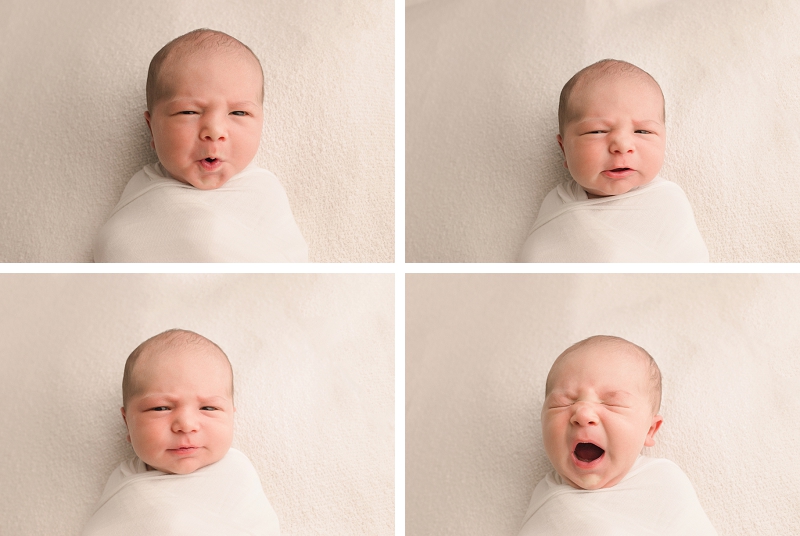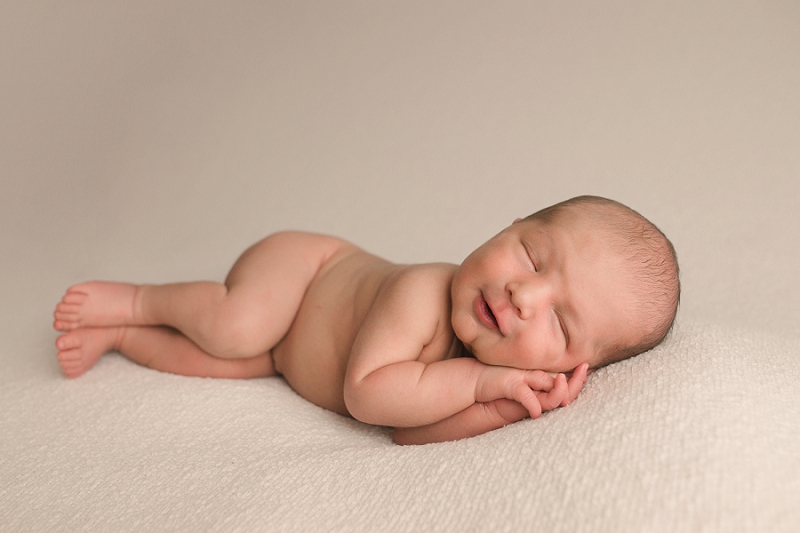 In my 7 years as a newborn photographer, I've found that I'm often hired to capture an image like this one.  Parents ask if I can make a baby smile and the truth is that I can't.  I have some tricks up my sleeve and about 60-75% of the time I catch a smile on camera.  But George pretty much smiled in every single pose.  It was delightful!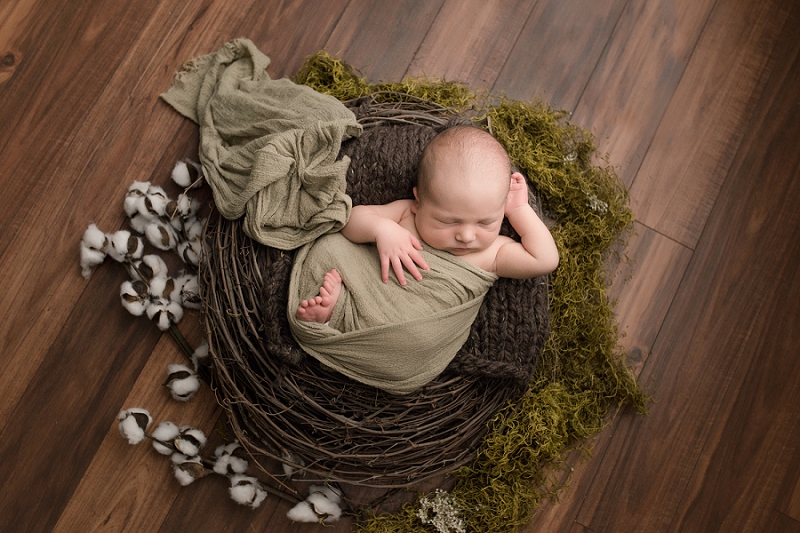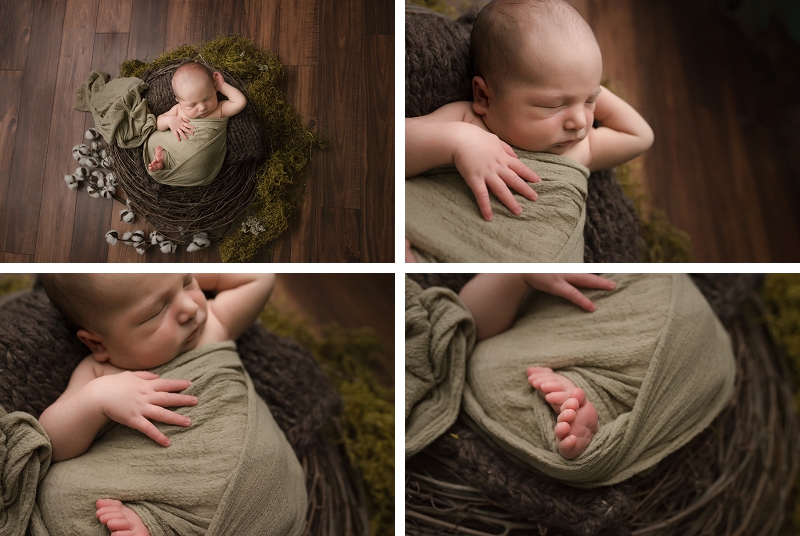 However, even if I capture the perfect image the client had envisioned when they booked, it's not typically their favorite image.  The images most loved by parents are the ones that freeze in time tiny meaningful details. The favorites images the show how he liked to sleep in his crib.  Or how she liked to sleep with her hands right next to his face. Or they way he curled up just so on mama's shoulders.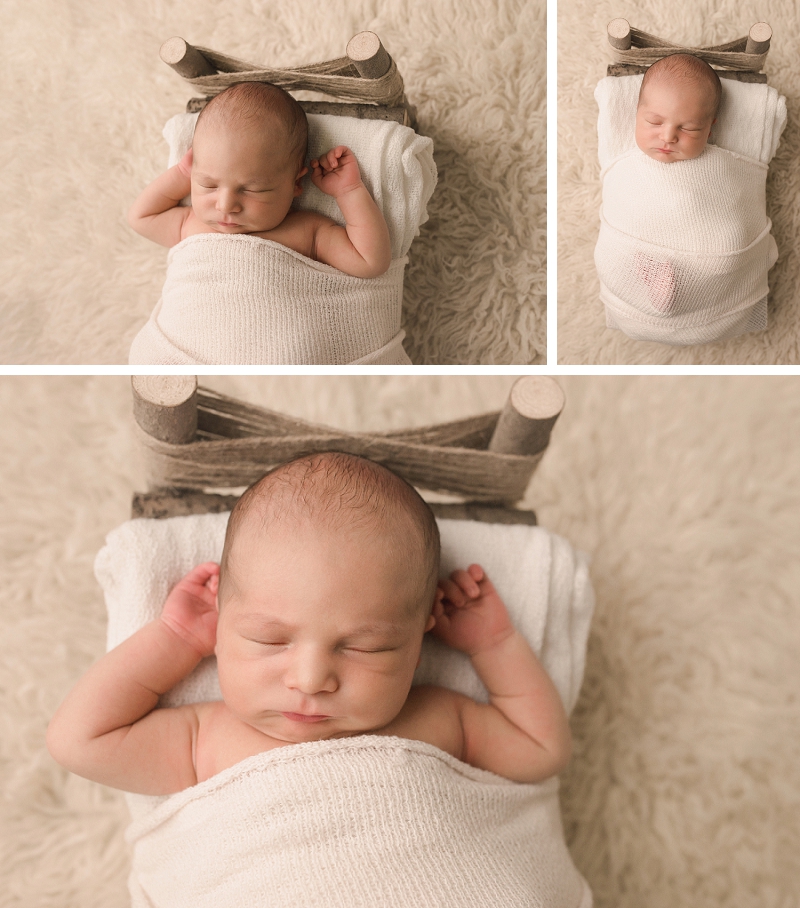 I did force George's mamas to be in images with him, but I promised not to share them here.  Our babies need to see how much we loved them right from the start and they were so glad that I had made them!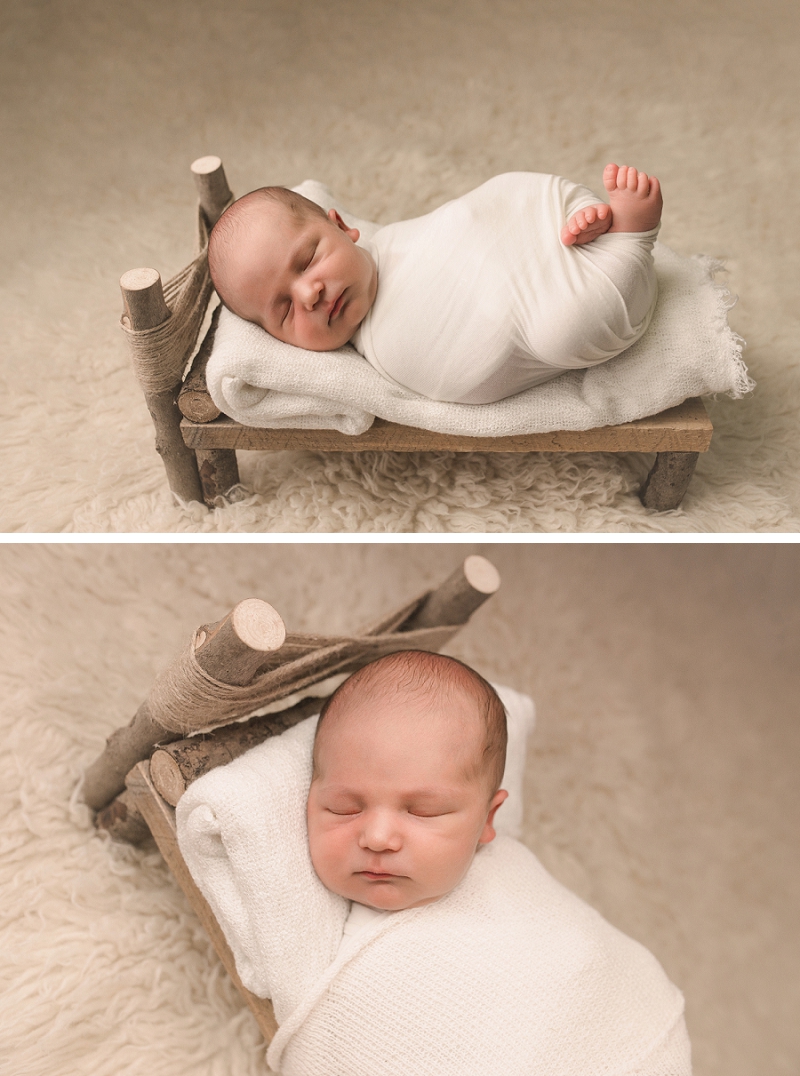 George's mamas loves this image best in both color and black and white.  His little face shown in the beautiful dance of light and shadows.  His hands raised above his head like he likes to sleep in bed.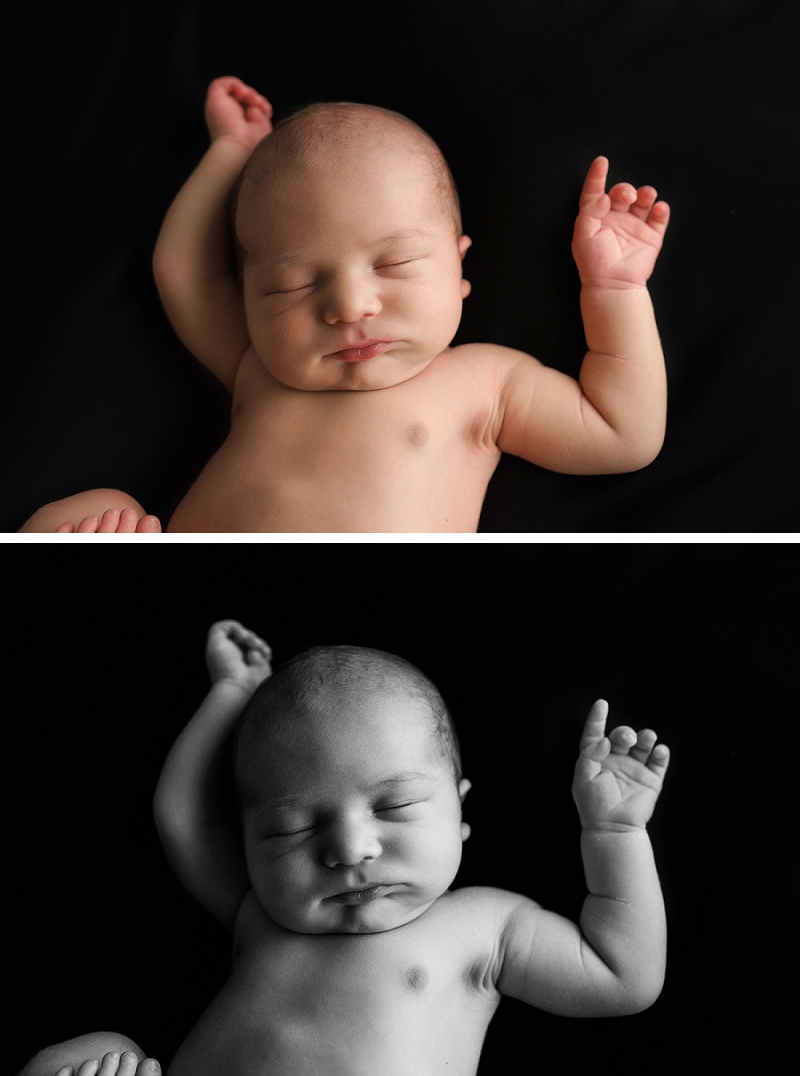 What memories do you want to hold in your hand forever?  What tiny detail do you never want to forget? I'd be honored to capture your brand new little love for you in Greer SC Natural Newborn Photos.
Sessions book fast, so contact me today to get your due date on the calendar.
Recently SleekLens contacted me about giving their Portrait Perfection Photoshop Actions a try in exchange for a review.  I was intrigued because I've never used a set of actions that were not created specifically for newborn photography. So I'll start with a side by side comparison.
Review of Portrait Perfection on a Studio Newborn Image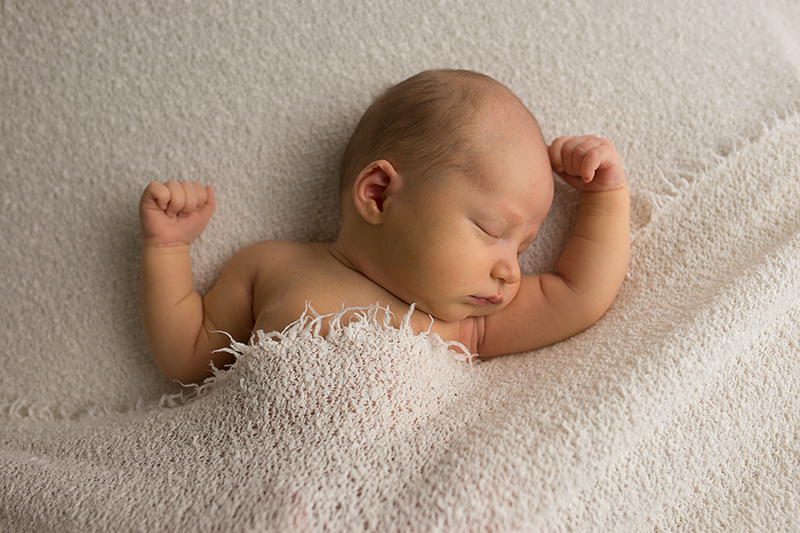 Here's a Straight Out of the Camera Action of Sweet Mason.

This is my normal newborn photography edit.  I typically use a combination of hand edits in Camera RAW, and Erin Tole's Paint Box, Portraiture, and some skin color correcting actions by Amanda Nicole Photography once an image comes into Photoshop.
Here is a newborn edit using only the Portrait Perfection Photoshop Actions.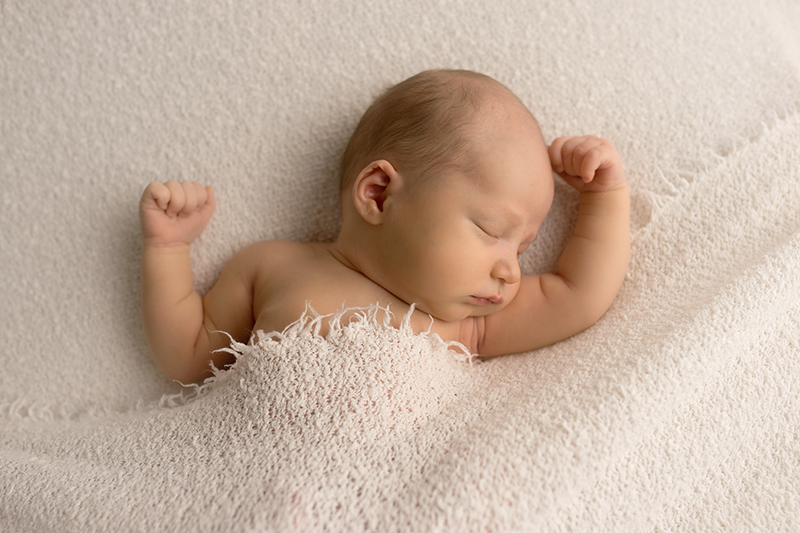 Here's my recipe:
Color Corrections: All applied at 14% with a soft brush

Reduce Reds
Less Orange Juice
Cream Yellow Tone

Warmer at 24%
Exposure Bright at 9 %
Soft Skin glow painted on baby at 40%
Fast Retouch

Skin Smooth Layer Painted only on Baby at 40%

Rose Skin Brush at 18% on cheek and Lips
Enhance Tones: Romantic Dance at 40%
Toned Vignettes

Cream Vignetted masked off baby

Resize for Web at 800 pixels

Sharpen layer at 15%
I used this on all images for the review so websize action was consistent.
Thoughts on my Studio Newborn Image
What I liked:
I really liked the color correction actions.  They worked a little different from the ones I used currently and I felt they dealt with the minor jaundice so well!
I also liked the Rose Skin Brush.  I don't have anything like this and often I can take too much red from tiny lips and cheeks while color correcting a baby's skin.  This is such a quick way to add it back in!
I loved that the Warmer/Cooler and Exposure Brighter/Darker layers applied at zero percent so I could turn them on gradually as needed.  Most of my actions for this in the past have applied at too high opacity and I feel like that makes me over apply them on the whole.
What I missed:
There's no flake remover in her set.  I can frequency separate (a technique I use for babies with lots of acne already), but that seems to be about it for removing the hundreds of little flakes new babies often have and it's just not my favorite way to do it.
I didn't like a lot of the toned actions. None of the All in Ones, Bases, or Enhance Tones really spoke to me.  I think that's partly because I have my own style for newborns already and partly because these actions apply at high opacity instead of a lower opacity and letting me dial up opacity.
Review on some Outdoor Images
Since I'm sort of set in my ways on Studio imagery, I thought I would give this a try on an outdoor image.  I really don't do a lot of outdoor portrait work so I'm more of a blank slate here.  I don't have a typical edit.
Lighter Back Drop Images
Here's the Straight out of RAW.  Only adjusted white balance.
Here's my Edit.
Here's what I used.
Warmer
Enhance Tone: Whisper
Color Correction Natural
Color Correction Reduce Greens
Portrait Retouch: Fast Retouch
Light Glow Peach (Moveable)
From a Candy Store: Dodge and Burn
Vignette: Toned Vignette
I kept messing with these after this action set.  Here's my final edit.
Thoughts on my Outside Images
What I liked
I really enjoyed playing with the light flares. I don't know how to do that on my own so it was fun to have that added to my arsenal.
Also, I am addicted to From a Candy Store: Dodge and Burn. I have used it over and over and over again on my outside images and a studio images.  It's a little easier to use for me than the dodge and burn tools in Photoshop
Final Thoughts
I think this set is an excellent portrait retouch set for outdoor work.  The skin retouching is perfection for that work.
I also really love the movable light, dodge and burn, vignettes, and versatility of bases.
If you're looking for a large set of actions to do just about all the beginning to intermediate level Photoshop work, then I would give SleekLens's Portrait Perfection at try!
Meet Giovanna or Gia for short.  This sweet rainbow baby came to me for photos in Greenville SC.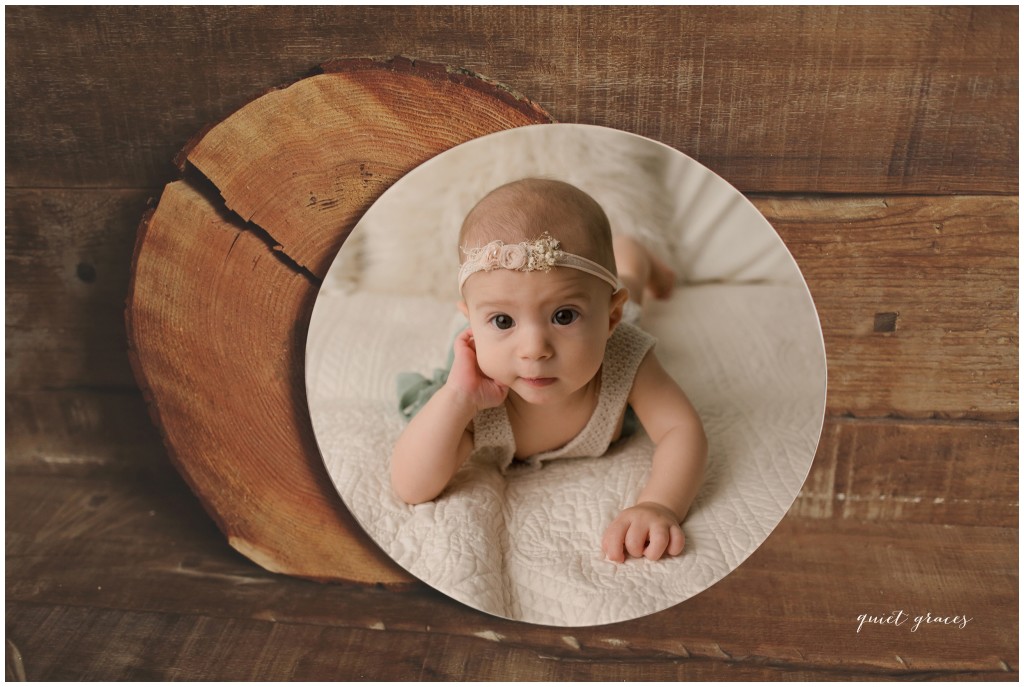 A rainbow baby is a little one who came after the storm of loss. The beauty in rainbow babies is how their parents treasure them. The joy these little ones bring is so tangible you feel like you can scoop it from the air like ice cream.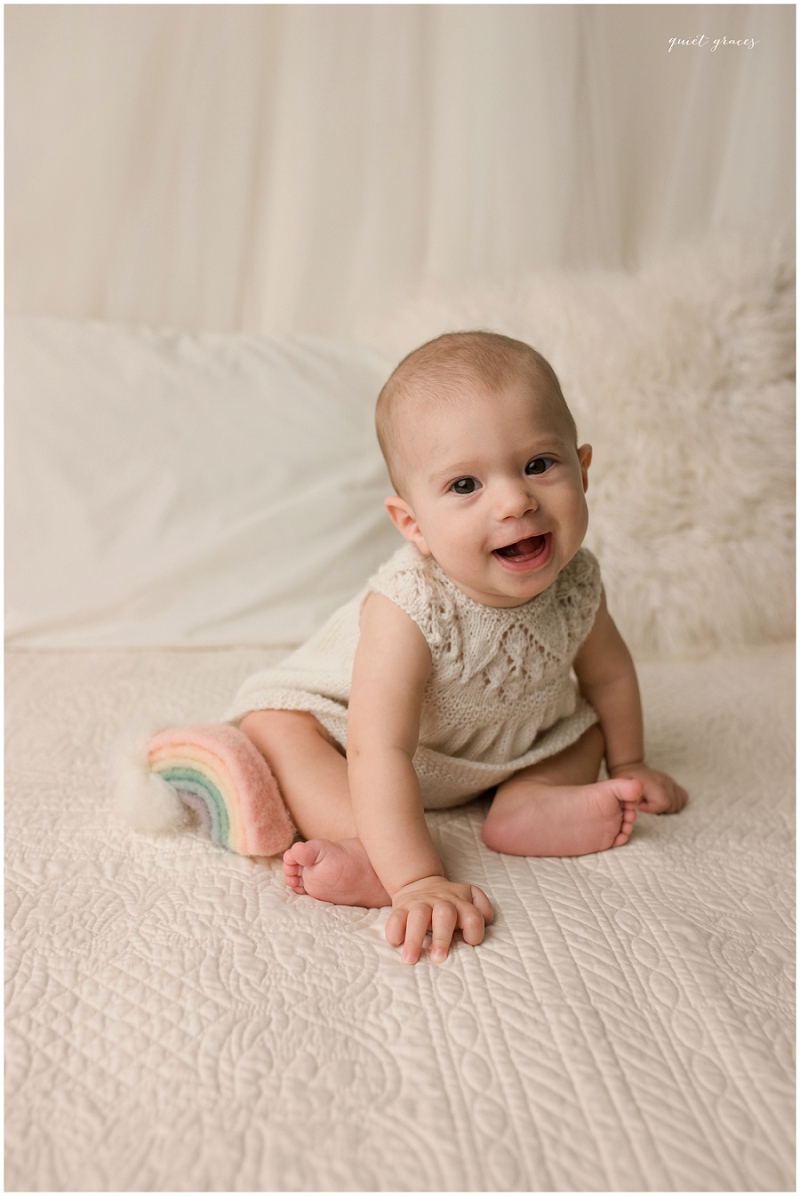 So, of course, we had to photograph sweet Gia with my rainbow prop.  Gia is just an incredible little person.  Her smile is always ready to light up the room.  I wish I had videoed her sweet singing as she talked to me and her mama Marie.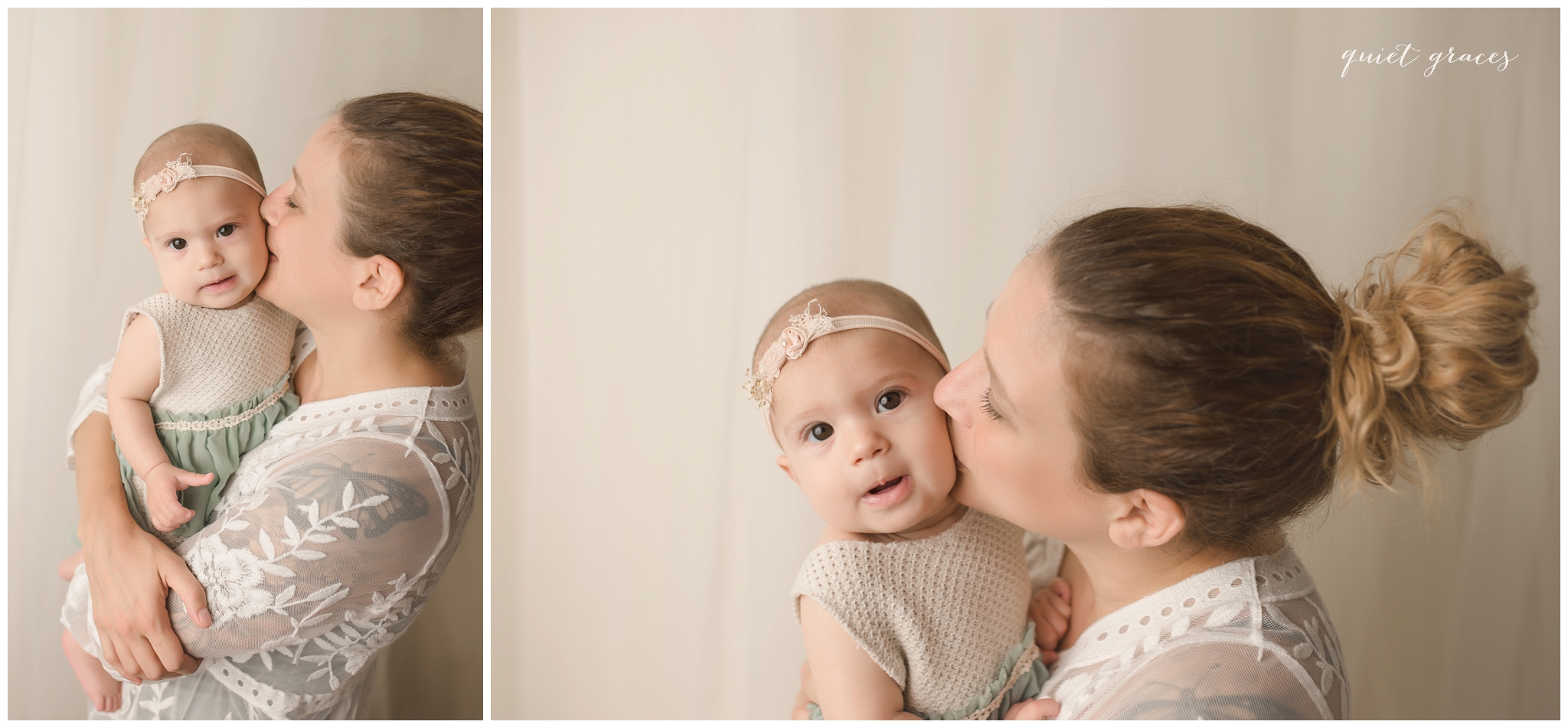 Because I believe in telling the whole story rather than just showing a perfect life-business picture, I will confess I made a costly mistake in Gia's session. We had just returned from vacation and my memory card wasn't in my camera for half of the session. I had put my cards in my smaller camera to do videos of our trip and not returned it.  I've since reprogrammed my camera to not take images if I don't have a memory card installed!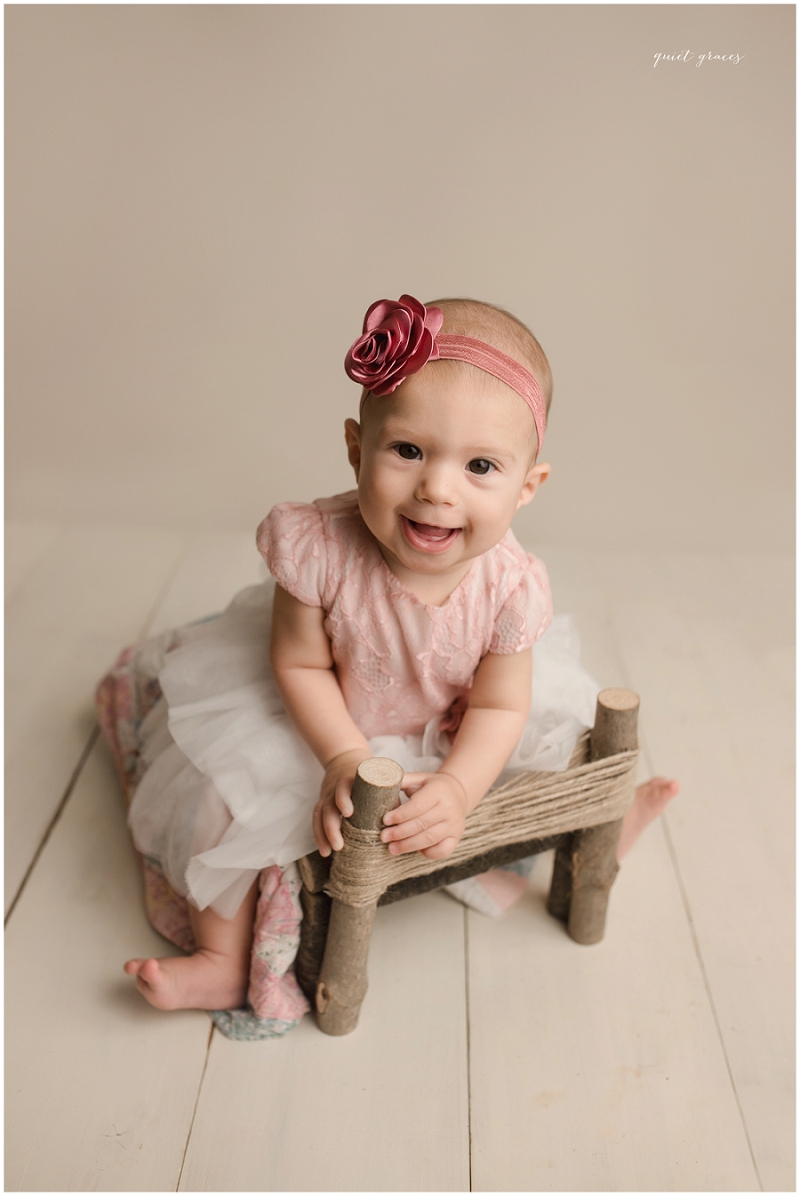 Marie was extremely gracious and while we proceeded with finishing her original session, she, like me, was upset about the missed shots from when my memory card was missing.  So a week later Marie and Gia came back for a second session so that I could correct my mistake.  I'm so glad we both agreed that this needed to be done.  I'm so honored that Marie gave me the opportunity to make it right.

I'm not infallible, but I do want my potential customers to know that I will strive to make my mishaps or mistakes correct.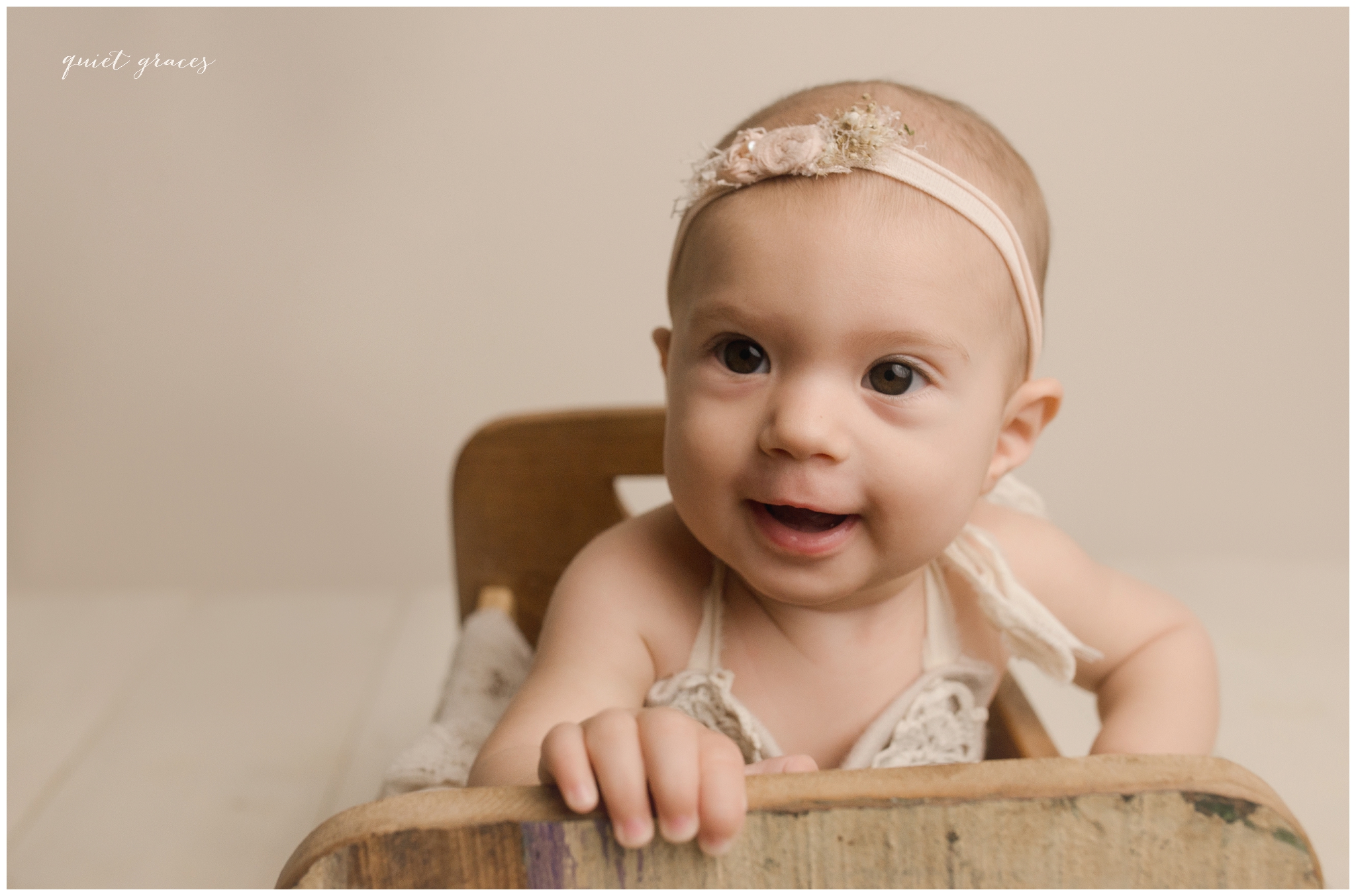 While we both loved some images from the first session, our second session images were our favorites.  Like this image of Gia playing with her toes.  It's so typical of the 6 month age!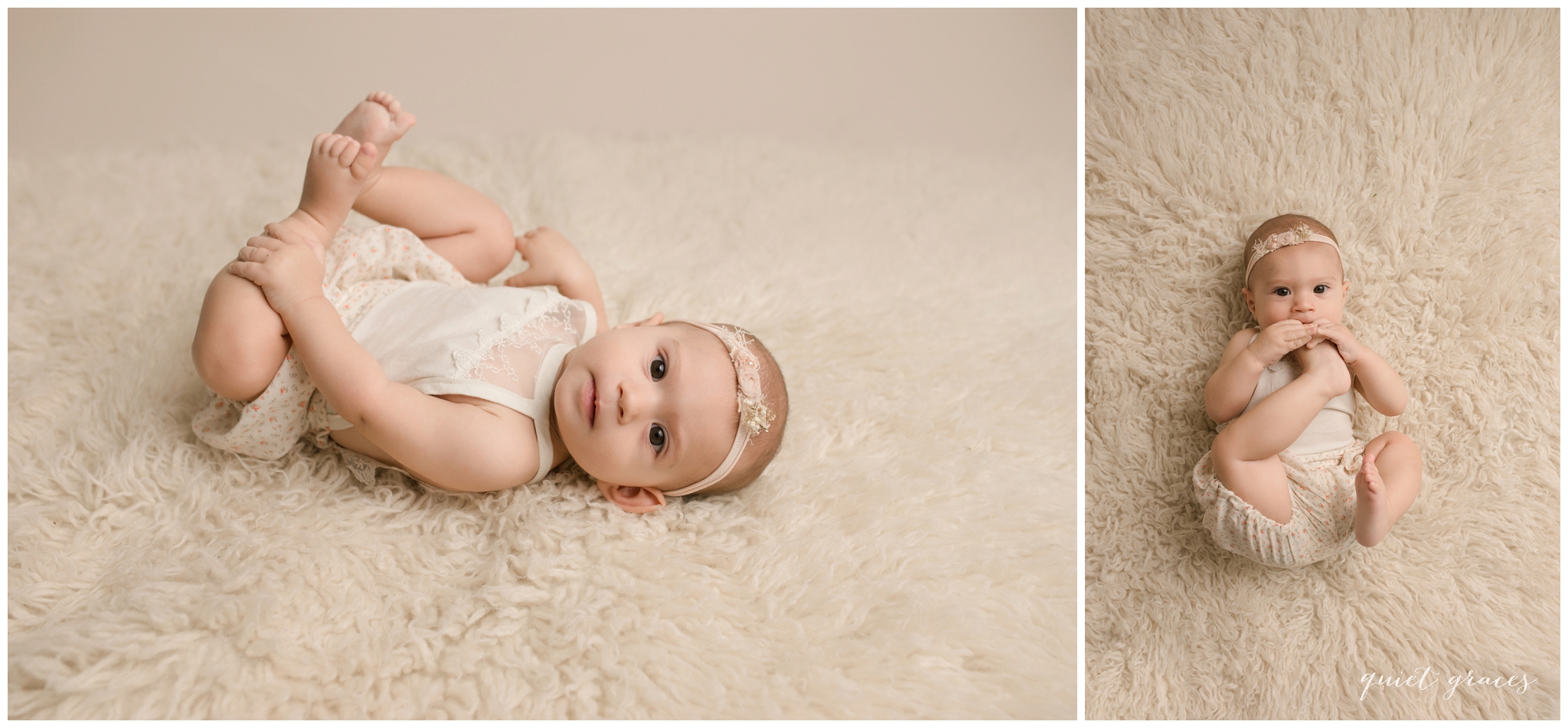 I'd love to work with you to create the images you envision to remember your little one by.  I've stocked the studio full of timeless wardrobe items (all but this pink dress are mine!) and a few creative props to keep your little one still while also adding to the photo.  And if I make a mistake, know that I will strive to make it right.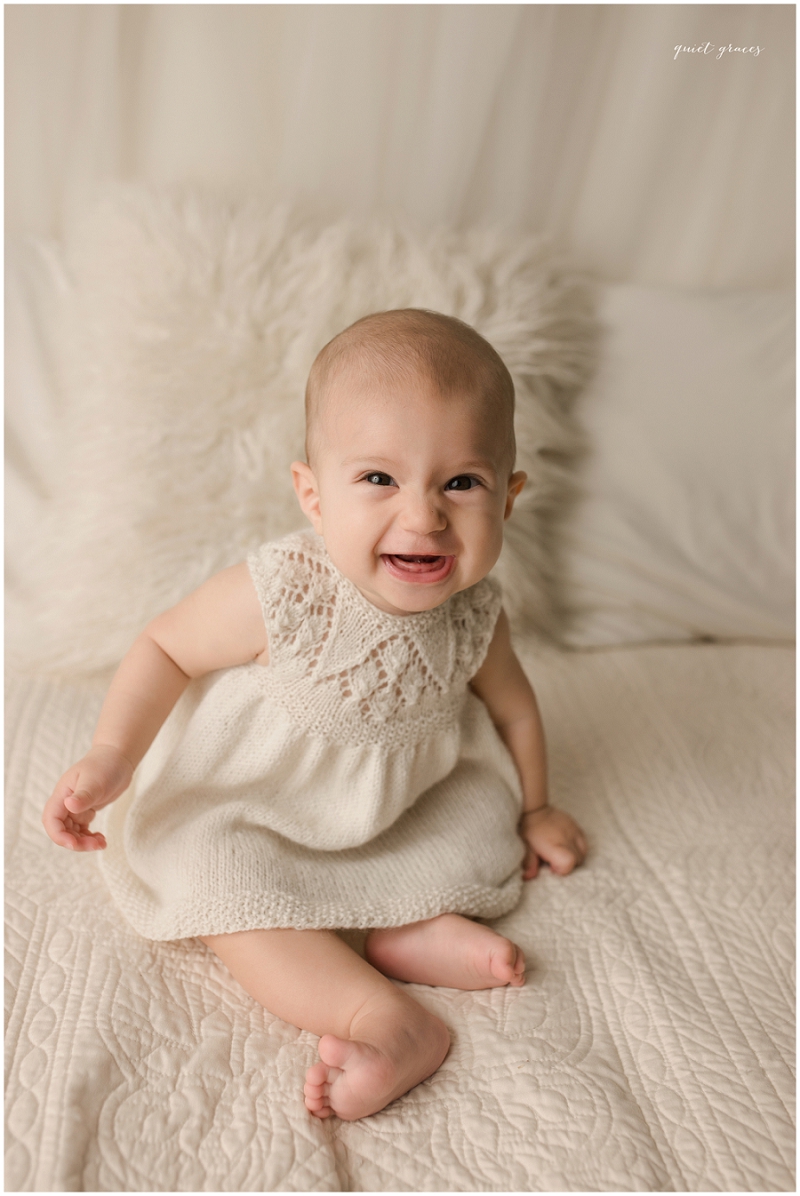 Interested in booking a milestone session for your little one?  Contact me today.
Meet Anya.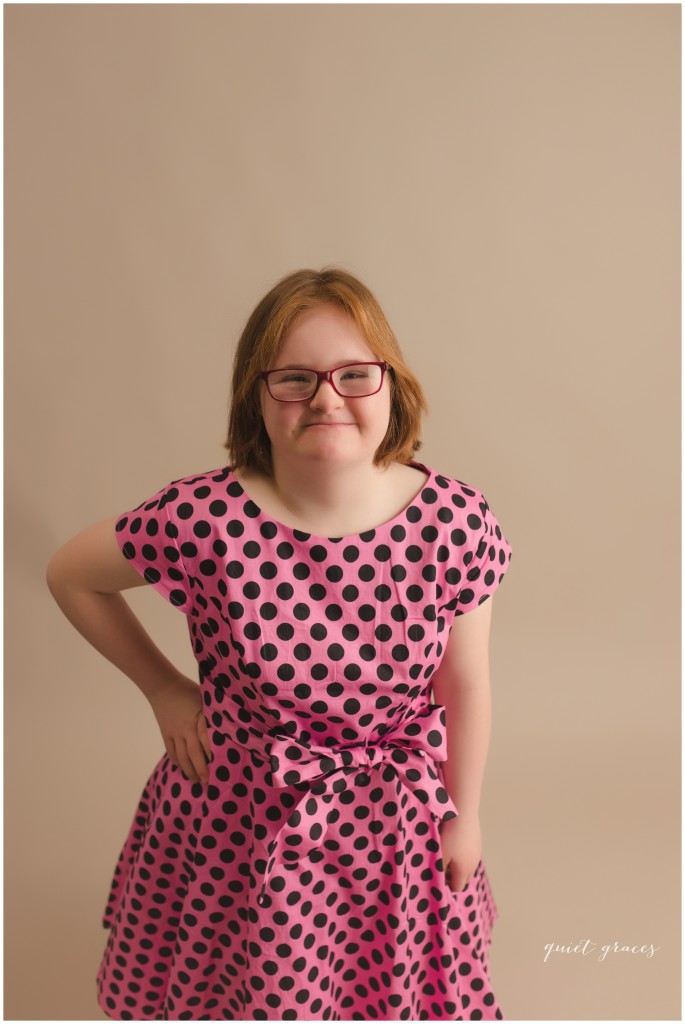 This vibrant 16 year old adores the color pink.  She came dressed to the hilt in her "Night to Shine" dress from a recent event.  She won me over instantly with her shy demeanor coupled with her fabulous 50s style and shoes.  How amazing is this dress?
I seriously wanted to steal the shoes so much that I had to take a picture of just the shoes!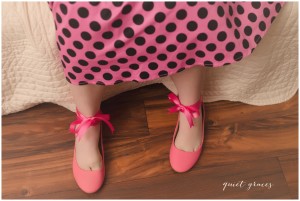 Anya loves to enjoy Icees and pizza.  She also adores her brother Sam.  They play games on the Wii U together.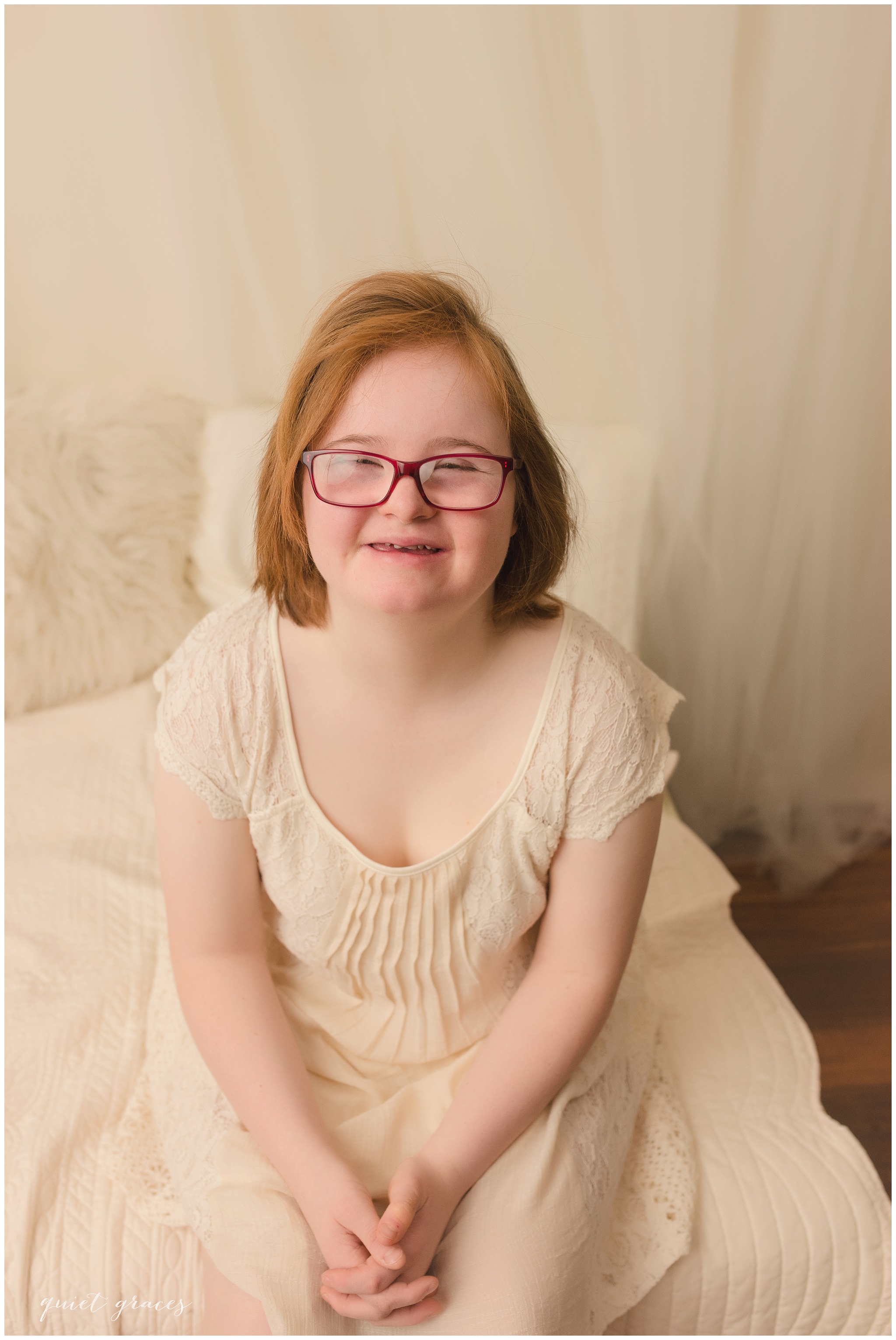 Anya also loves singing loudly to her favorite tunes behind closed doors. She also enjoys watching movies on her iPad and fighting bad guys with her imaginary friends.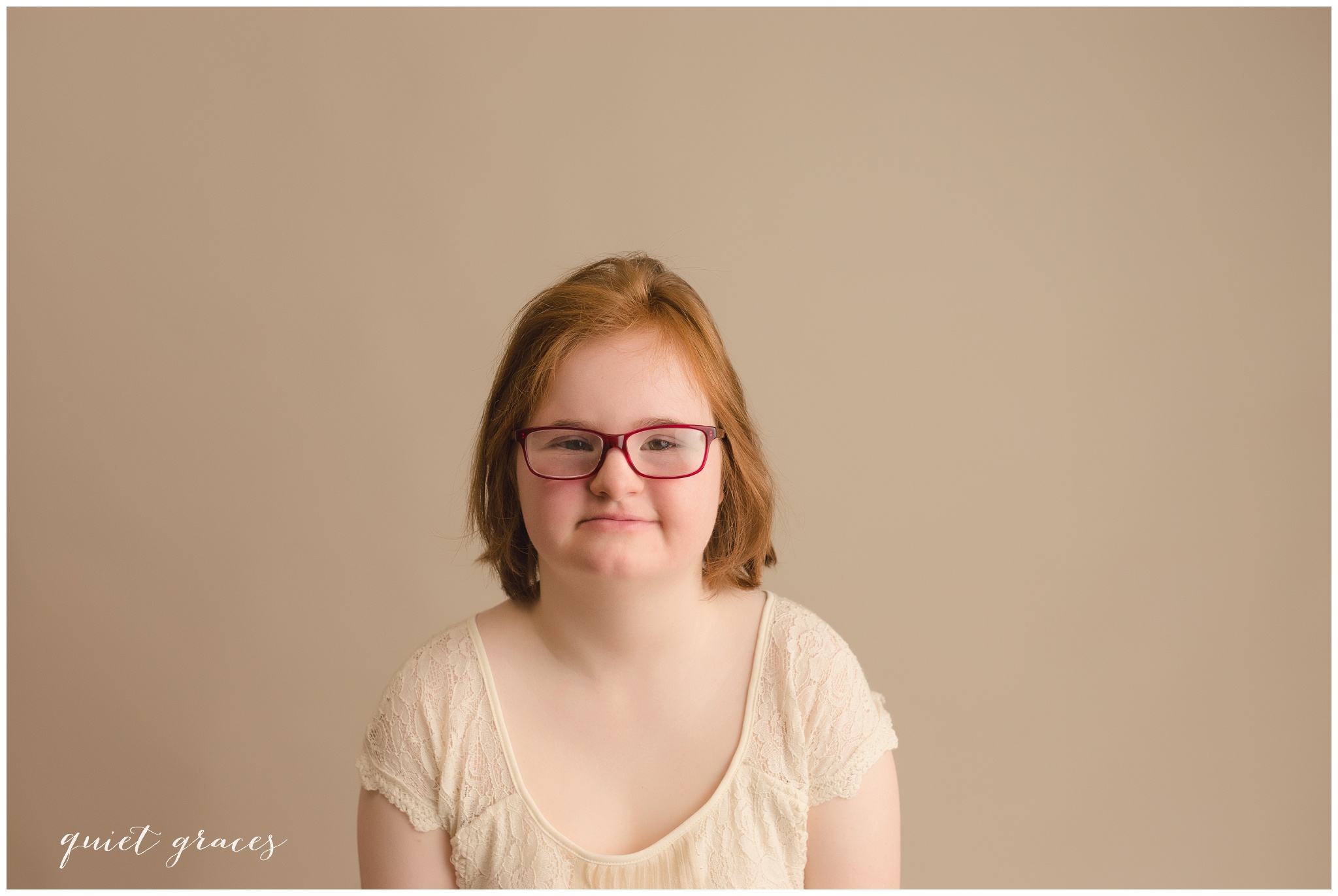 Anya, your shy smile made my day.  I'm so glad that I was able to meet you and make you feel like the princess that you truly are.