Babies
Dear Mama,
I used to know the kind of mom I wanted to be.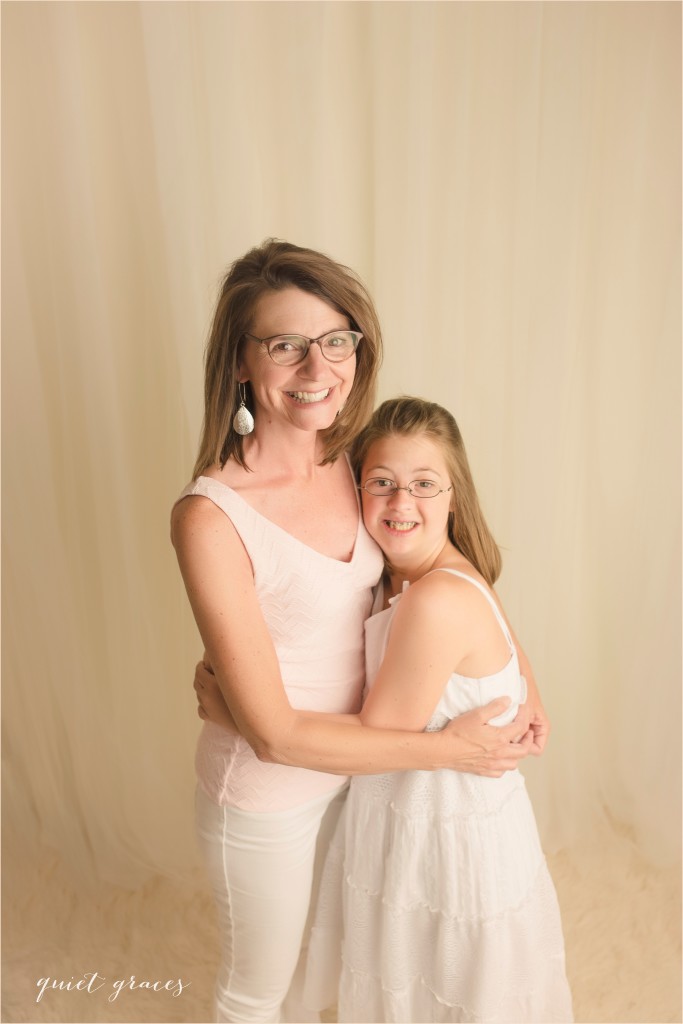 I used to want to be the kind of mom who always had homemade cookies for after school snack.
The kind of mom who never yelled at her kids.
The kind of mom whose kids never pitched a fit in public.
The kind of mom whose children were smart, polite, and funny and whose behavior defined the kind of mom I was.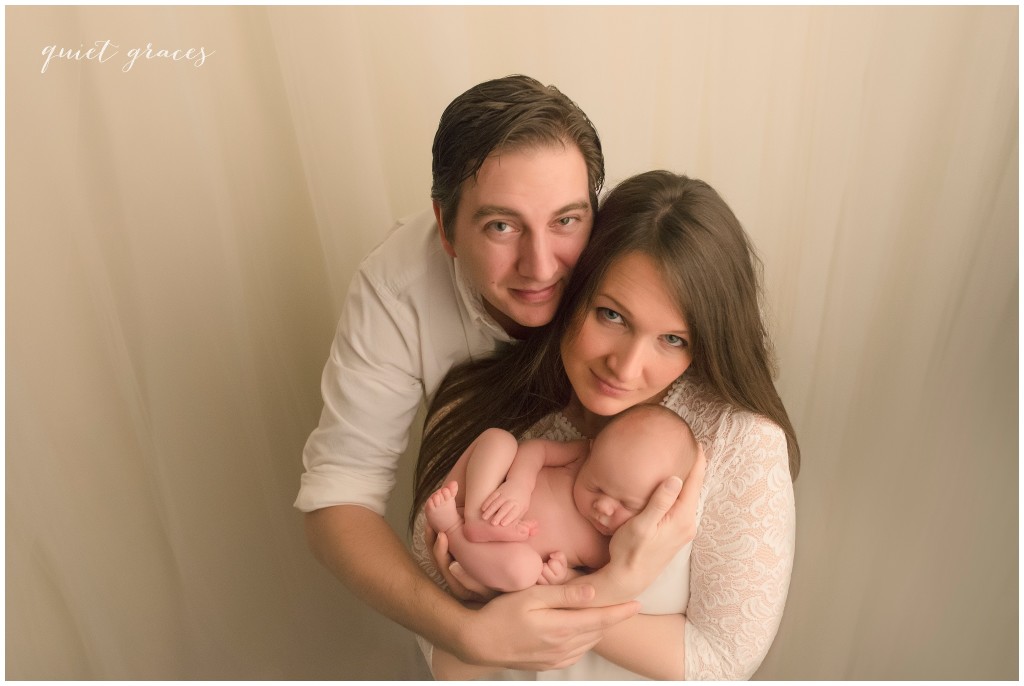 I think by now you can see that these "Kind of Mom I Want to Be" dreams were all before my twin girls rushed into my life in 2009.
I wanted my children'ts behavior and accomplishments to define me and give me meaning. And that's not fair to them or fair to me. They are much more than walking trophies reflecting my value. They are valuable just because they exist. And I am much more than the sum of who they are becoming. I, too, have inherent value.
Mama, would you link arms with me and vow to be the kind of of mama who is kind?
The kind of mama who kindly makes cookies when she can and says yes when the time is right.
The kind of mama who kindly forgives herself for yelling.
The kind of mama who kindly has patience with her little people growing into the best versions of themselves.
The kind of mama who kindly reminds herself that her children's behavior doesn't define her.
The kind of mama who is kind to other mamas and sees them as real vulnerable people who are not defined by their children's behavior or accomplishments. The kind of mama who invests in other mamas and reminds her mama friends that they have inherent value.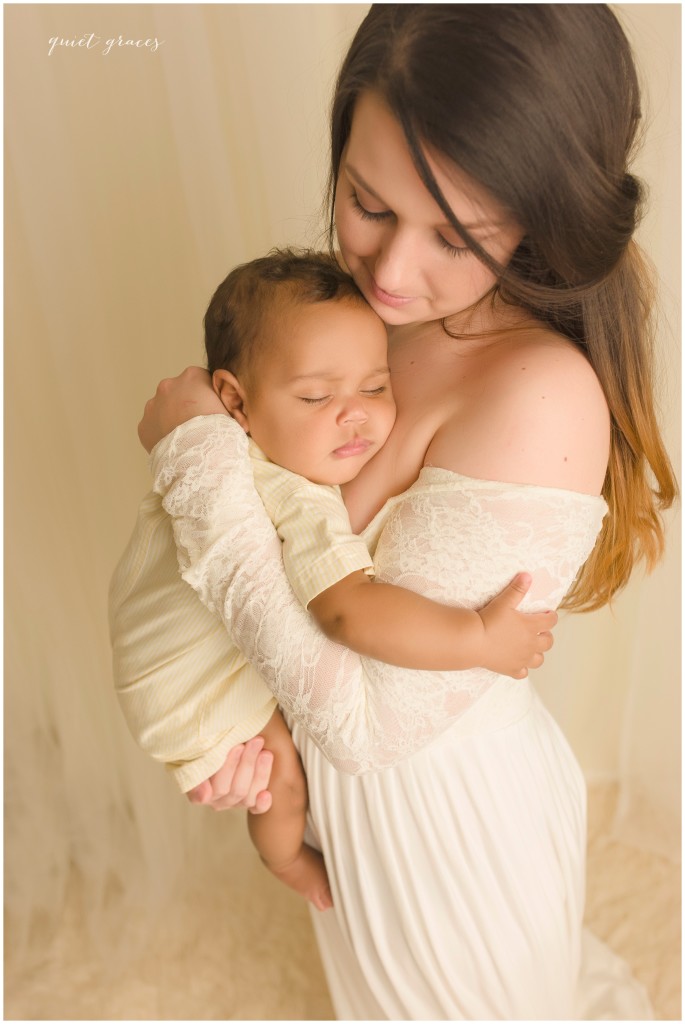 I'm not sure that I will ever quite be the kind of mama that I dreamed I would be. And that's okay.
But I am becoming a kinder mama who whispers to that mama whose child is pitching a fit in Target: "Hang in there, mama. You're doing the right thing for your child. I'm proud of you."
Join me in being kind encouragers of one another?
Melissa
Hey, there!  Looking for Christmas Photos near Simpsonville SC?  Need that perfect gift for the hard to shop for Grandma?  Look no further!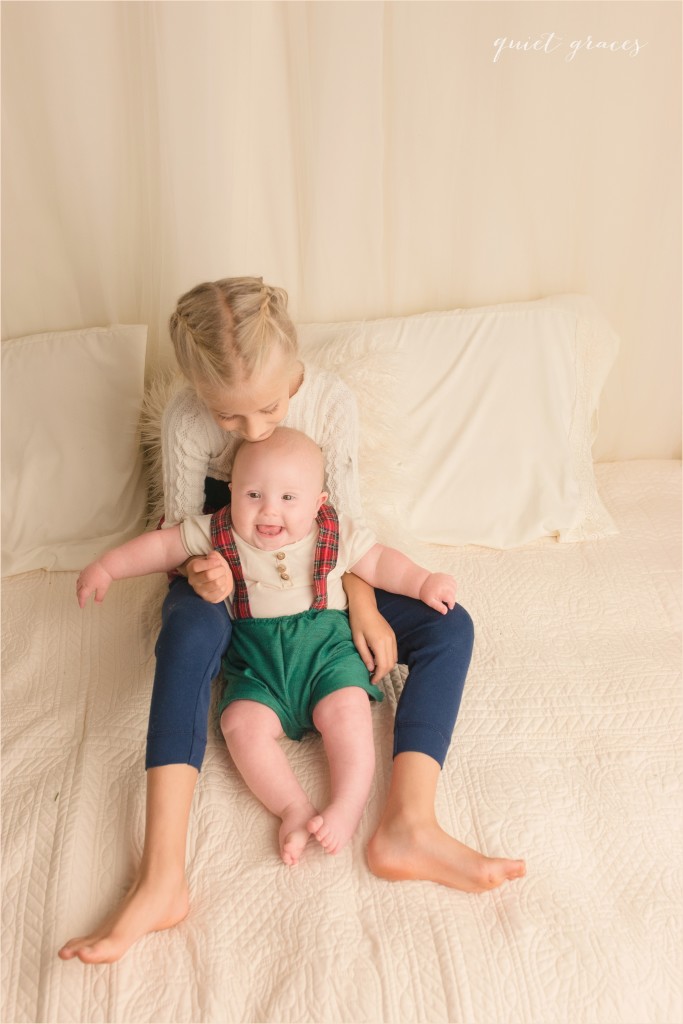 Quiet Graces Photography, a newborn and child photography studio in Taylors, is doing Christmas Photos near Simpsonville SC on November 9 and 11 between 9am-1:20pm.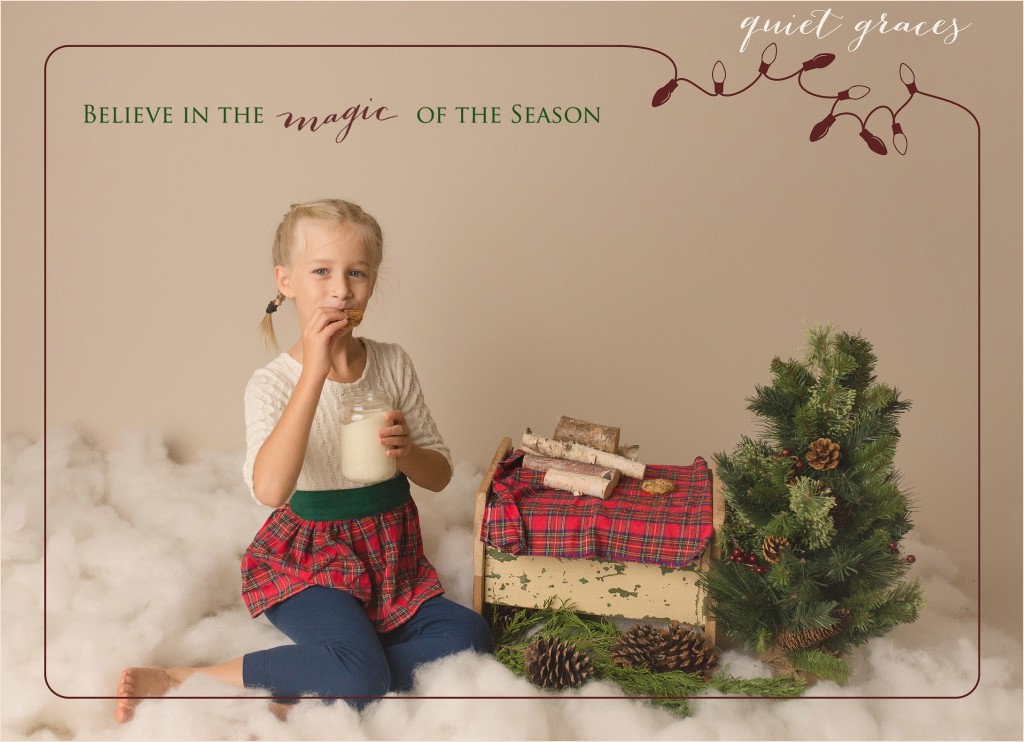 Sessions are 15 minutes long and can include sibling (or cousin!) sets.  If more than one child is attending the session, we'll get that perfect group photo first! Then, we'll try for individual images.  If you want to guarantee both group and individual images, it's recommended that you book two sessions especially if you have more than two children.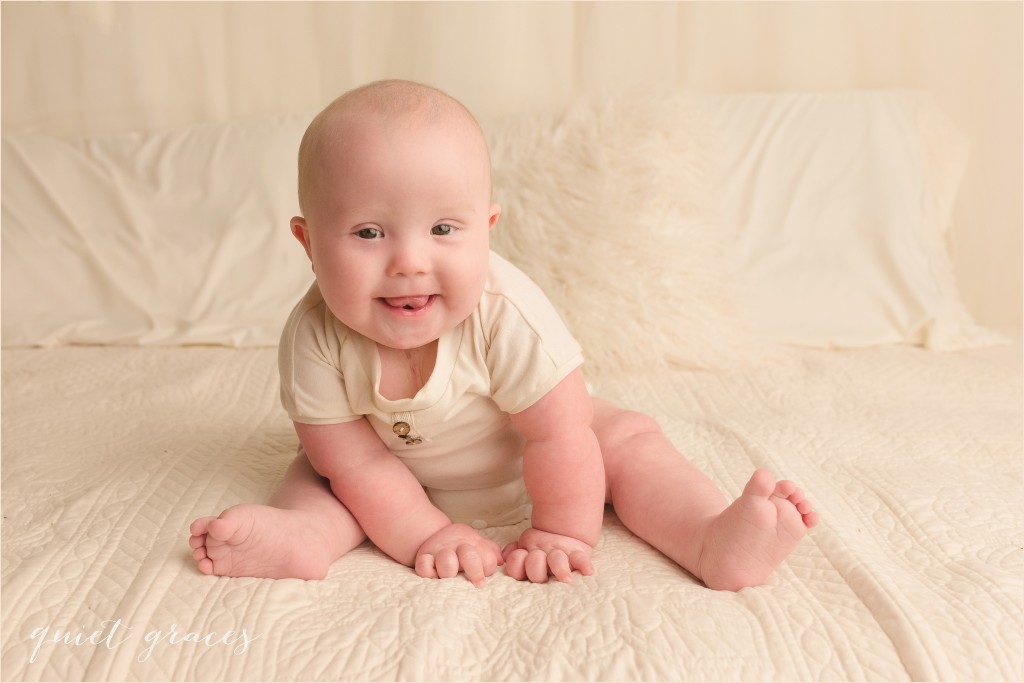 During your Milk and Cookie session, you'll have the choice of two backdrops.  A sweet little Holiday inspired set up includes a tiny table, a pint sized Christmas tree, and the rustic accents of pine cones and birch branches.  There's also "milk" and cookies. This set is perfect for holiday finery or Christmas PJs. Children will be invited to enjoy chocolate chip cookies (gluten & dairy free option available)! This set up would make the perfect Christmas card image.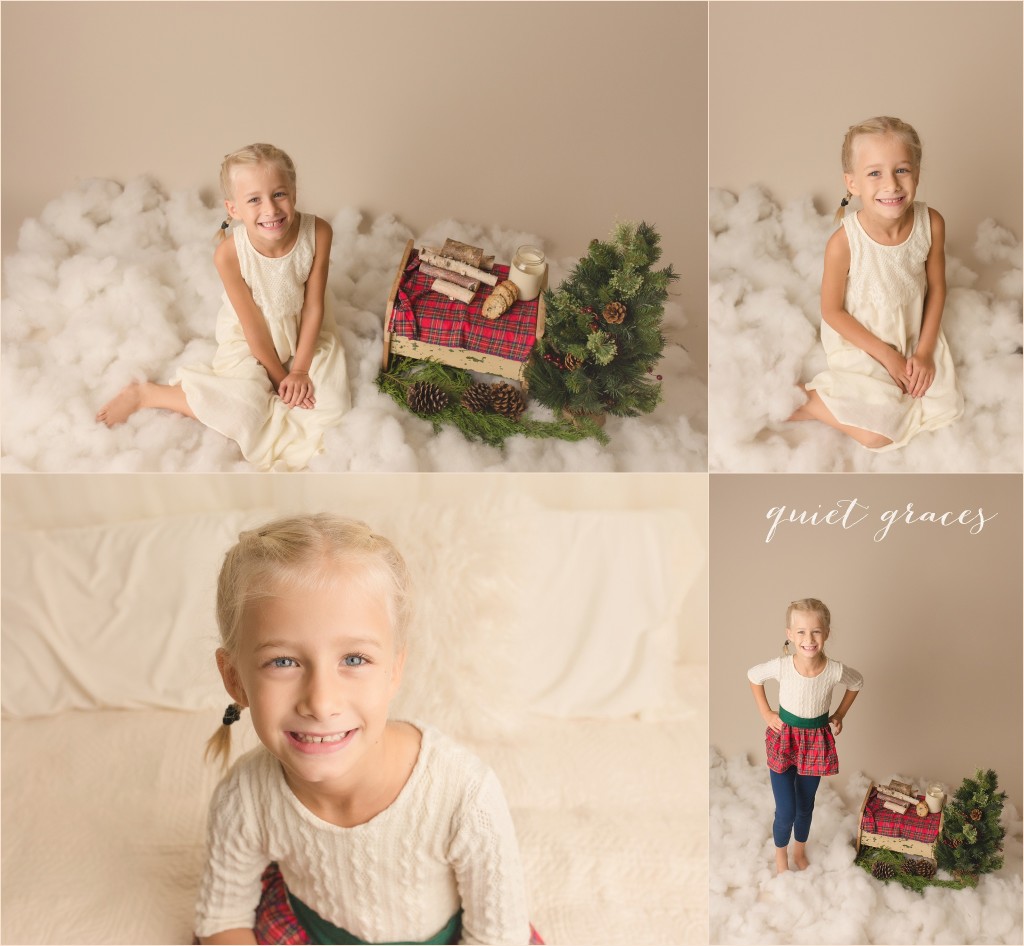 The second set up offered is a cream bed.  The soft romantic style of this bed and it's cream whole cloth quilt reminiscences of days of old with a few modern touches.   This set is perfect for a holiday finery and older siblings.  But it will also create timeless photos that Grandma and you will treasure forever.
Your mini session includes a wardrobe for you to use.  We have items in sizes 0-14 for girls and sizes 0-2t, and size 6 for little boys. All items are timeless and neutral, except for a sprinkling of Christmas items in sizes 0-18 months (though we did put this size 18 month dress on this size 7 girl as a tunic and it's adorable!).
Desmond came into the studio grinning and ready for his Child Christmas Mini Photos Greenville.  He was an early volunteer to model for my Milk & Cookies Holiday Mini Sessions. Desmond was the most willing model I have ever had in the studio.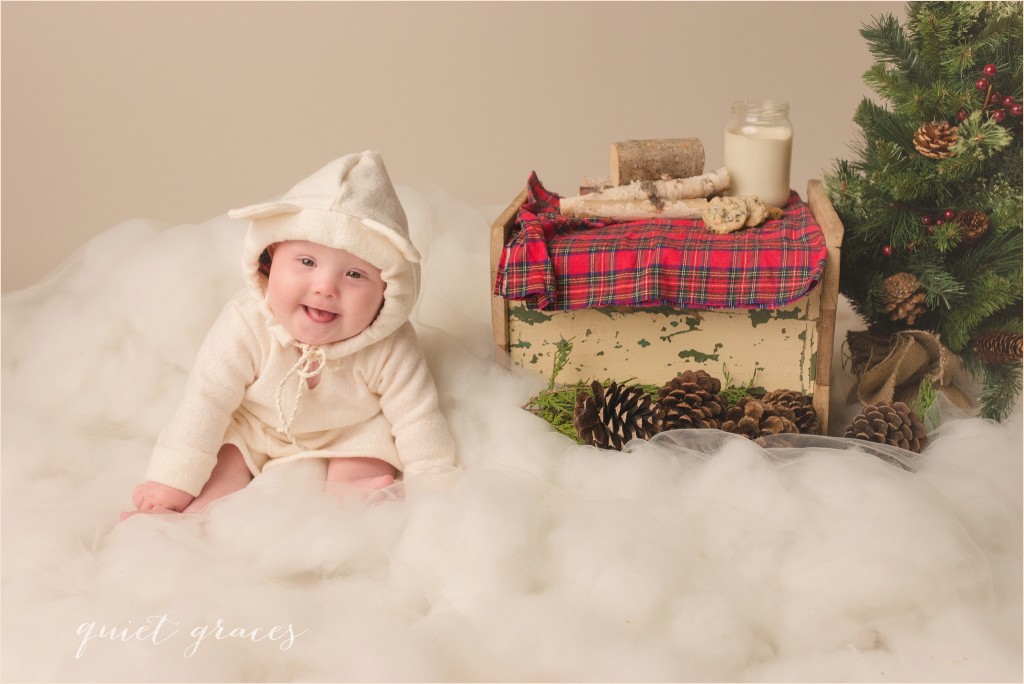 He tolerated multiple clothing changes while delighting me, and his mama. My daughter Aeralind, who was assisting in the studio that day, wanted to steal him!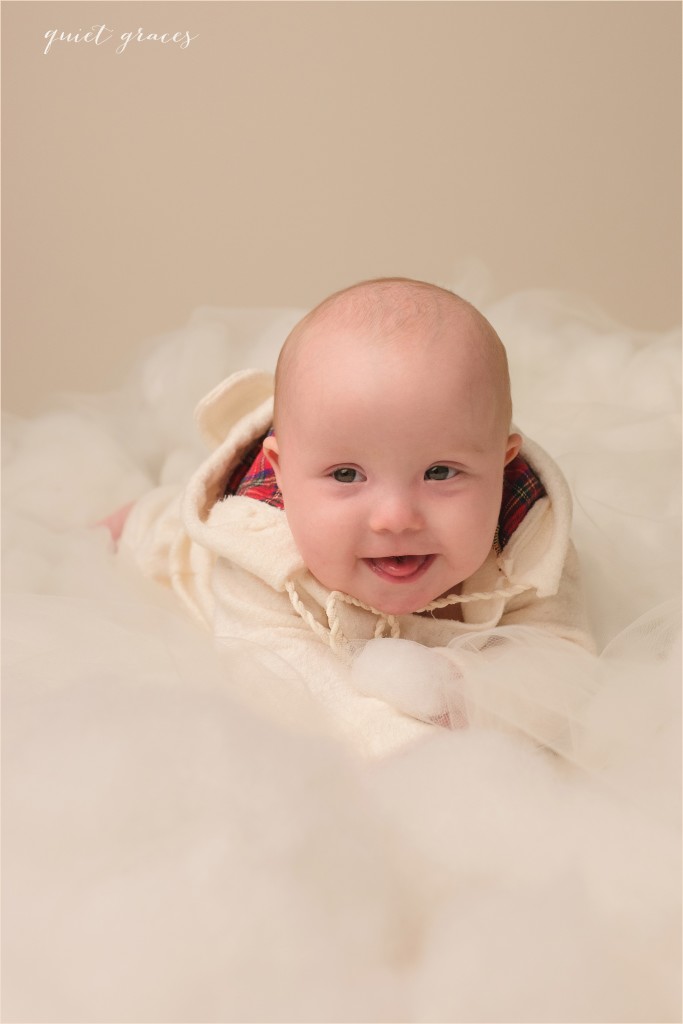 This little polar bear hoodie and shorts by Lydia's Hope Chest is named after Desmond.  You can purchase your own hoodie for your little one this holiday season.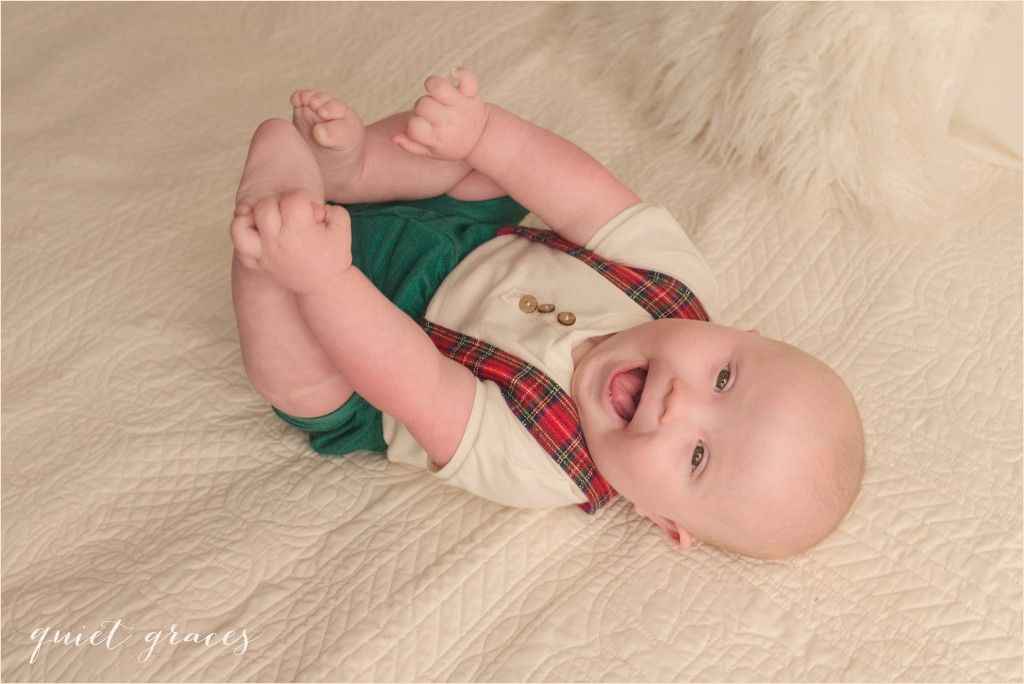 I'm a sucker for the happy baby yoga pose.  That happy smile and those chunky little legs: dreamy.
Our holiday mini sessions are coming up on November 9 & 11.  There's two set ups: our cream bed and our cute Christmas set up featuring Milk & Cookies (yes, your kiddos can eat them!)  The studio carries wardrobe options for sizes zero to 2t for both genders. We also have some options for 2t-14 for girls and 2t-6 for boys.  Either set up is perfect for holiday finery or Christmas PJs for your holiday card.
Milk and Cookie sessions are $99 and include 5 digital files.  There is also an opportunity to purchase Christmas Cards or a set of prints perfect for gifting both sets of grandparents (with a few for yourself!)  Chocolate chip cookies both traditional and gluten/dairy free will be available for your children to enjoy for their smiles.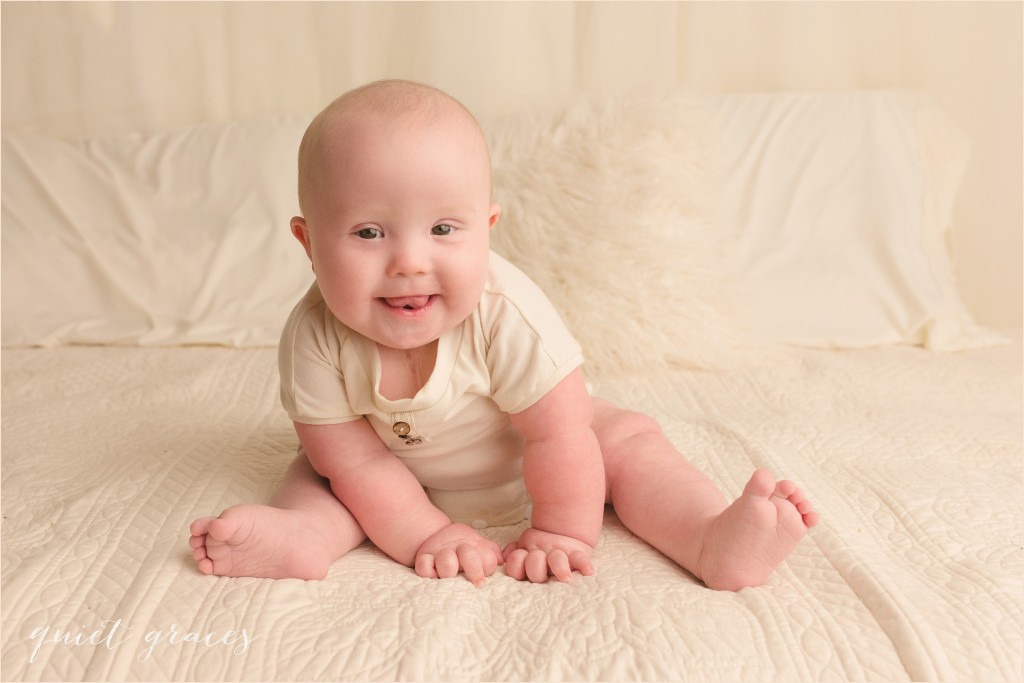 I nearly squealed when adorable Kingsley came into the studio with these perfect rosy cheeks.  I may have been tempted to steal her.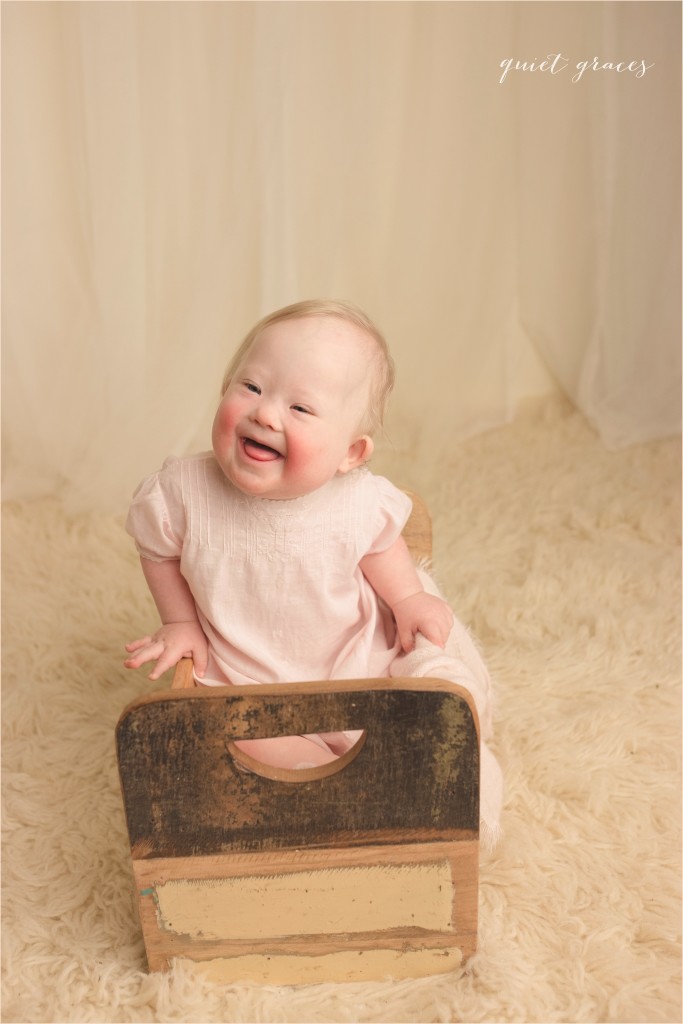 But the icing on the cake was her sweet disposition. She's such a happy girl whose love for life was so evident.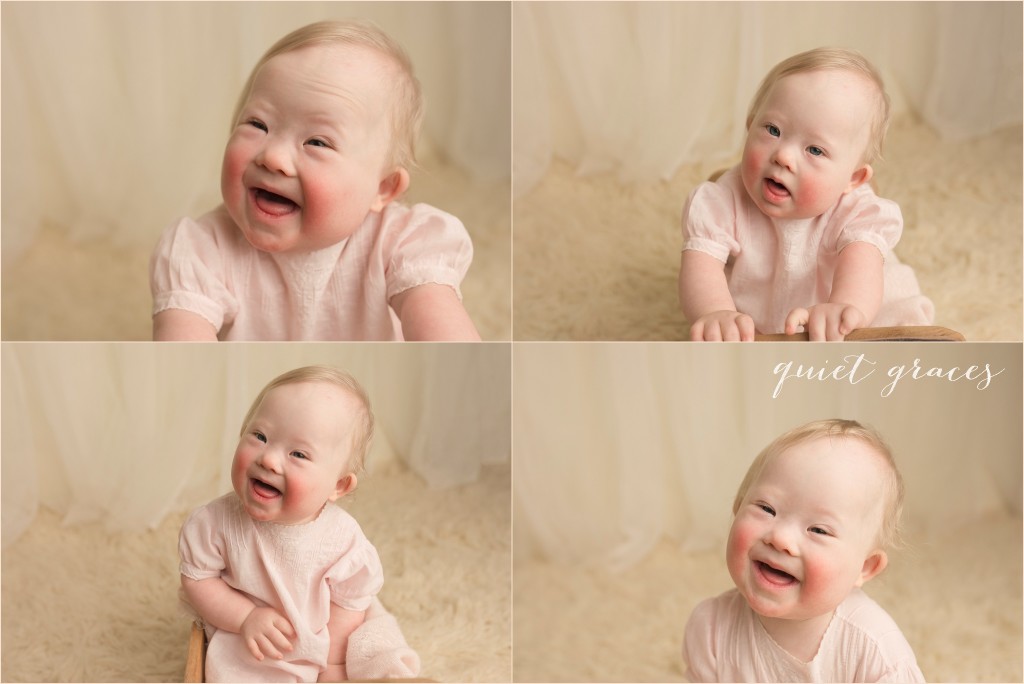 We had so much fun playing dress up with with this beauty.  She seriously smiled and laughed in every single set up we put her in.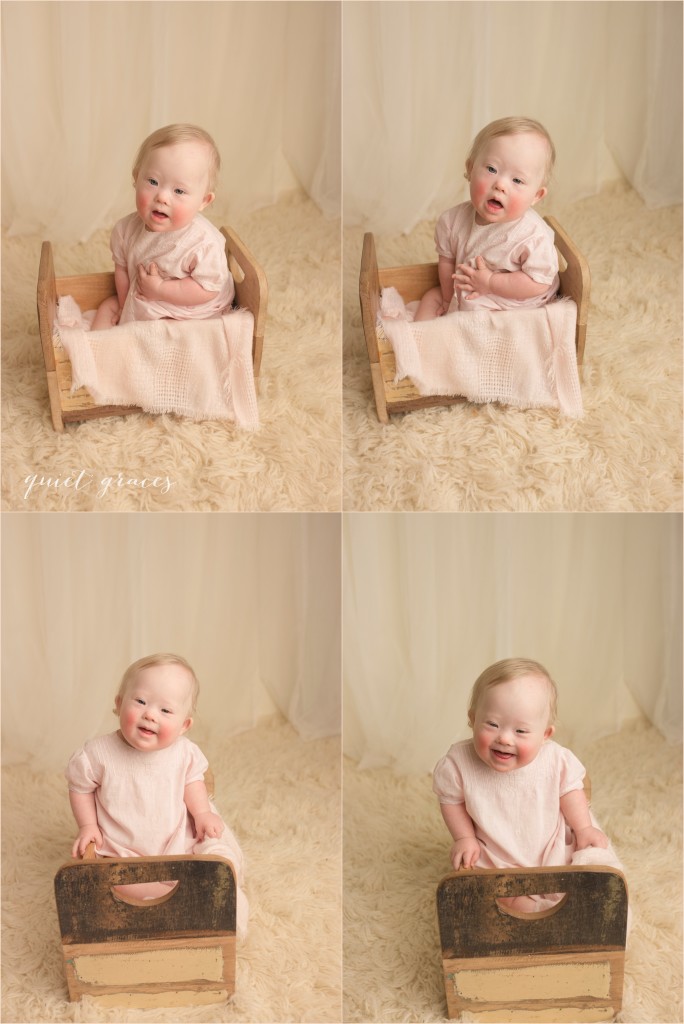 And the best part: it was Kingsley's first birthday on the day of her session!!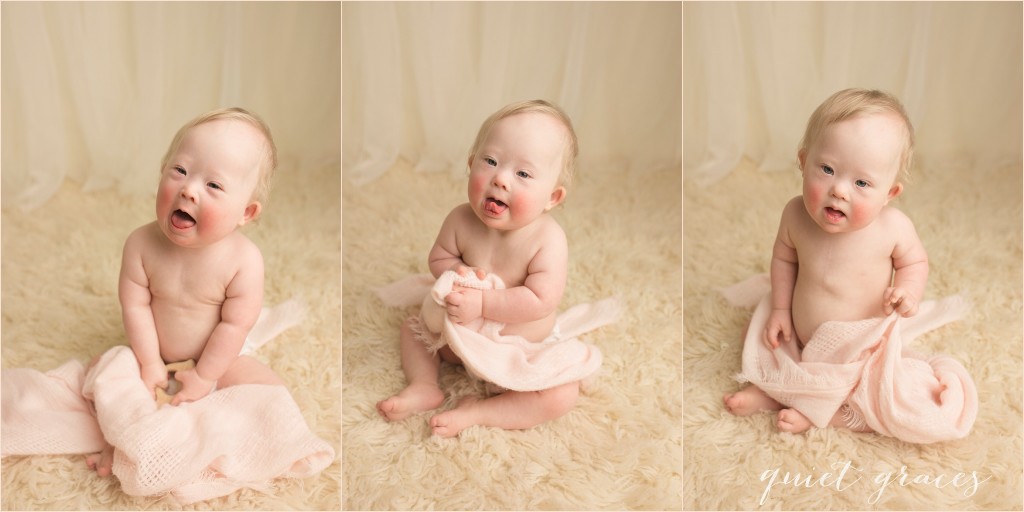 Kingsley's mama Courtney did not know that Kingsley had Trisomy 21 until after she was born.  While scary at the beginning, Courtney is glad that they were surprised with the extra chromosome.  Courtney writes:
It was not what we expected, and it was scary at first, but Kingsley is such a blessing to us. She brings us so much joy. It's really fun to watch her hit milestones at her own pace, and we celebrate each one with her.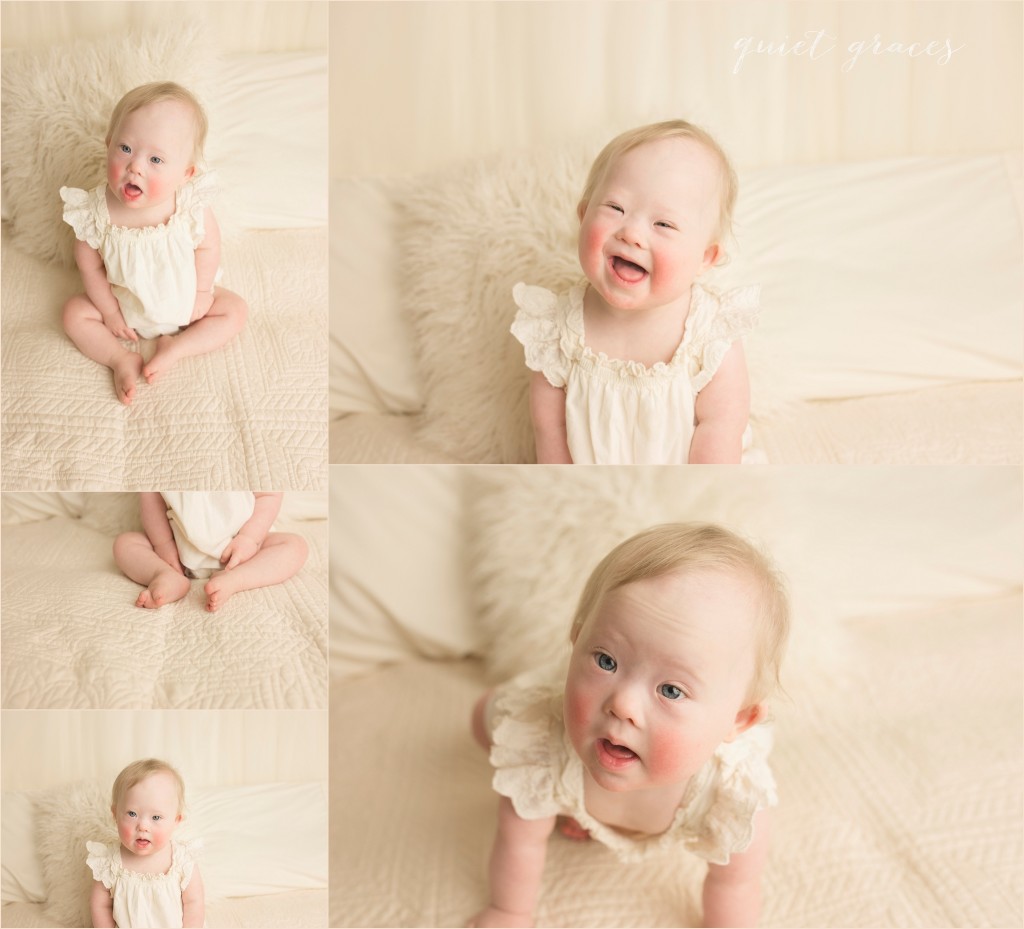 Kingsley has a million possibilities in front of her just like a typically developing child.  Nothing will hold her back from achieving her dreams.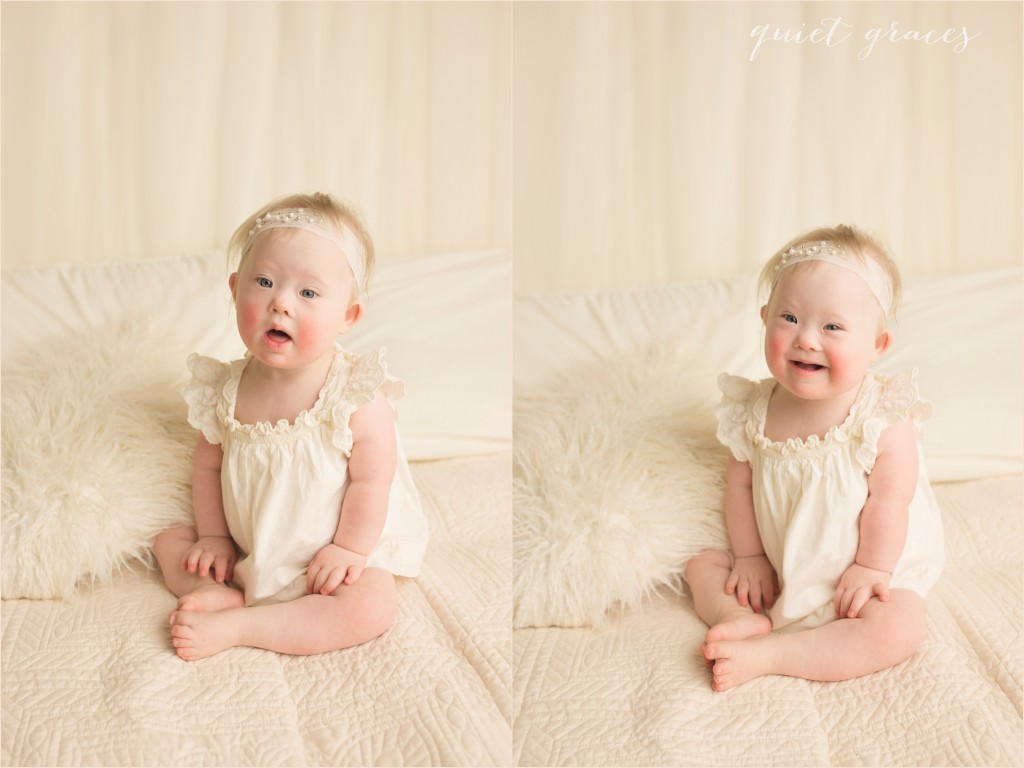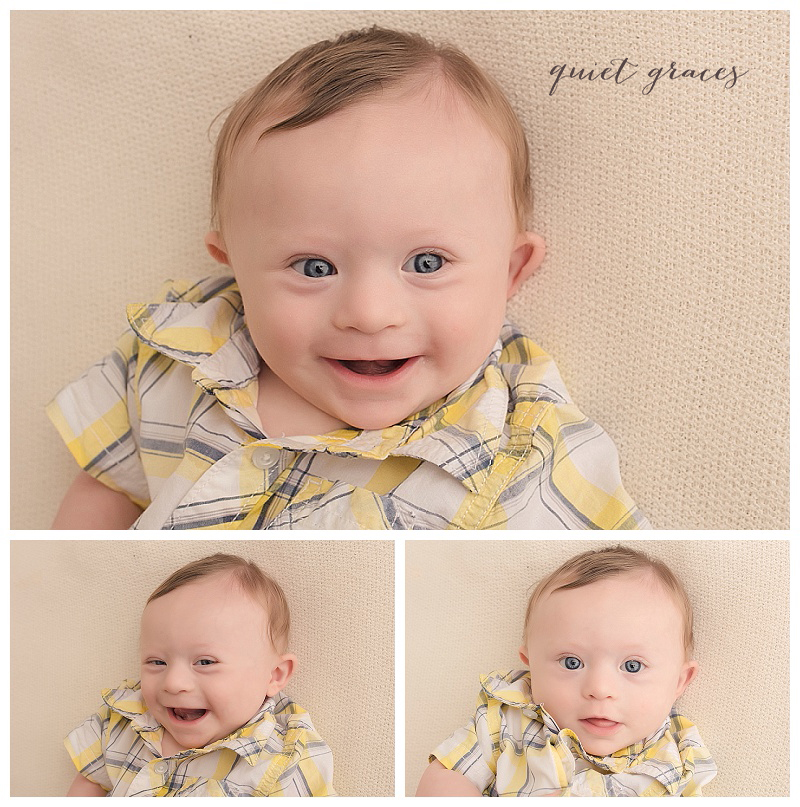 Last year this little charmer came to the studio, was woken up from a nap, and produced a million smiles.  I couldn't believe it!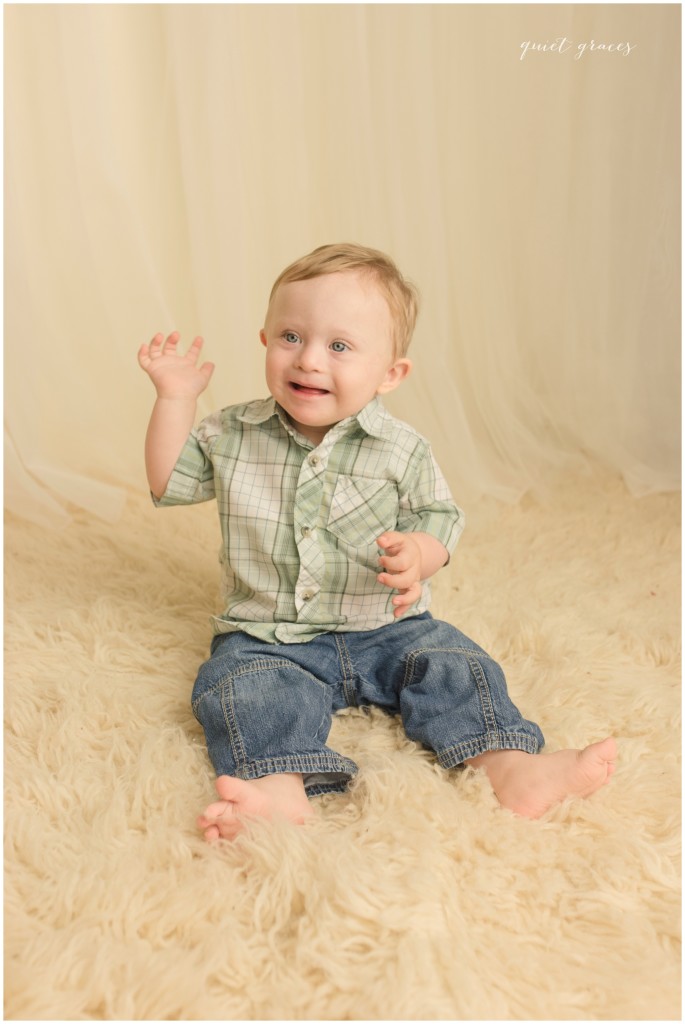 He's grown a lot!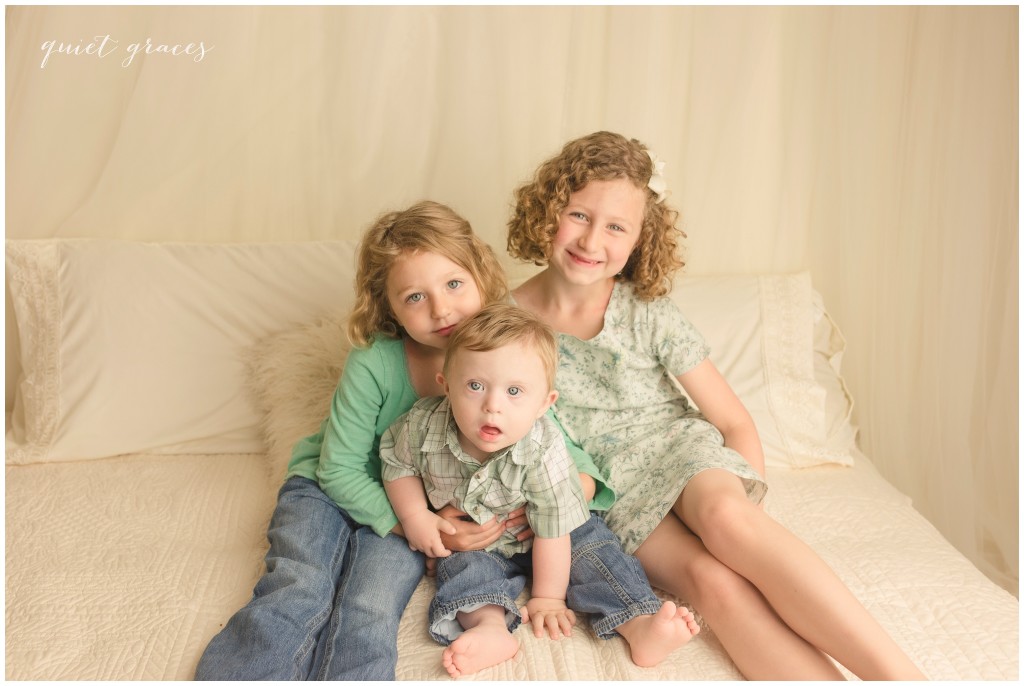 And one thing is for sure, his sisters absolutely adore Robert!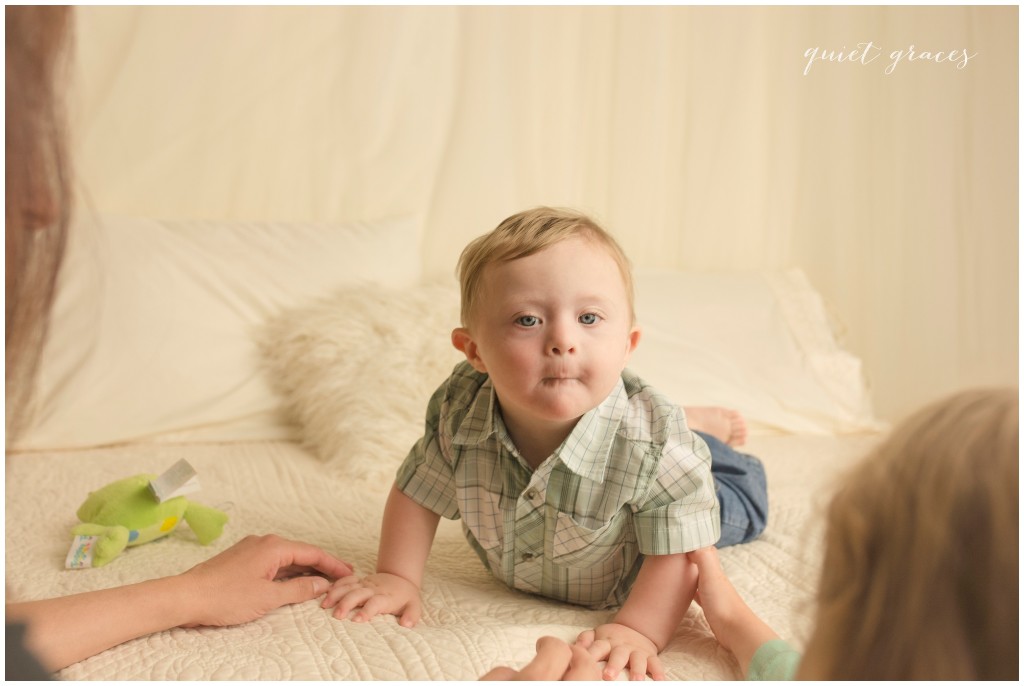 His laugh is infectious.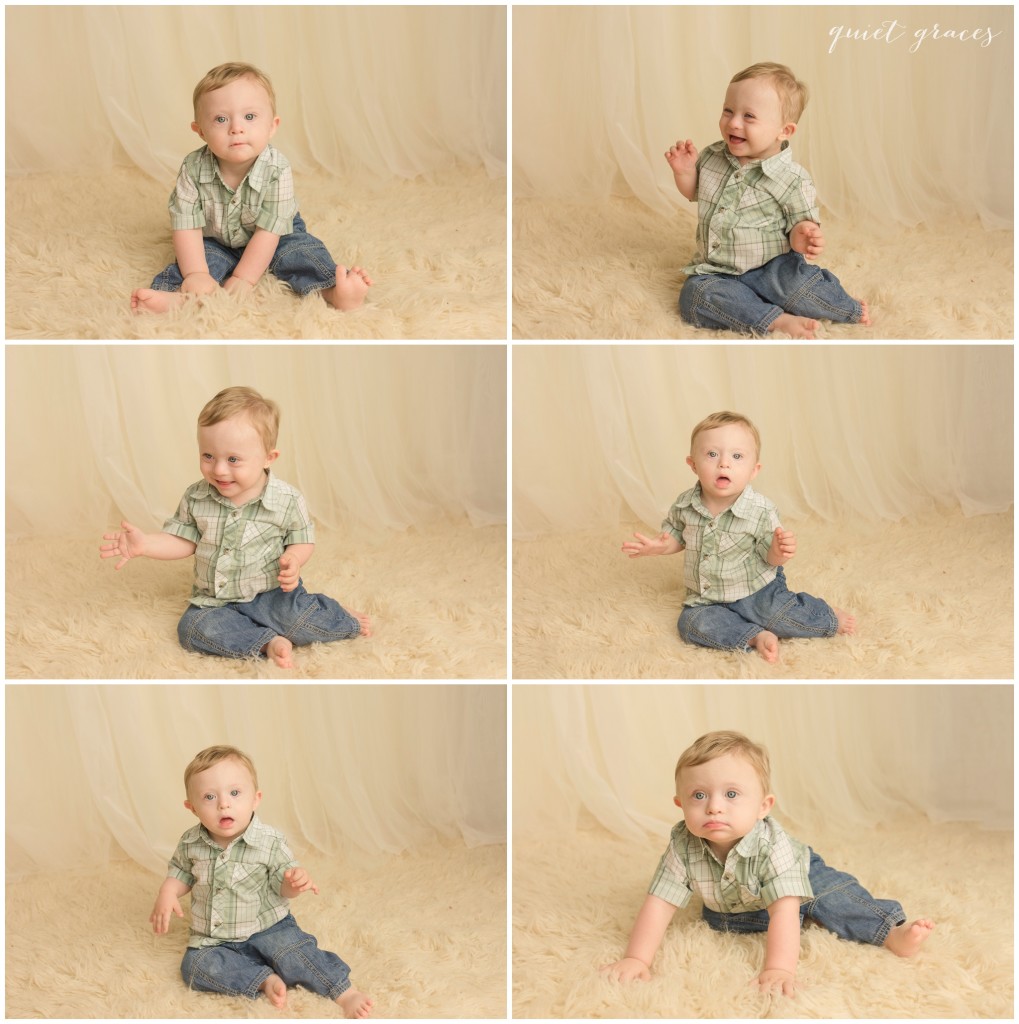 One of the things I hear over and over throughout the course of these mini sessions is "I wish people would just see a child first."
With Down syndrome (and other special needs that are visible, people are quick to ask about disability or ability or "What is it like to have a baby with that condition?"  Worse still, people generally refer to children with Down syndrome as "the Down syndrome baby/child/person".
Like all individuals with Down syndrome, Robert is a child first.  Just like any other child he longs for your love and affection.  Referring to him as "the Down syndrome baby" is offensive because it defines Robert by his diagnosis.  But Robert is more than his diagnosis.  Robert is a little boy with an amazing sense of humor and a family who loves him.  He also happens to have Down syndrome.
So what is the best way to refer to a child with a disability?  By their first name.

If you need to reference their medical condition use their first name first.  Robert, who has Down syndrome.  Holden, who has Sensory Processing Disorder. Debbie, who has Cerebral Palsy.  Their conditions do not define them.