Twin Babies
It's always a good thing when your Greenville SC Natural Twin Newborn Baby Photographer also has twins.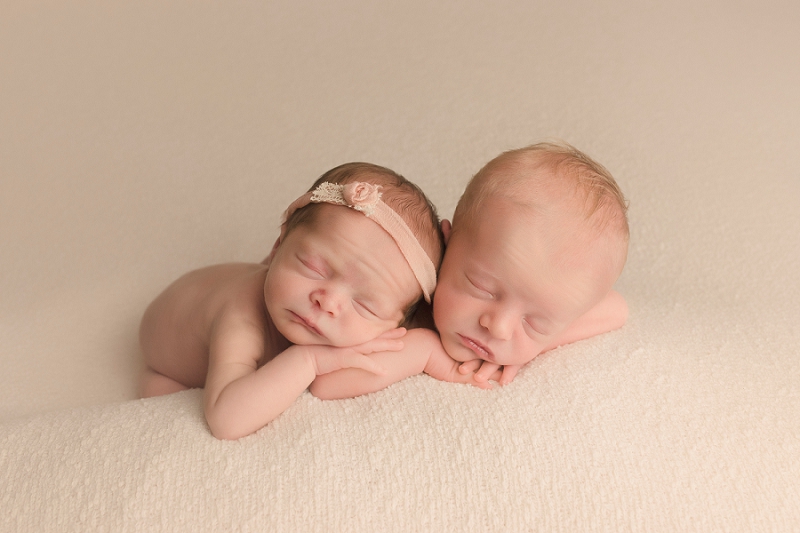 My twin girls are 8 this year.  That first year was a crazy ride of joy, sleeplessness, cuddles, and them changing everything up as soon as I figured them out.  One of my favorite things is to serve twin mamas in the studio.  There's something truly special about encouraging a new twin mama and promising her that it's all worth it; so I was thrilled when Jessica booked with me for her little ones Ford and Emerson.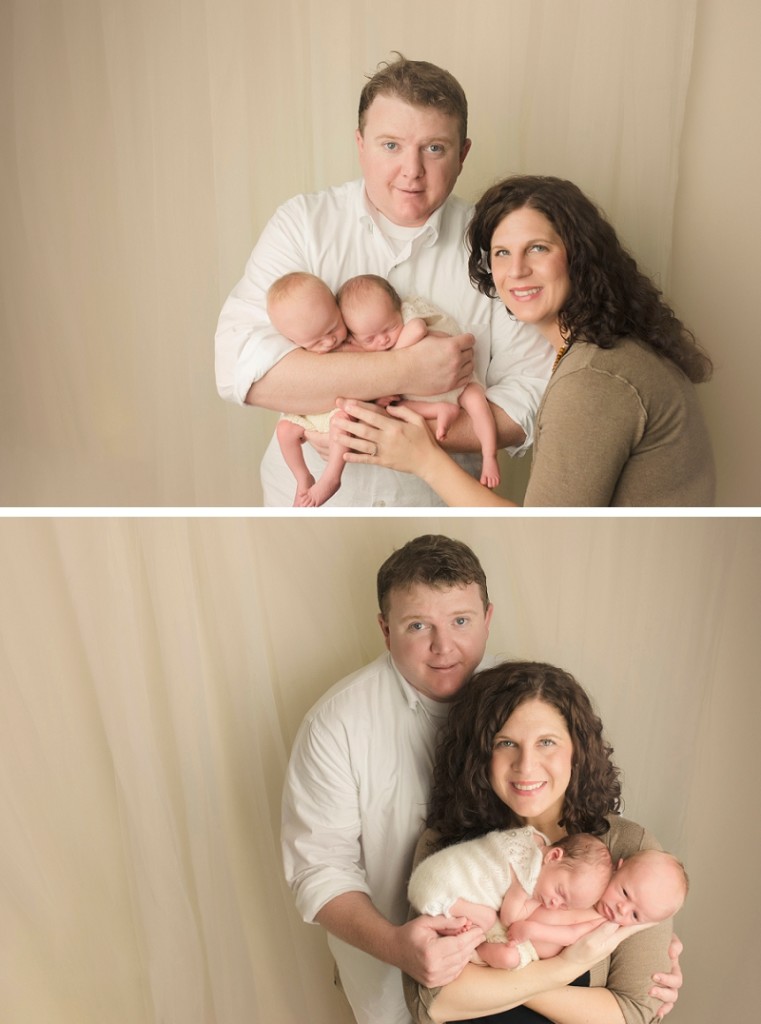 Ford and Emerson stole my heart from the very moment the walked in the studio.  Calm and laid back and brand new, they were a joy to work with.  I almost didn't want to give them back to Jessica.  I just kept trying just one more thing.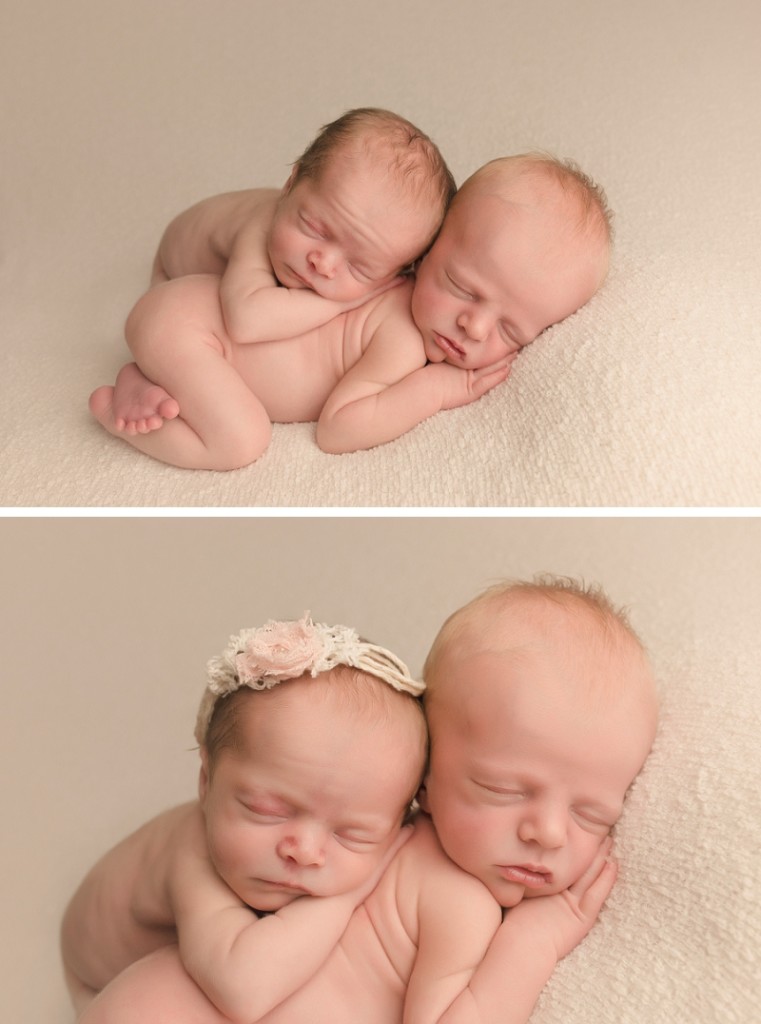 Each baby had such different personality.  Even though they were both relaxed, Emerson we so much more laid back.  She slept through the entire session and let me pose her however I wanted.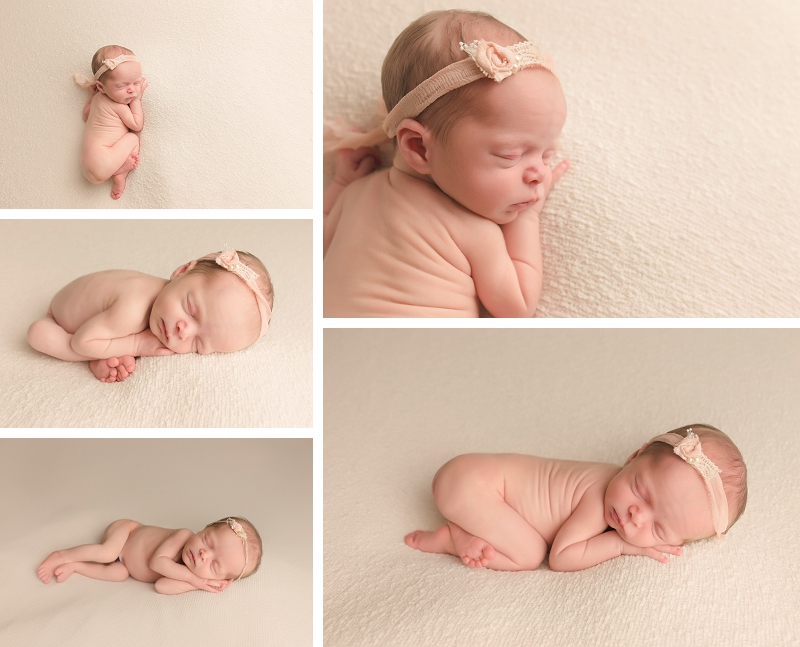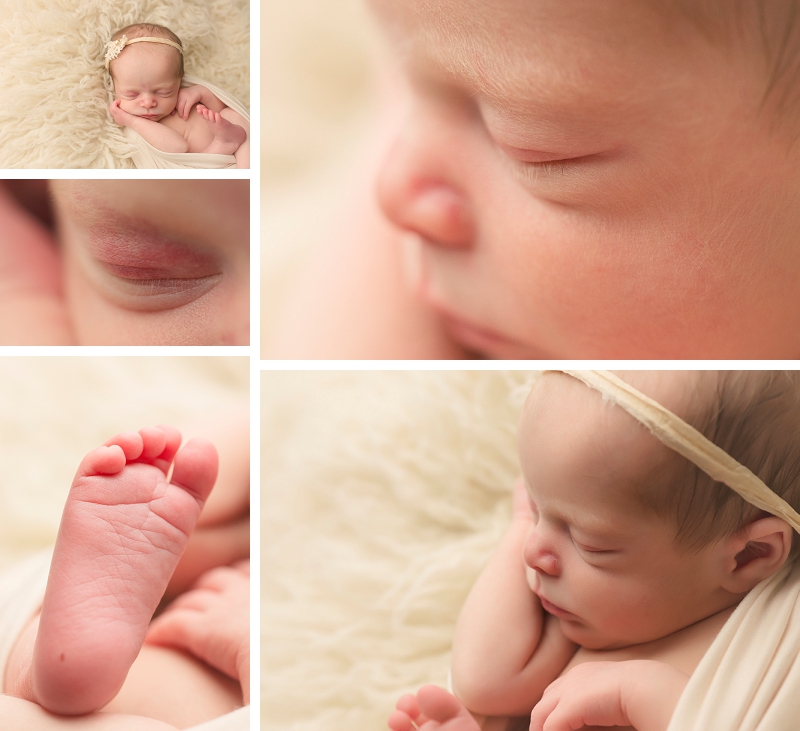 Ford was sweet but he was definitely a mama's boy.  He needed a good snuggle and snack to get through the session.  And when I finally got to pose him, Ford felt more comfortable next to his sister.  That twin bond starts from the very start.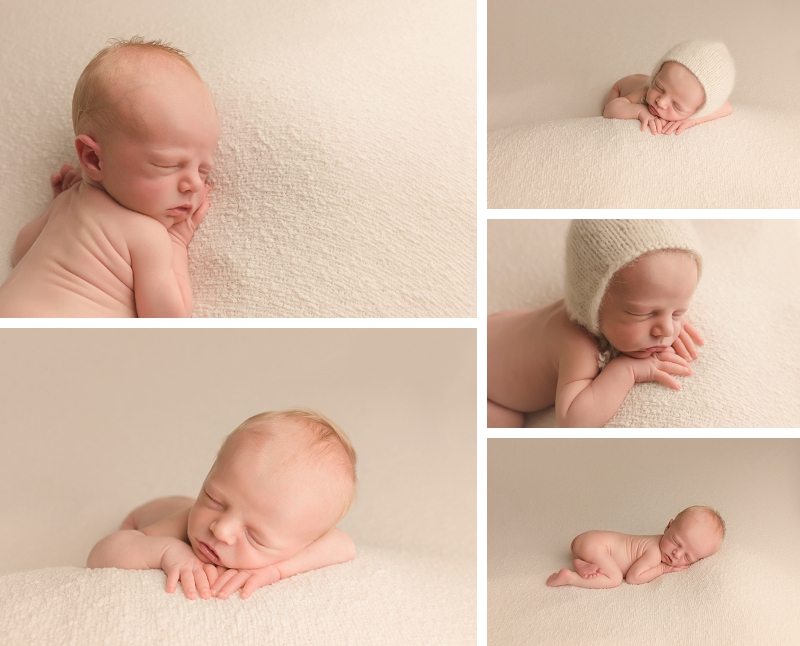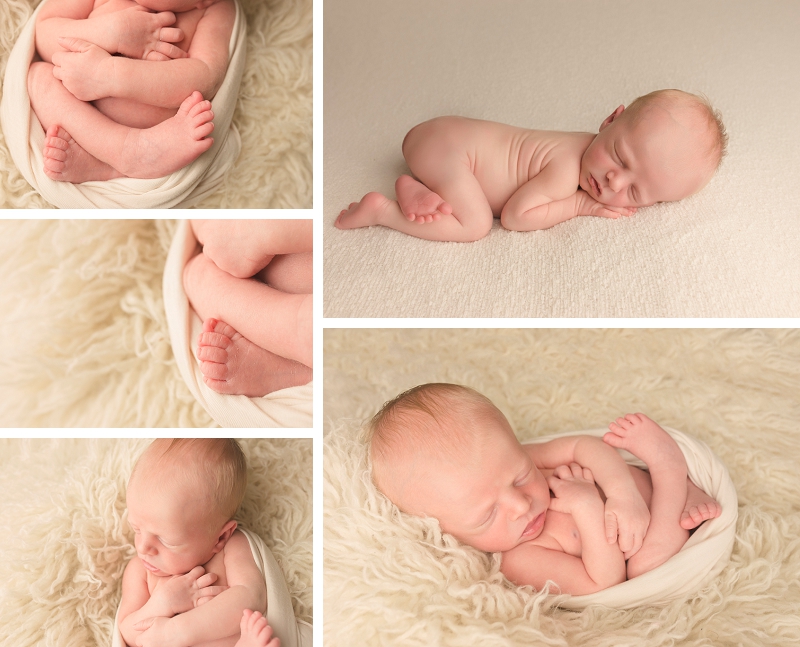 I loved talking to Jessica about the challenges and celebrations of having twins in the first year.  It was so nice to be able to give back the gift of encouragement that had been given to me by other twin mamas in my early days with my girls.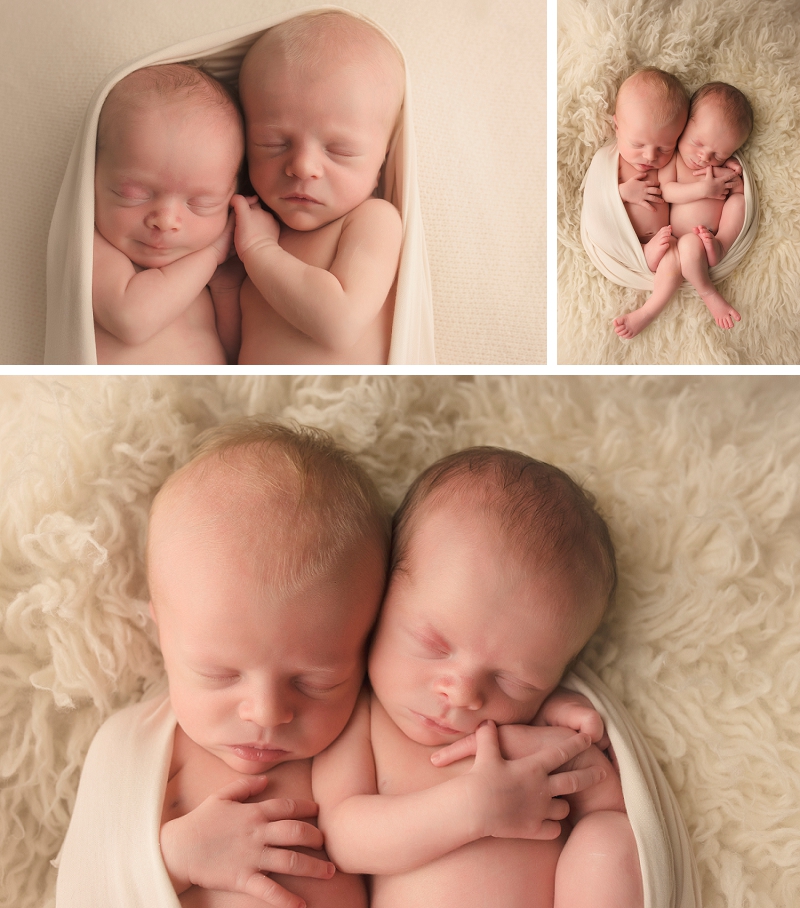 Are you looking to book a session for your newborn twins?  I'd love to create memories for you, but more than that I would love to encourage you.  Please fill out this contact form and I'll start encouraging you right away.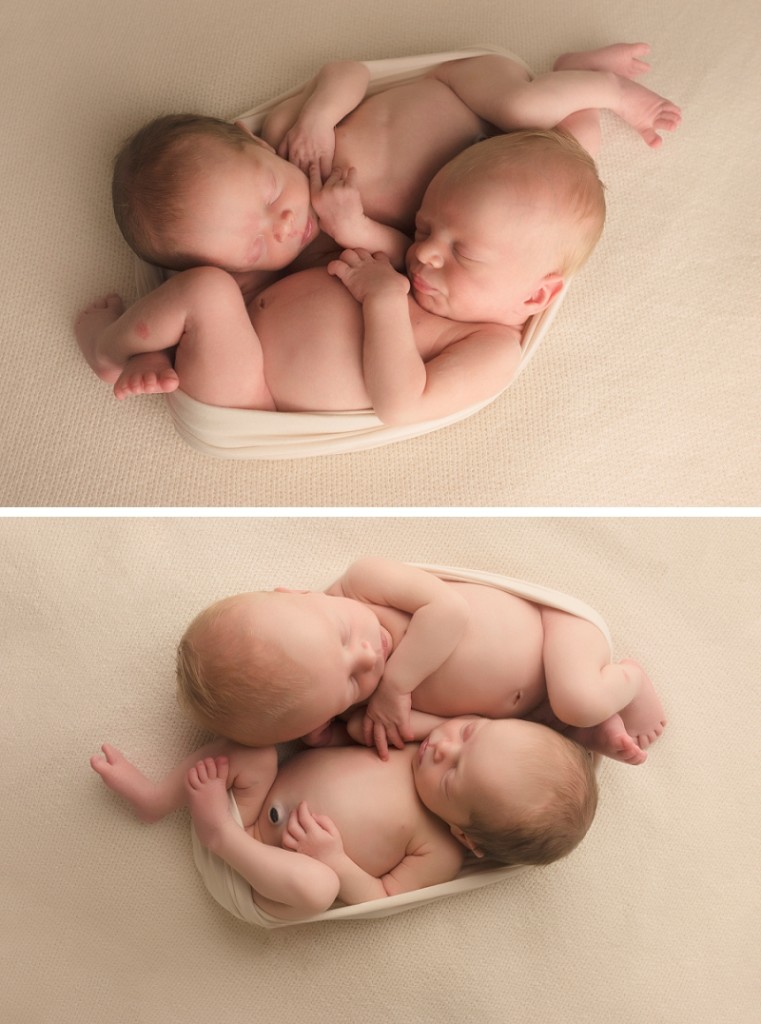 Photographing twins is my absolute favorite… mostly because the entire experience is a walk down memory lane for me.  My twin girls turned 6 the same week these beautiful twins were born.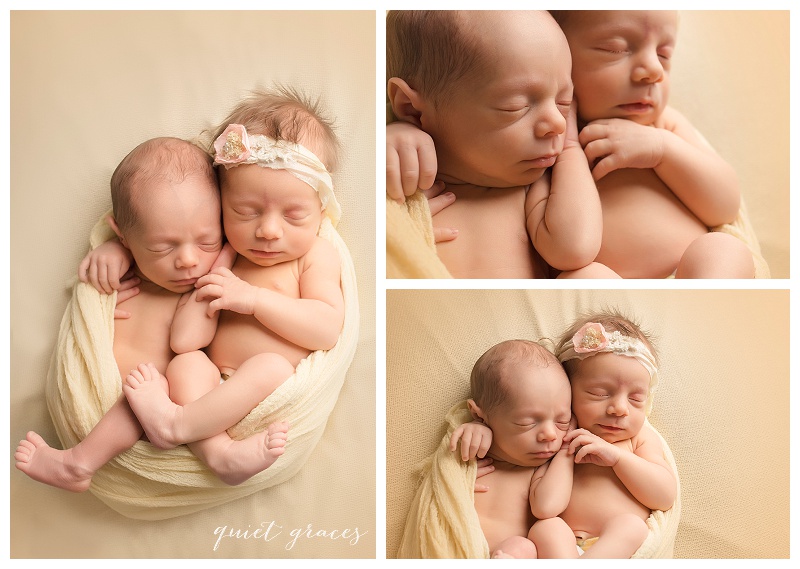 To be able to encourage a twin mama in the throes of simultaneously falling deeply in love with two babies and waging the incredibly difficult war of sleeplessness is such a gift.  We whisper breastfeeding stories and talk about the mechanics of tandem feeding and the panic that comes with each growth spurt.  There is talk of schedule being king and is it ever okay to just feed the awake baby and let the other baby sleep in the middle of the night.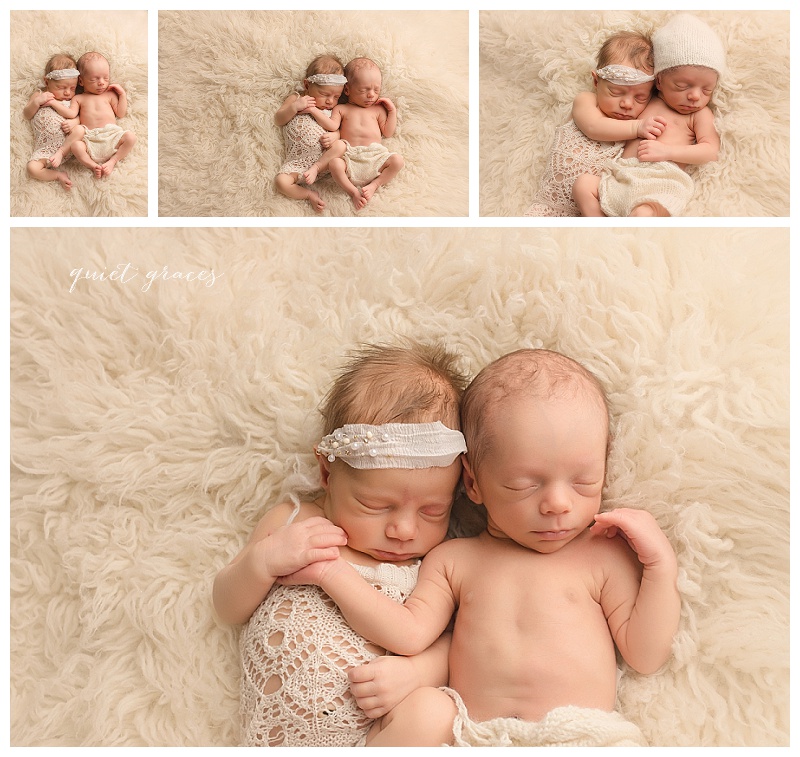 But mostly there is just shared wonder.  Wonder that two humans grew at the same time inside of you.  Wonder that they are here and real and beautiful.  Wonder that you were given this precious gift of ready made siblings and sleep deprivation.  Wonder at the sheer joy of it all.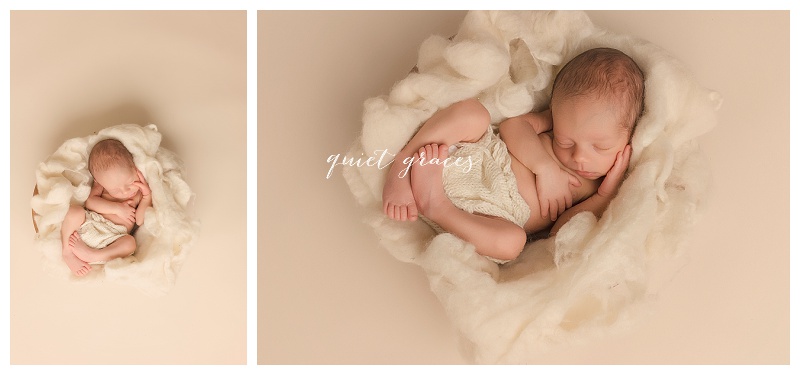 Henry and Evelyn were perfect.  Mom and dad kept them up just a bit before feeding them and driving right over.  For the first part of the session, I never even saw their eyes.  Over an hour and half of just posing and cuddling sweet little ones.  My favorite.  Henry was so laid back.  Patient and kind with me.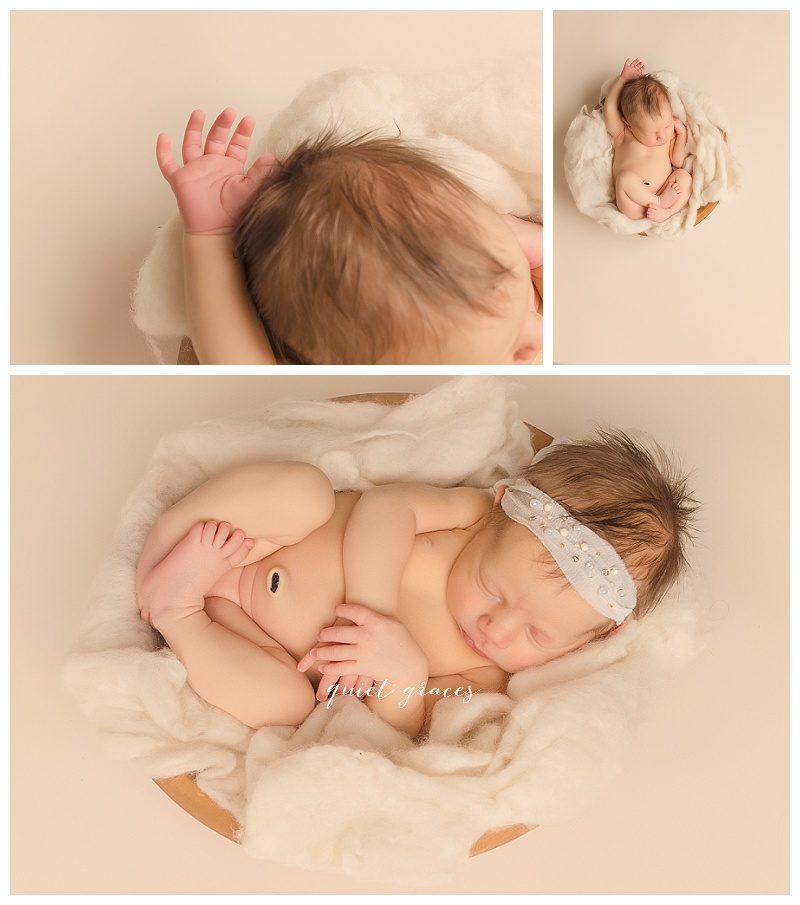 Evelyn had a few more opinions than Henry.  See that adorable tiny hand above her head?  That was all Evelyn's idea.  It took me awhile to coax her to bring it down.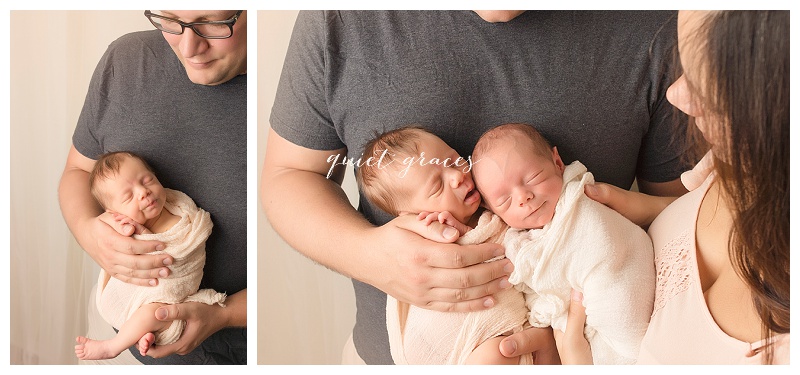 The little sweeties started getting hungry as we took the parent images.  See Evelyn trying to nurse on smiling Henry's head?  That used to happen with my girls all the time.  One or the other would have wet slimy hair when it was time to feed them because their sister had been nursing on their hair before crying out to be fed.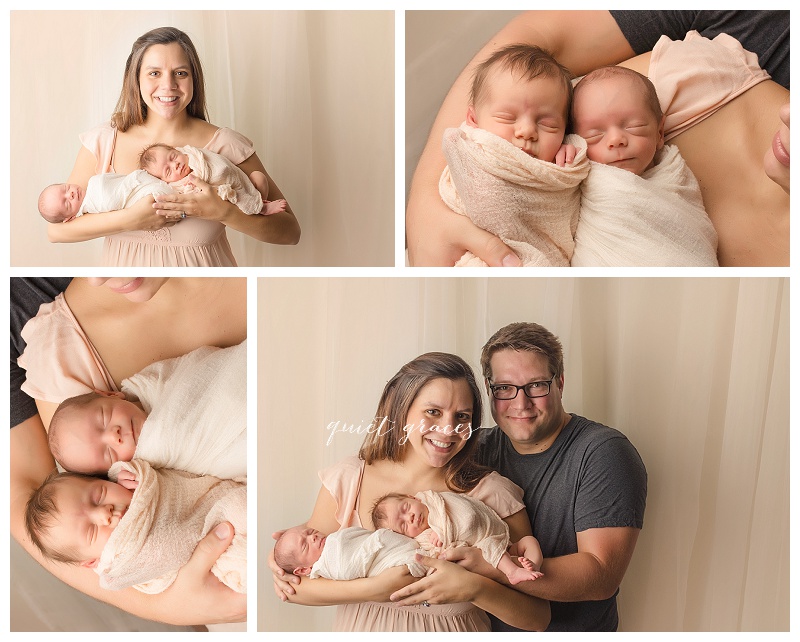 Anna and Nathan are just such wonderful parents.  Patient.  Relaxed.  Already laughing about the craziness of twin newborns.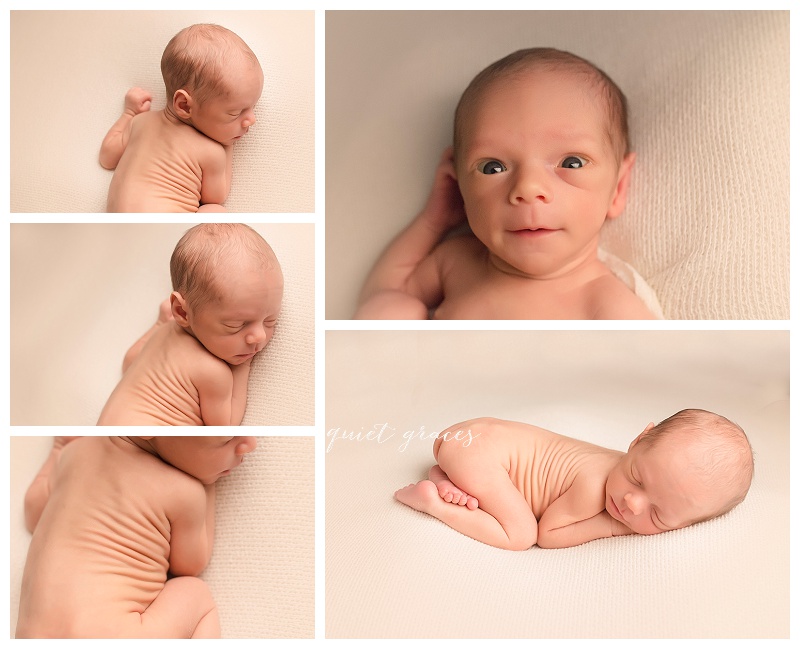 Henry was the exact same weight and height that my girls had been. The back wrinkles make me laugh knowing how tiny he really was.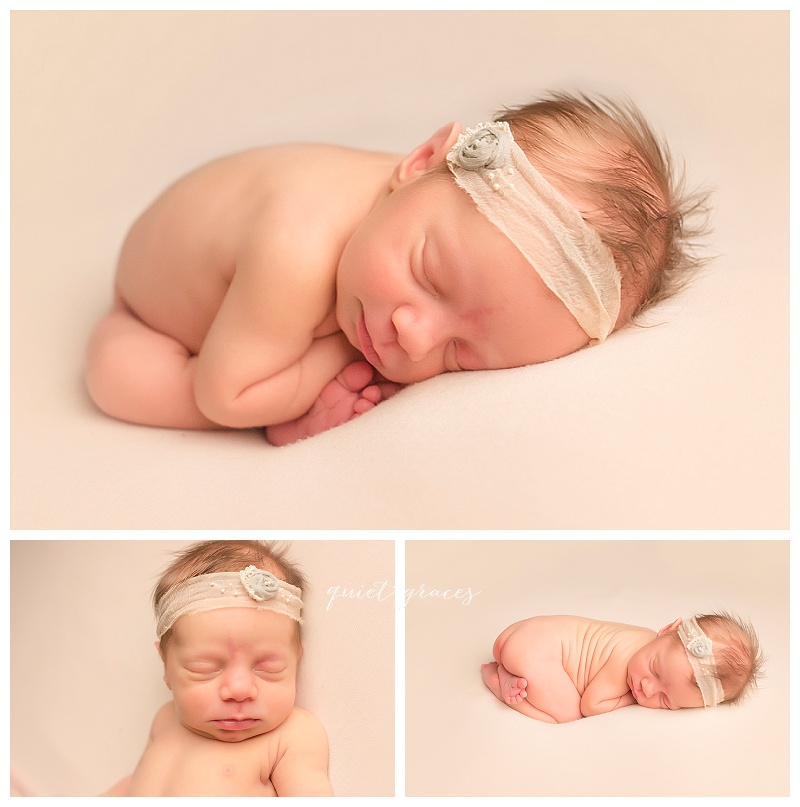 Evelyn was roughly a pound heaver that her brother and it really shows in her filled out cheeks.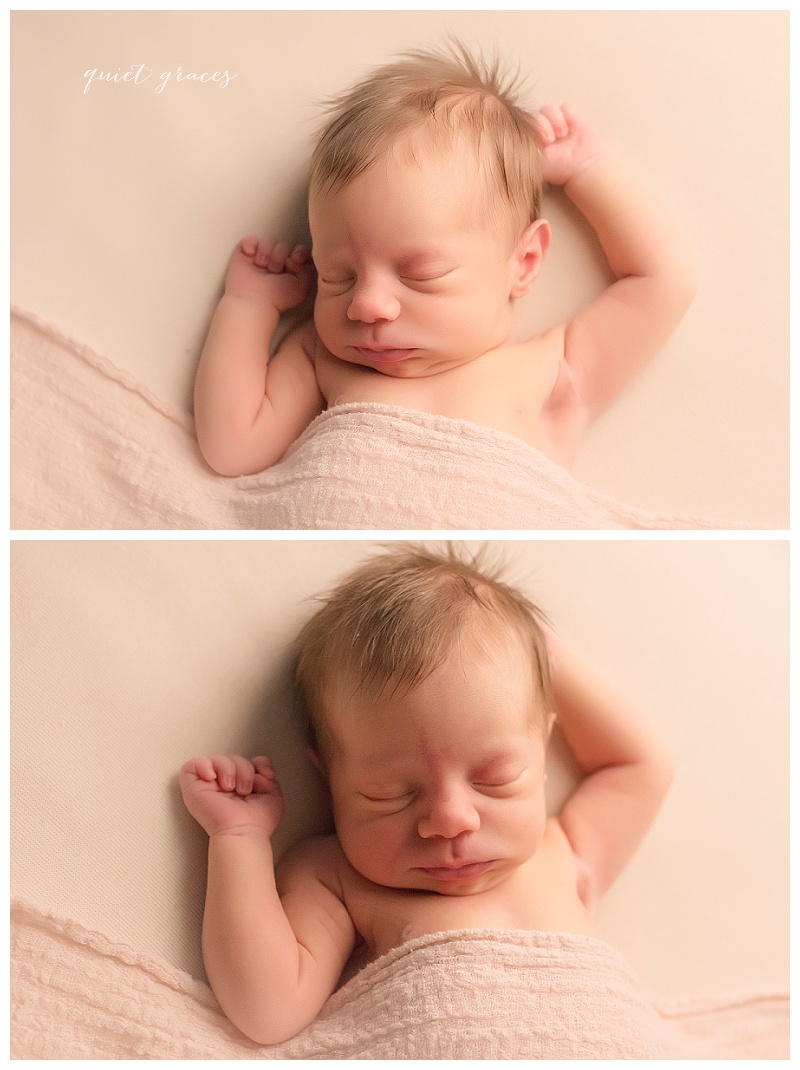 Looking for a Greenville SC Twin Newborn Photographer?  I would love to hear your twin story and encourage you in those early sleep deprived weeks.  Contact me today to get your due date on my calendar.
Last month I had the pleasure of being the classic Greenville SC newborn baby photographer for Anna Beth.
Anna Beth helped me and Colie Photos create videos that show what a newborn photographer does.  You can watch that  finished video below.
Interested in booking a newborn session?  Contact me today, I'd love to meet you for coffee and hear your baby's story.
Anna Beth was a little pixie of a newborn.
She smiled and smiled every time Nicole or I rocked her.  That's what I'm laughing at in the opening scene of my video: Anna B's silly noises and huge grins.
Anna Beth was sweet enough to smile for my camera as well.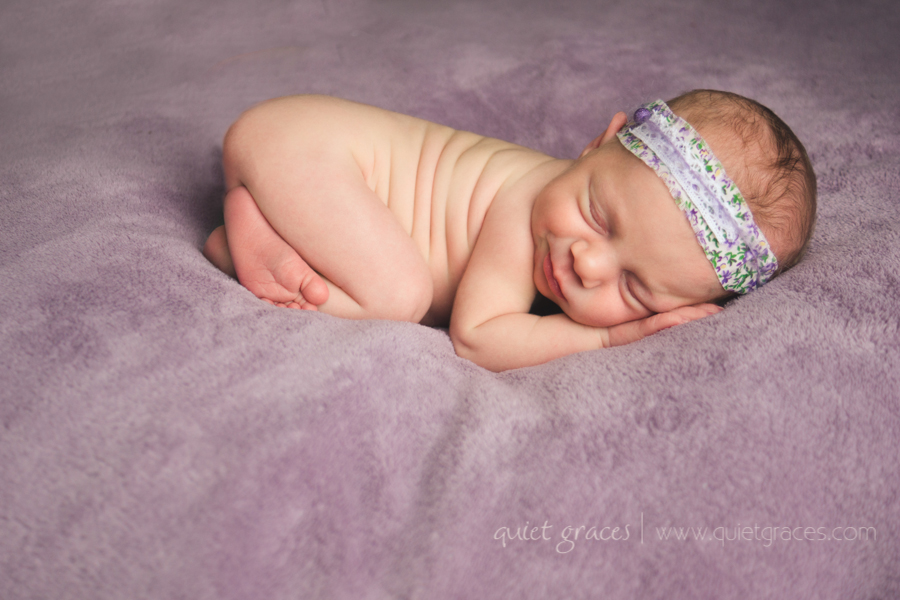 Though at just over 5 pounds she made me work to find those beautiful back wrinkles!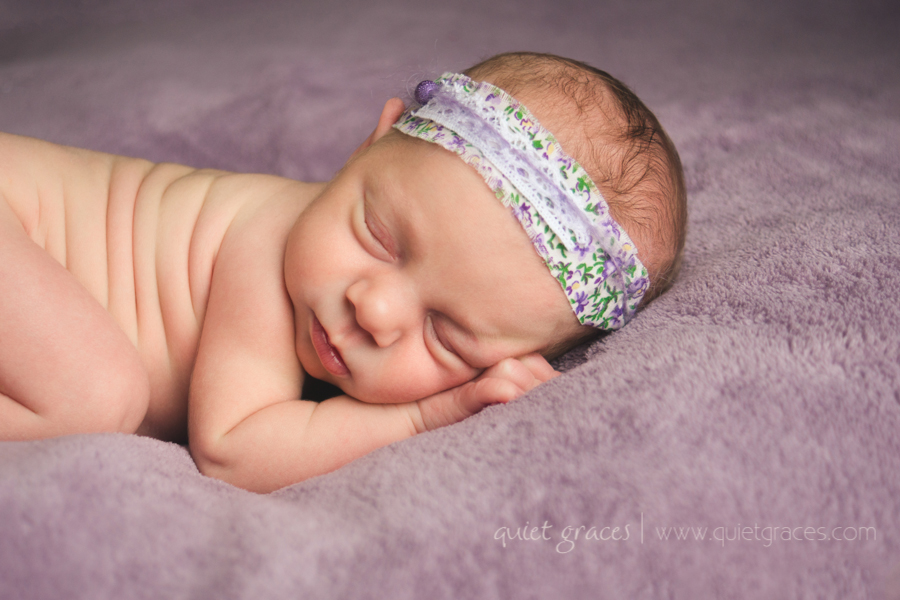 I loved her on this purple with this gorgeous tie back from the lovely Cricket + Bean.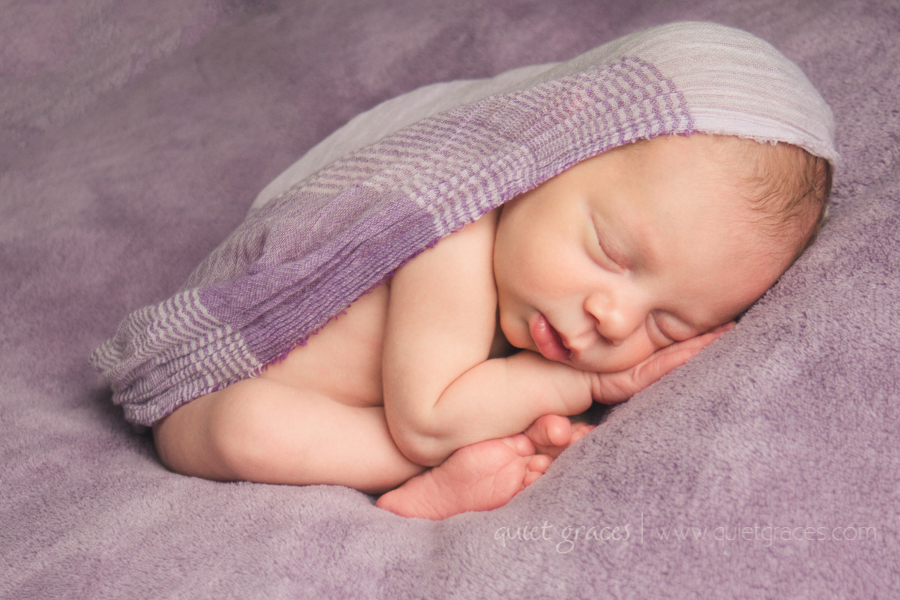 Our second model for the morning, Gideon, arrived just as I finished feeding Anna Beth a bottle.  Anna Beth was wide awake at that point, but Gideon was sound asleep.
I haven't had the pleasure of photographing twins since I took my newborn workshop last summer, so I asked if we could pose them as twins.
And so we did!  Ironically, these two share the same birthday!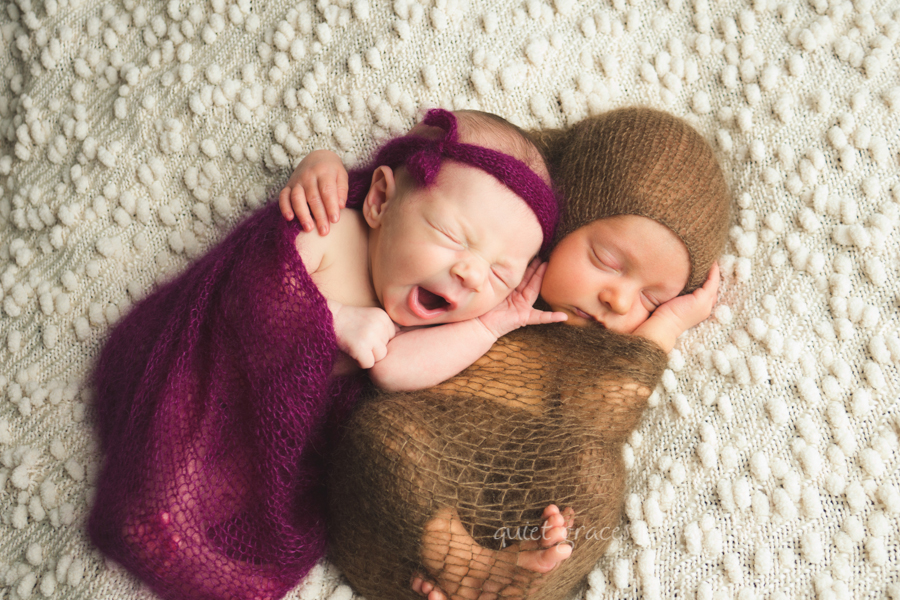 Here's Anna Beth all snuggled up to Gideon falling back to sleep.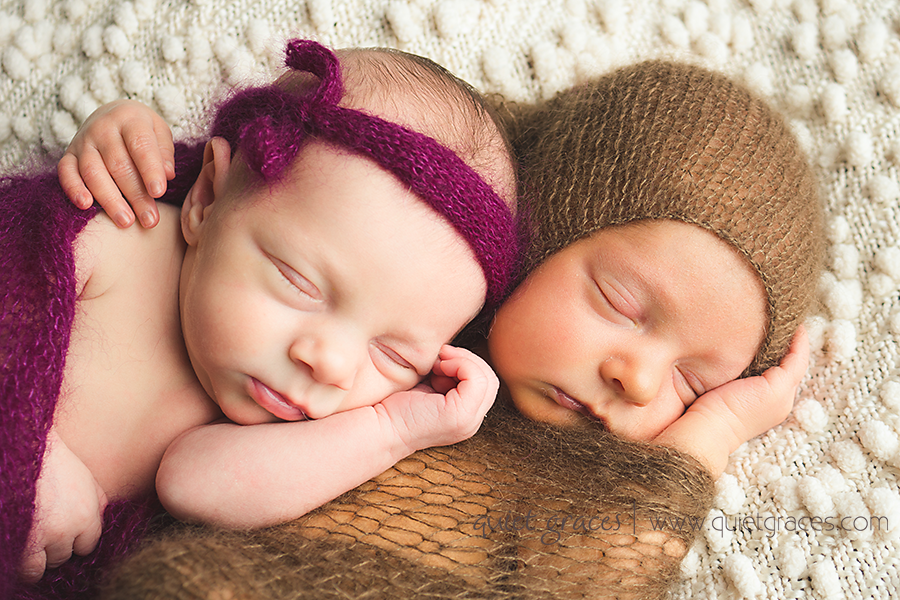 It's amazing how having a snuggle buddy just soothes a baby back to sleep.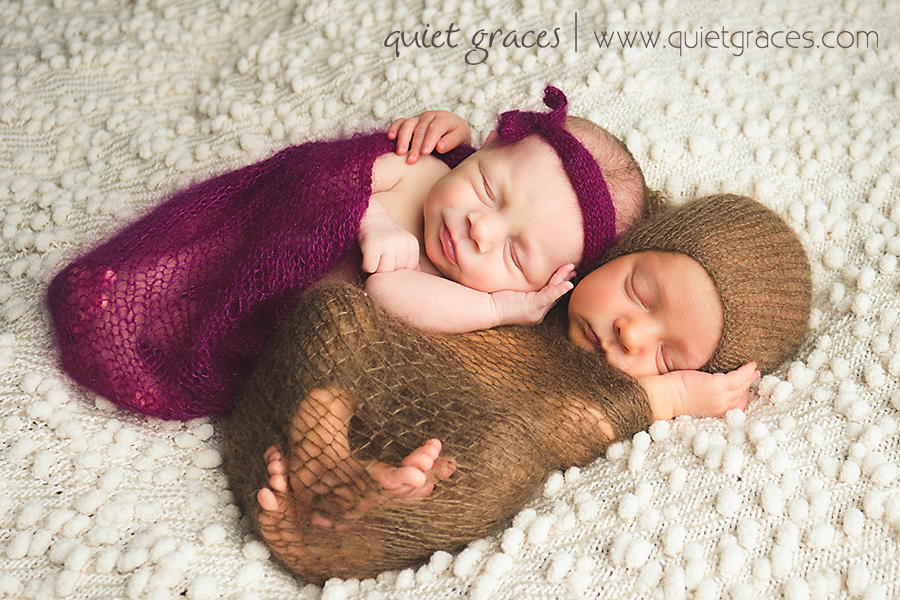 These two sweeties were by far the best sleepers Nicole and I had ever photographed.  We could not have asked for better babies to help us make this video.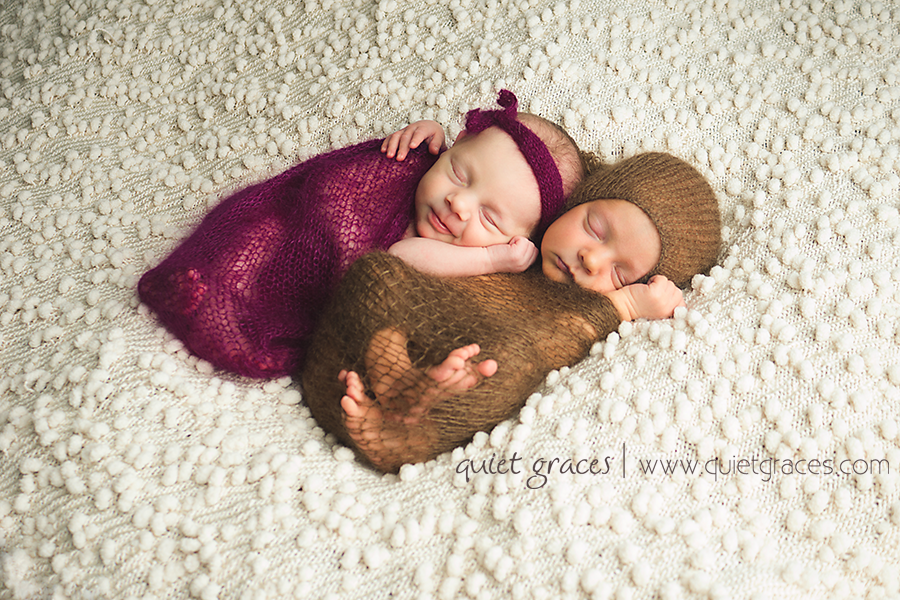 This little girl just keep smiling over and over.  I think she liked Gideon 😉
Beth, thank you so much for allowing Nicole and I the privilege of photographing Anna.  I hope you enjoy the photos and the videos of her for years to come.
I'm starting a new tradition here at Quiet Graces for just a few kicks and giggles (and to show off the babies I photograph one more time!): the Greenville SC Newborn Photography Superlatives. So, without further ado, let me tell you about the things I remember most about little person who graced my studio.
Most Smoochable Lips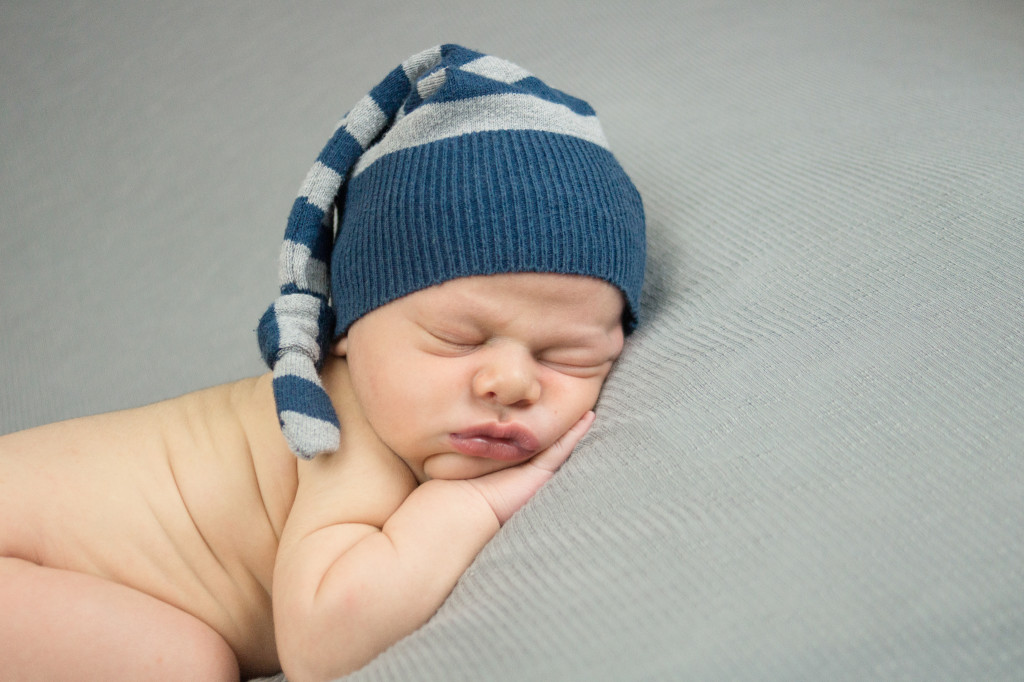 I mean look at those lips!
Best Hair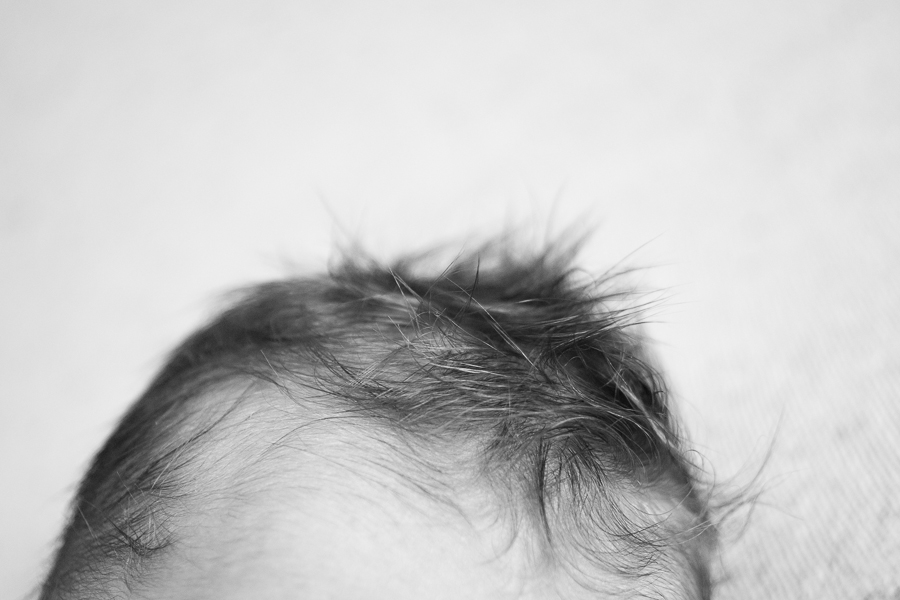 Logan  (Could not stop running my hands through this soft beautiful hair… no lie.)
Sleepiest Baby in the History of Quiet Graces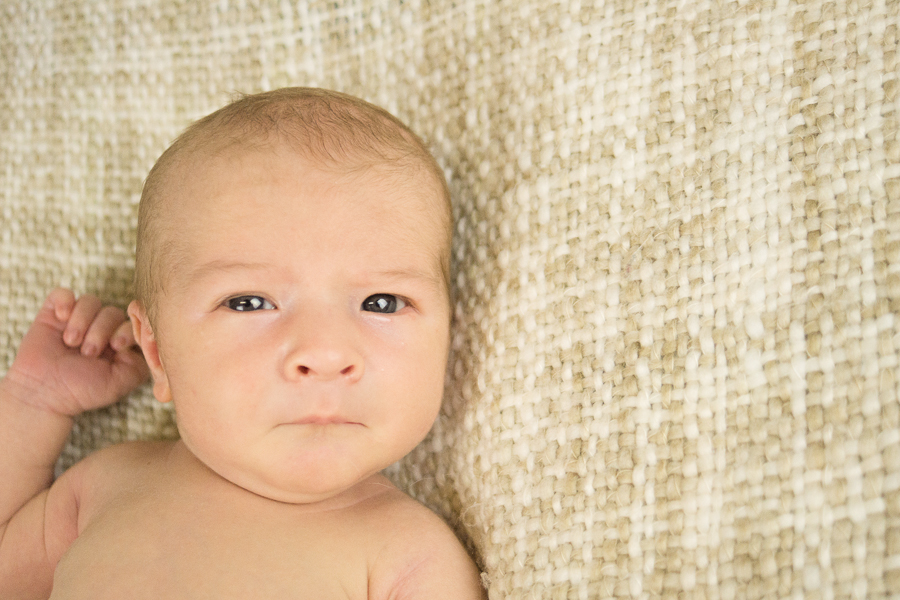 I know… it's an awake shot… but I seriously had to tickle this little guy, turn off the the heater, and fan him to get this open eye shot!
Sweetest Sibling Image Ever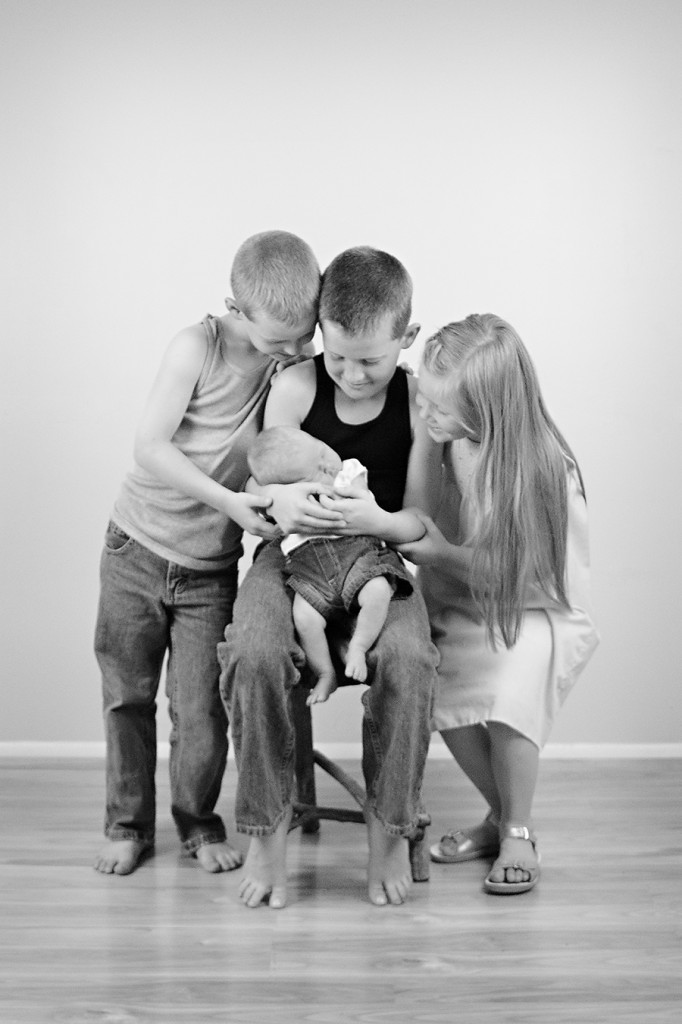 Tristan,  Jackson, Sullivan, and Baby Elliot.
Older siblings rock.  It normally takes about 30 minutes to get a shot with a two year old and a newborn; not that it's a bad thing, just a reality of photographing a two year old.  It was just so different to have kiddos who followed directions!
Super Mom and Dad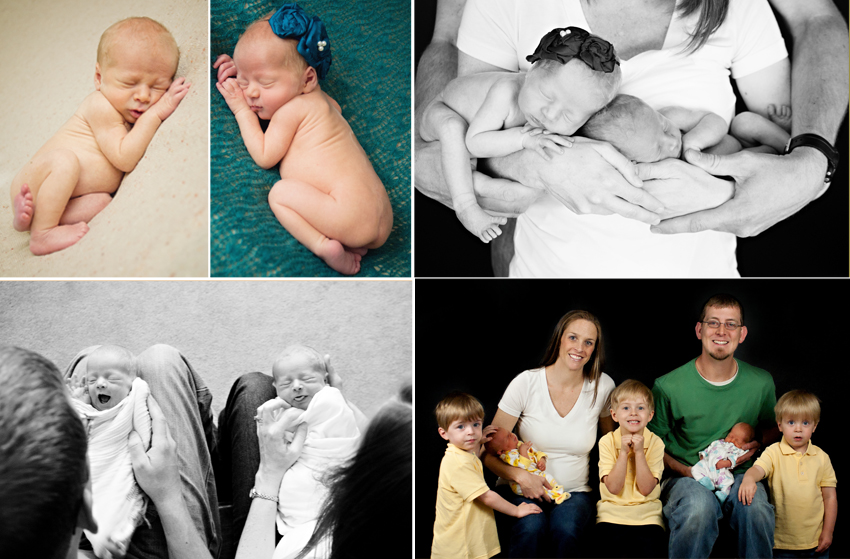 Seriously with 5 under four years and two sets of twins in two years, Jordan and Jennifer parented with such grace in their weakness.  So blessed to hear the story of Jordan's reaction to the announcement that they were expecting twins again!
Chunkiest (and most adored) Baby in the History of Quiet Graces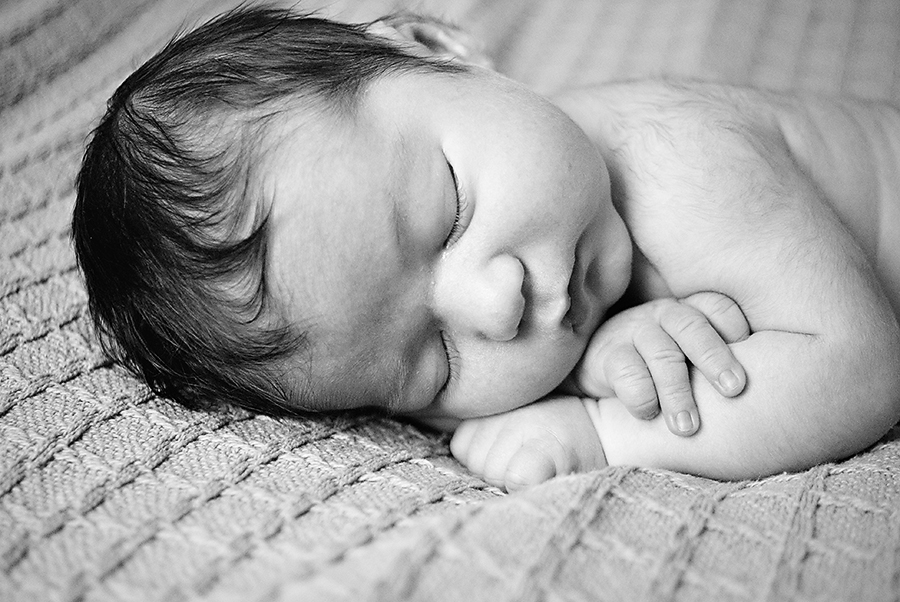 Topping out at around 10lbs at his session at two weeks old, Lazaro had rolls for miles!
Best Newborn Skin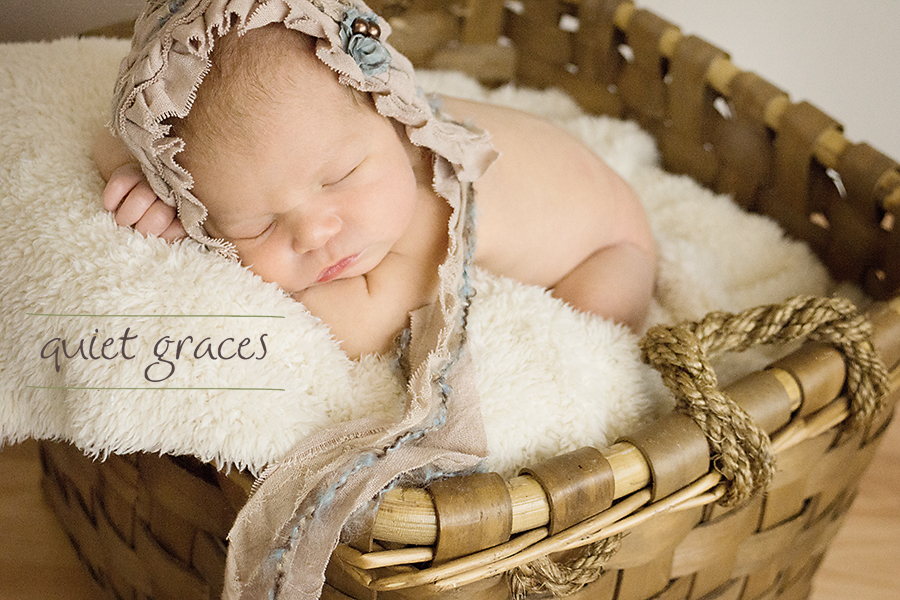 I barely edited this baby's skin.  She was gorgeous and oh so sleepy.
My Favorite Mama Image this Year
Knowing their story and seeing Jenn's grace, beautiful.  And I still can't decide if I love color or black and white better; this rarely happens, I always have a preference!
Bravest Mama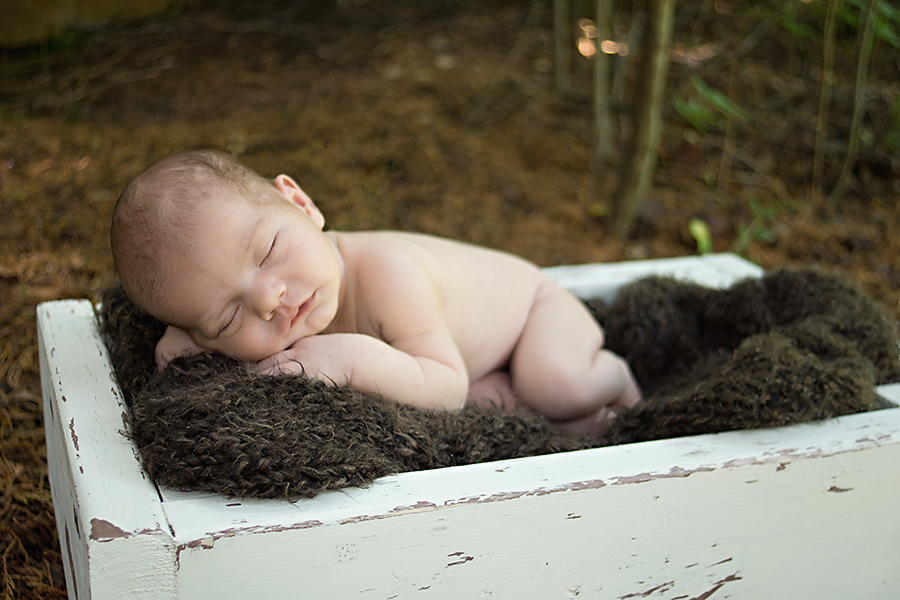 Sarah, Shawn's Mama.
This shot was taken right after the 13 days of rain we had in the middle of this summer.  Shawn's mom really wanted a magical outside image.  What you don't see in the image is her standing over him and fanning away the hoards of mosquitoes for the 5 minutes we were outside.  This is in addition to her persistence about rescheduling this session multiple times due to weight gain and sicknesses issues!
Best Cheeks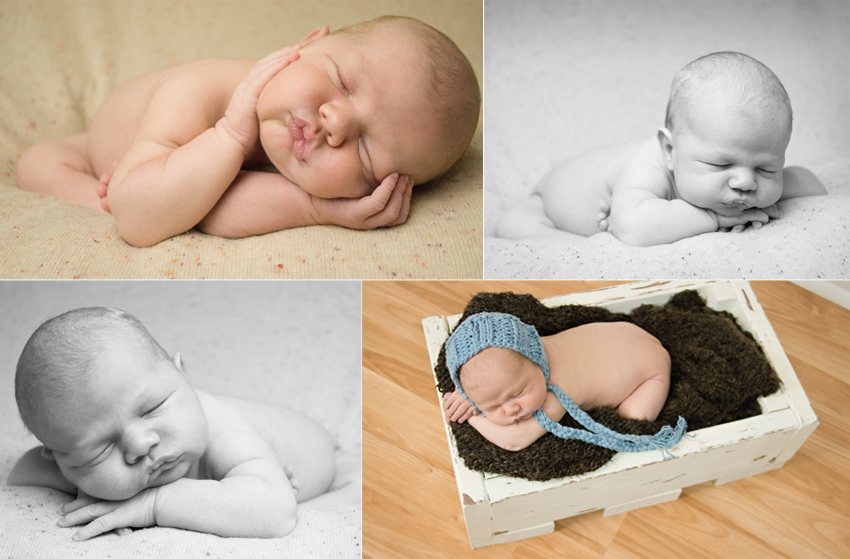 Squeezable from every single angle we captured!
Best Newborn Frown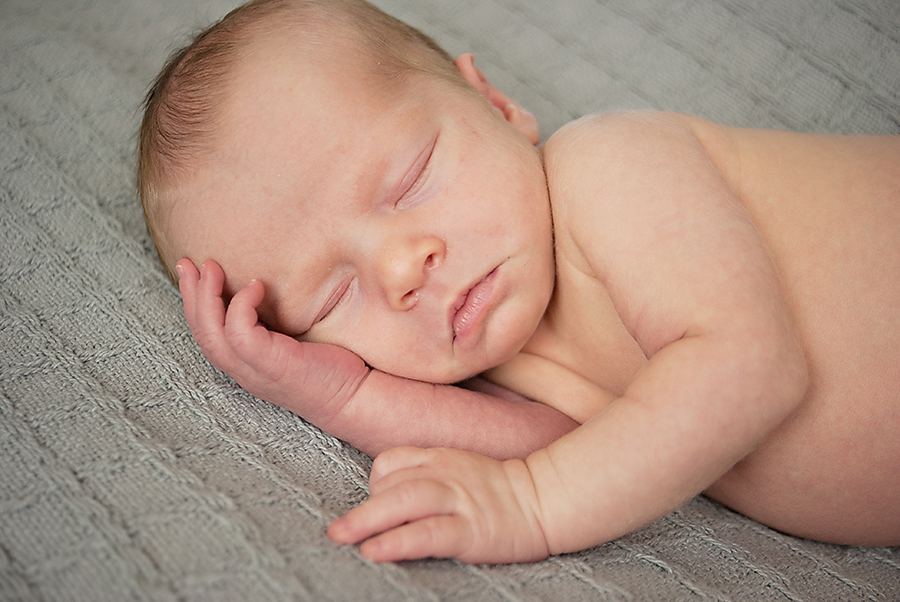 This frown still makes me laugh, especially since he's such a happy-go-lucky little guy right now!
Most Doted on Little Brother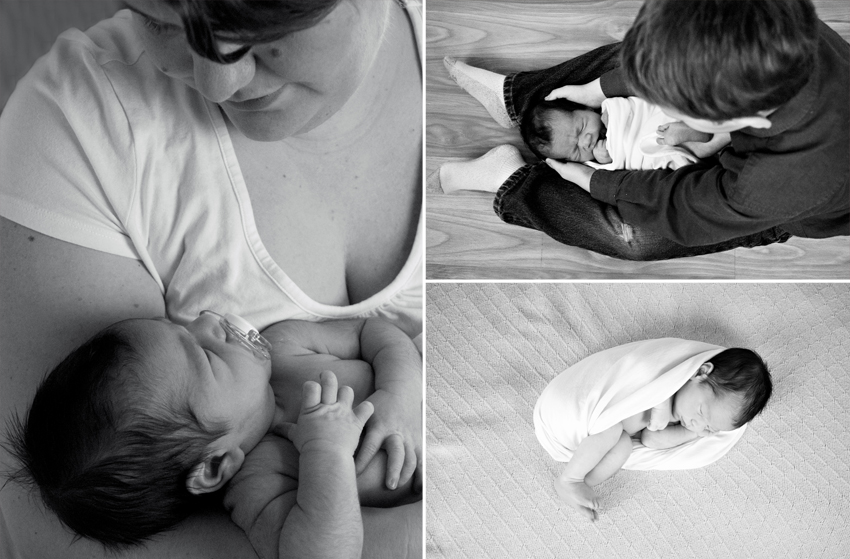 I can't wait to hear the stories of these two growing up together.  So precious!
The Family Shot I can't Believe Happened in One Frame!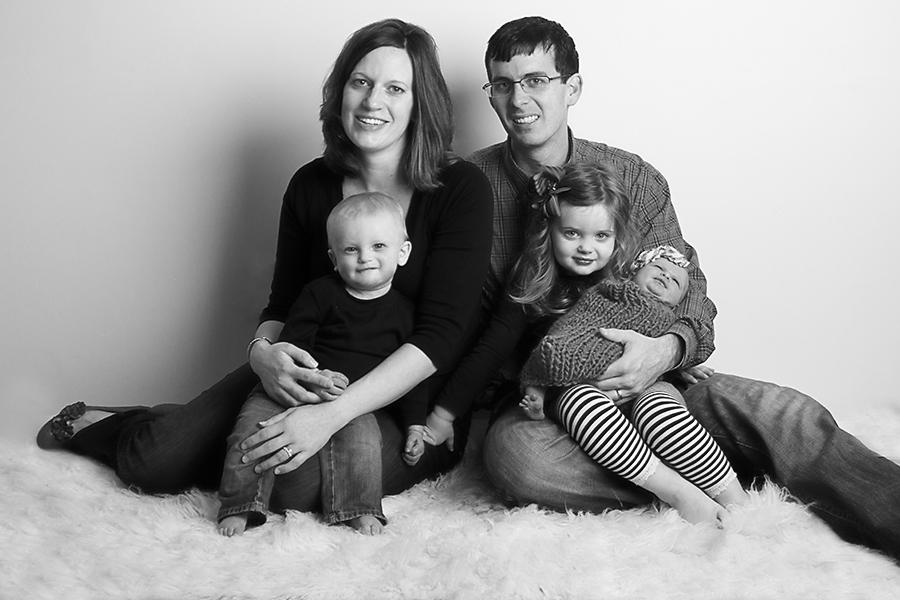 Cora
(I can't wait to blog more images from the session!)  I took about a hundred frames of this image trying to make sure that I had one of every person looking at the camera pleasantly so I could head swap to make this image.  Nope.  We nailed it in one frame: a near impossibility with a newborn, 15 month old, and 3 year old!  Incredible!
Last week I wrote about some of the things you should ask a newborn photographer before hiring. These are sort of bare minimum guidelines for hiring a legitimate business who cares for you and your baby.
However, I don't believe that newborn photographers are a one size fits all bunch. Different people prefer different styles or emphasis on their portrait art.
Maybe you have not done a lot of thinking about what you'd like in a newborn photographer. That's okay, because I've done a lot of thinking about you. So if you like the imagery you've seen on my site and the following list sounds like you, then we're likely to make a fantastic pair.
You are Concerned with your Newborn's Safety
Just how do those babies hold those impossible poses?
Hint: it's all Photoshop magic!  I am super cautious and prefer to never put a baby at risk.  If I think a newborn might startle out of a pose or prop, I will have mom or dad hold their hand very close to the baby and remove their hand from the image in Photoshop.

You Value High Levels of Service
You want to meet the person who is going to hold your baby just days old.  You like having all your questions answered.  You'd love some guidance on the products that would best meet your needs. You'd like your chosen products hand delivered.
You ReallyLike to Laugh
You (or your spouse) could be nominated most likely to photo bomb your own image.
I really love clients who have a great sense of humor!  Your sense of humor puts everyone (including your newborn) at ease.  It also gives you the perspective to laugh when your newborn makes it necessary for you to change your shirt or pants… ahem..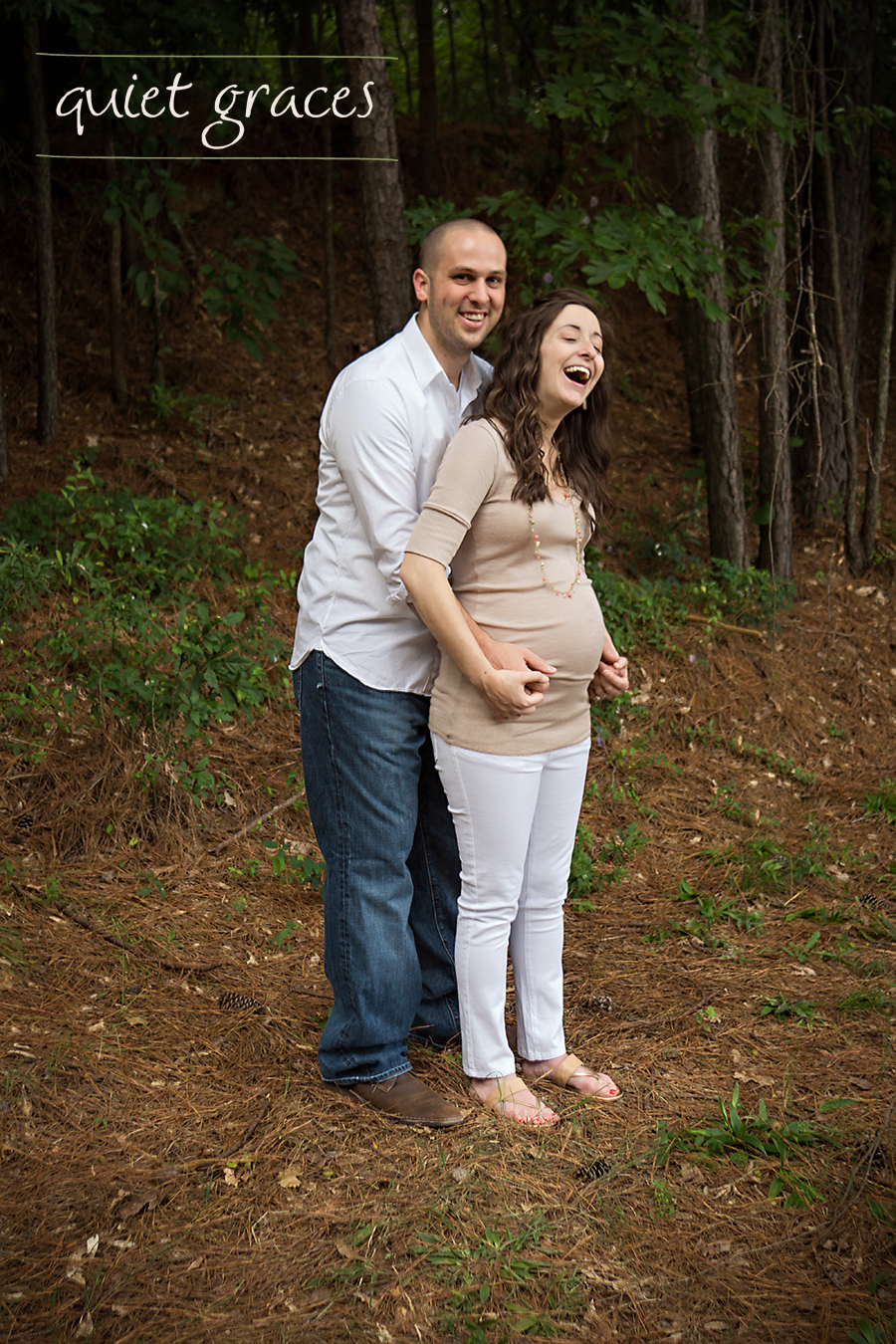 You Want to Be in Your Images
If I could photograph one thing forever it would be the brand new love parents have for their newborns. I love capturing all those emotions: all the joy, apprehension, hope, and dreams of those first days as a family. I know these are images your children will cherish, but also images that will remind you on the hard days how it's worth it to keep going.
I also know how risky it feels to be in an image just days after the birth of your child.  I strive to make sure that we choose the most flattering angles for this sensitive postpartum period.
But remember, the focus will be on your tiny baby that will only fit in your arms this way for a few weeks.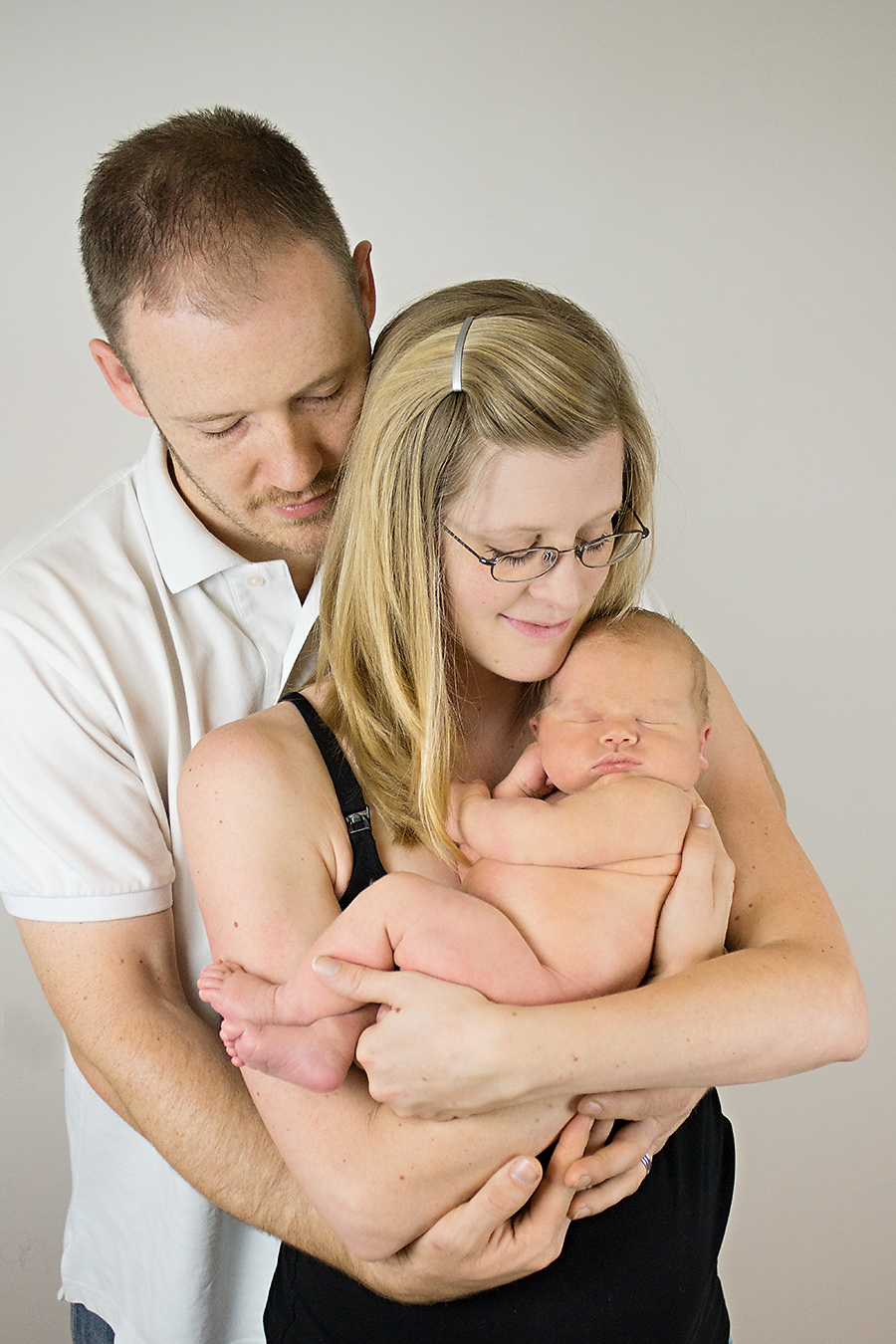 You Prefer Timeless Imagery
I prefer beige and neutral tones with babies accessorized by simple bonnets, hats, headbands, or wraps. I fill my studio with these things because I love them and because I believe your beautiful baby should be the focus of newborn imagery.
I don't shoot mermaid costumes or angel wings or dinosaur hats.  I want the imagery I create to be timeless and not limited by a fad.  Occasionally families come to me with a specific heirloom piece: Vintage Ray Ban sunglasses from a diseased grandfather, childhood cowboy boots, a blanket made by grandmother, or a hat made by an auntie.  I'm happy to incorporate these items in a session, but the majority of my images are pure simplicity.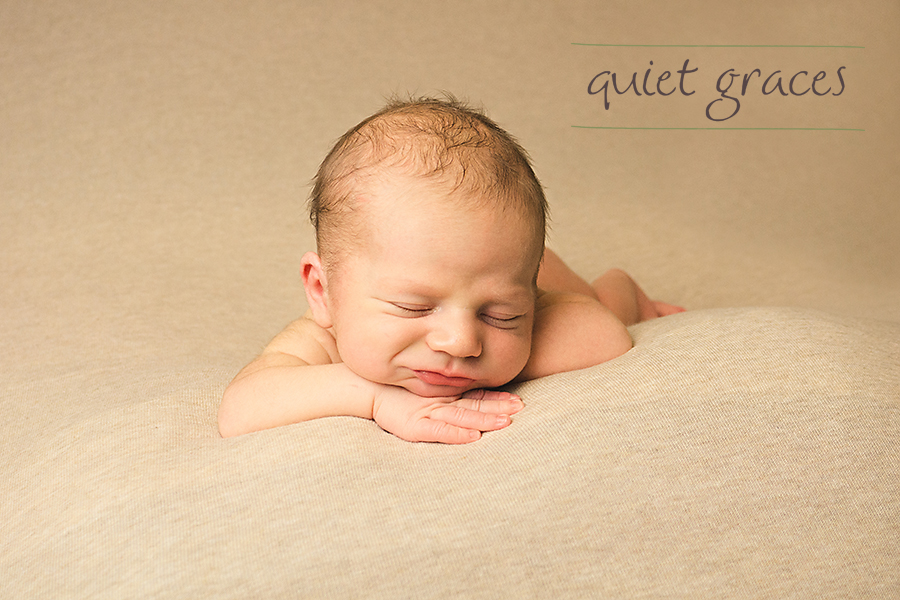 You Want to Create Art for Your Home
You'd love a canvas over the crib, or maybe an album on the coffee table to flip through for years to come. Perhaps you envision an ever expanding gallery wall of imagery, mirrors, and word art as the focal point for your home.
However you like your portrait art, we're creating it together for you to display and enjoy.  You may want digital files to archive or share with family members, but you understand that a heirloom portrait or album is a piece that will be treasured.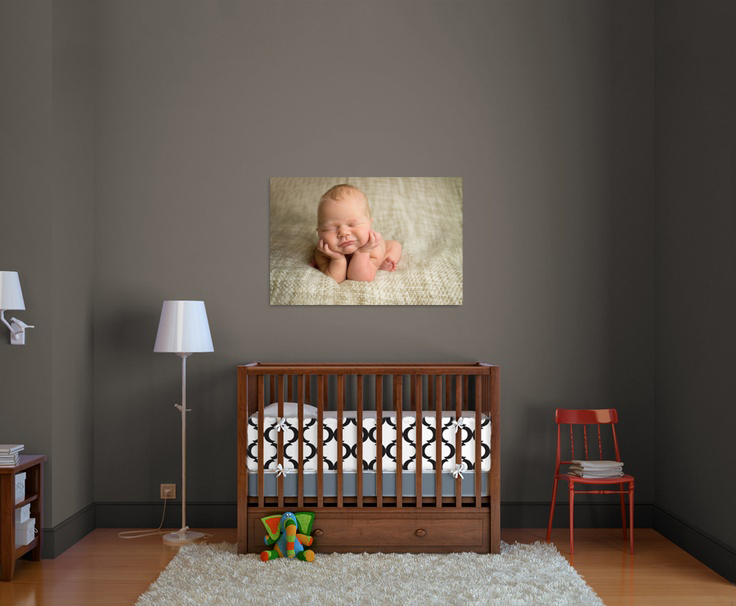 Am I describing you? Then I'd love to talk to you about your vision for the art we can create together during this newborn session. Contact me about a session today.